8 Best Woocommerce Currency Switcher Plugins 2020
Are you planning to add Multi-Currency option in your eCommerce store and looking for best Woocommerce Currency Switcher Plugins for your online shop .By default the current set for woocommerce is in dollar but many country have another currency Which means we need to enhance our website to Improve customer experience that's why we need this plugin .
These currency switcher plugins will allow you to change your the currency rate for particular country or they will allow you to add shorcodes widget in the sidebar by which customers can change the pricing in their local pricing .
So many plugins are so awesome that they automatically detect the country ip by using that they make and update the pricing automatically according to country or you can also switch currency manually .
Lets have list of top Currency Switcher Plugins for Woocommerce Stores are as follows .
You may also be interested in fomo plugins , usps shipping plugin and abandoned cart plugins
1. WPML Multi-currency For WooCommerce
WPML Currency Exchange for WooCommerce is a release from wpml plugins author that facilitates Visual exchange process in the shop and product page whereas the checkout page and order page  still follows the WooCommerce default currency.
Features:
For each currency widgets and shortcodes can be set along with the images.
You get the option to save the orders currency-wise.
Price at all is replaced by a full currency exchange.
Currency exchange Rates are determined by the Open Exchange Rates and updated on a daily basis.
This plugin is compatible with most of the top Themes like Avada , NewsPaper and FlatSome
Pricing   --  $79 Multilingual CMS  , 159$ Multilingual Agency
Premium
Documentation 
Screenshot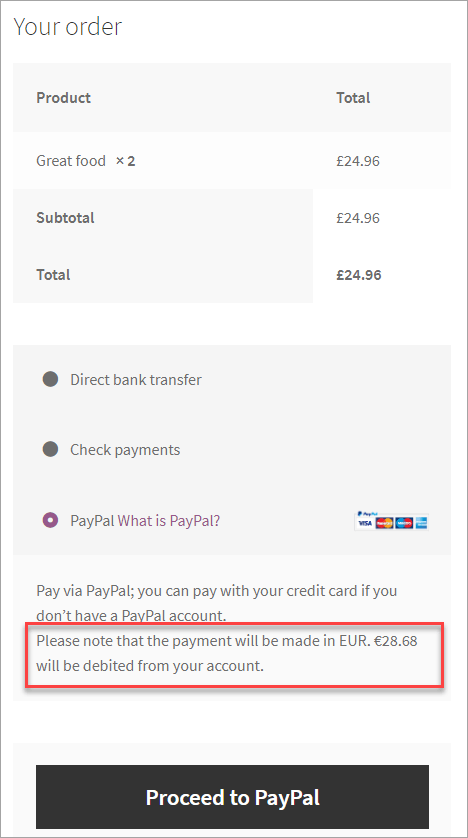 2. WooCommerce Multi Currency
WooCommerce Multi Currency is a WooCommerce add-on that works as a currency converter taking into account the current rates. You can easily switch between currencies and accept one or multiple currencies based on calculations.

The plugin is user-supportive and easy to work with. The tool also has many options for the administrator.
Features:
Prices of the product gets auto-calculated in the currency you choose.
Currency selection is facilitated through the side-bar widget.
You can set the store's base currency in the default section and then add other currencies.
Exchange Rate is facilitated through multiple sources.
The plugin also offers the facility to add up the conversion commission and round off the prices after conversion.
Pricing   --  $ 79
Premium
Screenshot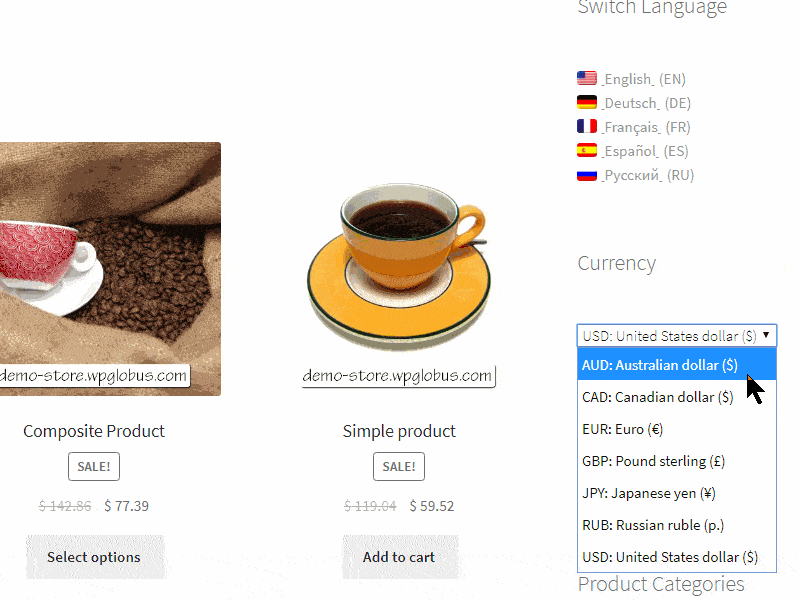 3. Currency Exchange for WooCommerce
An impressive plugin that helps you to set exchange, images, widgets and shortcodes to each currency. Open Exchange Rates are the source to determine the currency exchange rates. The rates are updated on a daily basis.
Features:
Facility for full exchange for orders, shop and product page.
Facility for Visual exchange for shop and product page of your WooCommerce shop.
Supports currency exchange for all currencies.
Applies Custom exchange rates.
Compatible with all payments through MasterCard.
Total number of user  – 300+ 
Free
Screenshot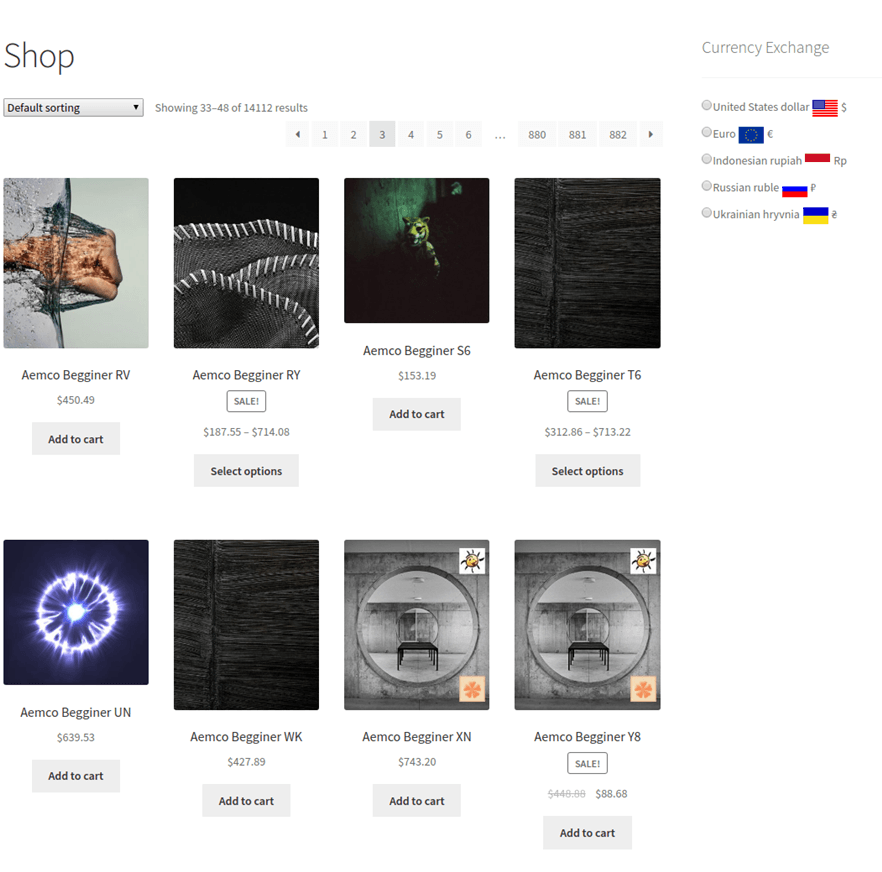 WOOCOMMERCE CURRENCY EXCHANGE
4. WOOCS 
WOOCS is another amazing Currency Switcher for WooCommerce option if you want to setup a multi-currency store with ease. The customers have the alternative to either pay in the currency of their choice or in the base currency of the online store.
The plugin also facilitates product price switching and real-time rate conversions.
Features:
WOOCS is supported by WooCommerce Geo IP that can help you pay an accept payments through PayPal, MasterCard, Skrill, Visa.
Any widgetized part of your store can accommodate the Currency Switcher.
There is no basic price currency for your store and hence all currencies are welcomed.
Visitor's IP gets auto recorded and the currency is changed accordingly.
Individual pricing is done both product-wise and role-wise.
Total number of user  – 50,000+ 
Pricing   --  $ 30
Free
Premium
Screenshot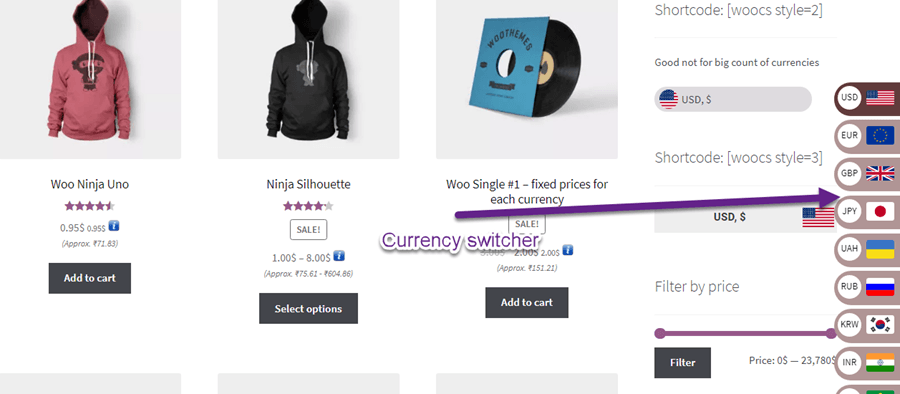 WooCommerce Currency Switcher - Quick guide
5. Currency Switcher for WooCommerce
If you want a WooCommerce Currency Switcher that works with variable products and you own a clean coded WooCommerce, then you must try Currency Switcher for WooCommerce. The currency switcher can be added as a widget or as a shortcode.
Facility to format and place currency switchers at suitable points on the online store.
Currencies are auto selected based on the language (locale) and location(IP) of the customer.
Exchange rates are auto-updated for currency.
Original currency revert option at the checkout page is also available.
product-wise price set-up facility is also available with the plugin.
Total number of user  – 5,000+ 
Free
Screenshot
Install and set up WooCommerce Multi Currency
6. Multi Currency for WooCommerce
Multi Currency for WooCommerce offers a limitless WooCommerce currency exchange plugin. The online stores that are powered by WooCommerce get the options to switch to multiple and varied currencies. The free plugin allows you to accept payments in all or one currency.

Features:
The plugin can be widely utilized to build premium themes.
The plugin allows you to calculate the coupon value on the basis of current rate of order currency to main currency rate.
Customers get the facility to make multi-currency payments that are compatible with the payment method they choose.
Currency Bar is set by default with the plugin installation(does not require any additional effort).
Supports many exchange rate sources such as Currency Converter, Yahoo Finance etc.
Total number of user  – 10,000+ 
Pricing   --  $ 30
Free
Premium
Screenshot

Install and set up WooCommerce Multi Currency
7. WooCommerce All in One Currency Converter
If you have global customers for your WordPress- WooCommerce powered store, then WooCommerce All in One Currency Converter is a currency exchange plugin that you cannot deny for. You can input your currency selection into the settings so that the customers get the facility to pay in the currency of their choice.
Features:
The plugin auto selects the currency of the customer based on his/her location or allows the customer to choose it manually.
Both the conversion methods – Base Currency Payment Mode and Complete Currency Conversion method are supported.
Cache plugin support for fast and easy currency conversion.
Compatibility with all payment methods – Stripe and paypal .
It alos has paypal currency conversion addons
Currency Switcher can be adjusted with CSS and WP filters.
Pricing   --  $ 31
Total number of user  – 1,182+ 
Premium
Screenshot
8. Price Based on Country for WooCommerce
Price Based on Country for WooCommerce is yet another smart tool that detects the geolocation and allows the customers to pay in their currency by showcasing the same product in multiple currencies. A very helpful tool if you have a scalable online business.
Features:
You can determine the price of the product in a particular currency either by the exchange rate or manual calculation.
The geolocation feature of WooCommerce integrated with the plugin auto-detects the country and location of the customer and displays the currency accordingly.
The currency conversion rate is reduced as the plugin allows you to receive the payments in any currency.
On changing the country of the customer, the currency and pricing changes accordingly on the checkout page.
Currency Conversion method can also be applied to the International Flat Rate Shipping.
Total number of user  – 10,000+ 
Free
Conclusion – Which Woocommerce Currency Switcher Plugins is best option ? we recommend one and only wpml because that will support both multi language as well as multi currency which means better customers user experience with More SEO ranking .