Integrate Apple Pay and Google Pay With Stripe on MemberPress
Do you want to integrate Apple Pay and Google Pay payment gateways on your membership site? If yes, you can do it with MemberPress. MemberPress has announced its consolidation with Stripe's Apple Pay and Google Pay additions. This integration aims at providing a secure, protected, quick, and simple payment gateway to your customers.
Stripe is an online payment processor that provides multiple payment products to collect payment safely and easily. It can also help you with financing, managing expenses, invoicing, and fraud protection.

Until now, MemberPress used Stripe only for credit cards and debit card payments, which is definitely standard but a time-consuming process. Hence, its integration with digital wallets such as Apple Pay and Google Pay quickens the overall shopping experience. Digital wallets store your card information so that you don't have to enter your billing information every time while making a payment, thus, providing a faster and secure purchasing process.
Table Of Content
1. Apple Pay And Its Customers' Benefits
Apple Pay is an easy and safer way to pay and get paid right in Messages and works seamlessly with Apple devices you use every day i.e., iPhone, iPad, iMac, or any device that uses the iOS operating system. It enables you to make contactless and secure payments on the web, in apps, or the stores.
Get rewards

– Who doesn't love rewards? Apple gives a 2% daily cashback to the users who use Apple Cards with Apple Pay.

Transfer money

– Apple Pay is the easiest way to send or receive money from family and friends, without downloading any app. You can transfer money right there in your messages with just a click or by asking Siri.

Easy setup

– Setting up Apple Pay is pretty simple. You just have to add your debit and credit cards to your iPhones, iPads, Apple Watch, or Mac.

All in the wallet

– From Apple Cash, your debit and credit cards to your boarding passes, reward cards, tickets, or student ID card, you can store it all in your wallet.

Privacy and Security

–  Apple Pay ensures the security of the financial data of the customers by guarding the content behind facial scans and fingerprint readers. Apple Pay never stores your card number on your device or Apple servers.
2. Google Pay And Its Customers' Benefits
Google Pay is the simplest and the quickest way to send or receive money to your family & friends, recharge your mobile, pay bills or pay the neighborhood stores. It enables you to send money to almost anyone with zero fees, straight from your bank account.
Endless rewards

– Google Pay gives you exclusive scratch cards and rewards that go straight into your bank account, without hunting any coupon codes.

Pay Nearby

– You can send money to another Google Pay user without sharing your private details i.e. your bank account or phone number.

Easy setup

– Getting started with Google Pay is quick and easy. You just have to download Google Pay and link your bank account with it.

Security

– Google Pay provides world-class security, helps detect fraud, and prevents hacking. It uses a virtual account number rather than your personal card number.
3. Benefits Of Apple Pay and Google Pay For Your Membership Sites
Smart Shoppers are always extra cautious with the payment method. Many visitors abandon the products in the cart due to the complex payment process. Enabling Google Pay and Apple Pay on your membership site will improve your members' overall experience by promising them a secure, convenient, and quicker checkout.
1. Faster Checkout – Cart abandonment is a growing epidemic in the eCommerce industry. Nearly 28% of customers abandon their products in the cart due to the long and complex checkout process. Every time a customer reaches the payment gateway, he/she will have to dig out their debit or credit card and fill in the long billing information. That's tiring. Using Apple Pay and Google Pay, your customers can pay for the product in just a few clicks. Here, the customers just have to choose to pay using either their Apple Pay or Google Pay account. Then, they will be redirected to Stripe's checkout page with just a click, here all the information has been pre-filled. After confirmation, they will be redirected to the MemberPress Thank you page. That's quick.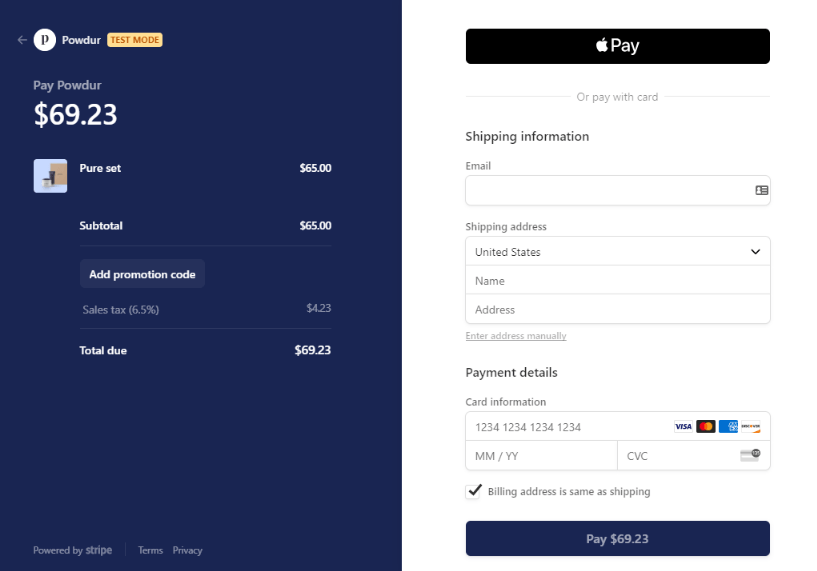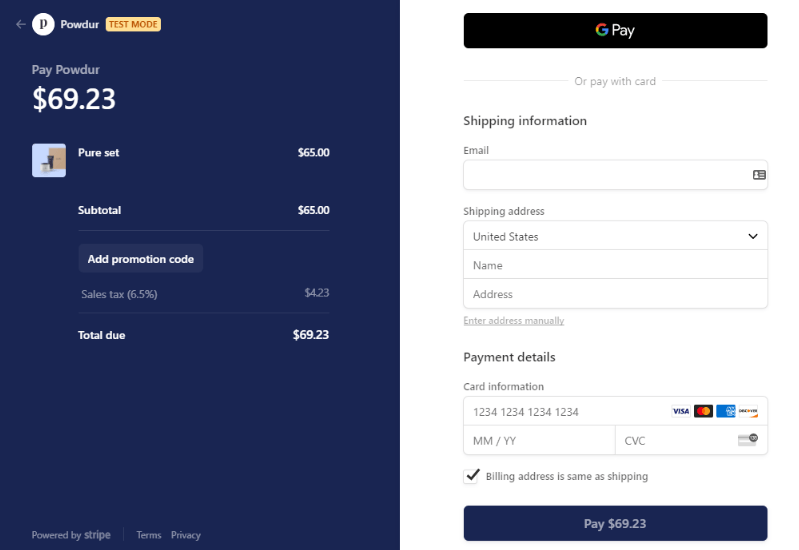 2. Mobile-Friendly– Digital Wallets such as Apple Pay and Google Pay are mobile-friendly, thus displaying a clear and easy-to-navigate payment page. They can purchase the product in just a few clicks, thereby reducing the cart abandonment rate. In fact, using digital wallets can lead to a 3 times increase in mobile cart conversion rates.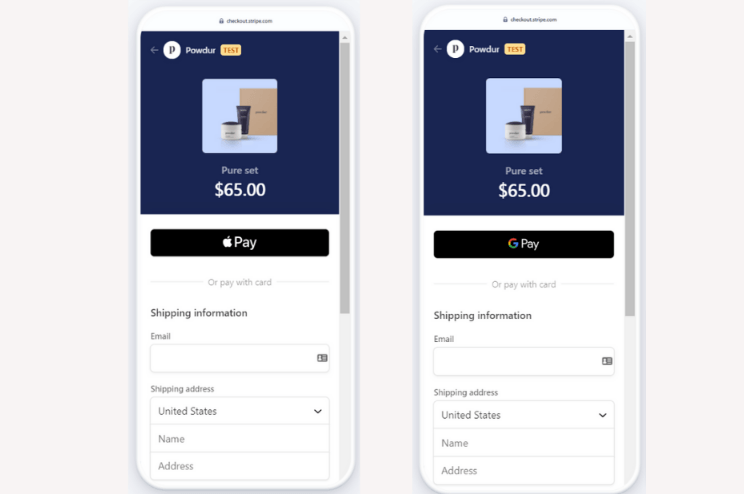 3. Better security – Both Apple Pay and Google Pay use world-class security to protect their customers' financial information. Also, since they are integrated with Stripe's secure server, your financial details are even more secure.
4. Brandable Checkout– Using Stripe's customizable checkout, you can add your brand logo, the colors that match your brand identity, and also your business policies on your checkout page. This will help you build your brand visibility and provide a happy shopping experience to your members.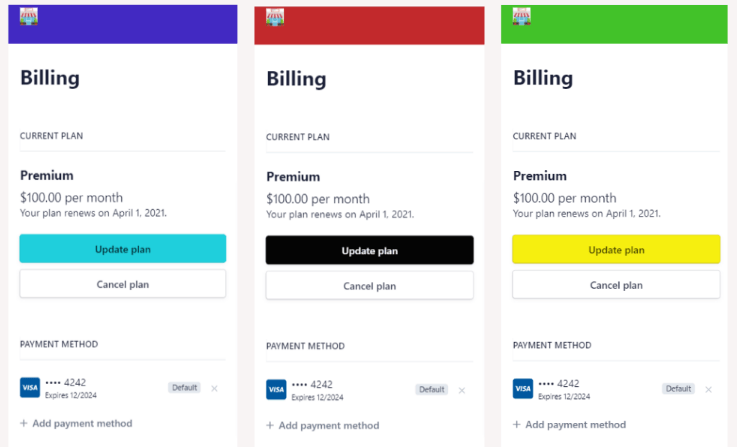 4. How To Integrate Stripe Checkout to Your MemberPress Site
Firstly, you have to create a Stripe account, if you don't have it already. Stripe is a free payment gateway for MemberPress Basic, Plus, or Pro plans. After creating a Stripe account, follow the below-mentioned steps.
Go to your MemberPress plugin dashboard and click on the Settings tab. Thereafter, go to the Payment page and add a new gateway.
Now, click on the Connect To Stripe button.
Enter your username and password to authenticate your MemberPress account.
Now, you will be redirected to authenticate your Stripe account. Sign In to your Stripe account using the Sign-in button at the top right corner.
Here, you have to select your Stripe account and click on Connect my Stripe account button.
After connecting your Stripe account, you'll be redirected to your MemberPress dashboard.
Here, go to MemberPress Settings and locate your new Stripe gateway.
Now, check the Enable Stripe Checkout checkbox and ensure to save the settings.
That's all. By following the aforesaid steps, you'll be able to add/update your Stripe checkout. Now, these were the steps to activate Stripe Checkout in the MemberPress plugin but to Enable Apple Pay in your strip account we need to follow Apple pay and stripe documentation. similarly, we need to follow Google Pay Android app documentation
5. Conclusion
Debit cards and credit cards are a standard and efficient way of payment but they are time-consuming. Digital wallets, such as Apple Pay and Google Pay save you a lot of time and make the process simpler. Using digital wallets in your payment gateway not only reduces the cart abandonment rate but also increases your conversion rates.
That's it for the blog. If you read it till the end, do not forget to leave your valuable feedback in the comments section below. We would love to hear from you.