12 Best Creative Instagram Feed Ideas That Makes Your Profile Standout 2023
With the change in time, we have witnessed several alterations in the approaches of various brands, celebrities, businesses, and many others to get recognition and growth in their respective field. The mode of marketing and channelizing things has turned from the old way and switched to the new one with the emergence of the digital world of digital marketing. Nowadays, people mostly spend their time on social media, which has become a big reason why several brands and businesses are getting acknowledged by millions worldwide. Among different social networking platforms like Facebook, Reddit, Twitter, Snapchat, and many more, Instagram has emerged as the best one that has given recognition and market to various brands and public figures.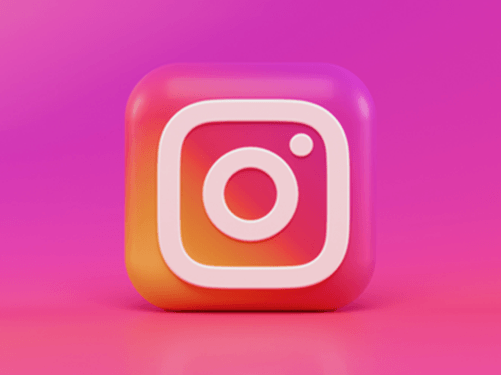 But as we know, there is no substitute for hard labour, i.e., if you want to achieve something, you have to put effort into it. The same thing applies to your Instagram Feed. If you wish new viewers to follow you or your follower to stay connected with you for a long time, you must keep your Instagram Feed attractive and eye-catching. There are a number of creative ways through which you can make the sight of your viewers on your IG Timeline.

In the meantime, Instagram has become a place where a large number of shoppers; we estimate around 70% visit here to find new products. So it is evident for you to make sure that your Instagram feed should look engaging and appealing as a large number of potential customers or followers will take a halt on your profile. But the question is, "why do we need Instagram theme ideas?" This is important because these layouts are perfect for showcasing a particular brand's personality and creating a feeling of authenticity in the mind of customers or followers that what they are looking for is actually what they want to look at and need.
Since Instagram is the most rising and well-established platform for sharing photos & ideas, it will benefit you in many fields if you get genuine followers or customers. To help you, we have come up with this article that will show a bunch of creative Instagram feed ideas that will aid you in making your profile outstanding and fascinating. So let's start this article and read it till the end to shine your IG feed.
What Is Instagram Feed??
If you think that Instagram Feed is something new that you have never known before, you might be wrong. It is similar to the Facebook timeline where your uploaded and tagged photos are available. However, an Instagram Feed represents the collection of your uploaded data like photos, reels, and videos that shows your identity and authenticity to someone who visits a particular Instagram account.
For example, if you visit an Instagram account and see several poetries and life-changing motivation lines or some video, that Instagram feed represents that someone posting it might be a poet, writer, or author. So it shows what a particular is for and represents the identity of the one posting there.
Why is it essential to make your Instagram Feed look aesthetically pleasing?
As we know that in the meantime, Instagram has become one of the largest social media platforms among the various others. As per the stats, it has more than 500 million active users daily and one billion monthly users. Apart from this, there are also millions of business accounts, making it a more engaging platform.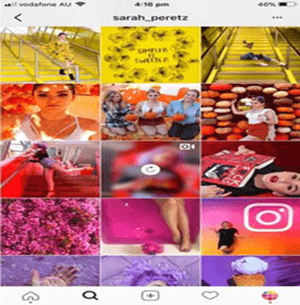 Since you now know how engaging and crowded the platform is, there is a 100% possibility that your work will get recognition and connect many people with you if your IG feed is fascinating. However, going through the insight and analyzing it will help you know about your people and understand what kind of Instagram theme you should choose that gets you more and more people. So it is essential to have a proper analysis before you reach those people, you need to think about what your profile will look like.
Now, let's bring the discussion of different Instagram feed examples.
   15 Best Creative Instagram Feed That Catch The
                         Sight Of Visitors
In the creativity market, you have many options, but what matters the most is crafting something that a large audience prefers to watch. In this context, we have developed the best 15 creative ideas to make your IG feed attractive.
Table Of Content
1. Dark Theme
We have found that most youths choose dark themes instead of white on their phones as the black background lights up various other applications, which looks impressive. Similarly, in the case of the IG feed, the "Dark theme" makes your timeline eye-catching and gives a mystery feel to your feed. And also, it is easy to create a dark IG theme as while uploading the pictures, Instagram has a filter. So, if you are interested in this dark theme, it will be a great choice as a consequence of this theme, your profile will acquire instant visitors as your theme is following the trends that a large number of youth likes.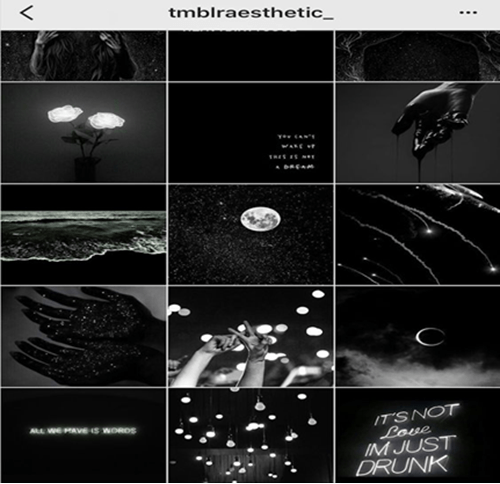 2. Illustration Theme
Many often hear that we should make our passion our profession or do the work that makes us entertain and have fun to perform well and come out with the best version of ourselves. Similarly, the best part about this Illustration Theme is that you can always have fun. Creating new funny or entertaining designs/posters makes the visitors curious about what is next in the row and what unique designs they will see. Much more such curiosity arises within the people as it entertains them.
For example, imagine you have a small shop or a business that sells candies and cake, but the problem is that you cannot upload the same photographs every day. So to resolve this, we can give it a scene and upload it in a different context.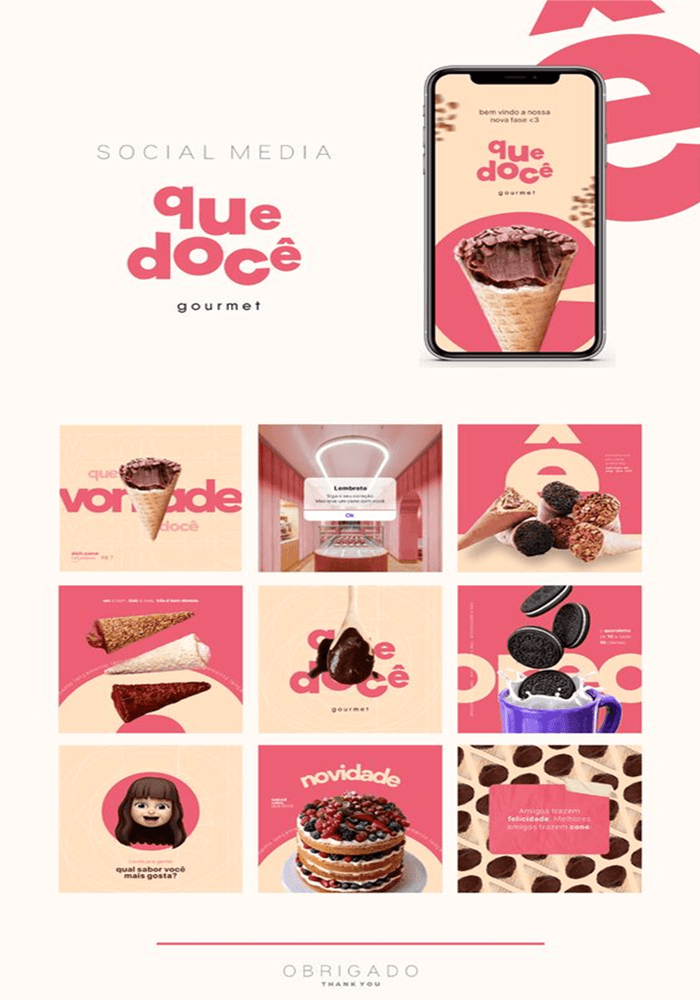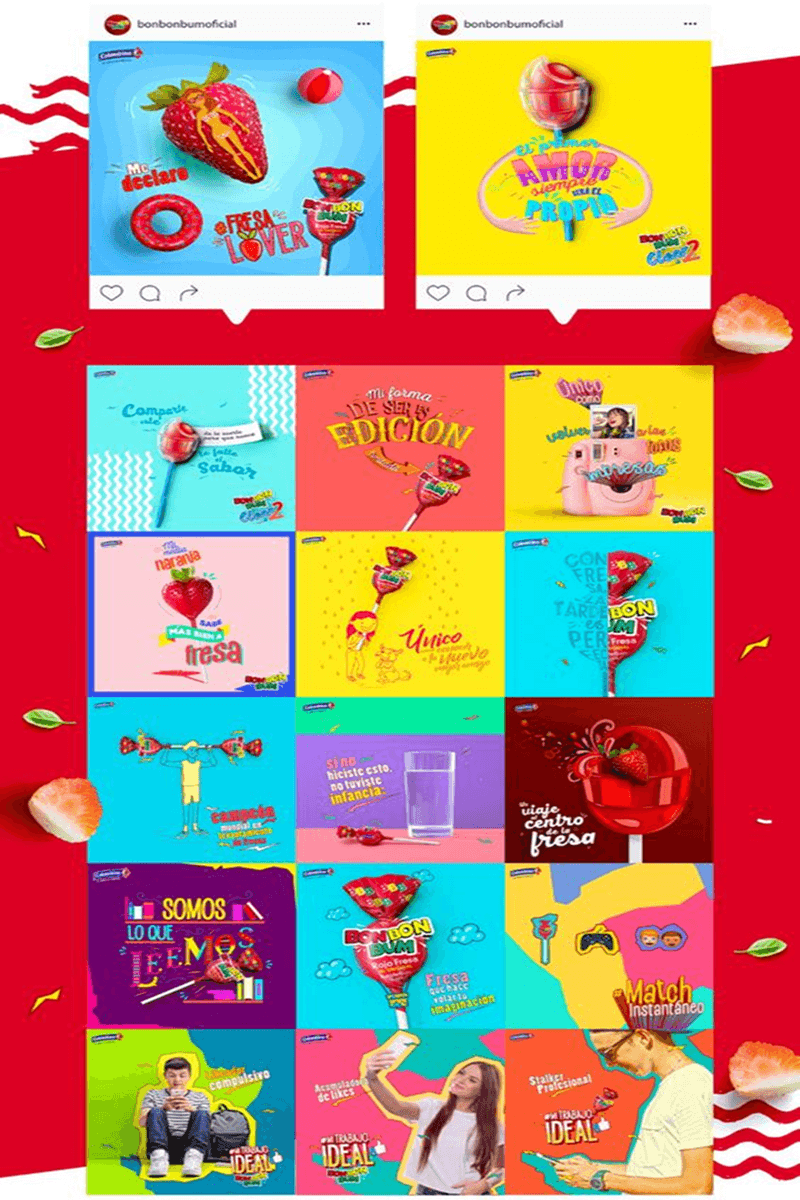 Many Instagram accounts already use this strategy, so if you're searching for ideas, here's a fun and creative one from above these two pictures.
You can see how the biscuit is dipping in the cup full of water, or in the second picture, where an animated lady is sleeping over strawberries in a pool. These entertaining ideas make someone follow your account only to see what you will post next.
3. Black Or White Border Theme
Another great theme that makes your feed look like glossy magazines and gives the feeling of a movie scene is the black or white border theme. Further, this black border Instagram theme adds beauty to your feed as it makes your profile neat and organized. Let me show you an example of this. You will surely love it.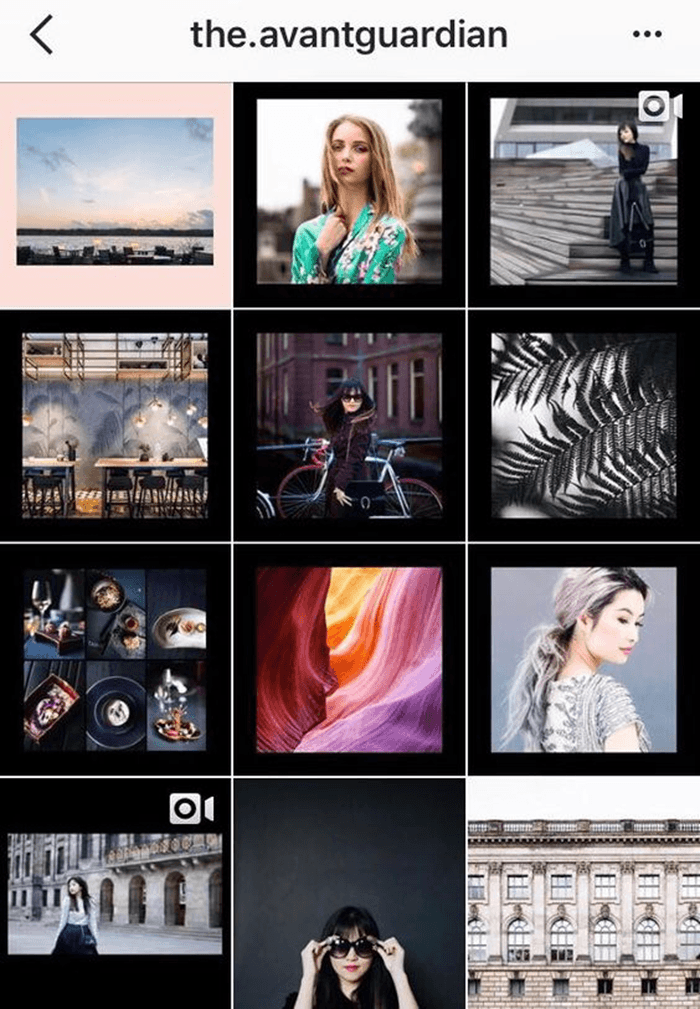 Apart from this black border layout, another similar Instagram layout idea is White Border Layout, which you can use for your profile to make it eye-catching. It gives a gap between your uploaded photos. Have a look at this picture below to get a clear conception of these lines;-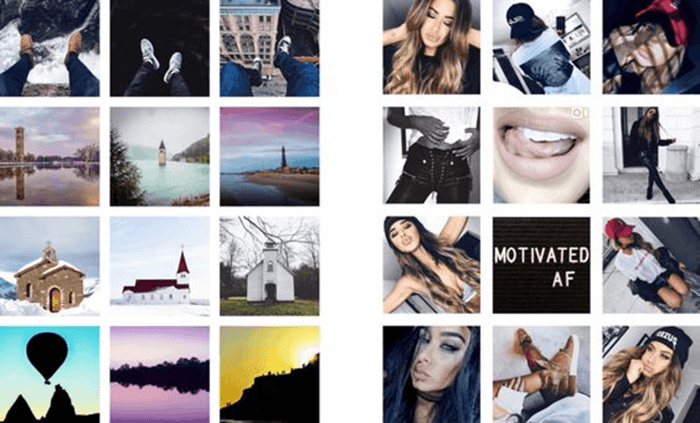 4. Puzzle Grid Theme
Looking good does not require hard work, but to look perfect involves time and effort. You will surely understand the meaning of the line above when you try to use this Puzzle Grid Theme for your IG feed. Unlike other layouts, this theme asks you to make some strategy before posting your photos, but once you do this, it may become one of your most engaging Instagram grid ideas.
This kind of layout comes into use when you are thinking of creating a banner to announce something, spotlight an idea, or planning to initiate a campaign. In this layout, you can use a series of pictures connected through a theme through a background. To break the suspense and to puzzle you in words, here is an image below;-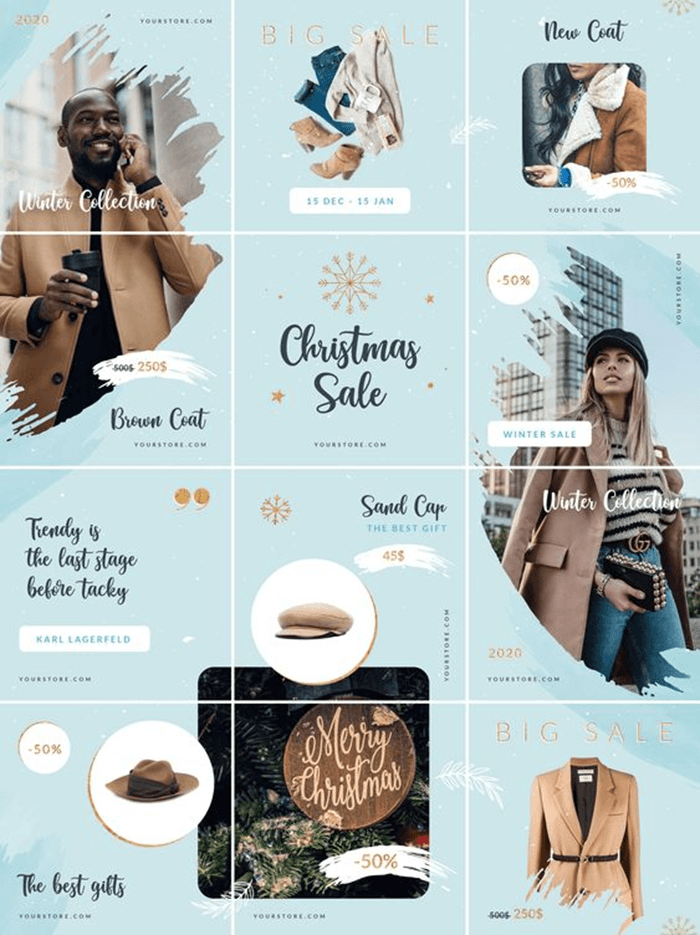 If you are willing to use this theme in your whole Instagram profile, you can use this only by connecting them with their background, like standalone pictures.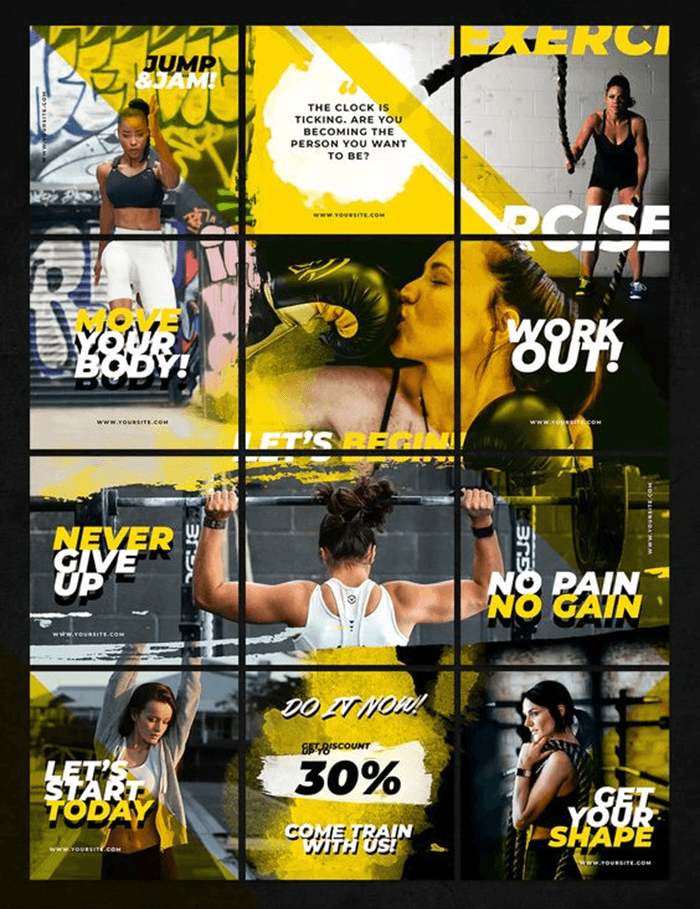 5. Quotation Theme
Incredible talents are available on social media platforms in the world of different individuals. If we talk about Instagram, then there will be a few who will not be active here. However, everyone wants to share what they have experienced and want to influence people through their words or actions. We also have writers, entrepreneurs, and motivational speakers who want to inspire people through their words.
Apart from this, some business accounts share info about their industry through quotes. So for all such people, the most used IG feed is Quotation Theme. It will be more apparent if you see a picture of what kind of layout I am talking about. Here it is;-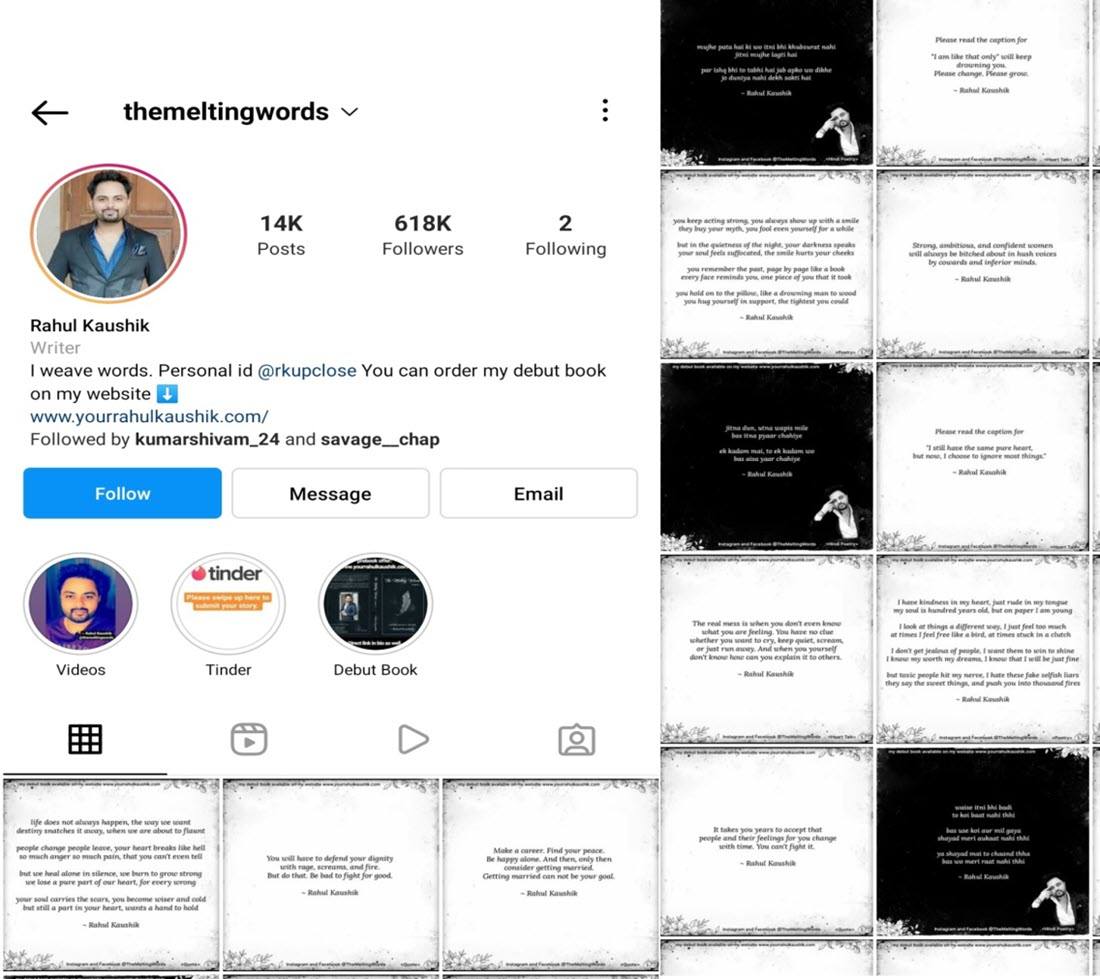 6. Vertical Lines Theme
In the most popular Instagram layout ideas list, the Vertical Lines Theme is highly used by many people. However, this needs some strategy before uploading, as you can create a vertical line in the middle of any colour like white, black, or any colour you prefer. But one thing you need to take care of is that it should be differentiated from the rest of the photographs while selecting the colour. You can also add some quotes on the simple colour background. Let's clear this with the figure below;-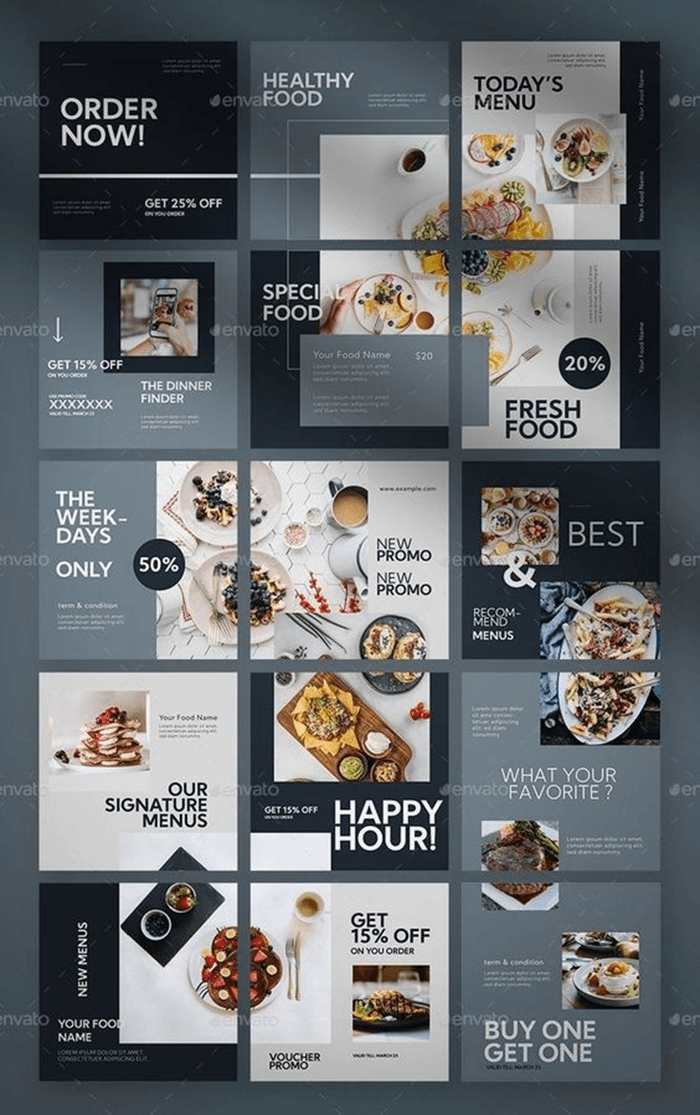 7. Horizontal Line Theme
This might seem similar to the vertical line theme, but it is a little different as you do not have to arrange photos vertically but horizontally. To clarify this straightforward concept, we have devised an example for you. Look at the picture below that shows what a Horizontal Line Theme looks like;-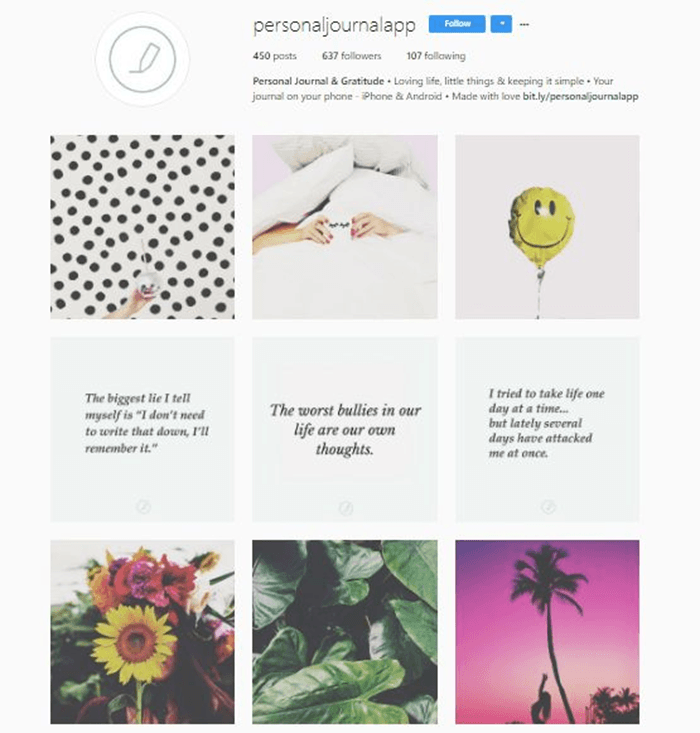 8. Color Block Theme
Colour is something that can fill a void and make it look beautiful. A colourful thing often attracts many people toward it as it is eye-catching. Similarly, if we think about it to apply in our Instagram Feed, will that make a difference? So the answer to this is a big "Yes." It is a potent tool to use if someone wants to make their profile remembered. By using Instagram colour themes, one can make their profile attractive.
Once you start uploading a picture with an excellent colourful background, it will accumulate or assemble on your profile and give the followers a good splash of colour. Most of such pictures are funny as when the colour is added in the background, it brings a slight smile to the face of visitors and holds them to scroll down your Id to know much, and it is fun and creative work. To clear this conception, we are providing the picture below that helps you to understand what a Color Block Theme look likes;-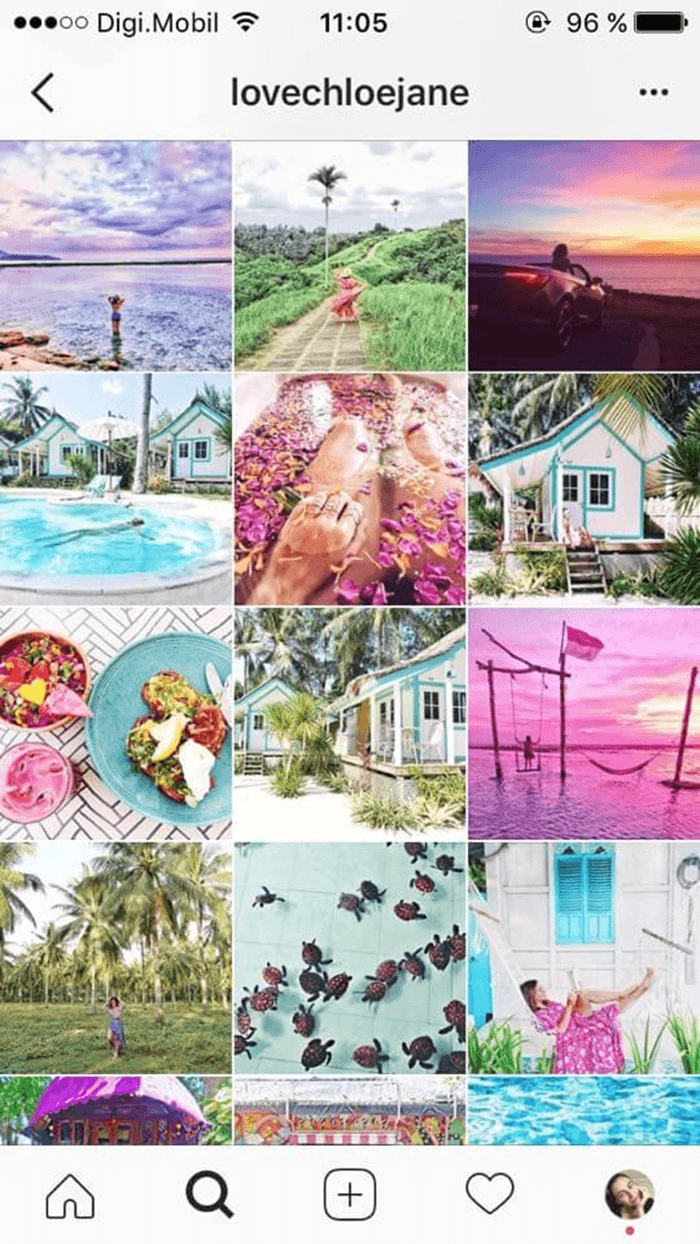 9. Pastel Theme
Thinking about making your Instagram feed with a colour theme, but you do not know which colour will give it a better and more intense look. In that case, we advise you to choose bright and pastel colours. It will be a good and better choice. But, applying the filters and decreasing the highlights will give a faded look to your feed. You can use several colours for this IG layout, but filters like Pink, olive green, orange, and purple will be the best if you go with our opinion.
Let's have a look at this Pastel Theme in an IG feed;-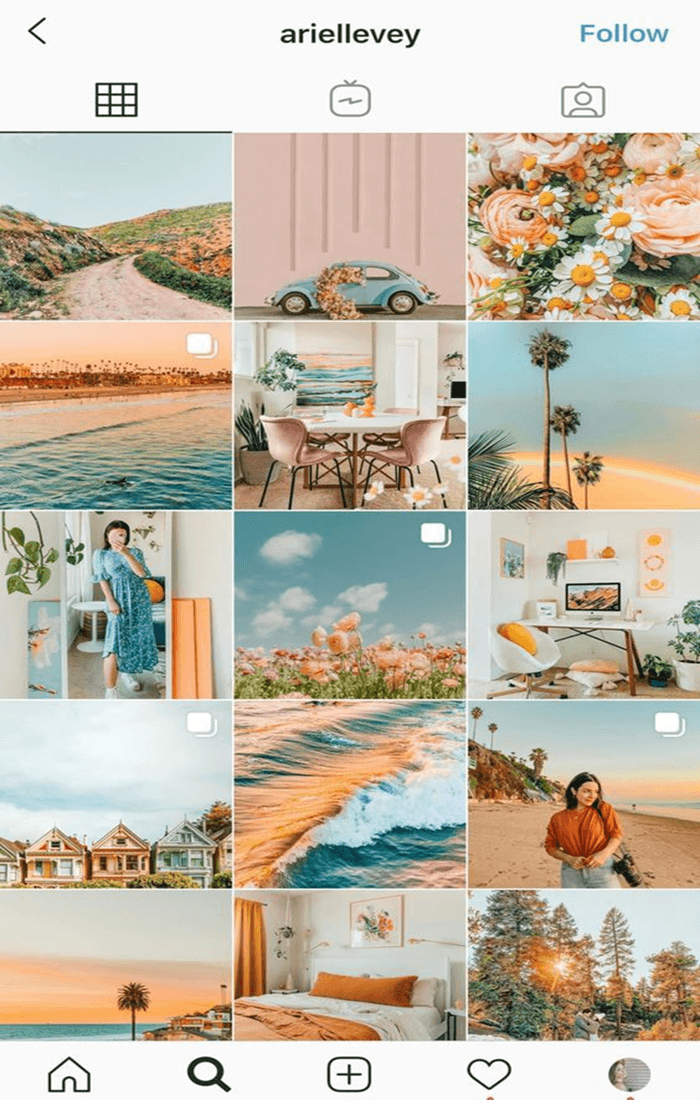 10. Holiday Theme
We often visit several places during our holiday, and seeing a new place by not clicking a picture is quite impossible. But why can't we become more creative and start uploading these moments on Instagram feeds and give them a look that attracts visitors? People will love to see the pictures of travelers to learn about the beauty of different states or places.
You can create a seasonal theme at any time you want. For example, you have decorated your house like a palace during Christmas, so what to do next. Just take your phone out, click the pictures, and let the people know how to decorate a house. If you are spending your holiday outside the city or across the frontier, you can also share pictures that will be eye-catching for many viewers who think of visiting the place you visited.
The Christmas festival is among the most inspiring holidays for taking pictures. After doing this, your profile will look so attractive. If you do not believe it, have a look at the picture below;-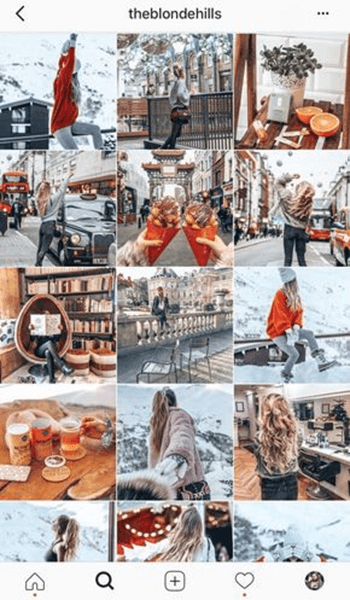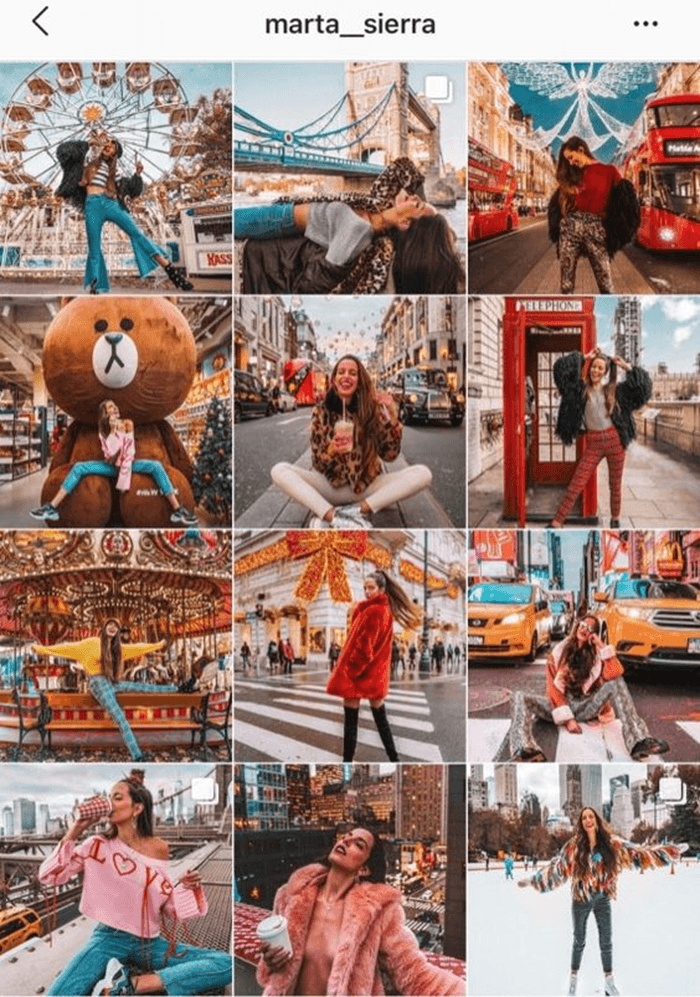 11. Contextual Theme
This layout of the Instagram feed is highly used for brand identity. You can use this theme by analyzing your products or services and finding out the best way to use it to give your Instagram feed a unique and attractive look. For example, you are promoting your food products' merchandise in different colours and new ways. The pictures can enhance the possibilities even more if you showcase them in other contexts. Let's look at Instagram feeds using this theme and getting more visitors to their feed. Have a look at the picture below;-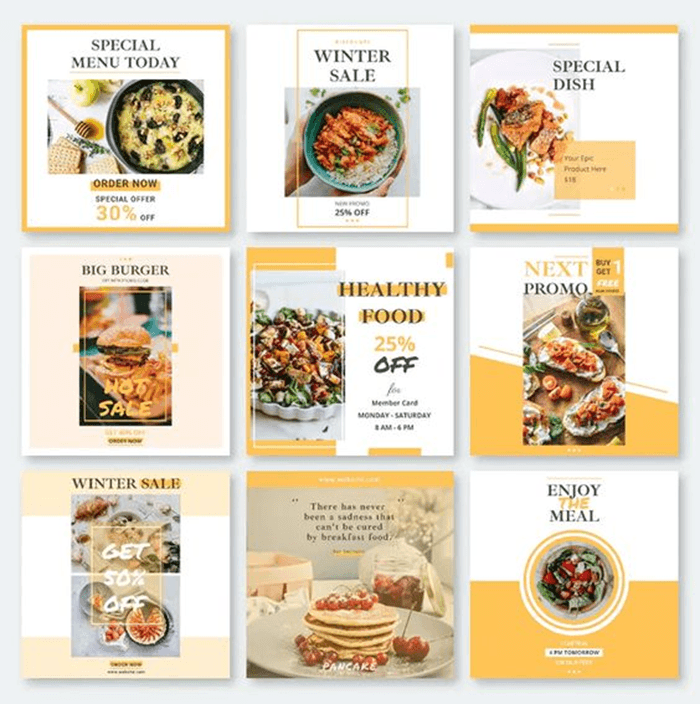 12. Colour-Coordinated Theme
In the list of several eye-catching Instagram feed layouts, this Color-Coordinated Theme is the most popular one. Using this Instagram profile is not that tough but an easy task as while using this theme, you need to choose two or three colours and use them in every picture you upload. Let's have a look at the image below and see how fascinating it looks;-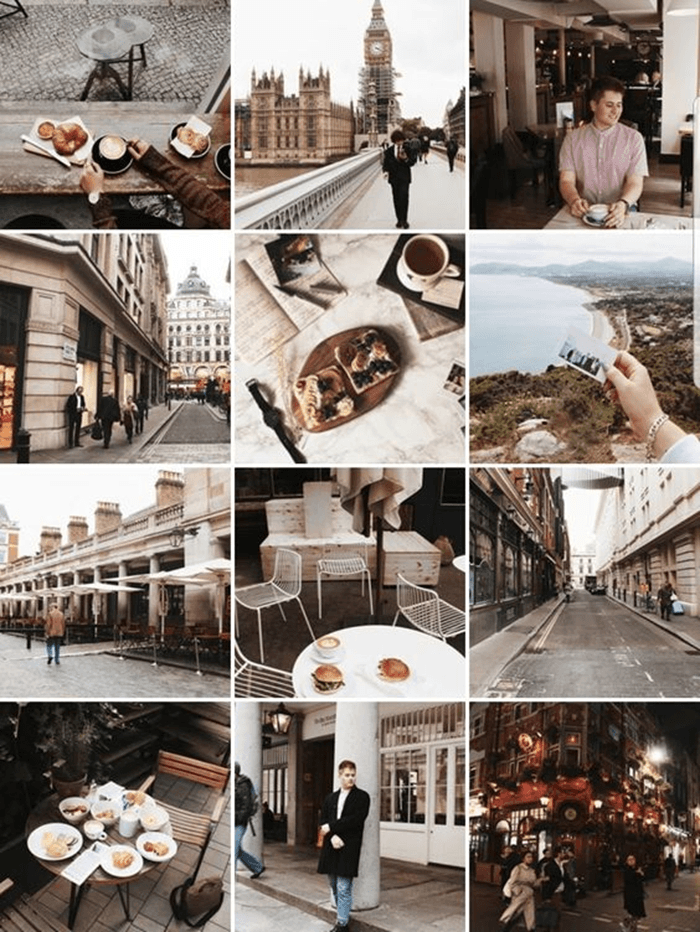 Conclusion
All the above-mentioned Instagram Feed Layout is the best way through which one can make their profile fascinating as per their respective work. You can go with several options as per your need or requirements. Having an Instagram account is an excellent approach to getting people's views about your work or business by being creative. But as it is said, if you want to gain something, you must put some effort into it. Following this quote, you can improve your profile and acquire your desired result.
Mere posting pictures regularly will not give you the outcome you prefer, but if you keep uploading the images by putting some strategy behind them, it will work in your favor.
With these ideas and words, this article comes to an end. I hope I have covered most of the parts that will help you design your Instagram Feed. After that, you should give your best and develop the most beautiful and relevant IG feed possible. In the end, if you are satisfied with this article and willing to share your experience while reading it, please drop your comment below. I wish you all the best.