8 Best WordPress Mobile Plugins To Make Your Site Mobile Friendly 2021
Are you looking for Free or Premium Best WordPress Mobile Plugins To Make Your Site Mobile-Friendly? Nowadays Google has made it mandatory to have a mobile responsive website to get more traffic.

Mobile responsive themes Enhance your user experience. And increase your website conversion. This is most important for the users who own their eCommerce related website.
Normally WordPress themes are responsive not 100%. Except some of the themes or frameworks like genesis theme
.
How To Make WordPress Website Mobile-Friendly?
The first step is to check whether your website is responsive or  not For that try google mobile friendly Test
Now If your website theme is not responsive then you will leave with 2 options. Either use a responsive theme Or choose any one of the below-mentioned themes.
If you are planning to change the theme then trust me very few themes and plugins are trustworthy so you should use Genesis Framework and anyone the genesis theme.
Changing themes is a better option than using Plugins. Because You are already using the non-optimized, non-SEO friendly theme. Which need to be changed and You will not find any options better than genesis.
Never and never add any kind of lead generation Plugins popups on Mobile. It may affect the responsiveness of your website.
Now let's have the list of Best WordPress Mobile Plugins To Make Your Site Mobile-Friendly which is as follows:
1. AppPresser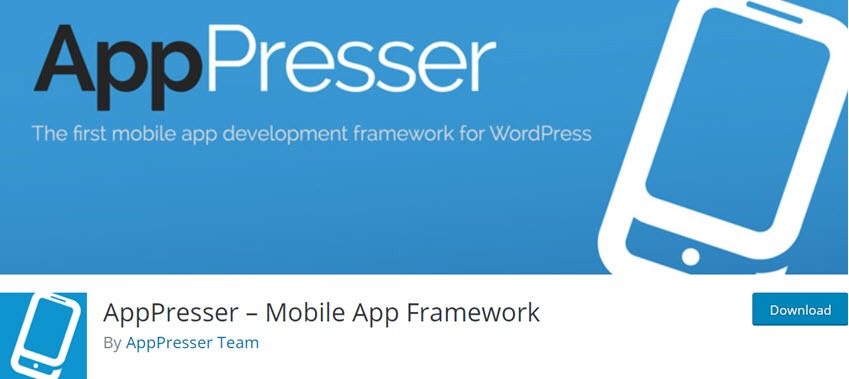 AppPresser is a combo of many WP plugins that integrates well with your custom plugins. It can design high-grade apps with minimal coding, you can simply customize your app as per your client's will and deliver an app with a high customer satisfaction level, without disrupting the infrastructure. The specially designed app plugins for woocommerce website owners and BuddyPress. AppPresser is a well-integrated WordPress Plugin for mobile app accessibility. Hereby, website designers easily create mobile apps for android or IOS in just a little time. Once the app is created then you may use the entire website's functionality in mobile integration. Just easy-to-navigate and easy access to different media available on the mobile phone. AppPresser comes with a lot of essential features that require customizing the app within a minute of configuration. Such an intuitively designed to easily tackle the entire functions and create a mobile app for your specific business even without involving a mobile app developer.
Essential Features –
Integration – Just create an app for your website and integrate it with a website with the assistance of AppPressure.
Accessibility – Assists admin to activate themes and code so appropriately after the app is completely ready for your website.
API Access – Let you modify the request for API of WordPress that enables you to insert URLs with featured images.
Ajax – Streamline the workflow with smooth ajax access that is compatible with pre-existing themes and plugins thereby.
Configuration Page – Create a separate page to manage the settings of the entire app throughout the one page to configure it all.
Navigate Freely

– If you create an app to maintaining your website's content, graphics, and more, you will easily manage it all by just opening that app anywhere and anytime.

The plugin gives an exquisite hand to the website builders to create iOS/ Android apps simply out of the WordPress websites.
You can simply create an app using the app builder and install the plugin on your WordPress site.
The first mobile app development configuration for WordPress, AppPresser allows you to create a Mobile App for your WordPress website. You can call these plugins as an alternative for WPtouch.
Total number of users – 3,000+
Price – Standard – $708/annually (10k Device),  Professional – $948/annually (100k Device),  Advanced – $1548/annually (1M Device)
Build WordPress Mobile Apps with AppPresser
Screenshot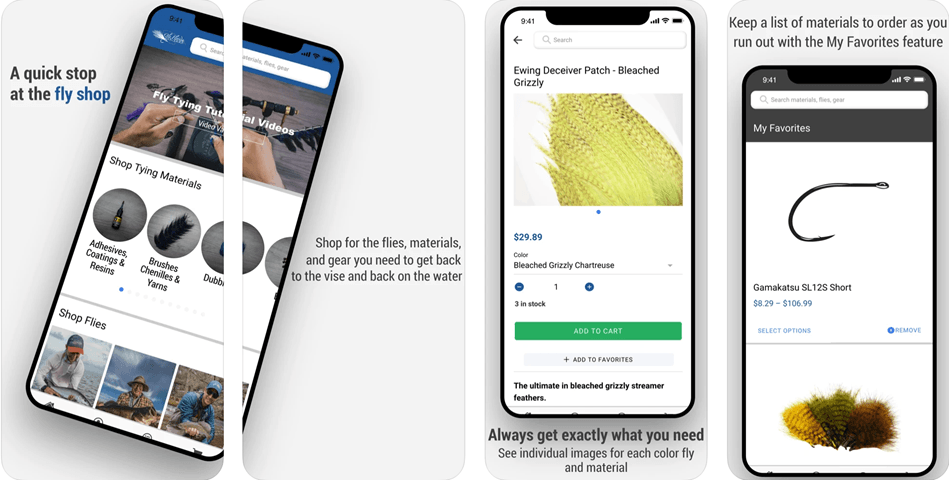 2. WP Mobile Menu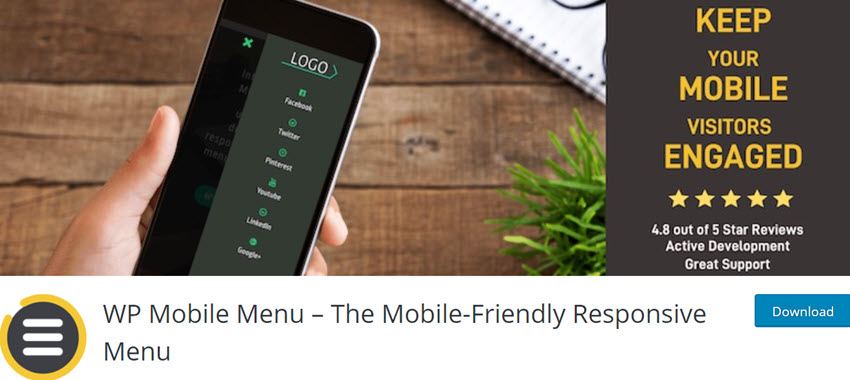 WP Mobile Menu plugin helps to keep the visitors engaged as it is the best WordPress responsive mobile menu. The mobile visitors are provided with easy access to the site content using any device such as a smartphone or a tablet. It has 3 depth menu level. Background images of the menu are available. The styling of the mobile menu can be customized. There is a header as well. WP Mobile Menu is a seamless integration for those who want to provide the app-like experience of their website to the visitor. Such a well-organized extension enables you to create a nicely accessible appearance on mobile view. Just layout an exclusive mobile menu and other accessories of the website that works smoothly on Android or IOS. Organize the content and other elements of the website so elegantly that enhance the user experience thereby. Prepare your website for mobile access so simply by just installing WP Mobile Menu. Increase web traffic on the website by providing smooth mobile functionality that any users easily get connected to anytime or anywhere.
Contain Following Essential Features Are Listed Below –
Customize Styles – A lot of customizing options are available that assist in the layout of the styling of the mobile menu so efficiently.
Menu Level – Contain the menu level that is discrete into a 3 depth section.
Header – Keep a more responsive header in the naked overlay that provides elegant gestures.
Display – While enabling Mobile Menu, it hides the unnecessary elements that slow down the website visibility.
The display type can be chosen among overlay full width or slideout from the top. The copyright section is also there.
Mobile menus can be displayed on specific pages.
Total number of users – 90,000+
Price – Professional – $77.88/annually,  Business – $119.88/annually,  Enterprise – $359.88/annually
Screenshot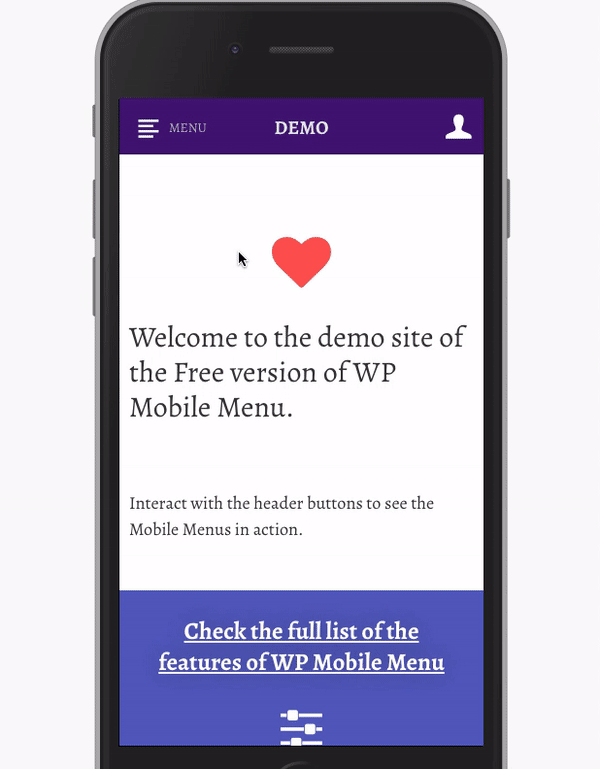 3. Jetpack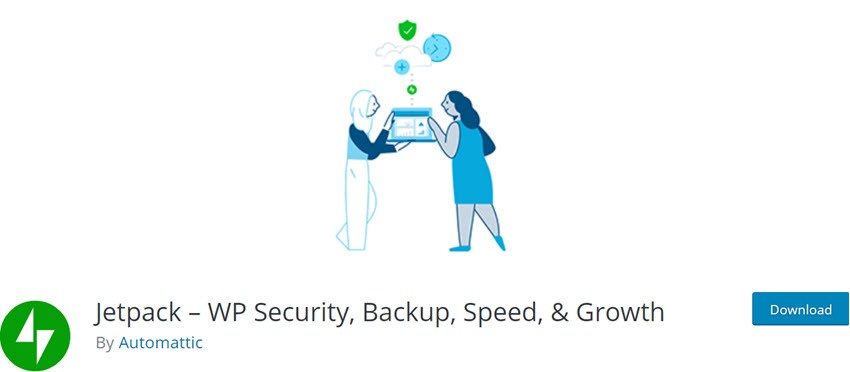 Jetpack plugin by WordPress provides marketing, design and security with all three features in one place. It has many professional themes and many intuitive and powerful customization tools. A lazy loading feature is also available to increase the speed of the website. It also provides the site stats and analytics. Social media postings can be scheduled in advance automatically. It provides security by spam filtering, brute force attack protection and downtime monitoring. It is fast and has got priority support from WordPress experts.
To add a mobile-first WordPress responsive navigation menu on the website, Mobi gives the best visitor's browsing experience. Navigation of websites becomes easier with this plugin. Social media interactions and followers can also be increased by adding social media icons on the navigation menu. There are many amazing animation options to amaze the visitors. The menu items are fully customizable. It is completely responsive and is cross-browser tested. For logged-in users and guests, there is user visibility.
Total number of users – 5M+
Price – backup Daily – $40.54/annually,  Security Daily – $151.78/annually,  Complete – $607/annually
Screenshot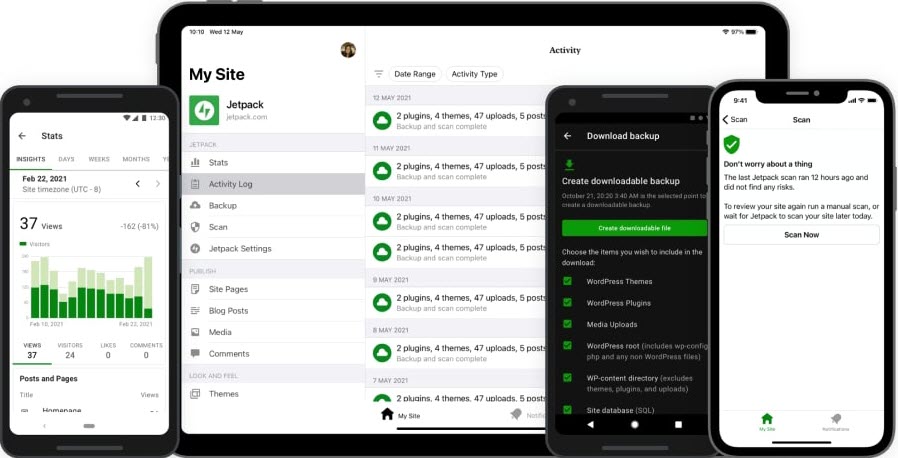 4. AMP for WP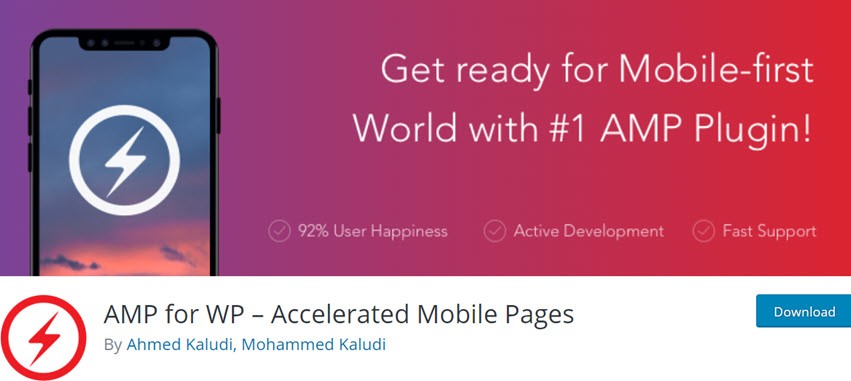 AMP is an extensive mobile plugin for WordPress that enables the website to run smoothly on mobile. Integrate app and create effective elements that look better while anyone surfs your website on mobile. Just integrate and arrange every single element including header, footer, fonts, menu, and more of the website so well that it is visible so elegantly on any mobile to get more visitors. Provide users with a better experience whenever they open the website on android or IOS. 100% responsive menu and other elements that streamline the workflow of your website so efficiently. AMP is fastly accessible on mobile that increases your visitors and revenue significantly.
Elementary Features –
Present elegant header along with smart sticky header option that enhances the appearance of the entire website.
Support DIVI, Elementor, and Gutenberg that becomes to tackle the functionality of the website and fix the same access on mobile.
Enable Pagespeed optimization by Google with SSR to fast page navigation for mobile visitors.
Improved paginations that provide hassle-free scrolling and next page move.
Design an exclusive menu along with background and icon visibility for a website that can adjust anywhere with the help of shortcodes.
Drag and Drop assists to configure anything effortlessly for presenting a website for mobile users.
Total number of users – 100,000+
Price – Presonal – $149/annually (1 Site), Multiple – $199/annually (3 Site),  Webmaster – $249/annually (10 Site),  Freelancer – $299/annually (25 Site),  Agency – $499/annually (unlimited Site)
Screenshot

5. MobiLoud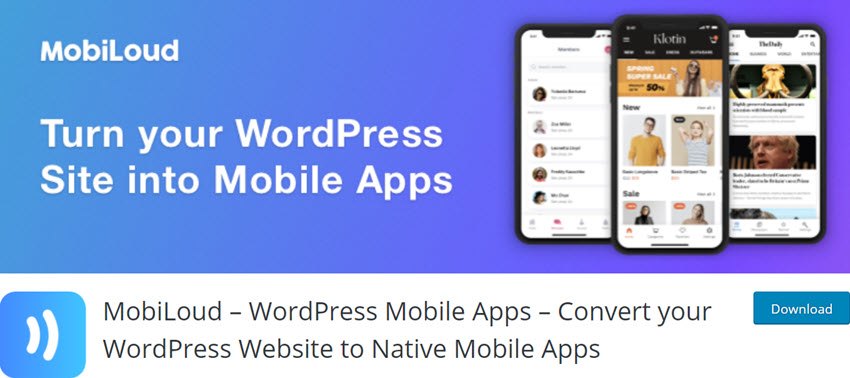 MobiLoud is a feature-enriched and lightweight extension that creates apps for mobile accessing of the website in just a few clicks. Let you create user-friendly apps for any business pursuit to streamline the workforce so efficiently. Facilitates a variety of customizations alternatives to make your website easily accessible to mobile visitors. Although, increase the reachability of audience on your site as it is well-streaming anywhere either on android or IOS. Moreover, MobiLoud assists you to make available such created apps on Google Play and App Store after the complete the testing procedure. Also, take responsibility for maintenance as well as updates from time to time without involving you.
Key Features –
Fast and Elegant – Designed so elegantly whereby anyone simply set the configuration and create apps for their business so quickly. No need to involve developers or anyone else as you can do it on your own quickly.
Technical Assistance – Just take the assistance of technical experts present for you to ease the technical tasks that must be configured for designing and creating apps.
Numerous Templates – Enables integrating everything in the created app that is available on the website, and establishes the entire functionality with pre-built templates. Let your mobile visitors enjoy the functionality of the website so nicely as it provides fast access to apps.
Total number of users – 1,000+
Price – Request A Free Quote To For Pricing
Screenshot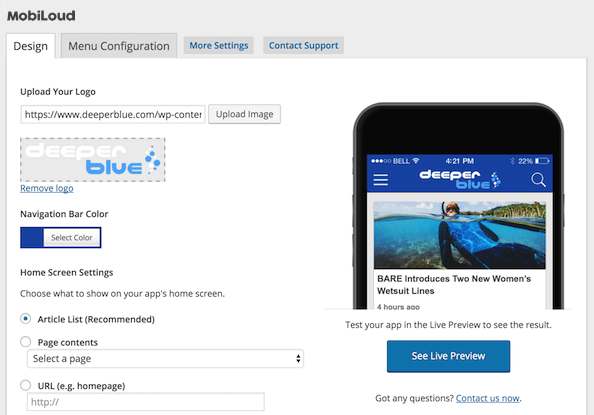 6. WPtouch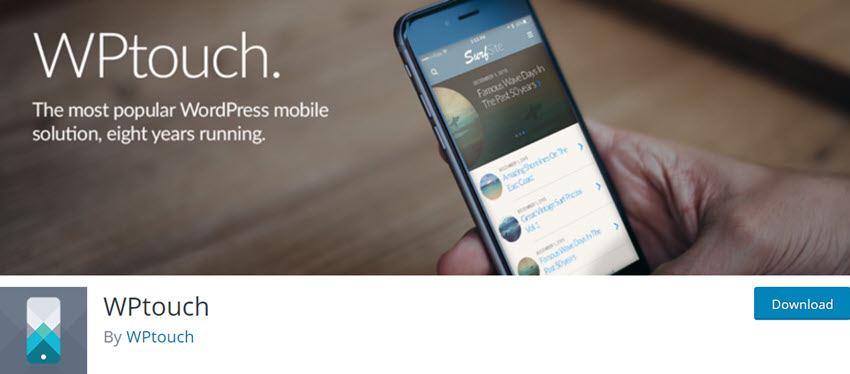 A mobile plugin for WordPress, WPtouch automatically adds a simple and elegant mobile theme for mobile visitors to the WordPress website which is known as Best WordPress Mobile Plugins to make your website responsive. It effortlessly creates a mobile-friendly version of the website which passes the Google Mobile Test. Meanwhile, it keeps up the SEO ranking of the website. Many aspects of the appearance can be optimized through WPtouch administration and WordPress Customizer. This way a fast and user-friendly version of the website is created without any coding.
WPtouch helps the users to wrap content in the editor with shortcodes. This helps to hide content based on visitor devices at the server level. All of this helps to maintain responsiveness in the themes. A non-user initiated download is considered when a full-size infographic is displayed unknowingly on a visitor's phone. So this infographic is wrapped by the plugin into a shortcode so WordPress decides at the server level to show the content only if the user is Not on a phone or tablet. A link and corresponding text can also be wrapped to the infographic in a shortcode so that the visitors can consume the content if they want to. After the selection of the favourite theme, its colour and font can be customized and logo and graphic elements can also be added. Pages can be chosen which the user wants to display on the website. The posts and comments are also automatically synced.
Total number of users – 100,000+
Price – Pro – $79/annually (1 Site), Business – $189/annually (5 Site),  Developer – $259/annually (20 Site),  Enterprise – $359/annually (50 Site)
Screenshot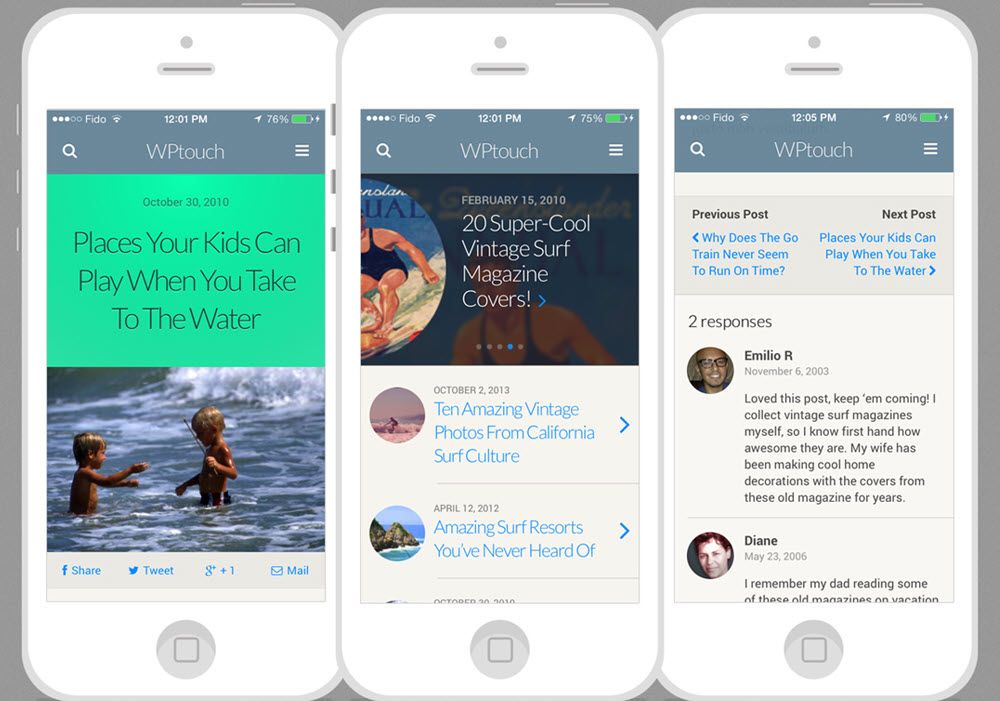 7. AppMySite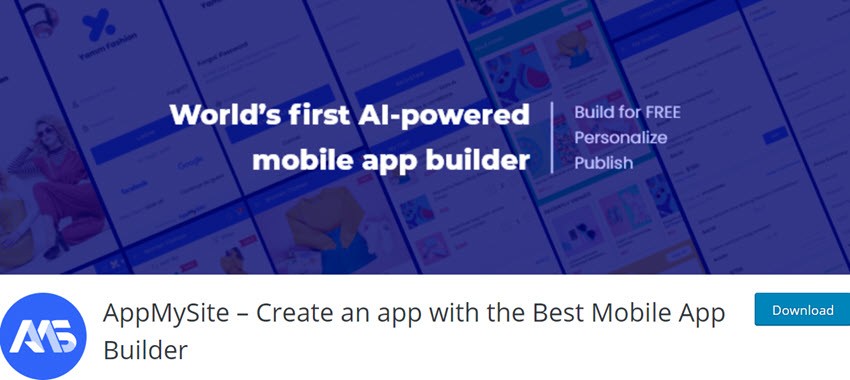 AppMySite is a well-built WordPress Extension and also a feature-packed integration that lets you turn your website into an exclusive app. Create an app that works so elegantly to engage more visitors on the website and smooth functioning of every task on mobile as well as other devices. Multiple device compatibility and integrate the website with essential elements to streamline the activity present there. AppMySite provides a better experience for mobile visitors while it presents the site according to the customization you need for your business. Without any coding, you can create elegant apps for Android or IOS, within few minutes of configuration in this plugin.
Elementary Features –
Easily create apps for website along with customizing alternative to get more visitors and revenue thereby.
Let you easily launch such created app on Google Play and App Store within a few minutes after appropriate testing that also performed automatically on AppMySite.
Seamlessly manage the entire app development and afterwards maintenance like adding new features, updates, and more with just one click.
Provides an advanced app creator that lets you customize the icon for the app, screen visibility, font, and more in just a few clicks and available templates thereon.
Total number of users – 9,000+
Price – Starter – $108/annually (1 Site), Pro – $228/annually (Unlimited)
How to make an app for free without coding
Screenshot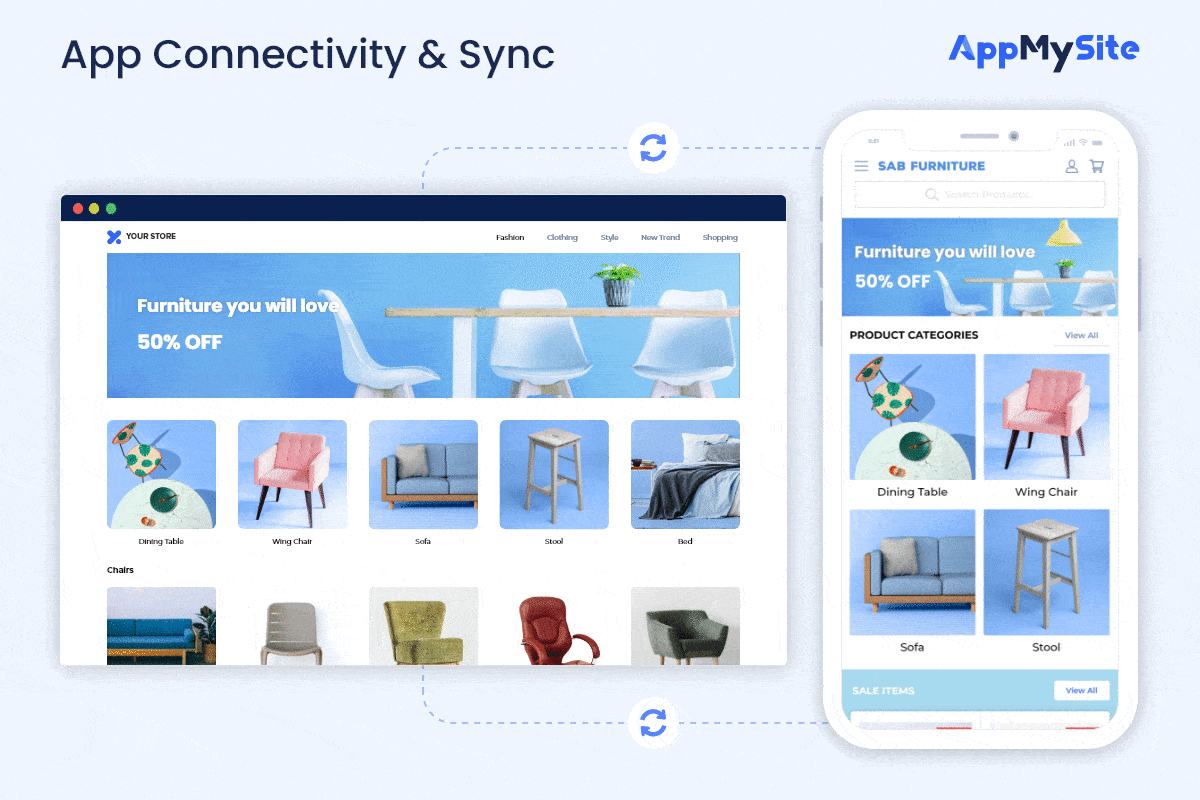 8. Mobilook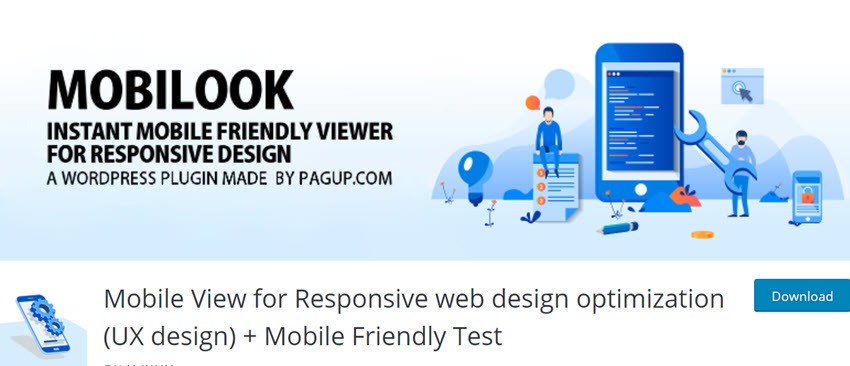 A mobile plugin, the WordPress Mobile Pack plugin helps the users to transform the web site's content into a progressive mobile web application. Multiple mobile app themes can be bought in this plugin. The plugin has a responsive user interface that morphs seamlessly into the screen size of the user device. Mobile related conditional function for the website is provided by mobble. CSS media queries, which create amazing responsive web designs, don't provide enough control. It may also happen that not all of the contents are relevant for a particular device. So these two tweaks can be made to the theme with mobble.
Device information can also be added to the body class of the theme using mobble which also allows targeting CSS for different gadgets. The Mobile Smart plugin helps the users to switch the theme to a mobile-ready theme if a mobile device is detected. The visitors can be given the choice of switching to mobile or desktop versions. To allow conditional content inclusion there are template functions to determine the tier of mobile device which is viewing the site. The mobile version has menus for mobile-specific navigation. Selected widgets can be disabled when viewing the site on a mobile device. A different page can be set to the mobile site's home page.
Total number of users – 1,000+
Screenshot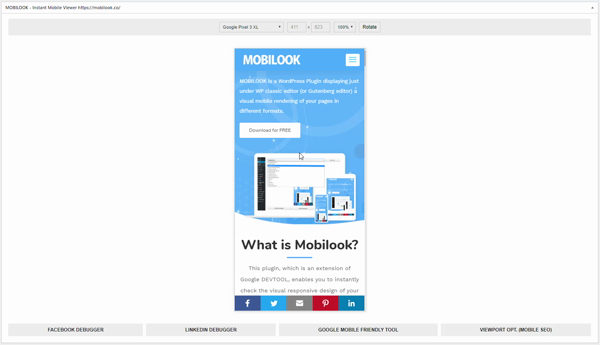 Conclusion – Finally we got to know the list of Best WordPress Mobile Plugins To Make Your Site Mobile-Friendly and responsive. And to make it more mobile-friendly we only recommend changing highly blotted themes by genesis theme. If you are a beginner and looking for someone to change the theme then you can hire some expert here  . Or Get Apppresser 1000x better than any or plugins