12 Best WordPress Donation Plugins 2023 For Fundraising Platform
Fundraising Platforms can quickly be built with WordPress Donation Plugin. Many plugins in the WordPress market allow you to accept online donations on your WordPress website.

Using these fundraising plugins, you can easily create a custom donation form. And you can even accept charity payments via PayPal or offline mode with some instructions. Some plugins are so advanced that they have many payment modes, like Stripe Gateway, PayPal PayuMoney, authorize.net, etc. A charity management system will make your work easy, and you can export that data in CSV files. You can even accept Charity, Relief, and Support from free eCommerce products on the WooCommerce site and accept a donation for it. You can also use some of these plugins as recurring donation plugins.
There are several reasons to go for a donation. Many bloggers and developers work on donations. Also, nonprofit organizations and political campaigns work on donations. WordPress is one of the best platforms to accept donations or charities online. It is free and scalable, highly customizable, has a vast customer base, and has multiple themes.
And searching for charity plugins one by one is different. So we have decided to write the list of top donation plugins for WordPress. Their list is as follows:
1. Give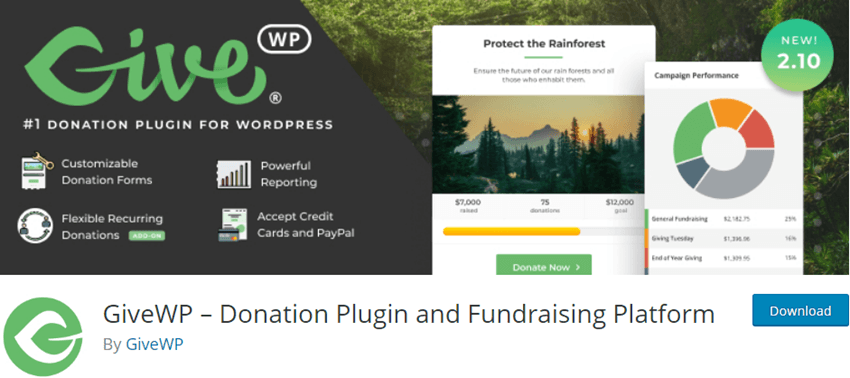 GiveWP is the best WordPress Donation Plugin for fundraising and finding donors effortlessly. Although keep an appropriate record for distinct donations and their source. Let's manage donors to create donation forms and real-time reporting of the complete functionality. This feature-packed extension enables the management of donors where you receive the donation and keeps its history record long. GiveWP efficiently owns the preexisting theme and lets you customize the donation forms. A bunch of templates is available to create a donation form that matches the standard of your website.
Essential Features –
Know how your donation functionality is going.
Analyze the consequences of what you experience after having this extension installed.
Export the database whenever required, i.e., just one click away.
An excellent reporting tool that contains a filter to be visible. Such filter alternatives include form, payment process, and date.
Starting from $15/month, you can opt for the addons to avail yourself of the benefits of recurring deposits. Tributes, free recovery, manual donations, and multiple payment gateways.

GiveWp keeps a tab on donation statistics, manages donors reports, and can easily be integrated with any payment gateway.
Total number of users – 100,000+ 
Pricing – Pro- $374/year for 5 sites. Plus- $270/year for 1 site. Basic- $187/year for 1 site

Screenshot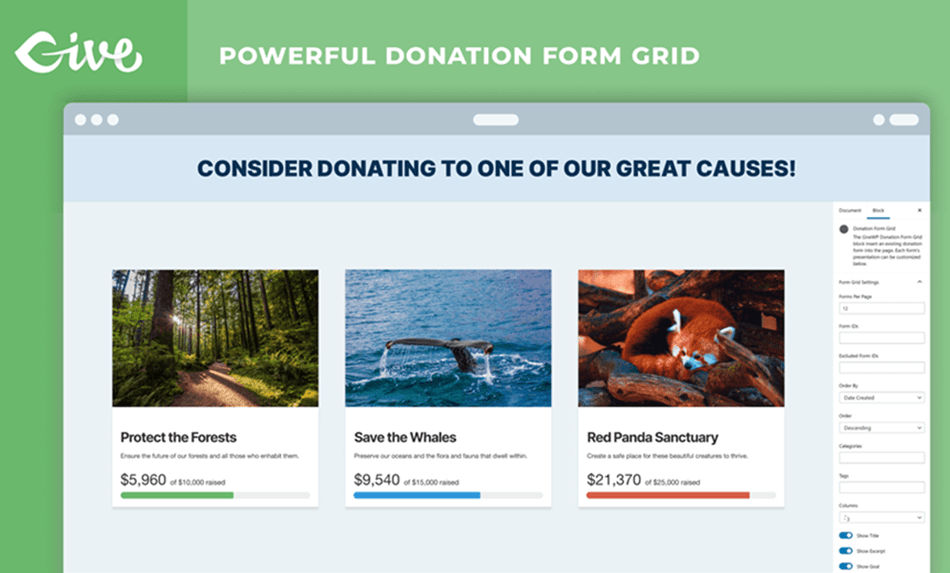 2. WP Crowdfunding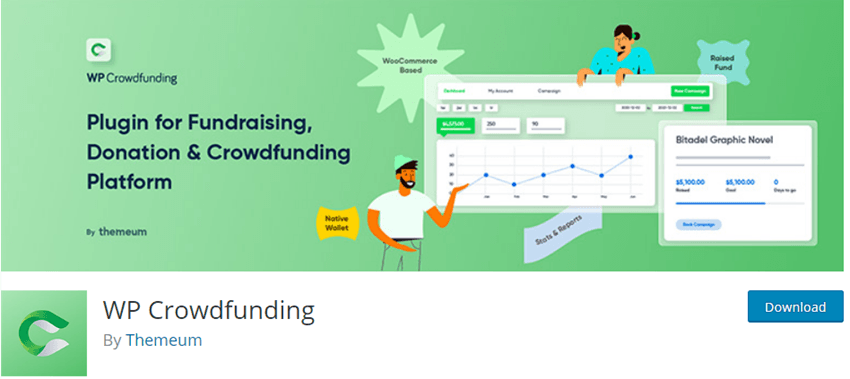 WP Crowdfunding is a robust freemium WordPress Donation Plugin for managing donations with perfect reporting and campaigns. Allows you to generate more and more funds as donations within a few minutes of configuration. No matter whether you have one or a thousand donors on your website. You can conveniently manage their database into a comprehensive dashboard. Keep an analytical report and order the entire history of donations. Run smoothly with shortcodes that enhance the functionality of donation management. You have to place any particular shortcode wherever you feel necessary.
Core Features –
Native Wallet – This Crowdfunding plugin allows the project owner to keep an eye on raised funds and manage its transactions whenever necessary.
Payment Method – Efficient payment process while connecting it with any gateway like Stripe, PayPal, cards, skrill, and many more.
Intuitive Frontend – A user-friendly interface that allows registration through frontend form submission.
Manage Funds – Manage the donation and note the detail of the donor in a particular profile. Let's distribute your funds directly to admins.

Native wallet system keeps track of the records, calculates and distributes the funds, and unlimited rewards. Google reCAPTCHA, Email Notifications, Analytical reports, Social Share, and Stripe Connect are available with the paid version.

These features include building customized forms for which various themes are available. Watch over your performance activity with details and information about your donors.
Total number of users – 4,000+ 
Pricing – Individuals- $149 / Year for 1 site; Freelancers– $199 / Year for 5 sites; Agencies– $299 / Year for unlimited sites

Screenshot
3. WP PayPal Donation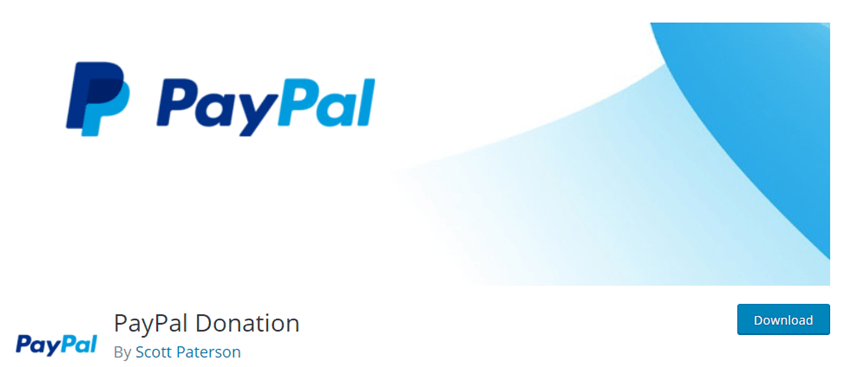 Accept Donations With PayPal enables the collection of donations from anywhere so quickly. WP PayPal Donation is a powerful Paid Paypal Donation Plugin for WordPress that is better for fundraisers for Nonprofit Organizations. Allow your donors to pay conveniently with any payment method, like credit card and PayPal. Accept Donations with PayPal is a full extension for managing donations but simple to configure in just a few clicks. Provide a button for PayPal Donation that you may place anywhere on the website where you feel necessary. Allow your donors to donate funds by just pressing the PayPal Donation button.
Elementary Features –
This Paypal donation plugin lets you see and manage donations from the admin panel of the WordPress website.
Insert button for accepting donations without lengthy form submission.
Availability of shortcodes and widgets that allow you to place the donation page or button and enhance its appearance.
Accepts recurring and non-recurring donations, whichever is suitable for your donors.

PayPal donation requires the donors to have a PayPal account or credit card, which is common nowadays.

The simplest of all other similar plugins, you can install the plugin and soon start getting donations from worldwide customers. 

Paypal uses 19 languages and supports 24 currencies, showing its diversity.

Paypal Donation has both free and premium versions. You can view the donations made easily through the free version.
Total number of users – 30,000+ 
Pricing – Personal – $39/year (1 site support); Professional – $119.00/year (unlimited websites)

Screenshot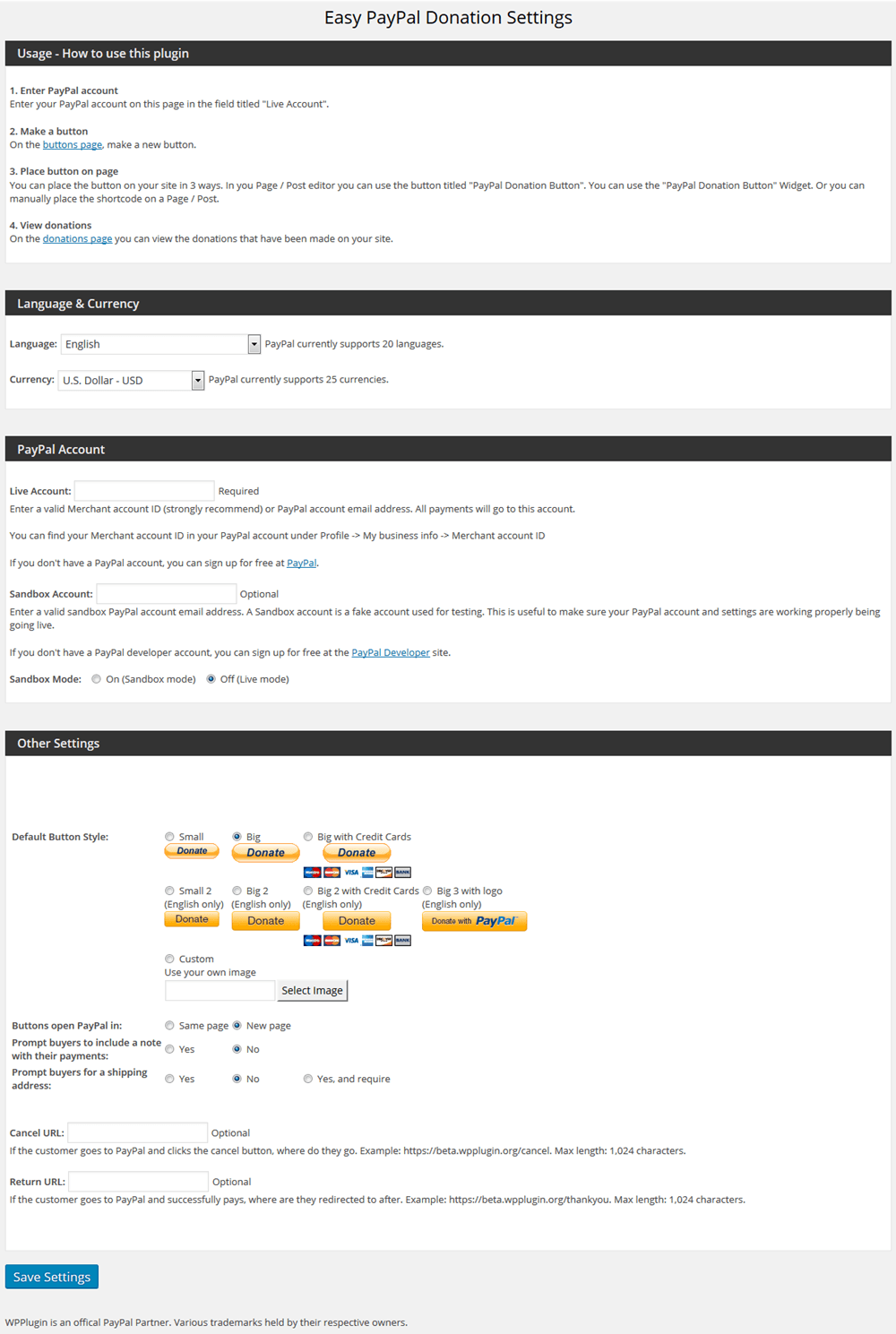 4. Donorbox – Free Recurring Donation Form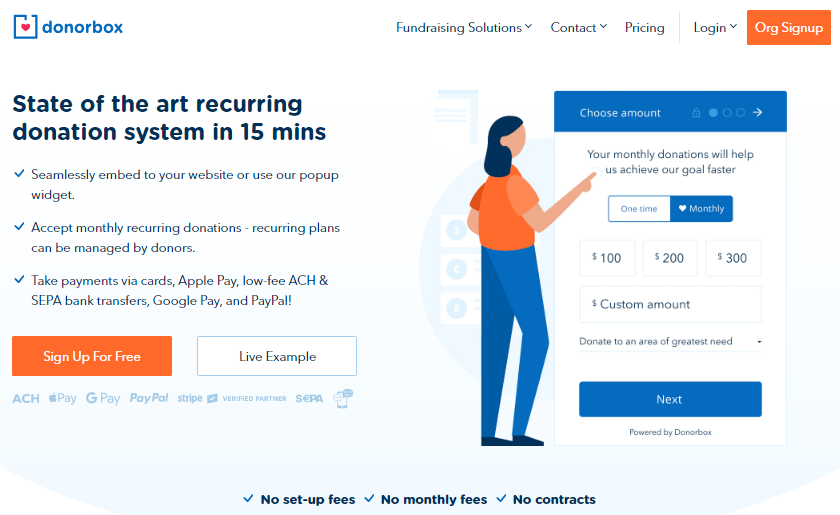 Donorbox is a freemium and highly Recommended WordPress Donation Form Plugin that helps you raise funds via Forms. Unlike other donation plugins for WordPress, it offers a fast feature-filled solution so that anyone can raise funds securely and efficiently. You can easily customize your donation forms to make them personalized to attract and retain donors.
Donor Box is a nicely integrated and lightweight plugin that lets you manage donations and donors effortlessly. You get access to fundraising in a frictionless configuration. Customize the donation form to make it more presentable in front of your donors. Accept donations online from any source and track its history in an intuitive dashboard. Allow your users to accept donations online from various payment gateways.
Core Features –
Let's securely embed Donor Box on WordPress to enhance donation management.
Create donation forms and customize the same by copying and pasting the essential codes.
Manage donations by configuring the recurring donation and one-time donation separately.
Allow your donors to donate for one-time or continue with recurring donation plans. In case of recurring donations, ensure the time interval and amount.
If necessary, register your donors with a small processing fee and collect information relevant to completing their profile.
Donorbox provides advanced-level security and employs Stripe's radar fraud detection system to protect your campaign against any threat.
Total number of users – 8,000+ 
Pricing – Donations raised –$500. Then Donorbox fees- $7.5; Donations raised-$1000; then Donorbox fees- $15, Donations raised-$5000, then Donorbox fees- $75
Screenshot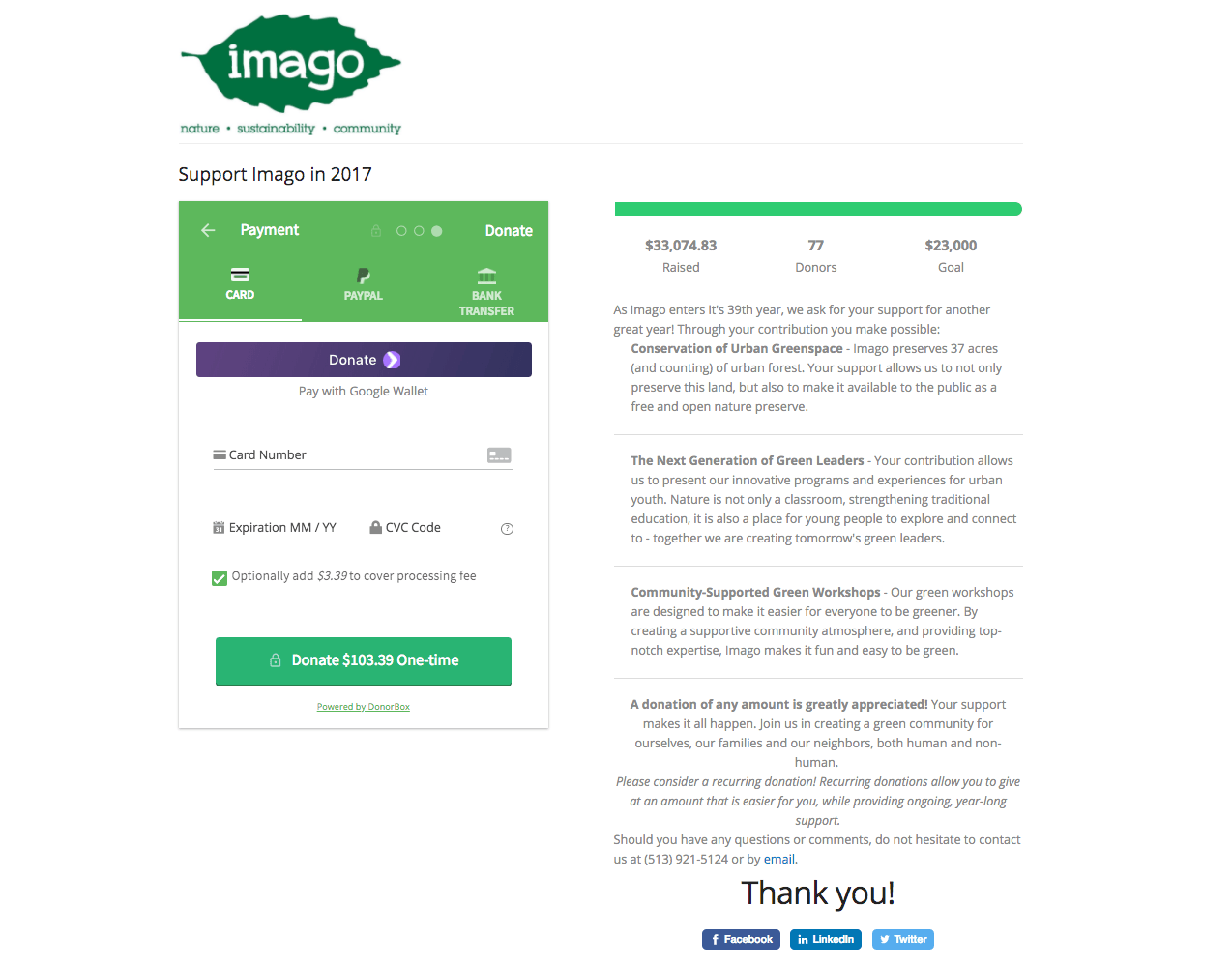 5. Donation For WooCommerce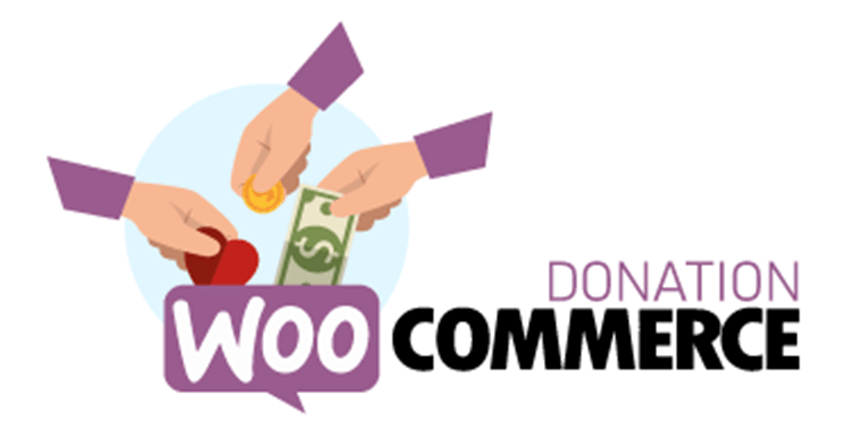 Donation For WooCommerce is a Donation plugin for WooCommerce to administer the fundraising activities Through your eCommerce website. Generate various campaigns and successfully distribute the same to get more donors on the website. Moreover, enhance the mode of accepting donations by availing recurring payments for collecting donations and managing it well. This extension provides you with essential tools to manage donations and donors simultaneously. Create while customizing the donation form according to the firm. Ensure your audience accepts donations in a predefined value or custom value. The donors must donate a fixed amount mentioned earlier in the form in a predefined value. And, custom value allows your donors to pay any amount they wish to donate.
Why Donation For WooCommerce is the best plugin?
Let's accept donations for one-time or recurring payouts.
Enable donors to donate by rounding up the final amount.
Availing donation widgets to make it convenient and less time-consuming.
Appear the donation option on any page of the WooCommerce site, such as product page, checkout page, carts.
Process Simplified! Alternately, a donation field is added to the shopping cart, where customers pay a little extra than the value of their product that goes to charity.
An intelligent plugin allows them to add "donation" to their shopping cart as a regular product and then pay for it.
The WooCommerce Donation Plugin gives you the dual advantage of setting up an online store and converting a part of it to charity.

Configuring options like Amount Type, Predefined Value, Custom Value, Min and Max Amount Limits, and many others are straightforward.
Pricing – Plan –$99.00/year 
Screenshot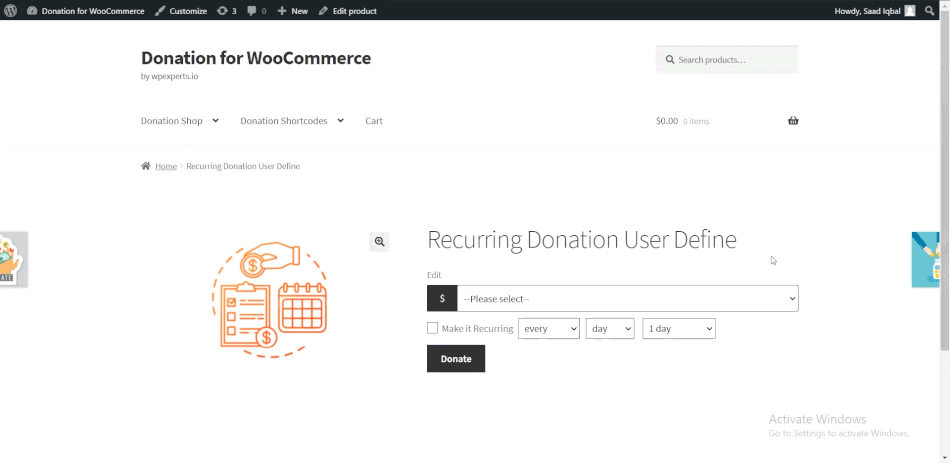 6. YITH DONATIONS FOR WOOCOMMERCE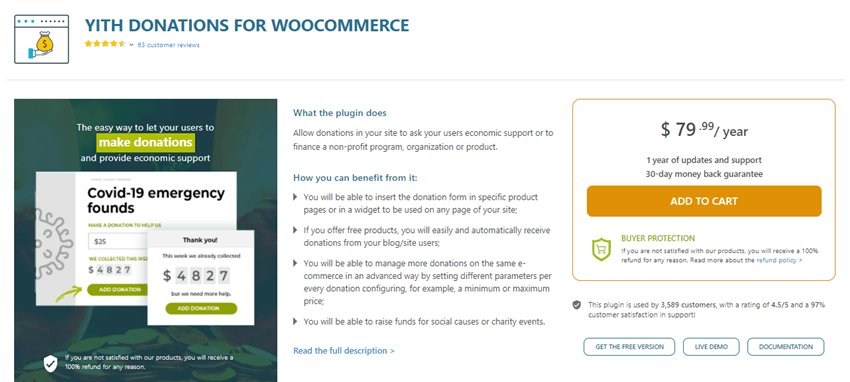 YITH Donations is another best Donation Plugin for WooCommerce for raising funds to streamline the functionality of any nonprofit organization or program. Ask the audience to donate the amount as funding for that organization. Place the donation widget anywhere on the site. Offer products, i.e., free of cost, and automatically create donations from users on your blog or site. Manage donations directly from your WooCommerce store by configuring the parameters for donations. Assure your customer the minimum and maximum range of accepting donations. YITH WooCommerce Donations create a plugin to turn a simple eCommerce store into a donation tool.
Integrated Features –
Display donation on the separate cart page and collect a donation by strategically positioning it.
Make donation mandatory for buying a product, and place the comprehensive form on every product page.
Let your donors select a payment method to pay the donation amount.
Send a well-suited email to encourage your customers to donate.
Collect fixed and custom amounts of donations.
Display the received donation amount in a sidebar, along with the donor's profile.

YITH WooCommerce Donations created a plugin to turn a simple e-commerce store into a donation tool.

Since the increase in online payment due to the rise in window shopping, the probability of donations has expanded. 
Total number of users – 3,597
Pricing – Single site -$ 79.99/yr, six sites -$ 239.99/yr
Screenshot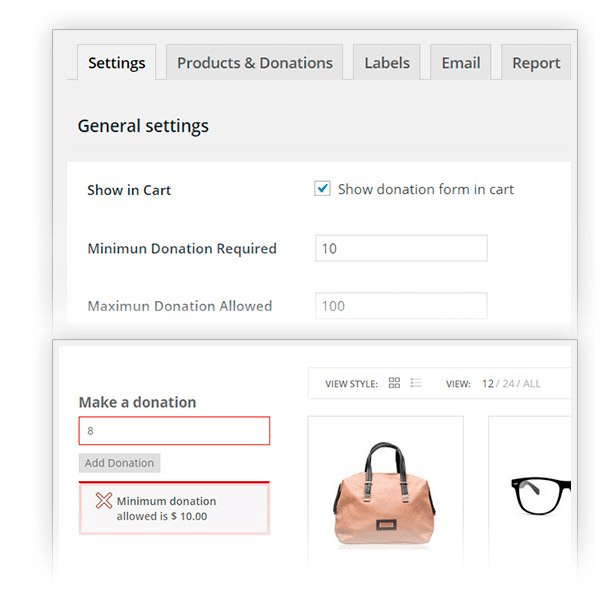 7. WP Fundraising Donation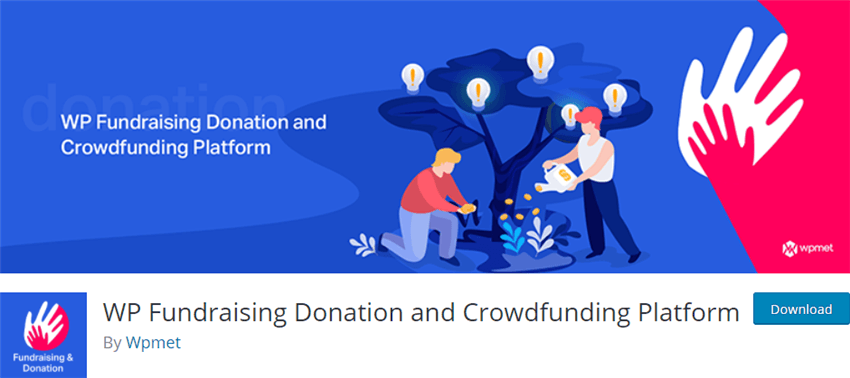 Do you want to create a single donation site and a crowdfunding website? WP Fundraising Donation is a free donation plugin for WordPress that helps you create a single donation site and a crowdfunding website. The plugin provides you with various options to receive funds, such as Stripe Payment Gateway and PayPal, without using any third-party plugin. The plugin also allows you to create your campaign from the frontend dashboard. It is user-friendly and can be managed conveniently by anyone. The plugin is also compatible with WooCommerce to accept payments from WooCommerce.
Considering the difficulty in getting donations from customers generously or considerately, WP Fundraising Donation for WooCommerce has made the process user-friendly. You need to link the donation button to the product. This plugin is aimed at those just starting their online sales and the experts of digital marketing, you know, strategizing the influence for the sale. You can set the max and min amount for donation, encourage the customers to donate, change the text and style of the plugin. Choose various payment methods to show the pre-set amount and the total amount of donations through WPMET Donations. 
Total number of users– 1,000+
8. Cryptocurrency Donation Box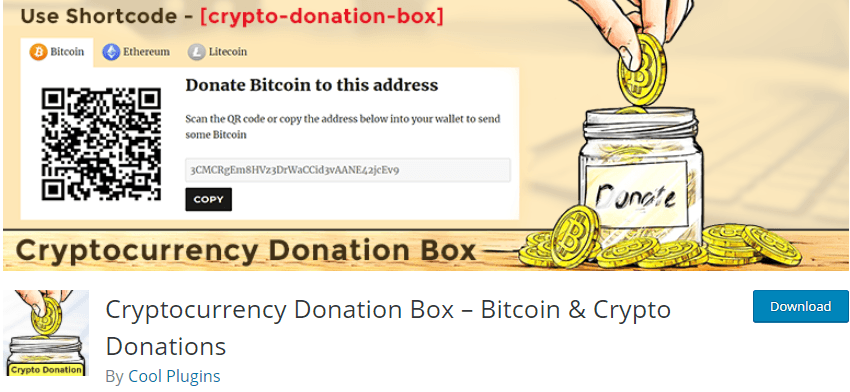 Another great way to collect funds for a cause, NGOs, or nonprofits is through Cryptocurrency Donation Plugin for WooCommerce. This freemium Bitcoin Cryptocurrency donation Plugin helps you accept more than 30 cryptocurrencies (Bitcoin, Bitcoin Cash, Cardano, Ethereum, Litecoin, and more) donations on your site. Using the plugin, you can convert your coin payments into QR codes, and it is simple and easy to manage. It is mobile-friendly and allows you to add shortcodes anywhere.
The Pro version of the Cryptocurrency donation Plugin displays the current price, changes, real-time updates, price ticker, market cap, and volume of crypto coins. You can use the simple crypto widget shortcodes to create and add a real-time crypto price list to your site. . Accepting recurring deposits, accepting donation amounts in decimal value, the option to round-up the final payment and donate the difference, and a donation widget are some functions of this plugin that increase its beauty. Independent of its costless attribute, it consists of all the advanced features. Also, you can provide them with receipts with just a click.
Total number of users– 3000+
Pricing – Regular License -$24; Extended License -$199
Screenshot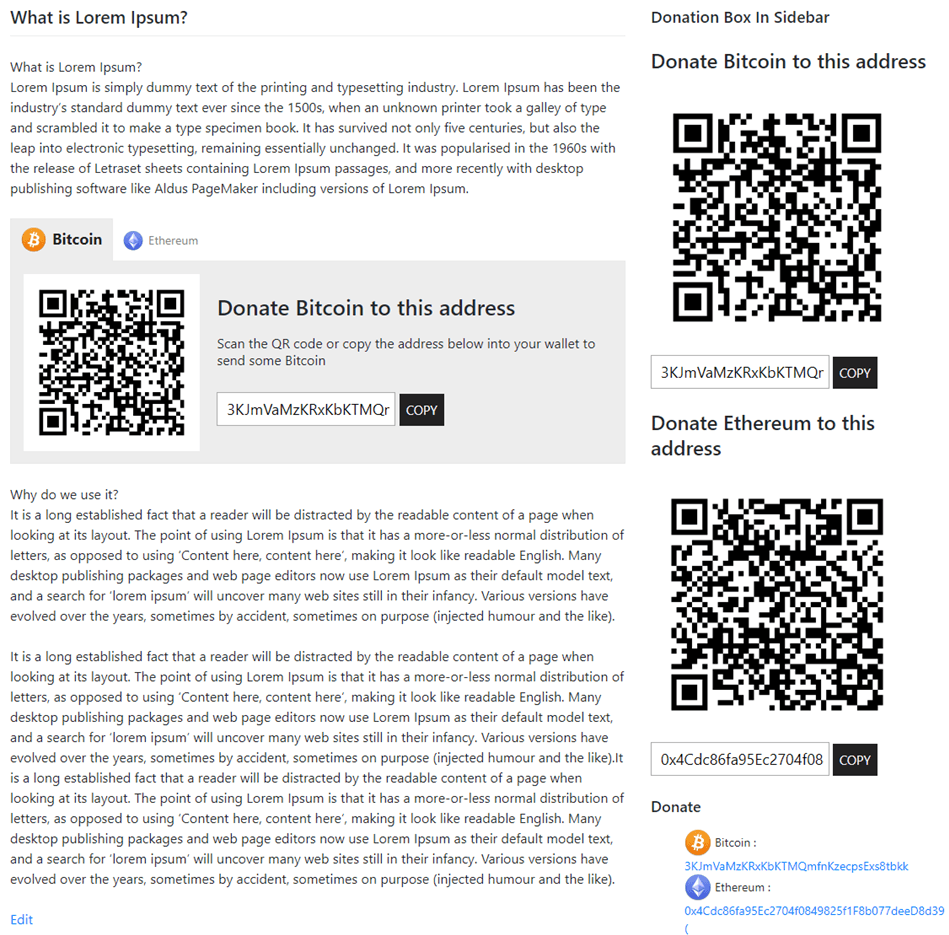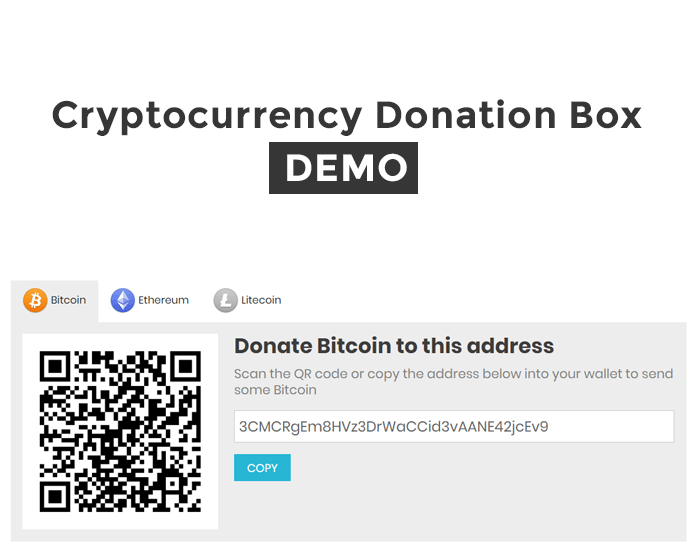 9. Charitable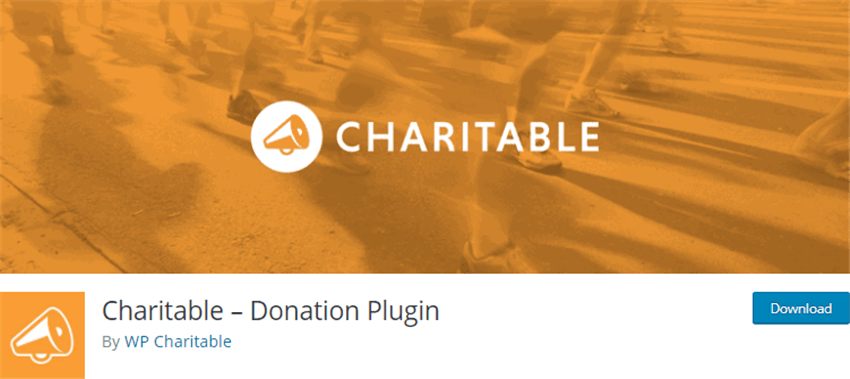 Charitable is a feature-packed paid donation form plugin for WordPress with advanced support for videos, user avatars, and geolocation. The premium membership plan starts from $99/year and can shoot up to $249/year, but it is worth considering the perks of newsletter integration, gift aids, and premium payment gateways. Anonymous donation support defines uniqueness, recurring donation deposits, and auto-crowdfunding payments.
The only WordPress Donation Plugin never charges a transaction fee from the customers. You can create donation forms not constrained by the reason or purpose for donation quite easily, within minutes. You can create unlimited numbers of these, set goals for those, and even choose to create time-sensitive campaigns as you need.
Customization of forms is also available, where you can put suggestions for the amount to be donated. Options to make recurring donations are also available to avoid further addons. Payments can quickly be received through PayPal, or also offer the customers to pay through offline mode.
Total number of users – 10,000+
Screenshot

10. Seamless Donations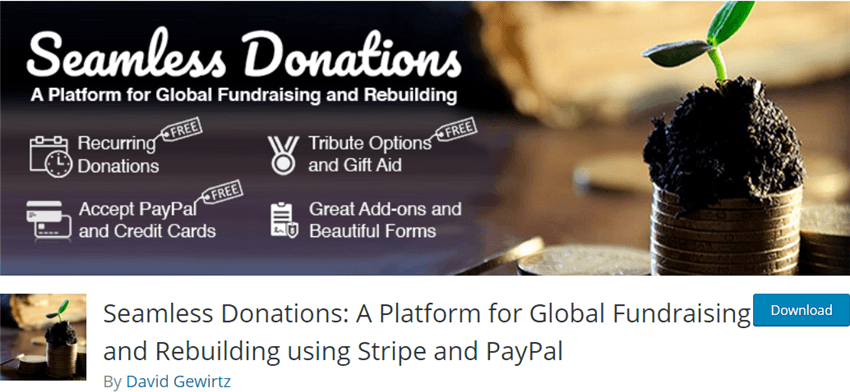 Seamless is a user-friendly free Paypal donation plugin for WordPress. It has been globalized and supports all currencies and languages. The plugin features to send a "Thank You" message to the donors and builds up a recurring deposit gateway to avoid any addons. It has standard post types for donors & funds. Also, the Donorbox plugin helps you easily embed your donation forms directly into your website or show them as a popup form. This plugin also offers multiple payment, currencies, and languages options.
Seamless Donations is the 5 minute way to get donations to start after installing the plugin. This plugin comes with features in the free version, which other plugins only make available in the premium version. This plugin works with any theme of WordPress. You can put down the button on any corner of your website, and customers can click on it to pay you. Again, if you are looking for recurring deposits, you can choose the premium versions to get going.
Total number of users– 9,000+
Screenshot
 
11. Crowdfundly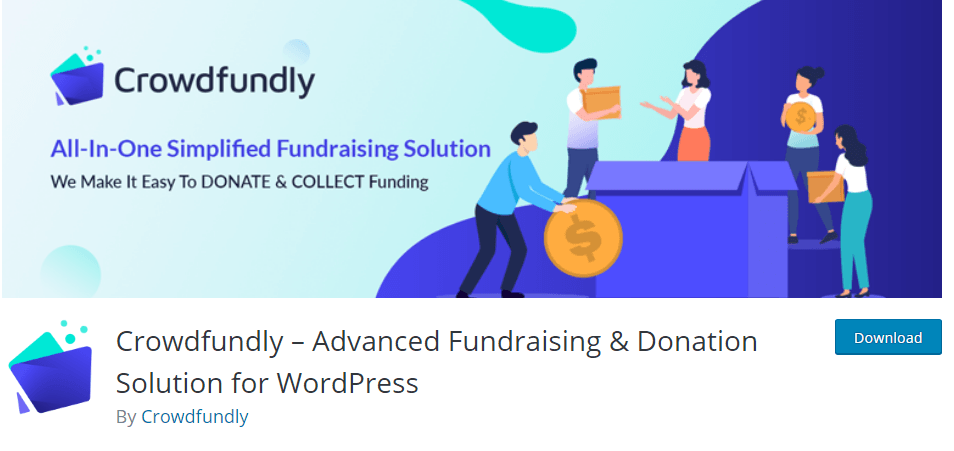 Crowdfundly offers a donation management and reporting system for free. It can gel entirely with any of your themes and is hence self-sufficient. It is a Software as a Service (SaaS) based on crowdfunding WordPress plugin that allows you to create fundraising campaigns and accept funds for various purposes, such as political campaigns, non-profitable organizations, charitable causes, educational institutions, and more. Crowdfundly "s seamless integration with Elementor and Essential Addons helps you create campaigns without any code.
This advanced fundraising plugin provides a faster and more secure online payment gateway to secure payments. It also comes with beautiful pre-designed themes to make your campaign more interactive. There's also an option to link various social networking sites with your campaigns to gain the donors' trust. This WooCommerce-based crowdfunding plugin is user-oriented and suitable to manage. It has both the basic and advanced features, but in two different versions: free and paid. Updating the profile information, changing the password, and following your project list are some features of the accessible version of Crowdfunding. 
Feature of Crowdfundly Plugin are:
Dedicated user registration feature

It comes with WooCommerce and Elementor support.

Frontend project submission form

Project start & end date options

Campaign end method

Setting featured images and videos

Minimum & maximum price options

Define a recommended price

Declare a funding goal

Rewards with due dates
Total number of users– 1000+
Pricing – Lite- $9.9/month, Plus- $24.9/month, Professional- $49.9/month
Screenshot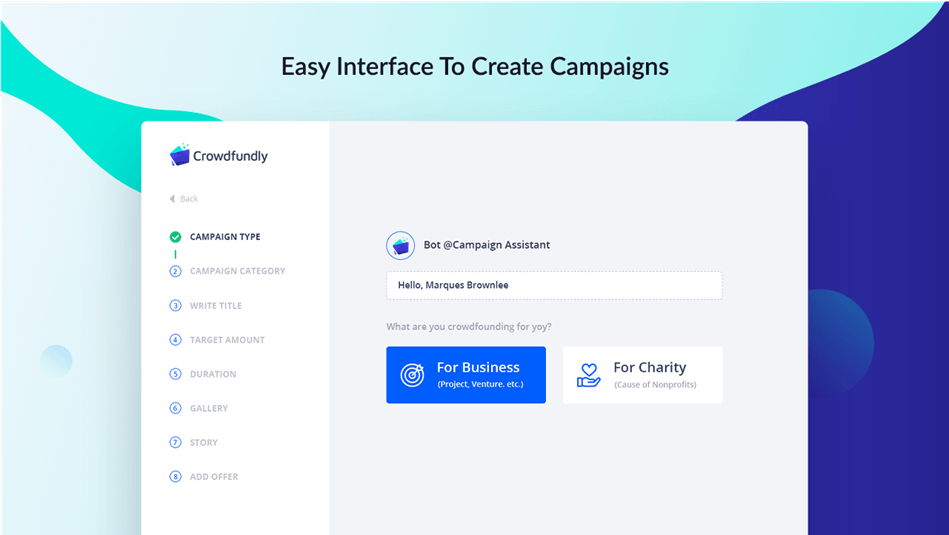 12. PayPal Donations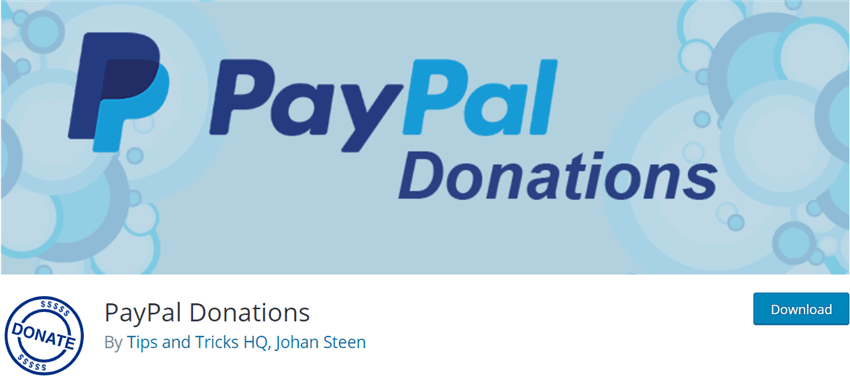 PayPal is one of the most powerful and non-messy free PayPal donation plugins for WordPress. It is an experienced player in the correct collection of money or payments. PayPal is meant for both beginners and pros, as it adds a donation shortcode and sidebar widget to the WordPress page. It also offers a built-in donation button.
This plugin draws its uniqueness in creating three different types of widgets – Standard donation, Fixed + Additional donation, and Per item + Additional donation. You can adjust the CP donation settings page to create a personalized widget with the help of shortcodes. Easy, isn't it!
Active installations – 50,000+
Screenshot