10 Best Freelance Marketplace WordPress Themes 2023
Are you looking planning to start an online project bidding website and looking for Freelance marketplace WordPress themes? These market places themes connect the potential customers to freelancers to make their complicated work done at a cheaper price.

There are many kinds of freelance marketplace websites in the market like Fiverr, Elance, Guru, And Upwork. This website works on the functionality of membership and they earn some sort of commission for each sale driven. If you are planning to start your own normal digital selling website then you can install a woocommerce plugin to your theme are you can sell it without investing much.
Using these highly customized project bidding WordPress themes you can easily create a micro job site in one hour and that too without having much knowledge about coding.
You may also be interested in portfolio themes and Job board WordPress theme
Let's have the list of top Freelance Marketplace WordPress Themes and its clone templates are as follows:
Table Of Content
1. ExpertHive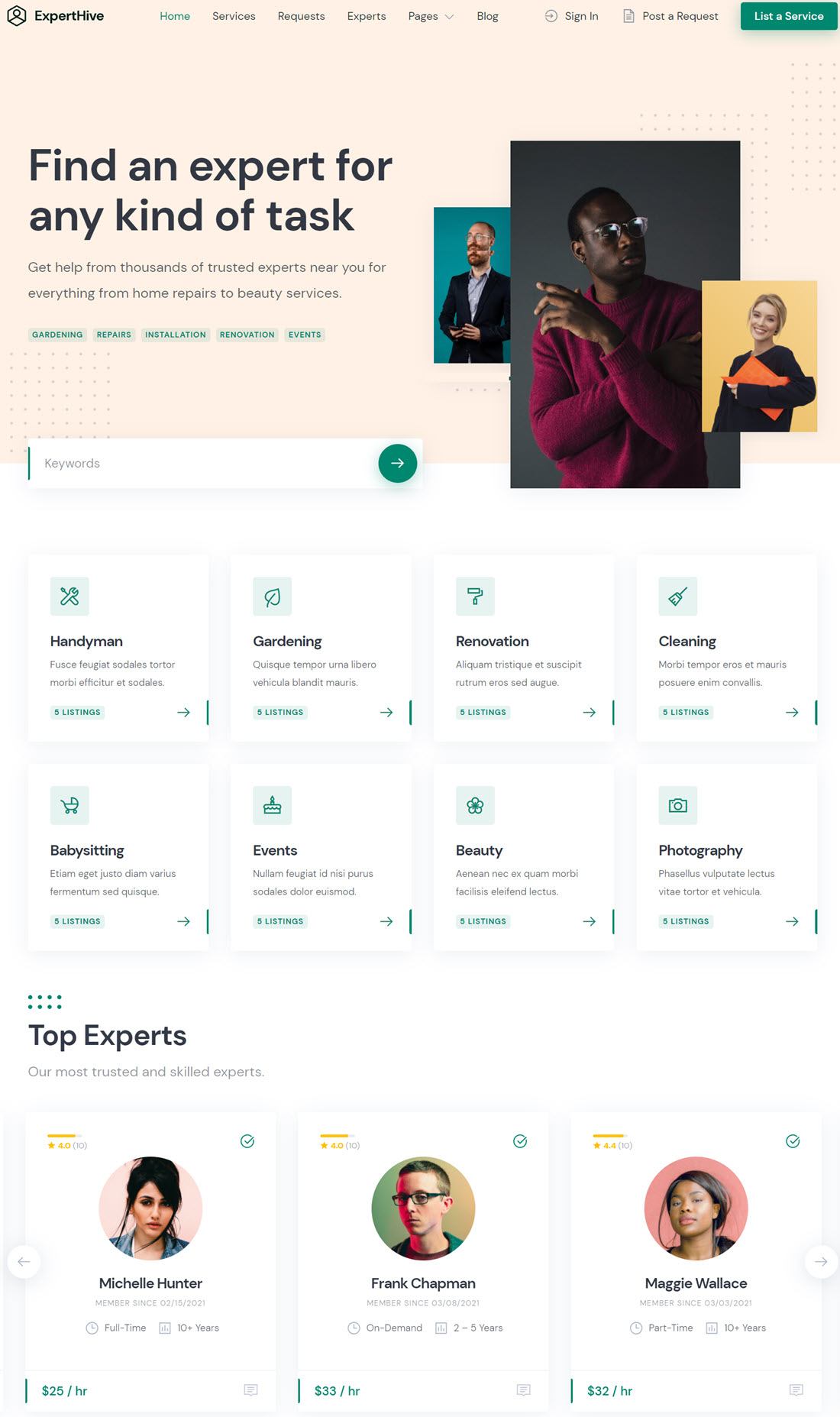 ExpertHive is an elegant theme based on HivePress i.e., multi-dimensional marketplace extension. This is a functionality-rich bidding marketplace template that has the expertise to manage the micro job niche. That's why you can get access to more functionality and can switch this theme anytime you need even without losing the database. Requires a little configuration within the minimum time then assists you thoroughly to convert any ordinary website into an end-to-end service marketplace. Let you establish a two-way marketplace where customers post the request along with their budget and experts can list their services on a dashboard that they provide.
Core Features –
Effective payouts and commissions configuration by the site owner or taskers to access earnings.
Allow your customers to send messages privately for interrogation about their available services.
Collect rates and reviews from customers to display over the website.
Integrated well with WooCommerce that contains distinct payment gateways, track transactions, and let you monetize your marketplace.
It also offers the option to send email alerts for new job listings. It is HTML5 and CSS3 optimized.
ExpertHive offers many unique pages – Demo homepages and blog pages, and separate dashboards for employers and prospective employees.
Price – 1 Site – $79/OneTime
2. TaskHive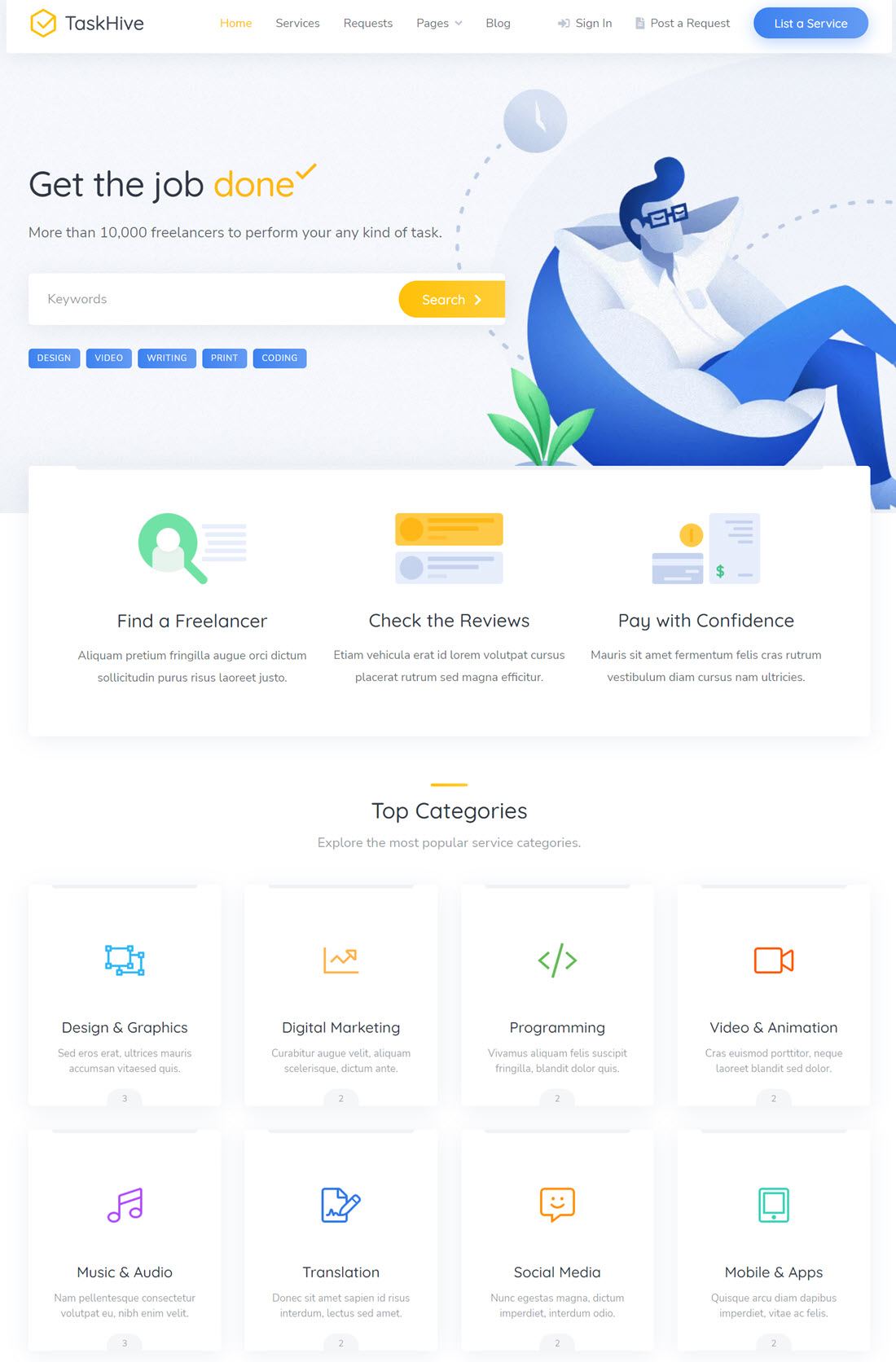 TaskerHive is an advanced bidding marketplace theme based on Bootstrap 3 and w3.org validation. The all-purpose theme is an intuitive solution for career, resume, job portal, job directory, recruiter, portfolio, and job listing. To develop an online marketplace for services or digital distribution, use the TaskHive WordPress theme. TaskHive includes everything you need to set up the example online marketplace for selling fixed-price services or digital downloads. No third-party components or plugins are needed, and nine extensions are available for free.
Core Features-
The theme includes the popular e-commerce plugin WooCommerce.
Customizable Commission Rates are available on this theme.
Allowing attachment listing with Digital Downloads makes selling digital files simple.
Order complaint sections so that if a consumer is unhappy with their order, they may inquire about it.
Sales Statistics allows Sellers to have 30 days of sales data.
Payout Request allows businesses to request payment of their sales proceeds.
Price – 1 Site – $79/OneTime
3. Freelance Marketplace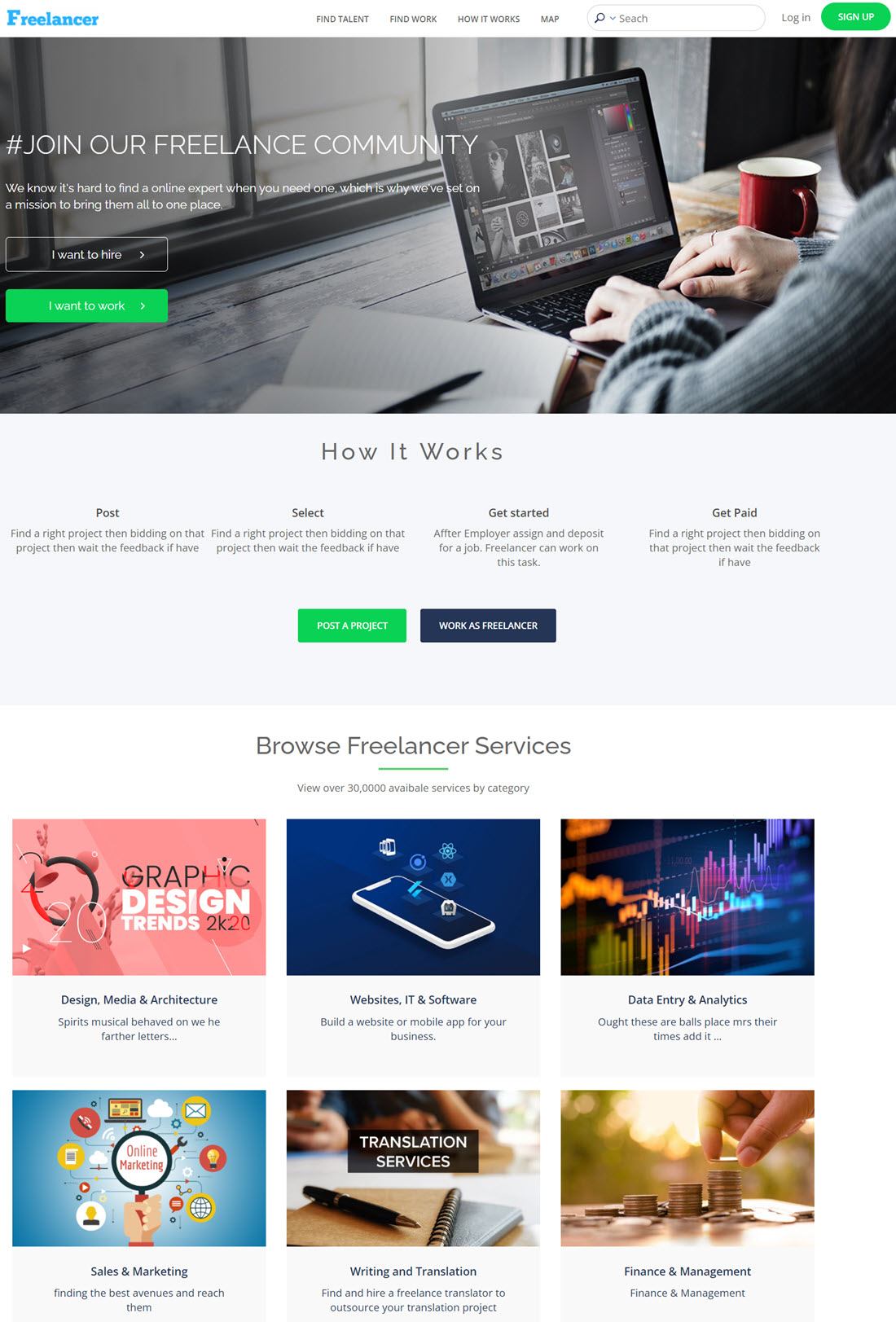 The free Freelancer WordPress Theme is ideal for creating and exhibiting a professional portfolio online. There is nothing to lose and everything to gain by using this free theme. The theme offers a wide range of customization possibilities to help you create the ideal online portfolio. Adding a backdrop picture may liven up the look of your website. The Parallax Image-Background Section is another option. You may also add widgets to the bottom and change the editor layout to make it your own. You may completely customize the page with left or right sidebar choices.
Core Features-
Freelancer Theme is compatible with Contact Form 7 and WooCommerce.
The social networking option lets you link all your accounts.
Comment on your work via sticky posts and comment threads.
Built-in mega menu with several menu customization options.
This script is almost similar to the Fiverr clone.
The robust admin team overviews and manages all order transactions which gets synced into the virtual currency system.
Price – Regular – $79/OneTime (Unlimited Site)
4. Fiverr Clone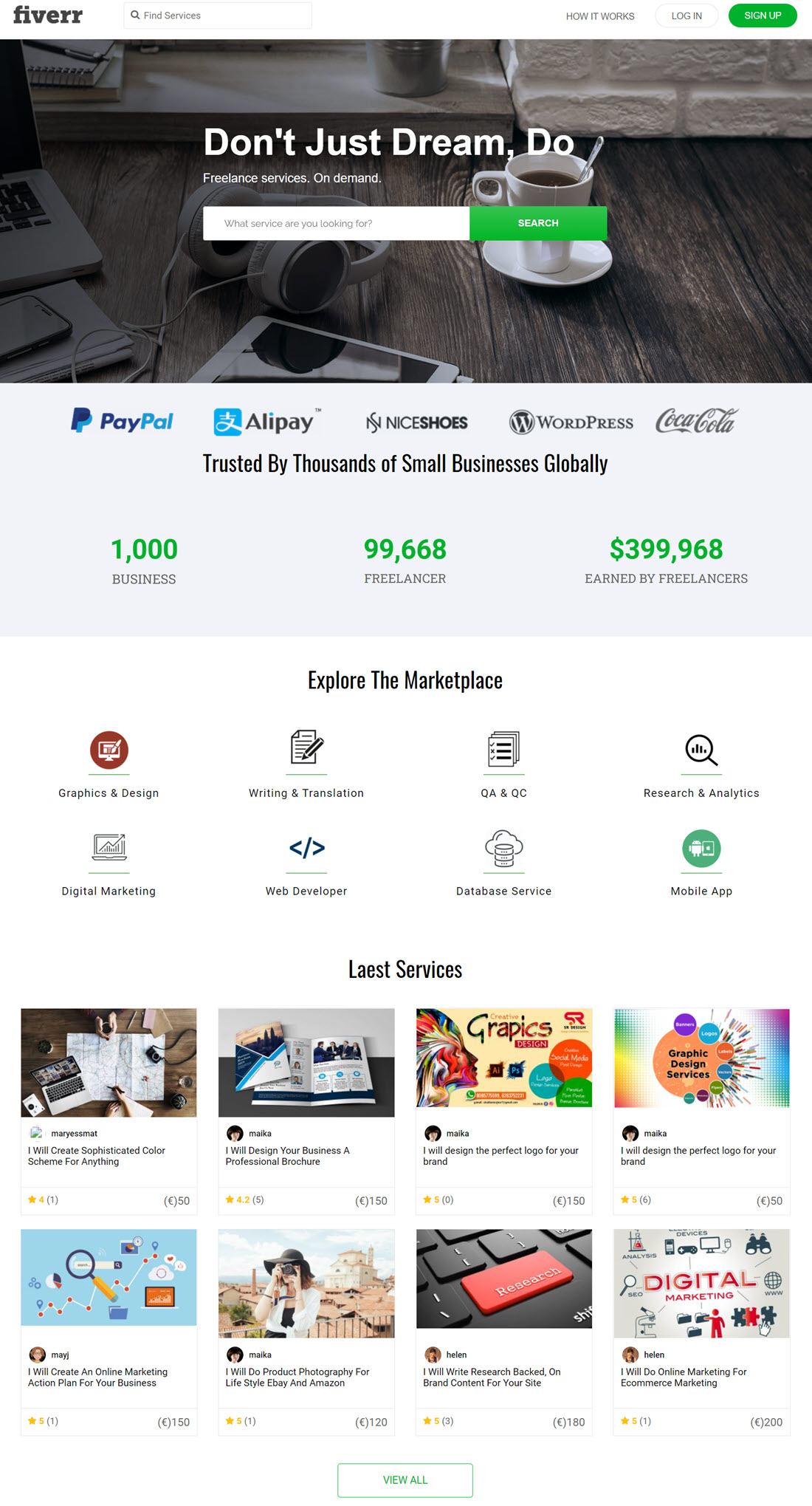 Fiverr Clone is an all-in-one revolutionary and stylish theme that accomplishes your dream into reality for creating a marketplace like Fiverr. Hereby you just get everything you required to create a well-versed Freelance Marketplace with easy-to-navigate and captivating web designs. Such a feature enriched theme that represents both ends so elegantly either buyer or seller. This theme is multi-responsive that accesses so easily on your website with the beneficiary of a bug-free experience and enhanced security issues.
Essential Features –
Provides an interactive dashboard where you can manage everything in a centralized manner like orders, earnings, analytics, jobs, withdrawals, and messages.
Reliable and secure payment systems integrated with various payment gateways that accept payments accordingly.
Integrated with comprehensive social media accessibility, chatbox, and review system.
Enable custom order and commission fee configuration.
Besides, the listed new or existing jobs can be showcased on the personal profile page.
Price – Regular – $79/OneTime (Unlimited Site)
5. MicrojobEngine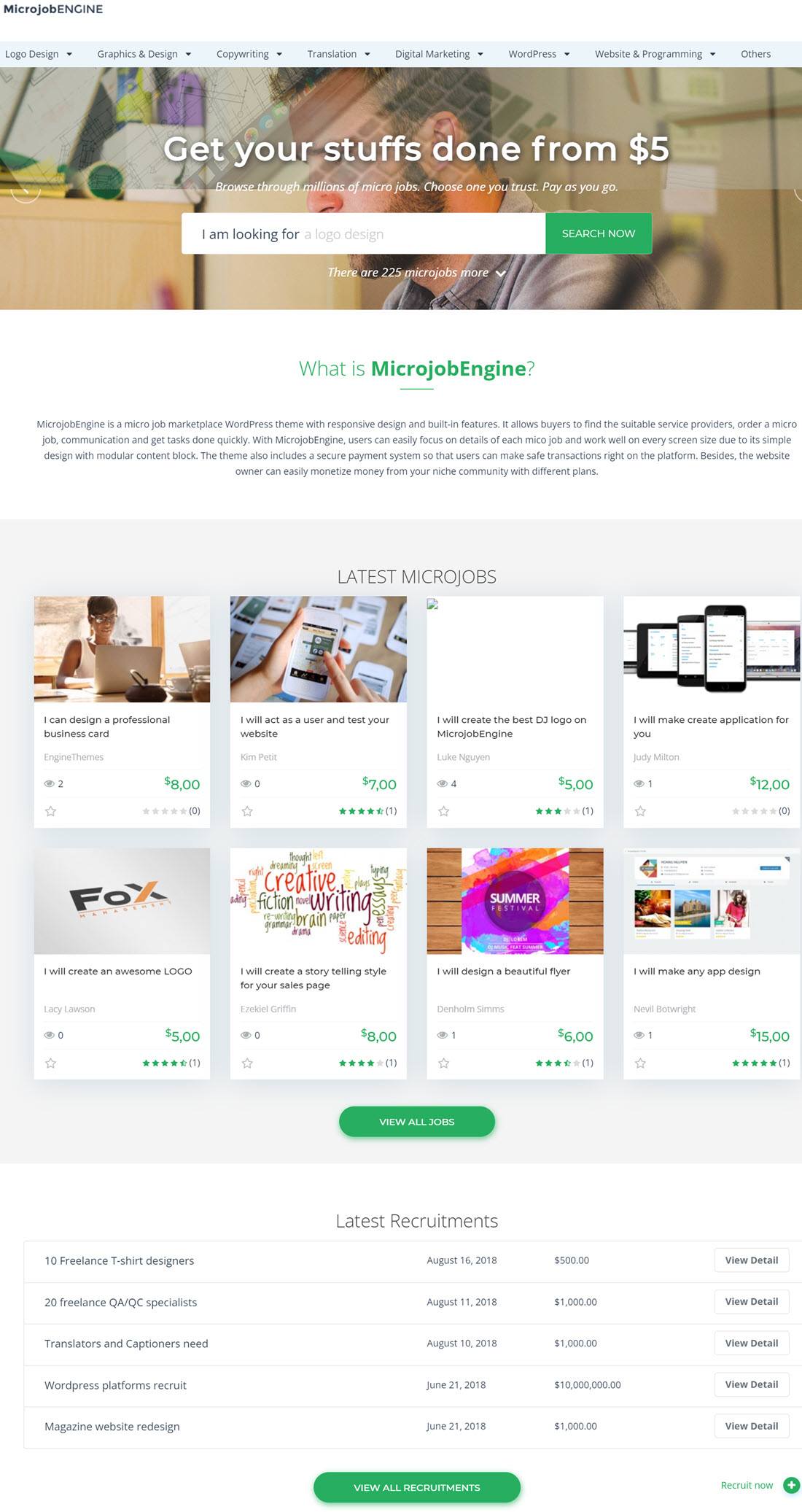 MicrojobEngine is one of the top project bidding themes with a comparatively new release from the EngineThemes expert panel and has a business model very close to that of Fiverr. The theme has bridged the gap between the users who post projects or services and the freelancers who professionally bid on those projects. Micro job Engine is a highly business-oriented theme as it allows the service providers to build an esteemed profile along with their service detail page and then sell their skills with a greater reach. An ideal theme for both who place custom orders and the ones who deliver tailor-made services.
The responsive and minimal theme accompanies powerful monetization tools.  You can customize your dashboard with the favorite services available. You can also generate multiple pricing plans and showcase your projects on the homepage or classified pages. Freelancer is a professional theme that combines all elements to give your micro-job site a blazing start. You can have your marketplace where both the sellers and buyers stand out with their unique features. The bidding theme for freelancers helps you control every aspect of your account viz. orders, jobs, earnings, messages, analytics, and withdrawals, all at a common platform.
Price – Basic – $89/annually,  Plus – $189/annually,  Pro – $329/annually
6. Project Freelancer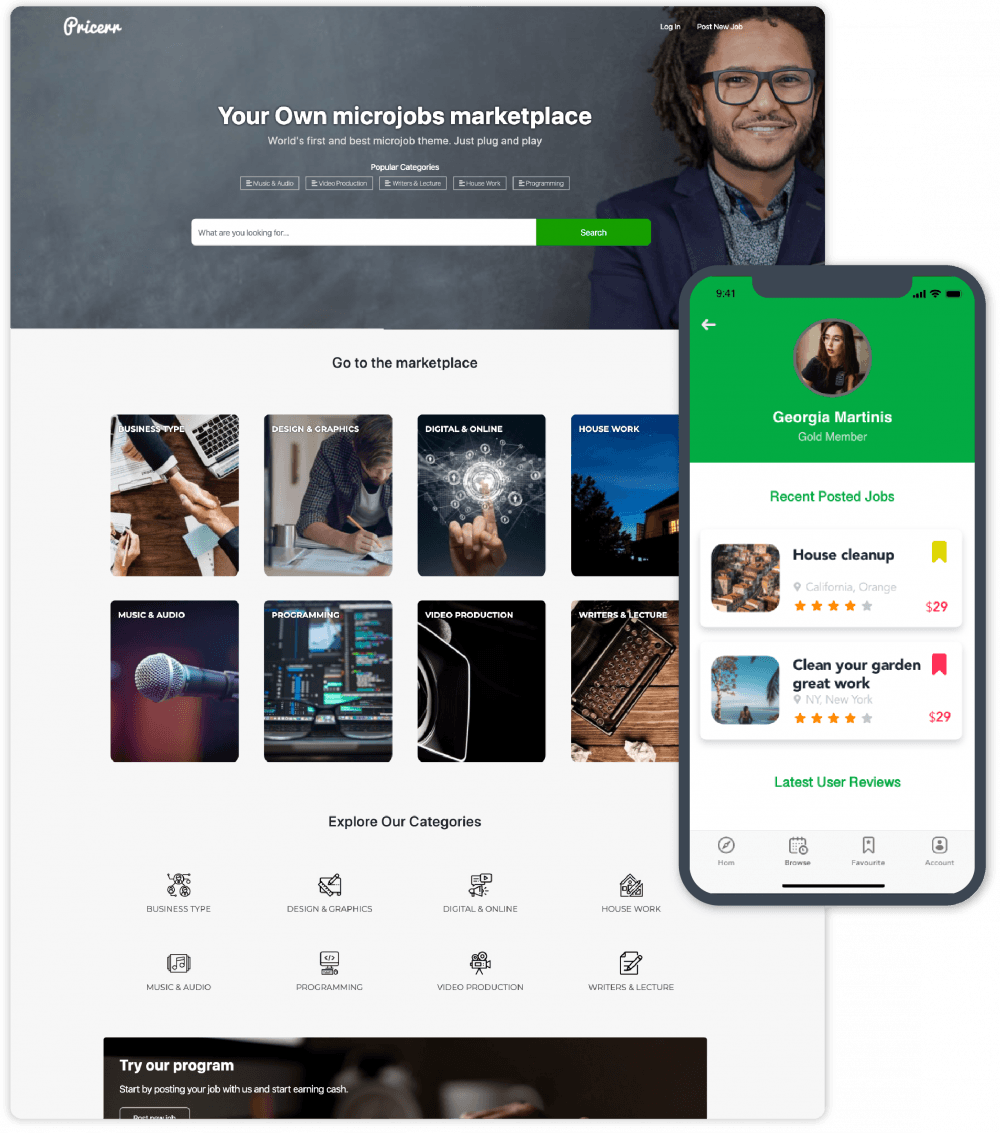 Through EngineThemes coding, MicrojobEngine offers your company a high-quality and approved WordPress platform. This theme allows you to Keep an eye out for any on-site sales and purchases. Not just that, but Everything from orders, jobs, revenues, withdrawals, analytics, and messages may be handled on a single page when using this theme. Both buyers and sellers may easily keep track of all orders. Communication regarding the order specifics is improved. Notifications are sent right to your inbox, making it a very popular theme.
Core Features-
Immediately available Updates
Menu for interactive Contact with User
Order Tracking for both sides
Timely and Efficient Money Transfer
Built-in Chat Bot
Trustworthy Review System
Price – Basic – $149/OneTime,  Pro – $299/OneTime,  Pro Custom – $1399/OneTime,  Entrepreneur – $5299/OneTime,  Entrepreneur Plus – $6399/OneTime
Installing the wordpress freelancer marketplace theme. How to host a site like upwork!
7. Taskerr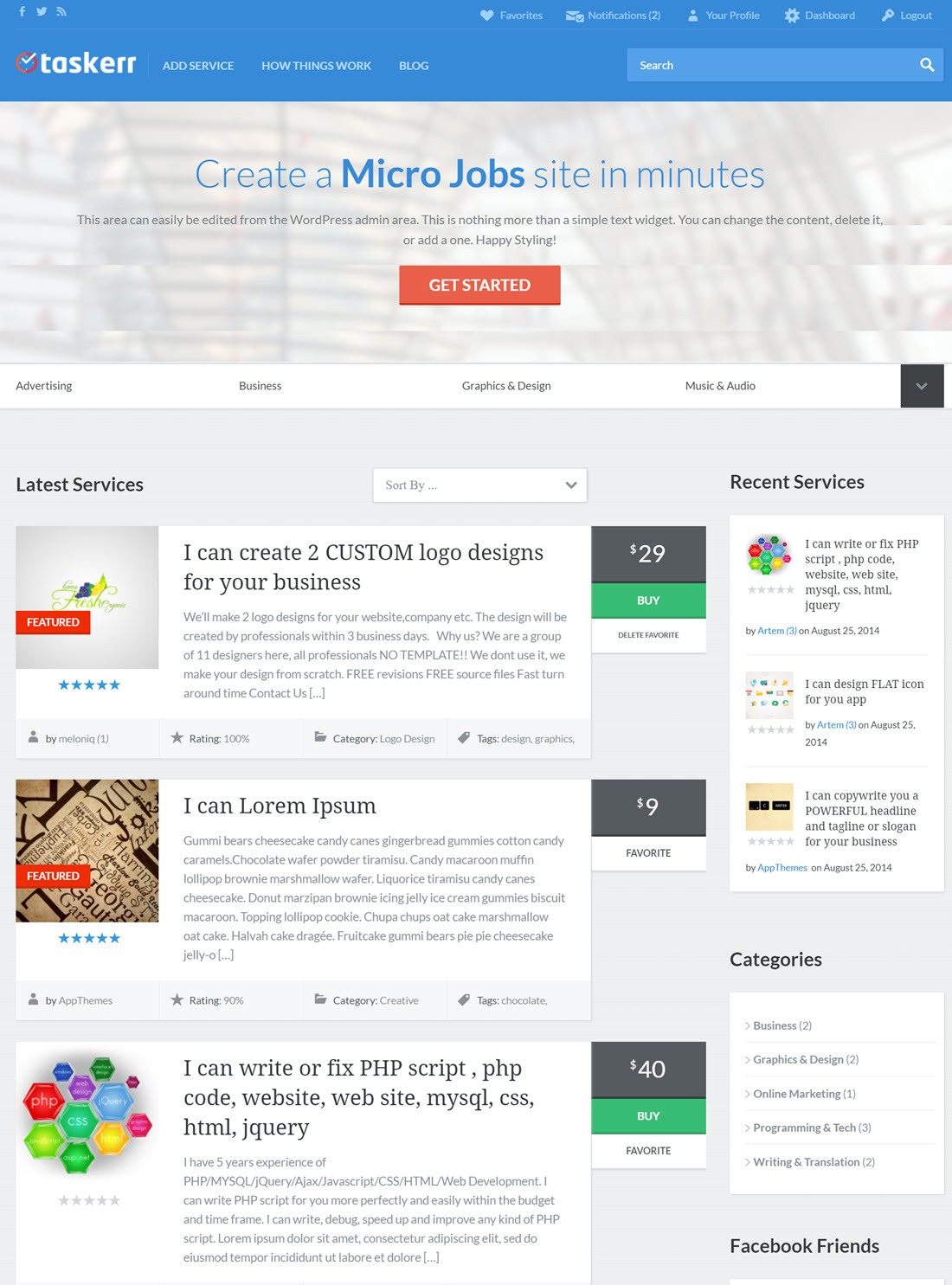 The AppThemes development club's Taskerr is a top-notch, fully Responsive micro job theme. A job marketplace in the footsteps of Fiverr is quite possible with Taskerr. This intuitive theme can host websites such as task marketplace website, chores website, or tutor services website. This theme was created with micro jobbing websites in mind, and it has all of the necessary elements for displaying tasks for sale or purchase on the web. Your website may seem like a famous micro-job website, thanks to the Taskerr WordPress Theme. The backend admin panel has all of the options available for modification, making it easy for users to make changes. The only thing you need to do is change the font and start posting employment adverts.
Core Features-
There are five pre-installed color schemes and typefaces to choose from.
15+ HTML email templates that you may customize for your use.
AppThemes API and fully customized functionality.
Taskerr allows the site admins to charge listing prices from sellers and subsequently sell those listings for featured employment options.
Price – Standard – $69/Onetime,  Club – $199/OneTime (All Theme)
8. HireBee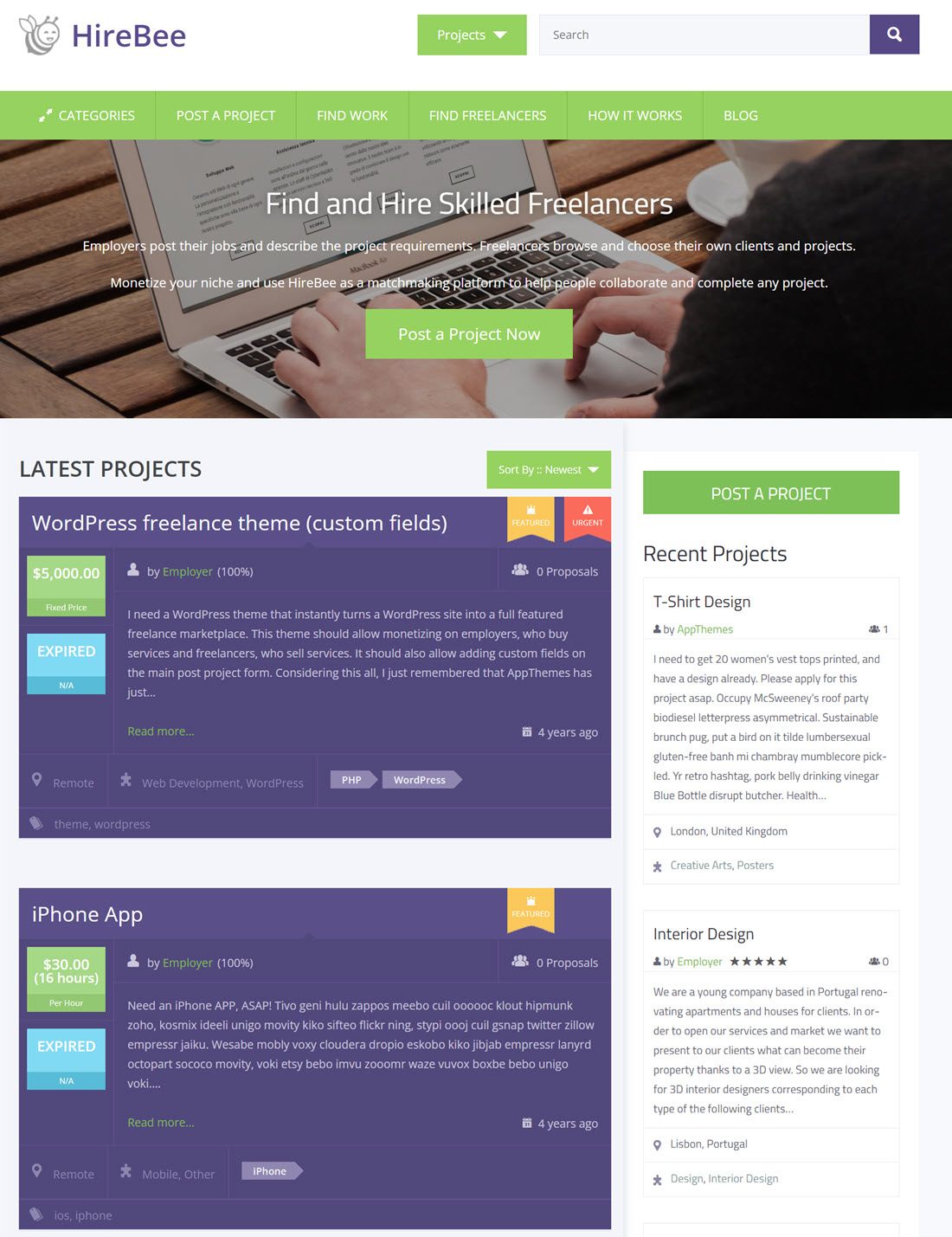 HireBee provides a secret ingredient to create a perfect bidding platform for freelancers and post projects of employers. A nicely integrated freelance marketplace theme where you can configure selective pricing plans for each project accordingly with approved flexibility. Kickstart your relevant services of project matchmaking with the convenient monetization of multiple niches. With HireBee, reveal your attractive projects on the home page as well as category pages so elegantly. Build a website that is responsive with the same intensity on different browsers and devices with the ultimate Foundation 5 framework. Any developers and designers easily customize the theme to finish with a professional website outlook.
HireBee featuring with AppThemes API that lets you easily customization even without interrupting original coding. Support child themes and extensions for modifying the appearance of the website. Here you find everything you require such as Sidebars Galore, SEO-Friendly interface, interactive blog modules, and much more to enhance user experience.  The theme has its utmost focus on the content and hence, keeps the design subtle and flat. It supports a plethora of both free and paid listings – individual, one-offs, or membership plans. MicroJobs also facilitates the communication between freelancers and their clients through the built-in Workflow System.
Price – Standard – $69/Onetime,  Club – $199/OneTime (All Theme)
9. Micro Jobs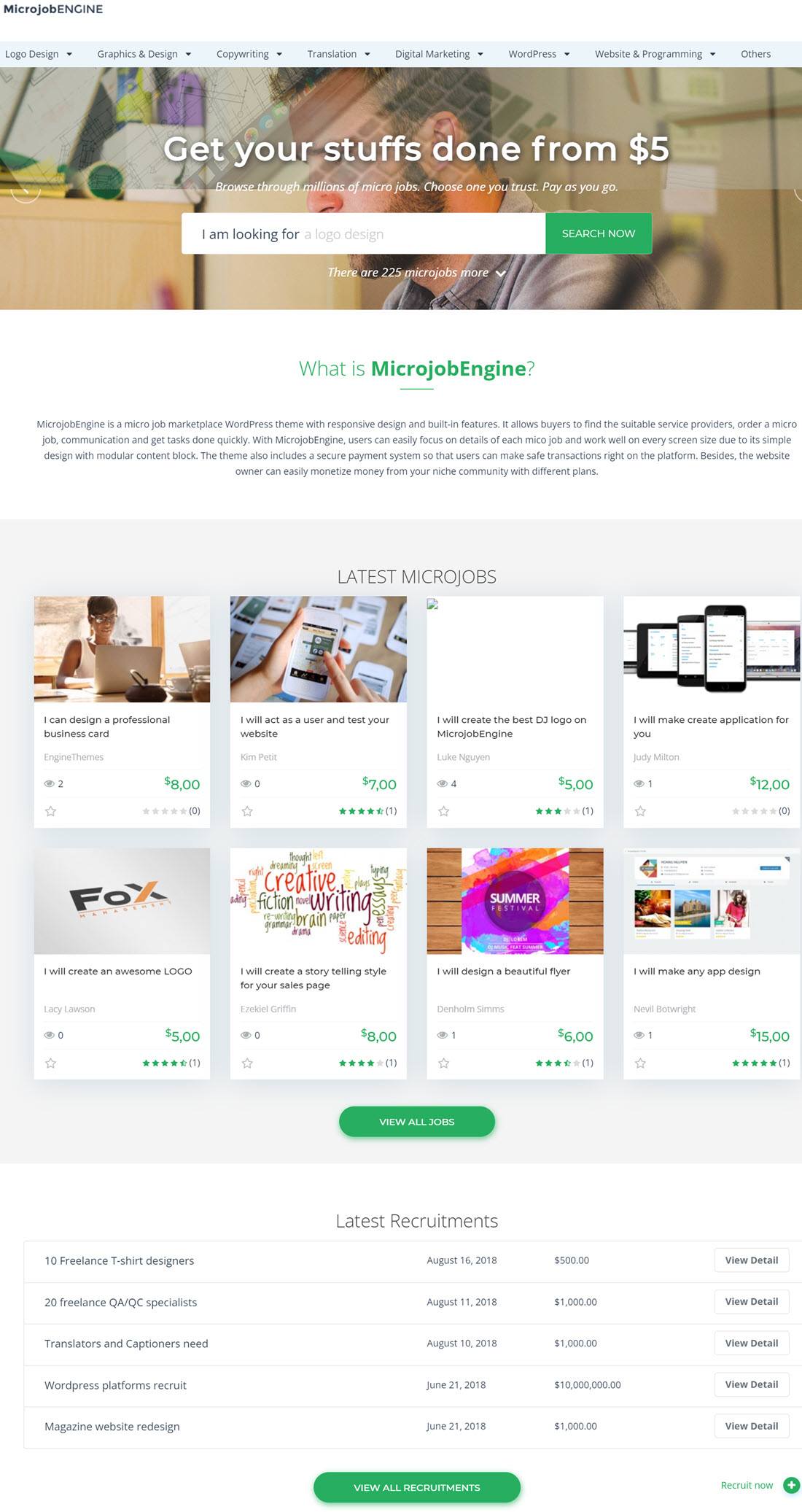 Micro Jobs featuring millions of the latest trending and hand-crafted design blocks where anyone can easily select available suitable themes. It is a brand new release in the marketplace niche and reincarnates all the outstanding elements of the most talked-about micro-freelancing sites such as Fiverr. And customize the same layout according to the necessity of their freelance marketplace establishments. Provides an Elementor-ready interface where any developers build a sophisticated website in just a few minutes. Let you add unlimited themes without any additional cost in just one click demo installation. Hereby you can administrate and control action on the entire website while designing, featuring, and pricing via an integrated admin area.
Core Features –
Robust custom filter while searching and advanced Ajax Search.
Standard or premium gigs configuration for sellers with extensions and custom pricing.
Configure secured and multiple payment gateways where buyers can offer or purchase instantly.
New jobs can be easily added as custom post types from WP admin, assign locations, categories, set job prices, and more.
Each transaction can earn you big profit and such examples are Fiverr, TaskRabbit, PeoplePerHour, care.com, and other freelancer sites.
Price – User License – $89/OneTime,  Extended license – $269/OneTime
10. Exertio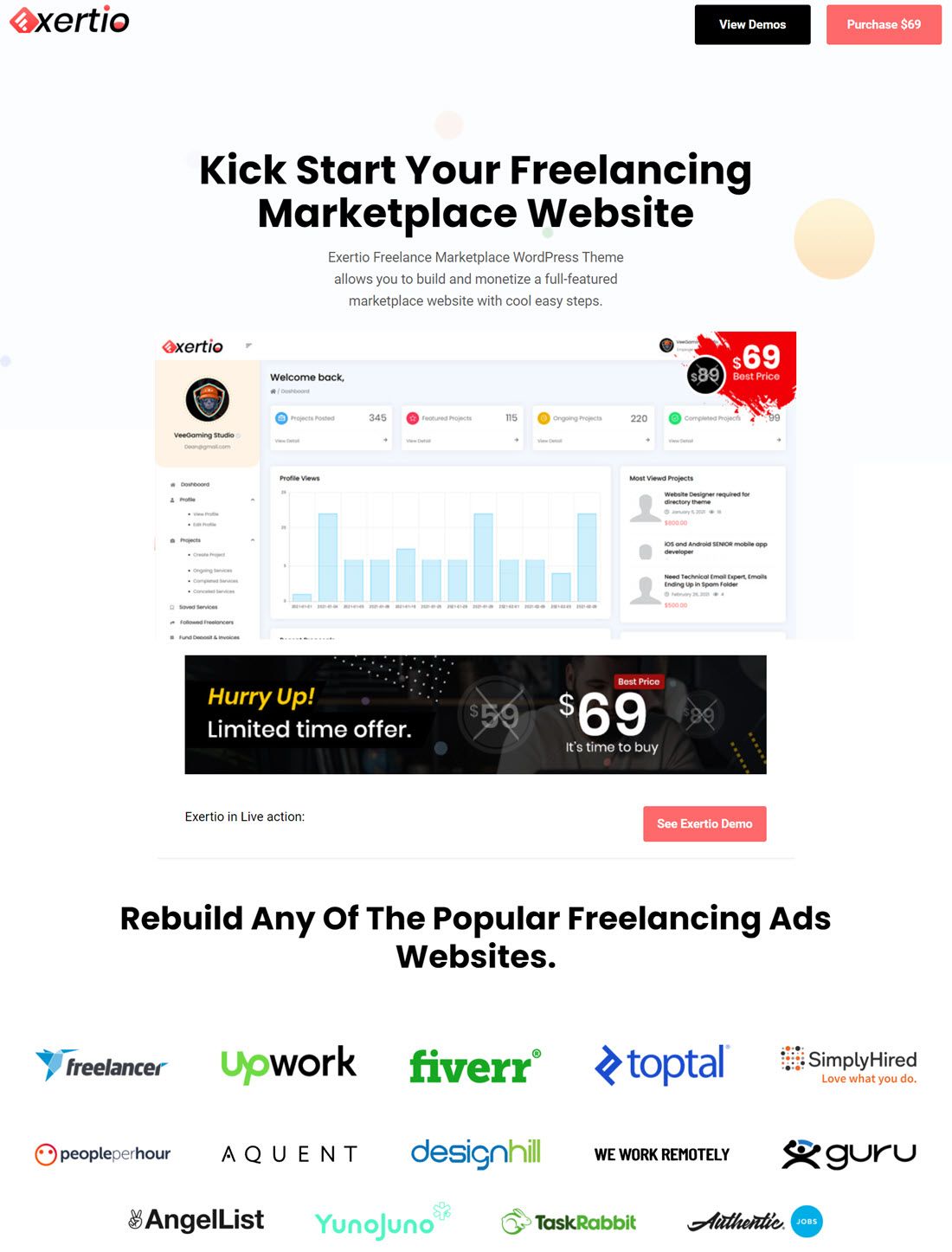 Using Exertio, you can establish and launch your marketplace for freelancers and project submissions. You may construct a comparable Freelance.com, Fiverr, or Upwork site with a commission-based approach. You may set up employer and freelancer profiles for free in less than a minute. This most sophisticated freelancing Theme for WordPress will let you construct a feature-packed website, regardless of the size of your company.
Core Features-
Zoom's video call feature is now integrated with video calls.
Employers and independent contractors have their custom fields.
Areas of expertise for independent contractors
On-Site Notifications with Sectional Statements
Proof of Sending an Email, checking one's identity, and log in and registration sections.
Price – Regular License – $69/OneTime (1 Site)