7 Best Job Board Plugins For WordPress 2023
Job listing pages can easily be created with WordPress Board Plugin. It has a drag and drops, pre-built layout designed to post jobs, filter jobs, manage appointments, Resume Management, and Job Email Alerts system. So many companies are proliferating, increasing employment for freshers or experienced employees. Creating a jobs website is a great way to make money.

You can post jobs related to your company on the website and accept employment applications using these plugins. Adding a recruitment plugin to your website will allow you to create employment posts with multiple locations with a custom searched-based filter option. So many plugins and addons can help you make money. You can also add a job affiliate plugin to make money from other regular job posting websites. So many websites, like Indeed Naukri, offer affiliate commissions for each premium application. Using these plugins, you can also remove candidates and manage their resumes.
So let's look at the list of top WordPress recruitment plugins:
1. WP Job Manager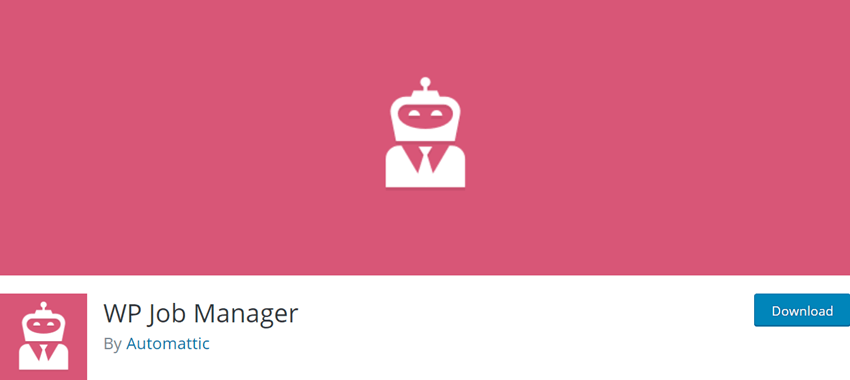 WP Job Manager is a freemium job listing plugin for WordPress to add a Jobboard feature to your website. The plugin is short, code-based, and compatible with any theme with a slight CSS tweak. You are assigned a URL token to pull data using shortcodes. You can narrow down your job search by filtering job, office, or location results. It also eases the process of sorting through job listings.
Candidates can apply for their desired jobs through an application form, and recruiters can view and manage those applications through the dashboard. It also features the WooCommerce paid listing functionality, where custom job packages can be purchased or redeemed during a job application. The core "WP Job Manager" plugin is free. For advanced functions, you will have to buy premium Addons.
Features
It allows you to preview your job listing before it goes live on your site.
AJAX-based searchable and filterable job listings
Email or website addresses could be added to each listing so that job seekers could apply.
You can view, edit, and delete your active job listings quickly.
Developer-friendly, you can customize your posts according to you.
Add or manage job listings using the WordPress UI.
It allows you to filter jobs by department, job type, location, and office.
You can hide the application forms if you don't want to display them.
It eases the process of sorting job listings.
Using the Greenhouse Job Board shortcodes, you can group the job listings according to department, locations, etc.
Total number of users – 100,000+ 
Price For Job Bundle – Personal – $125/yearly,  Developer – $250/yearly
Screenshot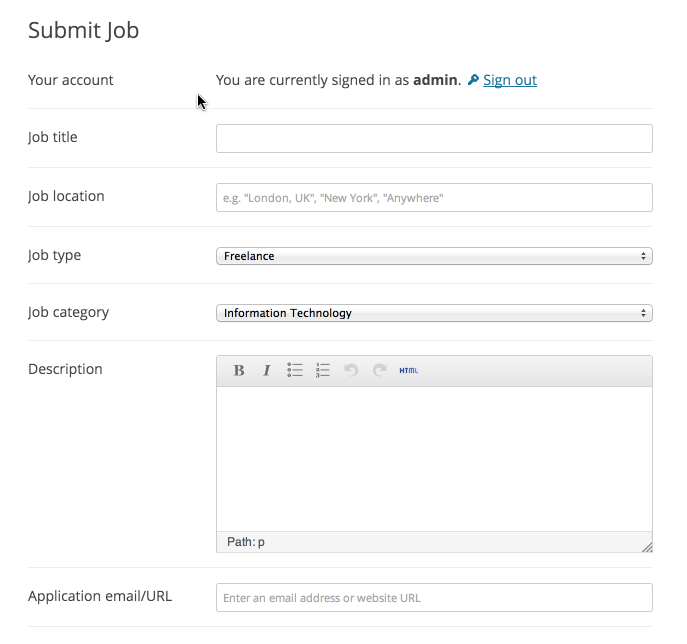 2. WP Job Openings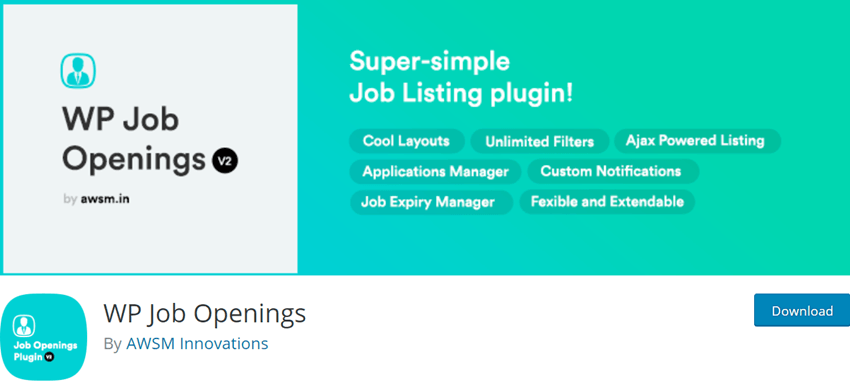 WP Job Openings is a beginner-friendly Job Board plugin for WordPress that allows you to add the job listing page for your website with intuitive pre-built layouts. The plugin is straightforward to set up and has two designs – grid and list. You can also track applications and filter them using the Application Tracking System. The plugin also allows you to build your application form or integrate it with a different form.
Features:
Setting up and using the WP Job Openings plugin is extremely simple.
The plugin comes with a super fantastic Job Specification Management module. There are three default specifications, including Job Category, Job Location, and Job Type. You can add unlimited specifications according to your choice.
User-friendly interface.
You can customize the email notification templates.
The plugin is also developer-friendly.
It also comes with a default application form.
There are two different and modern layouts.
This brilliant job listing plugin has exceptionally detailed documentation for customer support.
WP Job Openings is compatible with WPML and Polylang plugins.
You can set up the HR user using the HR role.
Total number of users – 10,000+
Price – Individual-$59/yearly, Professional-$119/yearly, Agency-$249/yearly
Screenshot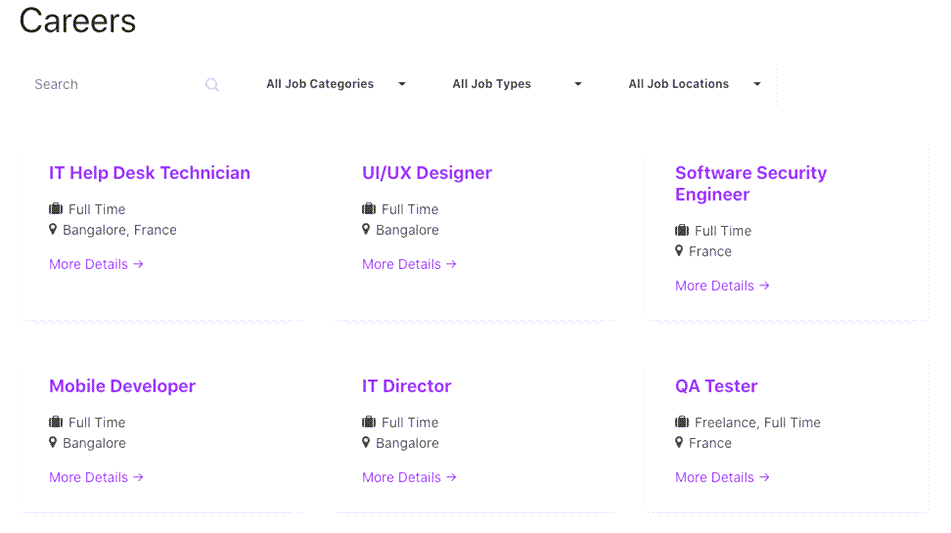 3. Job Board Manager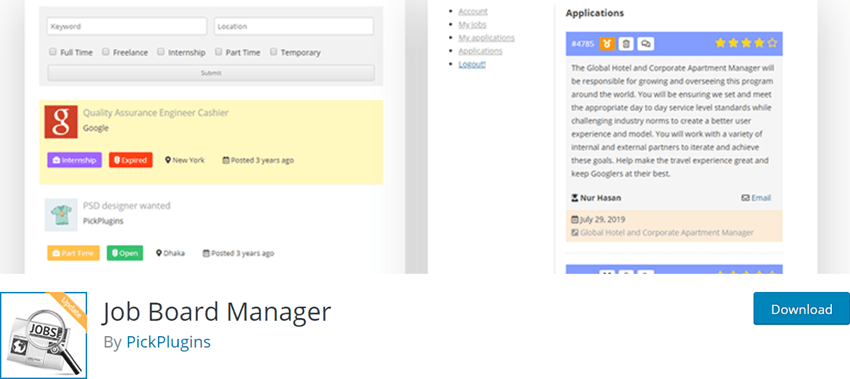 A Job Board Manager website can be created instantly with the Job Board Manager plugin. It offers unique shortcodes for job submission, logging in to the user job list, job archive display, account, and more. The plugin is SEO optimized, action-oriented, and has filter hooks for extended functionality as per the requirement.
This is one of the most suitable job board plugins for WordPress that helps you add a job page, an advertisement board, or a registration page for a course on your WP website. Apply online features, easy installation, and fantastic integration with your existing website, irrespective of any design. Attractive addons such as Application Tracker, Emailer, Exporter, and Statuses are available.
Features
It comes with shortcodes that help you add or display job listings, job submissions, and more.
Job Board Manager is SEO friendly.
It also comes with some free addons, which can add the company's location, profiles, breadcrumbs, etc.
Apply Online job plugin is quick and straightforward to set up and use.
It supports multiple ad types.
This also allows you to list ads with a thumbnail image, title, Apply Now button, and more.
You can add and manage ads with a standard WordPress interface.
It comes with an ads filter option.
Unambiguous documentation for developers and non-developers.
Its AOL Manager user role allows you to sit back when someone can handle your application forms section.
It also comes with many addons to extend its features.
Total number of users – 1,000+
Price – 1 Site-$19/yearly, 10 Site-$49/yearly, Unlimited Site-$999/yearly
Screenshot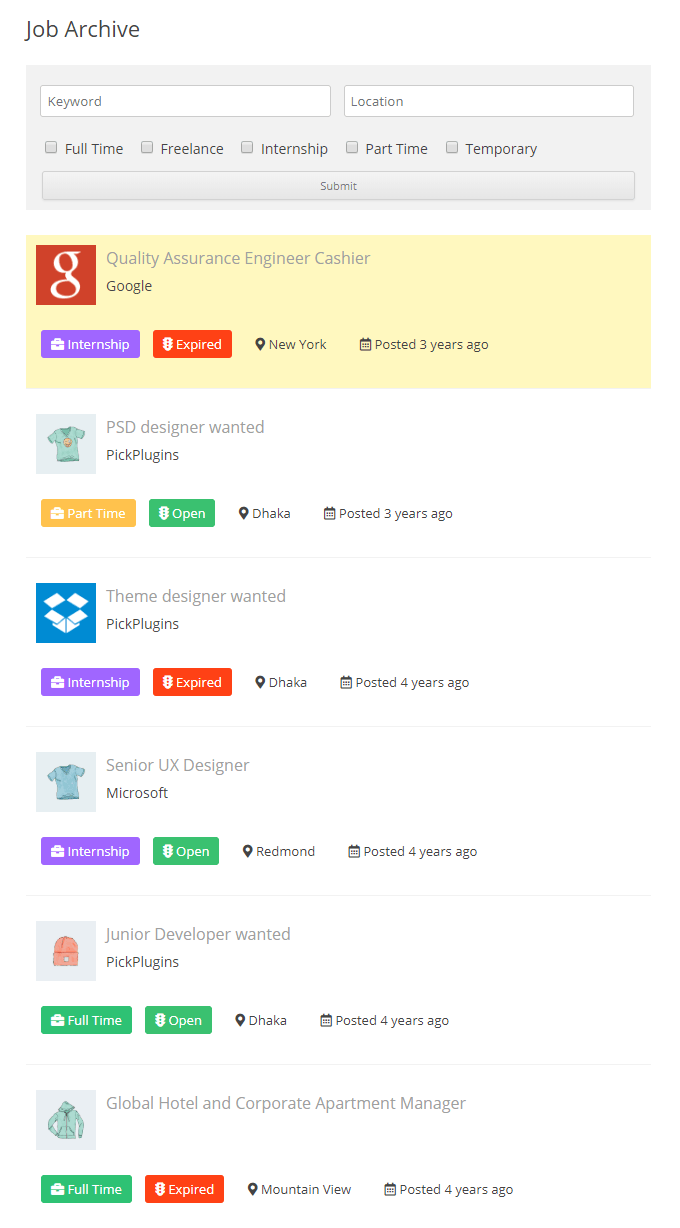 4. Simple Job Board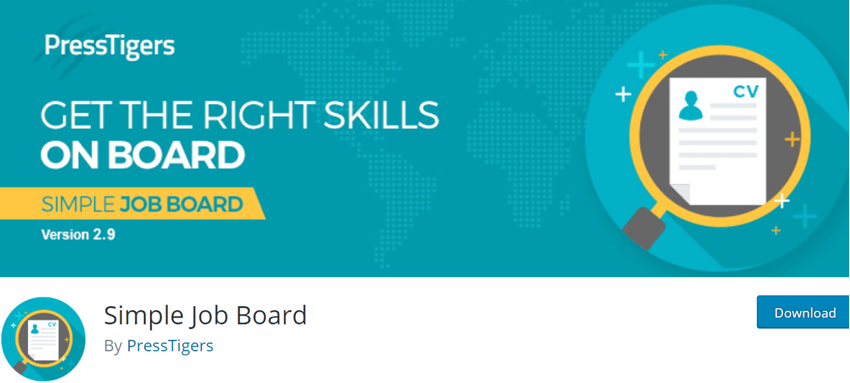 Simple Job Board is a freely downloadable, multi-lingual, and super-fine WordPress job board plugin. It uses hassle-free shortcodes to showcase multiple job listings with application forms on your web page. Besides, you can also insert notes for any job listing in the dashboard. This low-key plugin can be extended to the site requirements and fits your budget.
Features
 You can add job locations to job listings using shortcodes.
It allows you to add and manage jobs using the granular WordPress User Interface.
Using the Simple Job Board plugin, you can view the applicant's list of applications for a particular job.
You can also add job types to your job listings.
It also comes with multiple shortcodes, which can be used for job listings.
The simple Job Board plugin is free for all users.
Total number of users – 20,000+
Screenshot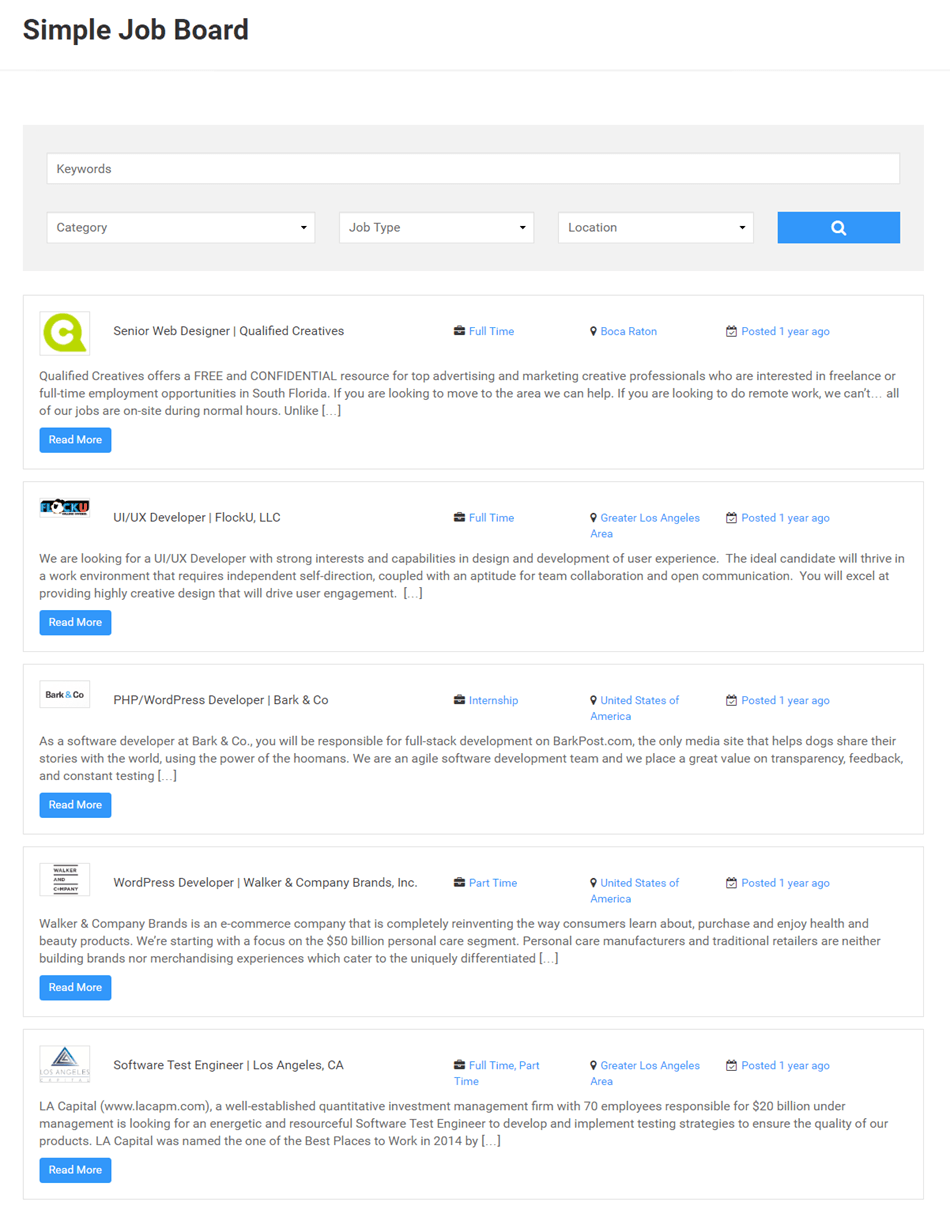 5. JobBoardWP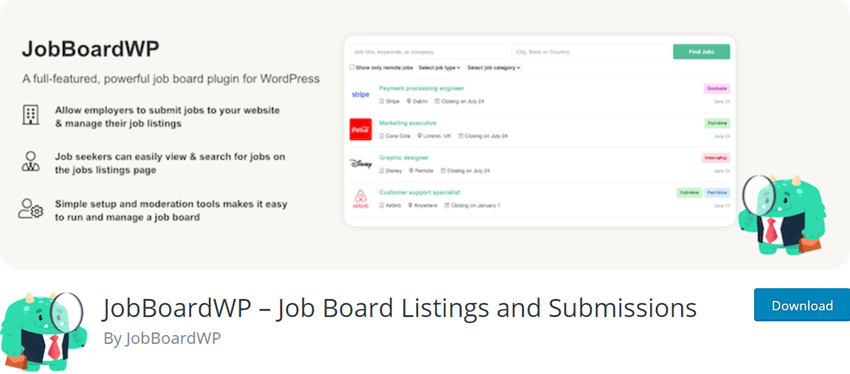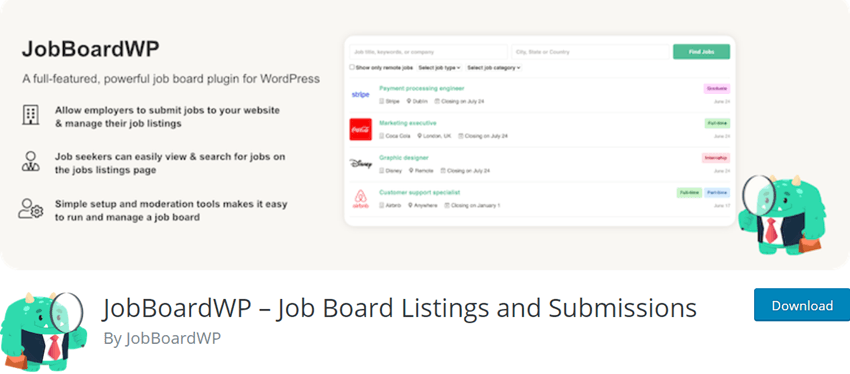 An easy option to run a job board and a complete solution for recruitment agencies, web developers, bloggers, and entrepreneurs. JobBoardWP offers full integration with third-party service providers such as Stripe and PayPal for better conversions.
Additionally, the drag-and-drop job board editor helps set up the Job Board in no time, with free addons as the added advantage. Jobs can be distributed over job aggregations and social media, and even as email alerts.
Features
Installing and activating the JobBoardWP requires no more than a single click.
It is compatible with almost all the WordPress themes available – both free and paid.
The powerful visual editor makes creating a job listing, job applications & resume quick and straightforward.
This effective job listing plugin comes with built-in templates that you can use as your liking.
JobBoardWP's team provides top-notch customer service. They answer all your queries and doubts at no time.
It includes almost 15 shortcuts that allow you to build a wholly dynamic and unique job board for your site.
The plugin comes with an inexpensive and efficient applicant tracking system.
Total number of users – 700+
Screenshot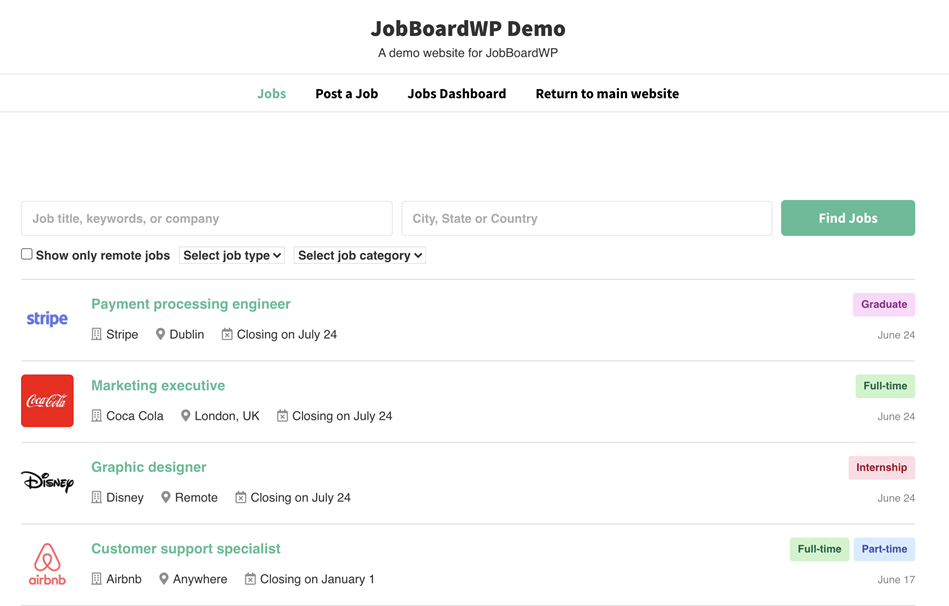 6. JobSearch Job Board

If you want to style a custom job board page, you can rely on the JobSearch plugin. The JobSearch is a paid job board plugin that flaunts some of the best features, such as social media integration, email notification alerts, CV Manager, Fresh Job Alerts, Custom fields, and Secure sign up for the recruiters.
Features
It requires absolutely no coding.
You can choose your grid size.
This job board plugin is compatible with WooCommerce, WPML Plugin.
It enables users to log in via Google and Facebook accounts.
It comes with built-in page templates.
Highly customizable.
It also provides boxed layout options and page templates.
JobSearch plugin provides powerful job sorting options.
It allows you to build your website in your language.
This plugin is SEO-friendly.
Price – Regular License -$76/Lifetime
7. Job board Solution

Job Board Solution is a WordPress job board plugin with a built-in job application form and affiliate management system. These HTML and CSS-compatible plugins can help you create a headhunting business. The outstanding feature of the plugin is that it can link your website to job portals like CareerJet, SimplyHired, Indeed and charge a fee for the visitor's application.
Features
It supports WordPress affiliate websites without any programming skills.
This plugin is responsive, i.e., compatible with any WordPress premium themes.
Easy to install and use.
Job Board Solution comes with an auto-post feature that allows you to grab many jobs for your site with just a few clicks.
It provides a powerful marketing tool with Facebook likes, shares, Google+, Google Maps, and more.
You can fully customize Templates, Search Fields, and pagination.
This allows you to optimize your job post by showing you the most visited and last visited 50 jobs.
Price – Regular License -$79/Lifetime
Screenshot
Conclusion – Still confused about your plugin selection? If you are looking for a free job board plugin, I recommend you choose wp job manager even though their premium version is remarkable and helpful. You can also try WPjobopenings in the case of the paid version.
You may also be interested in the WordPress recruitment theme, Business Directory Plugin, and contact form plugin.