9 Best Business Directory Plugins For WordPress 2019
Are you looking for Best Business Directory Plugins For WordPress ? Business directory Plugins are the best way to create online global business directory portal . You can make lots of money with these kinds of website .

Directory website are the collection of information about any business related to their niche . For example you can display name , address , google map address , contact and images related databases . You can create many kind of directory website using our list of Best Business Directory Plugins For WordPress or you can create a combined directory website like real estate listing directory , Hotel listing , restaurant etc etc . You can even deliver local business based on user location .
How will you make money via Directory website 
By selling ads.
Premium listing
Restricting booking for paid member .
Products promotion
Verified members
What are the minimum requirement to create a business directory website 
So without wasting our time lets have the list of Best Business Directory Plugins For WordPress which is as follows:
1. GeoDirectory

GeoDirectory plugin is one of the Best Business Directory Plugins For WordPress which helps to convert any WordPress theme into lightning fast global business directory. It is the most scalable and advanced WordPress directory plugin. It is fully compatible with Multi-site. A new set of short-codes have been included in the plugin. It uses geographic location to set up an online directory website. There is a very easy to use interface. Users can register, login as well as submit entries and reviews.The geodirectory documentation is really helps and have tought all the important details .Listings can be searched based on street address and zip code and in order of proximity, results are returned. Its features are:
Create a world class directory site- Any WordPress theme can be easily converted into rocket-fast-single-location business directory. They can be created with maps, user reviews, etc. A TripAdviser or a Yelp clone can be built quickly by dragging and dropping.
Build and style your way- Listings websites can be built using WordPress plugin and its widgets, templates and shortcodes. Templates can be copied in the theme files and elements can be designed in the control panel. They also have some elegant ready-made themes.
Monetize and scale infinitely- GeoDirectory has a highly-optimized database structure and low queries which helps to scale to millions of listings. The directories can be easily monetized and expanded using some premium add-ons.
Multi Locations- The users can go multinational in just a few clicks. The default location can be busted to create a global directory. A verity of locations can be added to the directory. The search can be made everywhere or they can be filtered using region, country, city, neighborhood, etc.
Google Maps Widgets- There are two Google Maps widgets. Unlimited categories can be created with ajax loading custom makers.
Front end submission form- A front-end submission form is provided by the plugin through which editing can be done by a drag and drop form builder. Through this the users can submit their forms autonomously. Any custom field can be added. Advanced search premium add-on can be used to filter search by any custom field.
WPML compatible- This plugin is completely compatible with WPML. So there is no need to worry for the site to be multilingual.
CSV import, export and re-import- Millions of listings can be easily transferred across instances. Data can be edited offline. On re-import live listings are automatically updated.
Total number of user  – 10,000+ 
Free
Premium
Addons
Themes
Documentation
Note – if you are buying wp geo directory Genesis Child Theme then you must get by Genesis framework 
Learn how does Geo directory plugin work
2. Connections Business Directory

Connections Business Directory plugin is simple in design and function and is the best business directory plugin available. It has many unique features and is quite versatile. A simple address book can be created or a staff or member directory can be maintained or a business directory or link directory can be run using this plugin. Its features are:
Completely Free- A directory can be created for no price at all.
Dashboard admin page- This is the place where today's anniversaries and birthdays can be seen as well as upcoming anniversaries and birthdays of members in the directory.
Repeatable fields- As many addresses, emails, links, social media, etc can be added as needed.
Scalable- Directories can be easily managed which contain hundreds of thousands entries.
Translation ready- the plugin already supports many languages.
Total number of user  – 10,000+ 
Free
Premium
Templete
Pro Extensions
3. Business Directory Plugin

The most popular, widely installed, versatile and easy to use WordPress business directory plugin is Business Directory. Interactions can be increased on the website.Customer retention and add revenue generating section can also be improved using this plugin. Its features are:
Form fields- The form fields are fully customizable.
Images can be uploaded per listing and restricted number of images can be allowed based on fee plan.
Lots of image option- Image uploads can be dragged and dropped. Image ordering is easy, thumnails can be sized and many more can be done with this plugin.
Payments can be accepted for listing or free listings can be had in the business directory.
Multiple fee plans can be created which for posting, can be assigned to categories.
Total number of user  – 20,000+ 
Free
Premium
Module
4. CM Business Directory

Map List Pro plugin helps to add maps and lists to WordPress. It is a fully features Google map and location listing WordPress plugin. Locations can be displayed in a paged, searchable, sort-able and filterable list. More than 30 styles can go with it. It is fully customizable. Its features are:
Searchable, filterable and sortable list can be created in just some time.
The width of the design is very friendly and in responsive themes, works well.
With the simple location editor, categorized locations can be easily generated.
Custom markers/icons- Own markers can be added or chosen from among hundreds of options.
Using Google pages search locations can be added quickly.
Total number of user – 400+
Free
Premium
Addons
Payments Addon
CM Google Map
CM Product Directory
Screenshot

5. Sabai Directory

Sabai directory plugin helps the users to build a community driven local business directories like Google plus places, Yahoo! local, Yelp.com, etc. It is a premium business directory plugin for WordPress. Its features are:
Listings can be displayed in grid, list and map view.
Listings can be searched by category, keyword, distance and location with user friendly auto-suggestion features.
With visual form editors, there are custom fields.
Listings and reviews can be filtered by custom fields.
Existing listings can be added or claimed.
Total number of user – 8,500+
Pricing  –  Regular License – $29, Extended License – $150
Premium
6. Web 2.0 Directory

Web 2.0 Directory plugin makes it very easy to convert an existing site into a fully featured directory business website. For both free and paid listings, this plugin can be used. New listings and packages of listings can be submitted by the visitors. Using the website front-end existing listings can be claimed and managed. Its features are:
Ads can be restricted by listing levels.
Package of listings can be sold.
For regular users, there is frontend dashboard.
Listings have 5- star listings.
It is compatible with WooCommerce payments system.
Total number of user – 6,400+
Pricing  –  Regular License – $39, Extended License – $195
Free
Premium
7. Directory Pro

To build responsive layout for directory, by making money with it by selling listing in innovative ways, Directory Pro is used. For various periods, users can subscribe such as daily, weekly, monthly and yearly. Custom post types are allowed and it is SEO friendly.It is fully responsive and is WPML compatible. Its features are:
WooCommerce payment gateway integrated- WooCommerce payment gateway can be used including WooCommerce subscription.
Responsive touch slider- For mobile devices, the listing detail page is included responsive touch slider.
New Listing badge- New badge icon is displayed by new listing.For new badge, the admin can set number of days.
Interactive Who Is Interested- Whoever is interested in his/her listing, the user can know about them and contact them.
Bidding System For Top Search Rank- For top search rank/day user can bid of the listing X radius.
Total number of user – 950+
Pricing  – Regular License – $35, Extended License – $160

Premium
8. Advanced Classifieds & Directory Pro

A powerful, professional, flexible, high quality directory plugin, with the help of Advanced Classifieds & Directory Pro, any kind of directory site can be created. Listings can be organized across infinite categories and sub categories. An unlimited number of custom fields can be set in order for the site to be able to accommodate all areas of business which has to be advertised. Its features are:
As many extra fields can be assigned to the categories as wanted.
As required, different fields can be set.
Automatically administrator email notifications are sent for new/expired listings, order created, payment received and abuse notifications.
The number of images uploaded by the user can be limited.
Videos can be added from Vimeo and ouTube.
Total number of user – 4,000+ 
Free
Advanced Classifieds & Directory Pro
9. Name Directory

To the WordPress installation, Name Directory plugin helps to add name/term directories. Multiple directories can be created using this plugin. To embed a directory the user can use shortcodes by simply copying and pasting in posts and pages. The layout and functionality of the directory can be customized by some configuration options. The options which can be customized are:
The title can be hidden/shown
Description can be hidden/shown.
Suggestion form can be hidden/shown.
Submitter name can be hidden/shown.
Search function can be hidden/shown.
Total number of user  – 2,000+ 
Free
Screenshot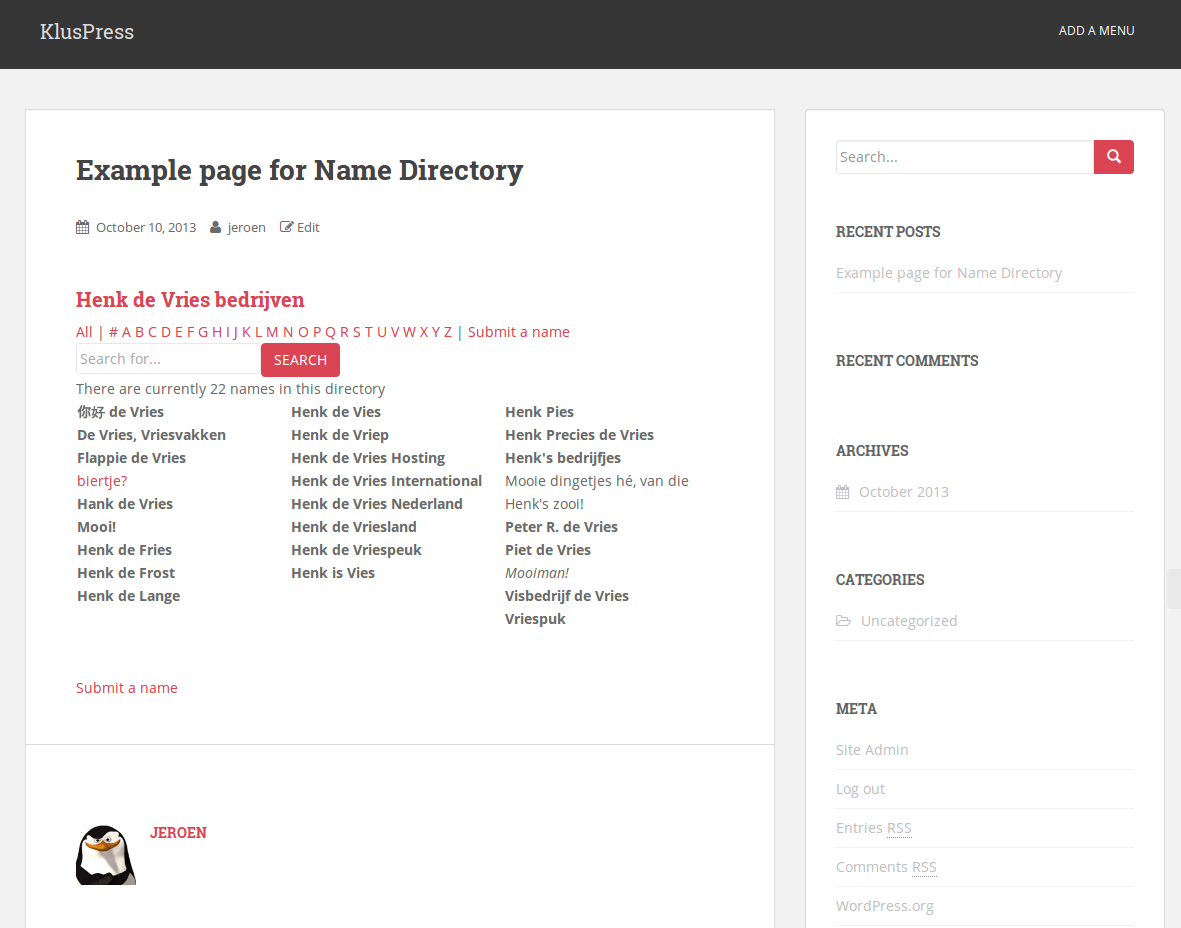 Conclusion – Still confused which is Best Business Directory Plugins For WordPress . Don't Get confused my friend because even for me selection was tough decision between wp geo directory , connections pro and business directory plugin . But based on my experience i will recommend you one and only Plugins that is geo directory plugin. which is 100% tested and verified by users .This Plugin will never let you feel down . Still have question feel free to contact us