10 Best Contact Form Plugins For WordPress 2022
Are you looking to add Best Contact Form Plugins For the WordPress website then you should try our contact form list? we have searched and collected Best WordPress Contact Form Plugins for you based on factors like speed flexibility and SEO to increase your email list.

There are many Contact form Builder plugins in the market but so many of them are not only limited to contact form but they have many extra features like payment, Security, and Lead collections much more.
You may also be interested in Google forms alternative,  Email marketing services, Support ticket plugins, and FOMO Plugins.
Let's have the list of top WordPress contact form Plugins are as follows
Comparison Between WPForms Vs Gravity Forms Vs Ninja Forms Vs Formidable Forms Vs 123FormBuilder
1. WPForms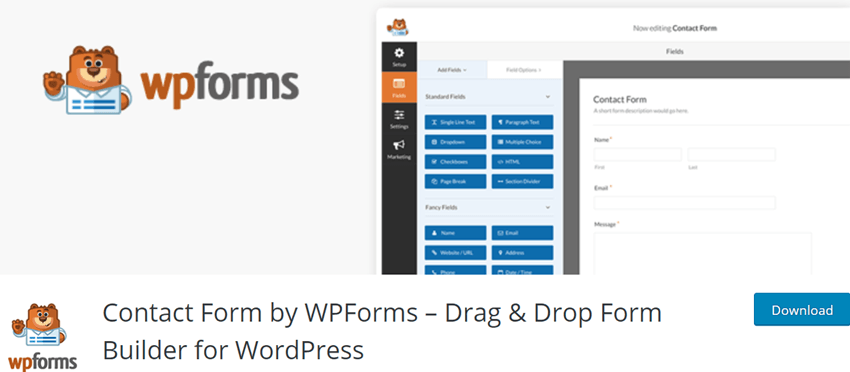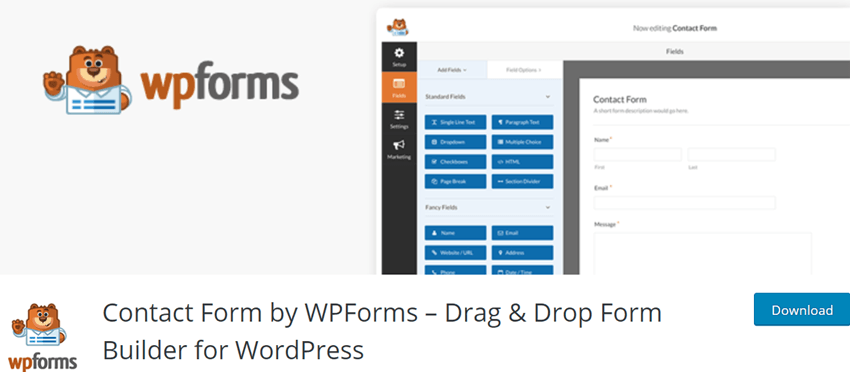 WPForms is the most famous and best drag and drop free Contact Form Plugin For WordPress. By using WPForms you can create beautiful contact forms, payment forms, subscription forms, Feedback forms, online surveys, and donation forms with drag and drop forms builder. you can all kinds of creating creative forms within 5 minutes without using any codes.
Reason Why people love WPForms
Drag & Drop Form Builder – Create Form by using forms builder.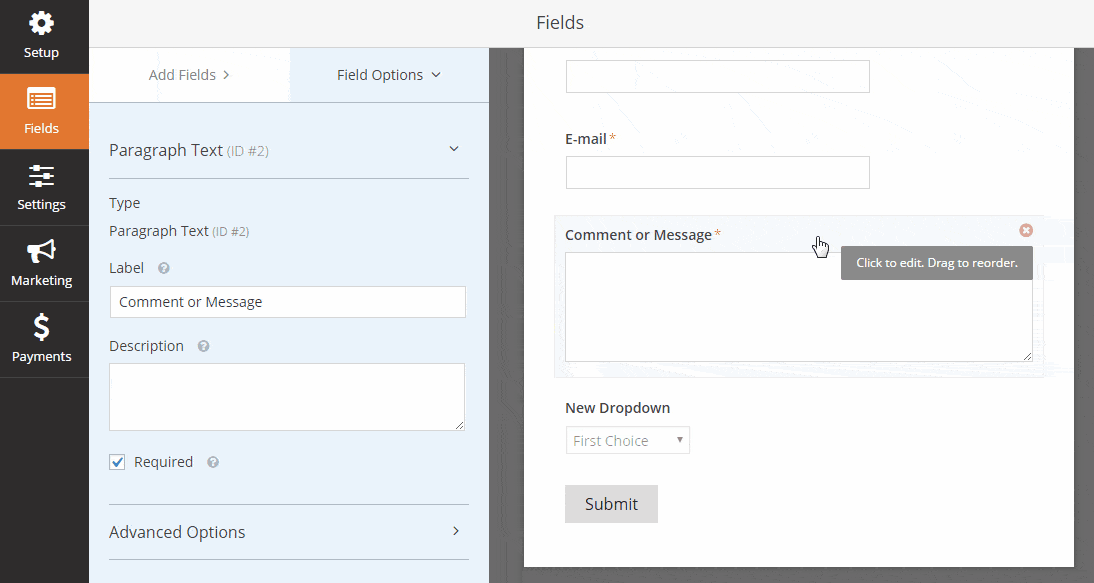 Spam Protection – none of the plugins provides this spam protection feature in contact form except WPForms (premium version).
Responsive Mobile Friendly – These forms work properly on mobile tablets and Macs.
Form Templates – Inbuilt Pre-made contact page template.
Geolocation Data – You can collect your visitor location.
Offline Forms Addon – You can even collect the forms when there is no internet connection. This addon will automatically restore data once the user gets the connection.
Payment addons – PayPal, Stripe, And Authorize.net
WPForms – WpForms plugin is used by more than 1 million customers and has More than 1500+ positive reviews in WordPress respiratory. You can call this plugin as Best WordPress form builder which also supports Payment although the Free version has some limitations if you want to use it for a normal website go free version if you are a blogger you should choose the premium version.
Total number of user – 4,000,000+ 
Price – Basic-$79/yearly (1 Site),  Plus-$199/yearly (3 Site),  Pro-$399/yearly (5 Site), Elite-$599/yearly (Unlimited)
Screenshot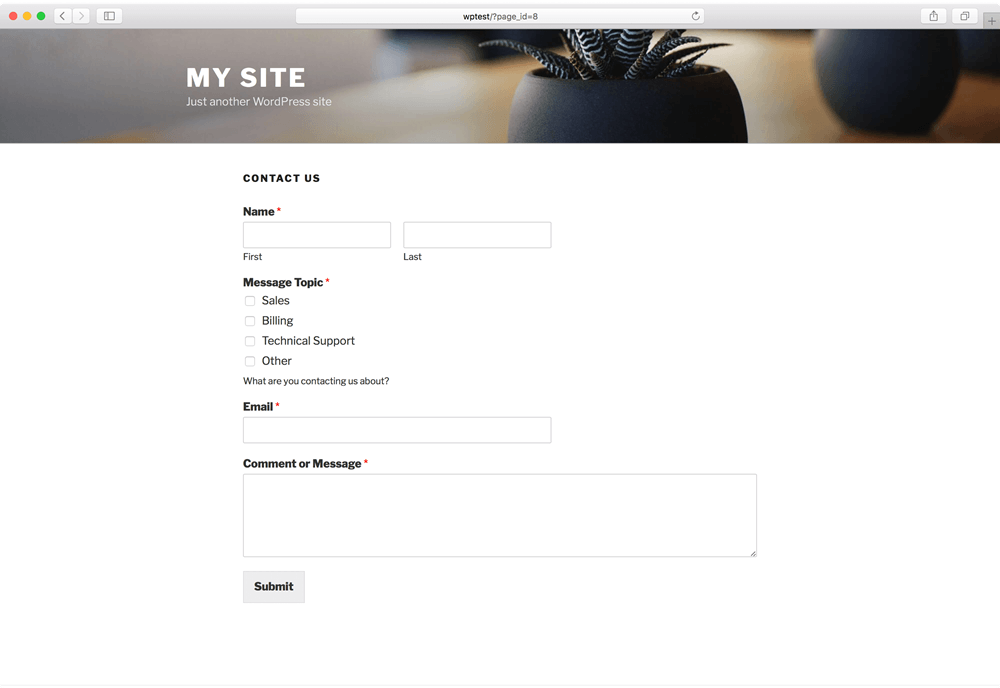 2. Gravity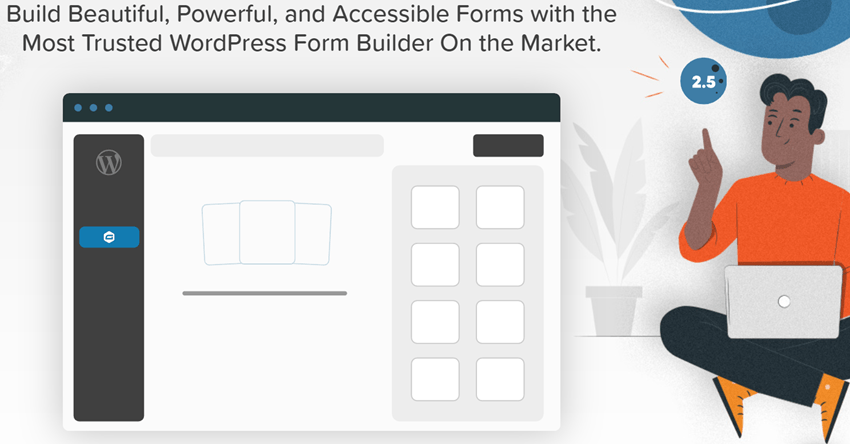 Gravity Forms facilitate you to create robust forms for your pursuits with the most trustworthy form creator of WordPress.It can help create unlimited complex, powerful contact forms in just minutes without having any programming knowledge. These Forms can be easily used to create feedback forms in just a few clicks. Design your business-related forms with a professional touch-up that ultimately brings you more leads. These Forms originate with lots of exciting new mind-set of the working environments. This amazing form creator and editor contain easy to use interface including a drag & drop authority column. Anyone can regulate this form builder without the knowledge of a vast programming language. Partnership with popular online applications and online services as well like HubSpot and Zapier which introduce a more flexible alternative to your forms.
Utilize the Forms to manage your different sites with core features consisting of priority consideration and beneficial Add-ons. Build unique forms according to the requirement of your Website while applying Add-ons such as Quizzes, Stripe, and Polls. The easy and fast process to integrate with third-party interaction like PayPal and other WP Add-ons. In short, Gravity Forms is one of the best form builder WordPress extensions that enables you to create Feedback Forms, Contact Forms and so more within minutes.
Reasons Why People Love Gravity Forms –
Easy To Use, Powerful Forms – You can easily build and design your contact form using a visual form editor. You can easily add selected fields in your forms and easily configure them inside your website.
More than 30 options are available for creating forms that will help you in creating a form for non-technical guys.

Conditional Logic

– If you know to code then this plugin will be the magical stick for you. That means you can hide or display content on post pages.
Fight Spam  – Getting spam in the contact form is the worst part of WordPress that can be removed by using gravity forms.

Responsive Design

– These forms have a mobile-friendly display which is important for SEO
The Forms have a built-in WordPress form builder with payment integration support.
Payment addons – PayPal and  Stripe
Price – Basic-$59/yearly (1 Site),  Pro-$159/yearly (3 Site), Elite-$259/yearly (Unlimited)
Screenshot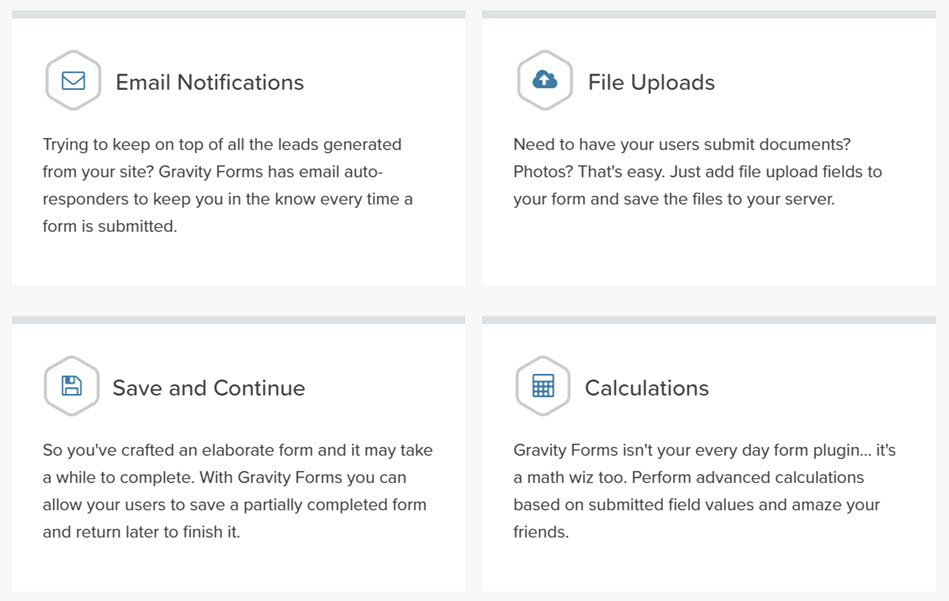 3. ARForms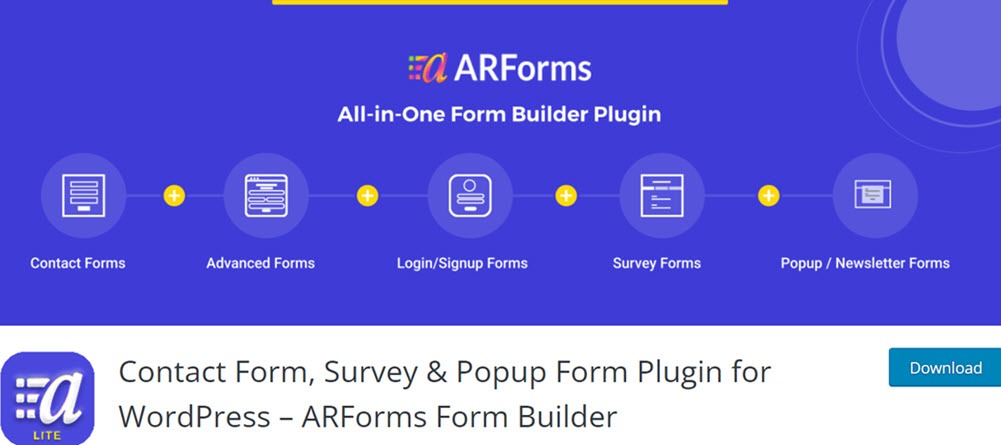 ARForms is now the most feature-rich form builder on the market. There are a number of WordPress form plugins available that you can choose from. From simple to complex, WordPress Contact forms are incredibly popular.
WordPress site owners put in a lot of work to turn visitors into leads when they use the WordPress contact form plugin.
Because not all users have technical or coding capabilities, they must design a form that converts smoothly. They are, however, confined to generating some of the more enormous and inconvenient forms, despite being techies..
With "40+ most refined WordPress form samples" that are easy to use and have a user-friendly design, ARForms WordPress Form Builder Plugin allows you to create WordPress forms in the best possible way.
ARForms includes more than 30 form elements to assist you in creating new forms. Checkboxes, star ratings, date and time, page breaks, drop-down menus, radio buttons, sliders, signatures, color pickers, smileys, download choices, and more are all included in the software.
Forms that are entirely responsive and mobile-friendly.
It provides the best in class UI-UX for users to interact with.
Forms that can be resized and include several columns and fields.
There are more than 25 different form elements to pick from, as well as a live editor.
When it comes to loading, the performance is incredible.
Conditional logic is used to hide and expose form fields.
With built-in mathematical concepts, you can calculate totals, averages, and more.
Ready-made form templates are supplied to save time.
Popup forms are already included.
Multiple-step forms and surveys are available.
The navigation menu has popup menus.
While editing forms in ARForms, the progress is automatically saved.
Google Sheets, PayPal & PayPal Pro, PDF Creator, Stripe, Mail Poet, Mailster, Digital Download, Signature, Mailchimps, Authorize.Net, SMS, InfusionSoft, Zapier, Active Campaigns, and many other add-ons are just a few examples.
Total number of users – 8,200+
Price – Regular license – $39/annually (1 Site)
Screenshot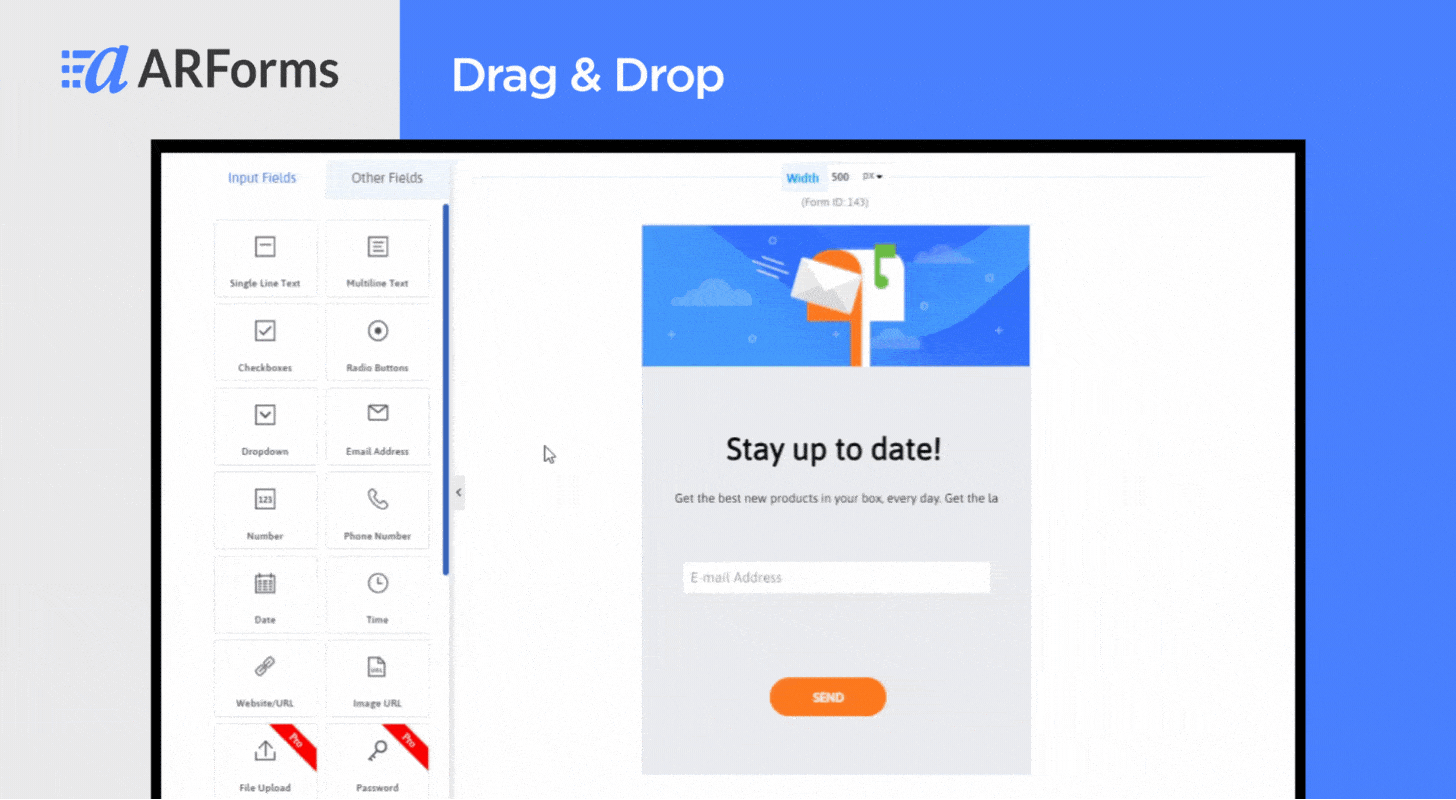 4. Formidable Form Builder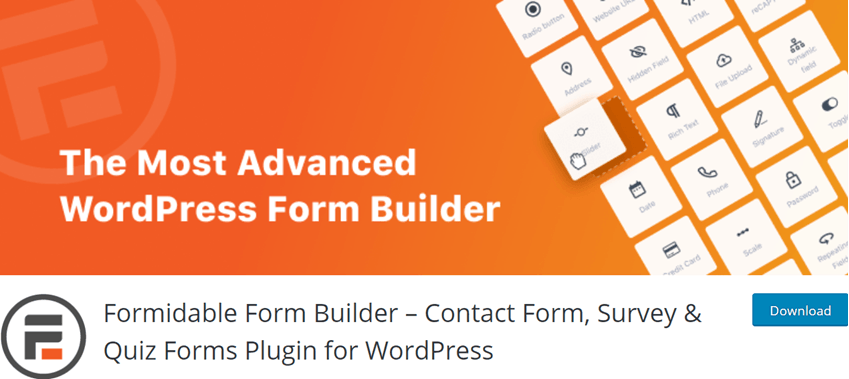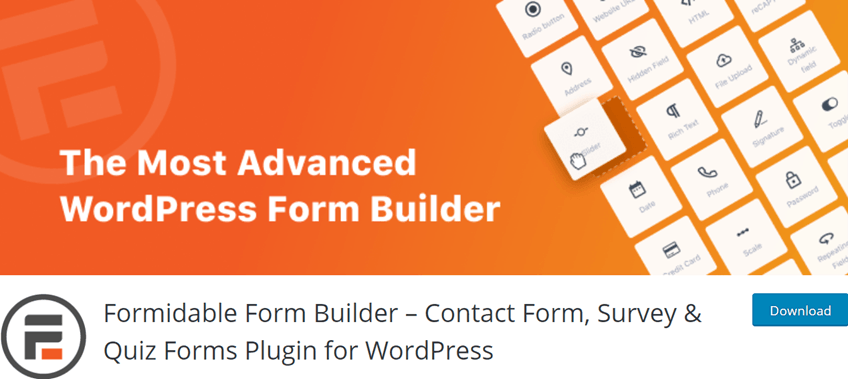 Formidable Forms is the most flexible and awesome WordPress form builder plugin. You can easily create contact, lead generation polls, popups, and much more without using codes. You can use it for creating any kind of contact generation form with a professional look. With formidable forms, you can create responsive forms in not minute within seconds
Formidable Form Builder is an extensive WordPress form Builder extension that lets you design various forms like contact form, feedback form, inquiry form, payment form, and so more. Enables you to create forms in simple and easy steps of Drag and Drop options within less time. Organize every possible tool you need to customize and make it less complex to build the required form promptly to save your time. Highly responsive on different devices such as desktops, smartphones, laptops, and tablets. If you connect with Formidable, you get access to the fastest form creators available in the market by WordPress.
Included Features of Formidable Form Builder –
Manage Leads – Whenever any of your users submit forms, they will get stored in the database of your WordPress. So you don't have to worry to lose your leads.
Advanced Styler – Many templates for amazing forms are available whereby you can customize anything that you need to and create forms on your wish in just some clicks.
Generate Surveys With Reports – Contains features of creating essential surveys along with ravishing reports. Also allows displaying the analyzing graphics of such surveys on your website pages or post.
You can create an unlimited number of jobs boards, calendars, tables, and much more
It allows you to send an unlimited number of emails and collect unlimited forms.
You can modify add custom CSS class and edit HTML for a high level of modification in forms
Multiple numbers of prebuilt contact page templates for making user workload zero ( premium )
Total number of users – 300,000+
Price – Basic-$79/yearly (1 Site),  Plus-$199/yearly (3 Site),  Business-$399/yearly (7 Site), Elite-$599/yearly (Unlimited)
Screenshot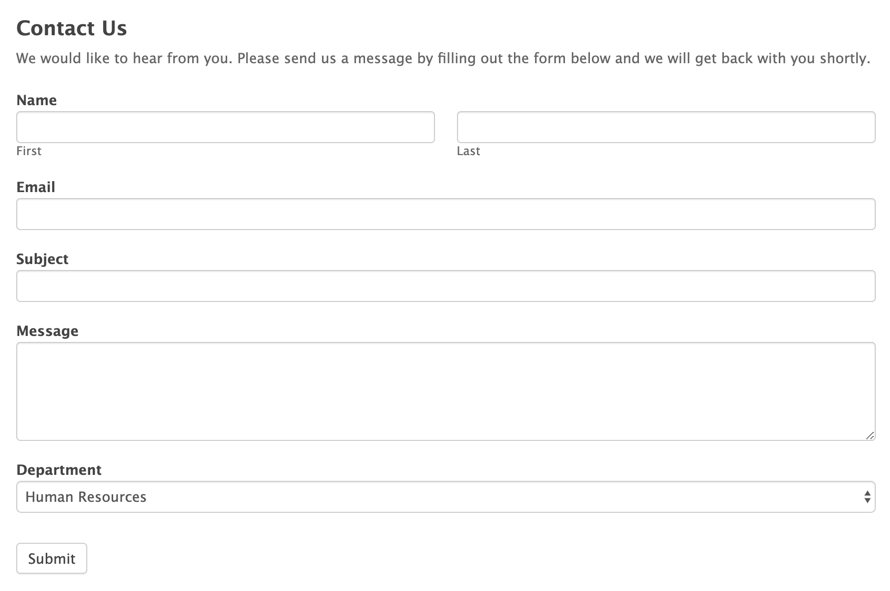 5. Ninja Forms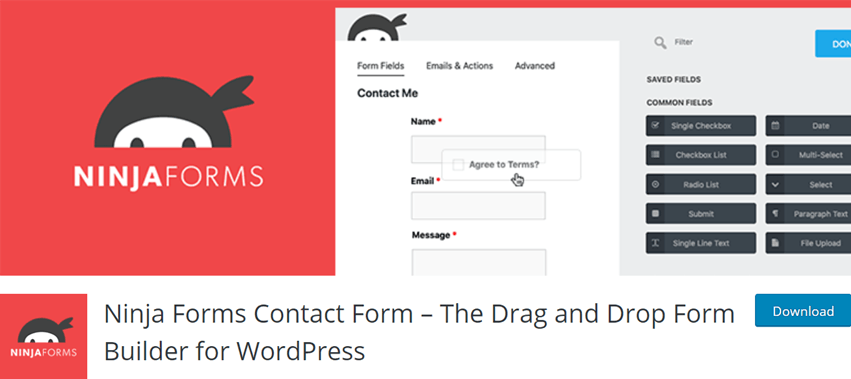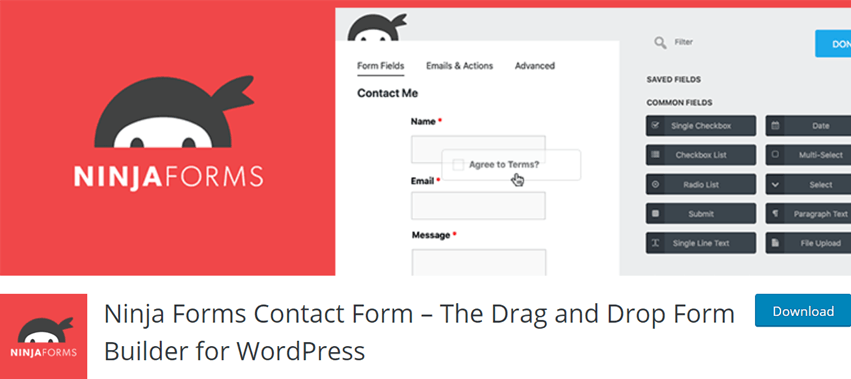 Ninja forms are one the most trusted WordPress contact form builder plugins that are 100's developers. This plugin is recommended by studio press,  PAGE GODADDY, AND MUCH MORE.
Reasons Why People Love Ninja Forms
Completely FREE!

– Ninja form is completely free with some limitations in forms

Interface

– user friendly

Effortless integration inside your WordPress website

–   you don't need to be technical for using this plugin. You can easily add your form inside your widgets sliders and blogs.

Antispam option

– Google ReCaptcha and Honeypot fields.

An unlimited number

of forms with a large number of input fields.
Easily

export and import

your contact form from one website to another.

Developer friendly

– If you are a developer you will love using ninja forms on your website because its have so many action hooks and filter that will be user-friendly.

Speed faster

than any other plugin because its uses ajax for form submission.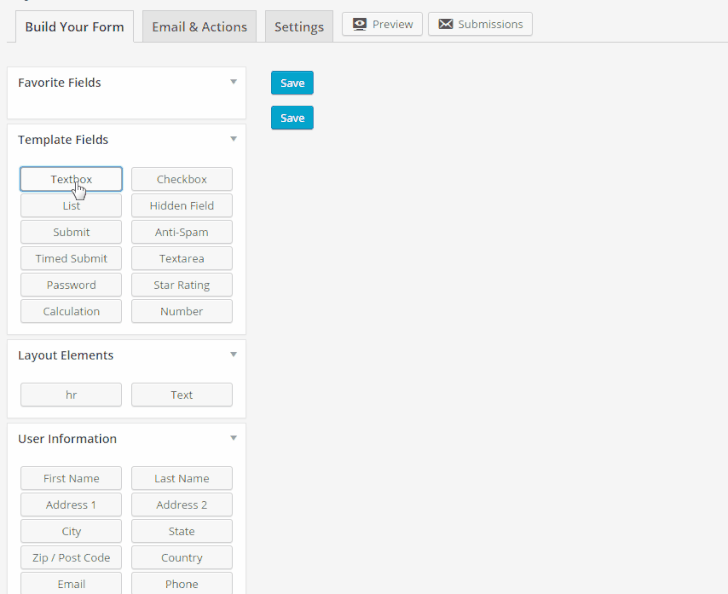 Total number of user free version – 1+ million activate the installation
Ninja Forms – The ninja Forms plugin is used by more than a 1+million customers and has More than 700+ positive reviews in WordPress respiratory. The free version has some limitations if you want to use it for a normal website go free version if you are a blogger you should choose a premium version. If you will ask me I will say ninja forms is the most popular contact form plugin for WordPress users.
Total number of user – 1,000,000+
Price – Personal-$99/yearly (1 Site),  Professional-$199/yearly (20 Site), Agency-$499/yearly (Unlimited)
Screenshot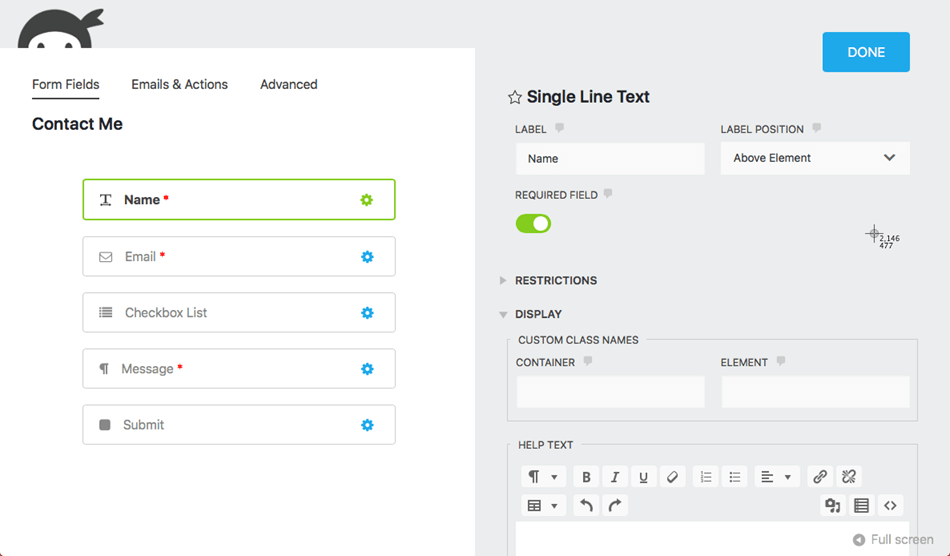 6. weForms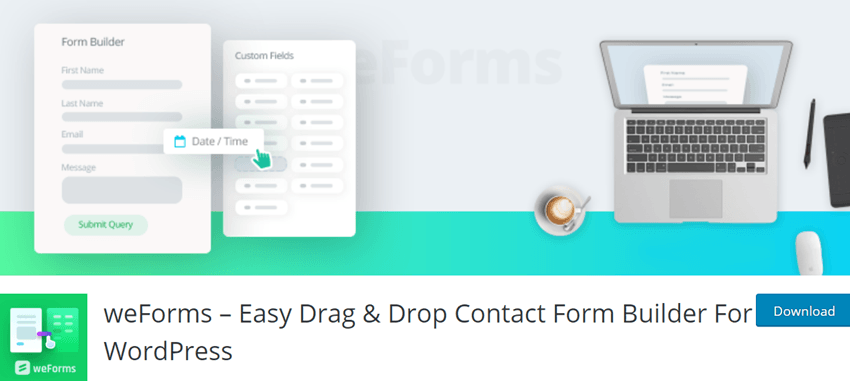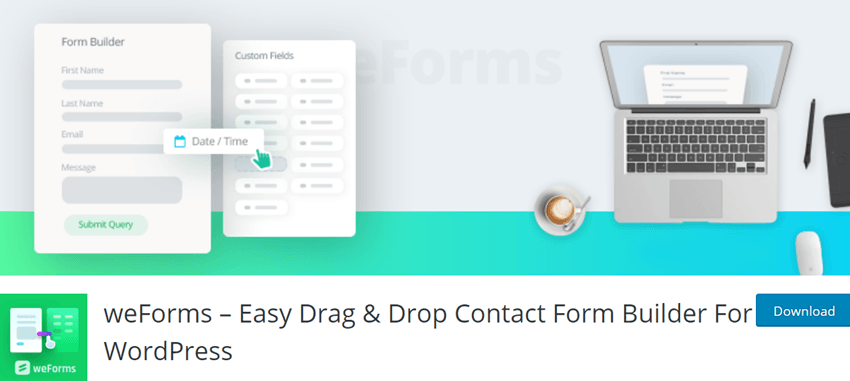 weForms provides the user-friendly contemplate to create different forms for the business concern. Just generate any forms for inquiry, quizzes, contact, payments, and more with just some clicks. The forms you create at weForms are responsive on any device irrespective of screen sizes and let you collect essential data of your consumers. Create unlimited forms of various perspectives with pre-designed templates that are ready for customizing where you can simply build your forms with drag and drop orientation. Gives you hassle-free service and saves your time which you can utilize elsewhere for business growth.
weForms contains Elementary Features –
Limit Validation – Generate forms for certain limited periods and make them invalid afterward.
Restrict Entry – Set up the maximum limit to submit forms of every particular form.
Integrated With Slack – Send you notifications on Slack medium when your users submit any forms.
Enable Email Submission – This allows you to access forms with email services to receive the data in email.
reCaptcha and Anti-Spam – Eliminates the complexities of spam messages or entries and WordPress Forms registrations by reCaptcha.
Redirect Forms – Gain organic traffic collection by redirecting forms on your Website that provides leads.
Total number of users – 30,000+
Price – Personal-$79/yearly (1 Site),  Professional-$129/yearly (3 Site),  Business-$229/yearly (10 Site), Developer-$399/yearly (Unlimited)
Screenshot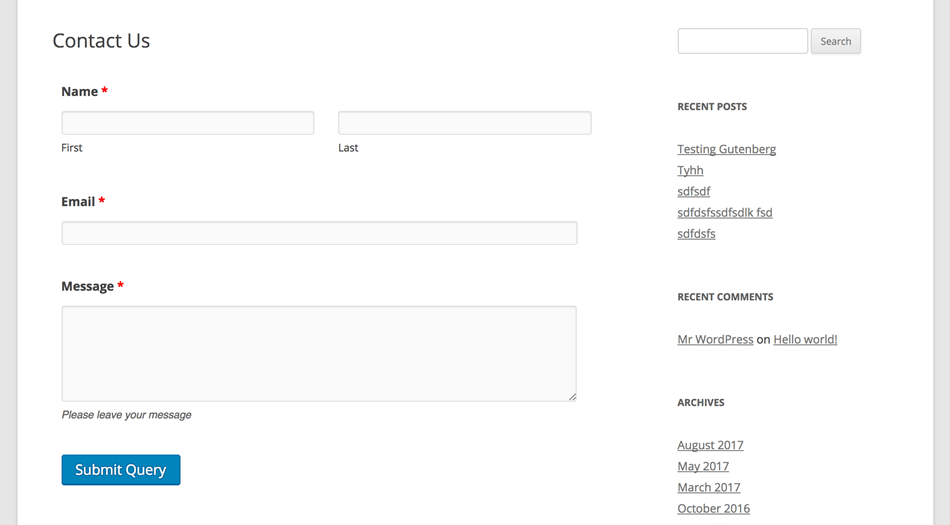 7. Kali Forms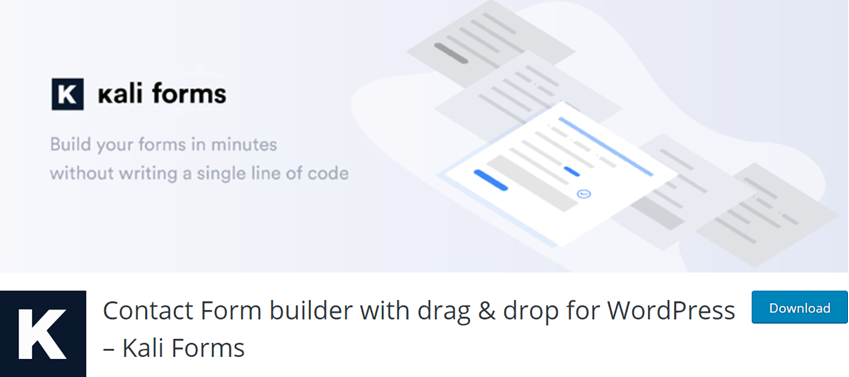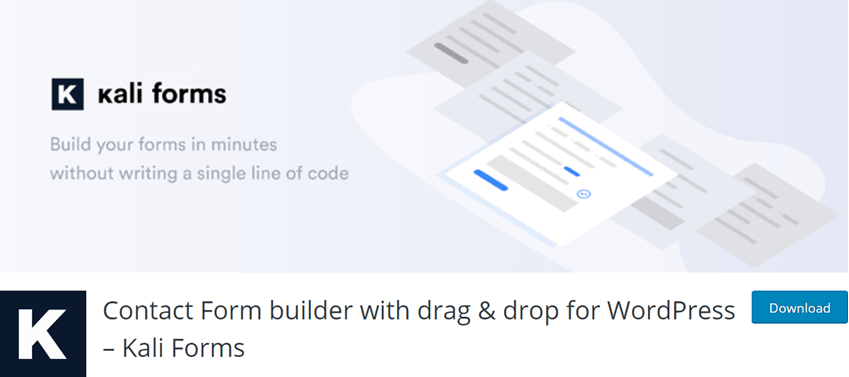 Kali Forms is a well-designated WordPress Form Plugin that contains a set of templates to create any kind of form instantly. Drag and drop facility which enables the creation of forms like inquiry, contact, payment, quiz, etc. in a simple way. You have access to admirable form templates at Kali Forms Extension where you can customize the fundamentals as per the requirement of the Website. Create extraordinary forms for various purposes within just minutes while clicking some buttons only.
Features Integrated –
Professional Contact Form – Represent your entity by offering a contact form to your website's visitors which looks professional.
Informational Forms for Employees – Collect the essential data of present employees or offer candidates with Information Form. It is specially designed to establish communication between the company and employees as well.
Mobile Responsive – Fully responsive in every device such as laptops, desktops, tablets, and smartphones.
No Chance of Spam – Save you and your time by restricting spam messages or form submission. Kali Forms is so arranged with honeypot set up of spam and reCaptcha as well.
Third-Party Disclaimer – Here your data will be secure with end-to-end encryption. No personal data will be collected from the user's device or websites owner's as well.
Total number of users – 30,000+
Price – Starter-$39/yearly (1 Site),  FreeLancer-$69/yearly (3 Site),  Small Business-$99/yearly (15 Site), Agency-$149/yearly (Unlimited)
Screenshot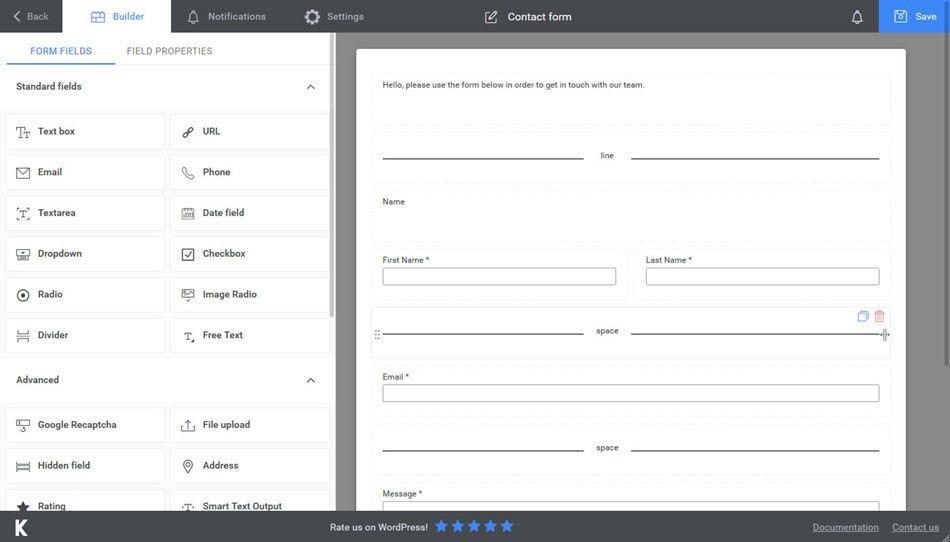 8. Fluent Forms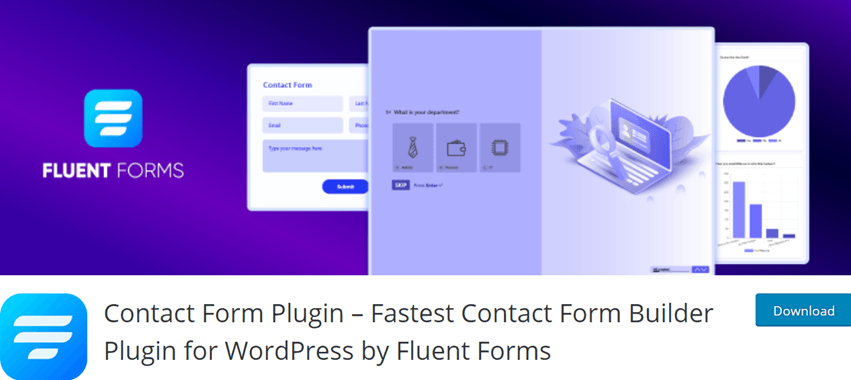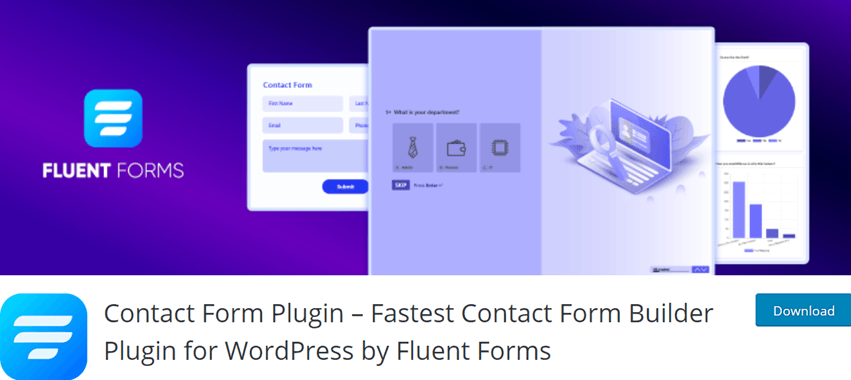 WP Fluent Forms allows you to create astonishing forms with the pre-designed format of templates for different purposes to meet the business prospects. This amazing WordPress Extension consisting lots of essential features that you require to designate your contact form, payment forms, check-in or check-out forms, effortlessly in minutes. Simply utilize the drag and drop alternative that makes it easier to build such forms for anyone. WP Fluent Forms is integrated with HubSpot, PayPal, Stripe, and more essential Add-ons.
Features of WP Fluent Forms –
Readymade Customizable Inputs – Customize the available input sections (40+) as per your traits that match with website prospects.
Step Forms – Create Forms with stepping formats while analyzing the long forms and comfort of users.
Update File and Image – Provide the availability to upload files or images wherever required to your users.
Prevent Spam and Invalid Entries – Block spam users by generating reCaptcha and restrict blank entries by setting by default options.
Confirm Submission Automatically – When your users submit the form successfully, they get a message for it if you set an automated alternative.
Email Notification – With the submission of a particular form you and your users get notified by email if you allow the same.
Total number of users – 80,000+
Price – 1 Site-$59/yearly,  5 Site-$129/yearly,  Unlimited Site-$199/yearly
1 Site-$249/Lifetime,  5 Site-$449/Lifetime,  Unlimited Site-$799/Lifetime
Screenshot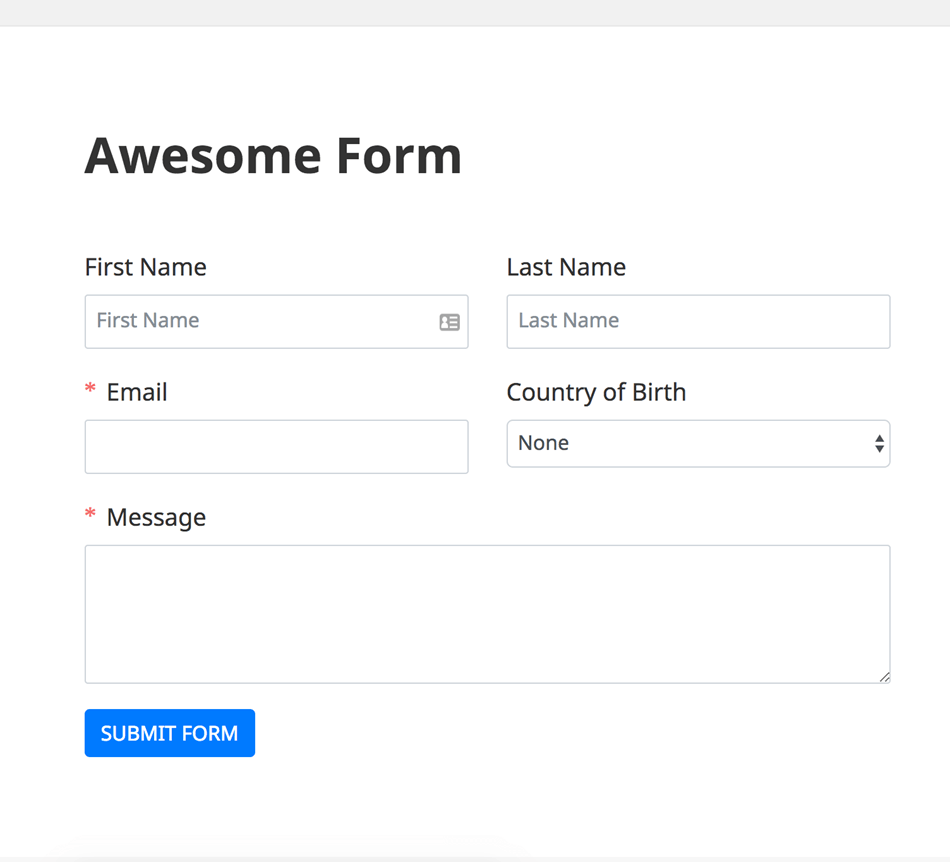 9. POWR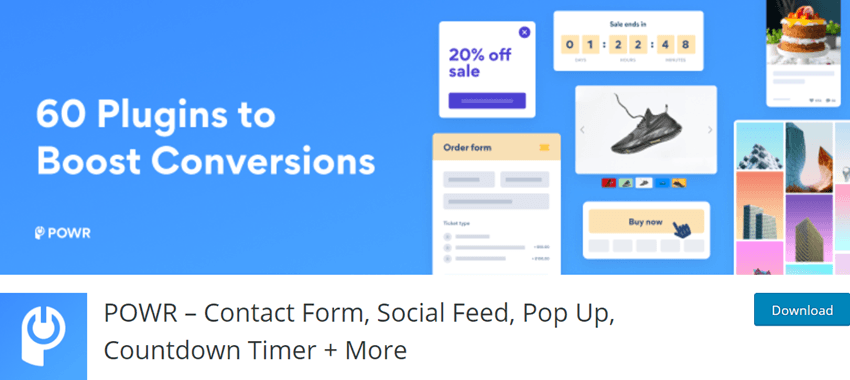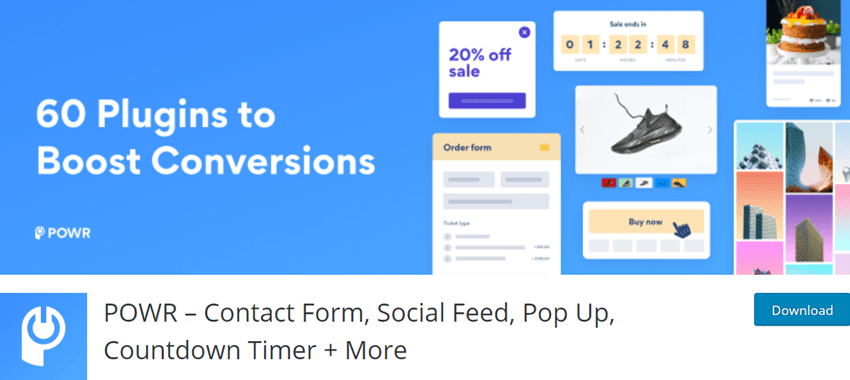 POWR is the foremost WordPress Form Extension where you can create the form in your designs and input criteria. Generate the multi-purpose Forms with this advanced Form Builder Extension in just simple easy steps without any coding. Connect those forms to your Website and let your users communicate directly with you. Collect data of users that you need as performs and let them give feedback about your service. Hereby, you can improve the user's experience while reading such feedback. Grow your online business by presenting beautiful forms to the audience that may keep the attention and create meaningful traffic to the Website.
POWR enables you to create professional forms with attractive outlooks such as quote form, contact form, return form, newsletter form, survey, order form, and so many other forms. Availability of numerous design templates for such forms at POWR which allow you to customize on your own. Contain key features like mobile responsive, spam blocking, multi-page forms, email notifications, and more. Well-integrated with PayPal, Stripe, Zapier, Google Sheets, Mailchimp that provides automated streamline to the existing workflow.
Total number of users – 5,000+
Price – Starter-$99/yearly,  Pro-$159/yearly,  Business-$859/yearly  (Unlimited)
Screenshot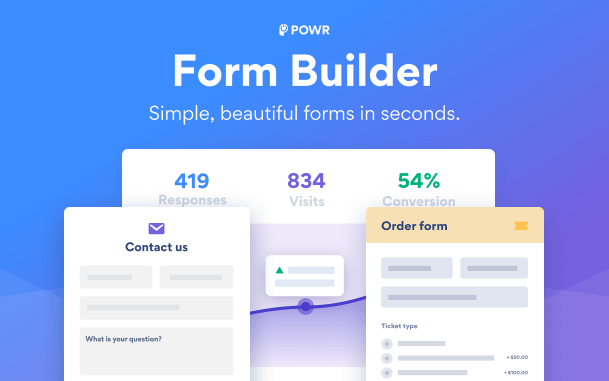 10. Contact Form 7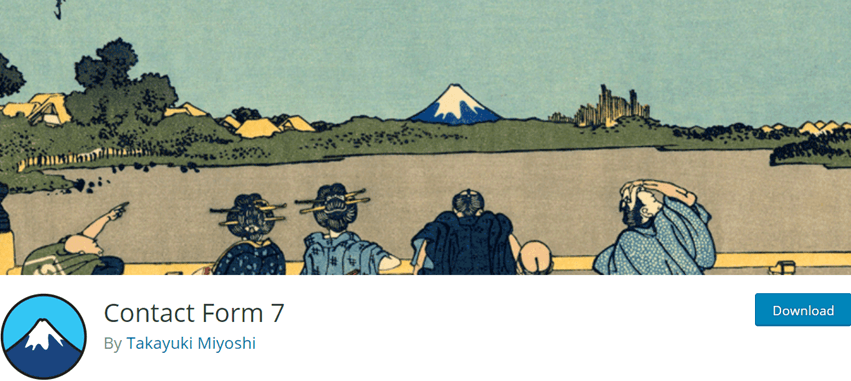 Contact Form 7 is one of the simplest feedback form Plugins which is ever created which is used by more than a 5+million people which is not a small number. With this plugin, you can do simple work like manage the contact form and its design which is powered by ajax email submission. This plugin is that's why it doesn't have many options for customization.
it's easy to use with simple forms design feedback form and implementation with just simple shortcodes pasting
Customization – This plugin provides you with all features which can be used to edit the fields lebel and you can even manage the error message popup when something goes wrong in forms
Security – These plugins Provide Recaptcha to avoid spam from your WordPress website
Email storage – You can store email contact on your website without using any kinds of add-ons like mail chimp, Basecamp, etc so no more extra investment for storing email.
Total number of user – 5,000,000+
Screenshot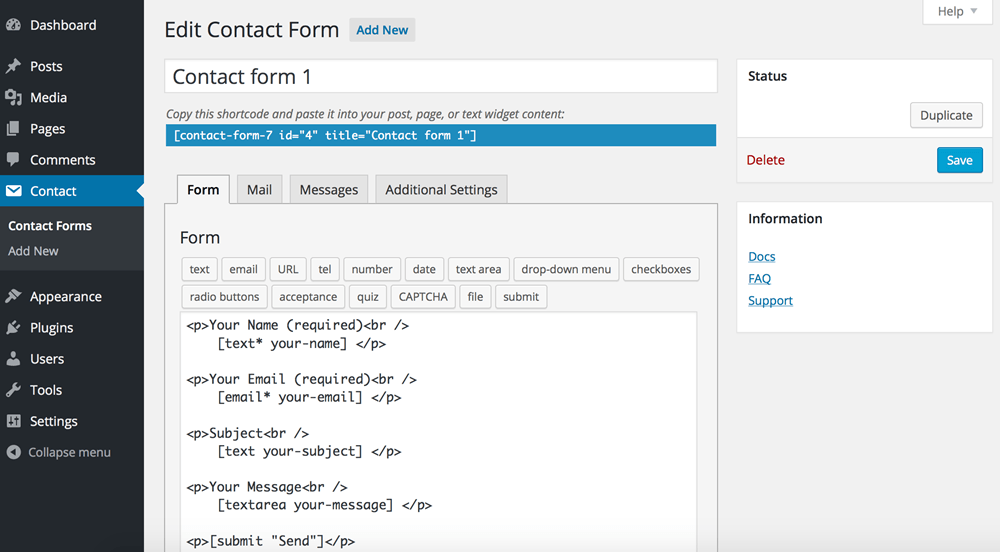 Comparison Between

 

WPForms

Vs

 

Gravity Forms

Vs

 

Ninja Forms

Vs

 

Formidable Forms

Vs

 

123FormBuilder