10 Best WordPress Security Plugins 2021 To Increase WordPress Security
Are You looking for the Best WordPress security plugins to keep your WordPress website secure from a hacker? Finally, we have searched and collected the best security plugin for you which will protect your website from Malware and Hackers.

You might be owning an eCommerce website or a blog. Every day thousands of spammers and malicious hackers target your website. By default WordPress security is very low you need to make it to a high level depends upon your uses.
You might be thinking why do the hackers hack your website?
To steal your personal data from the website database.
Building back-links for their website or client.
For adding popups ads networks like propeller ads or hilltops. Mostly these are spam but so many people use this for money-making.
Some hackers do this for fun
Even so many high profiled companies hired hackers so that their business should continue on the track. Because if nobody will hack their website their company will get closed.
Note – If your website is continuously getting hacked please and please migrate your hosting to some safe and high-quality hosting providers like kinsta or fastcomet. They both have separate teams for Website security. Hostgator don't provide any kind of security-related help.
You may also be interested in Email marketing services, FOMO Plugins and a Landing page tool
Let have the list of Top WordPress Security Plugins To Increase WordPress Security are as follows:-
1. Sucuri Security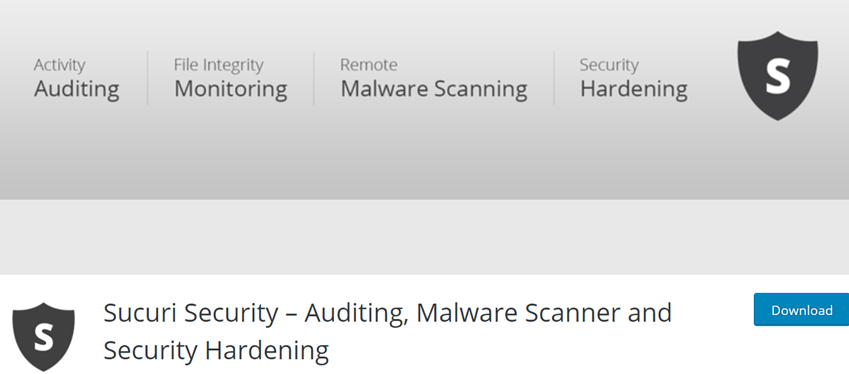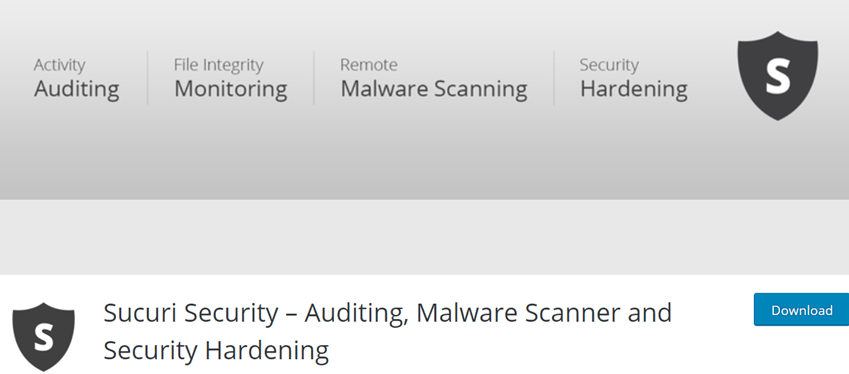 Sucuri Security is a well-designated Security Plugin that prevents or fixes hacks that occur on the website eventually. Secure your different websites with this WordPress extension which holds global administration for security supervision of the site. If you are an existing user of WordPress, this extension absolutely free for you. An organized tool for security integrated with essential features that perfectly fit into the prevalent security structure. Complement your security tools to provide advanced enhancement in security.
Sucuri monitors the new installation that occurs into the Website including themes, plugins, essential files, and anything else. Enables scanning the source of coding that may be infused externally and detect files. Security Plugin Sucuri also includes the website firewall which boosts the speed by optimizing it overall.
Hereby you can keep a record of every single change that occurs on your website as Sucuri Security contains an auditing option. You get notified within seconds of who logged into the website or trying to do so and are aware you anything else that goes on the site.
Sucuri is known for its high-end quality for protecting websites from hackers and is also known for cleaning malware or hacked website. They are specialized in WordPress security.
Sucuri plugin is free for users. It also has some premium services if you are choosing Sucuri premium service,
Feature
Malware scanning
File change detection.
Abondent file notification
WordPress Firewall (Premium)
Google blacklist Monitoring
Note- we are using Sucuri Premium WordPress firewall for protecting our website
Total number of users – 800,000+ 
Price – Basic-$199.99/yearly,  Pro-$299.99/yearly,  Business-$499.99/yearly
How to properly configure and setup sucuri plugin
Screenshot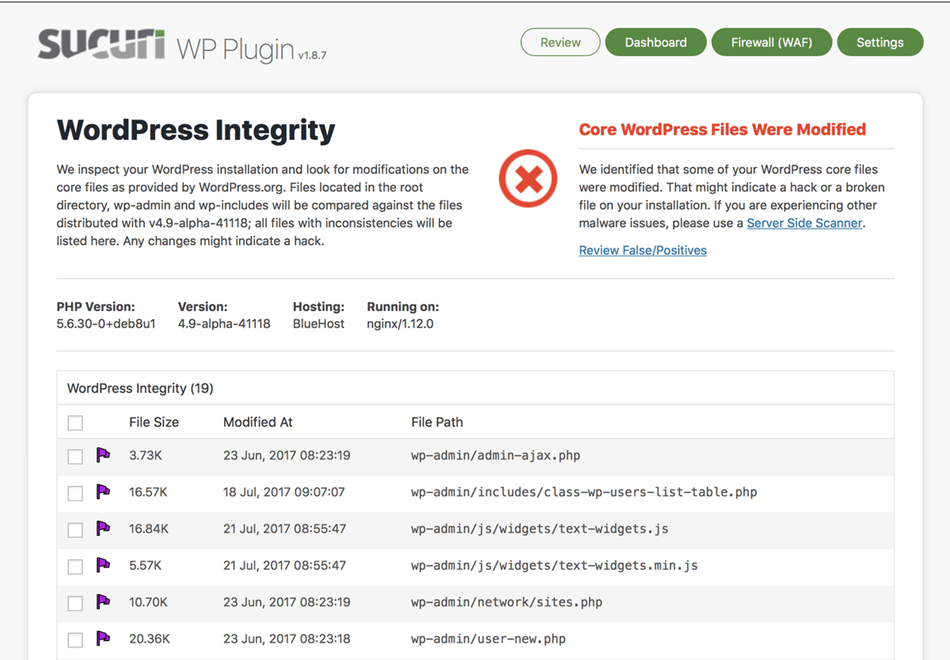 2. MalCare Security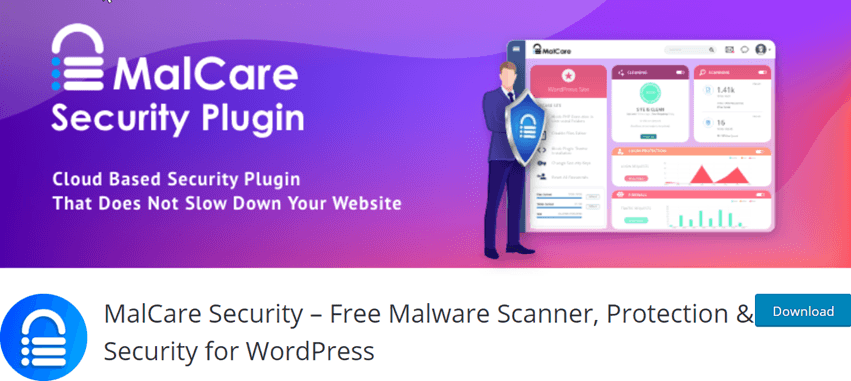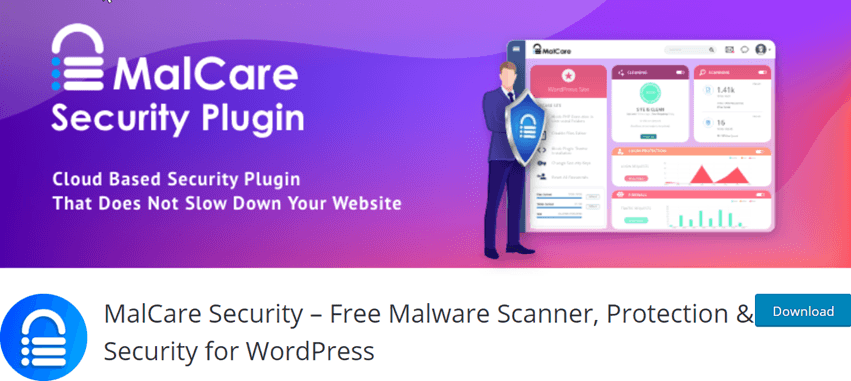 MalCare Security gets access to your website and then establishes vigorous security administration. The most reliable Security Plugin presented by WordPress avails to you to make your site completely safe from hackers. While you install MalCare Security into your website then it allows you to be free from safety concerns of the site as it tackles such circumstances on its own. A Cloud scanner for deep malware detection is available in this WordPress Extension. Detect the malware that is present and remove it promptly to continue the hassle-free workflow. Works on automatic malware extraction within just one click. Therefore, it cleanses everything right before anything worse happens to your Website such blacklisted by Google or prevailing web hosts crash it.
Elementary Features of MalCare Security –
Scan Malware – Search and recognize the malware immediately without any interruption in the speed of the website.
Remove Malware – Cleanse unlimited hacking by tracing it within less than a minute.
Blocking Geographically – While tracing the location of hackers, it enables blocking such visitors that belongings of the same location to minimize the risk in the future.
Total number of users – 100,000+
Price – Personal-$99/yearly,  Business-$259/yearly,  Developer-$599/yearly
Screenshot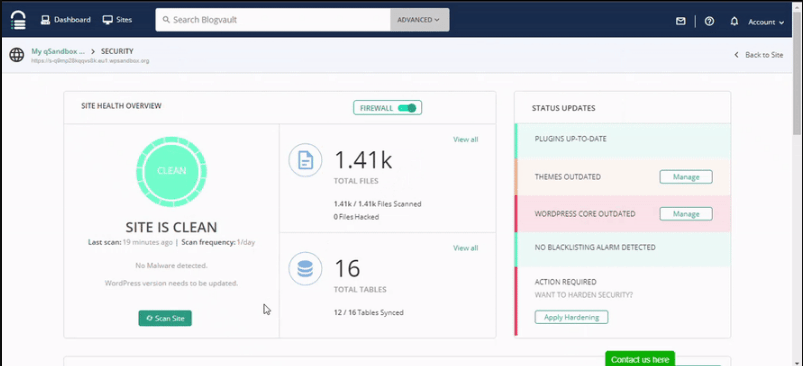 3. Wordfence Security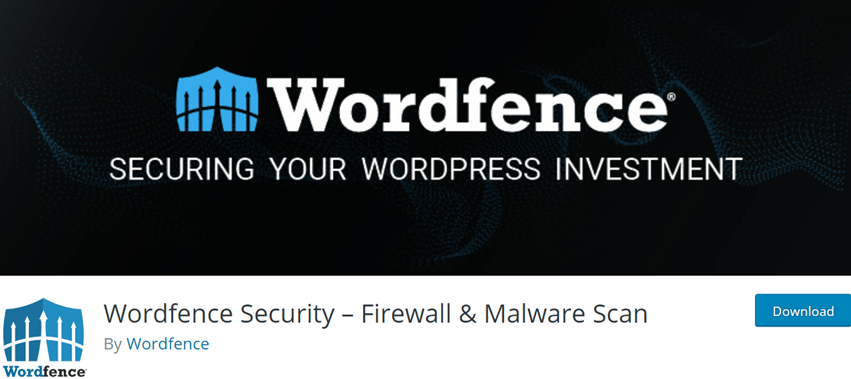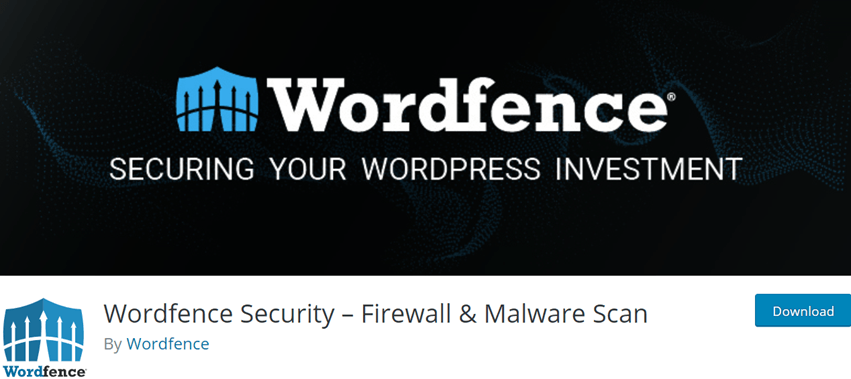 Wordfence Security is the most popular Firewall & Malware Scanner plugin for WordPress which includes firewall malware scanning and much more. This is going to protect your WordPress website from hackers. In the modern era, it is the most comprehensive WordPress security solution.
Feature
Wordfence Firewall

– Wordfence identifies and stop malicious traffic and is maintained by a large team that is always focused on WordPress security.
Blacklist – Wordfence provides a Real-time IP blacklist that blocks all requests from any malicious I.P address and will protect Your website.

Malware scanner

– It provides a malware scanner and blocks requests with malicious content. Malware scanner checks themes core files and plugins for malware, back-doors, malicious redirects and code injection.

Deep integration

– It protects your website enabling deep integration. it does not break encryption Like cloud it can neither be bypassed nor leak your personal data.
Overwriting Check – It repairs files that have changed by overwriting them with the original version it deletes files that don't belong within the Wordfence interface.
Comment Protection – It checks your content by scanning posts, and comments for suspicious content.
Limited login attempt – It always protects by limiting login attempts by enforcing strong passwords and other measures for secure login.
Real-time firewall rule and malware signature get updated via threat defence feed whereas the free version gets delayed by 30 days.
Total number of user – 4,000,000+
Learn How to properly configure and setup the Wordfence plugin
Screenshot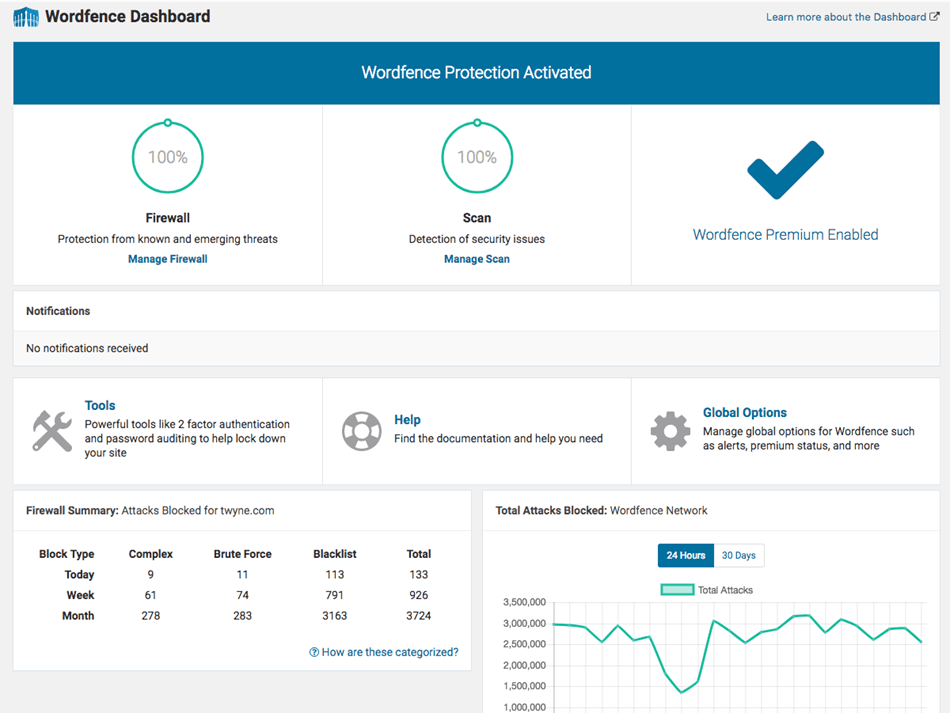 4. Shield Security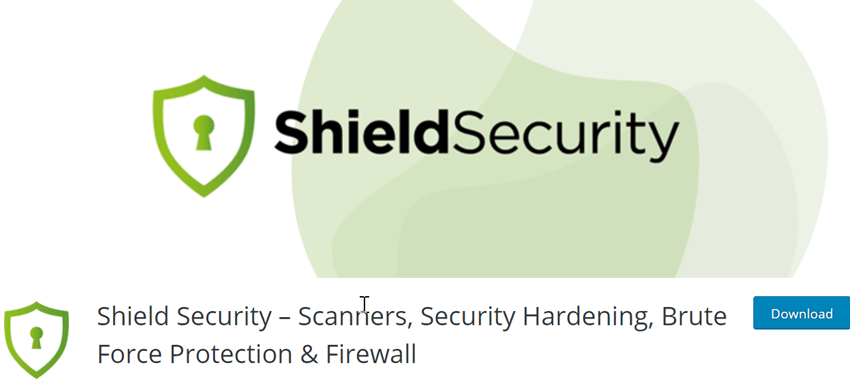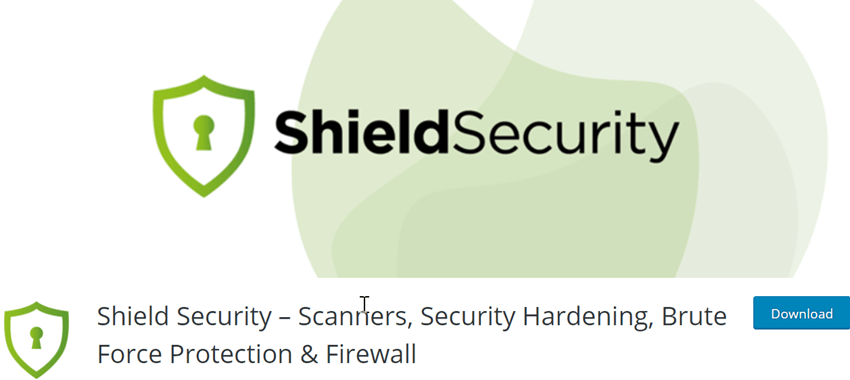 Shield Security provides high protection activation to your website that eliminates the risk of a hacker's attack. A WordPress Security Extension integrated with a simple and smarter security system that can be easily used by anyone. Utilize the amazing Plugin features of Shield Security to keep safe your website and streamline your job efficiently without any fear. The security system governed along with some strategies including prevent any doubtful actions occurs at the site and cure if any hacking takes place in a sort of minutes.
Key Features of Shield Security –
It protects the essential elements of WordPress which are attempted for hackings such as important files, themes, and plugins by originating files fingerprint.
Multiple authentication factors options are available for login including Google Approver, Email, Backup codes for Login, and more.
Containing AntiBot Detection Element that automatically identifies and blocks the doubtful bots.
Enable rules of Firewall security that make your site more secure than ever before.
Allow to restrict the number of User logins from the same IP and also enables to suspend user account for any unusual actions either manually or automatically.
Total number of users – 60,000+
Price – Shield Support-$59/yearly,  ShieldPro-$79/yearly (1 Site),  ShieldPro Agency-$299/yearly (25 Site)
Screenshot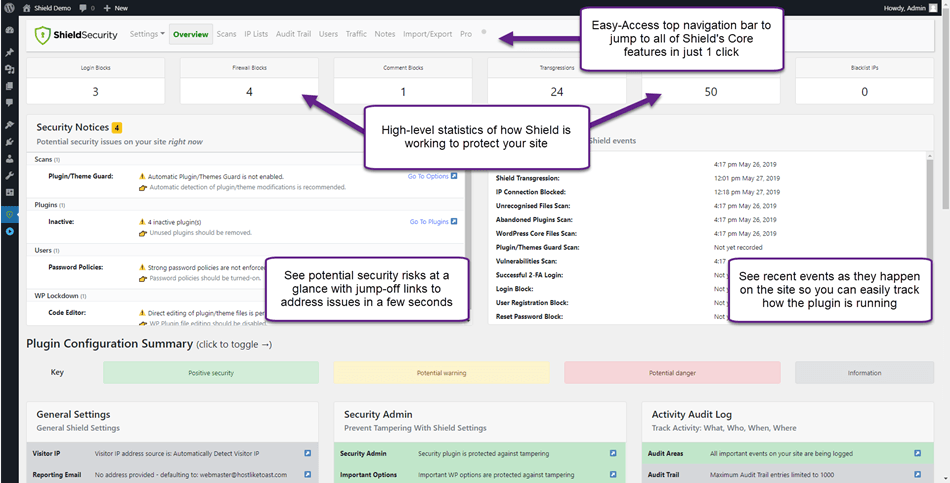 5. iThemes Security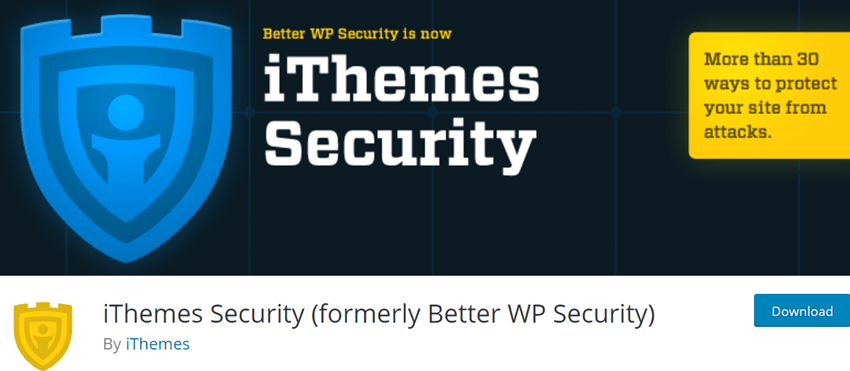 Ithemes is one of the only free WordPress security plugins which gives you many ways for protecting your website. As we know over 30,000 websites are hacked every day. These sites can easily be targeted for attacks because of weak passwords and obsolete software. It can protect you from brute force attacks. With this tool, you can automatically remove the malware and make your website secure if your website gets hacked.
Most WordPress don't know that their websites are vulnerable. But this works to lock down WordPress, stop the automated attacks and strengthen user help. With the most advanced features for experienced users, it helps fortify WordPress. iThemes Security has been maintaining WordPress tools since 2008 like WordPress plugin.
With having the full range of themes and training, WordPress security provides everything we need to build a WordPress website.
Feature
Brute force attack prevention

– Ithmes provide protection from brute force attacks and by banning the uses who used brute force attacks to enter inside your website

Bots Detection

– Ithemes detects bad bots and blocks any kind of vulnerabilities.

File Change Detection

– If any make change in the WordPress core file Ithemes is going to scan those changes and will notify you.
More 30+ .htacess protection security is provided by Ithemes. No other plugin provides such a large number of tricks to protect your website
This plugin has the functionality to auto-scan your website and completely remove unknown backdoor and security threads
Removal of

timthumb

script

s

from your website.
Provide a firewall that is going to protect you from so many malware security threads
Total number of user – 1,000,000+
Price -Blogger-$69/yearly (1 Site), Small Business-$99/yearly (10 Site), Gold-$149/yearly (Unlimited Site)
Learn How to properly Configure and setup itheme WordPress plugin
Screenshot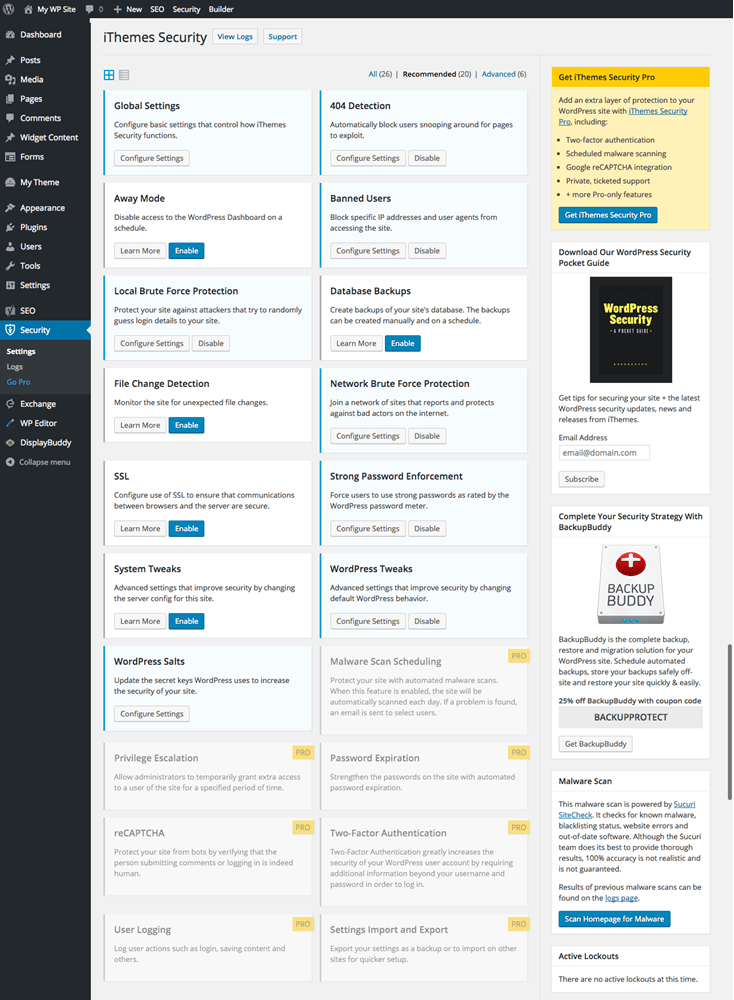 6. NinjaFirewall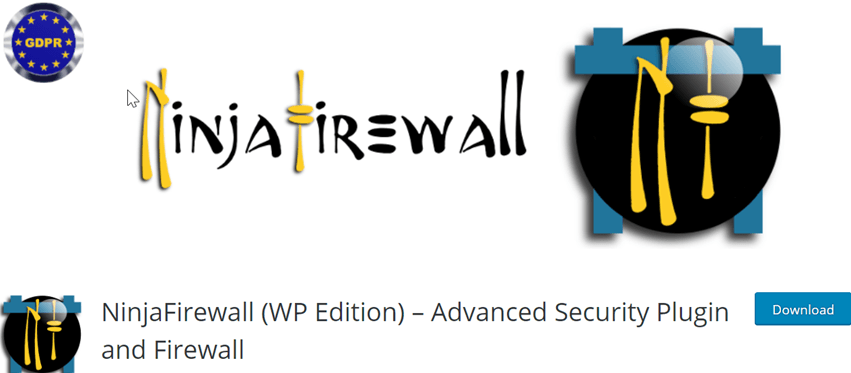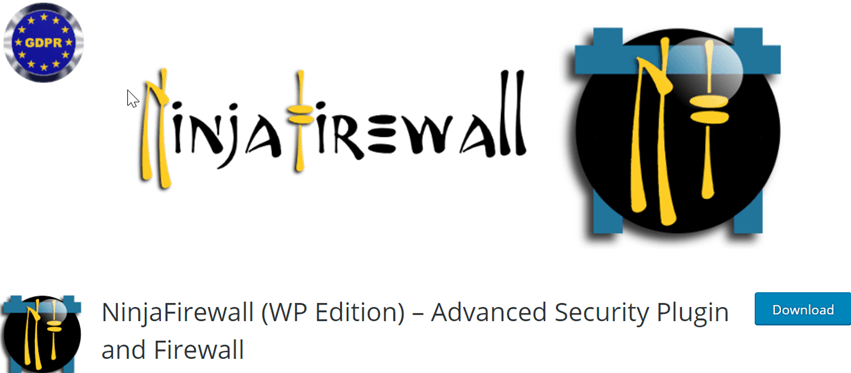 NinjaFirewall is among the best WordPress security plugins is an application of a genuine Web Firewall that contains the same procedure of installation as a plugin. Simply configure this security application along with your WordPress Extension that offers you to guard the website with advanced features. NinjaFirewall establishments need at least PHP 5.6, MySQLi plugins, and are compatible with Linux, BSD, and other Unix Operating systems. This application acts just like a barrier where it analyses the HTTP or HTTPS before accessing WordPress or even its extensions.
Features of NinjaFirewall are –
Detect on Real-Time – Alert you at the exact time whenever hackers attempting to upload any exterior script to your website.
Monitor File Integration – Scan the site at regular intervals like daily, twice a day, or hourly. Detect any kind of modifications that occurred anywhere on the Website.
View Real-time Web Traffic – Contains a Live Log that enables you to see the real-time traffic existing on the site without any interruption in server loading.
Privacy Concern – Doing its own job without interacting with your sensitive data such as login credentials, messages or the contact form, etc.
Total number of users – 60,000+
Price – 159 Site-$39/yearly,  2-5 Site-$129/yearly,  6+ Site-$110/yearly
Screenshot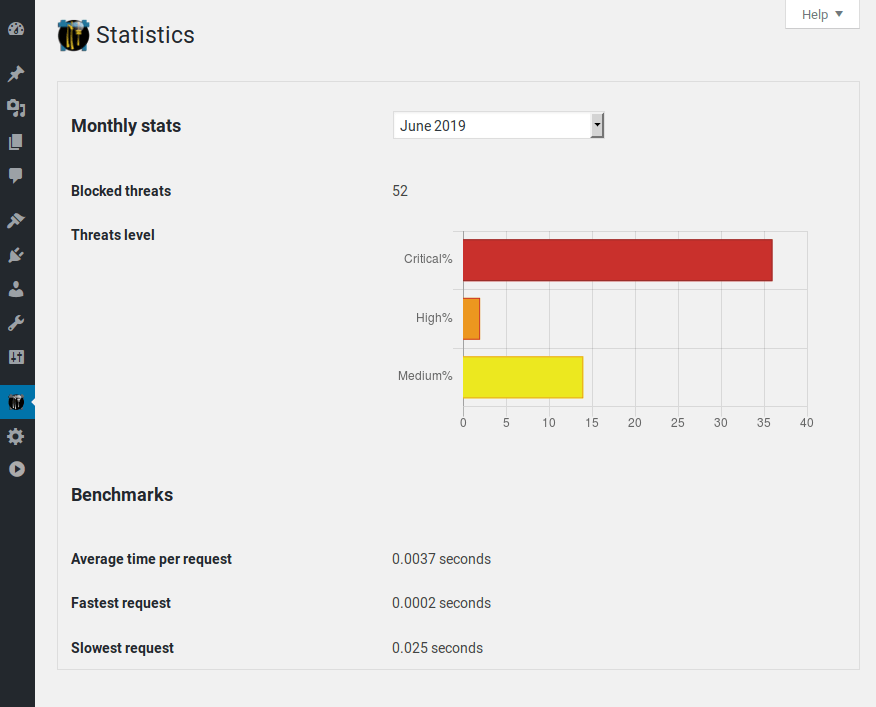 7. BulletProof Security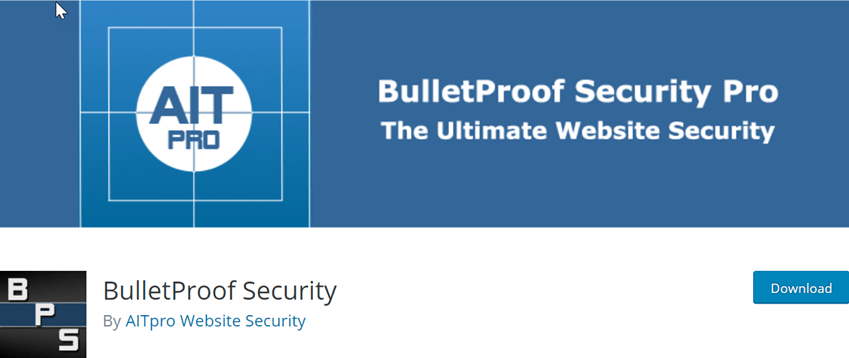 BulletProof Security is another free WordPress Security plugin that has multiple overlapping inner and outer layers to Increase WordPress Security protection which helps to protect website files and databases. It has a malware scanner, DB backup, login security, firewall, Anti-Spam etc. It is a complete website security package for spammer and hacker protection. BulletProof Security Bonus Custom Code can also be added additionally to secure the WordPress website.
This WordPress security plugin is an effective, easy to use and reliable security plugin for WordPress. The extensive and comprehensive automated security systems and features help to monitor and protect from all kinds of attacks.
Feature
Setup Wizard- The setup wizard is activated through a single click.
UI Theme Skin Changer- There are 3 theme skins in UI Theme Skin Changer.
Error- There is HTTP for error logging.
Maintenance- There are front end as well as backend maintenance modes.
Login security and monitoring.
ISL-Idle Session Logout.
DB table prefix changer.
Info- There is an extensive system for info.
DB backup- Backups can be done fully, partially, and manually. They can be scheduled and the ZIP file can be emailed. The old backups can be deleted.
Malware Scanner- There is an MScan malware scanner.
Firewalls- There is .htaccess WordPress Security Protection.
Setup Wizard AutoFix- There is an auto whitelist, AutoCleanup and AutoSetup.
There are hidden plugin folders.
ACE- Auth Cookie Expiration is available.
Total number of users – 50,000+
Price – 1 Site $69.95/yearly
Screenshot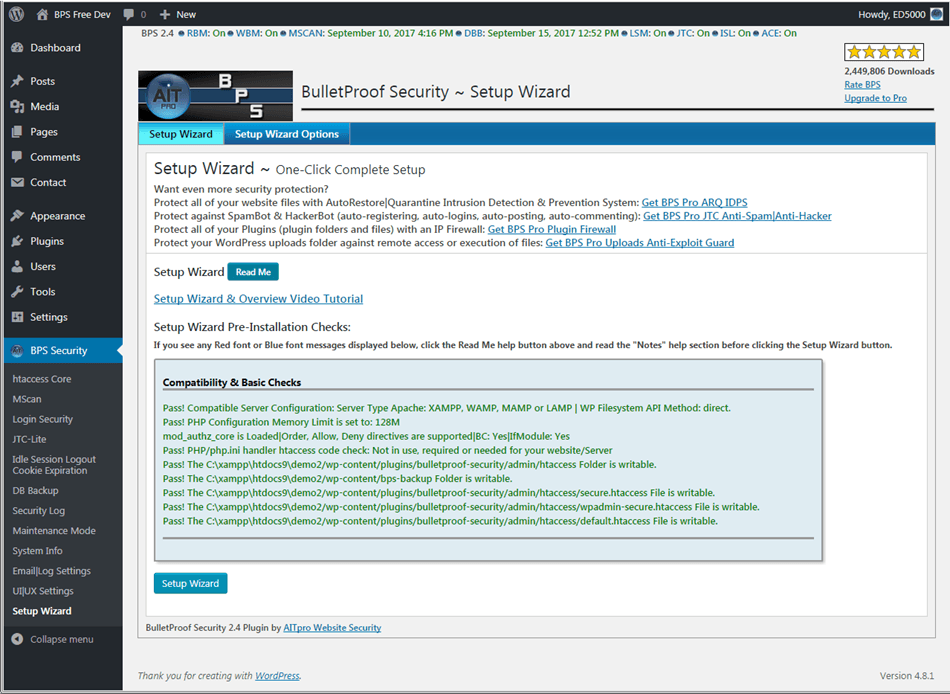 8. All In One WP Security & Firewall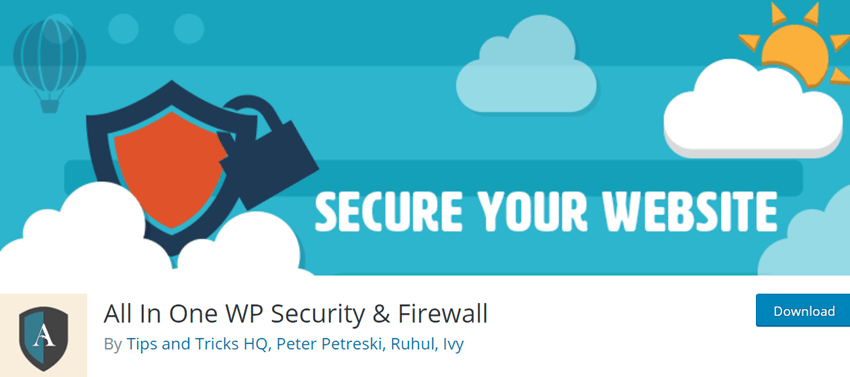 All In One WP Security & Firewall is among the best WordPress Security Plugins free and it will take your website security to a new level. It is designed and written by experts which makes it easy to use and understand. By implementing the latest WordPress security techniques it reduces the securities risk.
WordPress plugin will protect your WordPress website from brute force attack which is the most common kind of attack used by hackers. You can limit the login attempt by using the All In One WP Security Plugin. You can also add some important features like ReCaptcha, password less Login and two-factor authentication to improve the security of your website. It Is a Free version security plugin for WordPress that has so many limitations that's why we kept this plugin at the last of our blog.
It also uses a security grading system to measure how well your website is being protected by the security features.
Feature
Its rule is categorized into three ways – BASIC, INTERMEDIATE AND ADVANCED.
Strong Password Generation

– It gives a tool to create a strong password.

Automatic lockout IP

– This plugin will automatically block the bad user smartly

Login attempt monitor

– This plugin provides you facilities to monitor login attempts o your website.

captcha

– You can easily add captcha to your WordPress login page

Database Security

– You can easily change the database prefix
Automatic database backup – You can easily backup your website database
User name change – you can easily change the username of your choice.
Note – If you are not changing the username by default admin then you make it 50% easy for hackers as they already know that the login name and password can be easily broken by brute force login attack.
Total number of users – 900,000+
9. WPS Hide Login

WPS Hide Plugin is one of the simplest WordPress security plugins and WordPress Extensions which enables you to bring the modification in the URL of any page of your Website easily as well as securely. Hereby, you neither have to exchange your important files nor rewrite the existing rules. This only works within the extent of the WordPress site and confronts page requests. Get access only with the URL comprising wp-login.php and wp-admin directory as well, so remember or bookmark it.
WPS Hide Login lets you use its trait and allows your multiple sites to enhance the set-up of URL. To install this Security Extension you need to have WordPress 4.1 or any version after it. Compatible with plugins that clasp into login aspects like BuddyPress, bbPress, Jetpack, User Switching, and WPS Limit Login. For better results, you may use WP Rocket for Page Caching extension as it is compatible with it. Activate or deactivate WPS Hide Plugin, it will do not affect anything present on the Website.
Total number of users – 900,000+
Screenshot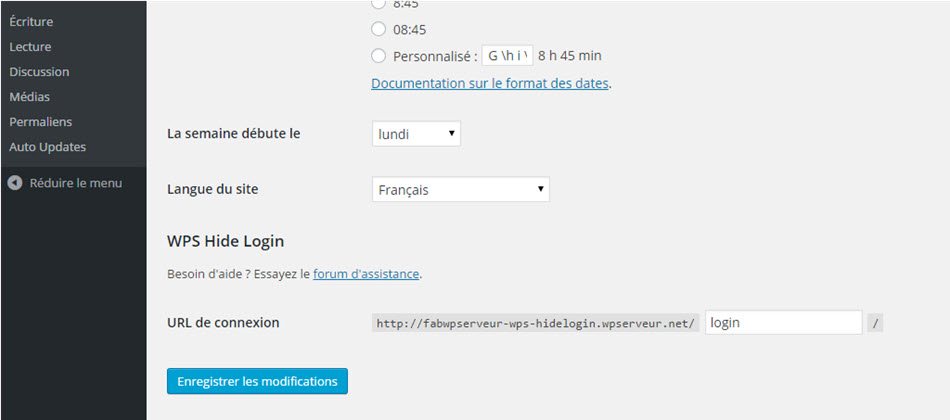 10. Defender Security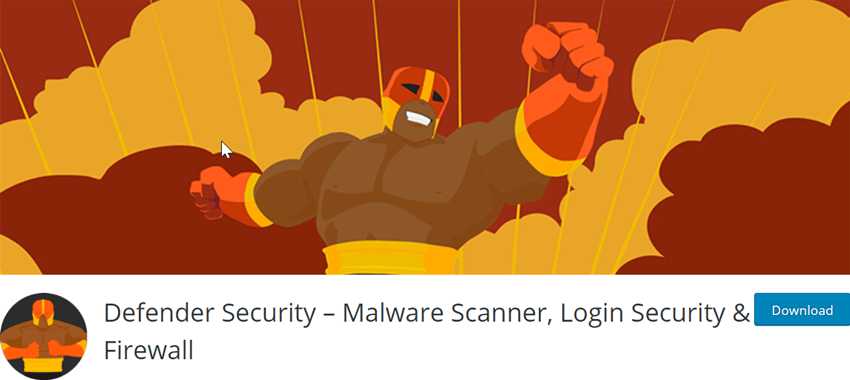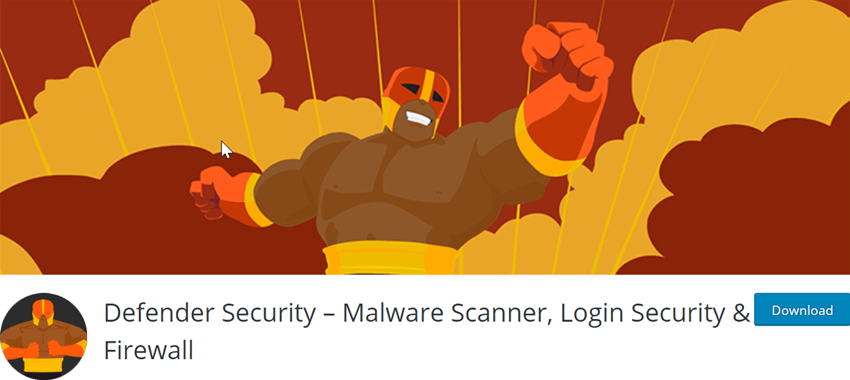 Defender Security extremely good Security Plugin for WordPress that instantly scans malware and assists the owner of the Website in preventing attacks by hackers. Make your website much safe by installing this advanced Security Extension. Analyze and stops any kind of hacks such as brute force, cross-site scripting XSS, SQR injections, and many more. Build with essential features of security such as IP blocking, security log, firewall, activity log, and more. According to the necessity, Defender lets you add security administration as you want to surround it on the site.
Traits of Defender Security –
Manage IP and Firewall – Allow you to easily block the IP manually as well as automatically. Also, enable you to unblock any particular locations as it contains an advanced firewall.
Hide Login Screen – Secure the website by using a custom URL which also helps to know your Users Experience of login.
Save CONFIGS – Save the time that you utilize in configuring the Defender every time. This will save your one-time configuration and allow you to apply the same for another website.
Total number of users – 50,000+
Screenshot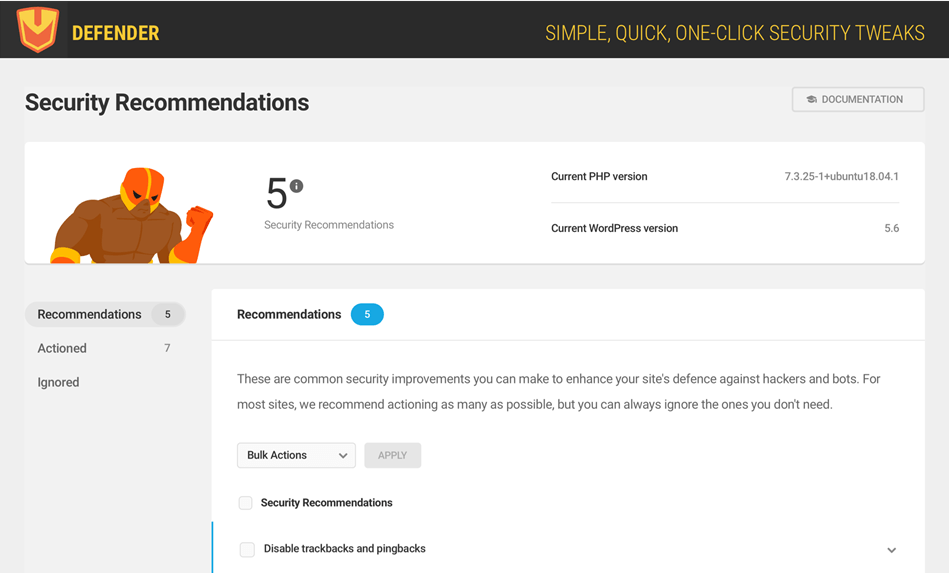 Comparison
 between Wordfence
vs
Ithemes Security
vs
Sucuri
Vs
BulletProof Security
Wordfence vs Ithemes Security vs Sucuri
All the WordPress security plugins are good and work fine and are developed by masters. In my opinion and experience, the sucuri firewall is awesome as compared to the sucuri plugin (Firewall must). Almost all protection provided by sucuri can easily be handle by wordfence and ithemes except firewall which is located outside your server for filtering malicious attacks. So sucuri is a must out of all. Now we have only 2 competitor ithemes and wordfence. Ithemes and wordfence both are awesome. But ithemes mostly work on htacess files function and wordfence works on PHP files. As we know that PHP files depend upon the server and the .htacess file is server-side Stuff. So I believe Both plugins are out of the box But Ithemes is superb. Ithemes pro version has more features than WordFence and more security. So go ahead with Ithemes pro.
Conclusion – This was my research on the security plugin for WordPress. And I am sure that you might be confused about which all WordPress security plugins should you go for and which you shouldn't choose. So, I will recommend you to go for Wordfence Security or Ithemes Security both are the best wordpress security plugins free, so, you can choose anyone. But none of them has a proper firewall system so I will recommend you to add a premium firewall which is provided by sucuri which blocks all bad requests before they come to your server.