8 Best WooCommerce Points and Rewards Plugins
WooCommerce Points and Rewards Plugins help you to reward your loyal customers with points or cashback. They can redeem these points on their next purchase as a discount coupon. Because of these rewards, you are able to build better customer retention, brand value and conversion rate in your eCommerce website.

WooCommerce Rewards Plugin is designed intuitively to maintain programs that enable the customer to earn loyalty points. On the accumulation of such loyalty points, the customer gets rewards according to the number of points available on their account. Hence, such a WordPress plugin lets your WooCommerce store grow revenue and increase sales as well.
A loyalty point is an essential tool for enhancing engagement that is connected directly with action taken by customers on your WooCommerce site. Offer your visitors as well as customers to earn such points whenever anyone signup for the very first time, refer to anyone, purchase any products, and other reasons.
Well, these plugins reward program continues on a well-oriented strategy. While any customer who purchases a product from your online store rewards them with configured points accordingly. As much as they continue to purchase and get involved on the website they create that many loyalty points. And later on, let those loyalty points redeem as discounts coupons, and store credits.
Points and Rewards plugins for WooCommerce relax your users while shopping on your site by availing maximum discounts than a normal purchase with earned loyalty points. Also allow your reliable customers to join membership programs conveniently if they want to enjoy more benefits.
On the contrary, let's take a look at the benefits of the Loyalty Points and Rewards Program –
Retain more customers for so long who interestingly want to continue their shopping from your Web store to get more loyalty points that redeem instantly.
Let your customer be happy by collecting loyalty points that become a reward or discount coupon in the future.
Widely promote your products as well as your store while customers share referral links on their social networks to earn points.
Let's have the list of top Points And Rewards For WooCommerce are as follows.
1. WooCommerce Loyalty Points and Rewards by WPLoyalty

WPLoyalty Loyalty Points is a WooCommerce loyalty reward plugin that lets your website engage more and more customers. Hereby you have access to arrange rewards to your customers on particular activities that make them interested to shop more on your site for anything they require. A well-arranged plugin that lets you organize the rewarding system and provide those rewards automatically to the customers shortly. Enriched with required features such as responsiveness on every device, and customizable widgets which assist to design the look which you want to display. Place your reward in such a way that easily be accessed by the customer. Manage the loyalty of your customers for long-term shopping while providing rewards to your customers for more recommendation and engagement as well.
WPLoyalty Loyalty Points are a conversion-centric automated loyalty and rewards program that prompts your visitors for revisits. This plugin helps to build brand loyalty. With WPLoyalty Loyalty Points, you get 20 unique ways to offer points to your customers. You can also set conditions for these rewards. Once the users get credits into their accounts, they are being notified when the expiration dates are nearing. You can also set time-based promotions where double and triple points are rewarded to the visitors.
How does it work?
Sign-up Rewards – Enables to welcome your customers with points whenever any new one gets sign-up on your site. Encourage the purchase of newcomers while offering the rewards or points which they redeem on their order.
Purchase Rewards – Let's thank your customer for shopping on your site with the rewards and points on placing an order of products thereby.
Review Points – Send points on the account of your customer when they write any review on your site after shopping experience and more.
Referral Points – Create a chain of referral codes and distribute it among your customers for more engagement on the website effortlessly. Just enable some points and rewards as per acceptance of such referring by others.
You can easily Reward your Customers In Exchange for Loyalty and they store credit get store in the wallet.
WPLoyalty allows you to build a WooCommerce customer loyalty program when customers signup,  purchase, write a review or when refer someone.
Simply you can use this WPLoyalty plugin to boost WooCommerce Store Sales
Price – 1 Site – $99/annually,  5 Site – $129/annually,  25 Site – $199/annually
Screenshot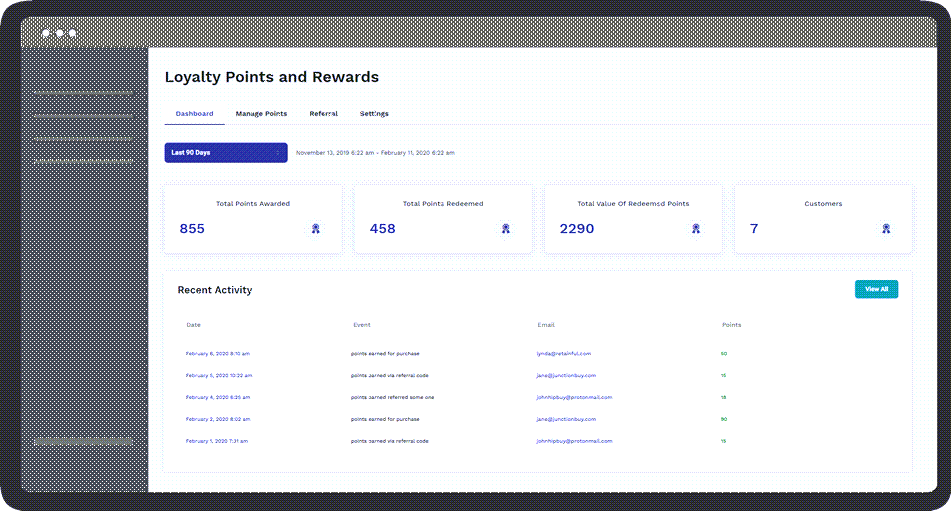 2. myCred Rewards

Manage your points and rewards functionality of the website with myCred which is considered as best free WordPress Points Management plugin. Create rewards, points, ranks, badges, and other digital awards with available customizing options that you wish to design according to your website. Maintain the privacy of your customers while engaging them on your site by accessing their login ID and password which is end-to-end encrypted. Let them freely review, purchase, and refer others throughout the website and gain loyalty points thereby. Although, the multiple alternatives to reward the customer just avail your users to enjoy the benefits of every activity.
myCRED is a free point based loyalty programs plugins for WP users that offers interaction-based points to visitors. . If you use one of the eCommerce plugins, then they can redeem these points at your store. You can also develop a virtual currency system for community use. Besides, users can buy the points with real money. myCRED allows you to enable a few or all features thru its opt-in service features as per your requirement. You can utilize the built-in add-ons or opt for the premium add-ons too. An extremely easy plugin to be set up and activated on your site with the native WordPress UI with seamless integration possibilities.
Core Features –
Points and Rewards – Offers rewards and points to your customers that can be utilized when they purchase anything or other online activity as well. You can adjust the accessibility of such points however required.
Automatic Awarding – This allows you to administrate the activity of giving rewards to customers and taking them back after the expiration period. Manage such activities through the admin panel available there.
Log Availability – Create an essential browsing history of your users and maintain the appropriate records thereby.
loyalty Points for membership customers can easily be created.
Total number of users – 20,000+
Price – Starter – $149/annually (1 Site),  Professional – $249/annually (3 Site),  Business – $349/annually (5 Site),  Agency – $549/annually (Unlimited Site)
myCred | Rewards & Loyalty Plugin for WordPress
Screenshot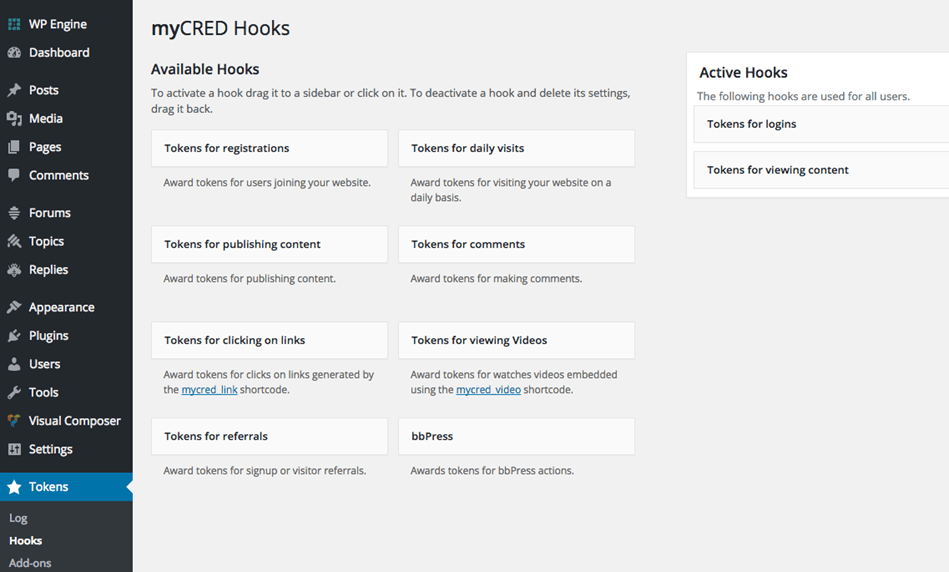 3. YITH Rewards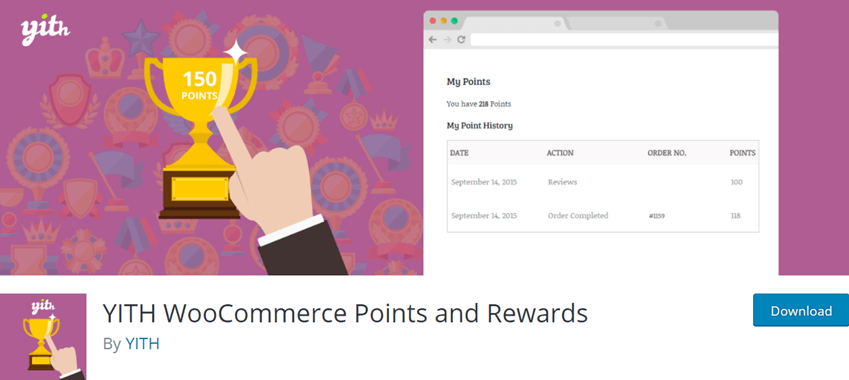 YITH WooCommerce Points and Rewards plugin that allows you to provide points accessibility on the purchase they made on your site. As much as you offer rewards and points to your customers, they like to continue their shopping in the future. Create loyal responses of your customers while accessing with amazing attributes of awarding. YITH WooCommerce Points and Rewards establish instant rewards and points as anyone buys, sign-up, and refers your site to another one. Moreover, generate such awarding attributes that can easily be redeemed on the checkout process while purchasing any other products.
Key Features –
Retain your visitors of the website by availing them of different awarding points and rewards link until they become your regular customer. Increase the conversion ratio with sign-up awards and more.
Moreover, encourage your customers for future shopping with valid rewards and points. Maintain the diligence relationship through the award which comes with perks on recurring orders.
Display the rewards and points validation as well as availability via text or email on the registered information of the account of users particularly.
Management of logs created by customers where you can oversee the record of rewards so easily.
You can easily loyalize customers your customer with points and rewards on their purchases.
Total number of users – 3,000+
Price – 1 Site – $99/annually
Screenshot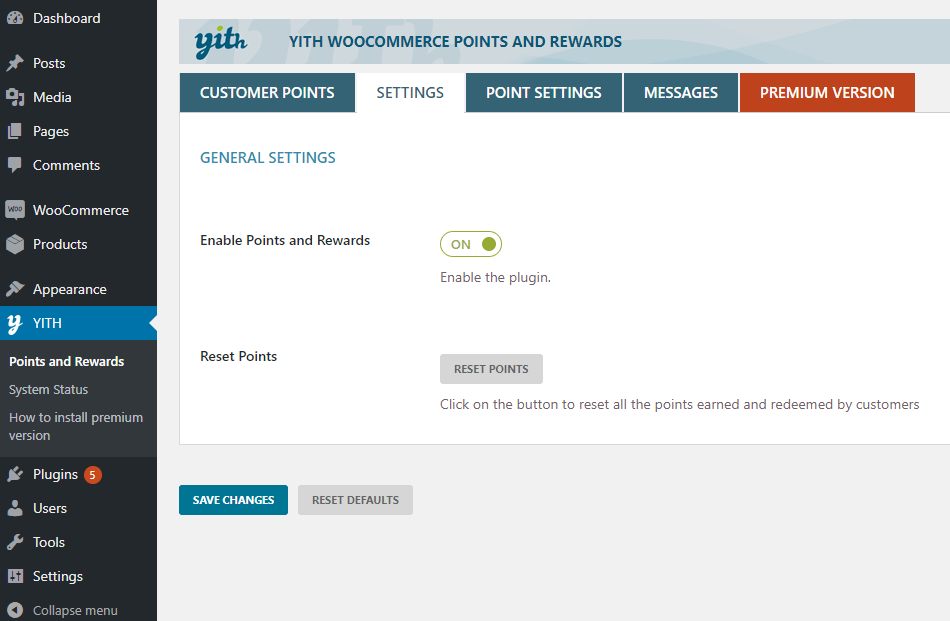 4. WooCommerce Points

WooCommerce Points and Rewards plugin that allows you to reward your customers on every purchase they make on your WooCommerce store or against other actions such as writing a product review or signing up for the first time on your store. It is a Points-based Discounts rewarding system for your customers that is very user-friendly and flexible. Every time a customer purchases a product from your store, you can reward him/her with some points which can be redeemed on later purchases in form of discounts.
Using WooCommerce Points and Rewards, you can easily configure the number of points each customer should earn against every dollar spent on your store.
Features
You can easily check the log of total points earned by a customer or changes made for customers.
Other than rewarding points to your customers for purchasing on your store, you can also reward them for several other actions like writing a product review, signing up for the first time or referring your store to a friend.
You can adjust the points balance for a customer in no time.
It also allows you to set the maximum discount that the customer can earn using the points collected through various actions.
You can easily configure the number of points each customer should earn against every dollar spent on your store.
Reward your customers in terms of points or cashback for their purchase automatically.
Price – 1 Site – $129/annually
Screenshot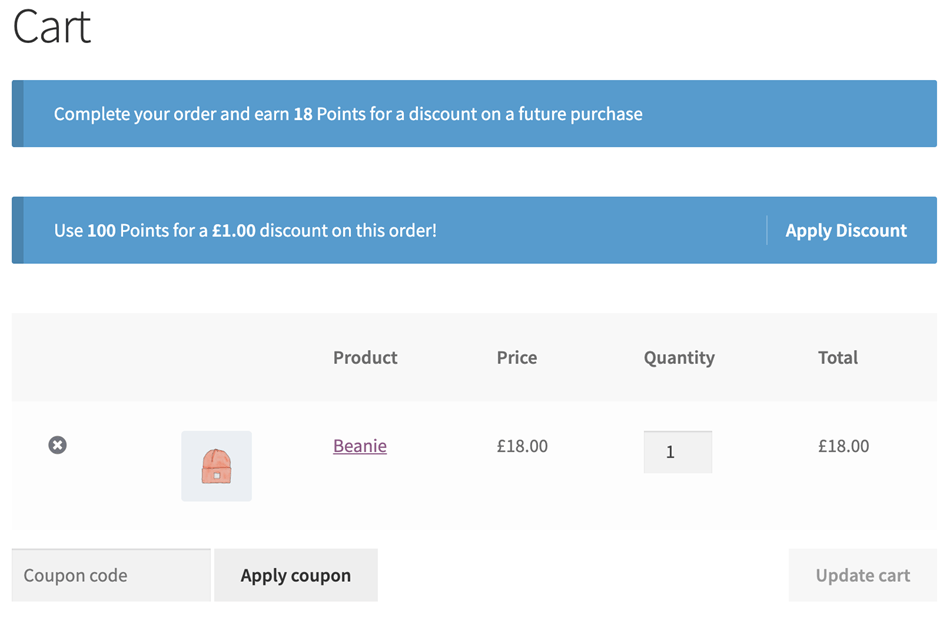 5. MakeWebBetter Points

MakeWebBetter free Points And Rewards Plugin for woocommerce allows you to manage points and rewards earned by your loyal customers. This plugin allows you to reward points for both single as well as variable products. You can set rules such as the number of points on the kind of interactions – new purchase, additional points on reaching a target purchase, modify conversion rates based on user roles. Each user can view their points on the "My Account" page. The admin can update the user's point from the backend manually also.
It allows you to determine criteria for rewarding the customers such as setting the number of points to be awarded for each dollar spent or the number of points that can be redeemed at one purchase or the value of points for discounts etc. at the cart, product level or category. The plugin also lets you control the activities for which customers can earn points such as writing a review or simply signing up. At the administration level, you can view and adjust the points balance for a user.
This versatile points management system allows users to earn and spend points with Incentivize engagement. With real or virtual currencies you can facilitate online payments. Besides, the entire payment system can be simplified by bundling micro payments into a single purchase. The plugin supports popular payment platforms such as EDD, Stripe, PayPal, WooCommerce and more.
You can design a single or multiple point system based on certain events and interactions conducted on your site. Besides, you can also rank your users based on the points they collect. There are various activities for which you can award points to your visitors such as registration, leaving a comment, making selective posts or a simple site visit. Even conditions can be applied while pointing awards. Administrators can log and review all point transactions.
Price – 1 Site – $79/annually,  5 Site – $189/annually,  10 Site – $259/annually
Screenshot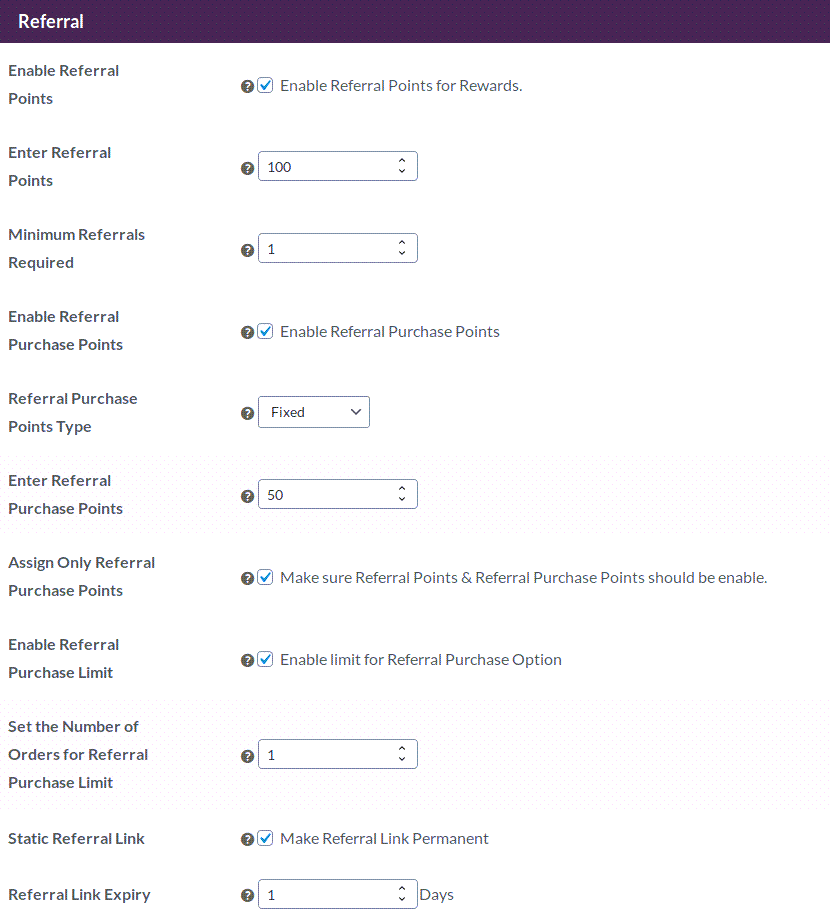 6. MyRewards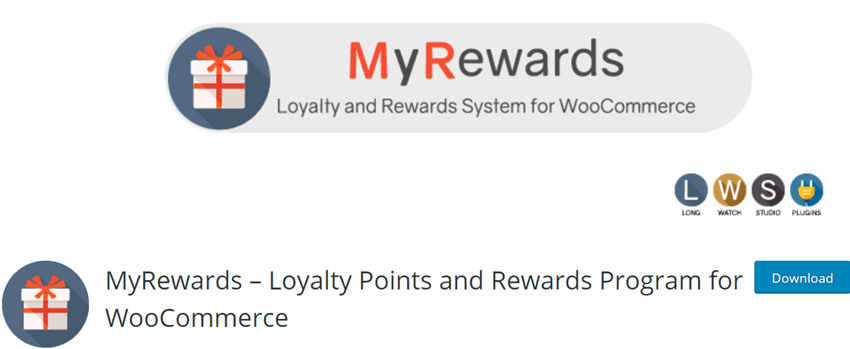 MyRewards is one of the most effective loyalty points plugins for WooCommerce. Using MyRewards, you can easily create and launch exclusive and tempting loyalty rewards programs on your WooCommerce store. Rewarding your loyal customers with points and exciting offers helps you foster your relationship with your customers, encourage them to return to your store, attract new customers, increase customers and eventually boosts your sales and revenue.
It prompts the users to visit and revisit your site by rewarding them with points and discounts. Each of the customers is further informed about their coupon, coupon code, expiration date etc. via email notifications. You can also set the number of points for each interaction such as additional points on the first purchase, several points to be assigned for the amount of money spent, setting points on orders, adding or removing points etc. With the plugin, you can auto-generate the coupons also.
Features
You can determine the points that the customers should earn in exchange for every penny they spend ordering from your site.
You can also offer points to your customers on their previous orders or for actions other than purchasing from your store like writing a product review on your site. It also allows you to reward your customers with exciting points on their first order with your store.
Using MyRewards, you can determine the worth of each point and the customers can easily exchange the points for amazing discounts.
Every time a customer earns a new reward, you can customize and send them a personalized email.
You can display point widgets to your customers.
It is compatible with WPML and thus, supports multiple languages.
You can easily create a WooCommerce loyalty rewards program using MyRewards plugins
Total number of users – 4,000+
Price – Subscription License – 99Euro/annually (1 Site), Lifetime License – 299Euro/Lifetime (3 Site)
Screenshot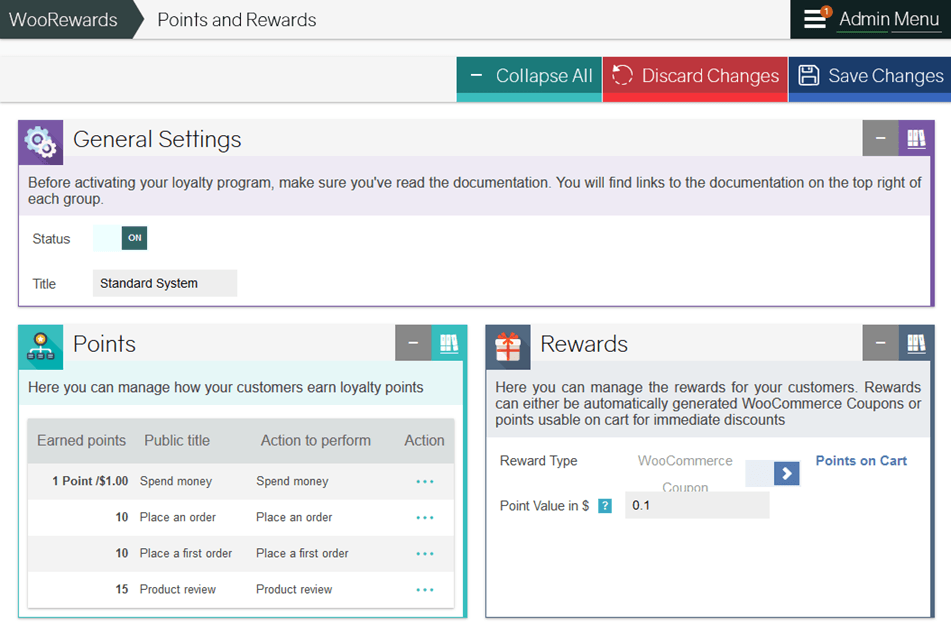 7. SUMO Reward

SUMO WordPress Reward Points plugin can help you to create a WooCommerce rewards program which is a loyalty reward points program for your WooCommerce store. It allows you to reward your customers for various actions they take on your store. These actions may include- signing up on your store, purchasing a product, writing a product review, referring your store to a friend, or promoting your site on multiple social media platforms like Instagram, Facebook and more. The customers can redeem these points on their future purchases. Thus, it incentivizes your customers to return to your store and thus, boost your sales.
Features
You can set the maximum points required for redemption in a cart through the settings page.
It enables you to create rewards for various actions including referrals, product reviews, purchases, sign-ups and more.
You can also create points with an expiry date.
Your customers can also send their points to other members or their loved ones.
It allows you to set maximum points for redemption and the minimum cart total required for redemption.
You can even restrict specific users from earning and redeeming points on your store.
Price – Regular License – $49/Lifetime
Screenshot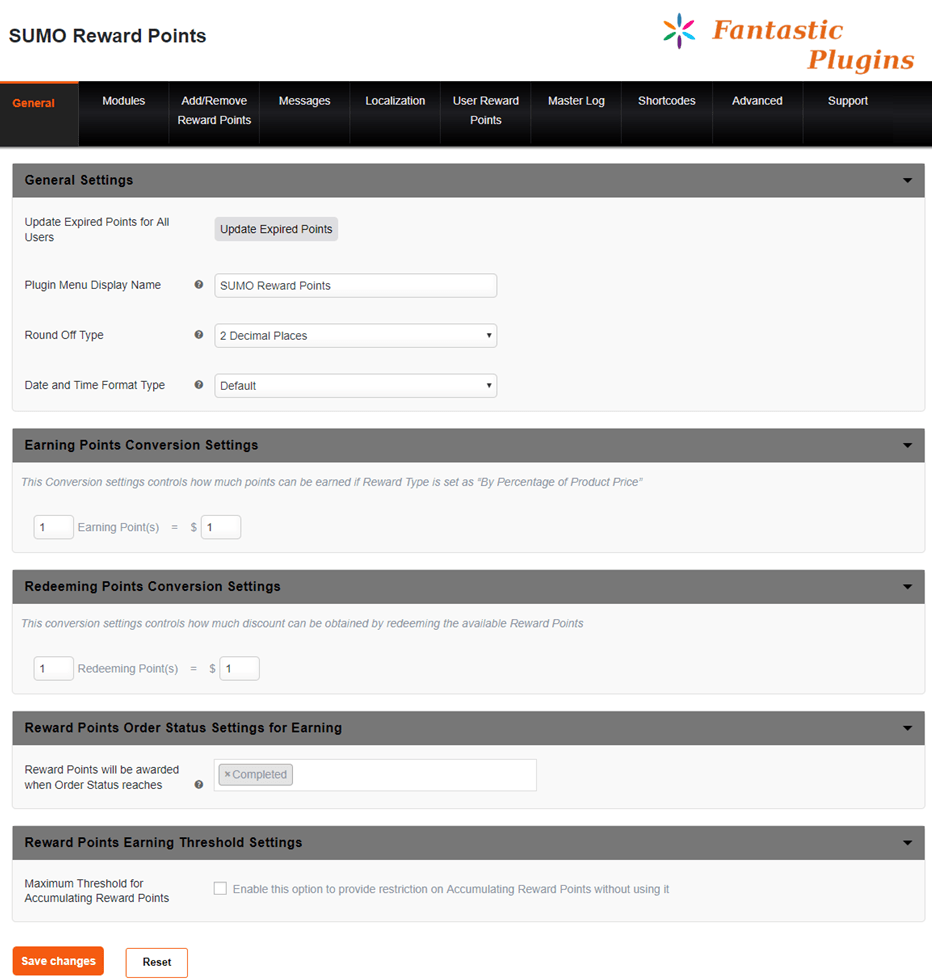 8. Bravo

Bravo is a WooCommerce loyalty reward plugin that is popular and powerful to create a Point-based loyalty program for your customers and allows store owners to create and manage points and rewards programs on their store. Using this plugin, the admin can reward their customers for purchases and other actions they make on their site which can be eventually redeemed by the customers against exciting discounts and offers. With Bravo, you can set the number of points the customer can earn on a purchase of a specific amount, thus, giving you full control over your reward program.
Features
Using Bravo, you can reward your customers with points that can be redeemed for discounts on future purchases based on the conversion rate you set.
You can also determine and set the minimum number of points the customers need to earn to redeem their points for discounts and other offers.
The customers can earn points every time they purchase in your store. The points can be rewarded based on the conversion rate you set for points.
You can also set the minimum cart total that the customers require to earn points and also, to redeem points.
It also allows you to set the points with an expiration period. Also, you can control the products or categories on which the customers can earn points.
Price – Regular License – $39/Lifetime
Screenshot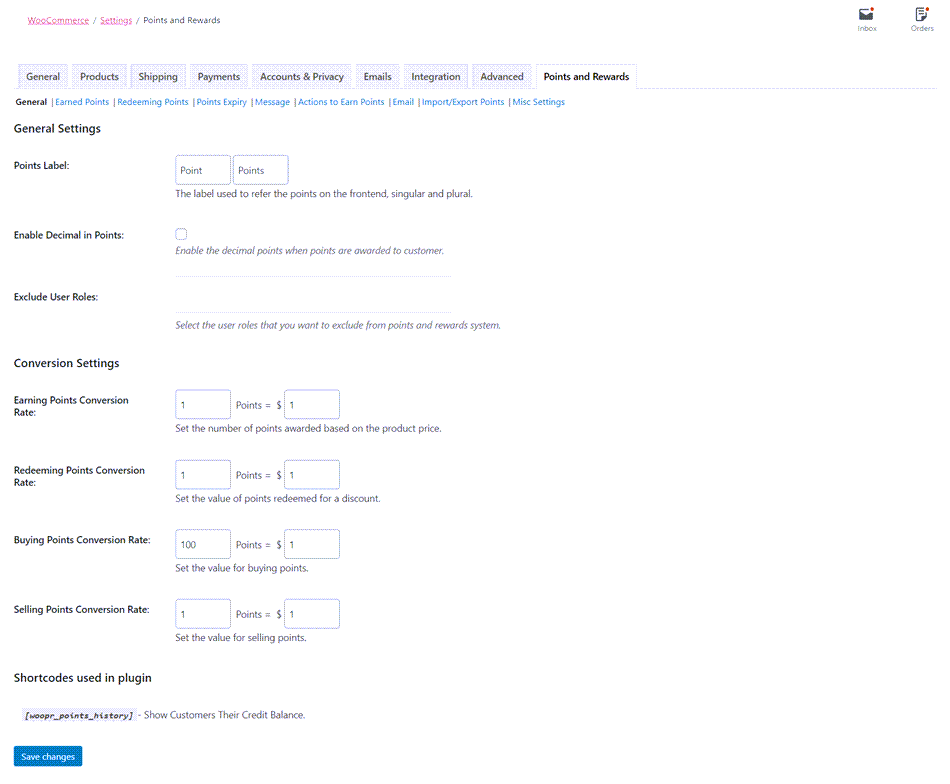 You might be interested in landing page plugins, email marketing services, Abandoned Cart Plugins