Set Coupon Expiry Date/Time In WooCommerce & Why It's Good For Coupons
Let's Learn to set up Coupon Expiry Date And Time In WooCommerce. Coupon Expiry Time Is really crucial for customers to maintain your website standard. It also creates a kind of fear in mind that they might lose the offer if they won't buy now. When you work on these kinds of FOMO marketing strategy to sell your Product your website sale increases a lot. They are many reasons you should set Coupon Expiry Date in your e-commerce store.

Coupons are an amazing way to attract customers and boost your website sales. Offers are not only great to retain existing customers but to attract new customers. But do you think adding an expiry date to coupons is a good idea?
Retaining existing customers is easier and more cost-effective than attracting new ones. Offers and discounts are an amazing way to retain customers and increase customer loyalty.
In this blog, we'll see why it's important to add an expiry date/time for coupons? We'll also discuss how can you add an expiry date to your coupons using the Advanced Coupons plugin.
Let's dive in!
Why Is It Important To Set Coupon Expiry Time?
Setting an expiry date/time for your coupons is extremely crucial as  Not setting an expiry date for coupons means that your customers can use the coupons for as long as they want, which might not be beneficial to your business.
For example, you have launched a coupon to be used especially for the holiday or special occasions, it doesn't make sense if the customers can use it even after the holiday or the occasion ends. So it is very important to set the WooCommerce expiry dates in advance.
You can set up the expiry dates for coupons using WooCommerce. However, you cannot set a specific time for the expiry of the coupons using WooCommerce.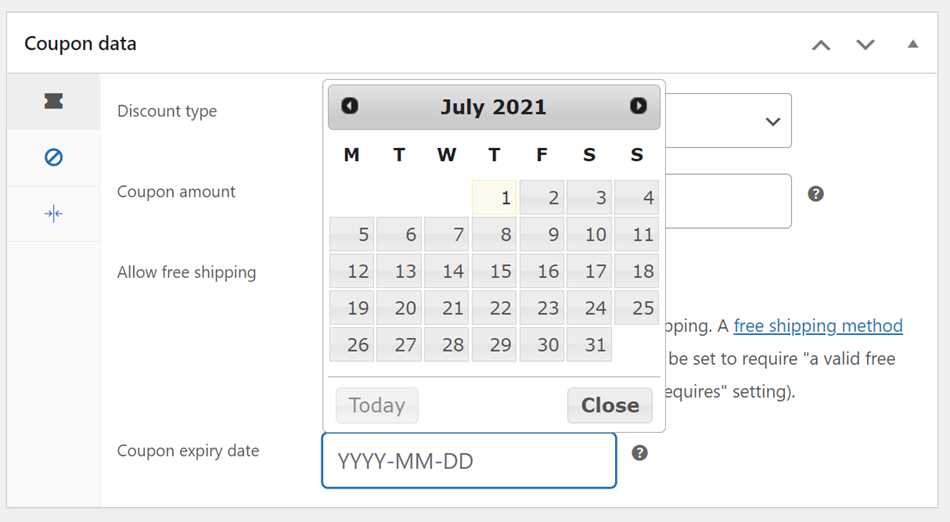 Using the WooCommerce plugin, you can also set usage restrictions on your coupons. For example, you can set the minimum value that the customer should spend to earn a coupon or you can also limit the coupons for specific products only.
Hence, WooCoommerce is rich in features. However, if you want to set an expiry time for your coupons, Advanced Coupons come to escape.
Steps In Setting Coupon Expiry Time In WooCommerce
WooCommerce allows you to set the expiry dates for your coupons but you cannot set the expiry time for coupons. You'll need another plugin for WooCommerce. Here, you've to install the Advanced Coupon plugin.
Advanced coupons also enable you to create auto-apply coupons and one-click coupons. You can also limit the number of times a coupon can be used before it expires.
To set the expiry time for your coupons, you can use either of the free and the premium version of the Advanced Coupons plugin.
To begin with, start with creating a new coupon. For doing this, go to coupons and click on add new coupons. Enter a coupon code and click on the Generate coupon code button.

Thereafter, go to the Coupons Data section and navigate to the scheduler tab. Here, you can set the coupon start date and the coupon expiry date using the calendar date scheduler.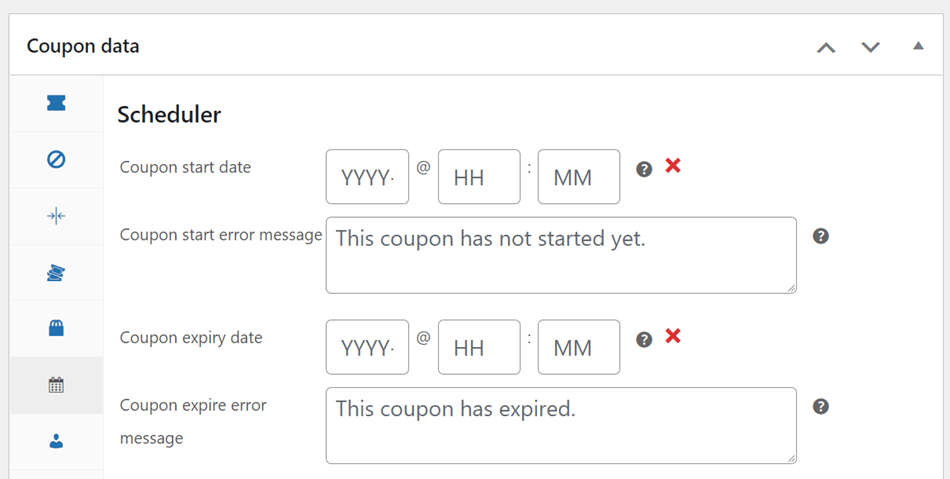 The start date is the scheduled publish date of the coupon. Similarly, the expiry date is the end date of using the coupon. So if a customer tries to use the coupon outside this window, they may get an error saying the "Coupon doesn't exist", which might lead to some confusion.
To solve this problem, you can also set error messages for cases where the customers try to use the coupon before the start date or after the expiry date. While typing the error message, ensure that the right message gets conveyed to the users and they don't interpret it as an error of your store.
You should also note that the coupons expiry times can be set according to the time zone of your store's location. Also, in case you want to launch coupons for any specific regions, ensure that you check the time zone of that particular area and then, set the expiry time accordingly.
Conclusion
Everyone loves coupons and offers. These don't only help in retaining old customers but encourage them to revisit your store again and again. Also, launching offers and discounts boosts your brand visibility and attract new customers to your brand.
However, coupons are not always beneficial for your business. If launched without setting the expiry dates or usage limits, you may end up in red. So, it's extremely crucial to set expiry dates and the usage limits to your coupons. To set the expiry date and time for your coupon, you'll need to download the Advanced Coupon Plugin. Although, you can use either of the free or paid version of the Advanced Coupon to set the expiry date or time for your coupons.
Hence, it is always recommended to add an expiry date or time to your coupons so that the customers cannot misuse them. We hope that you have understood how we can add it to our e-commerce store. If you have any suggestions or queries, feel free to drop them in the comments down below.