Loyalty Program for WooCommerce Plugin Reward Your Customers
Loyalty Program for WooCommerce plugin helps you to reward your loyal customers and it also helps to boost your e-commerce website Sales. When the customers get rewards they plan to buy products again and again because they believe in savings. So this is a complete repetition of purchases & rewards that ultimately leads to more sales.
So now ask your self do you really want to reward your loyal customers? If yes, then we have a little something for you. Advanced Coupon has announced the plugin "Loyalty Program for WooCommerce" plugin which helps you create a loyalty program for your best customers.

A loyalty program is a marketing strategy designed to reward loyal customers through exclusive rewards, points, and coupons. If you want to learn more about Loyalty Program and how can you add it to WooCommerce, check out our blog.
Table of Content
Features
Customer Loyalty not only increases sales and profits but ensures sustainable growth of your business. A well-executed loyalty program helps you foster your relationship with existing customers. Moreover, it attracts new customers and boosts your revenue through repetitive sales. The "Loyalty Program for WooCommerce Plugin" by Advanced Coupons comes with some amazing features that can help you enhance your brand reputation and boost your business. Let's have a look at them:
The customers can earn points for various actions including Leaving a product review, purchasing products, registering as a user, completing their first order, commenting on your blog posts, spending over a certain amount, and during the promo period.
You can set point-earning messages on both cart and checkout.
The customers can go to the My Point Page and check their balance, redeem points, and redeem coupons.
You can also set a minimum limit for earning points.
It allows you to set the price to points earned ratio and points to price redeemed ratio.
You can customize the campaign according to your discretion. You can change the points' name, include or exclude the shipping, tax, discounts, and fees from point calculation and more.
The plugin allows you to set the number of days or the period after which the points will be expired.
On the Admin Dashboard, you can check the value of points overall time, expired points, unclaimed points, most popular earning options, top-earning customers, and the value of claimed points or redeemed coupons.
The plugin provides WPML Multi-lingual support, Multi-currency support with Aelia Currency Switcher Integration, and Multi-currency support with WPML Multi-Currency Integration.
Functions
Loyalty Program for WooCommerce helps you launch a loyalty program on your store, increase your customer satisfaction through various incentives and rewards points and encourage a repetitive sale.
The major functions of the plugin include:
 The very first step is to determine the worth of "a point" on your store.
Thereafter, your customers will be rewarded a point whenever they purchase from your store.
 The customers will be eligible to redeem or exchange their points for coupons once they have accumulated enough points. These coupons can be used by the customers on their next purchase or their future orders.
Thereafter, the entire cycle will repeat.
The WooCommerce Loyalty Program plugin allows you to set an option for your customers to earn points through other means as well like promoting your products or services to new customers, giving their valuable product reviews, making a purchase over a certain amount, ordering for the first time from your store or commenting or promoting your blog posts and more.
You may be interested in FOMO Plugins, Live Chat plugin, and email marketing service 
Loyalty Program for WooCommerce Admin Dashboard
In most of our blogs, you must have read that "Data is the ultimate king of the eCommerce world". You can make various decisions based on the data available.
After launching a Loyalty Program, it is utterly important to check which points are most active or which activities result in the most points.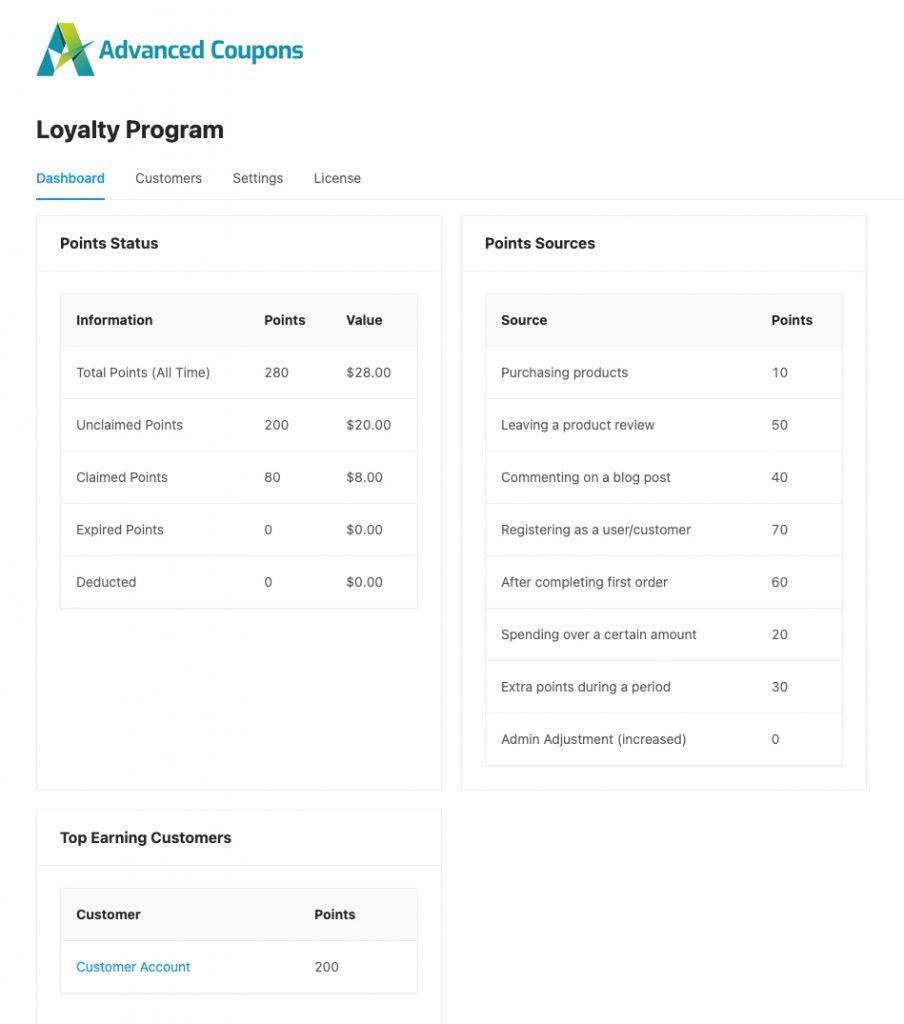 The Loyalty Program for WooCommerce brings all the data in one place right in your admin dashboard. You can also check the total points, claimed and unclaimed points, and expired points. Moreover, you can also check the sources which result in most points like, purchasing a product or leaving a product review and so on.

Pricing
Loyalty Program for WooCommerce helps you stand out against your competitors by enhancing your relationship with your customers. Also, it helps the e-commerce owners to boost their RoI through repetitive sales.
Let's check the pricing of the plugin: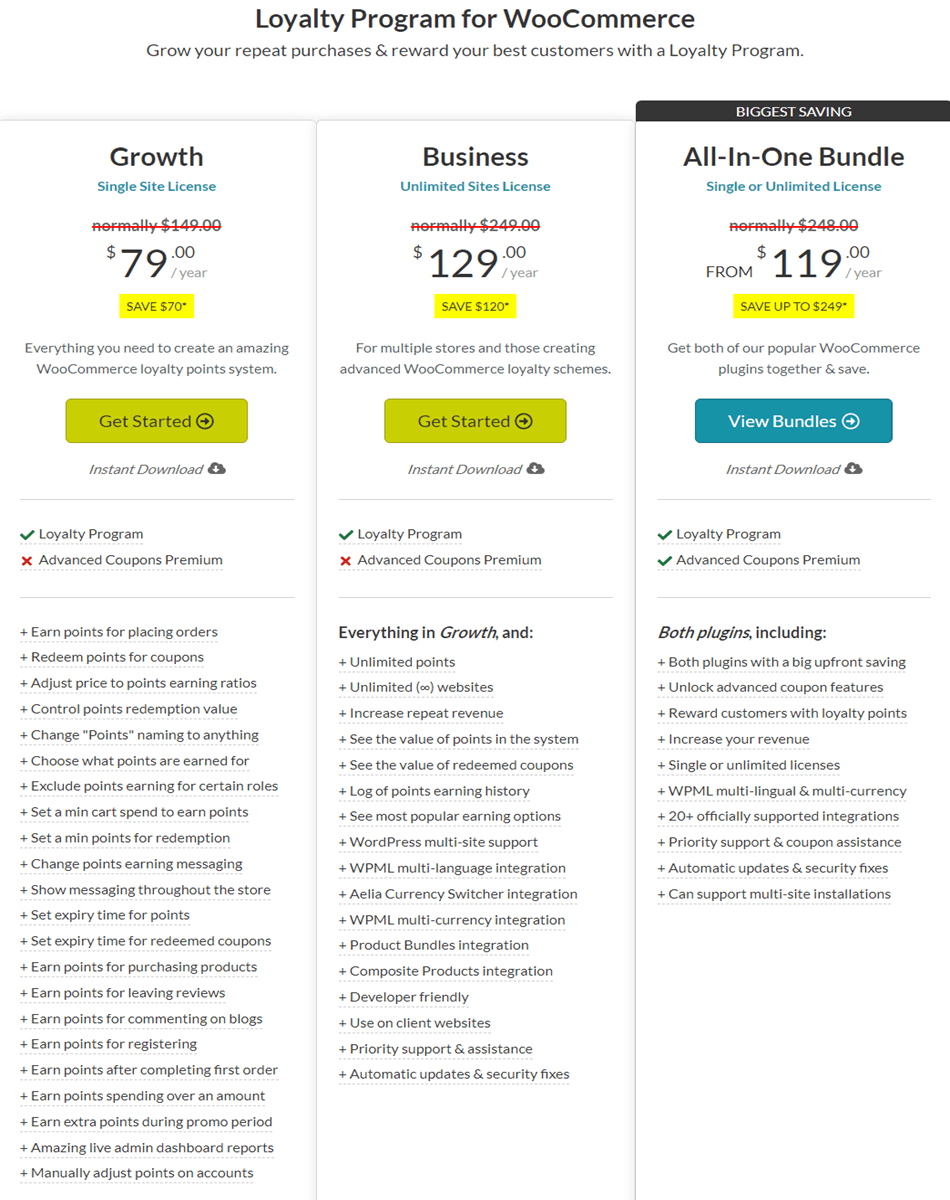 Growth- $79.00/year for a single site.
Business- $129.00/year for unlimited sites.
All-in-one Bundle- From $119.00/year for a single or unlimited license.