2 Best Coupon Popup Hacks To Boost Sales | Coupon Popup Marketing
Coupon Popup Marketing is considered to be a great idea to Boost Sales on an eCommerce website. Coupon Popup can make your customer greedy to steal the deal before they leave the page. You can enhance your user experience (UX) and increase your revenue by implementing coupon marketing with OptinMonster.

As an eCommerce business, you can not overlook the importance of user experience. Also, enhancing your user experience helps you attract more customers, drive more sales and eventually boost your site's profit. One of the best ways to do this is by offering the right kind of popup coupon to the right target audience.
Coupon Marketing is a marketing strategy where you offer your products to your customers at a price lower than the regular price. This fosters your relationship with your customers and enhances customer satisfaction. There are broadly two ways of implementing coupon marketing the traditional way and online promotion. Let's dive in.
Benefits Of Coupon Marketing
1. Enhance Customer Loyalty – Coupon Marketing involves reaching out to your loyal customers with coupons and promotions. This enhances your overall user experience (UX) and helps you build a loyal customer base for your business. It is one of the tried and tested techniques to drive more sales to your online business.
2. Surpass your Competitors- In a perfectly competitive market where you and your competitors are selling similar products, it is critical to implement a strategy that attracts customers to your brand. Coupon Popup gives the customers the incentive to buy your products over the competitors, even without offering all of your products at a discounted price.
Strategy To Implement Coupon Marketing or Coupon Popup Hacks To Boost Sales are as follows
1.

Adding "Click to Copy" Feature
Coupon Popup is undoubtedly one of the best ways to enhance your user experience and drive more sales and profits to your eCommerce website. Have you ever thought about whether we can make the process smoother for our users? OptinMonste's Click to Copy button is one such feature that makes the process seamless for the users and hence, reduces cart abandonment.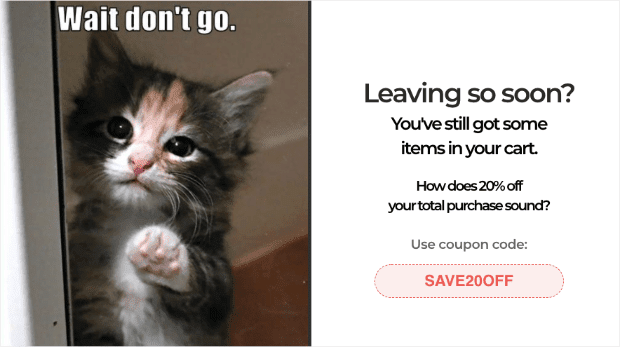 Earlier, OptinMonster's users were able to distribute coupons to their site users. The customers had to copy and paste the coupon code in order to redeem the coupon. Although the process was effective to drive more customers and generate more revenue. However, OptinMonste introduced the "Click to Copy" button to make the process smoother and increase customer satisfaction.
Now, whenever users win a coupon or an offer, they have to simply click on the "Call to Action" button to copy the coupon code. They have to paste the code in the coupon field during checkout. This not only reduces the extra step from the process but also reduces cart abandonment. Thereby, it improves the overall user experience (UX) and entices more people to make a purchase on your site.
But that's not all about it., OptinMonster has traveled the extra mile and introduced some more changes to give your users a happy experience on your site.
2.

Distributing Coupons Through Emails
Emailing coupons to your users is a great way to stay engaged with your users and enhance the user experience. "Spin-to-Win Wheel" is one of the more intriguing campaigns by OptinMonster. Here, the users have to enter their name and email address to spin the wheel. Once they do that, the wheel will spin and show the discount depending on where the wheel landed. However, it is often noticed that the users save the discount to be redeemed later and then forget about it. This can be quite troublesome.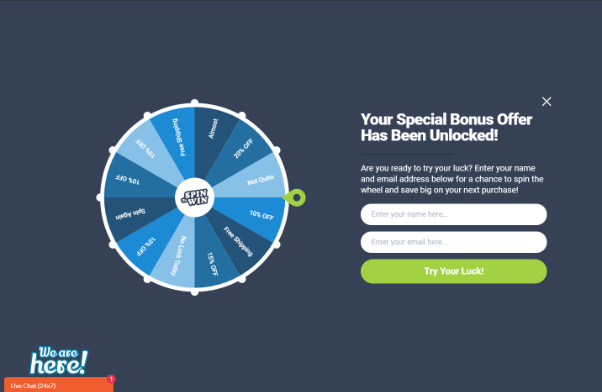 OptinMonster has introduced a new feature where, as the user wins a coupon, the coupon code is automatically sent to your Email Service Provider (ESP) like Klaviyo. So, the ESP takes responsibility and sends the follow-up email campaigns that remind the user has won a prize and can redeem it. Hence, this saves a lot of time and energy that would be wasted otherwise.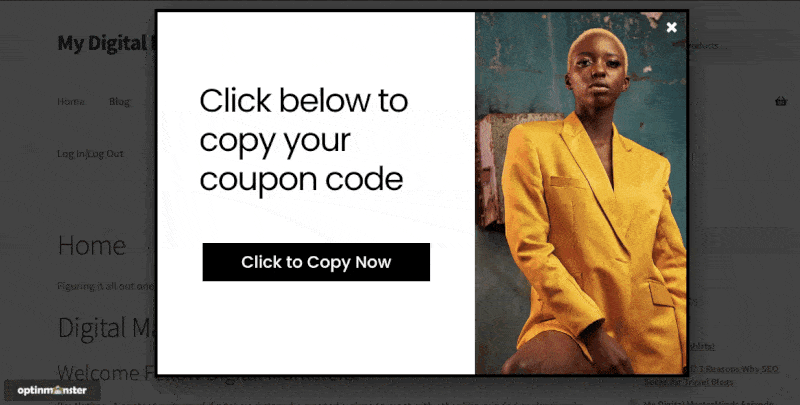 Note: Currently the feature is limited only to Klaviyo users. However, OptinMonster is working on it to expand the service to the market.
Conclusion
That's it for the blog. We hope that you understand the concept and benefits of coupon Popup marketing. Also, You can enhance your user experience and coupon marketing using OptinMonster.
I hope you liked the blog. In case you have any queries or feedback, do leave them in the comments section below. Why Don't you try our FOMO plugins post to create take sale notification?