How To Create Spin To Win Campaigns in WooCommerce
Spin To Win Campaigns in WooCommerce Increases your website sales By 3%. Spin to Win is a responsive and interactive gaming campaign that you can add to your website to attract, engage and woo your audience.

The kind of gamification that you see on eCommerce websites and online retail stores generally. Ford Motors and Volkswagon have benefited from this optin. Visitors to these sites get a chance to try their luck of winning discounts by simply spinning the wheel. It brings a fun side to serious business.
You can offer some discount code, a cashback, or buy one get one free deal to the winners. Your spin-to-win campaigns can have different game advantages.
You may also be interested in Email marketing services, Fomo Plugins, and Live Chat Plugins 
Because Gamification is engaging and memorable, people start thinking about your brand more often. It makes people curious. This, in turn, induces them to buy your products or to subscribe to your newsletter. Or they are going to drop you an email id so that you can connect them in the future.
Gamified optins have been verified to change drastically conversion rates from earlier 2-4% to 35% or even better.

And, there, you've just got another customer thanks to a coupon wheel popup that didn't even take more than a few minutes to be added to your store.
Many companies are using spin to win to get more success. You can install this and increase functionality in your store as well. Let the visitors to your store play and win the wheel game. They'll win attractive discount offers by exchanging their email address and other information. And the subscriptions for your store are up.
Note – This feature is only available for people who own's a Growth Plan . And Its worth upgrading if you will look over the feature they are providing .

Free version of Plugins feature – Free Version 

Get Growth Plan – Premium 
Features of the Spin to Win Campaigns in WooCommerce
In addition to the above, Spin to Win Campaigns in WooCommerce offers the following useful features:
Easy to Install:

 This optin has a simple and easy-to-understand module. So you can implement spin and win game functionality on your website on your own. Without the need of knowing any coding. This addon is easy to disable too. Just with a button click. Though if you don't have the time, Gomahamaya will do it for you too.

Customization:

 You get to change the look and the feel of the wheel. You can set the font colors, put in your logo, or add a background image to the spinning wheel. Custom CSS and JS can also be added from the backend if you wish to.
Visibility: The location of the spin wheel (for example, as an email subscription popup) and its geolocation (where it will show to the users) are in your hands. You can set an interval during which the spin to win wheel campaign will get displayed on your site.
** Use Geo-Location Targeting of OptinMonster to make highly relevant campaigns for your customers and increase sales.
Fireworks: This feature can simply be enabled from the back-end end of the module, and the campaign gets more appealing. The fireworks pop-up whenever the user wins a prize.

Pull-out Tab:

 WooCommerce Entry Pop-up extension lets you enable or disable the Show Pull-out Tab feature of the Spin Wheel.
Email Recheck: A check can be kept on email duplication using the Spin to Win Extension on WooCommerce. If it is enabled, your customer will be able to play the game only once with the same email ID.
Email Templates: You may choose attractive predefined email templates that are more suitable to your website theme.

Report and Monitoring:

 Once the spin-to-win campaign is running on your eCommerce website, you can view the detailed statistics of coupons (total generated, used or unused) in the tabular and graphical format. This lets you evaluate the performance of the addon.
Email Integration Support: The email address of the user gets captured using inbuilt email integrators such as MailChimp and Klaviyo. Your email list gets larger.

Device Compatibility:

 It is compatible with all kinds of device screens. So whether the visitor has a mobile, tablet, or desktop, your campaign will run efficiently.

The Number of Wheel Slices:

 With a fully-customizable interface of the WooCommerce Spin to Win module, the discount to be displayed on each of the wheel slice and the number of slices needed on each wheel can be set by the admin.
About Growth Plan Feature 
At $49 per month (billed annually), you can make Unlimited Campaigns, with Full Analytics & Reporting, for 5 sites. Get 250,000 pageviews a month.
Other than Spin to Win Wheel Campaigns, you can also use Inline or Sidebar Forms, Customized Forms, Lightbox Popups, etc.
With Lead Sharing, Device Targeting, Exit-Intent Technology, Abandonment, Referral Detection, Cookie Retargeting, Scroll Triggering, Timed-Display Control, and many other such smart controls.
For Design & Effects, you have complete access to OptinMonster's Drag & Drop Builder, Templates, Multi-Step Forms, Custom Fonts & CSS, Countdown Timers, etc.
How to Create a Spin-to-Win Coupon Popup for WooCommerce (The EASY Way)
How to Create Spin to Win Campaigns In WooCommerce
Well, first of all, you'll need to sign up with OptinMonster Growth Plan. Now install the free OptinMonster plugin On your WordPress website.
Now connect your WordPress website to optinmonster dashboard.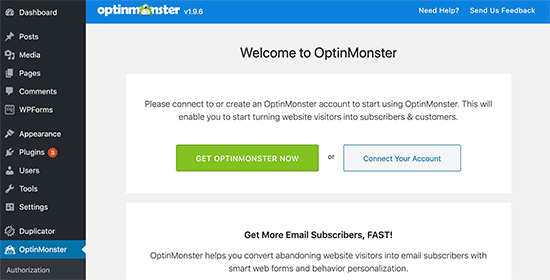 Then Open your Campaign Dashboard of optinmonster and click on the Create New Campaign button to start creating your campaign.  And remember to keep saving your campaign on every step.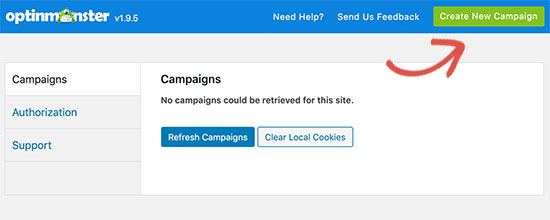 Design: Choose the campaign type and name for your campaign. Fill in the website where you want to use this.
To customize, just click on the feature you want to change. You'll see edit options for color, text, images, block, etc.

Add or remove the wheel sections as per your discount and coupon offers.
Display Rules: Once the wheel has been designed to your satisfaction, you can set display rules to manage who all can see the campaign and when.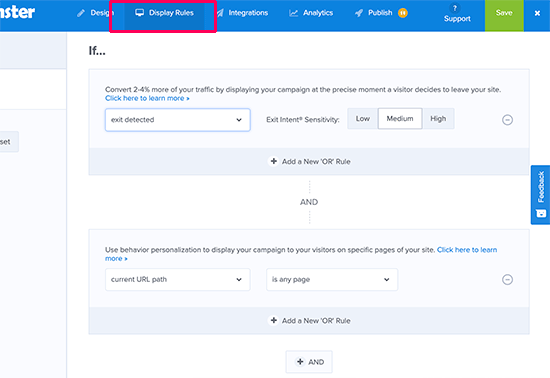 Most of the stores prefer it to appear when the user's cursor moves towards leaving the page. Setting this way reduces cart abandonment and increases conversion. Exit-Intent Technology from OptinMonster detects when the visitor is trying to leave your site. A pop-up at this crucial time will increase engagement and conversion.
Integration

: Adding this to connect your Email Marketing Service Provider (ESP), lets you collect the email addresses of your visitors.
Analytics: It comes with built-in analytics, but Google Analytics is better. And you need to simply click on the Connect button. Easy right? . If you don't have google then you can read our tutorials in which we though how you can easily add google analytics in simple steps.
Publish: As soon as all the above steps have been finished.click on the Publish tab and change the click Status to Live and Save your coupon wheel campaign.
Now you are ready to rock and roll with Your spin-to-win coupon wheel campaign. Sit back n enjoy the improved conversions and sales.