OptinMonster Review: Best Lead Generation Plugin For WordPress 2023

Are you looking for OptinMonster Review?  It has been observed that 70-80% of the visitors who come to a blog do not intend to come back again. So all the professional bloggers now have understood the importance of creating a mailing list from their experiences. So to make the visitors come back to the blog and make them long-term readers, they can be asked to subscribe to blogs. By doing this, the visitors will be sent a mail after every new post gets published asking them to check it out and give their valuable feedback. This way the bounce rate of the blog is decreased and a community of blog readers is created. There are a lot of options available in the market that can be used for collecting emails But Out Of all OptinMonster is the best lead generation plugin for WordPress.

What is OptinMonster?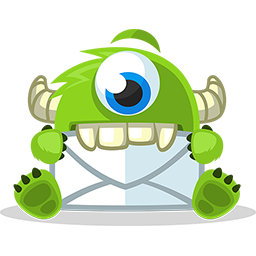 An OptinMonster is the best lead generation WordPress plugin used to collect your website visitor Emails or feedback. Highly effective email sign-up forms can be created and integrated into  Your website using this plugin. For this, just a live website is needed. All email marketing systems and websites platforms are such as Aweber, Getresponse,  MailChimp are compatible with this plugin. Beautiful lead capture forms can be created and customized using a large template library available with the plugin without the need for any coding. Being very user-friendly, an A/B test high-converting lead-capture form can be developed without a developer. The plugin has become very popular because of its many special features. Leads have been highly improved using this plugin as high as 500% for its users That's why we have decided to Write an honest Optinmonster review

Why use the Only OptinMonster?
Among the many reasons as to why you should use only OptinMonster, So let's have a real honest OptinMonster review:

1. Lead Capture Popup Forms
OptinMonster Lightbox Popups - Get More Leads From the Traffic You Already Have
This feature allows users to create eye-catching popup campaigns to capture the visitor's attention. It helps to capture more leads, boost conversions, and increase subscribers. It does so by building an email list and sharing a targeted ad message. For maximum engagement, the targeted messages are delivered at the right time.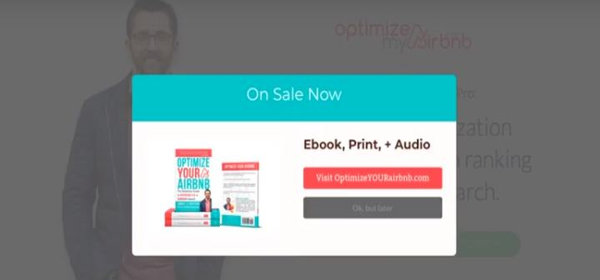 When a lightbox popup is displayed, there is a decision in front of the visitors to be made. Subsequently, the background is faded using OptinMonster animation effects to avoid any distraction. This helps in generating larger conversions as it becomes more noticeable. OptinMonster knows when is the right time to ask the visitors to subscribe so that they agree to it. So timing is an essential factor in this. There are many popup triggers such as scroll trigger, time-based interval, exit-intent popup which help to shoe the popup at the right time.
2. Exit Intent
OptinMonster Exit-Intent Technology - Convert Abandoning Visitors into Subscribers and Customers
Many visitors who visit a website never return. This way a lot of money is wasted on customer acquisition costs. This exit intent technology helps to detect the behavior of the user and then they are prompted with a targeted campaign right at the time that they are going to leave the blog. This helps to at least convert 4-5% of additional users into email subscribers and then later paying customers. In e-commerce, this technology is used to reduce cart abandonment and to increase conversion. Targeted campaigns can be displayed while leaving the site such as a special discount offer to encourage on-the-spot purchase, an invitation to chat with a support agent, and an invitation to download the lead magnet by joining the email list.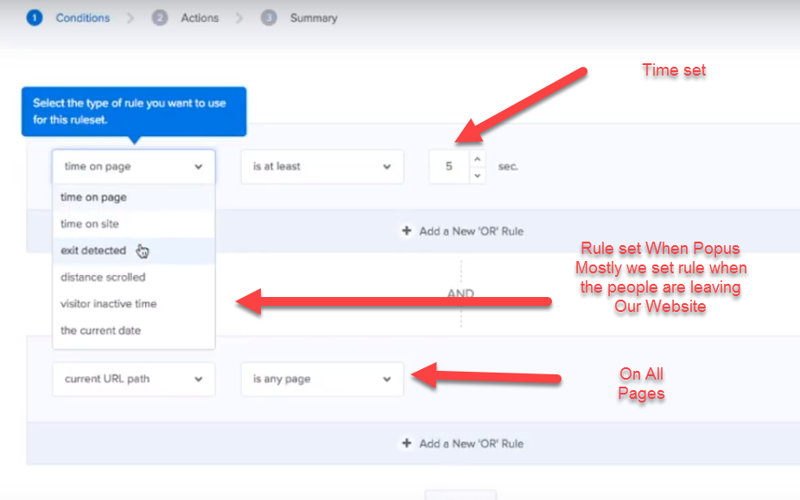 This technology is also used to grow email lists and free trial signups. This way they help to maximize content marketing efforts. Targeted campaigns that are displayed are signing up for a free product trial, booking a free consultation call, downloading a free ebook or case study, or signing up for a webinar. Marketing automation and email autoresponder can be used to convert these subscribers into loyal customers.
3. Fullscreen Welcome Mat
How to Create a Fullscreen Welcome Gate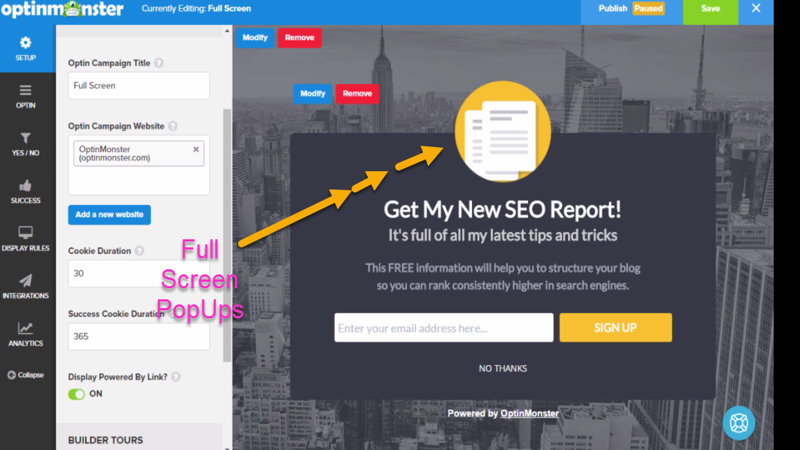 This feature of OptinMonster helps to grab the attention of the visitors as soon as they land on the website by a website splash screen which has helped in improving conversions by 75% in the recent past. Visitors' attention can be grabbed by a targeted call to action before they are distracted and they prepare to leave. This way the visitors will remember and contact the user's brand. The Fullscreen Welcome Mat is used to display new products and services, a targeted offer or coupon is displayed and the visitors get to know what to expect from the site. By highlighting the best content, new subscribers can be won. Visitors can also be pointed to social media platforms. As a part of the prelaunch phase, email subscribers can be collected. This feature works without redirection for SEO benefits and maximum conversions.
4. Floating Header and Footer Bar
OptinMonster Floating Bar - Highly Noticeable and Increases Conversion

OptinMonster's Floating Header and Footer Bar helps to grab the visitor's attention without disturbing or annoying them. It is a stick and highly noticeable campaign and it works by attaching to the top or bottom of the webpage and remains there as long as the visitor scrolls on the site. To extend its functionality, the floating bar has a number of templates. The floating bar is used by people for redirecting attention to contests, affiliate links, or popular content or to promote content upgrades on certain blog posts. The people can also be asked to subscribe to the newsletter on every page of the site. This technology welcomes the visitors, by highlighting important information and growing social following. It has many flexible trigger and targeting rules. Campaign behavior can be changed by using timed display control so choose when the bar has to appear. After the visitors takes an offer, they are not shown the same campaign again.
5. Slide-in Scroll Box Forms
OptinMonster Slide in Scroll Box Forms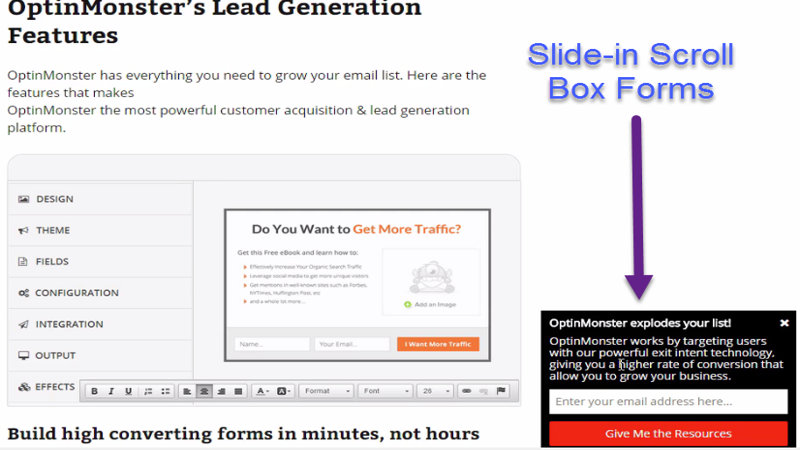 Website visitors don't want to be interrupted with a popup at the wrong time. This will alienate the website from them. So the Slide-in Scroll Box campaign helps the users to display the popup in a polite and stylish way without being very pushy. As the visitors scroll down, Optin Slide-ins appear at the bottom of the right corner of the webpage. With Scroll Trigger, it can be specified as to how below the visitor will scroll that he will see the scroll box. This is the strategy that helps to get more subscribers. Scroll boxes are used to highlight related products or content, with well-timed discounts and coupons, reduce cart abandonment, collect feedback from readers and customers, encourage visitors to enter further into the site, and get engaged in it. These scroll boxes can be made even more noticeable by using MonsterEffects animations and beautifully designed campaign templates.
Find It useful Try 7 day optinmonster free trial
6. Inline Forms
After Post and Inline Optin Forms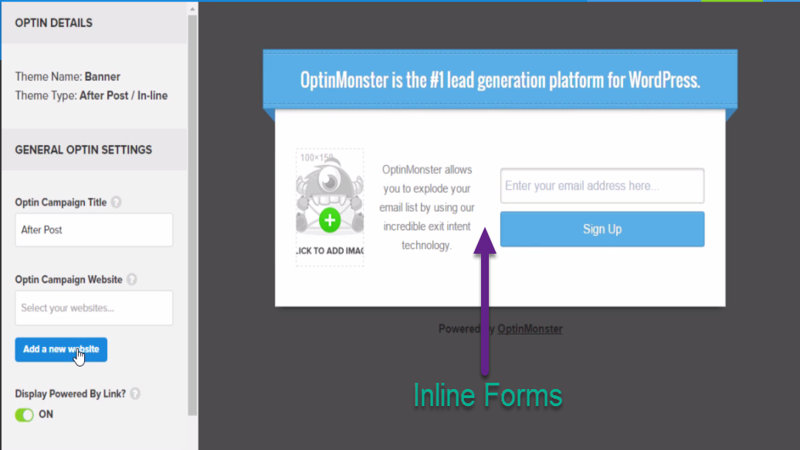 The attention of the most engaged readers can be grabbed using OptinMonster's Inline Forms and they can be encouraged to subscribe when they are already committed to reading the website's content. This makes them, especially for content-heavy websites, effective for subscriber growth. They help to turn any blog into a content upgrade. An inline from can be combined with OptinMonster's Content Lock technology to gate part the content. This provides an added incentive for readers to subscribe. Inline forms are also used by some businesses to deliver lead magnets. The beautiful templates of the OptinMonter's Inline Forms can also be fully customized using a drag and drop builder. In order to have full control, Canvas technology can be used to create after post and inline from scratch without any coding.
7. A/B Testing
Easy A/B Split Testing with OptinMonster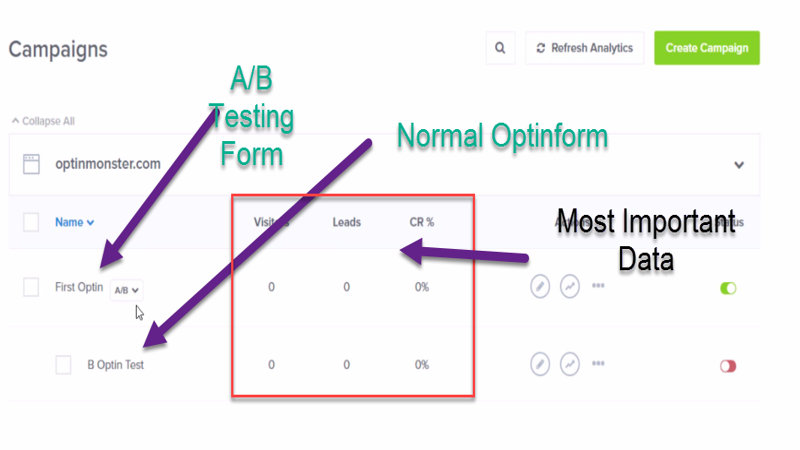 An effective marketing campaign cannot be held without split testing. So the built-in A/B testing in OptinMonster helps to split test all campaigns and eliminate the guesswork about what's working. Different headlines, content, slides, layouts, and campaign triggers can be tried by a split test which one is converting the best. Each campaign variation is shown to the visitors randomly to make sure which is delivering the highest conversion rate. The in-depth Conversion Analytics is combined with it to get A/B testing statistics so that you can easily track and identify the conversion, impression, and the page which gave us the best result. OptinMonster's A/B testing tool is used by publishers to split test their content marketing campaigns and improve their digital marketing strategy. Driving newsletter signups and encouraging people to download a lead magnet is very useful to know. This helps to improve landing page conversions and encourages audiences for easier email list building.
8. OptinMonster Conversion Analytics
Conversion Analytics with OptinMonster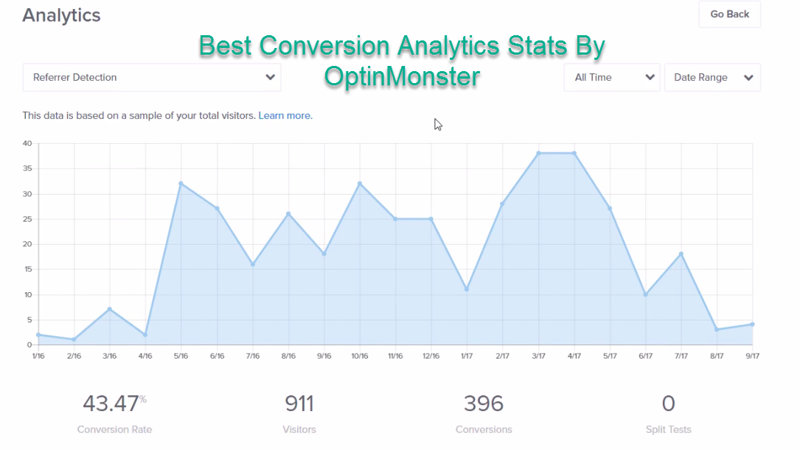 In order to improve the lead generation OptinMonster's Conversion Analytics help to get the stats that matter. Google Analytics is integrated with it so that the user can track and measure conversion goals as well as the success of Optin campaigns. Views, clicks, and overall conversion rates can be analyzed for each of the Optin campaigns. With the A/B split testing, the data of all the split tests can also be obtained. The referral page of each Optin can be tracked to know about the pages which are getting the most conversions. User-agent data can also be viewed which helps to optimize the lead generation campaigns for specific web browsers and devices. After knowing the campaigns which are the most successful and which pages deliver the highest conversion, campaigns can be tweaked to deliver more revenue. The eCommerce funnel can also be streamlined to improve the goal conversion rate.
9. Visual Form Editor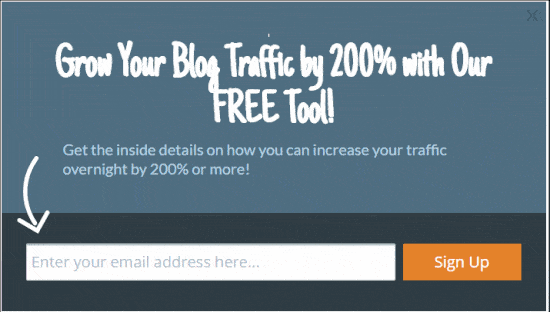 Now you can edit the content of the form by having a live preview of it. And you will get the same display as you will see on the preview mode
10. OptinMonster Review – Premade Template Make Your Works easier for Beginners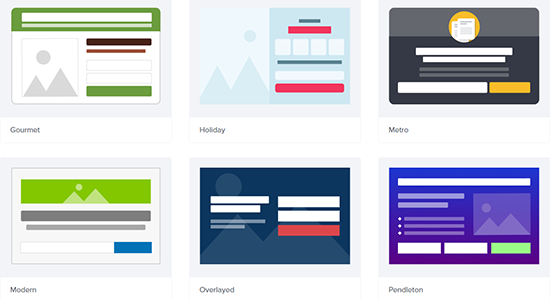 Trust me Guys creating an Optin form was never so easy as the way Optinmonster made it. With the premade built-in template you can launch an email collection form in just 1 minute. And increase your website conversion. Inside the Optinmonster library, there is around 25 built-in layout.
11. Integrations With Email Marketing Service
You can easily integrate with so many of the leading email marketing service providers to syn your email directly in Just One click.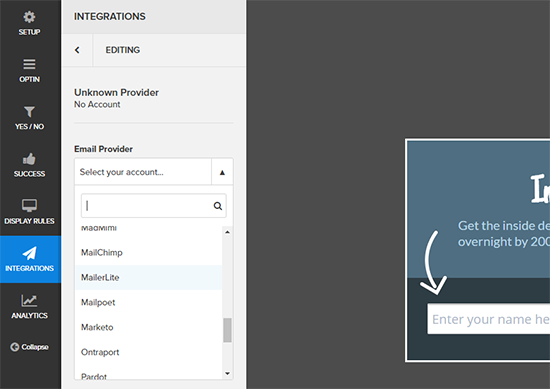 12. Plans And Pricing
OptinMonster Comes has various pricing plans. They actually provide two kinds of billing annually and monthly. When you will choose annually billing trust me you will get some sort of discount and it's cheaper than the monthly billing. You can blindly choose Optinmonster because it comes with 14 days money-back guarantee.
Let's come to Pricing in detail Form –
| | | | | |
| --- | --- | --- | --- | --- |
|  Billing Type |  Basic Plan |  Plus Plan |  Pro Plan |  Growth Plan |
|  Monthly Billing | 12$/Month |  39$/Month |  92$/Month |  199$/Month |
|  Annual Billing |  9$/Month |  29$/Month |  69$/Month |  149$/Month |
| | Buy | Buy | Buy | |
I always recommend Either Pro Plan or Growth Plan Depending Upon your needs.
Case Study Of Optinmonster
Kinobody converted 73% of visitors with a survey using MonsterLinks
With Monster links, 39% of visitors were added to the waiting list, 7.01% of abandoned visitors were converted and 47%-73% of visitors were segmented.
Kinobody blends fitness into everyday lifestyle. It helps the users to become stronger and leaner without costing the users the fun of their lives. Kinobody needed a better way to offer incentives to visitors who were hovering over the site but were not taking any action. So they decided to use OptinMonster. They started to build excitement for every new product launch by writing blog posts about it in advance. The subscriber could click a text link within each article to join a waiting list. At the time of sale of the product, the entire waiting list was emailed with a link to the cart. Using Exit-Intent technology, Kinobody captured some of the abandoning visitors. It also used surveys to segment visitors to build a better quality result.
America's Professor increased revenue of 9.5% personalizing options by location
By personalizing options by location, America's Professor increased pages/session by 10%, increased conversions by 10-12%, and increased revenue by 9.5%. OptinMonster was used by Matt to redirect readers from state-specific blog posts to the sales page. The exit-intent technology helped to compel the users to stay while sensing when the visitor is about to leave the page. In order to accomplish the location-specific targets, the Geotargetting feature was used. This way the reader's location was is checked before a campaign is triggered. All these features of OptinMonster helped America's Professor to achieve all that it has.
There are many cases that increased their website traffic and lead effectively using OptinMonster 
I hope you got convinced to give a 7-day free trial to Optinmonster. So let's get started with the Optinmonster installation process.
Click on signup button to choose your Desired Plan
Now click here to Get OptinMonster Coupon Code From Official website
Note – You did Signup to get Optinmonster API for the working of Optinmonster Plugin
I hope you did signup and now we will install and activate OptinMonster from Our Dashboard. Once you will activate the plugin you will receive a popup to authenticate with API. Click on that or you can click over Optinmonster on the left side of the sidebar menu panel and click on API credential.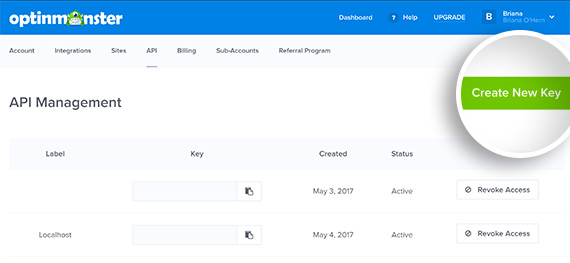 To get Optinmonster API you need to click on Here and make login to get API. Click on My Account and navigate it to API link on the top right-hand side. Once you are here you need to click on Create New Key. Now copy that Copy and paste API key inside your wp-admin Optinmonster  API credential. And Now are you ready to create your First Lead generation Optin form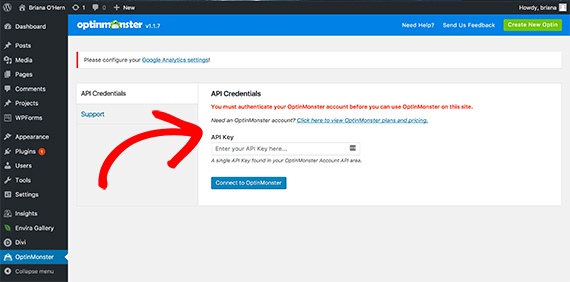 Which is a better email integration platform for Optinmonster?
There are many email companies You can integrate with Optinmonster But we always recommend Aweber that is the best Option
Conclusion – So many people are searching for Optinmonster alternatives on Google. But trust me My friend There is no lead generation software/plugin which will replace Optinmonster. Because Optinmonster is the best email collection plugin for WordPress. However, pricing is a bit higher than another plugin I accept that.
But even after spending money if you won't be able to collect email then your money will be wasted but it will not happen with Optinmoster because you have 7 days free trial. So you can migrate anything you like if you will not get happy. And the most important part of any company is supporting. I never feel alone after I bought Optinmonster they helped me with and everything Problem.
Still have doubt Feel Free to contact us via the contact form. If you find this Honest OptinMonster Review useful do consider following us on social media Facebook, Twitter. YouTube