SwifDoo PDF Review – Most Powerful Free PDF Software 2023
SwifDoo is a perfectly integrated all-purpose PDF software that allows streaming various functionality. Now, you have access to create, compress, merge, sign, and convert in just a click. Provides a great user experience no matter what you require to perform, whether it be typos correction, removing content, crop images, or inserting links, pages, or images as well. Such a fast, accessible PDF software, i.e. easy to use just like MS Word or Office.

SwifDoo is the top-rated audience choice and secures an esteemed position with its fast-friendly features. Suitable for beginners and professionals too. Multi-device responsiveness enables smooth functioning on Windows, Android, and IOS too.
Table Of Content
Core Features
Create PDF Files


Swifdoo provides you highly customizable pdf creator for free, and You can easily create a pdf and maintain the pdf layout, fonts and formatting. And these pdf are highly responsive and compatible with any device like Android mobile, Windows laptop or Mac.
PDF Editor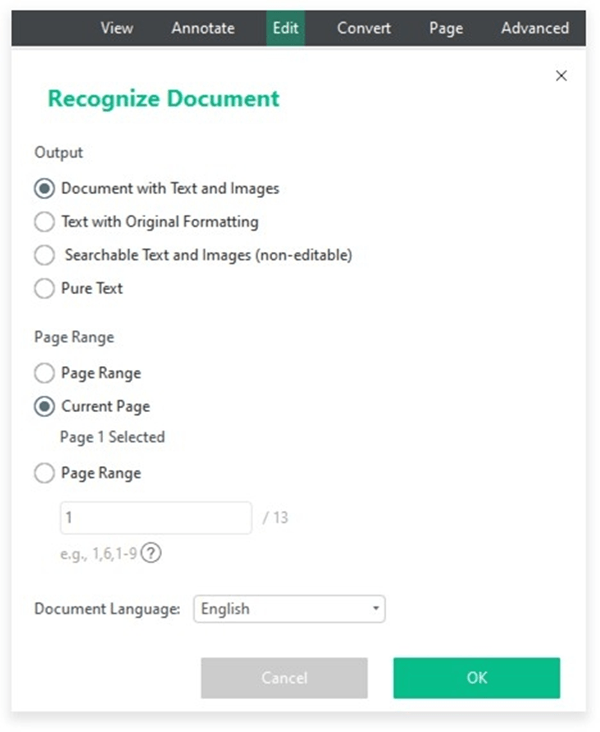 Let users modify the PDF text's style, colour, and font.
Integrated with OCR feature assist in recognizing the text easily.
Allow crop PDF pages either manually by selecting or custom margin.
Add image and link to PDF files while adjusting the transparency.
Whiteout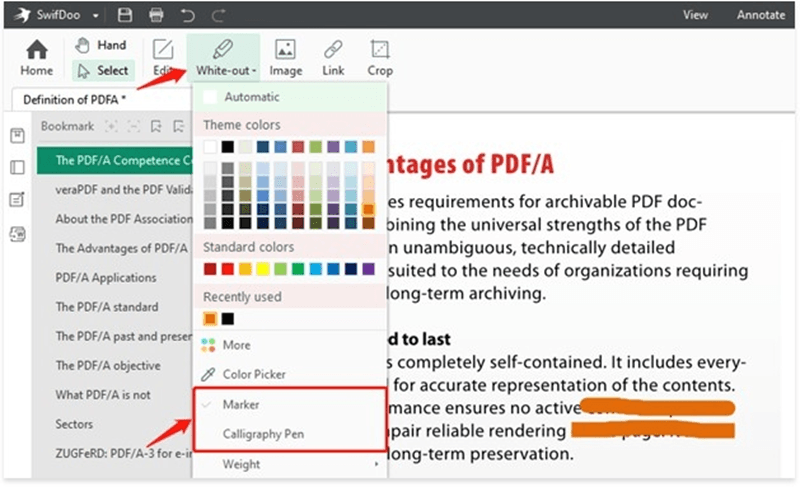 You can add market or use a calligraphy pen on your pdf to hide or wipe our sensitive information like pass, email id, logo or any kind of branding which you don't want to disclose.
Watermark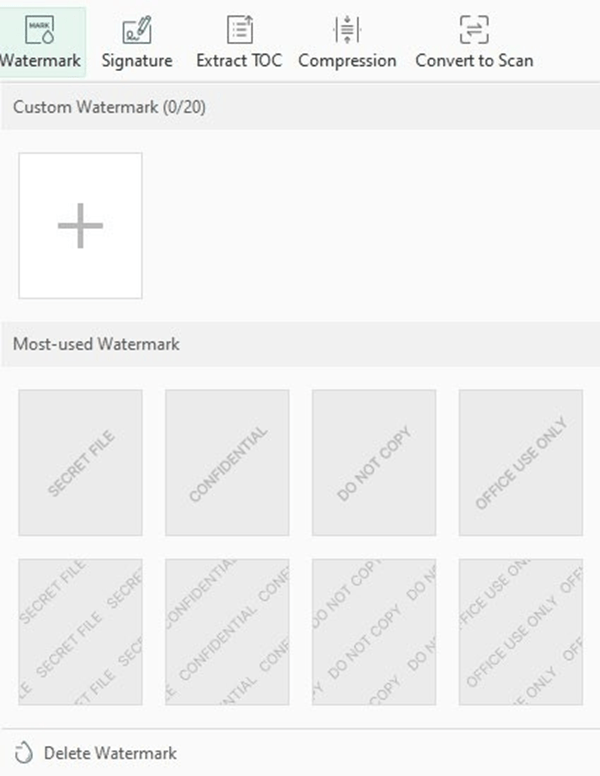 Add your own custom watermark on pdf or you can choose by default set format from the library. You can also upload your own website logo and blur on background.
PDF Convertor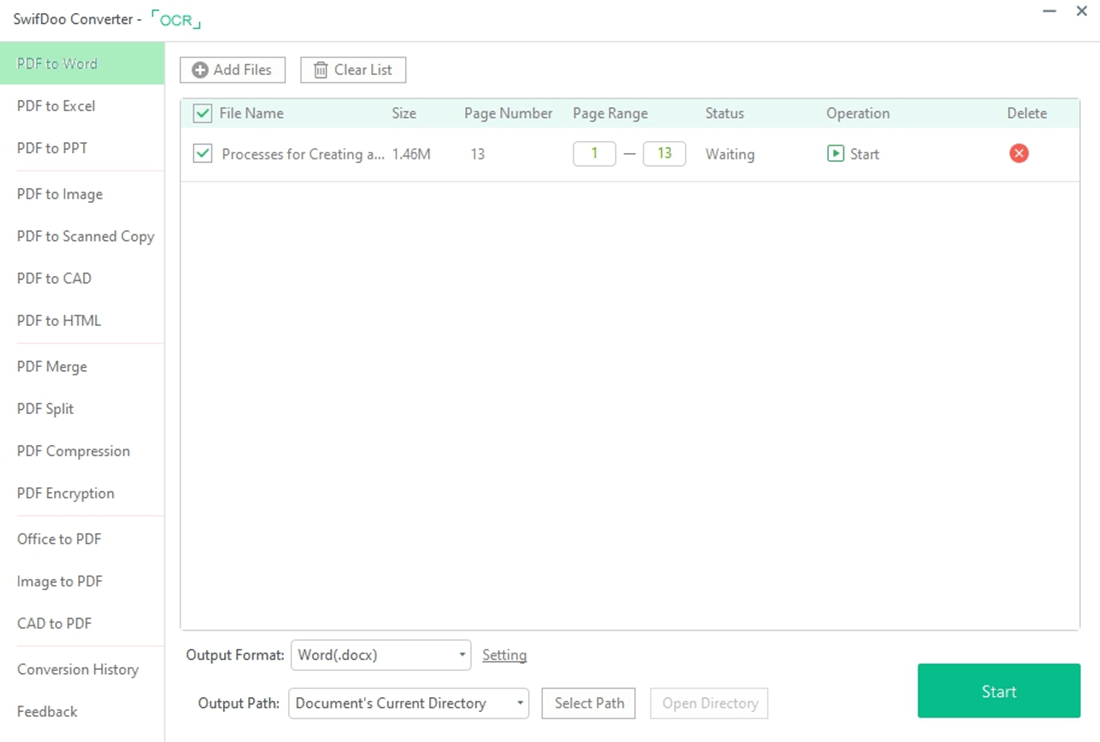 Enable users to convert PDF into MS Office documents, including Word, Excel, and Powerpoint.
Let users convert PDF to various image formats such as JPG, PNG, BMP, and TIF.
Allow accommodating multiple files to form a batch and execute conversion at once.
Here, PDF to CAD files also can be converted.
PDF Compressor

Enable compressing files into smaller sizes without messing up the file's quality.
Compress PDF files focuses only on statistical redundancy and won't let you lose any data available thereon.
Such compressed files boost the transfer speed.
Compressed files capture a little more storage than the original one.
PDF Merger and Splitter

Provides accessibility of merging and splitting the PDF files simply in a few clicks.
Let users merge different PDF files in one and also enable adding pages to it.
Allow users to split the PDF file into multiple PDF files to reduce the confusion.
E-signature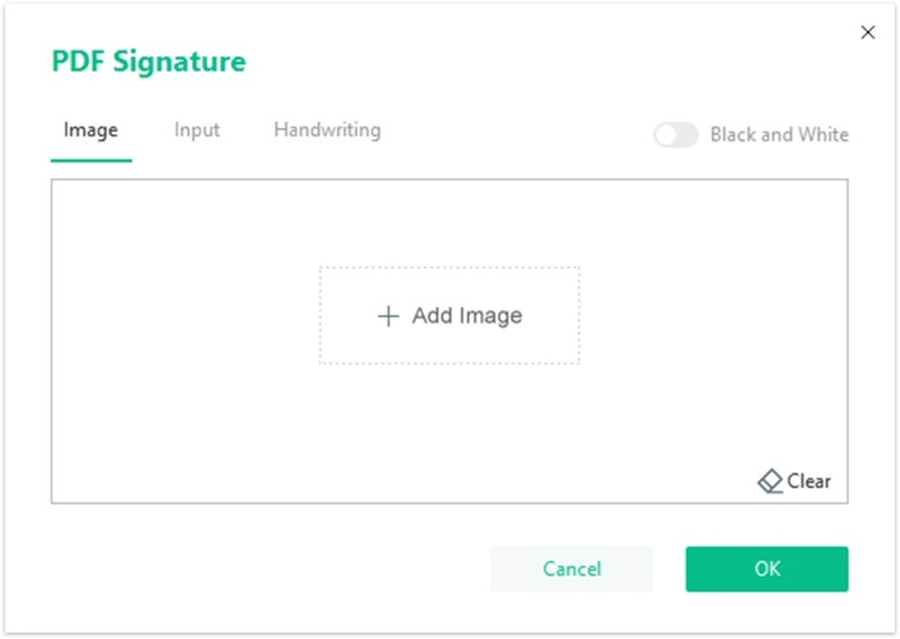 It is a Free E-signature software which lets users configure the electronic signature in three different styles.
Add E-signature as image uploading, the next option is for typing the registered signature, and the last alternative is for handwritten signature with the mouse.
Additional Features of this free pdf tool that we thought to discuss in the SwifDoo PDF review
Annotate PDF

Comprising a variety of annotating tools, let you highlight, shape, note, and stamp in the PDF document that remains visible everywhere.
Let users start a conversation between reviewers and recipients. Enable replying to others' annotations and select the criteria of your status reply.
Allow users to create and add multiple stamps to PDF that will indicate the status of such files.
Protect PDF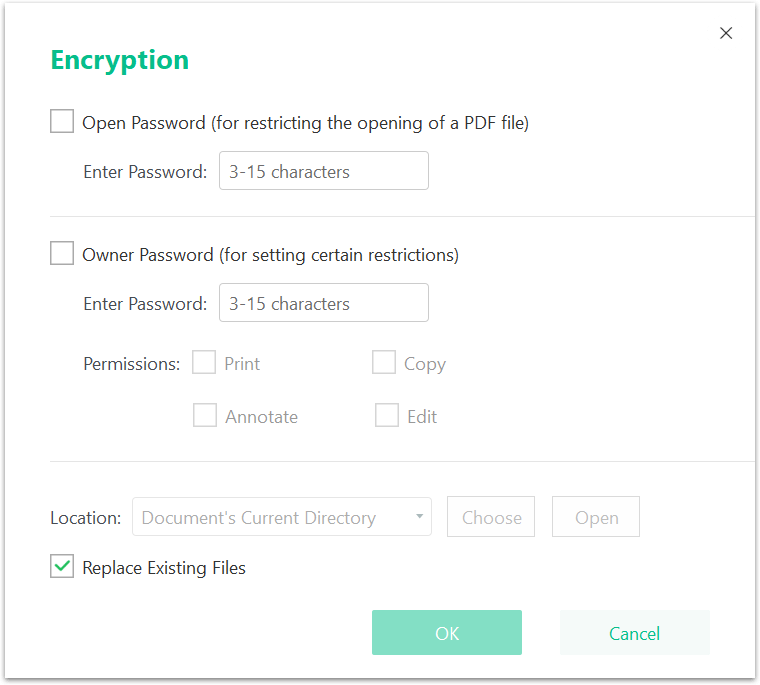 Provide protection to your confidential files.
User passwords will restrict access to the reserved files, and permission passwords will confine users from accessing features like annotating, editing, and printing.
Reasons for Opting SwifDoo (PDF Software)
It saves a lot of time converting PDF documents to MS Office files and vice versa.
Quickly accessible PDF document.
It takes a little space, up to 10 MB and provides a faster download.
We are availing robust password protection with a two-layer and an electronic signature.
Pricing and Customer Support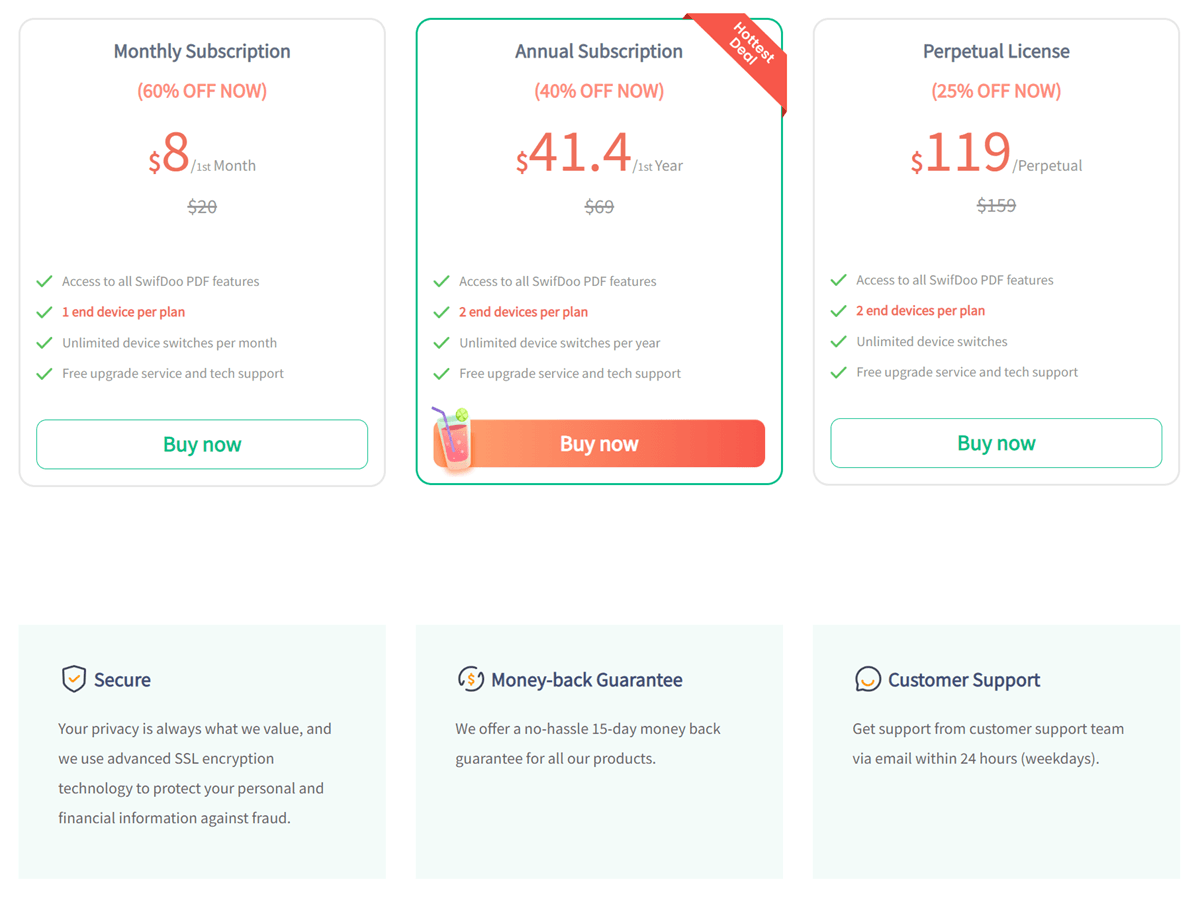 This feature-enriched PDF Software comes with different pricing plans such as Monthly Subscription, Annual Subscription, and Perpetual License.
The Monthly Subscription allows one end-device per plan that will access all SwifDoo PDF features for one month. Enable switching unlimited devices with a free update and tech support. – $8/1st month 
The Annual Subscription allows two end devices per plan along with accessing swifDoo PDF features. Here you also get unlimited device switches per plan and free upgrade and tech support advantage – $41.4/1st Year.
The Perpetual License poses a little more beneficial as it contains lifetime validity. Enable two end devices per plan with all SwifDoo PDF features. Unlimited device switches, free upgrade, and premium tech support. – $119/Perpetual
It is encrypted with advanced SSL that provides confidential and financial data privacy. SwifDoo promises excellent customer support managed by the well-respondent team that contacts via email within one day. And also offer a money-back guarantee within 30 days if you are unhappy with the product.
SwifDoo PDF Hardware and System Requirements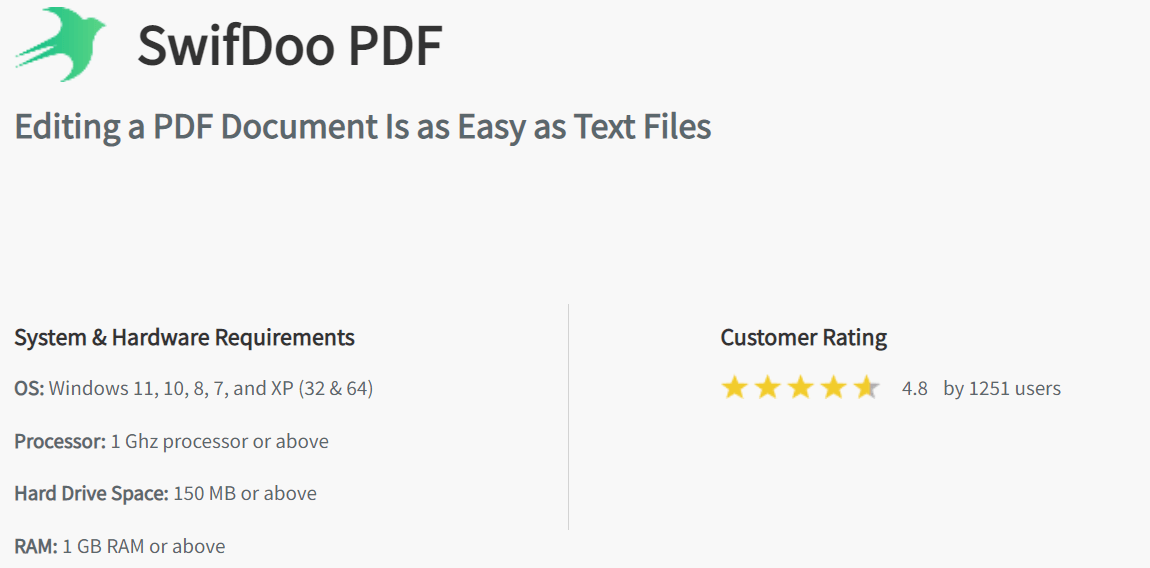 It works perfectly on Windows 10, 8, 11 XP and Windows 7 and supports 32 & 64-bit machines.
You have a minimum requirement of a 1 GHz processor
Software needs only 150MB hard disk size
And for smooth function of pdf tool, we need 1 GB RAM.
Negative Point of SwifDoo PDF
Software Is in Initial Stage of Development So we don't recommend buying this tool if you are looking SwifDoo PDF alternative then you should buy Adobe Acrobat Reader.
Support team don't respond to email after Purchase.
Highly unstable with Crashing Issue on many version of Windows
Conclusion
Before startS writing this SwifDoo PDF review, we installed it on our windows and found Swifdoo has developed a mind-blowing Free PDF Software to merge, create, edit, compress, sign and convert pdf tools. In our SwifDoo PDF review we don't recommend spending money on unstable buggy software.