ProveSource Reviews Best Social Proof Platform | Feature, Pricing | Pro And Cons
In my Detailed ProveSource Review, I will consider almost all factors which make provesrc the best social proof platform. ProveSource helps you to boost Conversions by creating a fake sale notification popup and social proof notifications. You can embed the plugin into checkout pages, landing pages and lead magnets
Human behaviour seeks proof especially in situations when it has to zero down to a single selection or in a state of confusion. Hence, the marketing niche has tools that integrate social proofing into the marketing platforms.
Though many such tools trigger trust and conversions towards your website thru social proofing, by displaying positive user experiences such as signups and recent purchases. In our blog, we will detail review one such social proof platform – ProveSource.
About ProveSource – An overview
ProveSource was established in Israel in the year 2017 by Configo LTD. It is a newcomer but has a great user impact. No doubt, in a short period it has become the first choice of many high-end companies such as HappyCar.com, Bimago, The Body Shop, Retipster, and many more.
It is an intuitive social proof marketing platform that streamlines customers' buying sentiments by eradicating product or brand-related confusion and compelling them to buy it. It creates a situation of urgency, elevates desirability to buy the product, and generates leads. All of which ultimately increases the conversions manifold.
Browser Support

Chrome, Opera, Safari, Firefox, IE, Edge
Markets
ProveSrc has a worldwide marketplace in countries – Asia, Europe, United States, Australia, Brazil, Canada, China, Japan, Germany, Latin America, Mexico, Middle-East, and Africa.
Features Of ProveSource Reviews 
The main feature of provesrc is social proof notifications which create urgency in minds of customers and boost your website sales.
Stream
Combo
Live Visitors
Reviews
Informational
Social Counter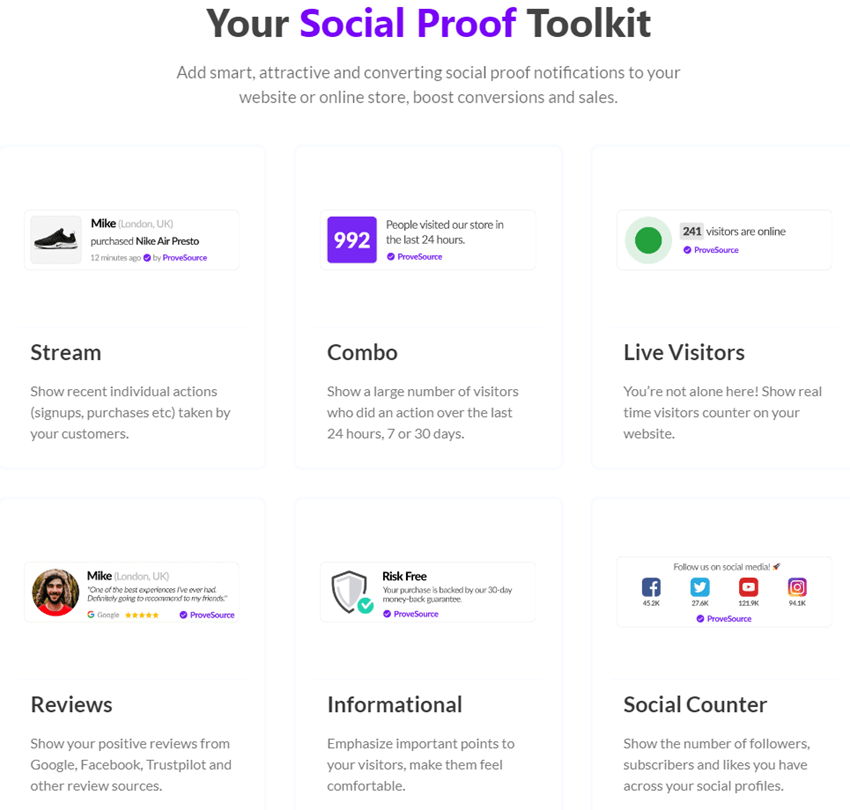 Auto-tracking – ProveSource enables you to track all the purchases or conversions and reflects them on your website in the form of non-interfering notifications. However, you can control the time and day of the notifications' display. All this can be done without any code.

Besides, you can also auto-track the live visits and recent visitors and showcase them on your website.
Organized Dashboard – ProveSource has a comprehensive dashboard that is extremely clean and well organized. All the notifications related to social proofing can be accessed in a single place. Besides, you also have all information related to conversions, streams, live visitors, and total page visits.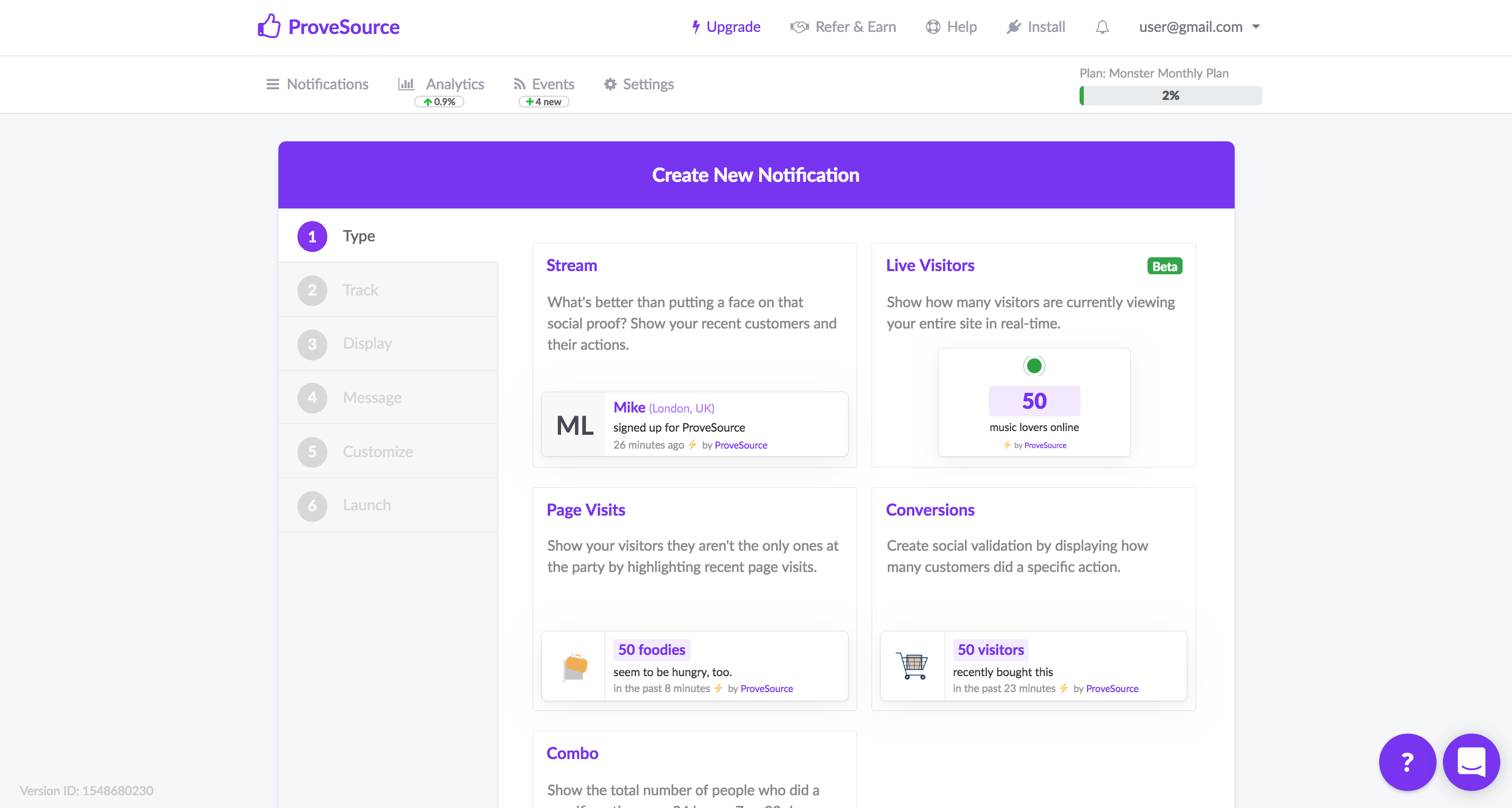 Not only this but combos can also be represented where you can get combined data of the selected attributes you want to monitor. For Instance, the total number of people who have gone thru the music blog and have bought musical instruments from your site.
Customize your notifications– The notifications can be displayed beautifully on your website and you can easily tweak the icon, link, design, background, text, and colour as per your brand.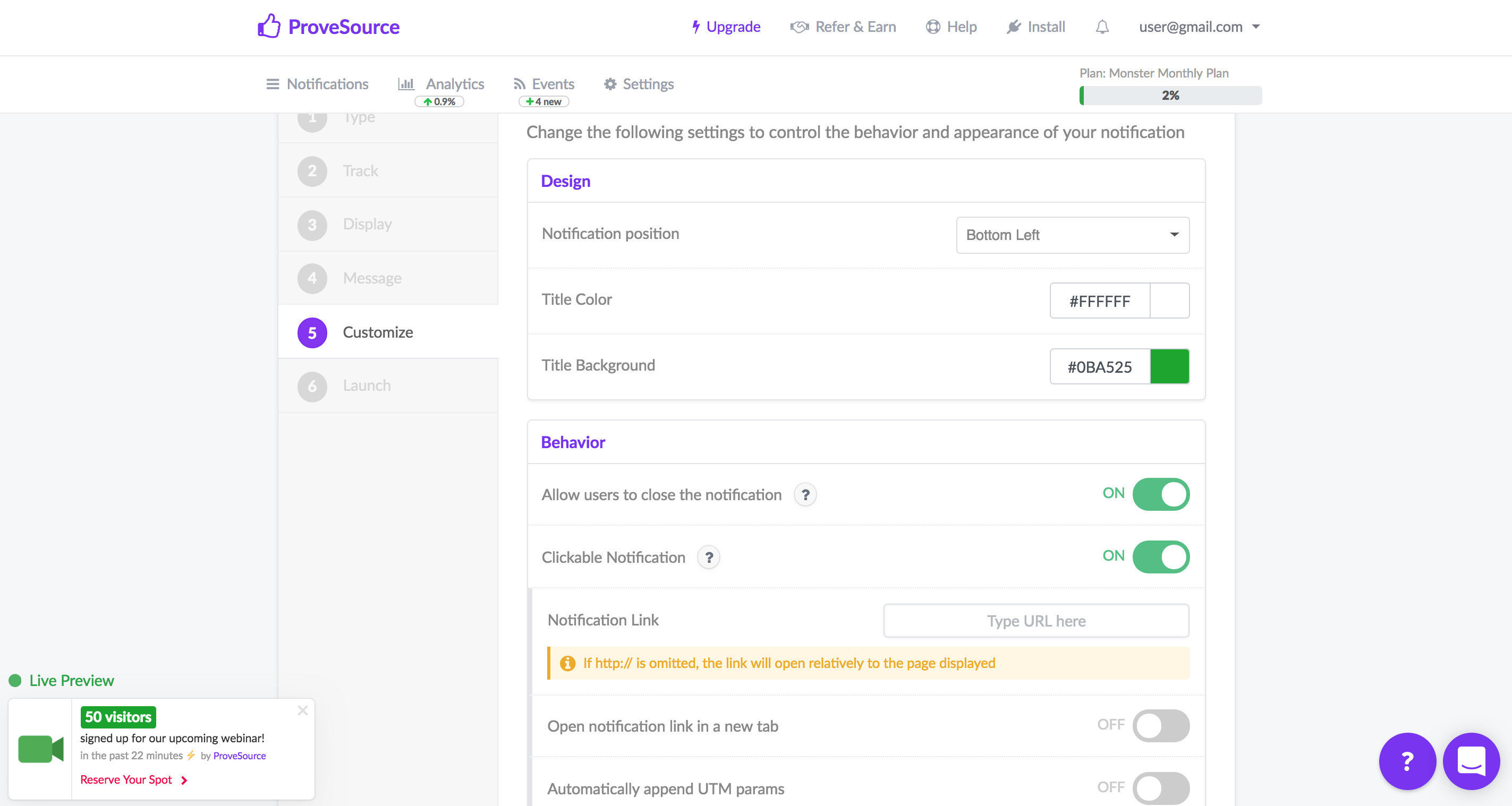 Localization – ProveSrc supports more than 30 local languages and more than 20 localizations. In case you do not find your language, you can put up a request at their 24/7 live chat support and they will add it within 24 hours. So, you get the opportunity to communicate with your audience in their preferred language.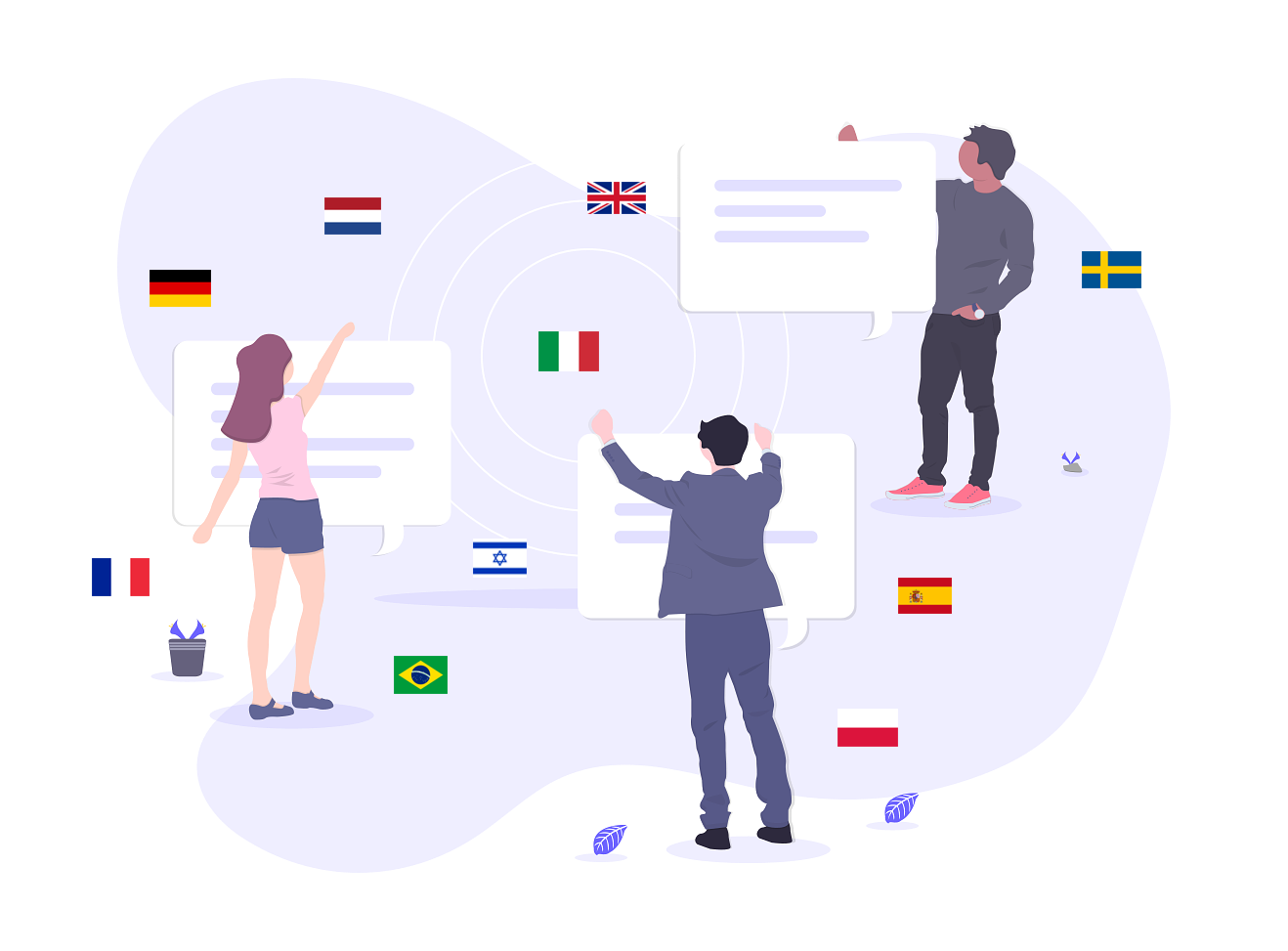 Integrations – ProveSrc integrates with more than 100 third-party platforms such as Shopify, LeadPages, Magento, Zapier, WooCommerce, etc.
Google Tag Manager
Webhooks
Weebly
Squarespace
Unbounce
wix.com
Cloudflare
WordPress
Intercom
OptimizePress
Webhooks – With the smart plugin you can utilize both your server as well as any other 3rd party server to display sales. This also helps you to get the required data quickly by using other applications. With the advanced web callback or HTTP Push API of Provesource, you need not poll for data every time.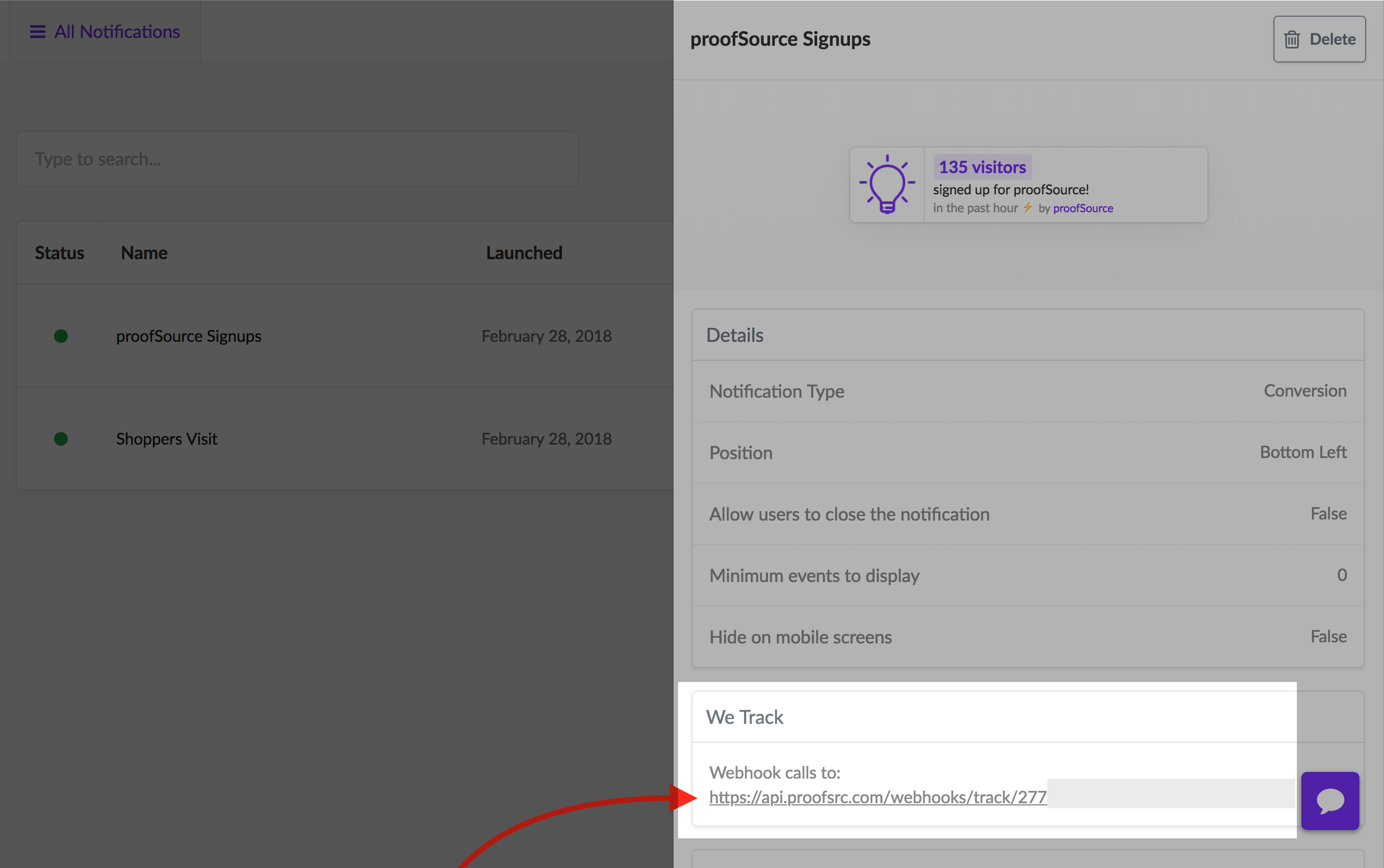 Responsive Notifications – All the notifications are mobile and app-ready. They offer a beautiful view on all screen sizes.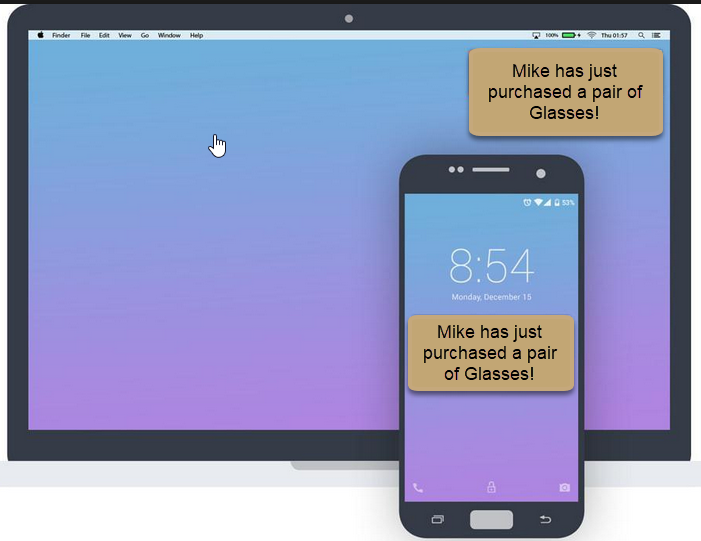 Set your Rules to Display Notifications – You decide on when and how to display the notifications. You can set the rules accordingly.
Installation & Account Setup
Installation is extremely seamless for ProveSrc. Getting started with Provesrc is to follow a few simple steps and you are done.
Step 1: The primary requirement is to have an email account  & password for the ProveSrc account setup where you will receive a unique ProveSource snippet. Just copy the snippet to your website. Assure the installation by refreshing the website. Other native apps can also be installed at this point or later.
Get the ProveSource Code ———– Login to your ProveSource Account ———– Then click Install at the Navigation Bar on the top

The unique ProveSource Code has to be copied and pasted to the header of every page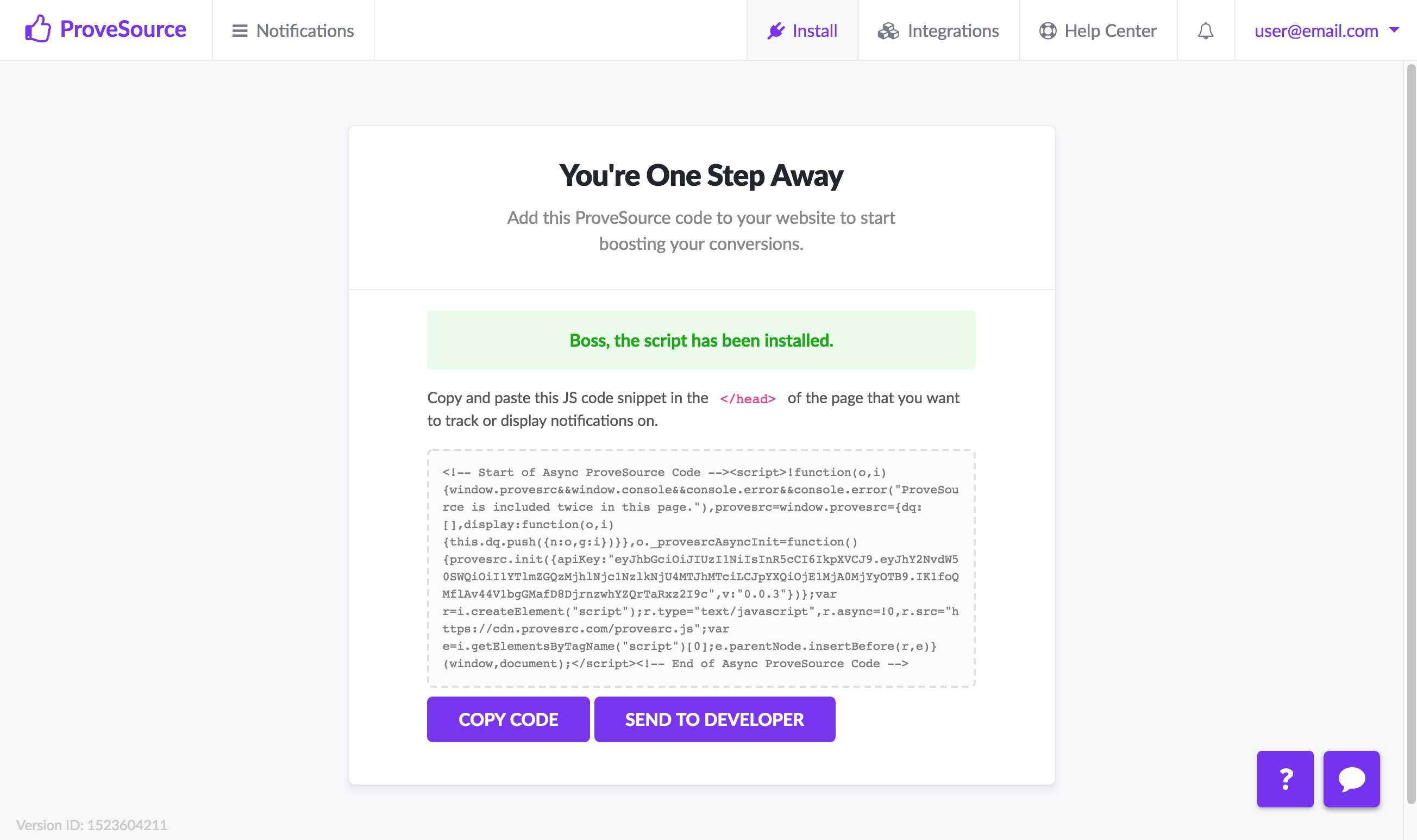 Step 2 – Follow 6 simple and short steps thereafter to create notifications. Here, you can customize the notifications with your preferred colour, timing, images, display rules, and language.
Now all data related to clicks, leads, hovers, purchases. visits will auto-sweep thru the built-in Analytics into a common dashboard. Else, you can also combine Google Analytics into the platform.
You can create a free ProveSrc account that too without any credit card. The free account supports 1,000 unique visitors per month. For larger traffic inflow you should opt for the premium version.
This is how ProveSrc works for you. Thus, you see that no technical knowledge is required for Installation & account setup, and as far as analytics is concerned, it does everything on its own.
Benefits of ProveSource Review
Trust building among prospective customers by letting them  know about the traffic to your store
Boost conversions by displaying live and recent purchases
Eliminating the confusion of the prospects by letting them know that there are more buyers out there purchasing the same product.
Creates urgency by leveraging social proofs.
Support
ProveSrc offers support to the customers via 24/7 live chat, help centres, and blogs. They do have a dedicated support team who are experts and well-trained.
Security and privacy
ProveSrc offers HTTPS for all pages. Besides, all the sensitive data is being encrypted. They also have a secured access system thru Multi-factor authentication options. They offer a generous 30-day money-back guarantee.
Provesource Pricing
Free Plan – $0  Supports 1K Monthly Unique Visitors and Unlimited notifications. Cons – Customer support is not that good.
Starter Plan – $18/mo (billed monthly) or $16 per month ( Billed annually) Supports 10K Monthly Unique Visitors and Unlimited notifications. Customer support is fair and reliable.
Growth Plan – $45/mo Supports 50 K monthly unique visitors and Unlimited notifications. Customer support is pro and active.
The pricing structure of provesource is well thought of so that it fits the budget of both beginners as well as expanding businesses.
Some higher and custom plans are also available to support greater traffic.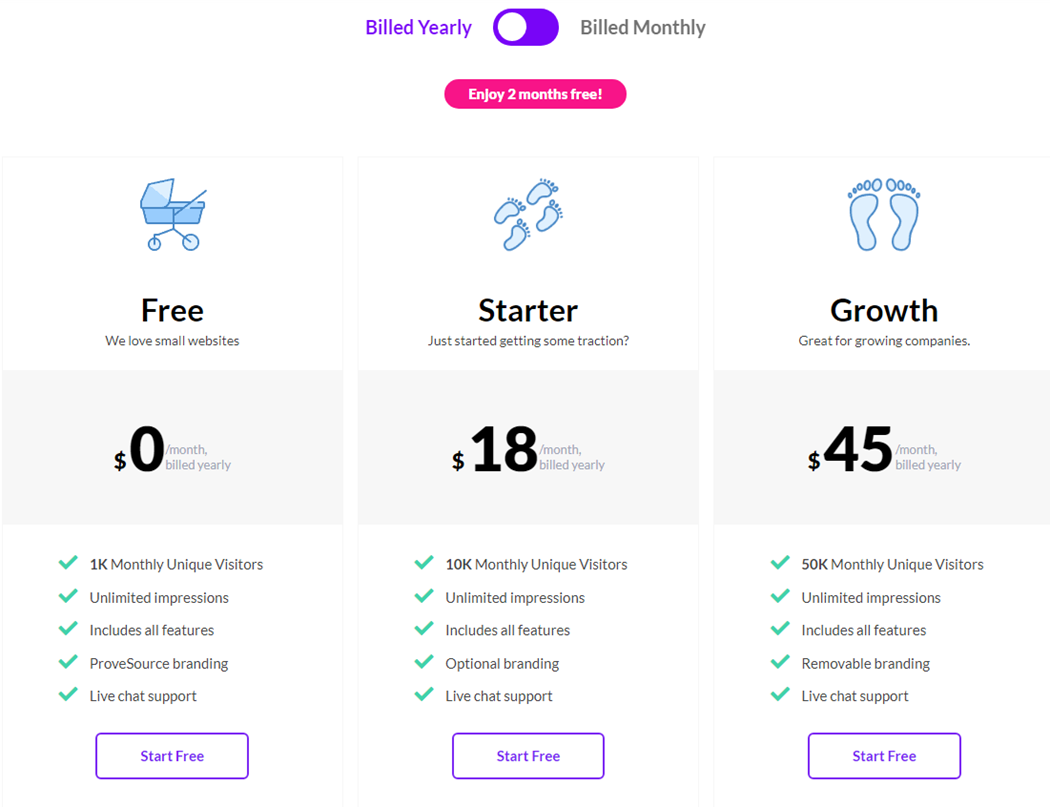 Payment can be done by all major credit cards. The payment information is kept secured by their payment solution company that follows stringent policies with a highly secured system.
Cons
Custom branding is available only in the Growth Plan or other higher plans. You cannot remove branding in the lower plans for free. You can pay $9/mo for removing the branding in these plans.
The lower plans do not have great customer support.
Need more integration with eCommerce stores.
Conclusion – In Our Detailed ProveSource Review, I found that Provesource is an awesome social proof marketing platform. Setup and installation of Provesource are really easy But if you are looking for cheaper Provesource pricing platforms then you can try an alternative for ProveSource. Although the best part of provesrc is they are offering a free plan for lower visitors website.