8 Best Google Analytics Plugins For WordPress 2021
Are you looking for Premium or Free Best Google Analytics Plugins For WordPress? Google Analytics is the most essential part of any website. It tells you about your website visitor's behaviour After adding analytics to Your WordPress website. You can tell how many daily visitor's you are getting on your website, From which country you are getting the most number of visitors on which page. And what exactly they try to find on your page, Which page they visited after arriving from the previous page, And You can also know that from the website they got referred from.

The above-mentioned data helps you to drive a lot of traffic when you are running ads campaigns on Google Bing Yandex and other social media sites. So I can finally say almost that adding analytics to the WordPress website will be beneficial only. But if you are running an eCommerce website then it will boom for you. Making their blog better is the goal of every blogger and website developer. Apart from this tool on the website, specific data and reports are also needed for useful information. For all this Google Analytics plugins are required which not only helps to add Google Analytics tracking code to WordPress but also important analytics reports can be viewed on the WordPress dashboard. So just to reduce your effort in finding the Best Google Analytics Plugins For WordPress we have decided to write a list of top Plugins.
Note – We are using these plugins to reduce our effort because using the google analytics dashboard need lots of patience and understanding with lots of technical skills. This technical stuff got reduced by and simple by using plugins especially when you are a beginner.
So let's have a list of the Best Google Analytics Plugins For WordPress:
1. MonsterInsights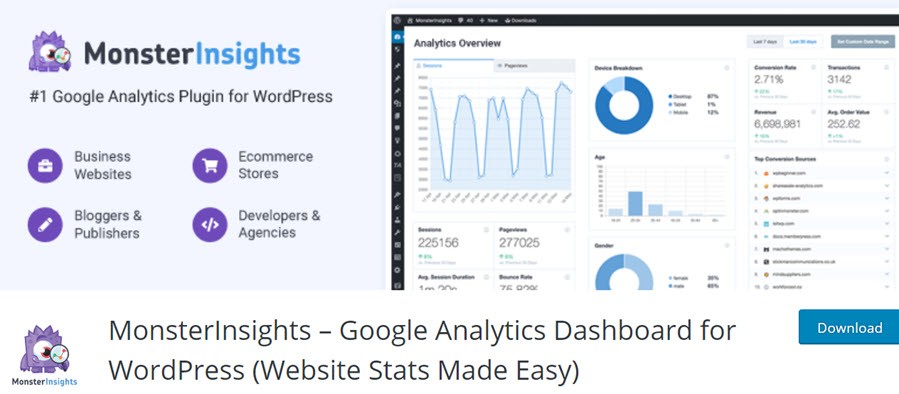 With Google Analytics for WordPress plugins by MonsterInsights, there is no need to hire a developer to add Google Analytics to WordPress as it is a very easy and powerful plugin and it is one of the Best Google Analytics Plugins For WordPress. By connecting the website with Google analytics using this plugin, it can be found out how the website is found and used by the visitors. It helps by showing the stats. It is also one of the most popular Google Analytics plugins for WordPress and the features which make it so popular are:
Real-Time Stats- Real-time stats can be seen in the Google Analytics dashboard.
E-commerce Tracking- Google Analytics can be added for Easy Digital Downloads and WooCommerce store.
 Link Tracking Outbound link clicks can be tracked with Google Analytics.
Custom Dimensions Tracking- Google Analytics Custom Dimensions tracking can be enabled for WordPress.
Events Tracking- Custom button and banner clicks can be tracked with Google Analytics.
Referral Tracking- To focus on the marketing efforts, it is good to know how the visitors are finding the website.
  Performance Tracking- The sample rate and performance rate can be controlled for the Google Analytics report.
Enhanced Link Attribution- Better analytics can be obtained with Enhanced Link Attribution.
Ads Tracking- Google 

Adsense

 ads can be tracked with Google Analytics.
Total number of users – 3M+
MonsterInsights Coupon – SAVE20 or WPB10
Price – Plus – $99/annually (1 Site),  Pro – $199/annually (5 Site),  Agency – $399/annually (25 Site)
Get Started with MonsterInsights
Screenshot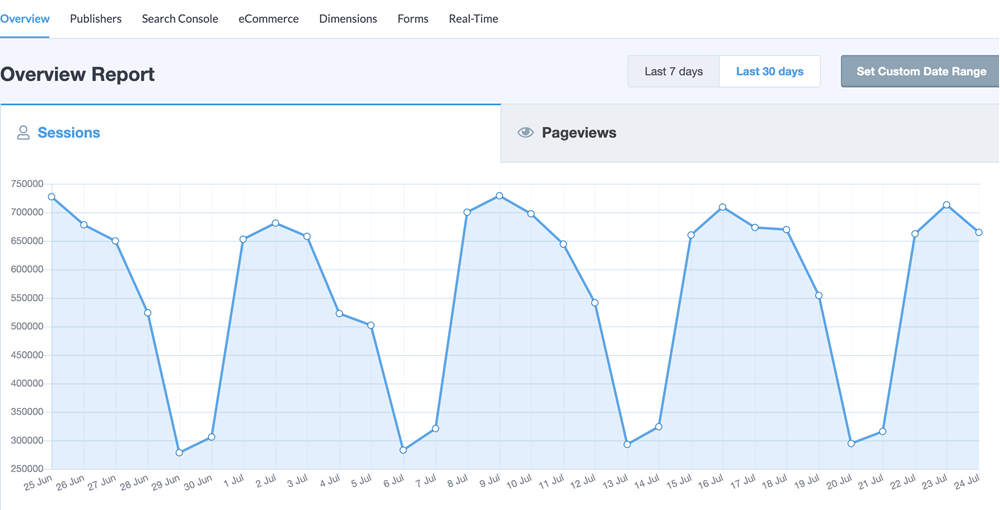 2. ExactMetrics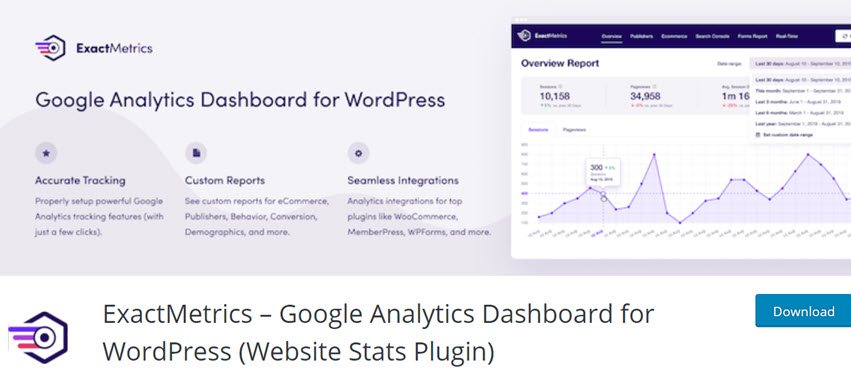 Google Analytics Dashboard for WP, using the latest Google Analytics tracking code, helps the users to track their site and allow them to view key Google Analytics stats in the WordPress installs. Not only does it provide general Google Analytics stats, but also in-depth Page reports and in-depth Post reports which allow further segmentation of analytics data. This provides performance details from each post and page from the website. The plugin is fully customizable through hooks and options which allows, like custom dimensions and events, advanced data collection. The features of this plugin are:
Real-Time Stats- Real-time number of visitors, traffic source details and acquisition channels are obtained on the dashboard using this 

plugin

.
Google Analytics Report- Google Analytics report provides page views, session, bounce rate, pages, 404 errors, traffic channel, social network and many more analytic stats right on the dashboard.
Google Analytics Tracking- Latest Google Analytics tracking code such as Universal Google Analytics code, Global Site Tag tracking code, enhanced link attribution, cross-domain tracking, user sampling rate control, etc. are provided with this

plugin

.
Track Events- Events such as emails, downloads, telephone, fragment identifiers, page scrolling depth, outbound links, affiliate links and many more are easily tracked with this 

plugin

.
Custom dimensions- Author, publication month, publication year, tags, categories and user engagement can be easily tracked using custom dimensions.
Multisite compatible – The 

plugin

is fully compatible with Multisite network installs which allows three setup modes.
AMP features- Form submit tracking, scrolling depth tracking, custom dimensions tracking, affiliate links tracking and many more features are provided by this 

plugin

.
Total number of users – 1M+
Price – Plus – $99/annually (1 Site),  Pro – $199/annually (5 Site),  Agency – $399/annually (25 Site)
Get Started with ExactMetrics
Screenshot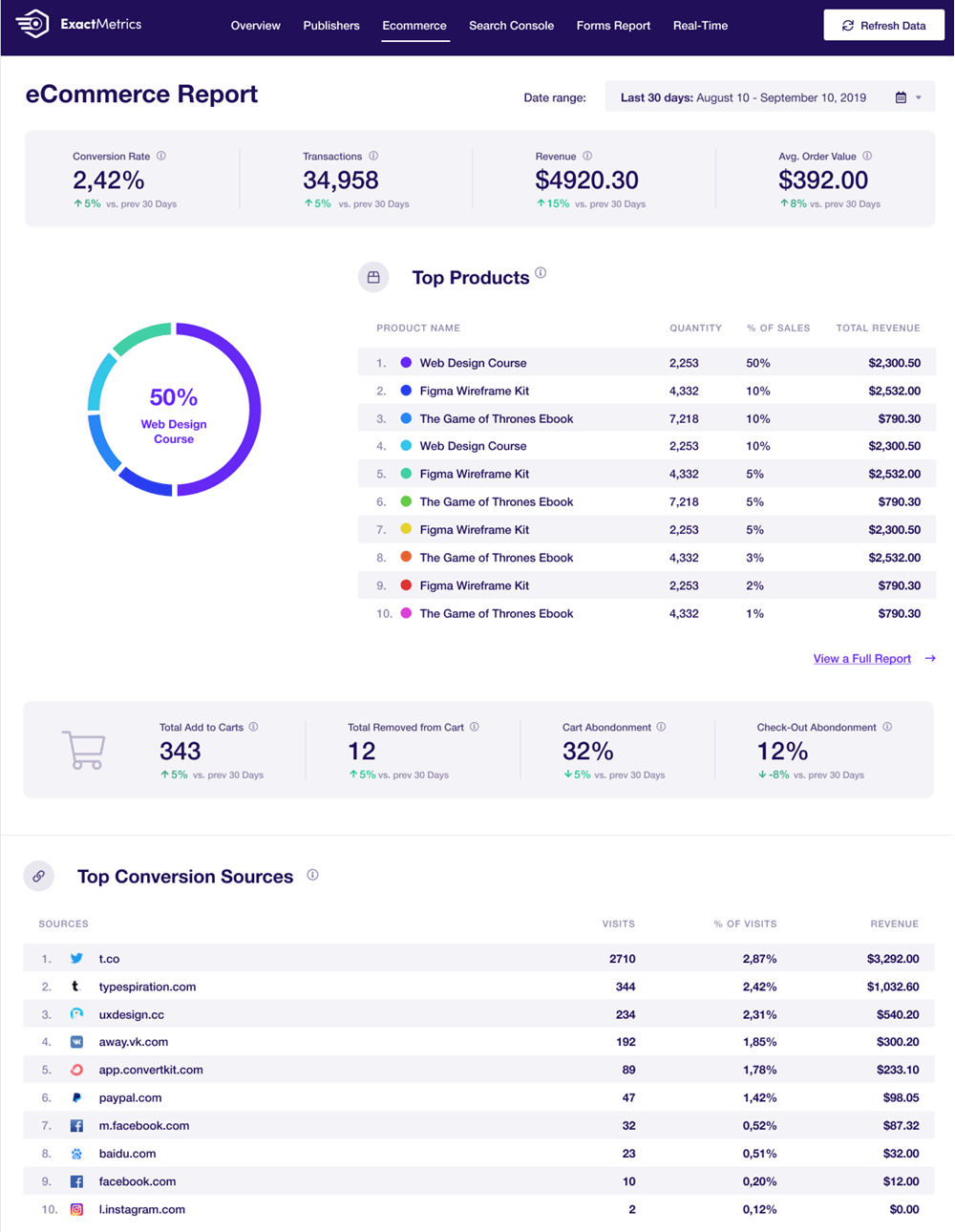 3. Analytify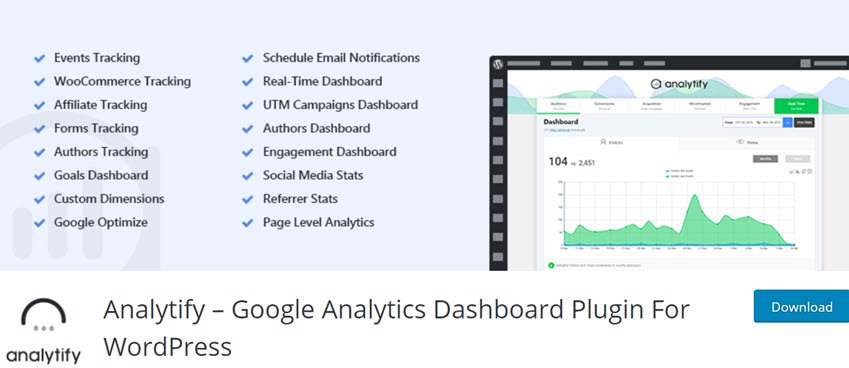 To make Google analytics simple for everyone, there is Google Dashboard Plugin for WordPress by Analytify. The statics are beautifully presented from Google Analytics under the WordPress Posts and pages from the front-end, backend and the dashboard. Using this plugin Google Analytics dashboard can be added to the WordPress dashboard in no time at all. It has super-friendly data, gorgeous charts and Best Google Analytics Plugins For WordPress. Other features which add to the beauty of this plugin are:
Universal Tracking- The management of the marketing campaigns can be simplified without leaving the WordPress site using this 

plugin

.
Social Media Stats- The effectiveness of the social media efforts can be found out using this 

plugin

. The reports inside the WordPress dashboard can be easily understood that way.
Real-Time Stats- This feature keeps the user informed as to who is online and what are they doing.
Enhanced Ecommerce Tracking- Ecommerce tracking can be easily set up in WordPress using Analytify.
Custom Post Types- Portfolio, testimonial, gallery and other custom post types can be easily tracked and their detailed status can be provided.
Front End Reporting- Detailed per post stats can also be viewed on the front-end without logging into the dashboard.
Page-Level Analytics- Each post's and page's analytics can be tracked and organized likewise.
Shortcodes- For the user's choice of their custom statistics, there are many shortcodes.
Total number of users – 60,000+
Price – Pro – $59/annually (1 Site), Conversion – $99/annually (10 Site),  Developer – $299/annually (50 Site)
How To Install And Setup Analytify WordPress Plugin (Free Version)
Screenshot
4. 10Web

A very versatile tracking tool, WD Google Analytics helps the users to easily bring Google Analytics report to the WordPress dashboard.WD Google Analytics is an awesome plugin that helps the user to get up to date reports on the website performance, track and monitor targeted user activities and compare metrics. A comprehensive and easy to use dashboard can also be added by this plugin to the WordPress admin panel. This way everything that's going on the website can be tracked and monitored. Custom reports on various metrics and dimensions can also be obtained and also on AdSense, eCommerce and Adwords report. The features of this plugin are:
Adsense

and Adwords integration- Since Google Analytics is linked to Adwords or 

Adsense

accounts, the corresponding tracking information can be displayed on the Reports page of Google Analytics WD.
Front-end tracking- The revenue and performance of sales can be checked off the online shop. The product or category tracking, transaction IDs and product SKUs can also be kept up.
 Post and Page Reports- There are reports of Google Analytics for each publication. This way the sessions of posts and pages are tracked and full information is given about Google activities.
All Analytics Reports- Various reports are provided by this 

plugin

such as gender, age, interests and demographics as well as behaviour, technology, eCommerce tracking, custom reports and custom dimensions. The tracking reports of two metrics can also be compared using pie, line and column charts.
Tracking Code and Options- Google Analytics tracking can be easily added to the website using this 

plugin

. Desired tracking settings can be easily configured through various options. Traffic from certain role types, users, IP addresses, country, region, city, etc can be excluded.
Goal Management- Goals can be added to the Google Analytics tracking. Complete information about relevant interactions is given by automatically tracking data into the Reports Page.
Alerts and Pushover Notifications- Alerts and Pushover notifications can be set to keep track of the highest and lowest transaction quantity on the website. Periods and conditions can be set as to when the user wishes to be notified.
Total number of users – 9,000+
Price – basic – $85/annually (3 Site),  Standard – $100/annually (30 Site),  Advanced – $150/annually (30 Site)
Introducing Google Analytics WD WordPress Plugin
Screenshot
5. GA Google Analytics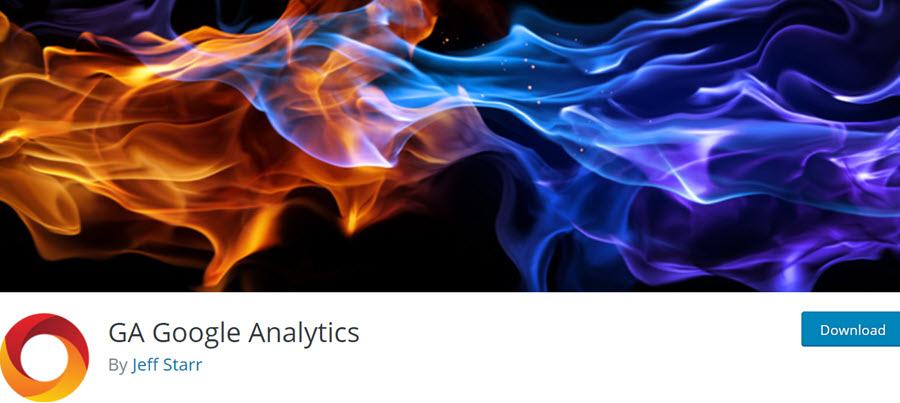 GA Google Analytics plugin is lightweight and fast with a plethora of features. It helps the users to enable Google Analytics for the entire WordPress site. This plugin gives in-dashboard reports. First Google Analytics Property ID needs to be pasted in a simple box to enable tracking. Additional Google Analytics core features can also be enabled such as Display Advertising, Universal Analytics, Link Attribution and IP Anonymization. Its features are:
Tracking Code- The tracking code can be easily customized.
Speed- The 

plugin

has an incredible speed performance.
Updates- The 

plugin

 is regularly updated and is future proof.
With the latest tracking code, it stays current.
The tracking code is included in the header and footer.
Own custom markup can also be included.
Tracking code can be included in all WordPress posts and pages.
Page tracking can be enabled in the Admin area.
The tracking code can be easily customized.
Total number of users – 600,000+
Price – Personal – $15/Lifetime (1 Site),  Business – $30/Lifetime (3 Site),  Advanced – $60/Lifetime (10 Site),  Developer – $120/Lifetime (Unlimited Site)
Screenshot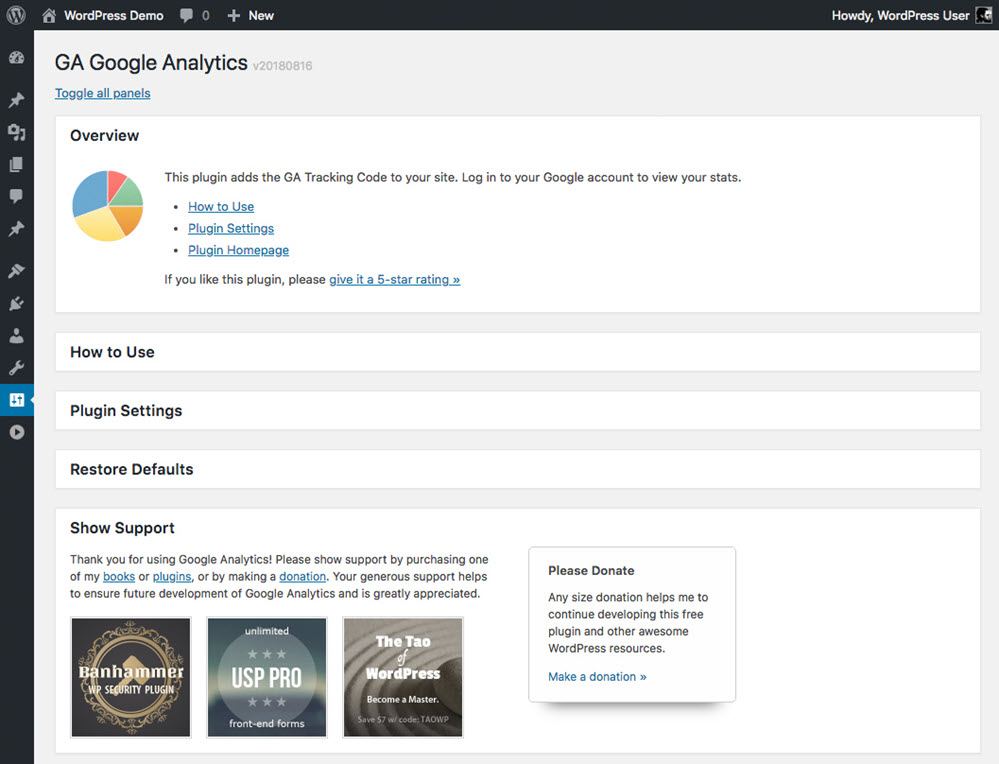 6. WP Google Analytics Events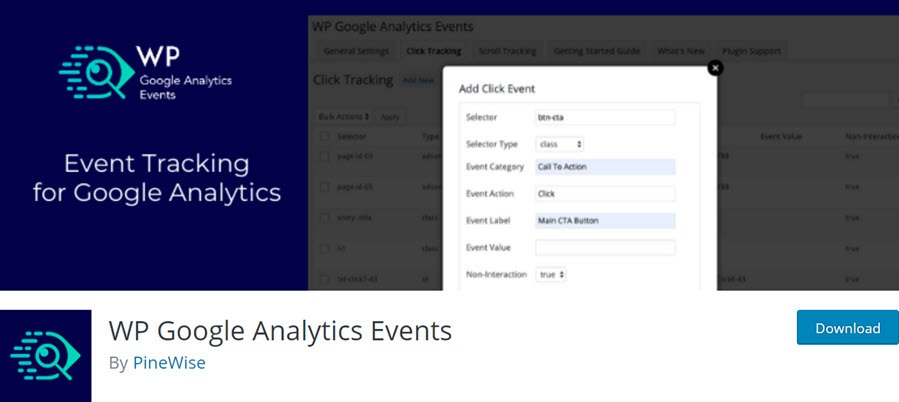 Using Google Analytics Counter Tracker, the visitor hits on the homepage can be analysed and then displayed graphically. Audience overviews such as page reviews, sessions, users, bounces, session duration, most popular pages, search keywords, etc and visitors overviews such as new users, users, Geolocation, top countries by location, browser, cities, etc are the data included in this plugin. The features of this plugin are:
Google Analytics stats can be obtained by just connecting to the Google Analytics account.
The stats can be grouped by hour, day, month and year.
Data for different periods can be viewed in the report.
To mask the user IP, the IP address can be anonymized.
The 

plugin

 is compatible with almost all versions of WordPress.
It has a mobile-friendly design.
The Google Analytics 

plugin

 and tracker are very easy to use.
Many languages such as Arabic, Dutch, French, German, Korean, Japanese, Polski, etc are supported by Multilingual Google Analytics.
Total number of users – 20,000+
Price – Presonal – $79/annually (1 Site),  Business – $149/annually (5 Site),  Developer – $199/annually (20 Site)
WP Google Analytics Events Demo
Screenshot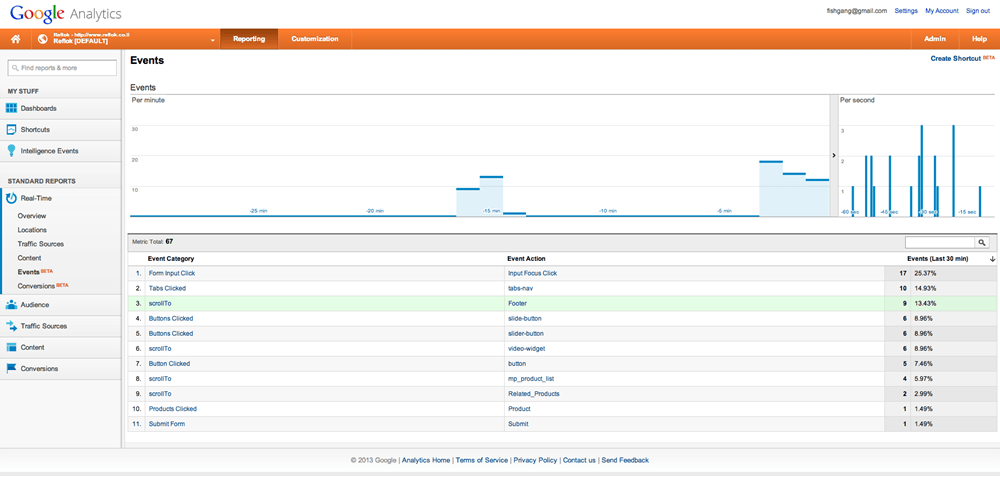 7. WP Statistics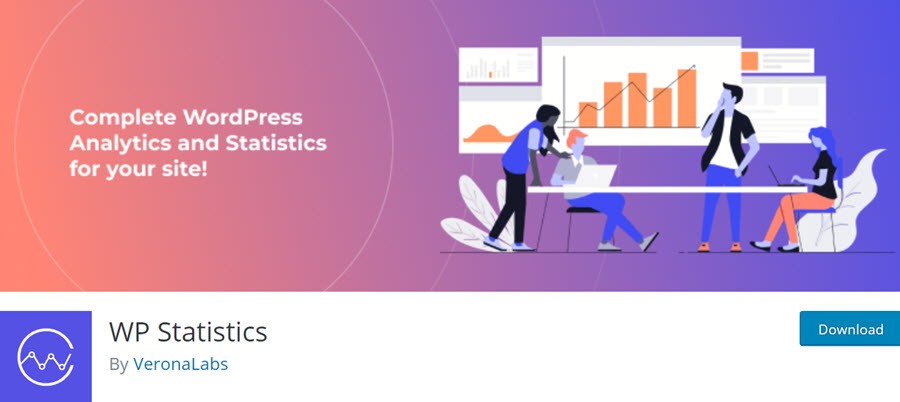 WP Statistics is a comprehensive plugin for WordPress visitor statistics. It helps the users, without depending on external services and user aggro gate data, to track statistics for the WordPress site whenever possible so that the user's policy is respected. Through the WordPress admin interface, on-screen statistics which are presented as graphs can be easily viewed. The features of this plugin are:
GeoIP location is provided according to the country.
To protect users' privacy and for hashing IP addresses in the database, the

plugin

 provides support.
For visitors' location, there is an interactive map.
An E-mail report of statistics is provided by the

plugin

.
Statistics can be recorded on exclusions.
For the admin area, there are dashboard widgets.
The database of old data is automatically pruned.
 The GeoIP address is automatically updated.
Total number of users – 600,000+
Screenshot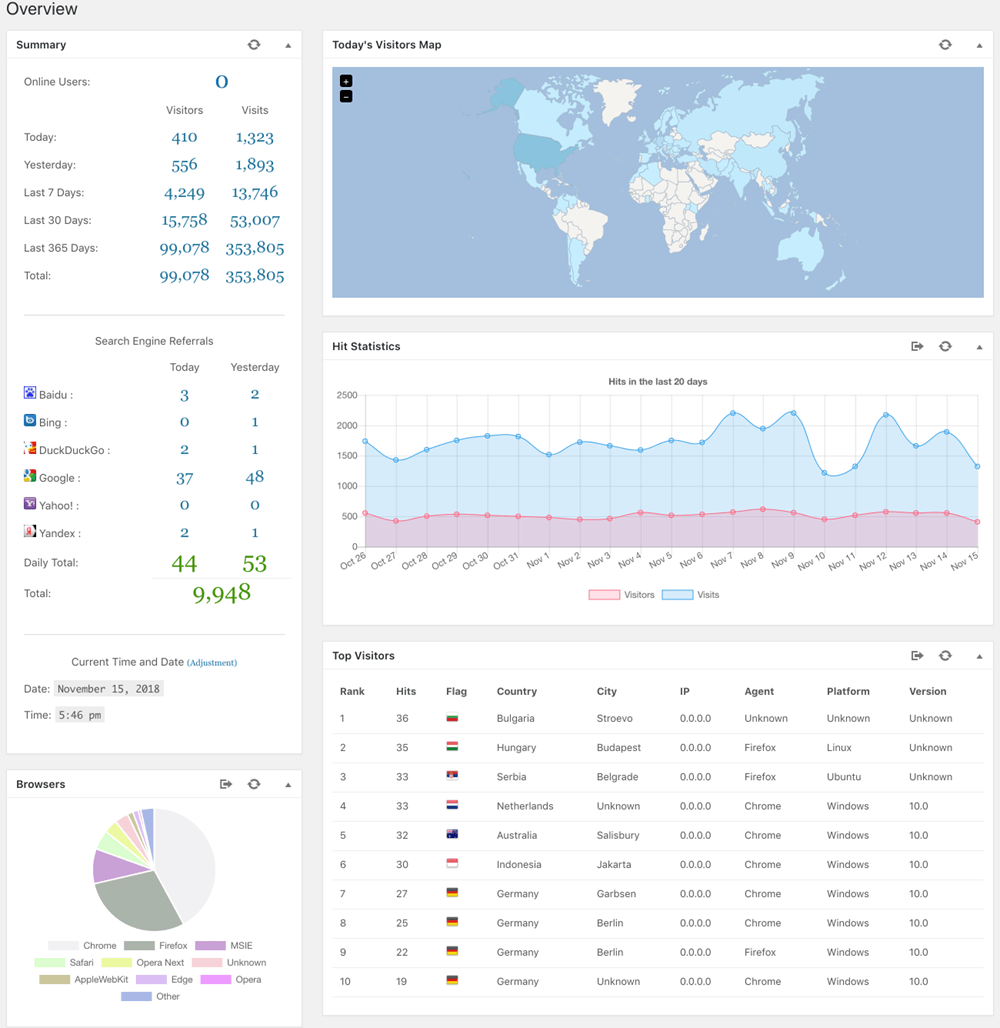 8. Google Analytics and Google Shopping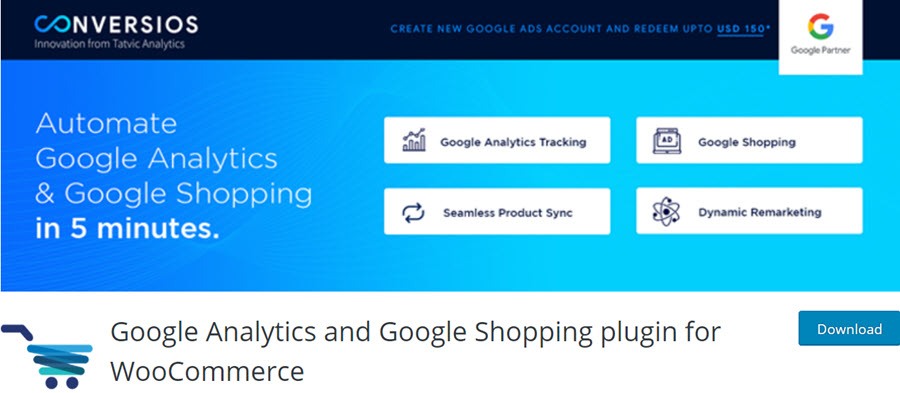 Total number of users – 40,000+
Conversios.io - Automate Google Analytics and Google Shopping for WooCommerce
Screenshot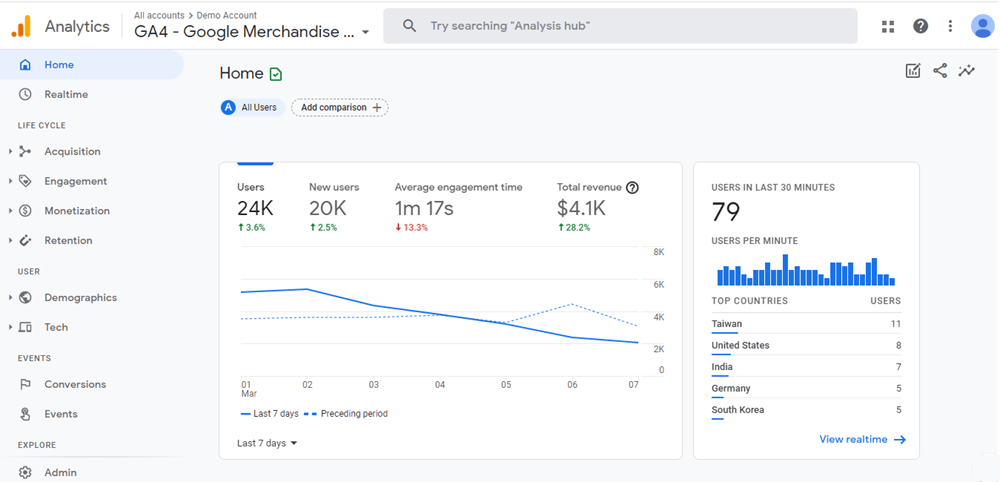 Conclusion – Are you still confused about which is the Best Google Analytics Plugins For WordPress? Don't worry my friend I will make your choice to Best Google Analytics Plugins For WordPress more simple. MonsterInsights is created by WordPress master Syed Balkhi and is trusted by almost all WordPress users even we are using MonsterInsights . so I will request you to used MonsterInsights free version if you find it useful upgrade it to pro. With the pro version, you will get a 14days Money-back Guarantee
So let's learn how to add it to your WordPress Website.