5 Best Two Factor Authentication Plugins WordPress 2019
Are you looking for Premium or Free Best Two Factor Authentication Plugins For WordPress . 2FA is the second layer security which you can add in your WordPress website to make it more secure . You can add authentication of user on login page .

Mostly WordPress is vulnerable with many kind of security bugs . Out of them one severs one is BRUTE-FORCE ATTACKS used by almost of hackers to hack any website . Even so many get victim of WORDPRESS TAKEOVERS and PHISHING AND KEYLOGGER ATTACKS . Which will ultimately lead to loss of your complete website data in hackers hand . Even some time people can easily guess their website password like "ADMIN123 , Admin124 " Just to overcome these error we need to Phising attacks we need to block access to your wp-admin by blocking wp-login page that can only be done by adding 2FA Plugins in your WordPress website .
What Is 2 Factor Authentication?
2FA is a authentication process by which we add another layer of security to make login any where online . Now a days two 2FA is used by almost of tech giant like Google , Facebook , Dropbox , Linkedin etc etc .  Almost of these tech companies they are using Google Authenticator their security purpose .
There are many kind of 2FA Validator such as .
Microsoft Authenticator
Google Authenticator
Authy
Free OTP
2STP
OTP
Auth
If you are looking for best security plugin then you read this articles 
So lets have the list for Best Two Factor Authentication Plugins For WordPress which is as follows:
1. Keyy

Keyy Two Factor Authentication plugin provides its users a greater security and user experience by replacing passwords with sophisticated RSA public key cryptography. One click access to all WordPress sites is provided simultaneously by this plugin.
The advantage of not using passwords protects the site from password stealing hacks such as key logging, shoulder surfing, brute-forcing, connection sniffing and many more. This enables logging in by just scanning a code with the phone.
Why keyy is most trusted 2FA plugin ?
Because keyy is developed by updraft plus developers team. They are know for their high quality work .
Total number of user  – 1,000+ 
Pricing – Keyy Personal – $39/yr, Keyy Plus – $59/yr, Keyy Ultimate – $99/yr

Free
Premium
Get Keyy Plugin coupon – Keyy1stBirthday
Screenshot 
2. Google Authenticator

MiniOrange 2 factor authentication 2FA Plugin provides its users an additional layer of security to the site. The two factor authentication is provided during login. This facility is only for a single user. The authentication methods which are available are QR code, Google authenticator, Soft token, push notification and security questions. The redirection is based on user role after login.
This plugin has also got the support of language translation. Multisite support is also available. Many types of login options are also available.
Total number of user  – 10,000+ 
Free
Screenshot


3. Rublon

Rublon Two Factor Authentiction plugin doesn't require any training and authentication but instantly provides security to all its users. The plugin can be downloaded in a single click.
This plugin doesn't send the user a one-time password each time he wants to log in. Instead it requires the user to confirm his identity by scanning a Rublon code or clicking on a link.
Many translations of this plugin are also available.
Total number of user  – 3,000+ 
Free
Screenshot

4. WP Google Authenticator

This plugin uses the Google Authentication app. This adds an extra layer of security to the the website through its two factor verification. In addition to the standard username, a one time password is also requires to login when using this plugin.
This plugin can be enabled individually for each user. A new secret key can be generated by the user anytime using this plugin. Applications passwords are supported. It also provides a recovery code in case the app can't be used by the user.
Total number of user  – 2,000+ 
Free
Screenshot

5. UpdraftPlus


A one-time code is used by Two Factor Authentication plugin to log in to the website. This adds an added layer of security to the website. Graphical QR codes are also displayed so that it can be easily scanned by apps on tablets and phones.
Until and unless the user has been identified with TFA enabled, a second factor is not mentioned or requested. Each user can on or off TFA or they can be made available on a per user basis. And then there are additional security checks apart from the original forked code.
Total number of user  – 8,000+ 
Free
Screenshot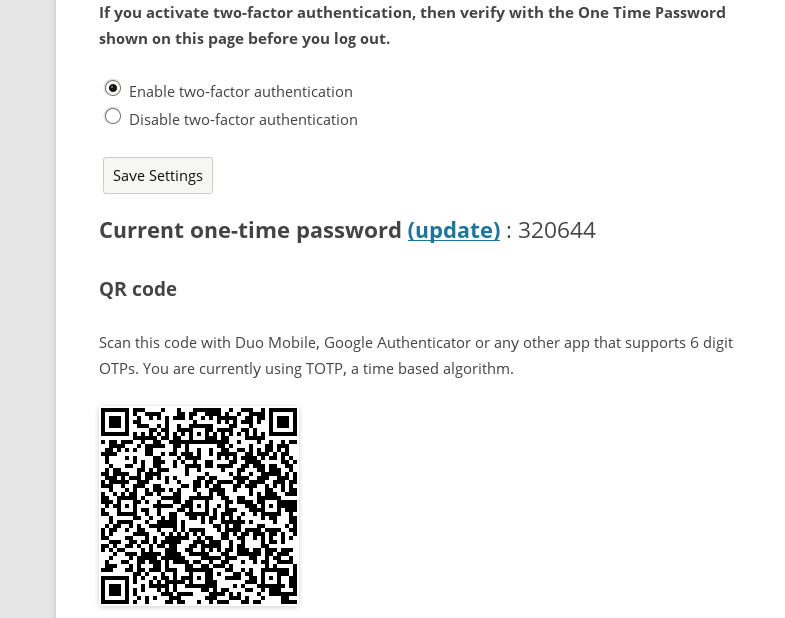 Conclusion – Are you still confused which is Best Two Factor Authentication Plugins For WordPress . Don't get confused my friend no matter you are looking for Premium or Free Authentication Plugins blindly go ahead with keyy Plugin . That will be the best option for you . Updates and support are managed by updraftplus team .