Running An Effective End Of Season Sale Using Advanced Coupons
Are you planning to launch a successful End Of Season Sale 2021 on your woocommerce website? End Of Season Sale (EOSS) is a stock clearance sale offered by many businesses. It gives your business a fresh start and also helps you earn some extra pennies to go into the next season. With increasing competition fighting over a shrinking pie, the one with the smartest strategy and aggressive tactics inevitably wins. You have to make more strategic and thoughtful decisions to make your sale profitable.

Advanced coupons plugin is the best WooCommerce plugin that helps you deploy discounts and coupon codes on your site to surpass your competitors and attract more customers.
Why Do You Need To Start End Of Season Sale?
End of Season Sale is a great way to entice your customers with discounts that may be available only once a year. This creates a sense of urgency and generates high traffic to your WooCommerce store. It can be used for stock clearance purposes. It also encourages your customers to shop at a slow time of the year. Seasonal sales are beckoning bells for customers who wait on the sidelines for price drops. Many customers wait for the end-of-season sale to overhaul their wardrobes. It contributes to your profit heavily and improves the top line.
Launching End of Season Sales that work requires planning in advance, and it is expected to begin three months after the beginning of the season.
4 Tips For Launching A Successful End Of Season Sale
1. Affiliate Marketing
Affiliate Marketing is a great advertising tool, and business rewards their affiliates for bringing each customer or visitor to their site. The main idea behind Affiliate Marketing is that you promote a product you like and earn a commission in return for each sale you make.
For your WooCommerce store, you can prepare a network of affiliate marketers. Inform them about the discounts and the items which will be on sale. You can also offer them free samples of sale items so that they can promote them to their followers.
Advanced Coupons plugin helps you set up Affiliate Marketing on your site. To begin with, go to Coupons and click on Add New. After that, click on the Add Product tab in the Coupons Data section. Add the product and set the discount to 100%.
You can also share the coupon code with your affiliates before the sale goes live, so they have enough time to plan their content around the product.
2. Creating a Sense Of Urgency
To run a successful sale on your site, you need to create a sense of immediacy to tap into your customers' Fear of Missing Out (FOMO). People are more likely to shop instantly if they know they have limited time to shop.
You can create this sense of urgency in multiple ways. One such way is to display stock quantities on your item listings, which creates a sense of scarcity and entails more people buying the product immediately.
Another way you may want to try is to impose coupon limits with the help of the Advanced Coupons Plugin. This allows you to set a daily limit for the coupon, encouraging customers to shop quickly.
To set daily coupon limits, go to your WordPress Dashboard and click on Coupons. After that, click on Add New tab. Now go to Coupon Data Section, and fill you the discount rate you'd like to offer.

Now, click on the Usage Limits tab and set the number of times a customer can use the coupon in a given time frame. You can also limit usage based on the number of items.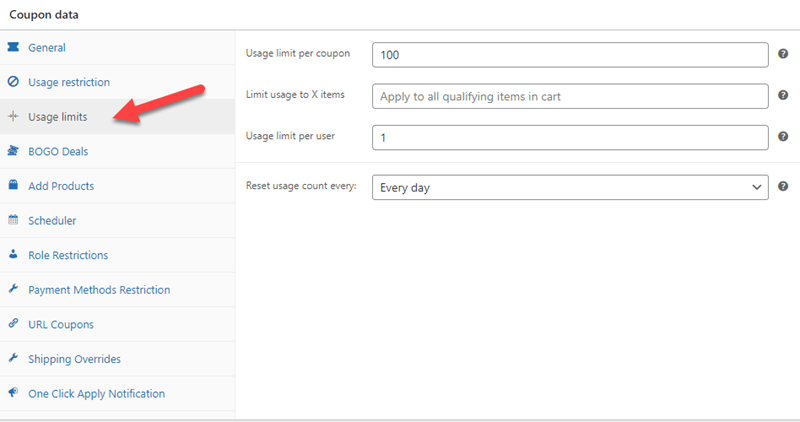 You can also offer a Next Order Coupon to your customers so that they can return to your site later. The following Order Coupon grants a discount to the customers when they shop for the next time on your site. To set a Next Order Coupon, go to General Tab under Coupon Data. Now scroll to Cart Conditions and select Within Hours After Customer Last Order from the drop-down. Click on Add button.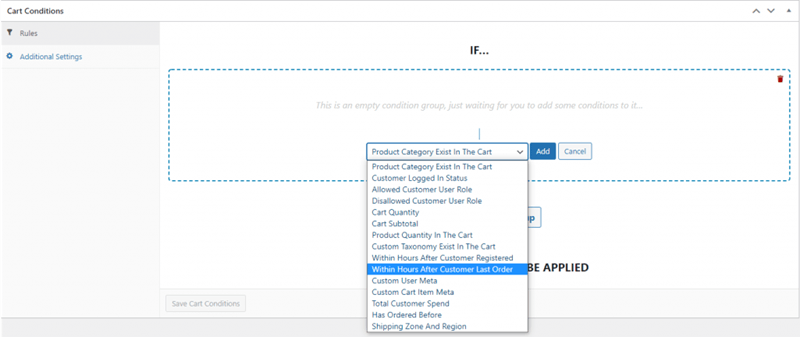 Specify the number of hours that should pass until the coupon expires. Make sure you give your customer enough time to return and shop from you. Once you're done, click on Save Cart Conditions.

3. No New Products In End Of Season Sales
Adding new products in End Of Season Sales is not a good idea, and this will not only cheapen your brand value but will also train your customers to wait for discounts rather than paying you the full amount.
However, you can offer new products at a discount to your Loyal Customers or customers who have spent a huge amount of money in your store. To do this, you must create a new coupon using a Percentage discount. Under the Coupon Data section, click on the "Usage Restriction" tab. Here you have an option to add individual products in the Product Section or the entire category in the Product categories field. For example, you can add "New Arrivals" to the product category.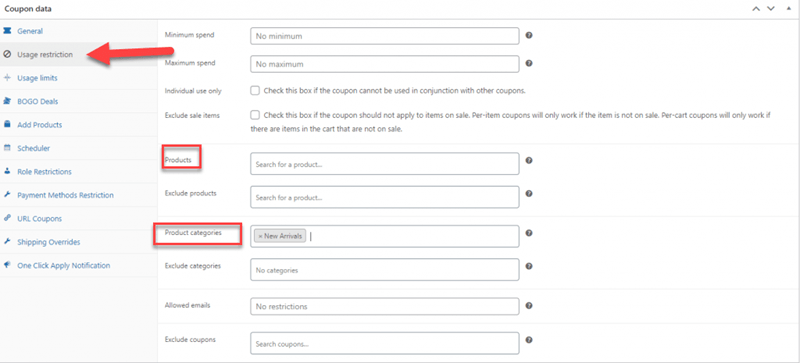 Now you have to set the amount the customers need to spend to avail of a discount. To do this, scroll down to "Cart Conditions". Then, select Total Customer Spend from the drop-down menu and enter the amount in the Total Spend Box.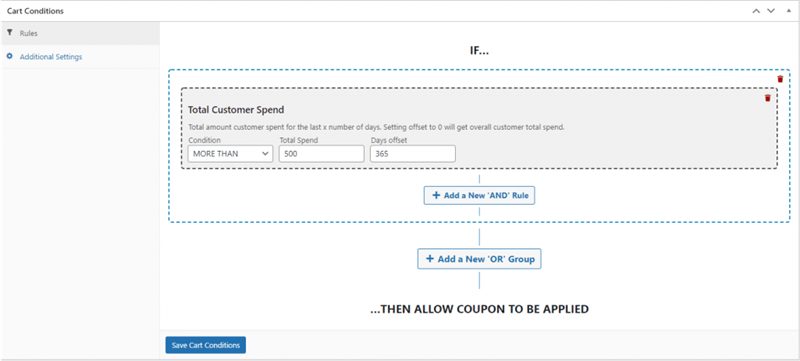 4. Offering Deeper Discounts Over Time
Offering Deeper discounts at the beginning of the sale may cause you some loss in terms of money. To avoid this, you can offer progressively better discounts towards the end of the sale.
You can schedule your discounts in advance with the help of the Advanced Coupons Plugin. To do this, go to the Scheduler tab under Coupon Data settings. Fill in the "Coupon Start Date" and " Coupon Expiry Date"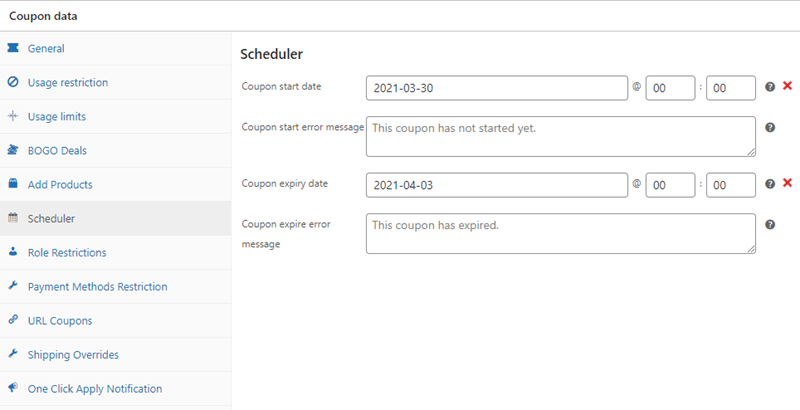 You can offer modest discounts at the beginning of the sale and progress to deeper discounts towards the end of the sale. You can do this as many times as you'd want with the help of Advanced Coupons.
With the help of the Advanced Coupons Plugin, you can create Auto-Apply Coupons just by checking the Enable auto-apply for this coupon box at the right of the screen.

At the end of the sales, you can send coupons to those who have abandoned the products in the cart.