9 Best WooCommerce Multi-Vendor Plugins 2021 (Compared)
Are you looking for premium or free Best WooCommerce Multi-Vendor Plugins For eCommerce?  Many plugins can allow you to create your online marketplace to sells their products from a different country on your website like a complete pro marketplace

Ever dream of having your own Multi Vendor Store just like Amazon and Flipkart? Well, the answer is just a Plugin away!  Building up a marketplace niche while working on the WordPress interface is not a distant dream, yes it is possible. Looking at the sea of multi-vendor plugins, it can be quite confusing to choose the right one for you. Major reasons for success for major tech brands like eBay, Amazon and Etsy is their multi-vendor option on their website. This creates competition among them the sellers and allows people to choose products with multiple options.
You may also be interested in Landing Plugins Plugins, Email marketing Service,   abandoned cart plugin And FOMO Plugins 
So let's have the list of top Multi-Vendor Marketplace Plugins for WooCommerce platforms are as follows
1. Dokan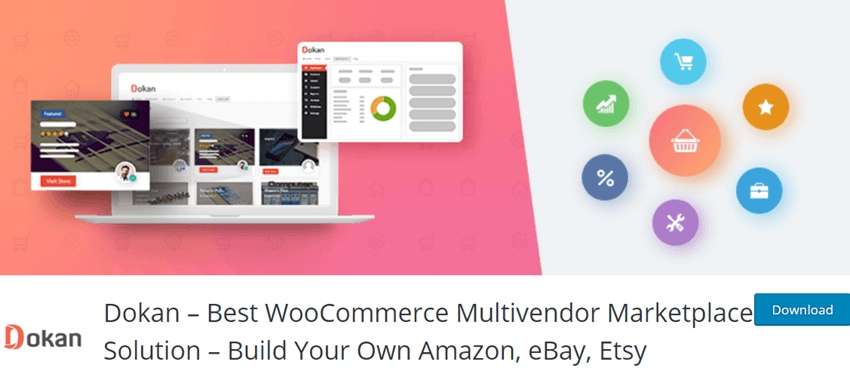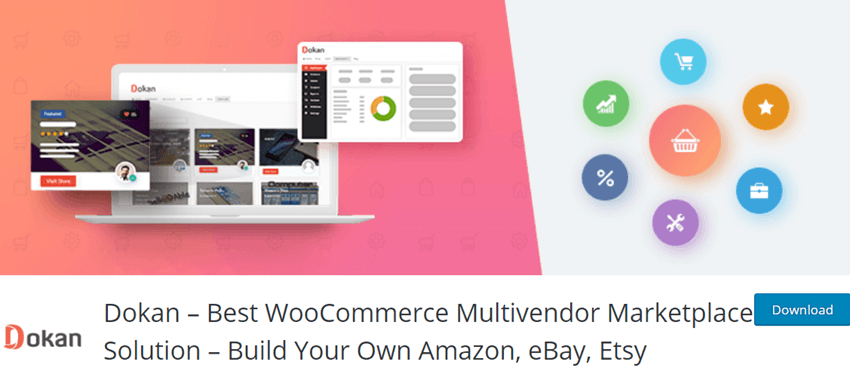 Dokan is the most leveraged and popular Multi vendor e-Commerce plugin powered by WooCommerce. It's just a matter of 30 minutes and you can have your Multi-Vendor Store like Amazon, Shopify, eBay, Magento. This plugin is the best solution for a multi-vendor marketplace on WordPress. Besides supporting all the features of WooCommerce Frontend Manager, it provides a handful of options for you to explore
One of the quickest ways to kick start your ECommerce manifesto and make money from a range of products. Imparts a complete Front end-user interface wherein a personalized dashboard can be created.
A definitive yet growing tool and incorporates trendy new features with every update. Gives a wide approach to unlimited vendors with each vendor unlimited products.
Dokan supports 25+ languages which means you have the freedom to use your eCommerce website in any language
Pros
Excellent admin features and fantastic front-end vendor dashboard.
Store location at finger-tips – The location map of the store reflects at the store front end making it easy to find stores.
Earnings from Each sale – The concept of per vendor percentage override helps you earn a commission at each sale point.
Order Management allows the vendors to view the entire order details of the customers.
Admin has the authority to approve/disapprove a seller or his products.
Fulfilment of orders is eased by the generation of invoices.
You would love the flexibility it provides for Shipping Management. The shipment rates are categorized by zone, country, distance and weight.
Search the most popular stores based on the radius, zip code, city or category.
Provides globally supported Payment options. You have the pliability to pay via multiple options like cash, bank transfer, PayPal, Stripe, Skrill
Cons
This plugin is perfect for everyone but if you are running a booking eCommerce website then you need to make extra modifications
Total number of users – 60,000+
Price – Starter – $119/annually (1 Site), Professional – $187/annually (3 Site), Business – $349/annually (5 Site), Enterprise – $649/annually (20 Site)
Addons – Dokan woocommerce booking integration | wedevs dokan simple auctions | Complete package 
Dokan - Best eCommerce Multi Vendor marketplace solution - Powered by WordPress
Easy Guide to Dokan Single Product Multiple Vendor
Screenshot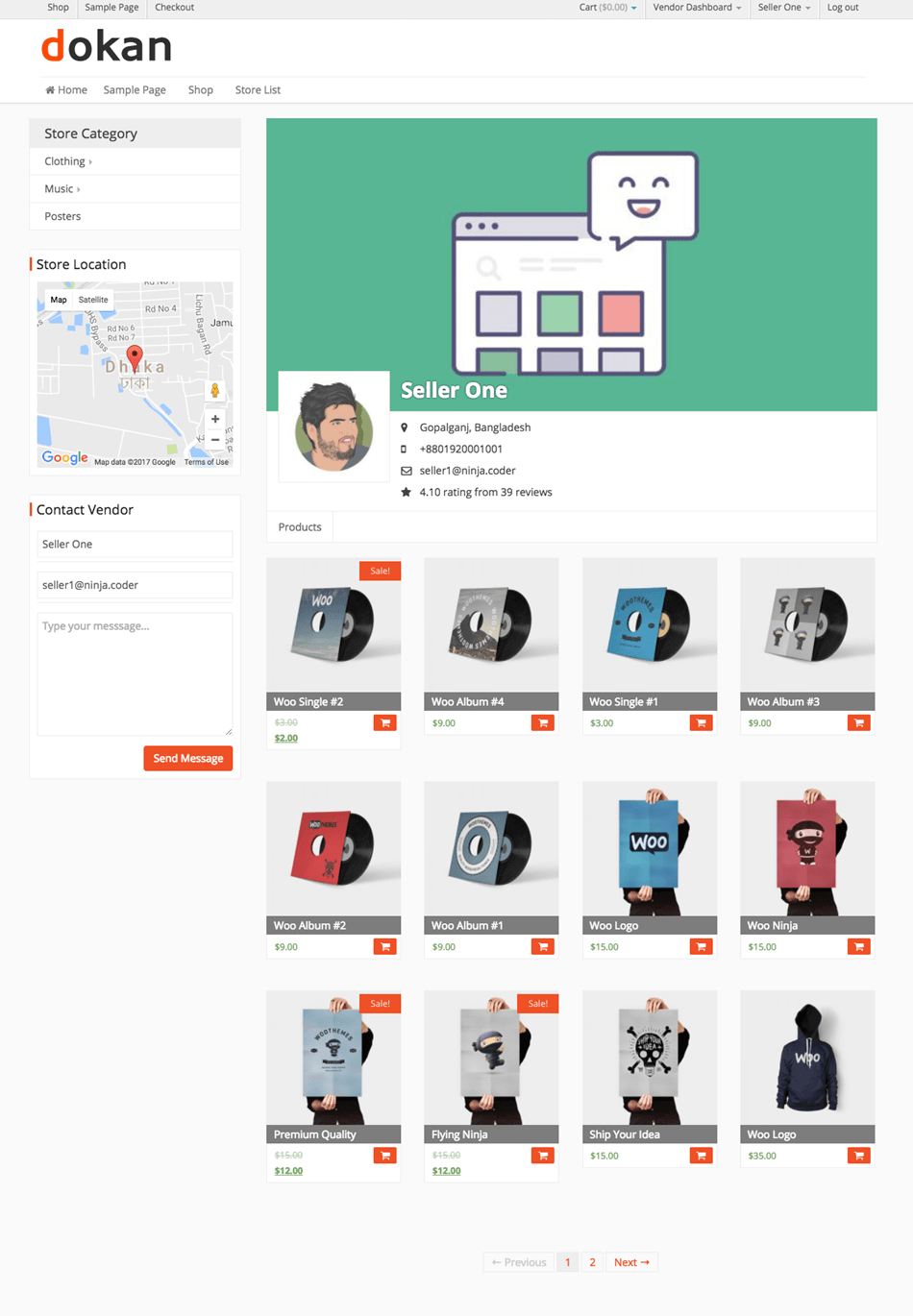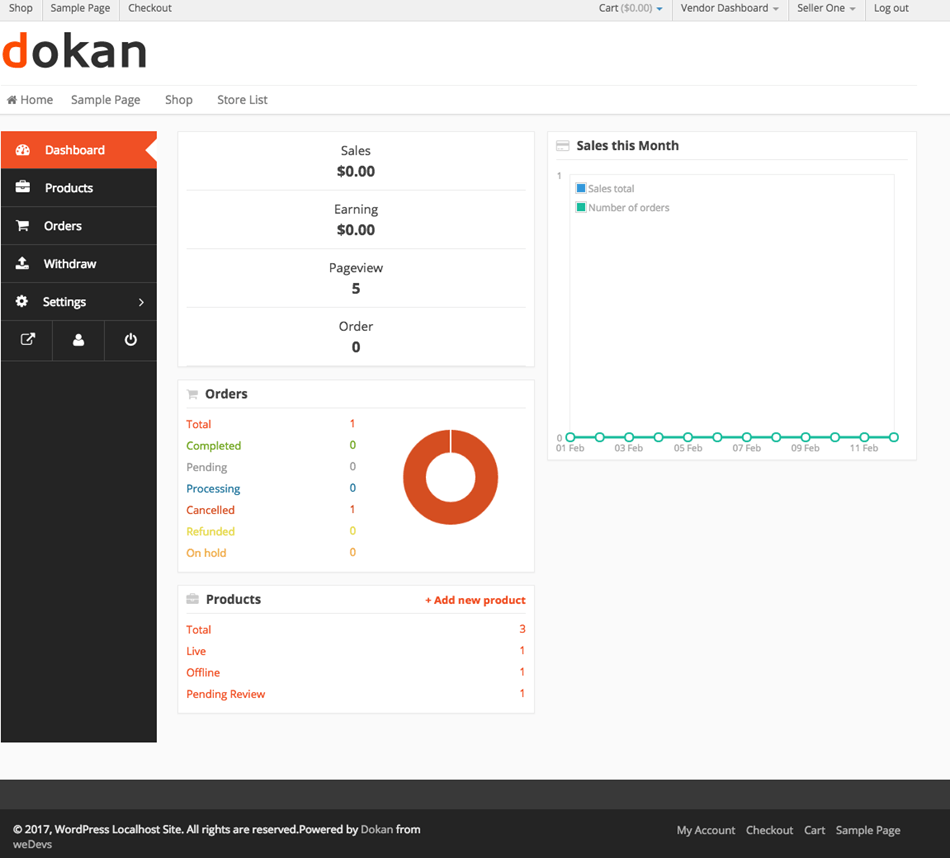 2. WCFM Marketplace By WC Lovers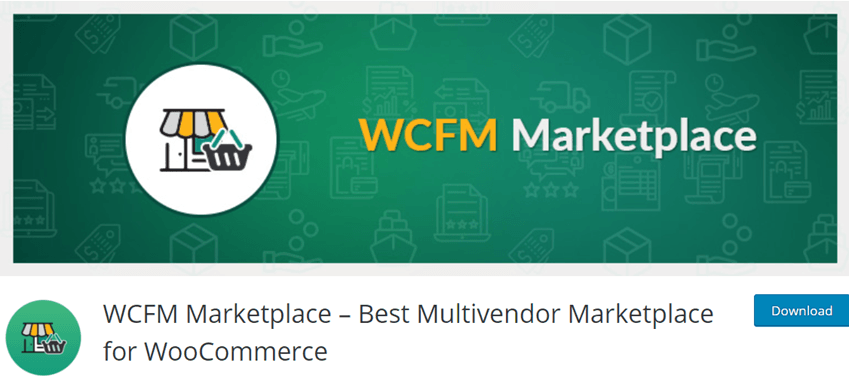 WCFM Marketplace By WC Lovers versatile Multi Vendor plugin for woocommerce is multi-featured giving you all the reasons to opt for it. It provides a magnificent solution for a virtual market. The plugin comprises all the mandatory features bundled up to expand, build and execute your marketplace.
Feature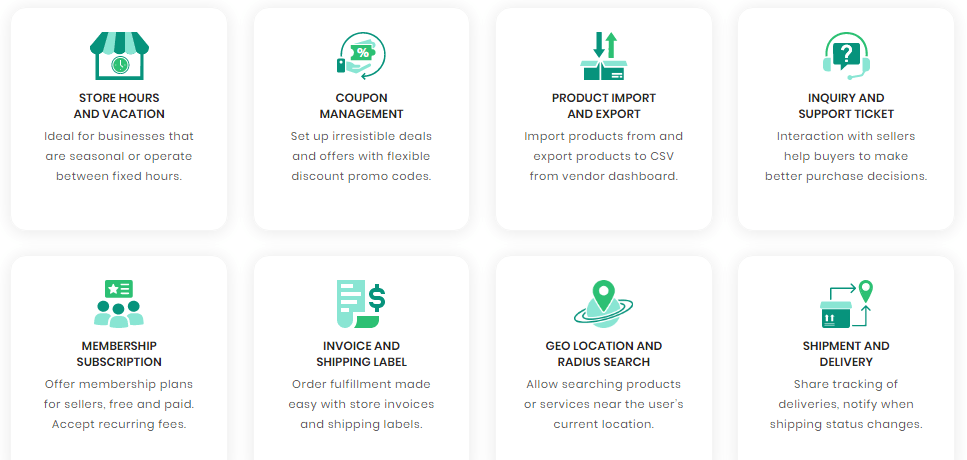 Provides world-class front-end features to the vendors as well as the admins. Forget the pain of developing using a boring backend.
A treat to the business types that operate for fixed hours or are seasonal. Store hours provide the perks of a happy vacation.
Seamless and attractive management of coupons that tantalize the customers for irresistible deals and discounts.
Efficient, easy and provides a great hand in cost reduction.
The search feature allows the users to look for the products in a definite region, radius or location.
Get the products exported and imported to CSV from the vendor dashboard in a single click.
Membership plans can be offered to the sellers. It can be either paid or free of cost.
Support Tickets and Inquiry have a great role to play. It helps the customers to interact with the sellers to make improved purchasing decisions.
Live status for Delivery and Shipment. Update the users as soon as the status changes.
Fulfilment of orders is made swift by the generation of customer invoices and labels.
Easy management of all the vendors without much of a head-scratching.
The presence of flexible commission schemes and modes provide the admin with abundant choices of paying.
Easy Refunds, Withdrawal and Reverse Withdrawal feature.
The policies regarding the orders, cancellations and Refunds can be displayed under the Policy section.
The best part of wc loves is this plugin is
Total number of users – 30,000+
Price – WC Vendor Pro Annual – $199 (Single Site),  WC Vendor Pro Lifetime – $599 (Single Site)
WooCommerce Multivendor Marketplace (WCfM Marketplace) - Installation and Overview
Screenshot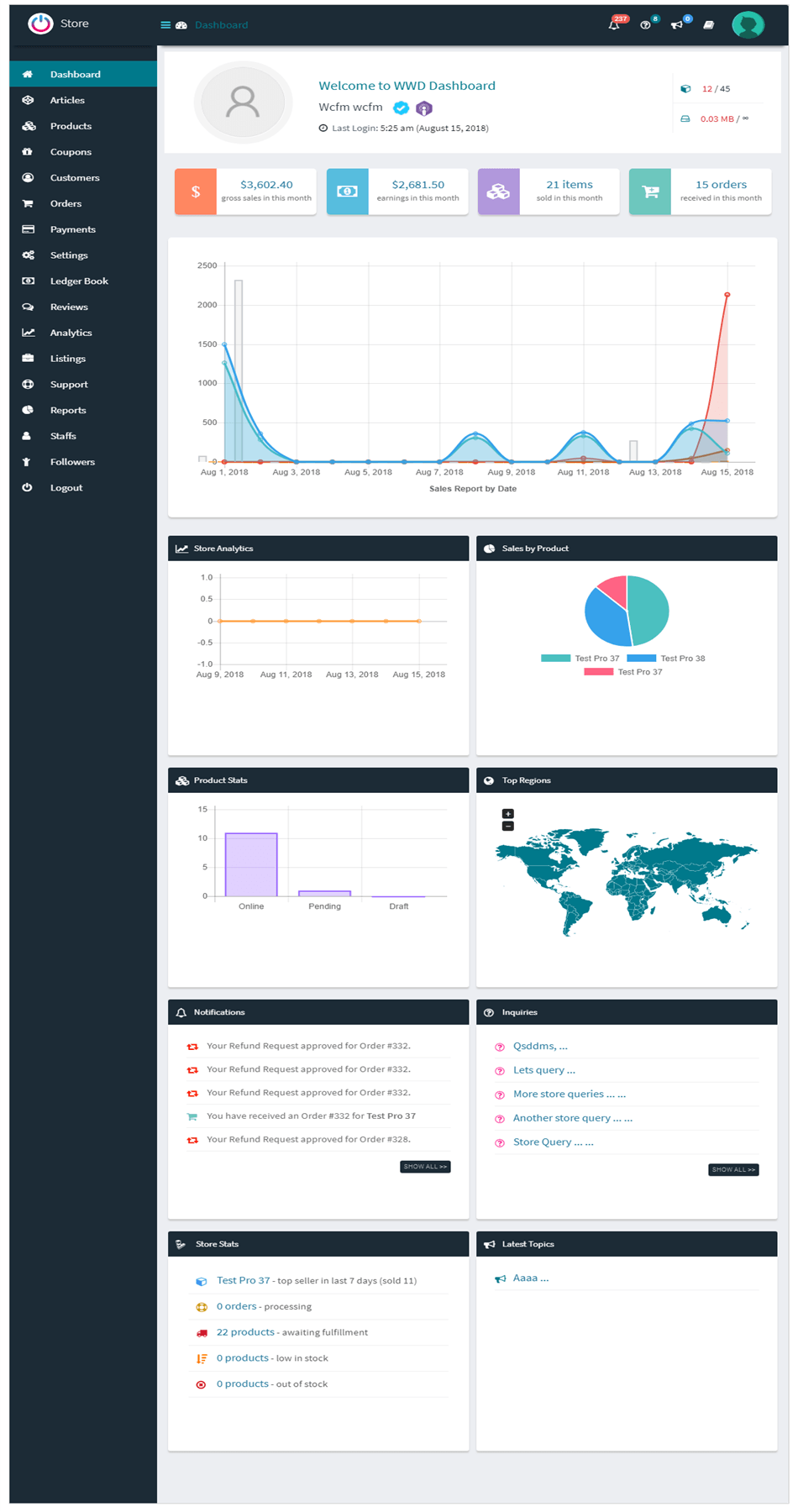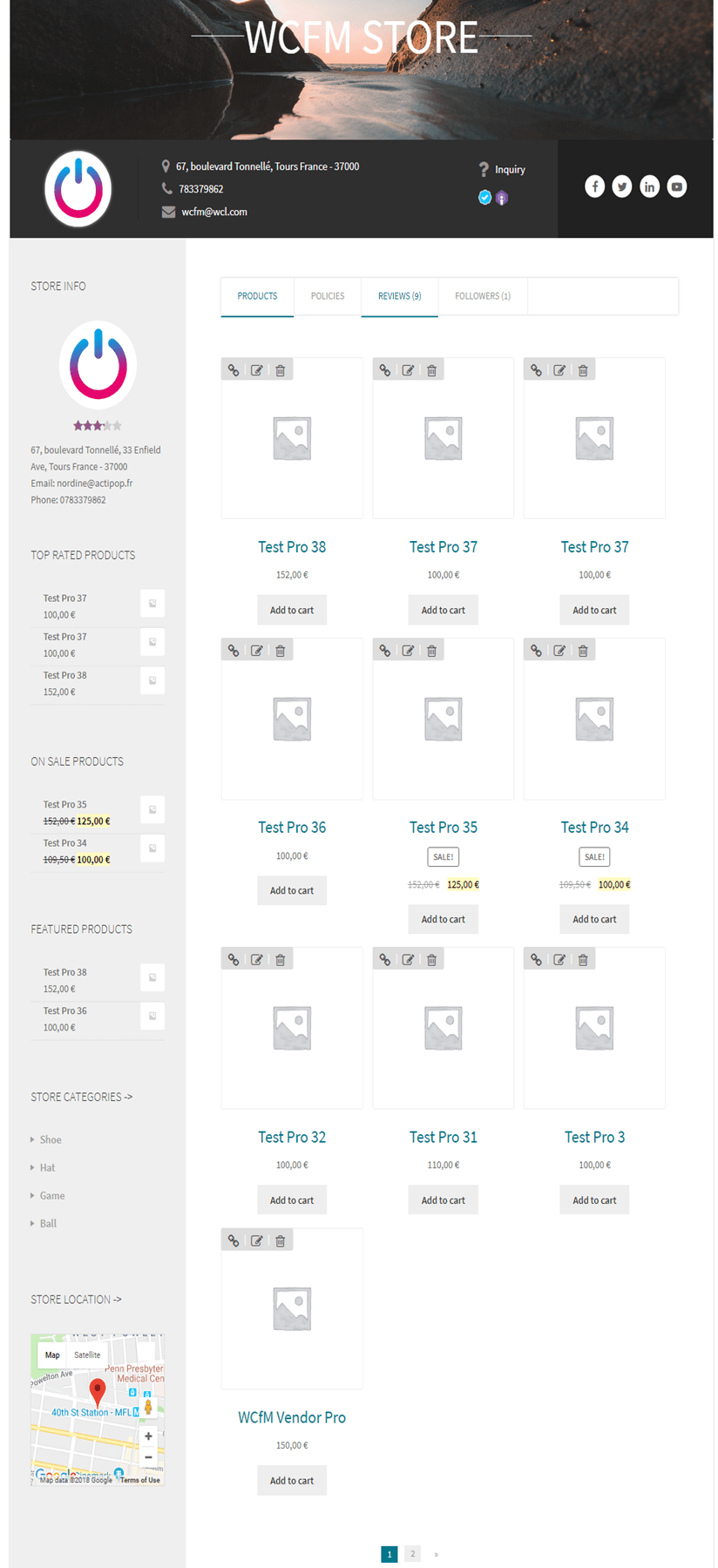 3. WC Vendors Marketplace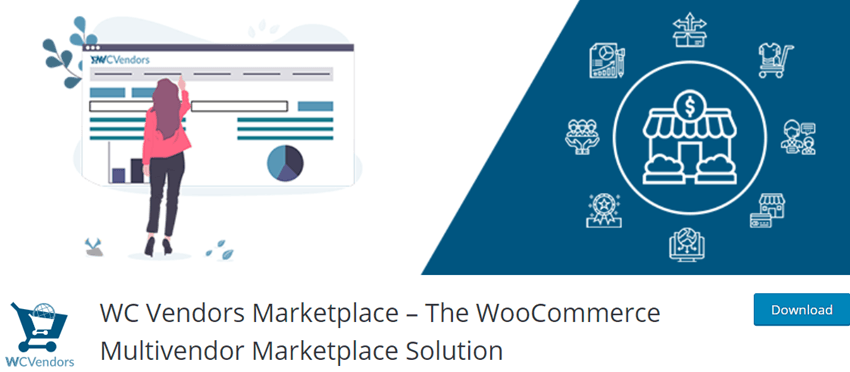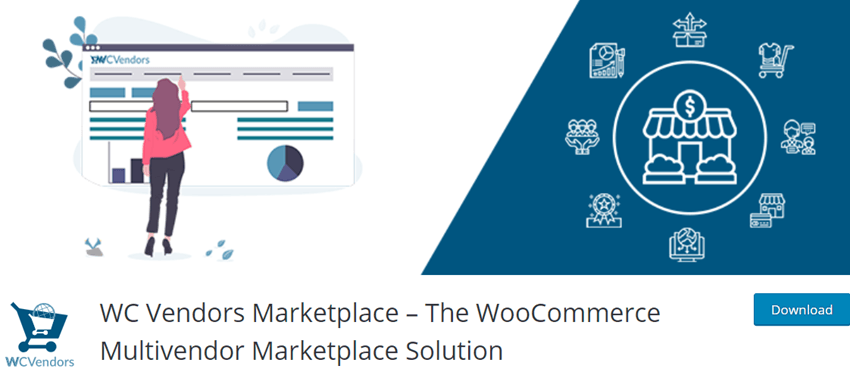 A feature-rich woocommerce multistore plugin trusted by over 20,000 users and assisting them in creating and controlling their multi-seller marketplace and generate revenue. Sites like Envato, Amazon and eBay etc. can be a selling point for all the vendors, for both virtual and tangible products including the downloads.
A common page where your products alongside the vendor's products can be sold, you generate revenue and vendor's make commission. Gained popularity due to its unique marketing strategy and support system.
Pros
Blends almost all the strong features of other best Multi-Vendor plugins. Even the front-end features are live now.
One of the best options is if you have a small budget and looking for a good multi-vendor marketplace with front-end features.
The customers are delighted by the real-time support they receive through the live chat feature.
All the Policies regarding the placement of orders, cancellation and refunds are available in the Policies section.
Cons
Incapable of generating seller statement reports.
Does not have a back ordering system and cannot store specific contact form.
Total number of users – 9000+ 
Pricing  – Complete Bundle $494 for 12-month support and update up to 3 sites 
Screenshot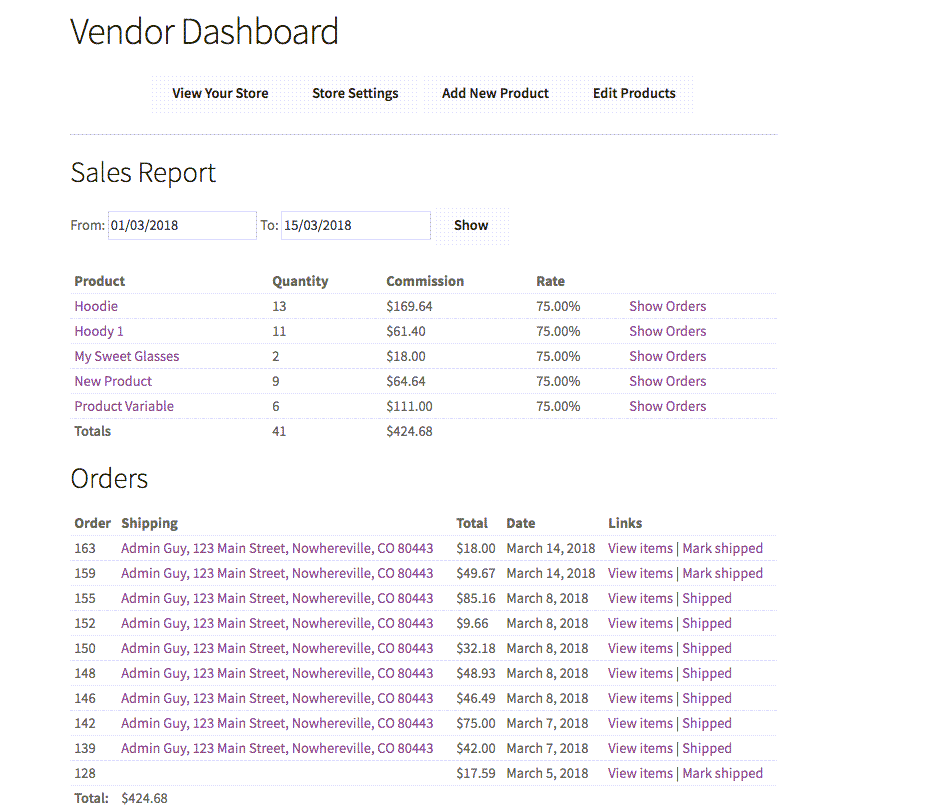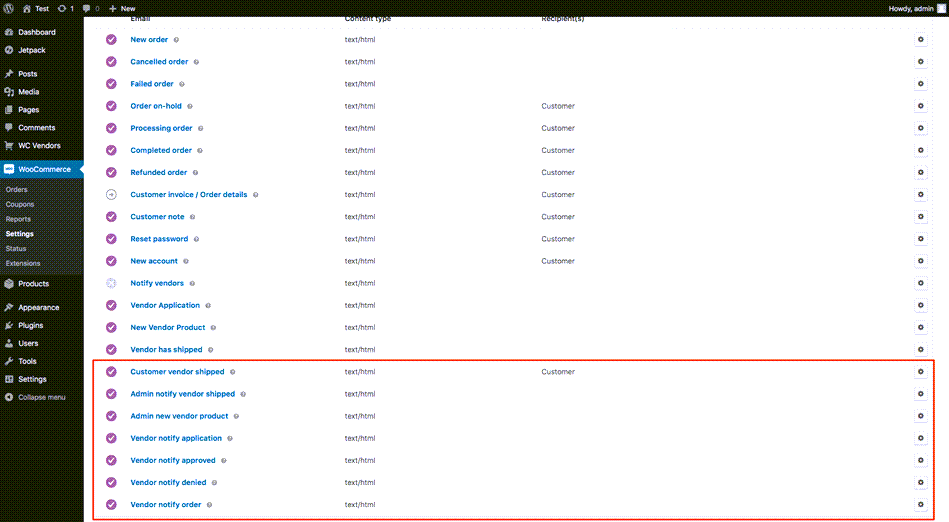 4. WooCommerce Product Vendors

Product Vendors is yet another tool with WooCommerce enforcement. If you want to turn your WooCommerce store into a marketplace with numerous products, unlimited vendor options and payout settings then Product Vendors is the answer.
The best way for revenue diversification is if you have an existing community and loyal vendor group. Even if you are a beginner and looking for a notable start-up, Product Vendors comes in handy. An excellent tool to incentivize vendors as per their categorization (new or loyal).
Pros
Diversified Marketplace – Offers an immensely vast product marketplace from hand-made items to digital downloads like themes, audio etc and even time-based bookings integrated with WooCommerce bookings.
The sale of your products along with the vendors can be achieved by displaying products from multiple sources on the same platform.
Each seller is blessed with a separate profile.
A cherry on the cake is the Withdrawal feature. It can either be scheduled or manual. The withdrawals can also be done based on order status.
Cons
Does not generate any seller statement reports.
Making announcements and signup to social media is not supported.
Price – 1 Site – $79/annually
Screenshot


5. YITH WooCommerce Multi Vendor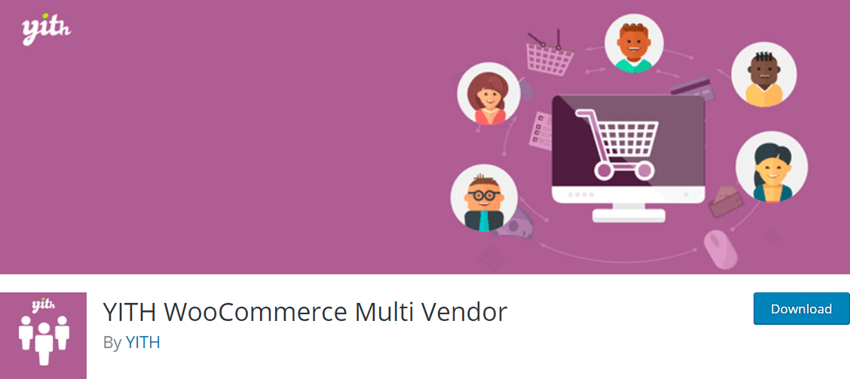 YITH Multi-Vendor is yet another platform where other vendors can bring their products and offer for sale and thus generate commissions. This plugin is helpful to host a multi-vendor marketplace platform and create your marketplace so that maximum traffic is driven towards your site and help you establish a better position in the search engine ranking system.
And, at the same time commission can be earned without any extra effort, Hence, rendering a dual advantage for you. WooCommerce vendor's page can be customized with additional information like contact numbers, social networks etc.
Pros
Specialist in downloadable products.
Separate sections for vendors, shop owners, commission earners –   a user-friendly interface.
The commission system offered by the plugin is extremely powerful. The owners are always flooded with choices. It can be fixed, based on the percentage of the goods sold or categorized based on products, vendors and memberships.
Seller Verification is another excellent feature that gives the customers a sense of trust and the vendors a sense of contentment
Cons
Lacks front end dashboard for vendors. Also, incapable of adding or updating products or services from the front end.
Single product multiple seller option is missing which somehow curtails the commission earning potential.
Total number of users – 1,000+
Price – 1 Site – $ 99.99/ year
Screenshot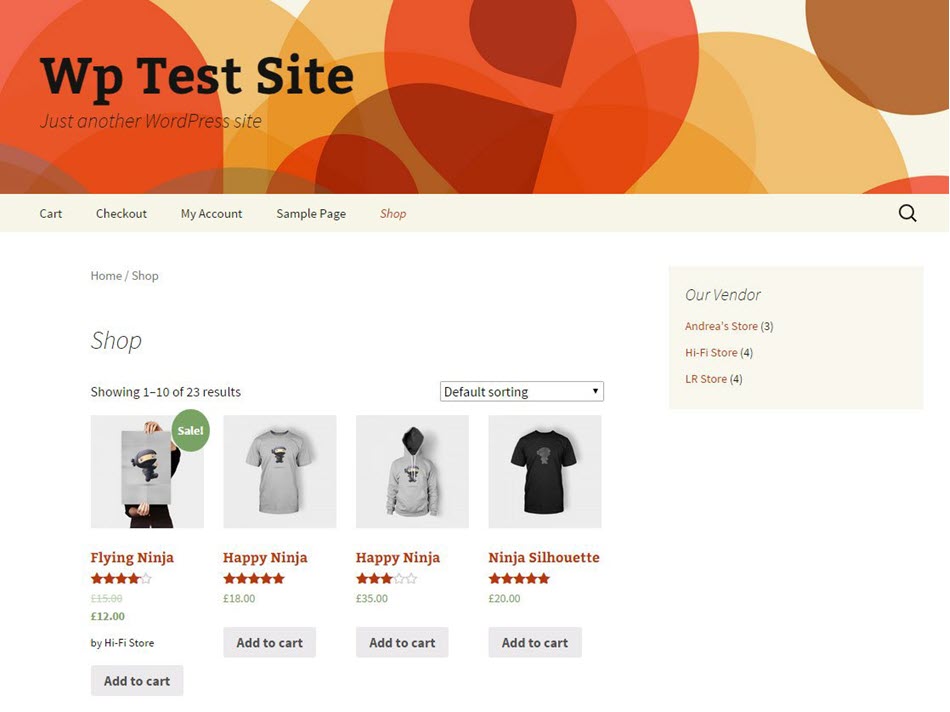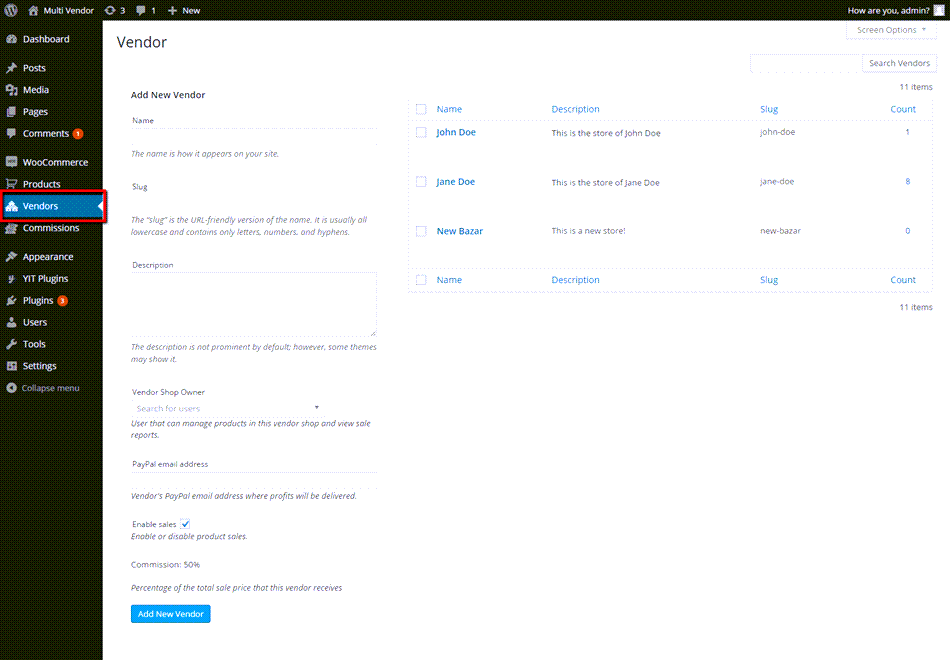 6. WC Marketplace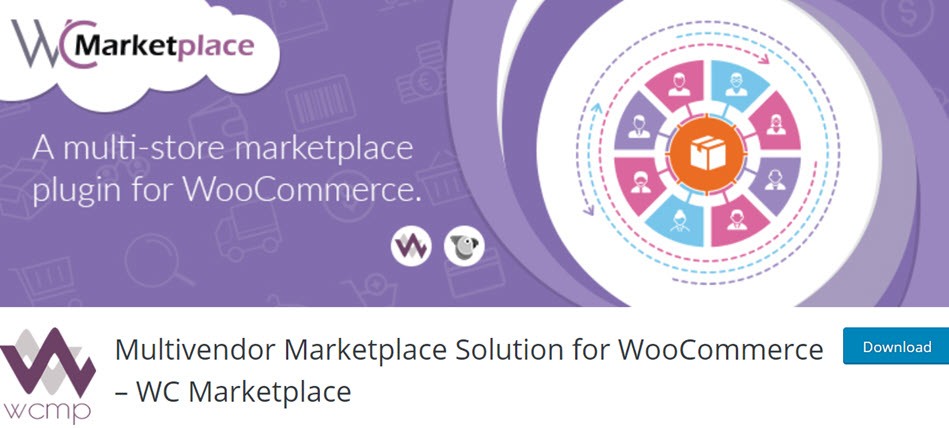 WC Marketplace is yet another new multi-seller WooCommerce platform engineered to understand the WC marketplace. The core functionality can be accessed for free and frond end capabilities can be purchased if you want.
PayPal and Stripe payment gateways are supported by WC Marketplace. Incorporates features like vendor approval capabilities, admin control options and scheduling auto payments and withdrawal payments.
Pros
Though a latecomer in the WC market incorporates exhaustive features that other vendors offer in premium or pro features and it all comes at no cost.
Backed with an excellent support system that offers friendly support, prompt reply and instant solution with a TAT of 12 hrs. even on busiest of the days.
Cons
No front end order tracking module.
Lacks seller verification and trusted seller tags.
Total number of users – 10000+ 
Pricing  – Free, $199 – 1 year, $349 – 2 years 
Screenshot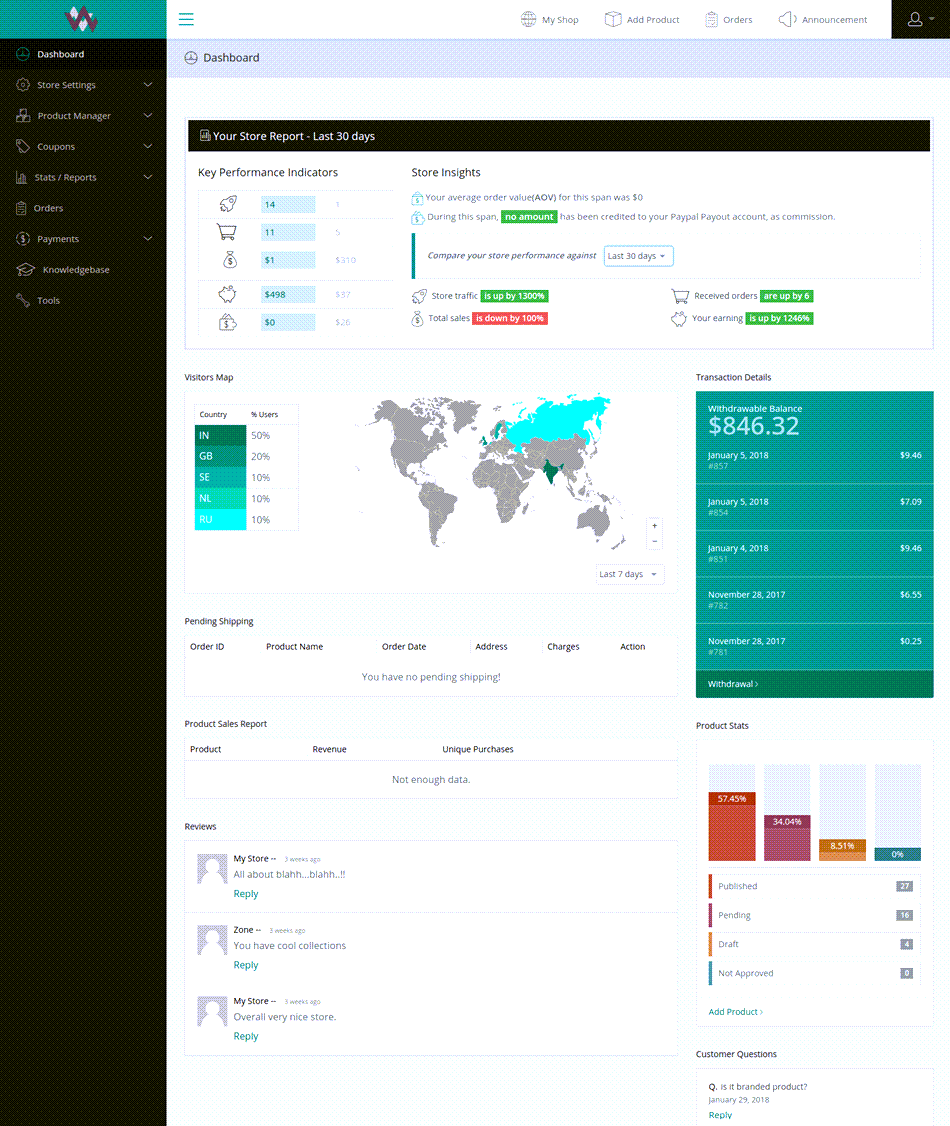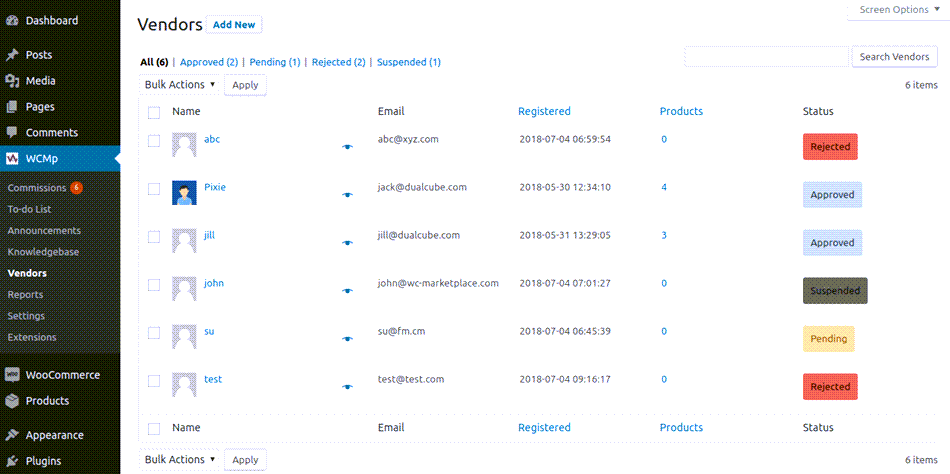 7. WordPress WooCommerce Multi-Vendor Marketplace

The multi-vendor marketplace Plugin has proved to be a boon in the world of eCommerce. It provides an easy win-win situation for both the admins and the vendors. Both parties have complete control over the features and products they want to advertise to the customers. The plugin is easy to use with all the functionalities in one place.
Features:
Let's jump to have a quick sneak peek of the features presented by the plugin:
A URL structure that is extremely SEO friendly.
Provides the sellers with an option to update their profiles. They can add, delete or modify the products in the seller panel. Can always have a quick analysis from the seller dashboard.
The admins no longer suffer through the pain of a boring backend. They now have the privilege to control through the mesmerizing front end.
Presence of varied commission schemes and modes to be granted as per the deal.
Versatile support for all types of Products.
Feature to rate and review the products which help the customers to make better purchasing decisions.
Provision to add your favourite seller.
Admin has the access to assign a product to a seller of his choice.
Sellers are authorized to manage to ship Products.
The' Product by' feature helps the users to recognize the Sellers of each Product.
Total number of users – 846+ 
Pricing  – Regular License – $99/Year (1 Site)
Screenshot
8. Vendorpro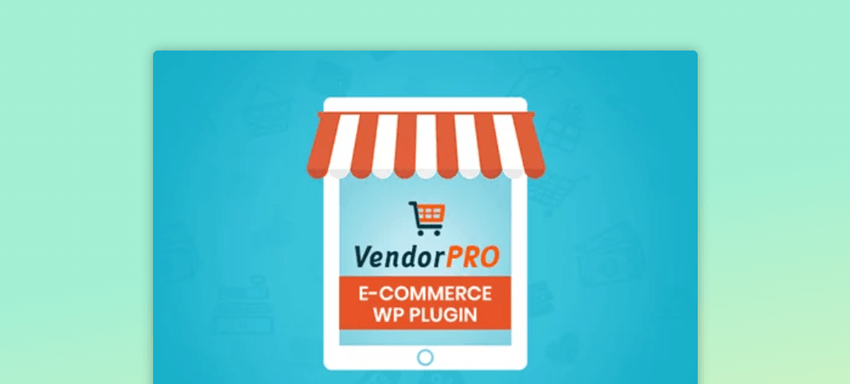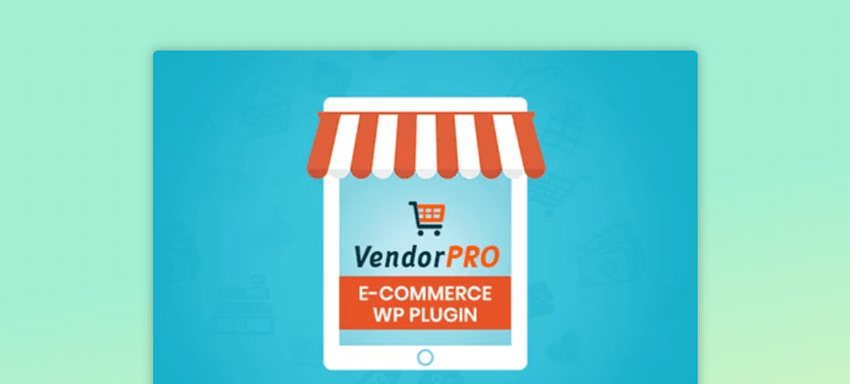 VendorPro is a distinctive Multi Vendor Marketplace for WooCommerce stores that empowers you to Convert your eCommerce website into multi-store sites. Accompanied by the developer's license the plugin can be used on an inexhaustible number of domains and websites.
Many advanced features can be supported by this plugin like inviting sellers on your website and grant them league rights and ultimately creating an opportunity to earn commissions from their sales. The plugin is integrated with PayPal a secured payment gateway.
Pros
Profit for affiliates – A base commission can be set up on the products which can also be manually configured. The commissions earned by the vendors and the due payments can be analyzed minutely via a dedicated commission setting tab.
Vendor Empowerment – Special privileges can be granted to the vendors via vendor capabilities setting tab like show/hide or delete products, manage orders on products and creation of blogs.
Renders a Versatile Support System
Cons
Seller statement report cannot be generated.
Price – 1 Site – $97/annually
Screenshot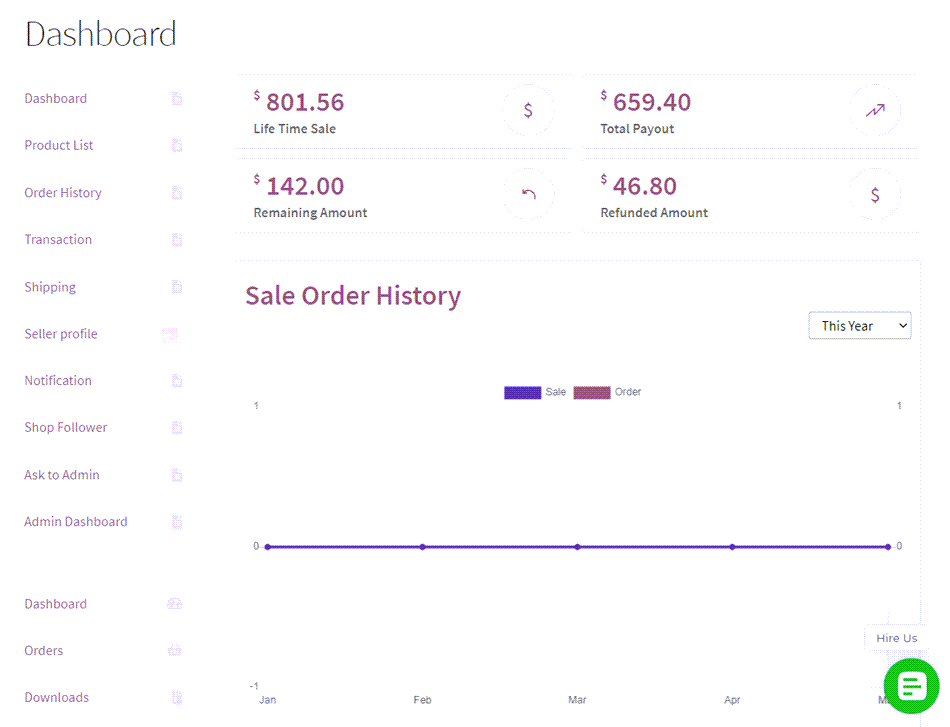 9. Easy Digital Commissions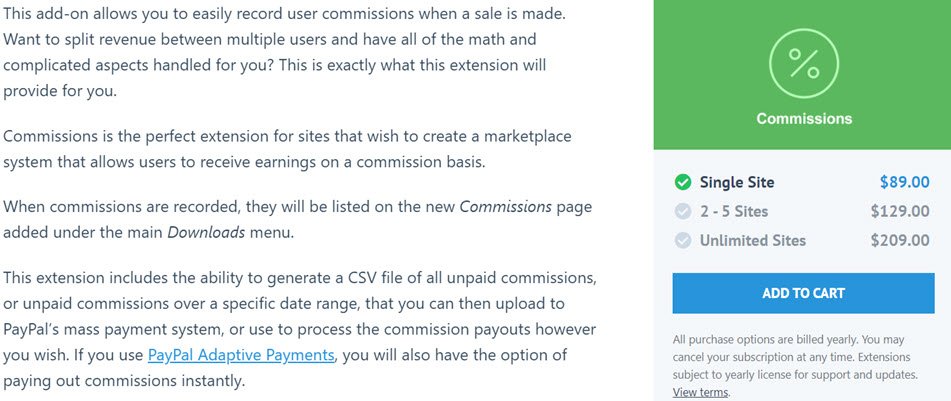 Price – 1 Site – $89/annually,  5 Site – $129/annually,  Unlimited Site – $209/annually
Screenshot
Comparison Between Dokan

VS 

WC Vendors

VS

 YITH WooCommerce Multi Vendor

VS

 WC Marketplace 
Plugin
Dokan
WC Product Vendors
YITH WC Multi-Vendor
WC Vendors (Marketplace)
General Functions
Reviews Management
 
 
 
 
Google Maps
 
 
 
 
Trusted Seller?
 
 
 
 
Shipping Management
 
 
 
 
Back Ordering System
 
 
 
 
Order Email Notifications
 
 
 
 
Shipping Management
 
 
 
 
Store SEO
 
 
 
 
Multilingual
  25+
  12
  4
  12
Frontend Management
Vendors Dashboard
 
 
 
 
Product Management
 
 
 
 
Payment Withdrawl System
 
 
 
 
Order Management
 
 
 
 
Seller Statement Reports
 
 
 
 
Marketplace Admin
Vendor Approval
 
 
 
 
Control Vendor Capabilities
 
 
 
 
Product, order, coupon management
 
 
 
 
Multiple Commission Types
All Type Support
Very Limited
Limited
Limited
Admin Reports
 
 
 
 
Buyer's Query
Support
Documentation, Support Forums 1 Year
Contact, Help Guides, Support Forums, FAQs 1 Year
Documentation, Support Forum 1 year
Documentation, Support Forums 1 Year
Moneyback Guarantee
Within 30 days
No Refund
Within 30 days
7 Days
Price
Free, Starter $149/year, Professional $249/year, Business $499/year
Free , $199 – 1 year , $349 – 2 years
89.99€ For single year update and support
Free , $199 – 1 year , $349 – 2 years
Buy
Buy
Buy
Buy
Conclusion – Still confused my which is good WooCommerce Multi Vendor Plugins you should for your eCommerce store? Don't get confused my friend no matter you are looking for premium or free wedev dokan or wclovers both are worth and best out of all in all comparison for free versions also. And it's worth buying the premium version.   I hope that this comparative blog will help you choose the Best Multi-Vendor E-Commerce WP plugin and you can create a wonderful marketplace for yourself!