9 Best Facebook Feed & Widget Plugin For WordPress 2023
Facebook is one of the biggest social media platforms globally, with around 2.3 billion users worldwide. Showing your Facebook feed, like button, the widget in the sidebar, Page Embed on the website can easily be added with the help of the WordPress Facebook plugin. 

Facebook allows us to integrate with any tool to increase our social interaction with our website visitors, like Facebook Live feed, Like box, widget, display post, restrict content, messenger, Autopost, comments and Facebook pixel for business, social sharing, etc. Usually, integrating Facebook with WordPress will be difficult when a beginner. So for integrating Facebook into our WordPress website, we use the Facebook plugin. So let's have our list of Best Facebook Feed & Widget Plugins For WordPress, which is as follows:
1. Custom Facebook Feed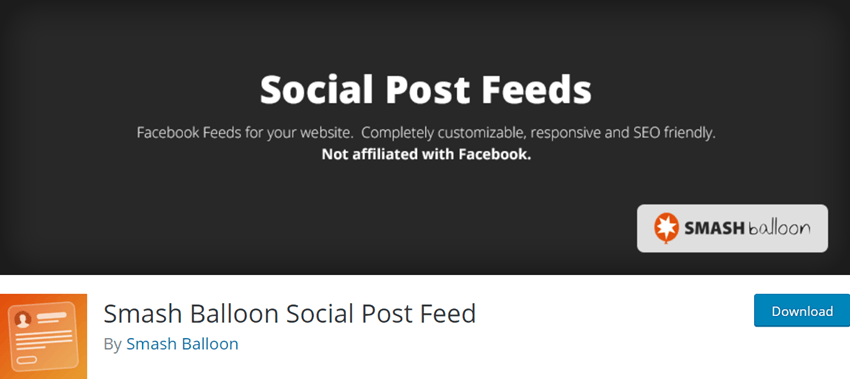 Smash Balloon social post feed is a freemium Facebook Feed plugin for WordPress that helps users display a completely customizable, responsive, and search engine crawlable Facebook feed on the website. It has many customization options that can be used to match the feed with the website's look. Feeds can be displayed from multiple Facebook pages. Events can also be shown from the Facebook feed with location, name, date/time, and description. Certain parts of each Facebook can be shown or hidden. The size, weight, and colour of the text can be customized. It is super simple to set up. This plugin ignores no potential customers. Visitors' messages can be received, and their contact details are saved. This helps boost sales and grow business. Immediate notifications are obtained in a fan page management app. It is compatible with WooCommerce, and all languages are supported. It has unlimited colors and is highly responsive and user-friendly.
Total number of users – 200,000+
Price – Personal-$98/yearly (1 Site), Business-$198/yearly (5 Site), Smash-$398/yearly (25 Site), All Access Bundle-$598/yearly (Unlimited Site)  
The Custom Facebook Feed WordPress Plugin - 2.4 (OUT OF DATE - see description for new video)
Screenshot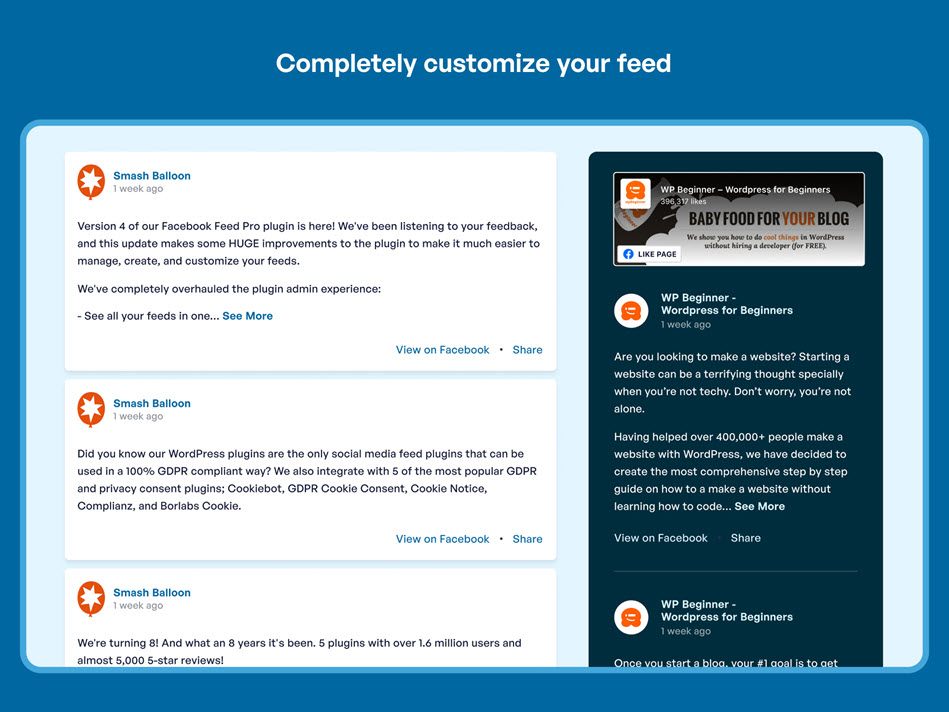 2. Facebook Widgets For Elementor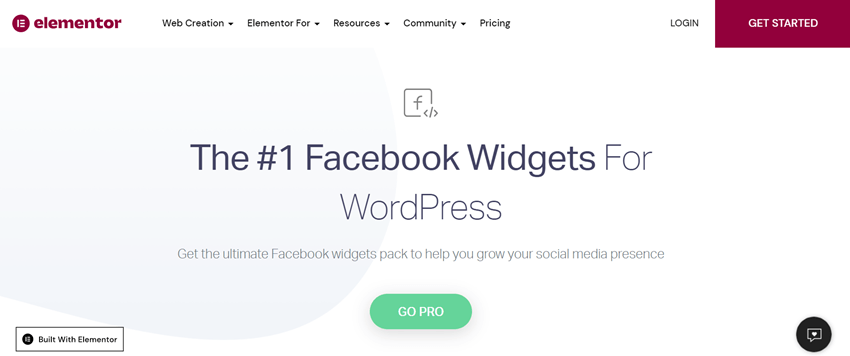 Elementor presents an exclusive paid Facebook Widget plugin for WordPress, which allows you to connect the website with Facebook. Allow your users to oversee the activity of Facebook exact on the website. Embed your Facebook account to your site and present it in your desired way. You also manage the posts and other essentials directly through the WordPress dashboard. Now, you can get your social media visibility to receive a more organic audience. Tackle such traffic in the right way, and convert them into reliable customers. Integrated Features –
Raise Followers – Get unlimited followers to your website while making it open for Facebook accessibility.
Likes and Comment – Establish such buttons to like and comment on the posts, and make them visible to your audience to get more attention.
Increase Engagement – By casting videos on the website, you make your audience much more interested while spending more time there.
Embed Proof – Share your user's experience on the website at any place that creates reliable results among your customers.
Price – ESSENTIAL-$49/yearly (1 Site), ADVANCED-$99/yearly (3 Site), EXPERT-$199/yearly (25 Site), STUDIO-$499/yearly (100 Site), AGENCY-$999/yearly (1000 Site)  
Screenshot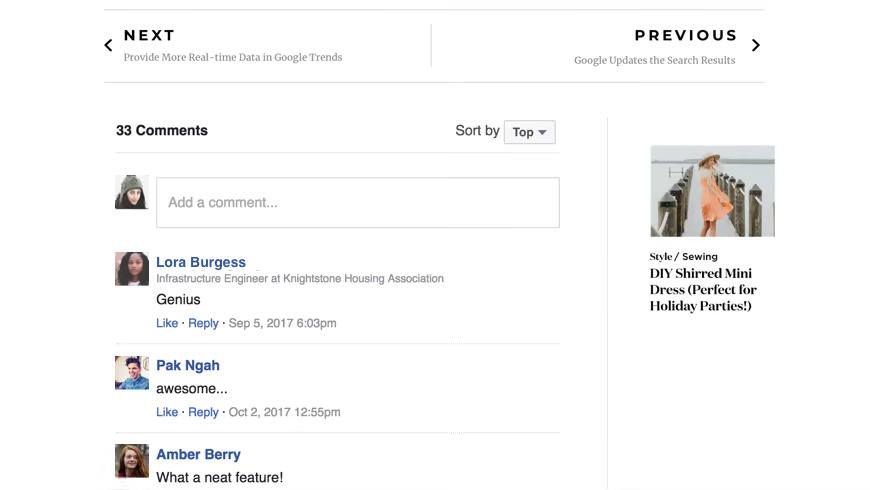 3. 10Web Social Post Feed
Facebook Feed WD plugin is the most advanced Facebook Feed Plugin for WordPress, which helps users integrate customized Facebook feed content to the WordPress site. It can be chosen whether to display the entire timeline of the feed with all its contents, or just some specific events, photos, videos, links, and statuses. It has a straightforward configuration and is highly customizable. An unlimited number of feeds can be displayed on every post and page. There is a list of layout options to display each field matching the website. This plugin also provides excellent support to all its users. They can then be accessed by connecting it with their Facebook account. The "Share on Facebook" can be activated to unlock. This forces the users to share the page link on the Facebook wall before unlocking the page. Any number of contents can be locked. The user's email address can be obtained in the database. Shortcodes are supported, and the user's data is exported to CSV. This Facebook Feed Plugin also does not need app id approval from Facebook to collect feed.
Total number of users – 30,000+ Price – Basic-$25/yearly (1 Domain), Standard-$40/yearly (3 Domain), Advanced-$60/yearly (30 Domain)  
Screenshot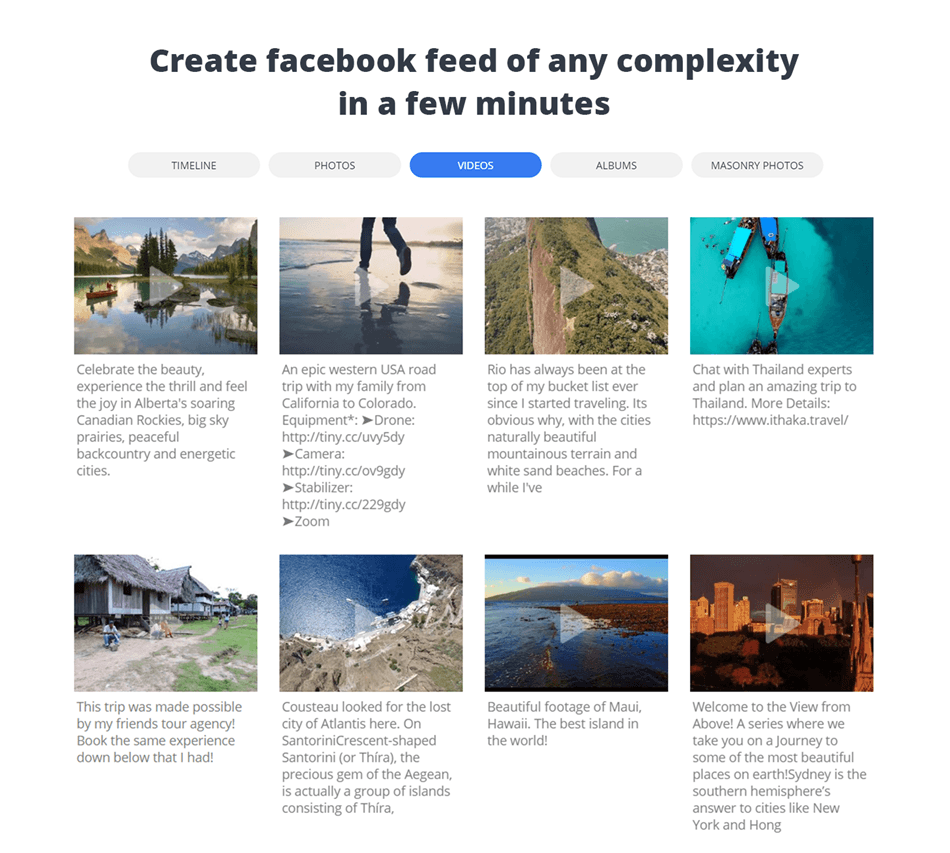 4. Feed Them Social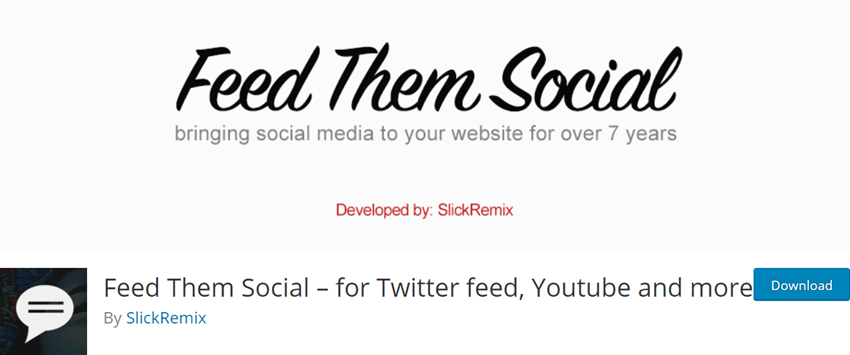 Feed Them Social is a free Facebook feed plugin for WordPress that can Posts that can be published automatically from the blog to Facebook using the feed them social plugin. Posts can be issued to Facebook in many ways, such as simple text messages, messages with an attached link to the blog, or text messages with images. The posts can be filtered based on custom post types and categories. Post elements supported are post title, excerpt, description, Username, post ID, etc. Facebook Page admins can now promote their page, which also helps embed a simple content feed from a page into any WordPress blog. The plugin also allows knowing the page's popularity by tracking how many people liked the page and how many of their friends liked it. Recent posts from the page can also be read. The pages can be liked with a single click. Page events can be seen, and messages can be sent to the page.
Total number of users – 80,000+  
Screenshot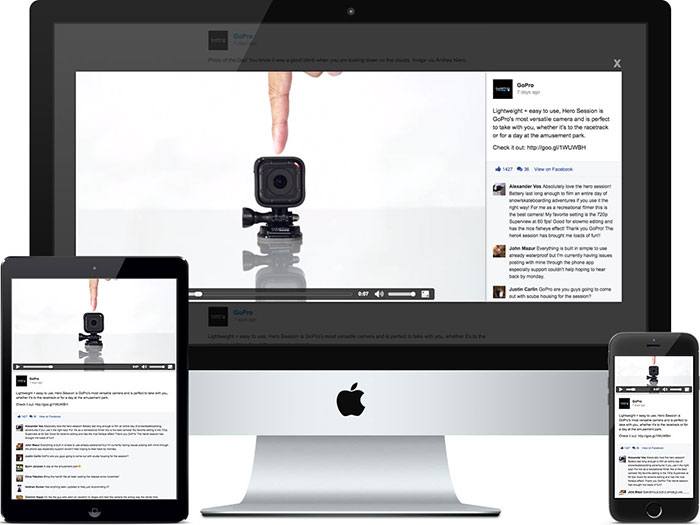 5. POWR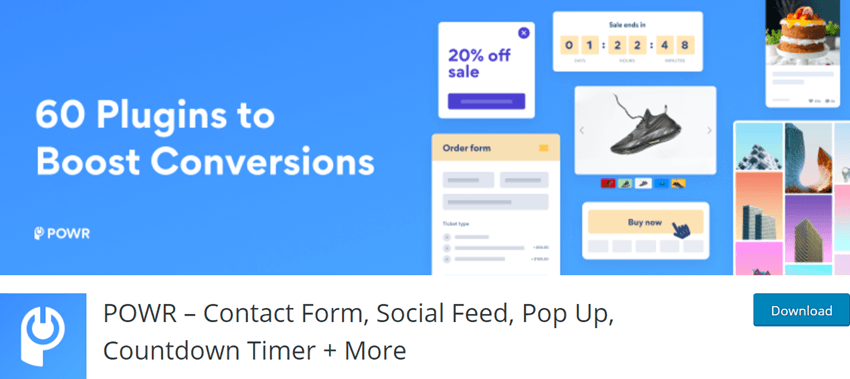 POWR is ultimately a fantastic freemium Facebook feed widget plugin that is immensely utilized to integrate Facebook feed into your website sidebar and share everything available on your Facebook page. Now, attach your Facebook Account to your customer, which increases traffic on the site. Let your customer show your site's Facebook Outcomes while displaying some information such as likes, comments, and followers. Embed your Facebook timeline or messenger anywhere on the entire site as a mediator. Access such like and comment buttons to the site that the visitors can follow right there without redirecting anywhere else. Create such a custom Facebook feed in a more presentable way, while POWR lets you customize the feed in the way you require. It facilitates you with many attractive, ready-made templates to easily showcase your Facebook widgets in a few steps. Contain essential features to streamline the workforce efficiently, like responsive on multiple devices, and supports different languages to translate the entire feed as per the required environment easily.
Price– Starter  
Screenshot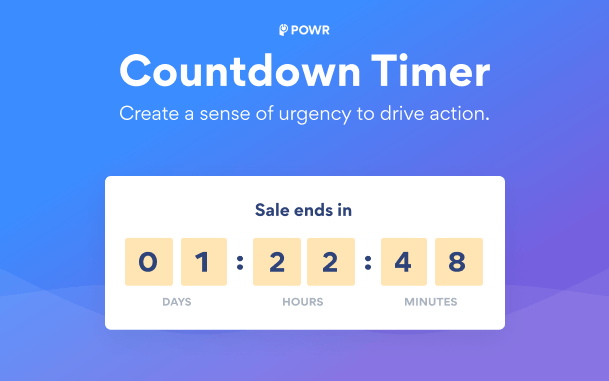 6. Mongoose Page Plugin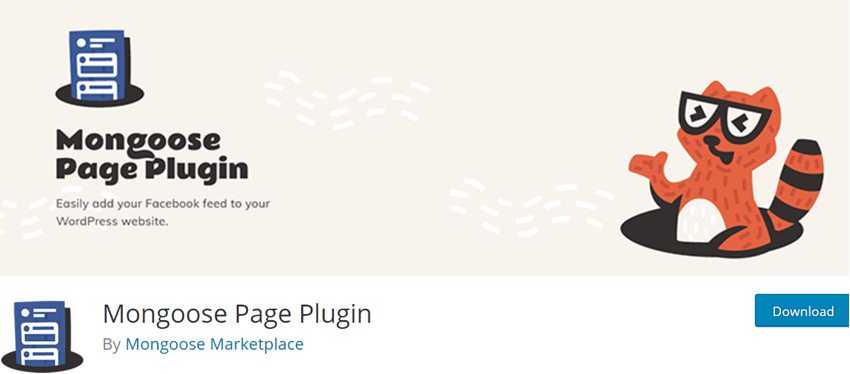 Mongoose Page Plugin is an easy-to-use Facebook page plugin that lets you extract everything exactly on your Facebook Page and embed the same on the website. Create an impact among your audience while displaying your Facebook timeline and essential widgets. Avails the present every widget of the Facebook page on the site, too, within just installing Mongoose Page Plugin. Mongoose is a free custom Facebook feed plugin for WordPress that embeds your social page feed inside your website. You can establish secure connectivity to your audience and let them experience running a Facebook page on the site without any disturbance. Make your audience utterly aware of the Facebook appearance while facilitating them to like, share, and follow thereby easily.
Elementary Features –
Availability of automatic shortcode creates that assists you with embedding this extension anywhere on the site.
Present your multiple Facebook feeds on the site along with its essential widgets.
Multi-lingual in nature means you can display the Facebook Page in 111 different languages accordingly.
Customize the look and feel of the widgets and page that matches the standard of your site.
Total number of users – 20,000+  
  Screenshot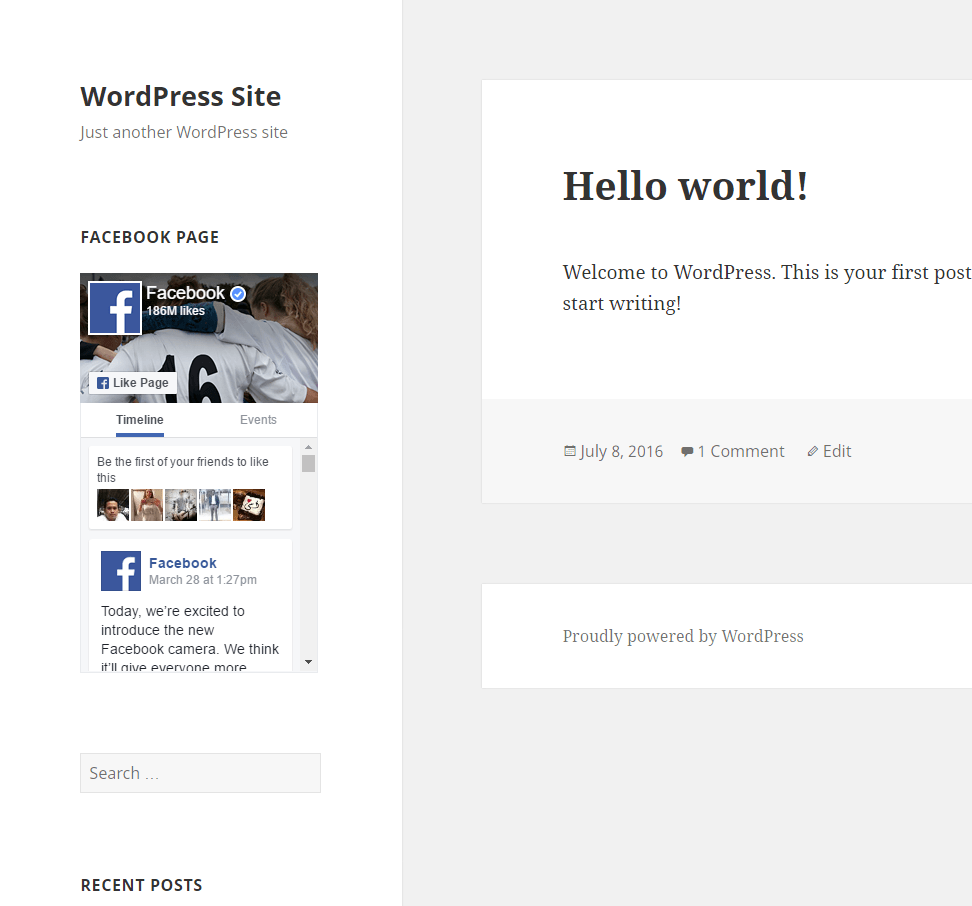 7. Social Feed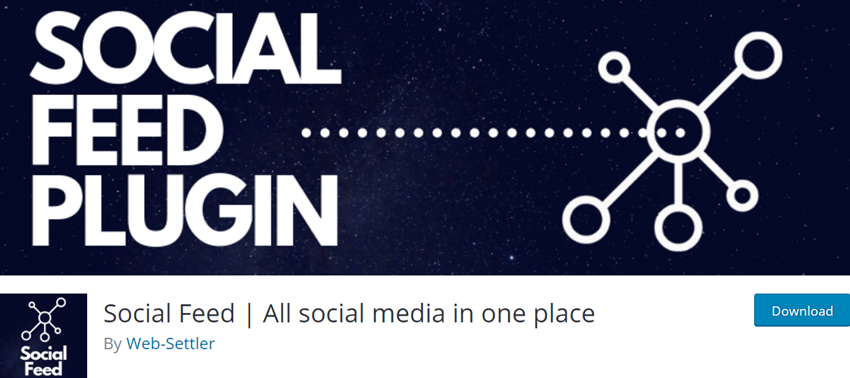 Social Feed is an all-in-one free facebook feed plugin presented by WordPress that is entirely lightweight and contains a user-friendly interface to visualize your Facebook appearance on the site. With this, you can customize the page's visibility and facilitate a variety of widgets to the audience. With the assistance of shortcodes, place a Facebook-like box on the website anywhere. Let your audience like and comment on the post throughout the website without redirecting to another page. Social Feed enables you to customize the elements of the Facebook page within minutes. Allows you to share a variety of options to configure the establishment of a Facebook page along with widgets. Why Is Social Feed Good For You?
You can easily tackle the functionality of embedding Facebook timelines according to the need of relevant websites without any deep knowledge of coding.
Add the different sections of Facebook such as images and videos while making it visible and invisible whenever required.
It supports different screen-sized devices to run smoothly as it is entirely responsive.
Allow your audience to stream the FB posts on the website and increase your followers by using the help of like and follow buttons.
Total number of users – 6,000+  
Screenshot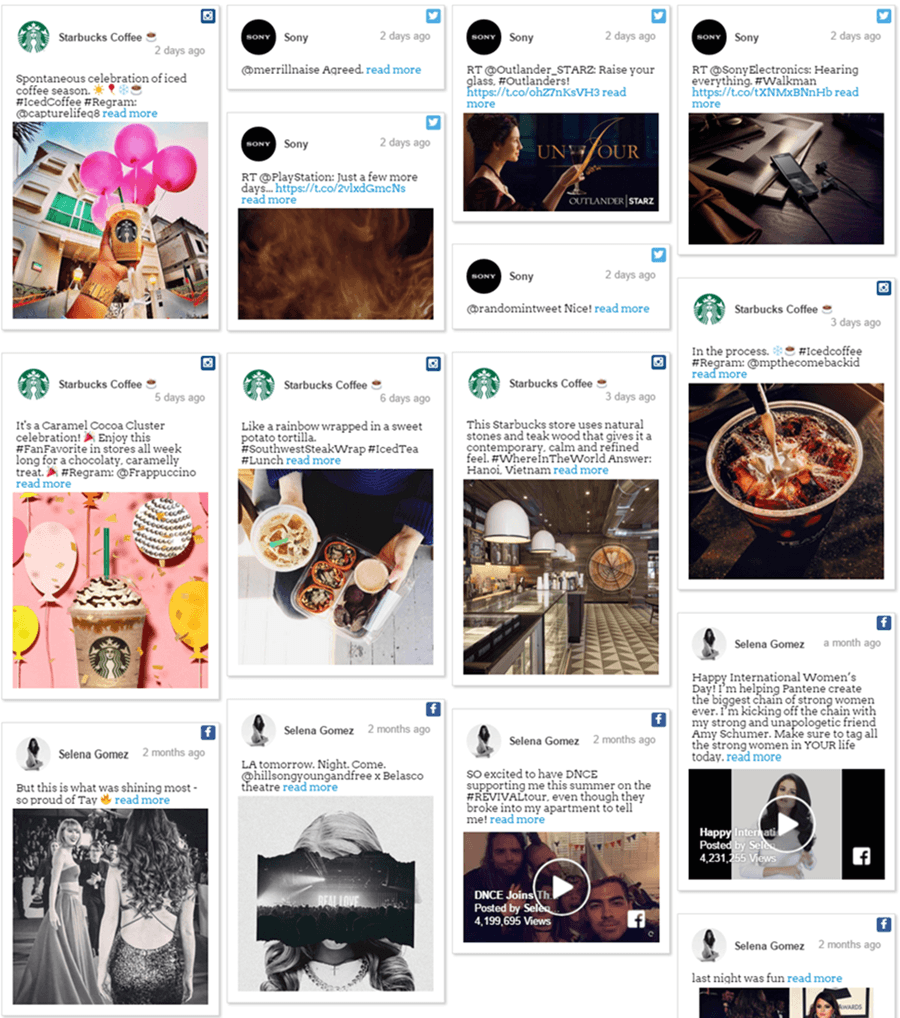 8. Social Page Feeds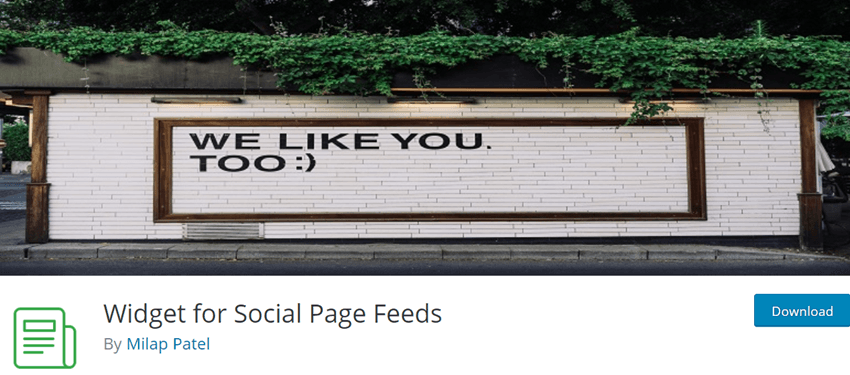 A popular and lightweight plugin for Facebook page feeds, Facebook Widget provides users with a simple and attractive way to display Facebook page likes on the WordPress sidebar. You can display the preferences of your Facebook page on your WordPress sidebar beautifully using this widget. This plugin has built-in Facebook widget functionality to show your Fb pages inside your website.
This widget is lightweight and makes your website look attractive. You need to add the application id and the URL from your Facebook page to the device. You get many configuration options, like adding a post, cover, profile photo, etc. Option to select language, width option, custom header, footer, etc., is available with this plugin. It is a fast and responsive plugin with excellent support provided. Application id can be added from the Facebook application. It can then be added to the widget and URL of the Facebook page. Posts can be hidden or shown on the timeline. Profile photos and cover can be hidden or shown. Small headers can be displayed. Width, language, and custom CSS can be easily configured. This social feed plugin supports shortcode. It is fast and helpful.
Total number of users – 100,000+  
How to add a Facebook Page widget to WordPress - 2020
Screenshot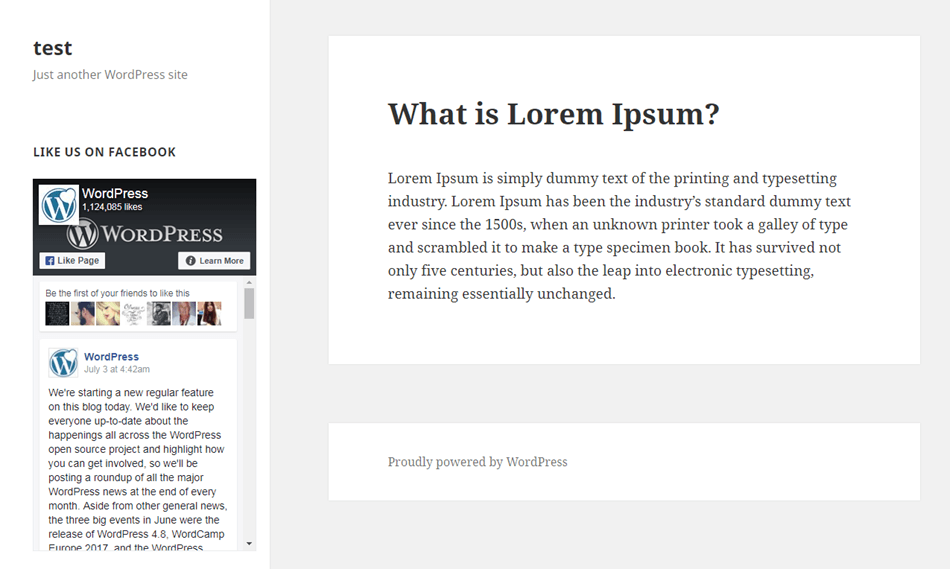 9. Facebook Feed

Facebook Feed is a paid Facebook feed and widget plugin that lets you establish the necessary elements of your relevant FB page on your website. With the help of the Facebook Feed Plugin, you can design your site while presenting a stunning showcase of followers and other activities of Facebook right. Avails your audience to follow and like such posts directly through the website. Enhance your Facebook reachability, which ultimately leads to numerous customers. Just install this feature-enriched plugin to your site and see the magic of real-time engagement on the site. Anyone can easily tackle the functions of Facebook Feed with just clicks. Facebook Feed Features –
Multi-media Compatibility – Allow your visitors to see any content on Facebook, including videos, posts, images, albums.
Load-more buttons – Place the load more buttons on the feed, which helps the audience visit the website for a long time.
Enable Popups – Make your Facebook timeline more attractive to embed the profile details with creative popups like share counts, comments, and likes for specific posts.
Price– Regular License – $39/Lifetime  
Screenshot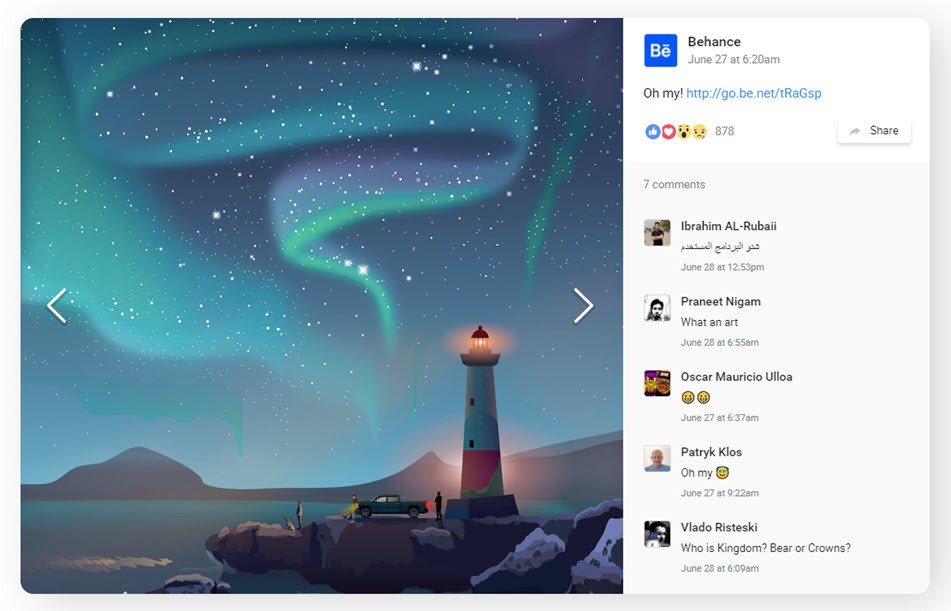 Conclusion – Still confused about which is the Best Facebook Feed & Widget Plugin For WordPress? If you are looking for a free Facebook Widget Plugin for WordPress, I recommend you go for a custom Facebook feed. But if you like to invest and get more out of it, I recommend you go for custom Facebook feed pro.