10 Best Social Media Auto Posting Plugins WordPress 2021
Are you looking for Premium or free Best Social Media Auto Posting Plugins for WordPress? Manually sharing your post or blog content on social media like Facebook Twitter, Linkedin, Buffer, Pinterest, Tumblr, Google+ will be really boring and time-consuming. So that you should automate your blog post. And it should be automatically get posted on your social media connection.

Over the years, social media has emerged as the commonest mode of participation in the networking platform. At the same time, it is a great source of sharing robust learning experiences. However, posting on social media manually, and at regular intervals can be a very tedious and time-consuming process. Fortunately, we have some contemporary and trendy plugins and tools that can finish the task automatically.
What feature you should look into you Best Social Media Auto Posting Plugins For WordPress.
Does it support your social media integration whichever you are using?
Does it allow you to add custom scheduling for automatic posting?
Several posts allowed you to share your content per day.
Most important is support
So let's have the list of Best Social Media Auto Posting Plugins For WordPress :
1. Social Auto Poster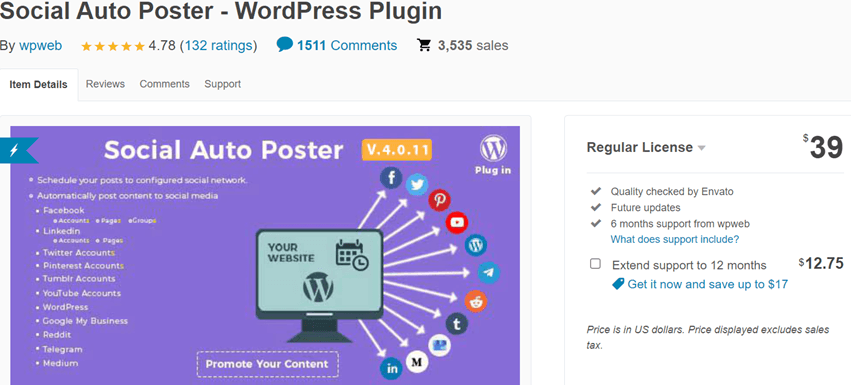 Social Auto Poster is a WordPress extension consisting of enriched features that assists you to post updates on social media while scheduling before so well. It provides a platform to share your posts on several social networks automatically. It also comes with an additive feature of setting the time interval for publishing the old posts as well through its premium plan. So, these are the best WordPress plugins for social media auto posting.
Social Media Accessibility – Let you establish auto-posts for different social media platforms including Pinterest, Twitter, Facebook, WordPress, Reddit, Telegram, YouTube, Tumblr, Medium, and LinkedIn.
Configure and Post – Enables you to configure your different social profiles and post updates automatically. Also, let you create and post the updates in bulk with less effort instantly.
Create Post – This allows to create posts while setting the content category to update such posts anywhere on the site like custom post type, pages, and posts.
Increase Organic Reach – As much as you post on your site, the more visitors get engaged there to view the details of products more interestingly. And thereby you get access to more customers.
Once you configure your social network accounts with this plugin, all new blog posts get automatically published.
It also builds and retains the existing audiences by re-posting the old blogs automatically.
Categorizes the posts to be published on social networks additional filter posts.
It also supports multiple accounts per social site.
Price – Regular License-$39 lifetime, Extend license $270
Screenshot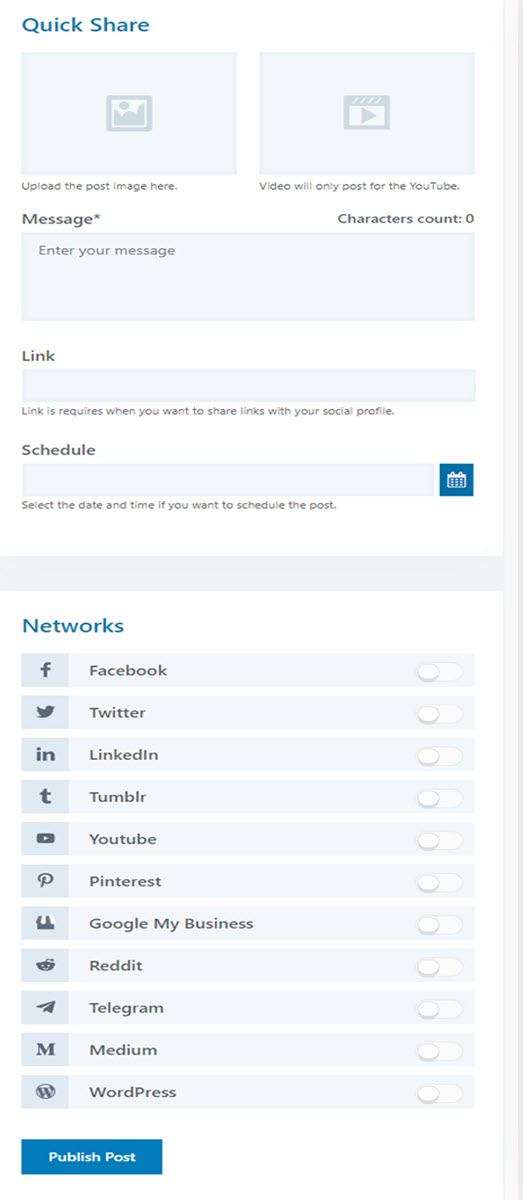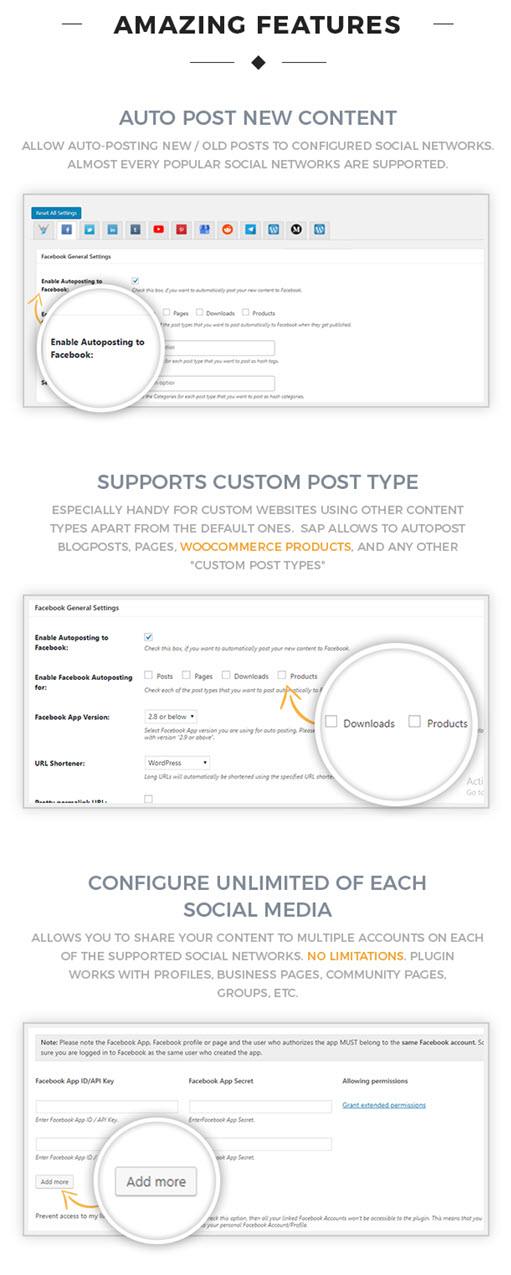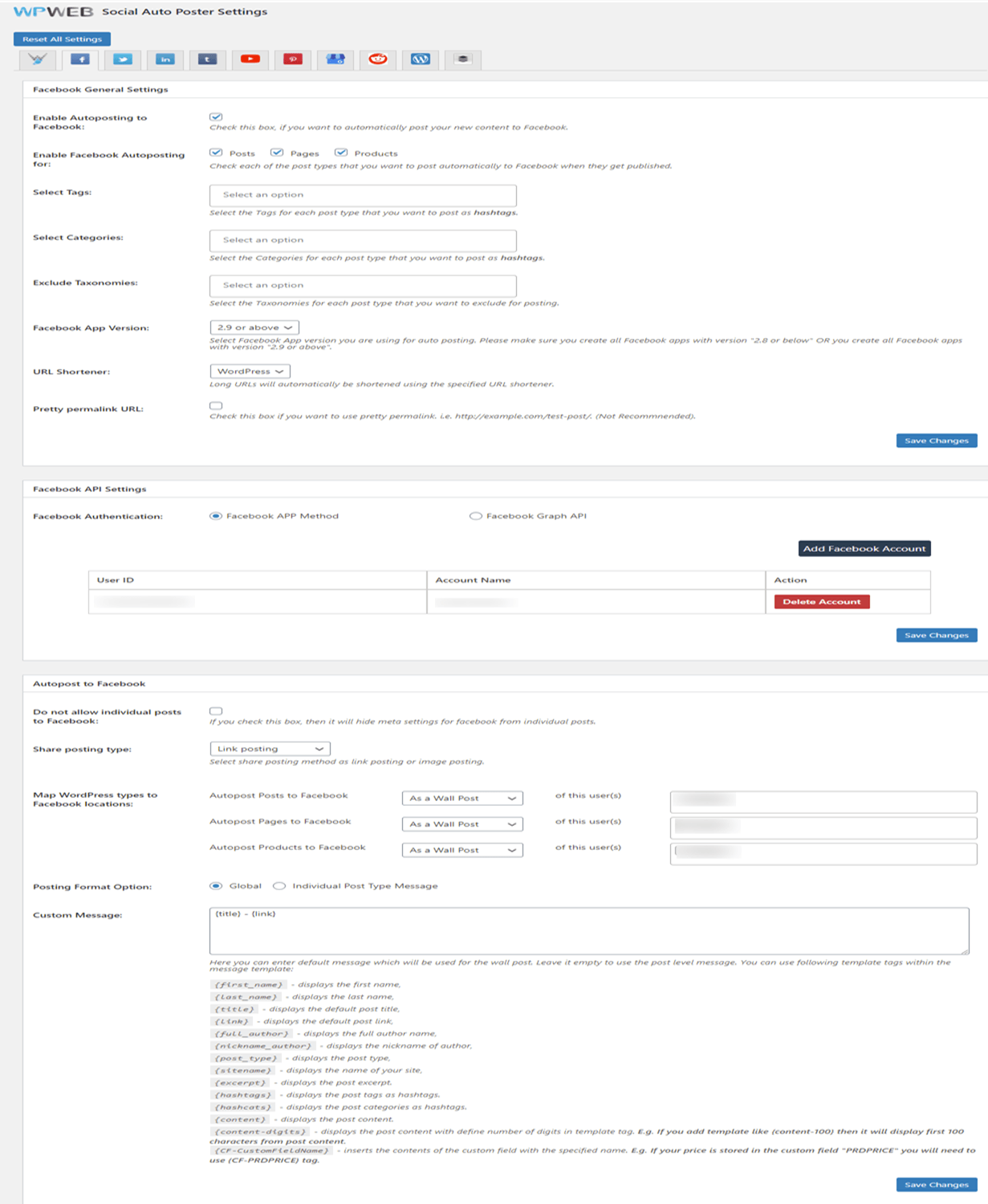 2. Revive Old Posts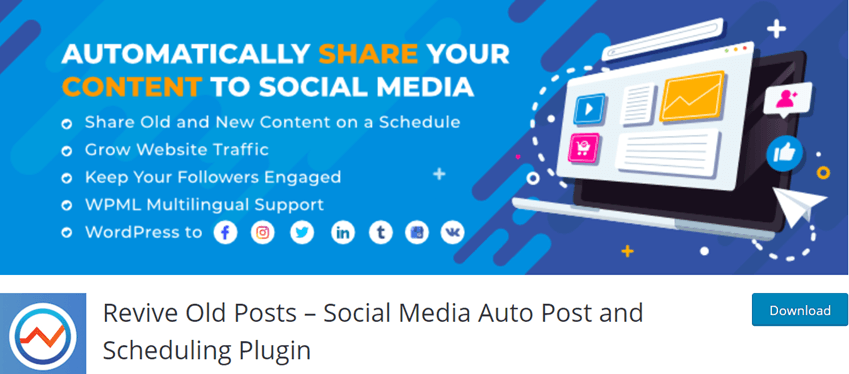 As the name suggests this social media auto post WordPress plugin can keep your post alive over the years and resuscitate your presence on social media. It's one of the best Social Media Automation Plugins WordPress. The main features are :
It supports all the major social networks like Twitter, Facebook, Linked In etc. Revives old posts enables you to share your post on multiple social interfaces on each of the social networks with no limitations.
It can ferry pictures from blog posts and attach them to your social media share automatically. Revive old post is very user friendly even for the custom websites which use content apart from the default ones.
It helps you exercise full control over your social shares, authorizing you to share only the title, only the hashtags or any custom designed text.
It helps you to track the exact popularity of your post as it incorporates with the popular URL shortening services & Google Analytics Campaign Tracking.
The plugin allows you to share a single post multiple times and does not allow your post to become obsolete over time.
Total number of users – 40,000+ 
Price – Personal Plan – $89 (for 1 site), Business Plan – $176 (for 3 sites), Marketer Plan – $353 (for unlimited sites)
Screenshot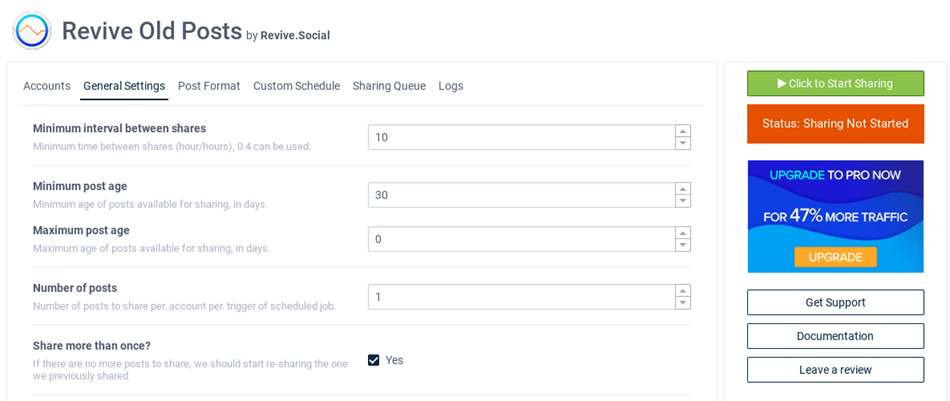 3. FS Poster

FS Poster is one of the best WordPress auto poster/reposter plugins that enable you to auto-publish the posts from your WordPress websites on various social media platforms. The plugin supports multiple social media platforms like Instagram, Facebook, Reddit, Telegram, Twitter, GoogleMyBusiness, LinkedIn, Tumblr and more. This is plugin is my favourite  WordPress social media plugin created by fs poster Team
Features
Amazing designs
Quick and optimized posting
Supports 14 social networks simultaneously
It allows you to schedule the blog posts
You can view posts and compare the social networks.
You can also view the logs/records of all your shares.
It allows you to share all the custom post types.
You can also use proxies for each social account.
It's very user friendly and comes with an easy setup.
You can also customize your post URL.
It also allows you to control the posting intervals.
You can also track the clicks on your post links.
Price --  Personal Plan – $45 (for 1 site)/Once
Screenshot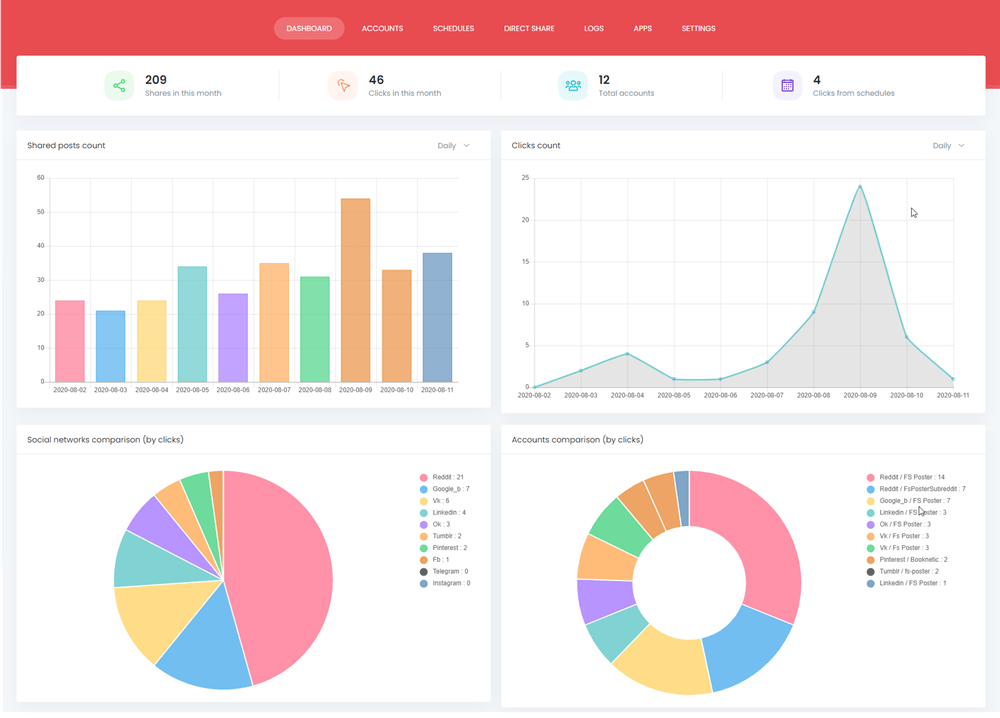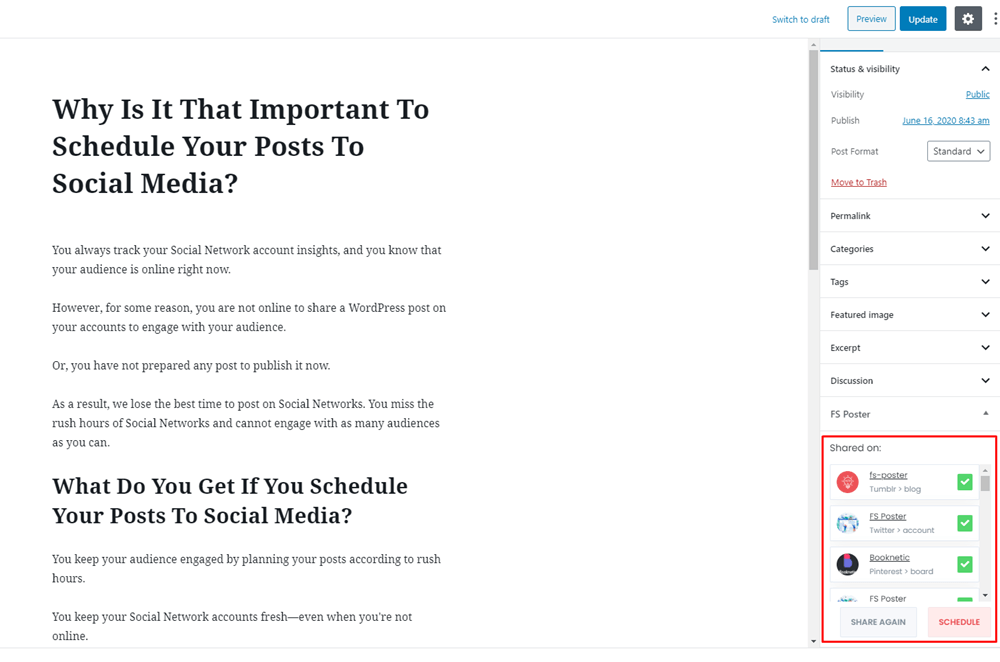 4. Revive Network

This WordPress Social Media Automation plugin gives you a platform to connect to people via social networks. Major features are:
Revive Network already amalgamates with Twitter and Facebook, including the company's page. Linkedin being next on the priority list.
It allows you to control the number of daily posts to Facebook and Twitter separately by scheduling different time intervals.
It helps you to custom design your templates with your own tone of voice.
You can appear in Google Analytics because even the shortened shared links will give you the credit for generating traffic. UTM links will help you mark your presence.
You can build up a relevant surge of content by incorporating RSS feeds and mentioning the source can attract your immediate attention.
Price --  Personal Plan – $58 (for 1 site), Business Plan – $176 (for 3 sites), Marketer Plan – $471 (for unlimited sites)  
Screenshot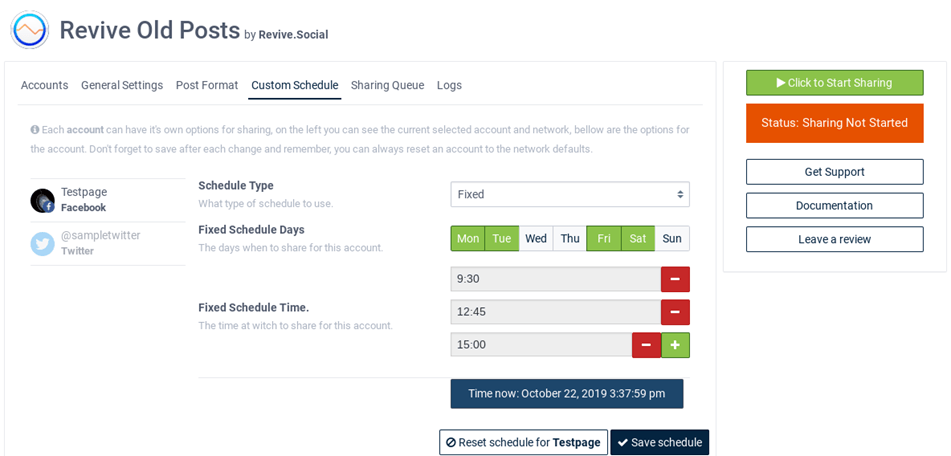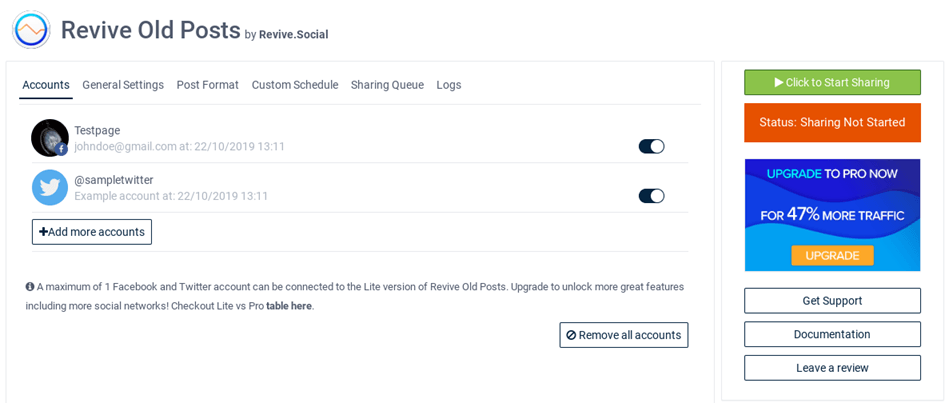 5. Blog2Social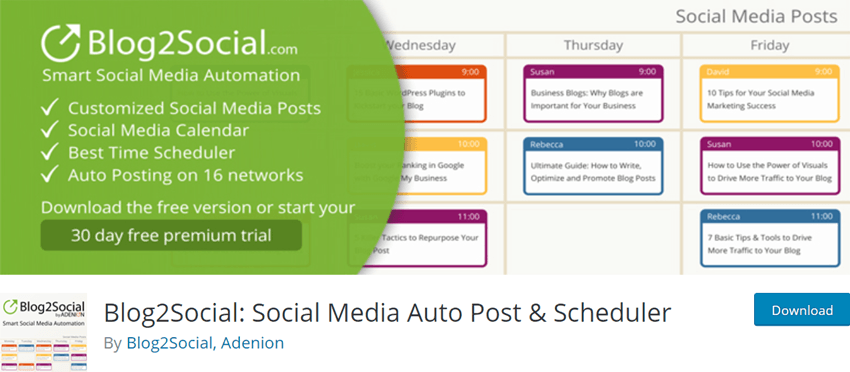 Blog2Social comes with features like auto-share,auto-post, auto-re post and scheduling blog posts on social media. It comes with the attributes of:
Connecting profiles across Facebook, Twitter, Google+, Linked In and other major social networks.
You can also connect a business page on Facebook using this plugin.
It helps you to customize your posts by inculcating emojis, hashtags, comments and handles.
Blog2Social plugin generates a dashboard to keep a track of your social media posts.
It also re-shares your old posts.
Total number of users – 70,000+
Pricing  – SMART – €69, PRO – €99, BUSINESS – €299, 1 Team member  – €29   
Screenshot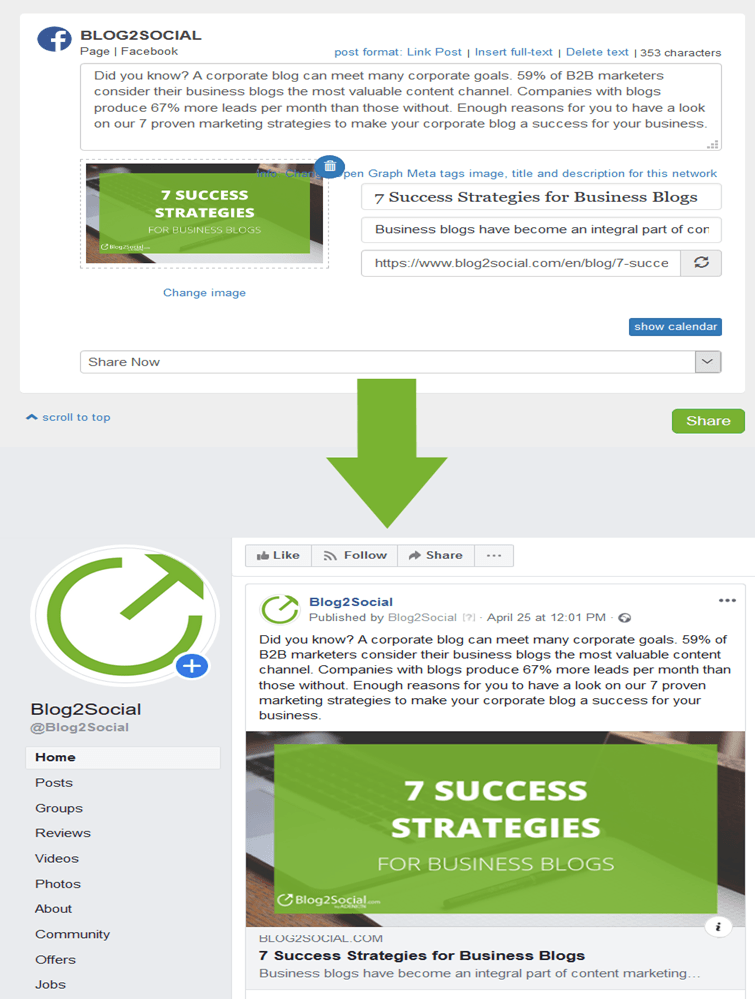 6. Social Web Suite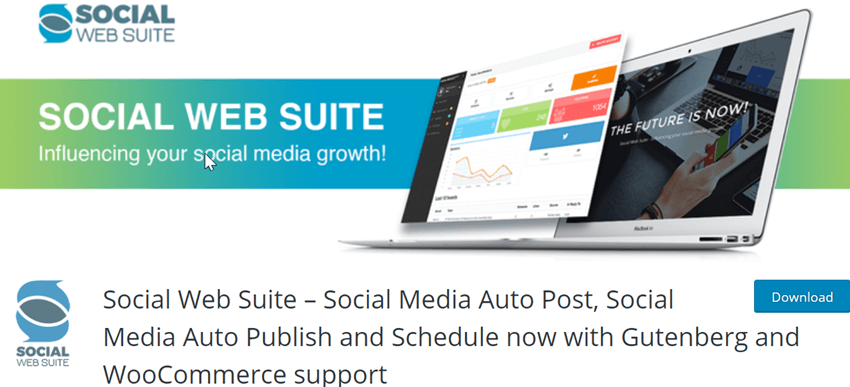 Social Web Suite is letting you manage every aspect of social media marketing with a highly automated system. This social share plugin enables auto-post on a different social media platform and also shares messages with just a few clicks. Whenever you want to share new auto-post or just re-share the old posts, it provides different messages to your followers.
Social media platforms including LinkedIn, Twitter and Facebook are being able to generate auto-post with Social Web Suite. And, in the coming future, it will expand towards others like Instagram, Google+, and Pinterest. Featured in most popular WordPress such as WP Engine, A2 hosting, Bob WP, Manage WP, WP Tavern, and How I built it.
Easily manages your social media on WP Sites in just simple steps. You just have to link your site with a newly created Social Web Suite account and then connect your social media accounts into it. Social Web Suite is a premium social share plugin that provides you hassle-free services and saves your time while using an automated social media marketing Strategy.
Total number of users – 2,000+
Price – Micro-$90/yearly,  Small-$140/yearly,  Starter-$290/yearly, Growdh-$390/yearly
Screenshot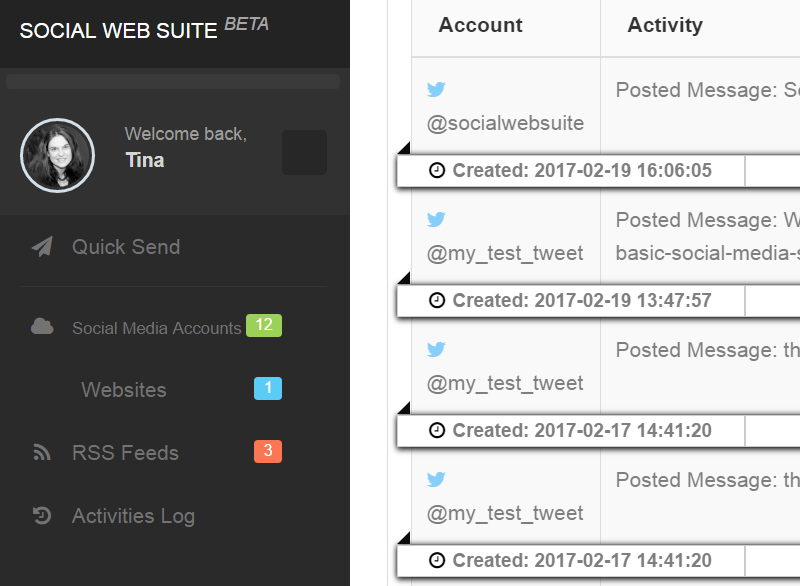 7. NextScripts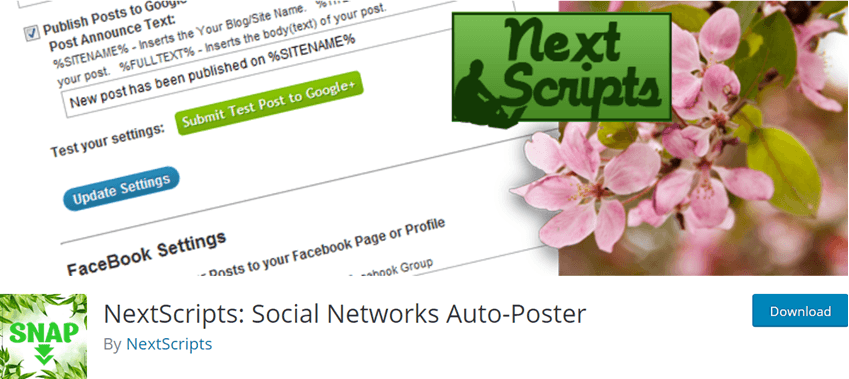 This plugin gives you an excellent opportunity to promote yourself because its uses solely your apps and your posts to be published on networks. Some commendable features of the plugin:
It acts as an auto-bridge between your blogs and your social media accounts such as Facebook, Twitter, Google+, Linked In and many more.
The beauty of the plugin is that when you write a blog then, either the entire post or its formatted version with a back-link auto sweeps into the configured networks. Hence, effortlessly reaching a widespread congregation.
This plugin merges nicely with profiles, community pages, business pages and groups.
The plugin allows the messages to be 100% customizable and gels along with the network essentials.
Total number of users – 100,000+
Price – 1 Site $49/yearly
Screenshot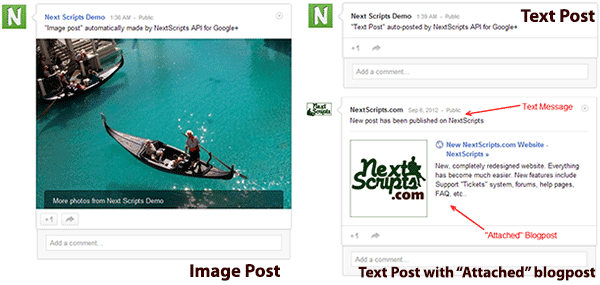 8. SchedulePress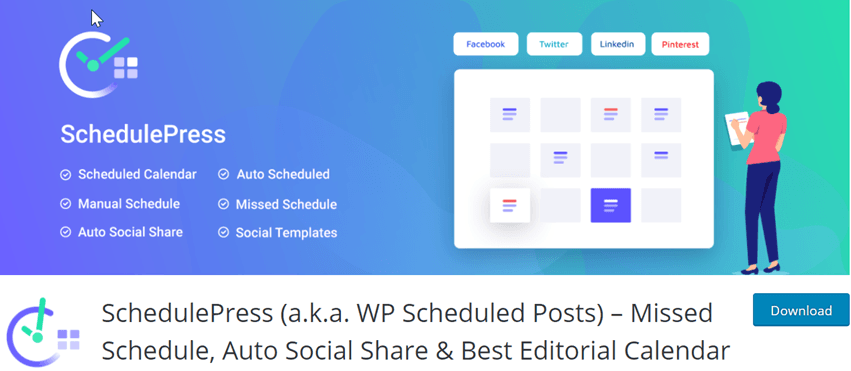 SchedulePress avails the facilities comprising schedule, organize, and auto-share blog posts for any WordPress website. Hereby, you can share your posts automatically over different social media platforms such as Facebook, Twitter, Linked In, and Pinterest. Schedule advanced posts with Schedule Calendar, Auto Scheduler, or Manual Scheduler and let the SchedulePress auto-post it whenever you need to. It is one of the best WordPress Plugins for Social Media Auto Posting.
Features contain by SchedulePress for free –
Auto Share on Multi Social Profile – Allows you to auto-share or instant share your blog post from WP Dashboard to different Social Media platform.
Configure Templates – Availability of so many templates with exclusive features. So, it is easy to personalize your blog post.
Dashboard Widget – Keep an eye on your posts i.e. either scheduled or drafts with a widget available on your WP Dashboard.
 Manage Authors Efficiently – With the assistance of a schedule calendar, it becomes very easy to manage the co-authors.
Pro Features –
Schedule your post to a definite time interval and it will post at that exact state with Auto-Scheduler.
 Able to publish the post that WordPress may miss to schedule it.
Manually arrange the schedule to publish your WordPress blog.
Total number of users – 8,000+
Price – Individual-$49/yearly (1 Site),  Business-$149/yearly (Unlimited Site), Lifetime Ultimate-$499/Lifetime (Unlimited Site)
Screenshot
9. Nelio Content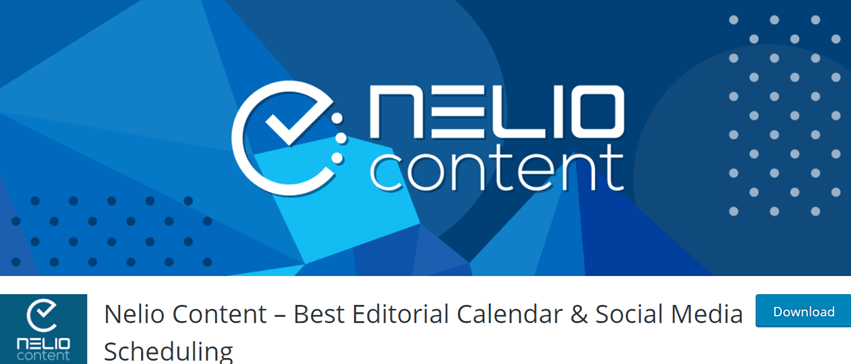 Nelio Content is implemented with amazing features including a content assistant and an editorial calendar. Automated social media publication of blog content enables you to schedule, create and promote such blogs on various social media platforms. Select any of your best content and rush it as blog everywhere set off with built-in analytics of editorial calendar.
Reasons to choose Nelio Content –
Editorial Calendar – The feature of the Editorial Calendar included Nelio Content represents the integrated view of your content. You can manage easily to reschedule your post or messages and create a new one by just dragging and dropping.
Auto-share Alternative – Easy to share your content on different social media platforms automatically while generating relevant marketing strategies throughout extracting your content.
Analyse Everything – Analyse your best content through Google Analytics and other sources. Re-promote those content to enhance organic engagement.
Content Assistant – Assist your content ideas and also recommend activities to improve their quality. Appropriately tag content, link old post or another blog which ultimately raise the interest of visitors.
Total number of users – 6,000+
Price – Basic-$119/yearly (1 Site),  Standard-$229/yearly (3 Site),  Plus-$339/yearly (10 Site)
Screenshot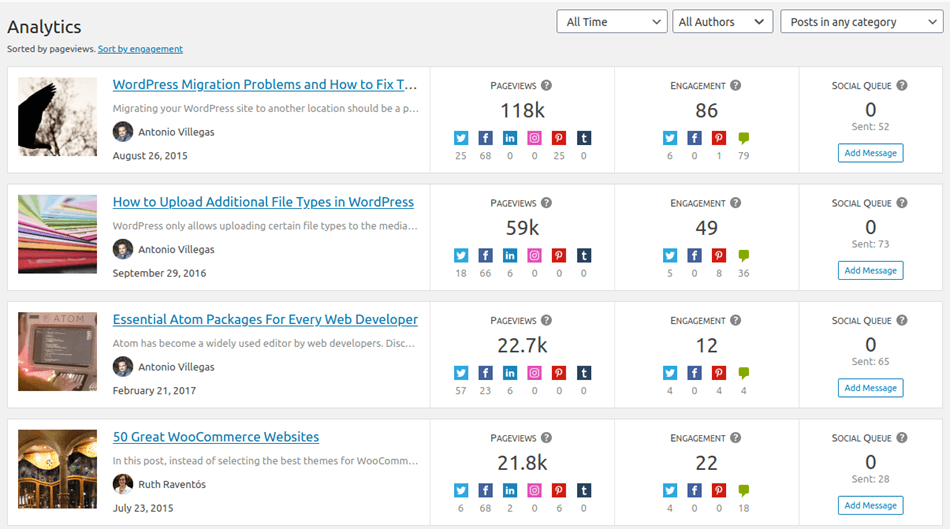 10. CoSchedule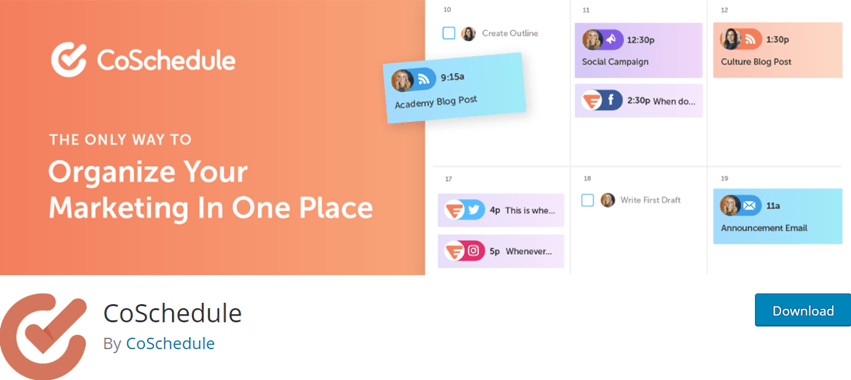 CoSchedule is a vital social media auto posting plugin for the accomplishment of email marketing strategies as it helps to collaborate on all-important procedures of a successful email marketing campaign. Let's see how:
It allows you to organize important components in one place and hence makes it easier to plan and reschedule all marketing content, blog posts and social networks using drag and drop calendar
CoSchedule helps to customize your calendar by methods of colour coding and the use of icons for content categorization.
It also covers up the communication gap effectively, helps to build up a road map, assign and approve task on a real-time basis.
Total number of users – 10,000+
Price – Marketing calendar-$348/yearly
Screenshot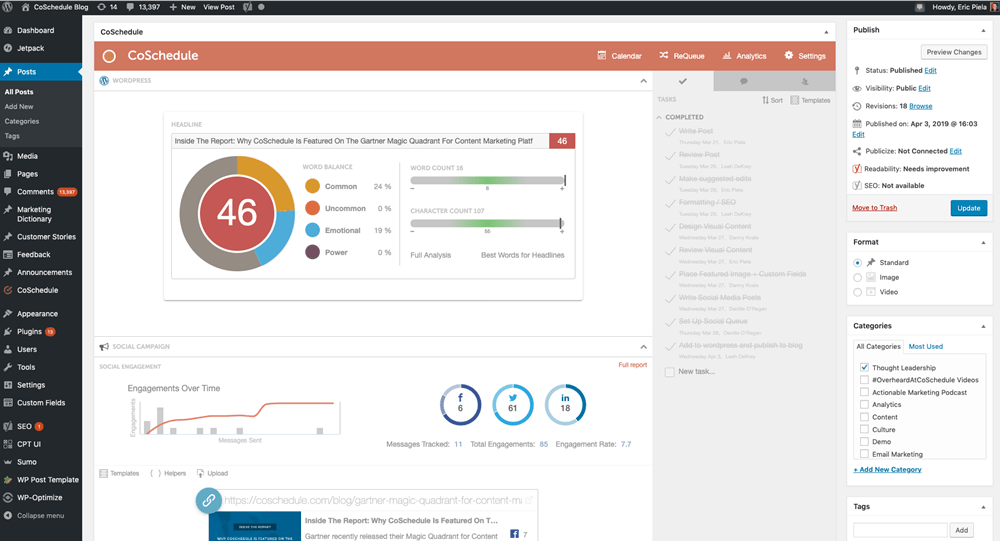 Conclusion – Still confused about which is the Best Social Networks Auto Posting Plugins For WordPress. Don't get confused my friend if you looking for a free auto-posting plugin then you should try blog2social. But if you are looking for premium then you should try social auto posters.