8 Best Twitter Feed Plugins for WordPress 2023
Twitter Feed can easily be embedded on your WordPress website with or without Plugins. For Non Technical people Twitter Feed Plugin are the best way to show a live Twitter feed on your Website. So In this blog, we will also be learning How to embed Twitter Feed in Widget. To increase your Website's social interaction and followers.

This article will learn both methods of embedding Twitter feed using the Plugin and Without plugins.
Let's have a look at some best WordPress Twitter feed plugins.
1. Custom Twitter Feeds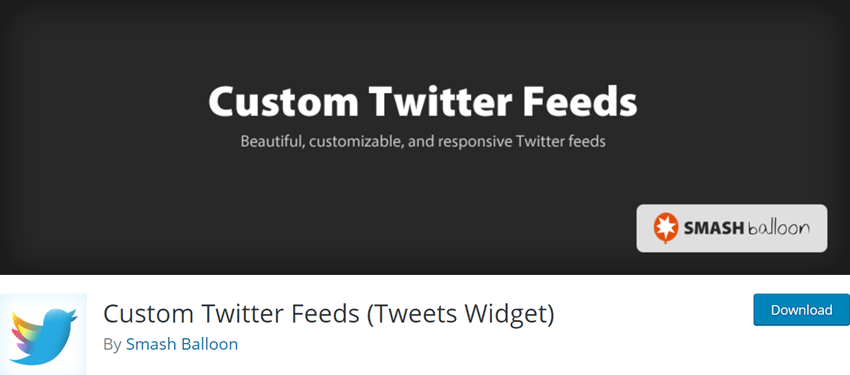 Custom Twitter Feeds is the Most powerful Twitter plugin for WordPress. It has a lot of customization options for embedding Twitter feed, and users can use it to match the look of their Website. It is very responsive and helps display the search engine crawlable version of the Twitter feed on the Website.
Completely Customizable- theme styles are inherited by default.
Completely responsive- adjusts to all types of screen and is mobile-ready.
Multiple feeds- Many feeds can be displayed from separate Twitter users.
Load More button-This button loads infinitely many tweets of the user.
A beautiful header can be displayed at the top of the feed.
Increase social engagement- Custom Twitter feeds helps to increase the social engagement between the user and the visitor.
Total number of users – 100,000+ 
Price – Personal-$49/yearly (1 Site),  Business-$99/yearly (5 Site),  Developer-$149/yearly (25 Site), All Access Bundle-$299/yearly (Unlimited Site)
Screenshot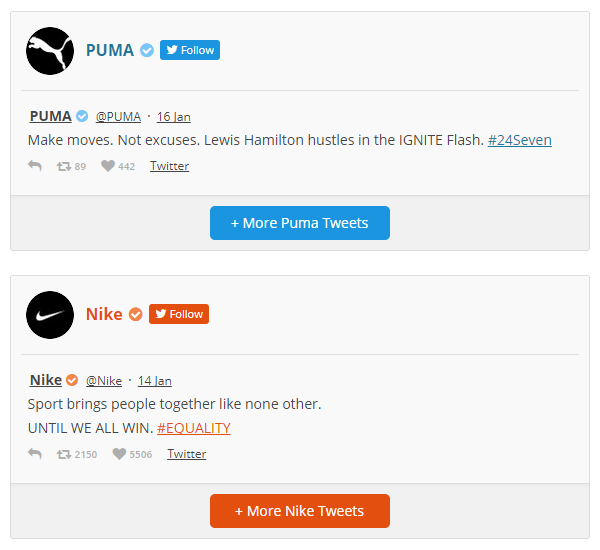 2. Twitter Feed WordPress Plugin by Tagembed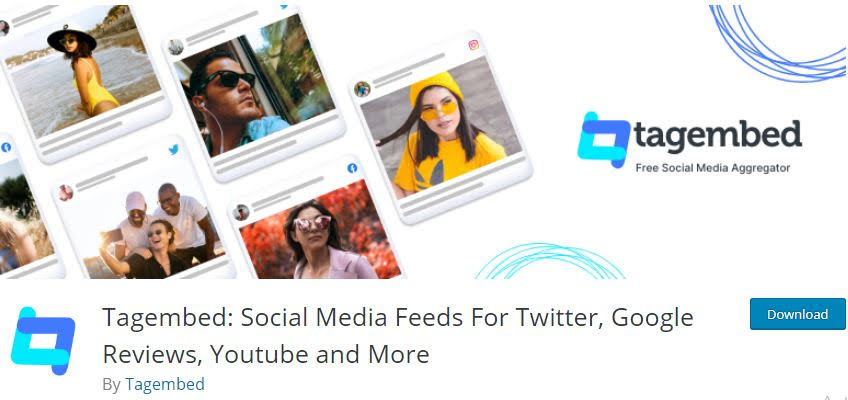 Tagembed social media Feeds is a responsive Twitter Feed Plugin for WordPress, an easy-to-use, budget-friendly Plugin. It allows you to collect Twitter feeds from hashtags, handles, and more, then helps you display them on your Website. Alongside Twitter, it is also compatible with 18+ social media platforms, making it one of the best aggregator plugins in the WordPress plugin store.
Besides fastening your embedding process, it provides the following features:
Customization – You can personalize your widget as per your choice; you can make desired moderation by changing font size, font colour, background, and more to make it as per your style. Moreover, it adds a great charm to your Website.
Moderation – The Plugin allows you to show/hide the content from your feed and keep it related to your business only. It helps you keep your visitors centered on your products/brand and maintains your Website's quality.
Responsive Feed – The feed adjusts itself as per the screen size the viewer is using, saving them time and effort into changing the display setting.
Automatic updates – The feed displays the content on the Website as soon as it uploads on the Website. There is no need to manually refresh the feed to keep the feed up to date.
Custom CSS, Analytics, Custom CTA, and more
Total number of users – 100+ 
Screenshot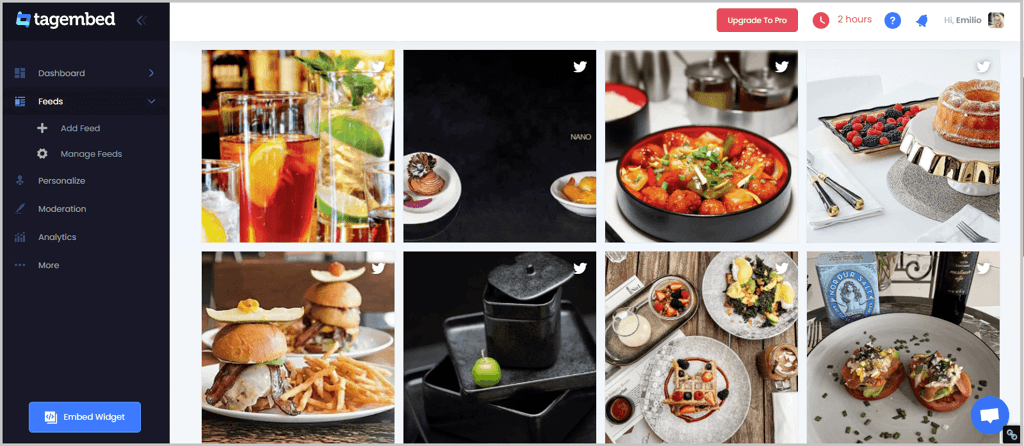 3. GS Feeds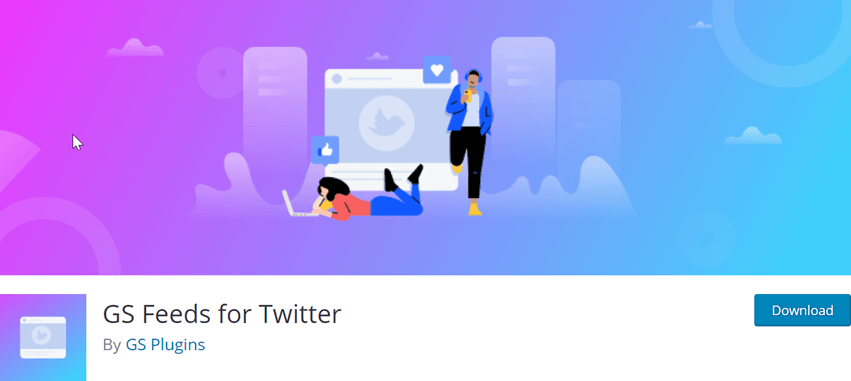 GS Feeds for Twitter is a beginner-friendly Twitter Feeds plugin that helps to increase the user's social reach one step ahead. Using this Plugin, real-time Twitter feeds can be displayed anywhere on the Website using shortcodes and widgets. It allows the tweets to be displayed as a feed or in the slider. This plugin stores tweets in the form of cache without redirecting your Website at Twitter.com to load every page. It Supports the Twitter widget for your WordPress sidebar.
It means your website visitors can directly communicate with you without opening a Twitter application elsewhere. Tweet Widget also enables your visitors to follow your Twitter Account right there if they get inspired through your Website and want to see more updates like this.
Supports multiple Twitter accounts.
Lightweight- takes only some time to install.
Includes Twitter Timeline Layout.
User friendly- configuration and set up very easy.
Various configurable options along with slider mode.
Prevention of frequent API calls through caching options.
The number of tweets to display can be configured.
Tweets can be displayed in the slider.
Total number of users – 200+
Price – Starter-$30/yearly (1 Site),  Business-$35/yearly (5 Site), Agency-$79/yearly (Unlimited Site)
Screenshot


4. Recent Tweets Widget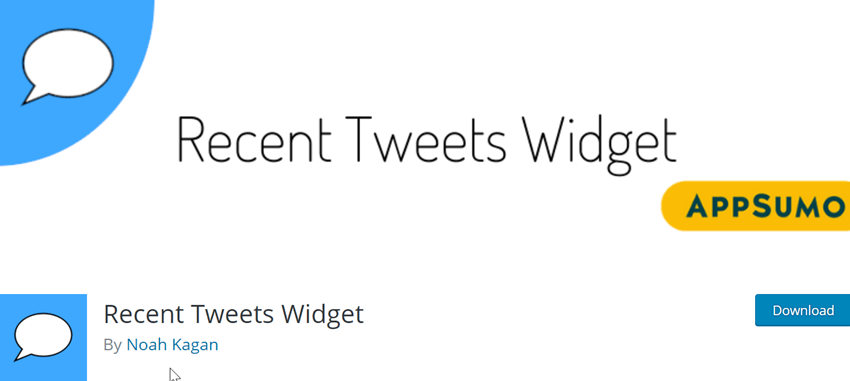 Recent Tweets Widget is a free Recent Twitter tweets widget plugin that provides the continuity of visitors to the Website through displaying the posts according to their interests. This brilliant recent tweets Plugin allows you to set up the last updates that you want to occur accordingly. To add this Plugin, you have to go through the simple steps, and it takes a little time to install. By copying and pasting some codes, you will embed your Twitter timeline on your site, which is much more effective in organic engagement.
Recent Tweets Widgets come with the cache. It stores the tweets in cache while using the latest Twitter API v1.1. It helps the user prevent being rate limited by reading the status message from the database and for every page load doesn't query Twitter. Users can also set the time slots to update the cache.
Total number of users – 100,000+
Screenshot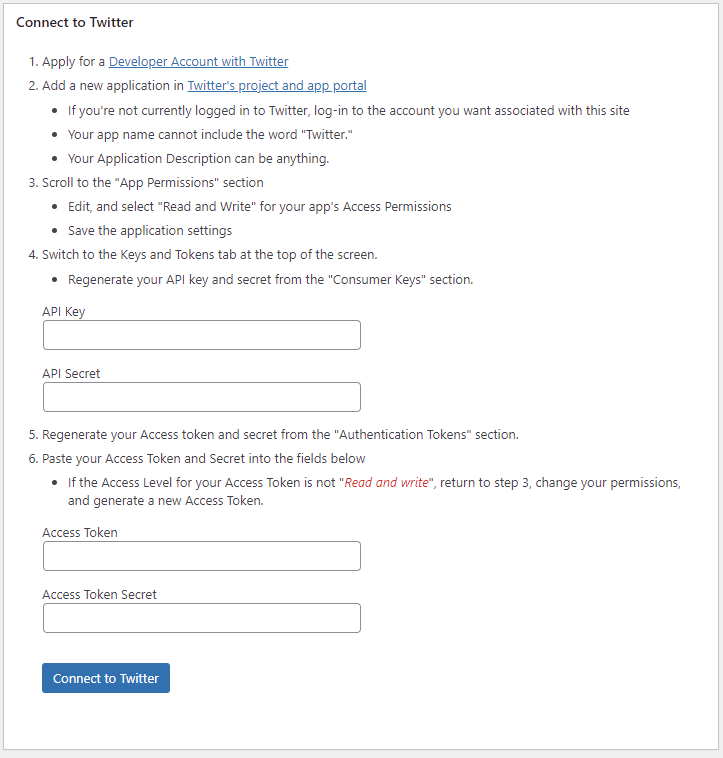 5. WP to Twitter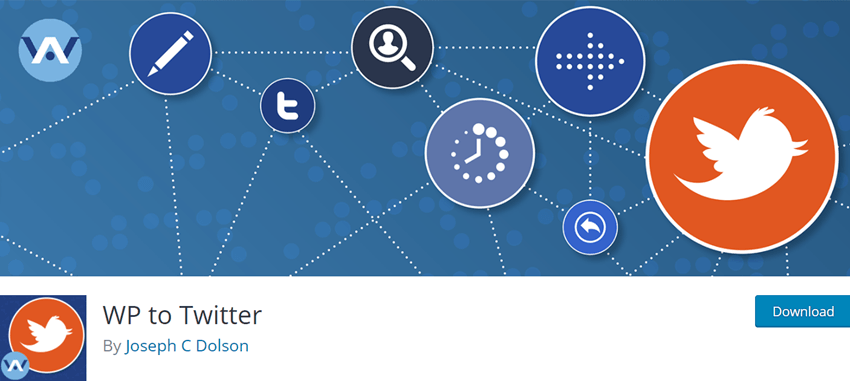 WP to Twitter is another popular recent Twitter plugin that automatically embeds the recent Twitter feed in your Website. It also helps to get strong Twitter integration on the user's Website and hence up his social reach. It is a unique and exclusive WordPress Twitter plugin.
Fetch latest tweets- feeds can be fetched from any account to the Website.
Many tweets to display- How many tweets are to be displayed can be easily configured.
Multiple Twitter Accounts- It supports multiple Twitter accounts at the same time.
Beautiful template designs- It has many template designs to choose from.
Integration of feeds with images.
Includes Twitter timeline layout theme.
Easy use- Shortcodes with various configurable parameters make the Plugin very easy to use.
Total number of users –40,000+
Screenshot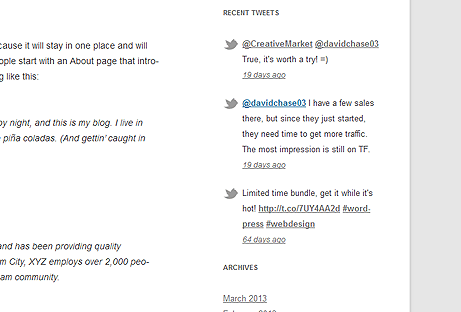 6. Customize Feeds for Twitter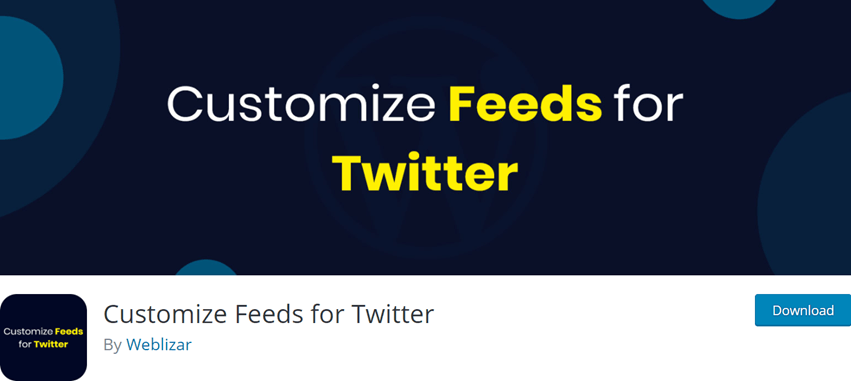 Customize Feed for Twitter is a beginner-friendly WordPress Customize Feed plugin that displays the live Twitter feeds on the Website using Twitter shortcodes on WordPress widgets. You may customize the Twitter feed of your Website along with good response and crawl-able search engines. The ability to customize Twitter widget is accessible by application of custom height, on/off tweet reply, the colour of URL link, etc.
Customize Feed for Twitter plugin contains both features, i.e., free features and Premium. In the free feature of this Plugin, you get access to basics such as control layout, display tweets that you want to, settings for customizing widget, add follow buttons, and others. While in Premium, you can access advanced features comprising display tweets in the slider, Update Status, Option for load more tweets, settings for tweet style, and many more. Easy to install in just a few steps and provides a user-friendly interface that anyone can own. And for the best experience, you must acquire the premium version, where you get access to advanced features.
Total number of users – 10,000+
Screenshot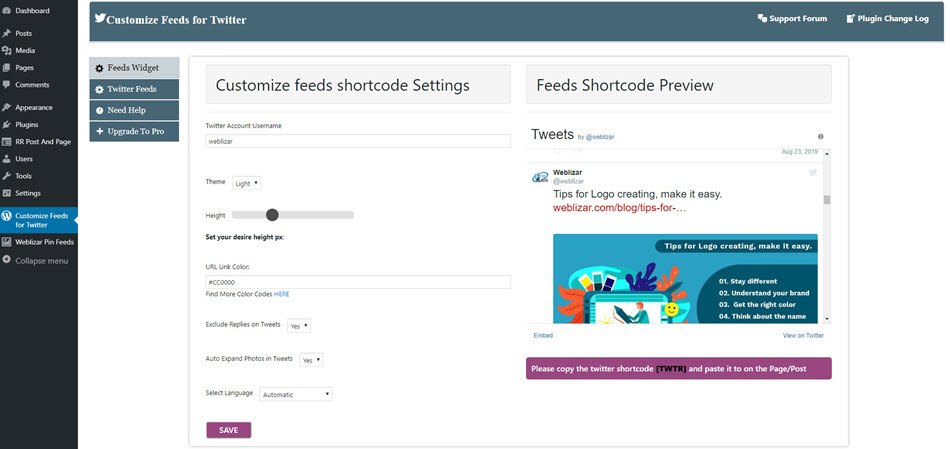 7. WP TFeed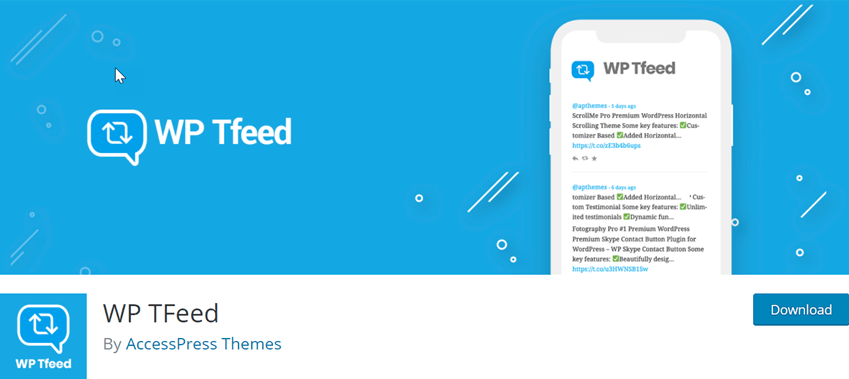 WP TFeed is a freemium Twitter plugin that helps you to embed and display real time Twitter feeds on your Website via shortcode and widgets sidebar. It uses shortcodes to create tweetable content for readers. Not just contents, it also highlights the selected text and makes them tweetable. It uses an official shortcode API and is translation-ready. URL can be removed from the resulting tweet. And the best part- it is fully customizable.
Space Efficient-It runs a loop of the tweets by showing one tweet at a time and then replacing it with the next one until it displays all the tweets and then again gets back to the first one.
Customizable- It is all up to the user to decide the number of tweets, which tweets to show, the time duration for which a tweet will be shown, should the retweets and replies be included, whether to switch on the follow Button and many more.
Reliable- Latest tweets are continuously shown even if the Twitter website is down.
Responsive- proportionally resizes itself according to the size of the page.
GDPR friendly- It fully supports 'Do Not Track' and does not share the user data with anyone. It does not even collect user data.
Total number of users – 20,000+
Price – Regular License-$17/Biannually, Regular License-$21.5/Annually
Screenshot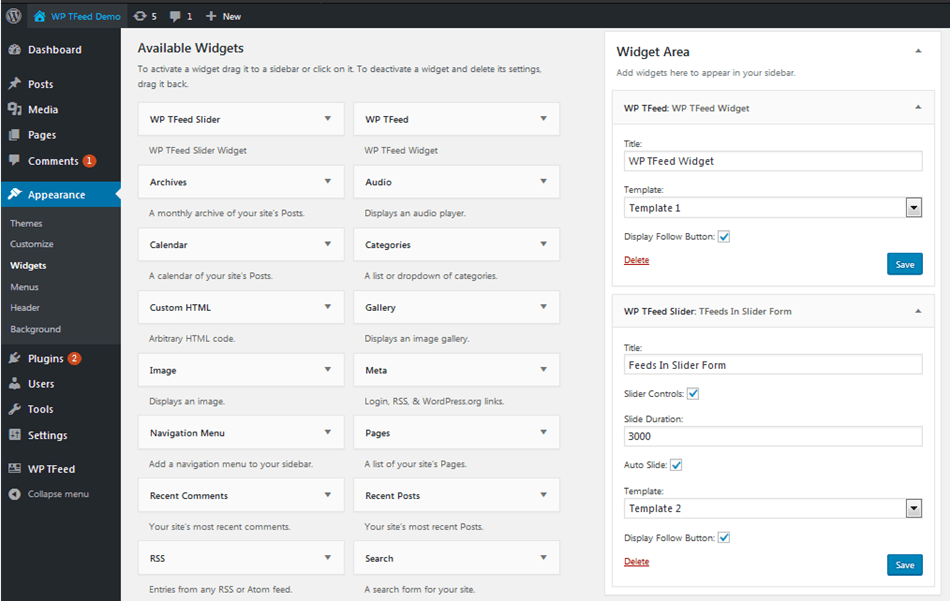 8. Easy Twitter Feed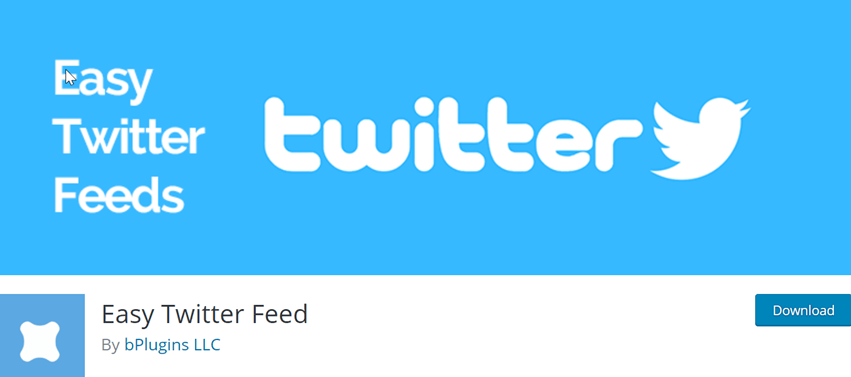 Easy Twitter Feed is a recommended free Twitter feed plugin that can Embed custom Twitter Timeline, Real time feed Widget, Follow Button in pages and posts. It does not create an API but instead uses the Twitter widget to display tweets on the WordPress site. Even Twitter applications need not be made.
Tweets can be implemented efficiently through their elegant interface. It also helps to display the Twitter timeline on the blog's sideline without bells and whistles. Background colour, border colour, and many more options can be easily customized.
Tweets can be blended professionally along with any WordPress theme.
Total number of users – 1,000+
Screenshot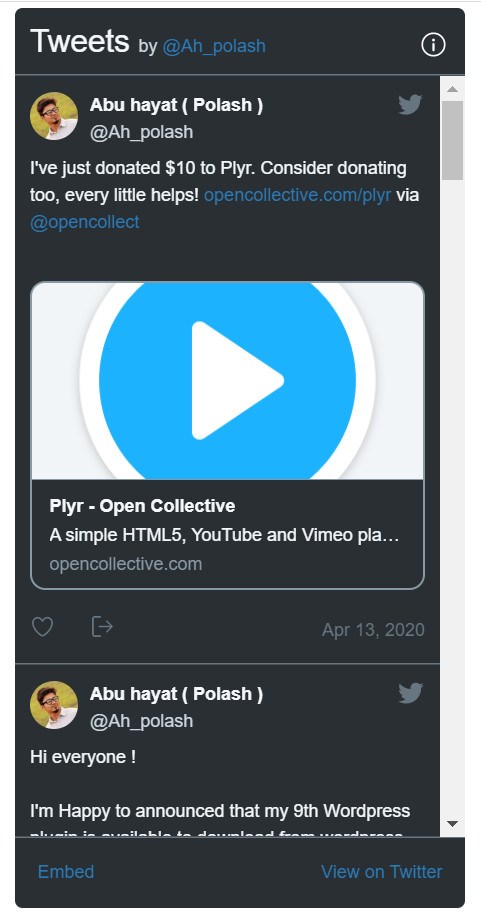 9. Good Old Twitter Feed Widget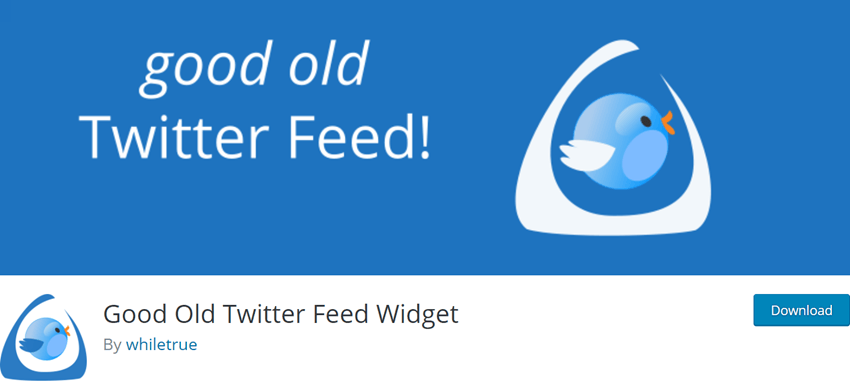 Good Old Twitter Feed Widget is a free Twitter widget Plugin present in a sidebar widget that shows the latest tweets. You can easily customize the replies, retweets, style, links, thumbnails, and more. This Plugin is completely based upon Twitter API Version 1.1, and before using it, you have to create a Personal Twitter Application on the Website of dev.twitter.com.
You have to set up authorization strings in the widget options box to activate your Twitter widget and then make sure to store it in a safe place. Once it becomes ready, you can utilize the same authorization strings for numerous widgets and websites.
Total number of users – 1,000+
Screenshot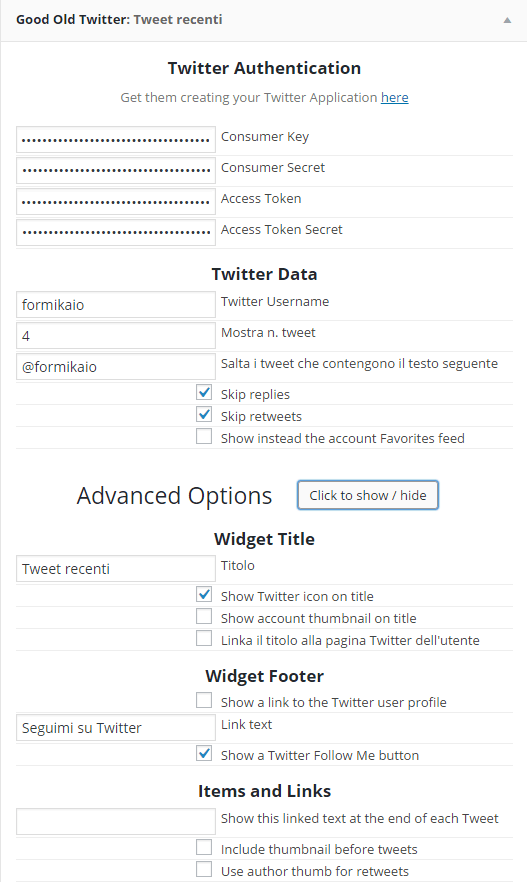 How to add a live Twitter feed on WordPress Website 

Once You are done with installing the Plugin, click on the setting of custom Twitter feeds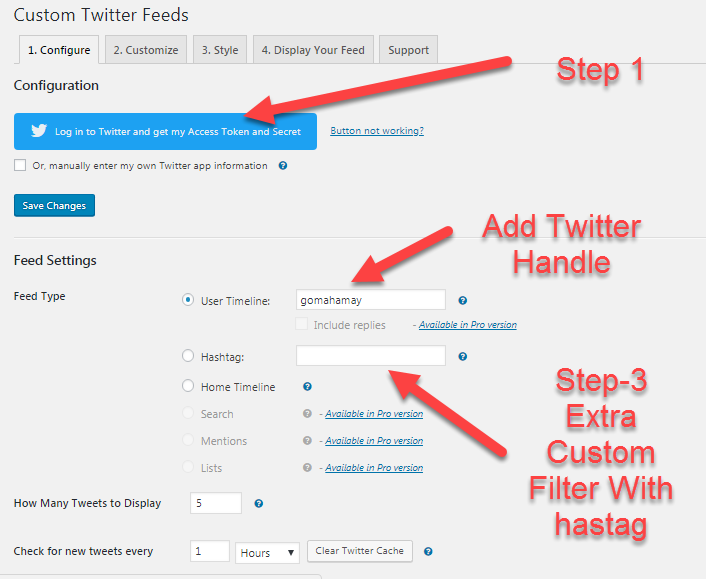 Inside Setting First step is to get token id and secret.
Next, you need to add Twitter handle, for example, our is Gomahamaya. You can also create a custom filter by adding a hashtag. Once you are done, click save the change.
The final step is to embed the Twitter feed. For that, you need to add this code where ever you want your Twitter feed to appear. You can even add it inside the Widget text box.

[custom-twitter-feeds]


The Custom Twitter Feeds Pro WordPress Plugin - v1.2
How to Live Twitter feed on WordPress Website Without Plugin
You need to Open the Twitter developer page.
Once you are there, you will find four options Embedded Grid, Embedded Tweet, Embedded Timeline, Twitter Button.
So in our case, we will select Twitter Embedded Timeline. And paste your Twitter URL and click on the preview.

Once you are on the next page, you will find embedded code. Just copy and paste those codes in the Text editor, and you are ready to go.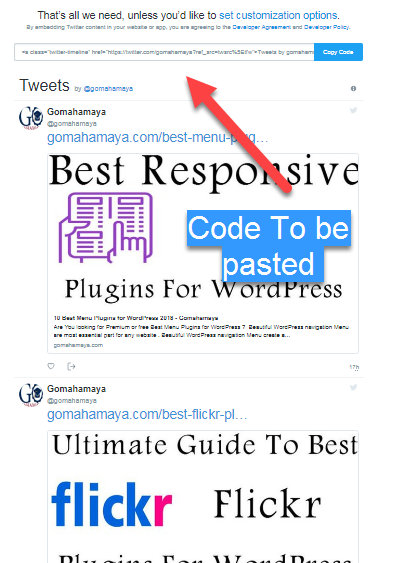 How To Add Live Twitter Feed On Your WordPress Website
Finally, in the last, we can conclude that we learned so many things in this article, like adding a live Twitter feed on the WordPress Website by using Plugin and without Plugins.
Conclusion – Still confused about which is the Best Twitter Feed Plugin WordPress? Don't worry. I will make it simpler for You. Whether you want a free version or the Premium version for both versions, Custom Twitter Feeds by smush ballon is incredible. Still have questions, Feel free to ask me in the comment section or email me.