6 Best LinkedIn Plugins for WordPress 2023
Are you for Best LinkedIn Plugins for WordPress? LinkedIn is one of the most famous social sites for Professional jobs and people in business. Linkedin To have Developer Tool Where they have lots of plugins which you use without using any 3rd party Plugin like

Nowadays, integrating LinkedIn into WordPress is easier with the help of WordPress Plugins. With this plugin, you can easily display your LinkedIn company feed Or Profile On your WordPress Website. To decrease your effort and save time, we decided to write the list of Best LinkedIn Plugins for WordPress.
Table Of Content
1. WP LinkedIn Auto Publish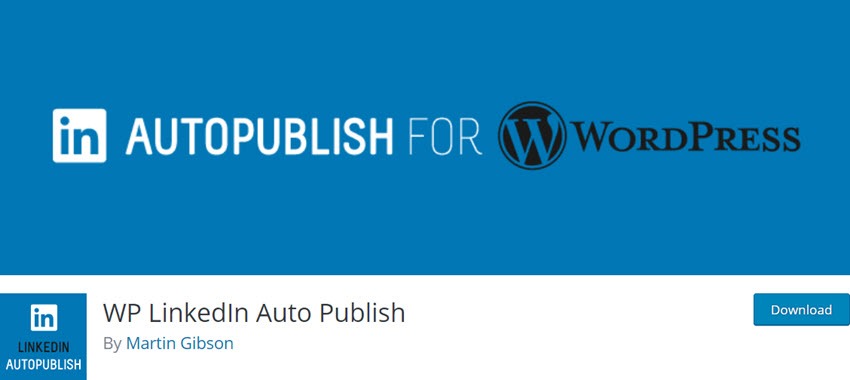 WP LinkedIn Auto Publish is an intuitive and lightweight plugin that effectively manages your LinkedIn auto-publishing functionality. Let you connect any personal LinkedIn profile on the company's page, wherever you want automatic posts. You may select the audience you want to share any post with. This feature-packed extension enables post configuration whether you need text-based posts or posts with featured images. Configure the format for the default message sent to the audience after publishing any post thereon. Insert shortcodes that can be placed in the meta box of every post to notify the audience about a post with a text message.
WP LinkedIn Auto Publish plugin has shortcodes that help users insert a LinkedIn profile and a rotating scroller of LinkedIn recommendations in any WordPress page or post. Many widgets exist for several purposes, such as displaying network updates, recommendation scroller, and profile cards. Once you add such an Insight tag, it will oversee events like add to cart, checkout, and purchase to trace the source of conversions. Thoroughly analyze the LinkedIn conversions in a Campaign analytic that lets you understand the advertisement's actual ROI.
Total number of users – 7,000+
Screenshot

2. WP to LinkedIn Auto Publish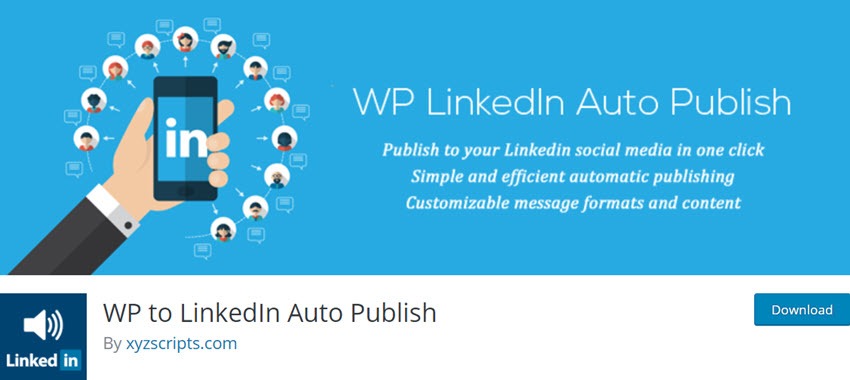 WP to Linked Auto Publish is a well-oriented plugin that enables your blog posts to be automatically shared on your LinkedIn profile. Connect the LinkedIn profile or page of the company where you need to publish the message. Customize the format of the message in your desired way. This highly integrated plugin lets you publish your posts with a filter option for custom post-type and categories. Decide whether to publish a simple text message or attached image within it. You can also publish a message with a link attachment if necessary.
WP to LinkedIn Auto Publish automatically allows users to publish posts from the blog to LinkedIn. You can also publish simple text messages to LinkedIn, and you can publish these messages with an image. It also helps you filter the items to be published based on categories and custom post types. Count your website's conversion rates and analyze other activities like download, install, and other events.
Total number of users – 2,000+
Screenshot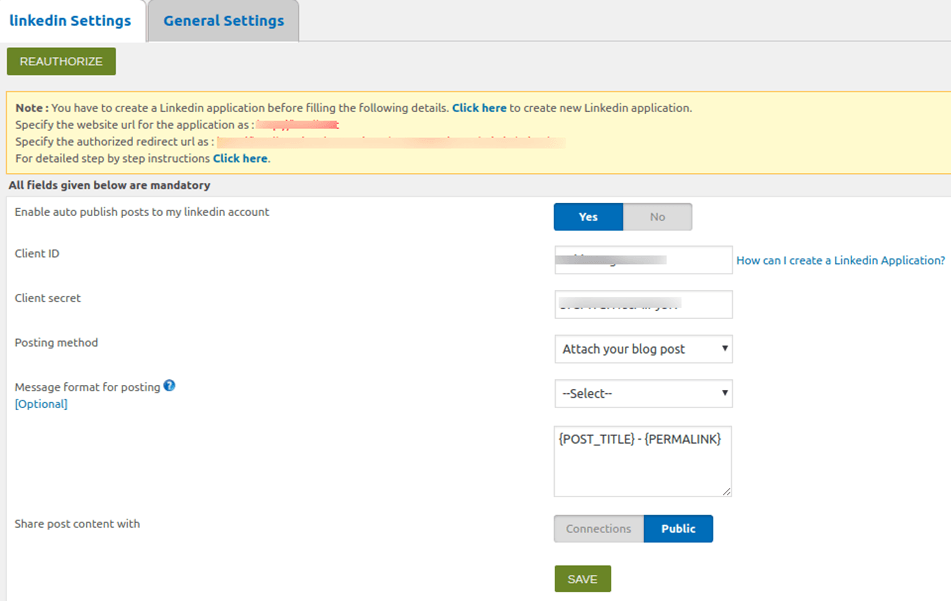 3. BestWebSoft's LinkedIn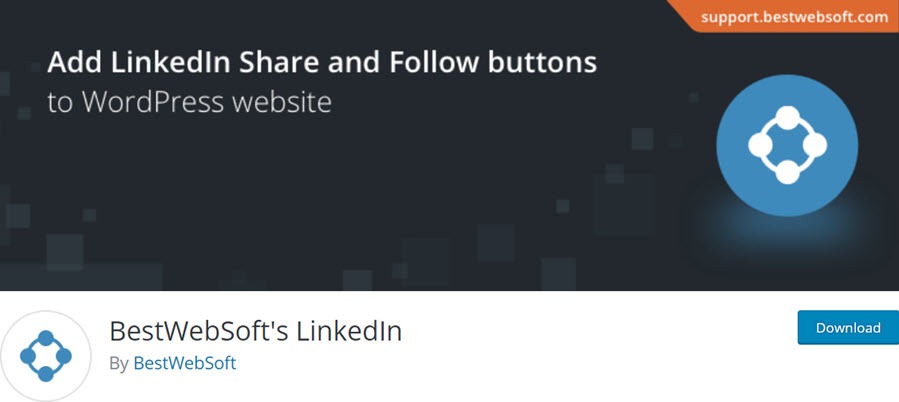 BestWebSoft's LinkedIn provides the primary social tool for LinkedIn where you can share any posts and pages available on the website. Add your buttons for sharing and follow anywhere on the site and integrate the entire LinkedIn functionality within a few clicks. Customize the appearance and position of such LinkedIn buttons. Enable custom coding while configuring through the setting page. Connect your LinkedIn profile and share the post right there. Allow subsites to communicate on the same network without any restrictions. It supports multiple languages, instantly detects the website's language, and acts the same.
The LinkedIn plugin is a valuable social tool that helps users add Follow and Share buttons to website posts, pages, and widgets. To promote the public profile, customize the appearances, configure the settings and enable many advanced options. The button position can be selected as before or after content or both, or they can be customized using a shortcode. Now, spread LinkedIn Insight Tag on the website wherever necessary. An integrated platform where you can insert the Data Partner ID of LinkedIn.
Total number of users – 500+
Price – Annual – $20.8/annually (1 Site),  Perpetual – $208/Lifetime (1 Site),  Membership – $250/annually (1 Site)
LinkedIn WordPress Plugin - Brief Overview
Screenshot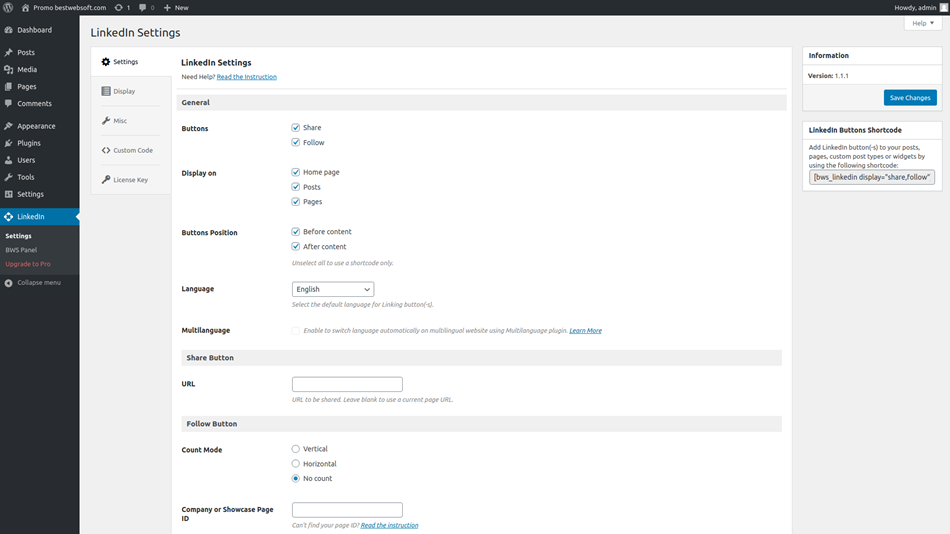 4. Add Linkedin insight tags for Linkedin ads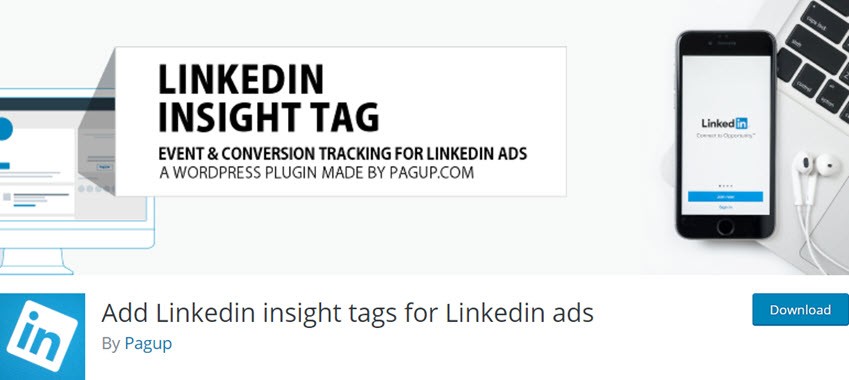 It is one of the reliable plugins to measure the outcomes of having LinkedIn integration on your website. 5. WPConcierges Linked Insight Tag. To receive the user's company updates, the Add-Linkedin insight tags for the Linkedin ads plugin use LinkedIn's API. These updates can be displayed with shortcodes and PHP. Custom styling is optional. You can also copy and paste the customizable shortcodes. Display the token expiration date. Customize the CSS class options. This also helps to implement PHP. The default styling is also very responsive. For expired tokens, there are email and admin notifications. Images appear in the feed. With the help of the LinkedIn Company updates plugin,
You can quickly Get your LinkedIn feed into WordPress. You can even show your feeds inside the Widget of the website. Enable or disable the WordPress page publishing. The message formats can be customized for LinkedIn. Some of the post messages which can be published are post title, excerpt, description permalink, blog title, etc. You can translate the plugin into several languages. This also enables you to show profiles of multiple users along with company profiles and company updates.
Total number of users – 4,000+
Screenshot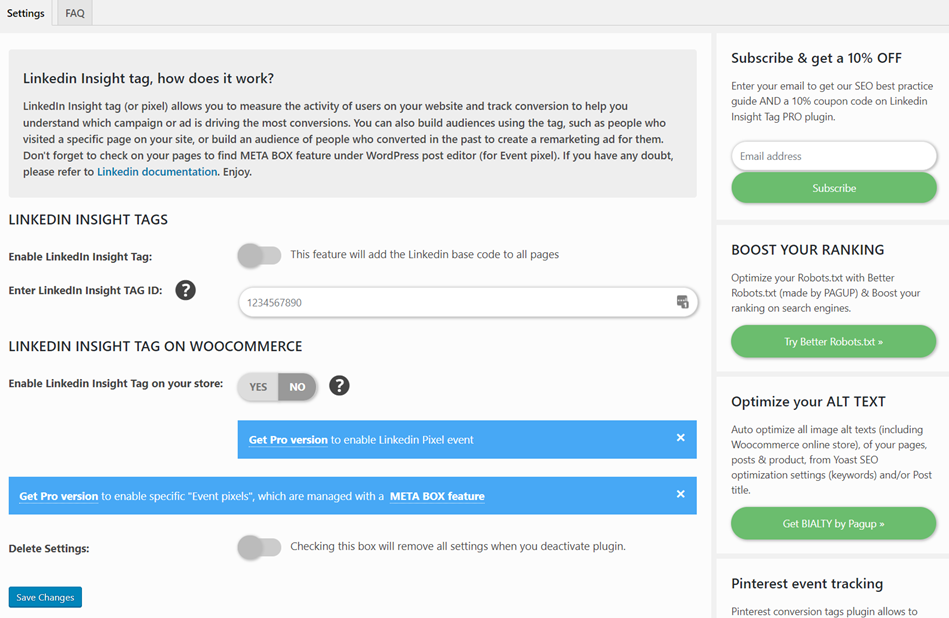 5. WpConcierges LinkedIn Insights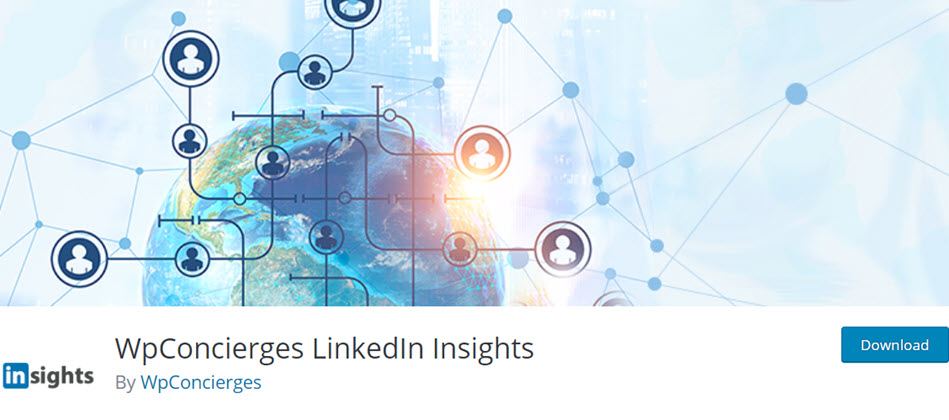 The most advanced integration between LinkedIn and WordPress is WpConcierges LinkedIn Insights. This plugin allows the WordPress website to integrate with LinkedIn's API. BuddyPress custom fields can be mapped to LinkedIn profile fields. The visitors can log in or register to their LinkedIn account with a single click. The content can be locked and available only to those logged in to their LinkedIn profile. Custom redirect URLs can be entered upon login sign-up and Authorization calculation.
WPConcierges Linked Insight Tag is integrated so well for supervising the consequences of connecting LinkedIn profiles. Enable the LinkedIn Insight Tag to different website pages with a strategy. Allow event tracking on WooCommerce purchase, add to cart, checkout, form submission, etc. Let you be concerned about how many conversions occur, the ROI of advertisement, conversion cost, and more.
Total number of users – 200+
6. LinkedInclude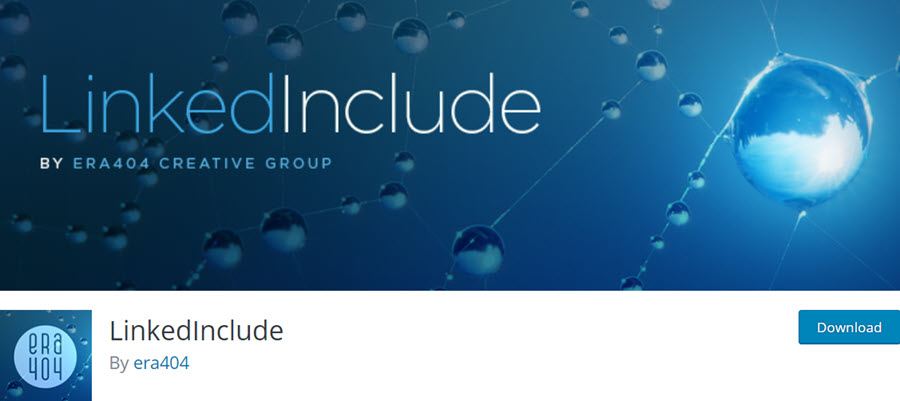 The LinkedInclude plugin allows the users to add a simple widget that will display a badge with a description and a link to the LinkedIn public profile page. It supports new widget models by this plugin and allows multiple instances. It also includes any translations of this plugin such as Siberian, French, Spanish, Russian, etc. the options that can be configured are title, text, description, alignment, URL target, LinkedIn URL, and badge style.
This plugin collects no personal information from the visitors. You can also choose the count mode for share and follow buttons as vertical, horizontal, or no count. It enables you to add LinkedIn widgets to your company profile, member profile, company insider, etc. Let you trace such activities from your mobile or desktop and see the conversion source. Monitor campaigns on LinkedIn so closely to optimize them very well to drive your excellent performance.
Total number of users – 80+
Screenshot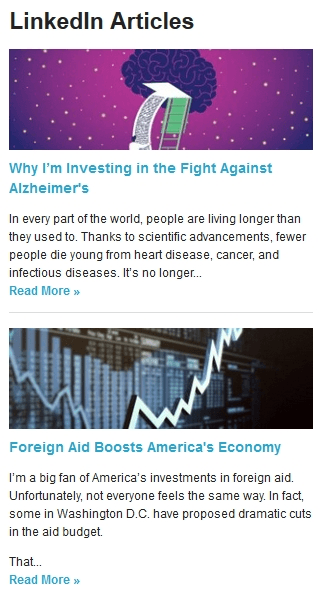 Conclusion – Based On your use, choose one of the mentioned Best LinkedIn Plugins for WordPress. All the Plugins mentioned above have different work. If you want to work without a plugin, I recommend using the LinkedIn Developer tool. You will find various tools like sharing, profile, feed badge, etc.