Thrive Comments Review 2023 Best Comment System For WordPress
Are you looking for thrive comments review, Is it really a Best Comment System Plugins For WordPress? Do you know that the most unnoticed feature of your website can be your best converting card? Yes, you are right it's the "Comment Section" of your website. You must have noticed that most of the websites have a feedback section or a testimonial section.

The site visitors can leave their valuable comments, reviews, and feedback to make your site better and motivate you to amalgamate more expertise; and at the same time useful to the new visitors as a reference. Another, purpose of the comment section is that they make the visitors feel important and prompt them to visit your site again and again. This all will ultimately transform into conversions and help you rank higher on Google.
Today's online scenario is reward centric. People share images on social media to get likes and comments. Every social networking site like Facebook or Youtube imparts an interactive experience to the users. Hence, the social world is entirely bonus driven in one form or the other.
Here is what the Thrive Comments Plugin takes the center-stage. It prompts the web administrators to understand the vast scope of opportunity that the comment section preserves. The comment section must never be moderated, infact the more you utilize your time, resource, and manpower to make it robust, the better benefits you will reap in due course of time. It improvises the comment section of your blog.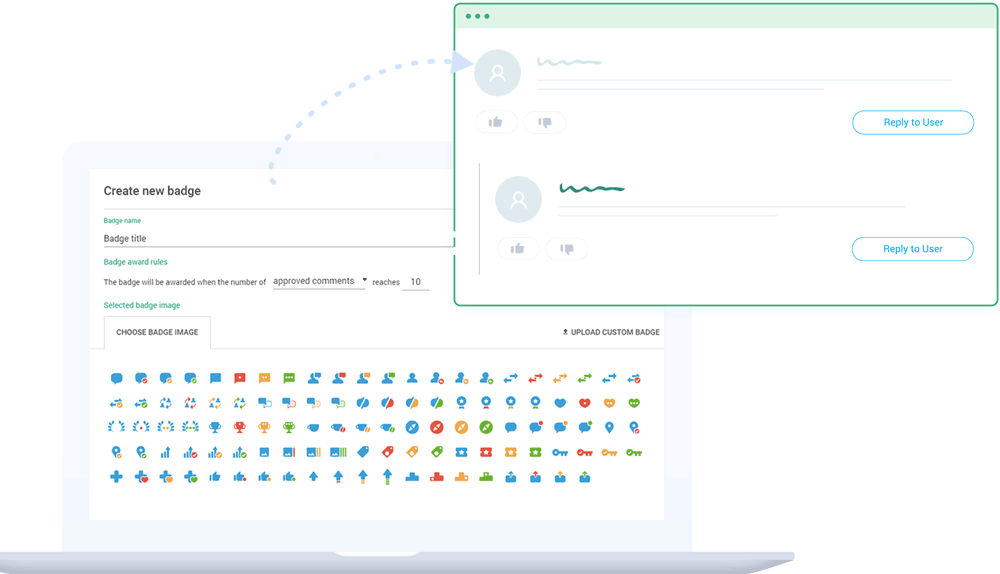 This dedicated plugin has been developed by Thrive Leads, who are well known for their expertise in designing plenty of themes including Thrive Architect. Thrive Comments plugin has been designed taking into account the user behavior patterns and therefore, integrates elements that are purely rewarding and we have discussed earlier that the online world is habituated to reward driven internet activity. The loyal readers get the perks of upvotes, featured comments, badges, etc. as a part of Thrive Comments plugin program.
How do Thrive Comments Work?

Thrive Comment is an extension of the indigenous WordPress Comments. It shows full compatibility with any WordPress theme and integrates with the classical WordPress Comments –
To retain the old comments on your blog prior to its application.
Even on its deactivation, all your comments remain untouched in their prior form.
Undoubtedly, Thrive Comments plugin adds advanced features to your comment section to make it more winsome to the visitors. As soon as it is installed, the existing comment panel is transformed to generate leads.  We must have a look at its features.
You may also be interested in Email Marketing Service, Chat Plugins, and FOMO Plugins
So without wasting our time we will start our Thrive Comments Review
Features
Voting Options on Individual Comments

– You are facilitated to add upvote or downvote to individual comments, a similar option to that of the popular network Reddit. This ultimately renders the comment section to be more informative and engaging as the visitors will rate the comments on the basis of their usefulness. However, if you feel the downvotes are not good for your site's reputation, then you can only "switch on" the option for upvotes, or take off the voting feature altogether. You can enable or disable the voting feature or the badge feature through a little bit of configuration. Easy does it! The Analytics feature of the plugin helps you conclude on the frequency of the voting feature being used.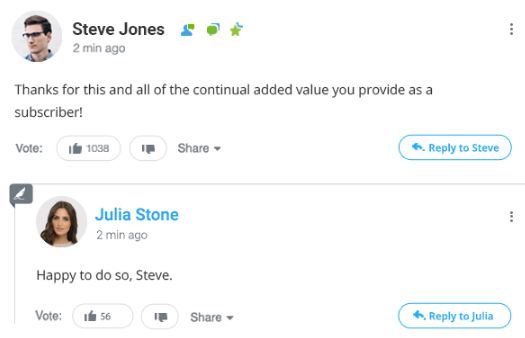 Social Login Support

– Thrive comments give you two options to leave a comment. You can follow either the classical way where you enter your name, email ID and then submit your comment in the box. The alternate option that Thrive Comments offer and that is through Social Login. Since the plugin supports both Facebook and Google+, you can verify your comments by simply clicking a button to substantiate your social profile.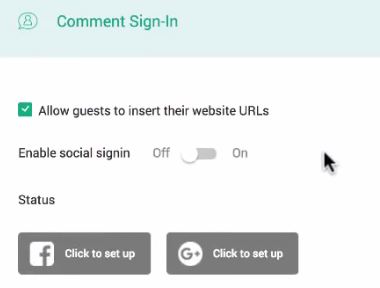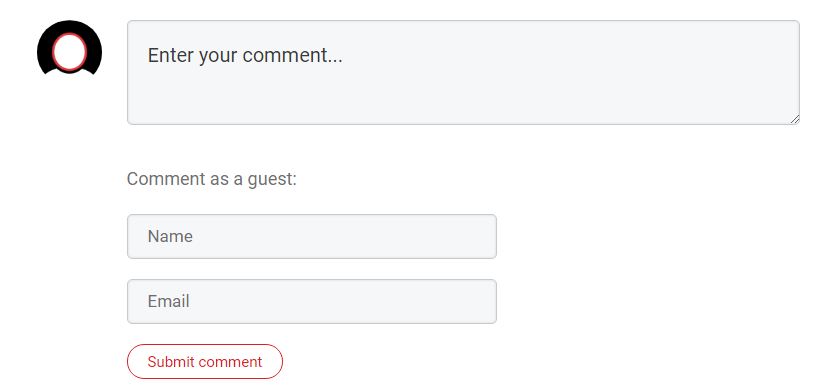 Quick Customer Engagement

– This advantageous feature of Thrive Comments enables you to display a message or offer to the customers as soon as they leave a comment. You can – display a custom message, prompt them to share their comments on social media, offer them related posts, redirect them to a similar URL or show an opt-in form.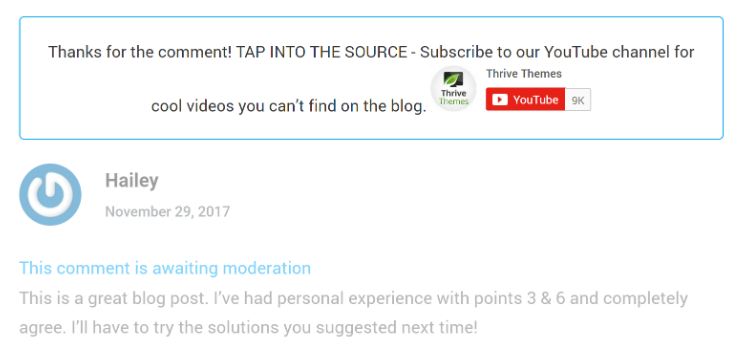 This process ensures further engagement of the customers. Those who leave a comment are usually a group of loyal customers and offering a loyalty bonus or freebie to someone who is already an engaged reader gives you an opportunity to boost up your site.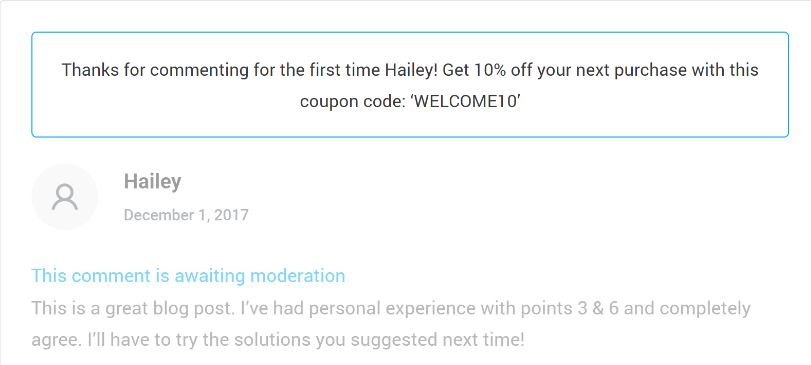 Even, if the customer has commented for the first time, this is the chance to make him an engaged reader. The power packed Redirect Feature is a cherry on the pie as it can transform first-time commentators into email subscribers.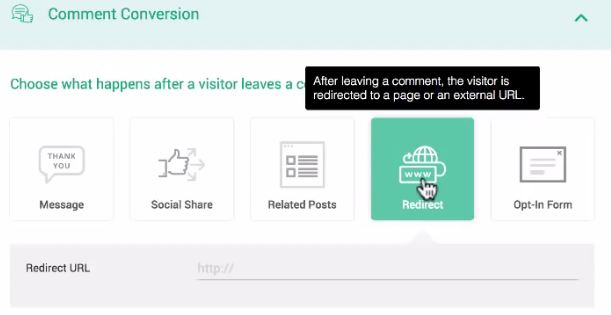 Optin form can also be used in comments for better lead generation but for that, you need to get thrive leads. Instead of getting two different plugins, we recommend you to get a membership
Comment Moderation –

Thrive Comments has an edge over the usual WordPress moderation area as it works to improvise it further by categorizing them into –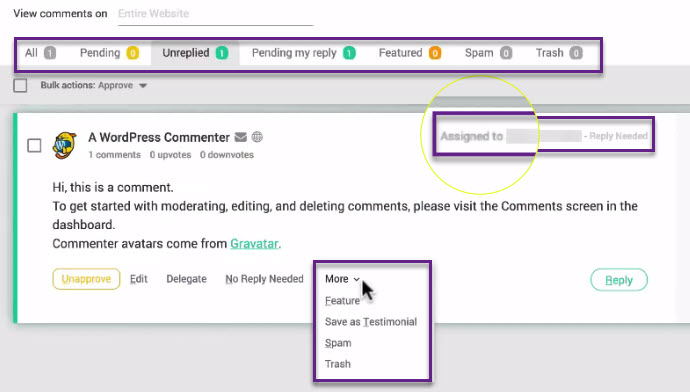 Comments that have queries or issues and need to be answered.
Assignment the Comments to another user who can respond in a better way.
Highlighting the Comment for a greater focus on it.
Those websites which have a huge inflow of comments are largely benefited by the Moderation area as it works as an important management tool.
Gamification Reward – Gamification is a great way to build healthy client engagement. Thrive Comments provides you the facility to award badges to the commenters who fulfill certain criteria such as reaching the number target for approving a comment, featured comments, or comment upvotes. This is a motivational process and ensures a healthy feature for client engagement in the online world which is entirely reward driven.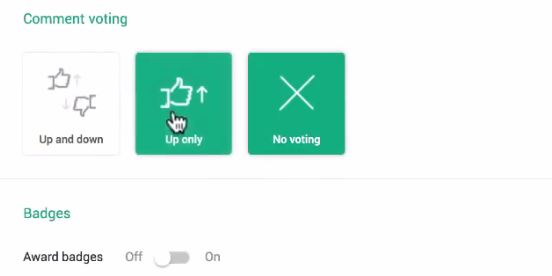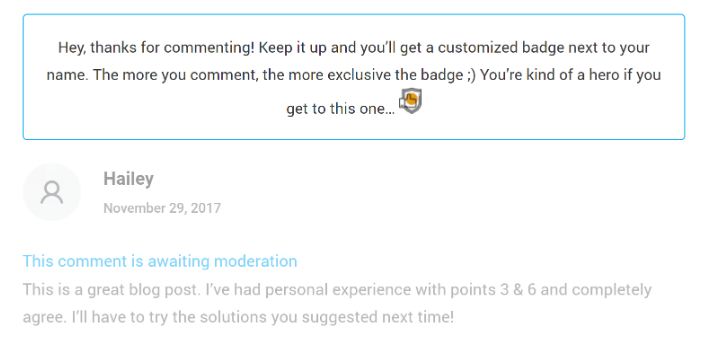 Page Speed Optimization – Thrive comments offers to utilize the server resources in the most efficient way. It works with the lazy load option and uploads the comments section only when the reader scrolls to the bottom of the page. The entire post will open for the visitor but the comment section does not load till the visitor scrolls down to the end of the post. This enables the server to have a faster speed.
The other way Thrive Comments makes the speed better in case you have a huge inflow of comments is by loading a few comments initially. If the visitor wants to view more comments then he can click on "Load More comments". There is also an option where the user can load avatar images, provided he reaches the particular comment.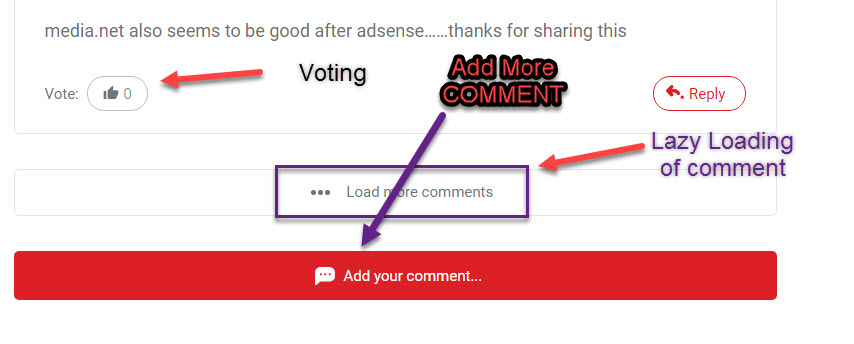 Comment Dates

– Once installed, Thrive Comments allows you to timestamp each comment. You can customize the time tags as well or switch off this feature as per your preference.
12 Clever Ways to Thank Your Visitors for Commenting
Advantages
Thrive Comments draws its uniqueness from its attribute to equip you with something out of the box. Apart from being a mere bridge between you and your customers, it can help you climb up the engagement ladder. Let's see how
Imbibe a Survey

– Those readers who spare their valuable time to comment on your blog have higher chances to spare a few more minutes to take up a survey if prompted. Thrive Comments equips you to take those commenters to a landing page with a survey form. The survey forms can be feedback or anything useful to the readers. You can even invite hosts or sponsors for such surveys.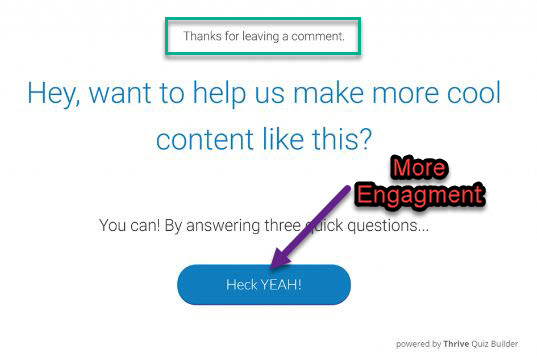 Redirect the Readers

– If the reader has commented on a post, you can redirect them to related posts. This can be an excellent way to keep your readers engaged with their interesting topics and articles. You can eventually reduce the bounce rate of the blog and improvise on the Google rankings.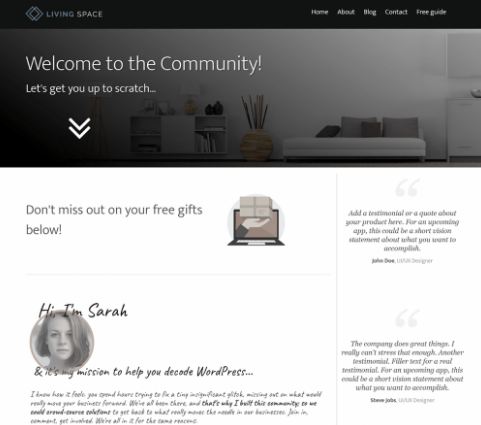 Increment Affiliate Sales

– Thrive Comments can uplift the comment section to generate revenue through affiliate sales. You can showcase the number of comments that you have received on a particular post and contact the service brand from a similar niche. They can offer coupon codes to the readers once they have commented on your blog. This way you can boost your affiliate sales.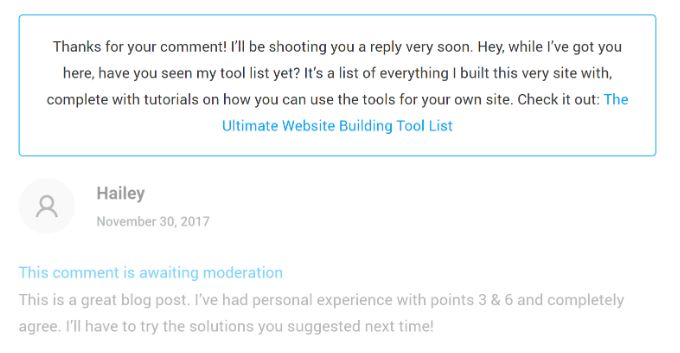 Integration of Lead generation Plugins

– Thrive Leads or any other lead generation plugins can be incorporated with Thrive Comments which can redirect the readers to a landing page. The landing page can further lead the readers to a webinar that you might host as a blogger.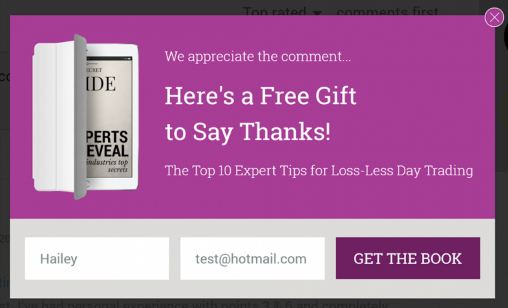 Opt-in Forms

– You can always showcase a site-wide opt-in form and redirect the readers once they have posted their comments.

Spam Protection

The most important part of comment plugins is spam. Every day 100's of spammers come to your website to distract you from work. Thrive comment Plugins have a built-in spam filter which means you can live a completely relaxed life.
Drawbacks
There is mostly one disadvantage of Thrive Comments which is completely negligible.  if we compare it with the native WordPress Comment. The first is that once installed, Thrive Comments extends the page loading time for your site. It loads slowly which can easily be overcome by enabling install lazy loading of the comment section.
I will say that these drawbacks are negligible when we consider the vast set of advantages and features the plugin offers.
Installing Thrive Comments 
The installation process of Thrive Comments is similar to that of any WordPress Plugins. You simply need to download the plugin from the official site and integrate /upload it directly to the blog through the "Add New" section under plugins. Once you are done with the installation process, press the activate button, and whoa you are good to go!
For installation Process you can refer this documentation – Documentation 
The admin sidebar features the Thrive Dashboard where you can configure both the plugin and the comment section of your blog post. Remember, this is a new addition. The new Thrive Comments will automatically show up next to the list of other Thrive Plugins in case you are already using a Thrive Plugin.
Setting Up Thrive Comments –

Once you choose Thrive Comments, a list of options opens up in front of you.
You move to the General Settings Area and configure the basic options and the comment section there.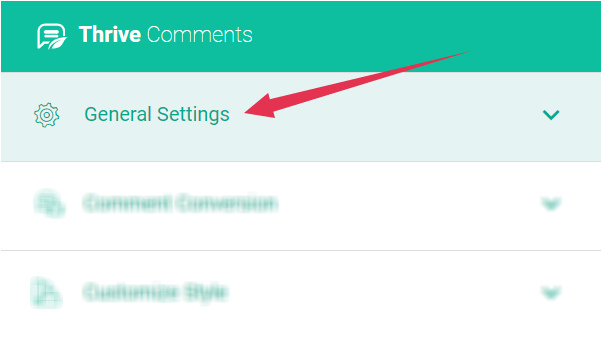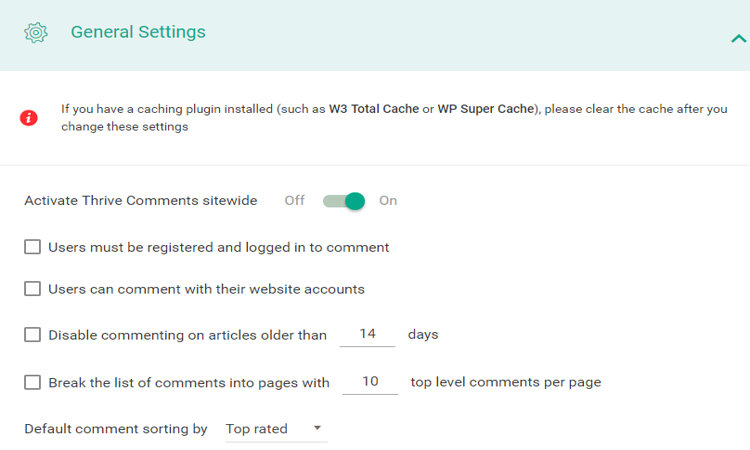 Then you move to Comment Conversion. This area helps you to redirect the visitor's comments. For instance, first-time commenters can be redirected to a Thank You page that also has social share buttons embedded, or to some related posts or opt-in forms. The setting is entire as per your preference.
Besides, you can also give your readers the sign-in option through a social channel or as a guest user. Additionally, you can activate or deactivate the website URL integration by the guest users to control the spam activity on your blog.
The Customize Style option enables you to choose a color for your blog theme. The commenters who have a Gravatar account can choose an avatar image for themselves. The type timestamp that has to be displayed next to the comment section can also be activated or deactivated.
Now you move to the Voting and Badges Section, Here, you can enable the voting section within the comment section to reward the readers with badges once they fulfill certain criteria.
The Advanced Settings Option allows you to moderate the comments by choosing the user roles. A beautiful option for multi-author blog. A list of keywords can be automatically linked to the comment section.
Page Speed Optimization settings help you optimize the speed of the page loading.
You will agree that this is one of the easiest and user-friendly settings. You do not require any coding skills or technical knowledge to have this plugin get going.
The Power of Analysis with Thrive Comments
Thrive Comments offers three analytical sections which can be utilized further for lead generation.
Voting Stats – You get a chance to connect with your reader by analyzing the type of users who acquire better votes.
Work Cloud – Keep an eye on the type of comment your blog is getting.
Comments Graph Comparison – You can see the trend of the flow of comments. Whether it's an upward or downward trend and then mold things accordingly.

Pricing
Thrive Comments is a premium plugin.
For a single site owner, the plugin comes for $19.
If you own multiple blogs then you can prefer 5 License packs for $195  $47 only or
15 License packs for $585  $9​​​​7 only. A very good plugin and the price is worth it for such a feature-rich plugin.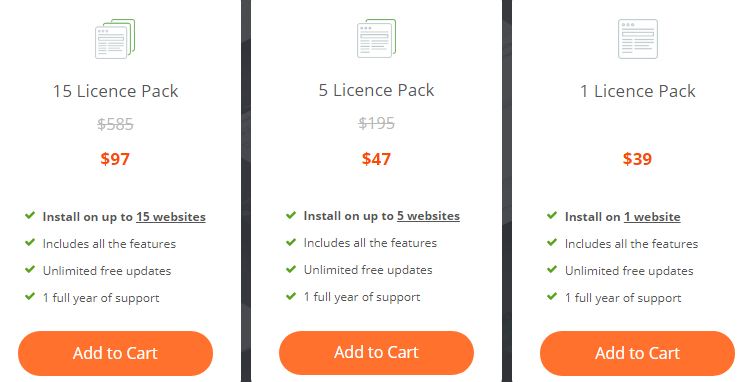 Note – They offer 30 days Money-back Guarantee.
Wrap Up
In a single sentence, Thrive Comments has built-in comments analytics, fast loading attribute, versatile conversion options, and favors multi-author blogs. It provides an excellent interface for the user- author interaction and engagement. This simple yet powerful plugin helps you boost your conversion rate, improvise affiliate sales, reduce bounce rates and increase the number of subscribers. So In Our Thrive Comments Review, we will Give 10/10 for their hard work and high quality.
You must try it out!
Note – Our Thrive Comments Plugin Review is completely Unbiased. And we don't take any kind of Payment For Writing reviews.