10 Best Antispam Plugins for WordPress 2023
Are you planning to protect your contact form submissions and comments from spammers and looking for the best antispam plugins for WordPress? WordPress antispam plugin is the most important Plugin for any website. Add a spam filter for your website because unwanted comment spams and contact form submissions are most irritating for any website admin.

Every day hundreds of spam comments related to irrelevant words and URLs in your Comment list may give you an ahead. To minimize that WordPress spam, we need the antispam plugins for WordPress to protect us from Anonymous comments. And also, we will be learning about how to add an antispam plugin to Stop WordPress comments spam. For that, our list is as follows:
1. Akismet Spam Protection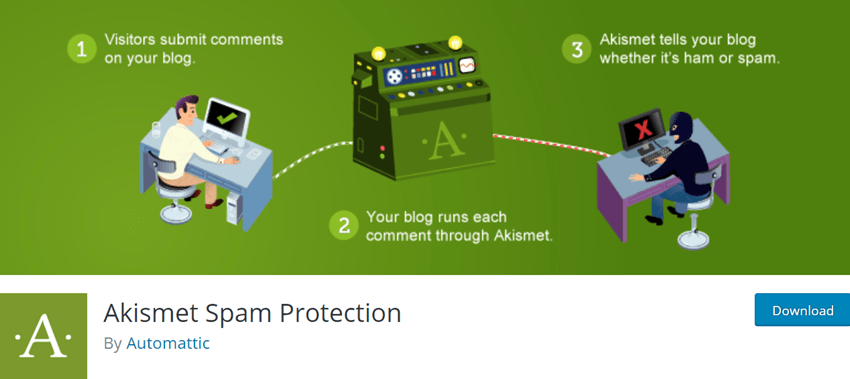 Akismet gives the user enterprise-level spam protection to their WordPress site. To prevent the site from publishing malicious content, comments and contacts are checked against a global spam database. The comment spam it catches can be reviewed on the blog's 'Comments' admin screen. Its features are:
Filters comments- All the comments are checked, and those which look like spam are filtered out.
Comment Status History- There is a status history for each comment where comments caught or cleared by Akismet or commented spammed or unspammed by a moderator can be seen.
URLs shown- Hidden or misleading links are revealed in the comment body URLs.
The moderator can see the Number of approved comments for each user.
Discard Feature- This Plugin speeds up the site by saving disk space. It does so by blocking the worst spam out straight.
Total number of users – 5,000,000+
Pricing – Personal Plan – Free, Plus Plan – $5 (for small commercial websites), Enterprise Plan – $50 (for large websites)
2. CleanTalk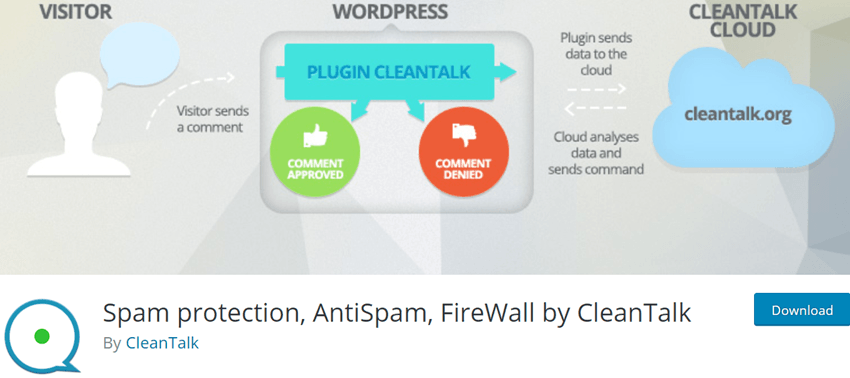 CleanTalk is an incredible plugin to stop spam comments. There is no mess of captcha, puzzles, maths, spambots, or questions. It stops spam in registration, orders, comments, contact emails, bookings, subscriptions, etc. It checks the existing spam comments and users and removes them. It is GDPR compatible and fits on all mobiles and devices.
 Antispam protection to Stops spam comments- The spam comments are moved to the Spam folder, or the spam comments can also be banned silently. The spam comments can also be chosen to be auto-deleted.
Spambot registration filter- Spam bots can be filtered on registration forms of WordPress, WooCommerce, BuddyPress, etc.
Blocking Comments by "Stop Words"- To enhance spam protection and messages with obscene words, comments can be blocked, which contain "stop words".
Block users by country- Comments and registrations can set for an automatic block for the countries set.
Private Black List for Spam Firewall- Spam attacks are blocked from IP addresses that are not included in the SFW base
Total Number of users –100,000+
Price – 1 Site – $8/annually , 3 Site – $16/annually , 5 Site – $24/annually , 10 Site – $46/annually , 20 Site – $88/annually  , 30 Site – $126/annually , 40 Site – $160/annually
Screenshot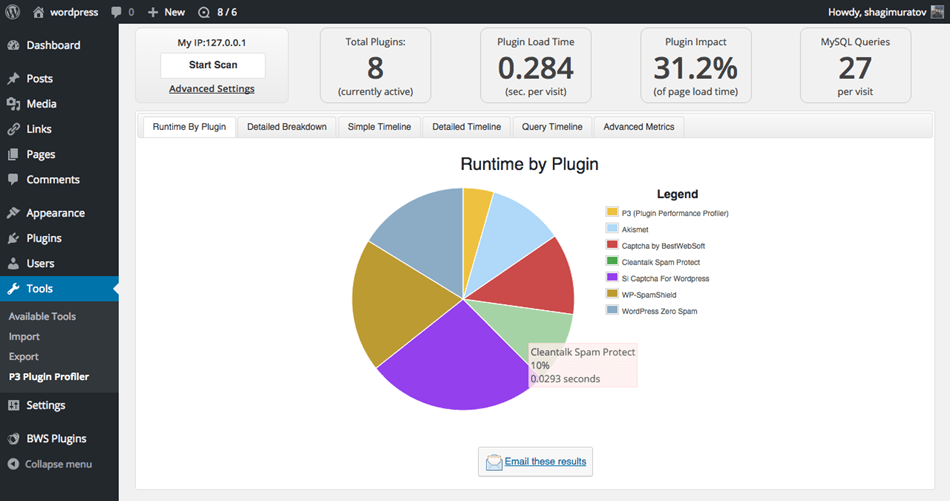 3. Antispam Bee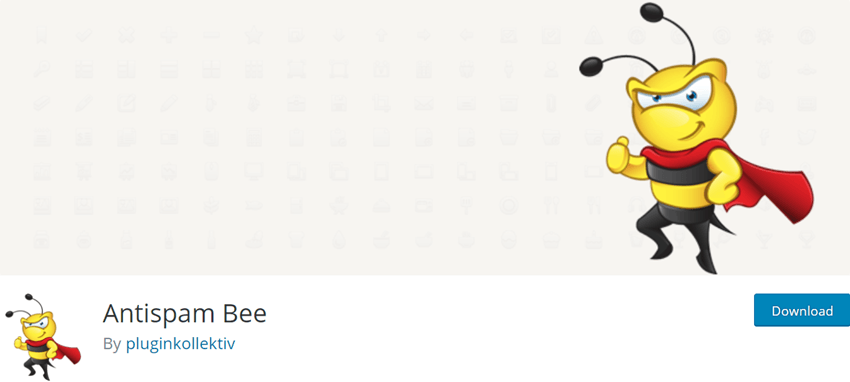 The users can say goodbye to Stops spam comments using Antispam Bee, which blocks spam comments and efficiently trackbacks. And it does so without using any captchas and sending personal info to third-party services. It is ad-free and is compliant with GDPR.
Trusted commenters- The commenters are trusted and approved by Gravatar.
Language- Comments can be allowed only in a particular language.
Block/Allow comments- Comments can be allowed or blocked in some countries.
Delete spams- Existing spams can be deleted after a fixed number of days.
Approval- Approval of the comments/pings can be limited.
Spam-check comments- The comments can be optionally spam-check comment forms on archive pages.
Notification- Admins can be notified about the incoming spam by email.
Total Number of users – 700,000+
Screenshot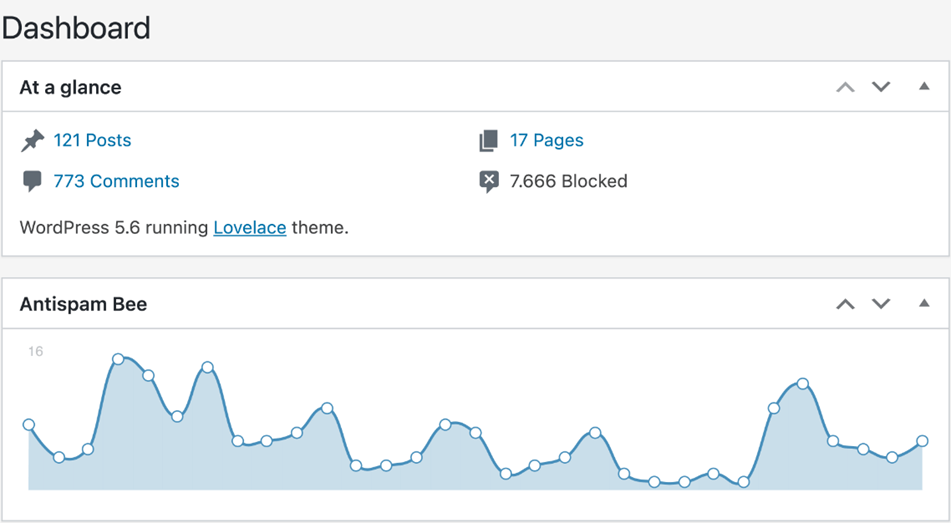 4. Blackhole for Bad Bots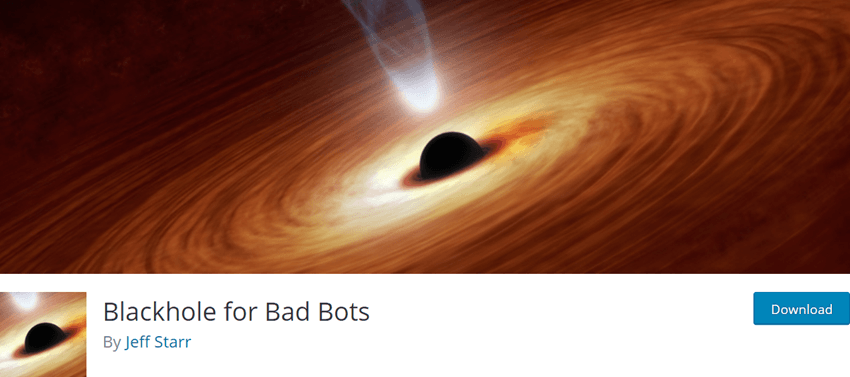 Black Hole, Bad Bots plugin, is tightly recommended to stop spam in WooCommerce and any membership website. There are some terrible bots available on websites searching for ruining your website. This Plugin prevents bad bots and saves resources for your users. Itself, they form a honey trap for bad Ip addresses and block them permanently.
This Plugin creates a hidden link at the bottom of your page, and you need to include a line to your robots.txt file that will prevent the bots from following the link. But the bad bots that break the rules and show disobedience will fall into the trap and thereby be denied access to your WordPress website. A fantastic feature is that, to the human users, that link will be invisible. It will only be seen by bad bots so that they get trapped.
It has some amazing features :
It is resilient, quick, light in weight, and provides an easy installation.

It protects your website by working quietly behind the scene, and it arranges messages that are supposed to be presented to the bad bots.

All the search engines are whitelisted not to block.
Total Number of users – 30,000+
Screenshot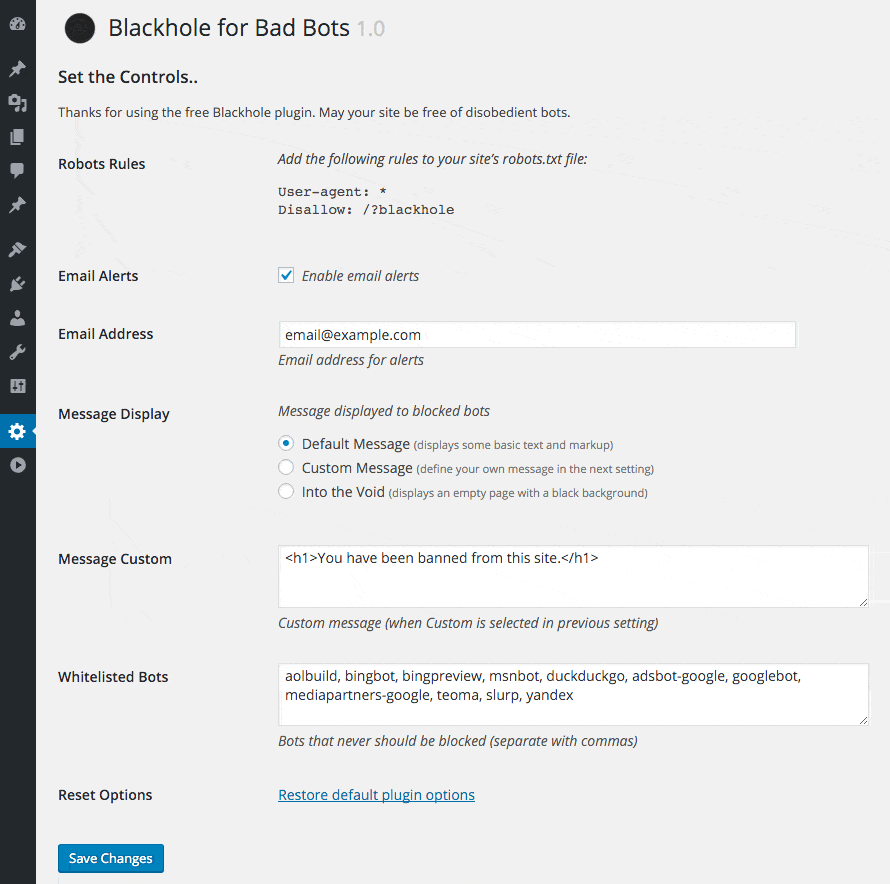 5. Stop Spammers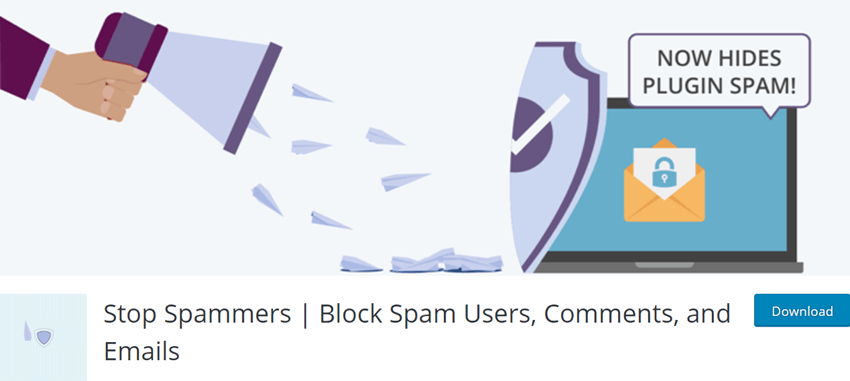 Stop Spammer defends the website against comment spam and login attempts. More than 15 different types of checks are performed for malicious events and spam and block spam from many countries worldwide. It remains unobtrusive to regular commentators but automated spams in the background. It is effortlessly simple to use. Just install and relax from spam.
The methods used by this Plugin for checking spam are sometimes very aggressive. Users are also offered a second chance to post their comments and log in when spam is detected. The requests which have been denied are presented with the CAPTCHA screen so that the users don't get blocked.
Stop Spammers is different from other plugins because it blockers the spam at the front door of the website itself, and then it is nowhere in the database of WordPress. So the admin does not have to waste his time going through the queue of spammed comments. It provides a more smooth and trouble-free experience to the users and increases their readership.
Improve Security- The Plugin prevents hundreds and hundreds of spam from queuing up in the WordPress database and keeps it slim. This helps the site from being corrupted by malicious spam.
Only spam in the comments section is blocked.
Stop email harvesting bots from scraping the site for the email addresses
Total Number of users – 60,000+
Screenshot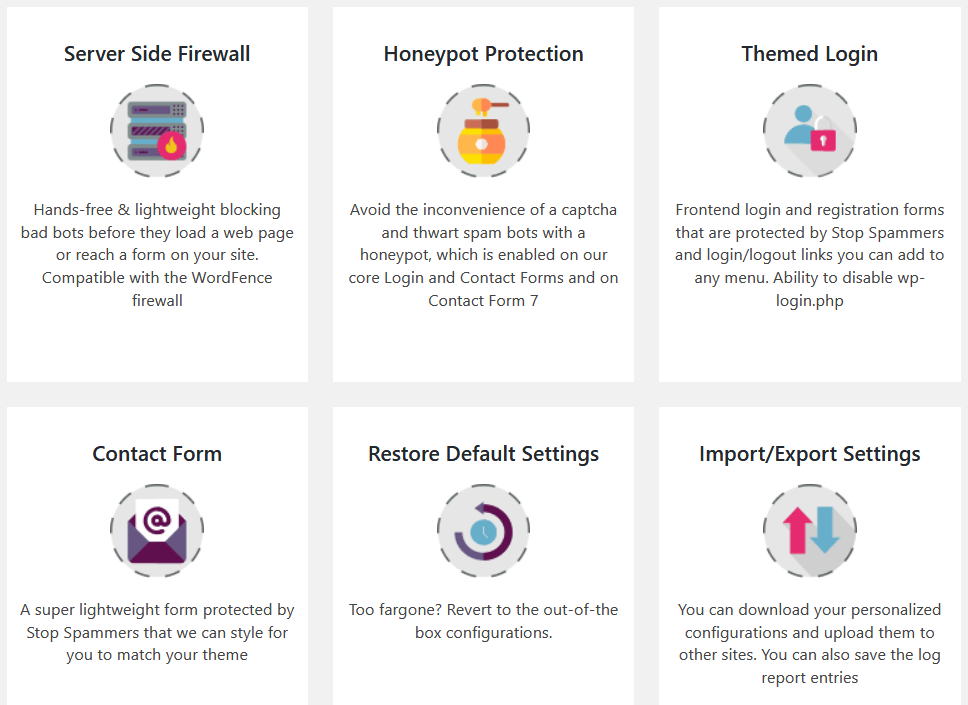 6. WordPress Zero Spam
With WordPress Zero Spam, users don't need to prove that they are spambots. Registration spams and spam in comments are blocked automatically without any additional setup or configuration. To enjoy a spam-free site, users need to install it, activate it, and use it.
No moderation queues- Administration doesn't need to worry about spam after installing this Plugin.
No captcha- Users don't need to worry about spam.
Block spammy IPs- Those sites which usually spam are banned from even using the site.
Optional logging- Users can see who all are trying to spam by logging in optionally.
Theme and plugin integration- Any form on the site can be themed or Plugin integrated.
Extend the Plugin- The Plugin can be extended with action hooks.
Total Number of users – 30,000+
Screenshot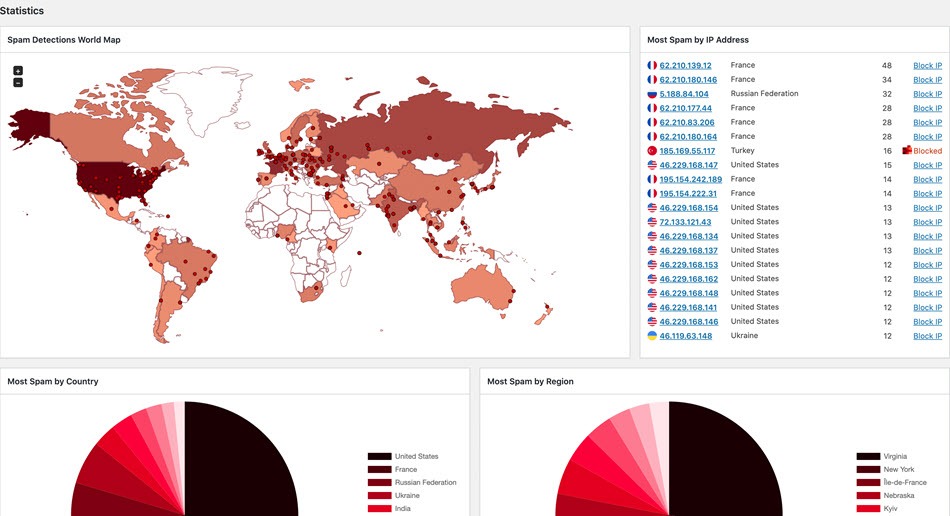 7. WPBruiser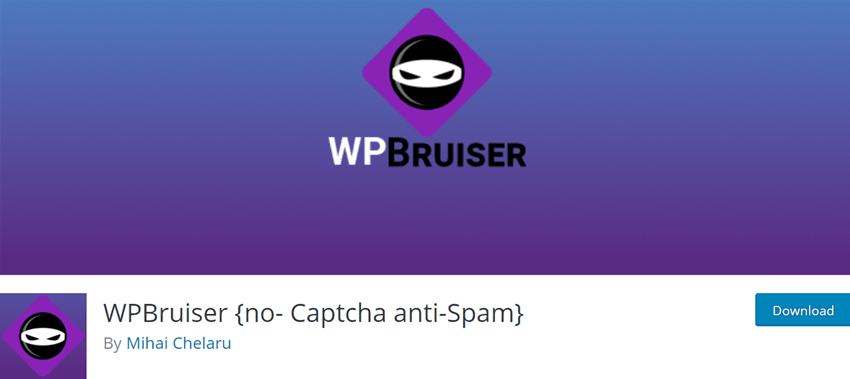 The moment a user installs WPBruiser, it starts eliminating spambot signups, brute force attacks, and spam comments. It is not visible to the end-user and does not show any captcha. Instead of sending spam to the spam folder that the users may have deleted from time to time, thus wasting time, this Plugin prevents the spam bots from leaving any spam at all. Its features are:
Automatic block- IP addresses can be automatically blocked.
Page loading time– The time taken to load the page is not affected.
Standard Integrations- Standard WordPress login form, register form, forgot password form, and comment forms are integrated.
Maximum Number of characters- The maximum Number of characters for each comment field can be set.
Detects client IP address- Clients IP addresses are correctly detected while using ClientFlare
Total Number of users – 30,000+
Screenshot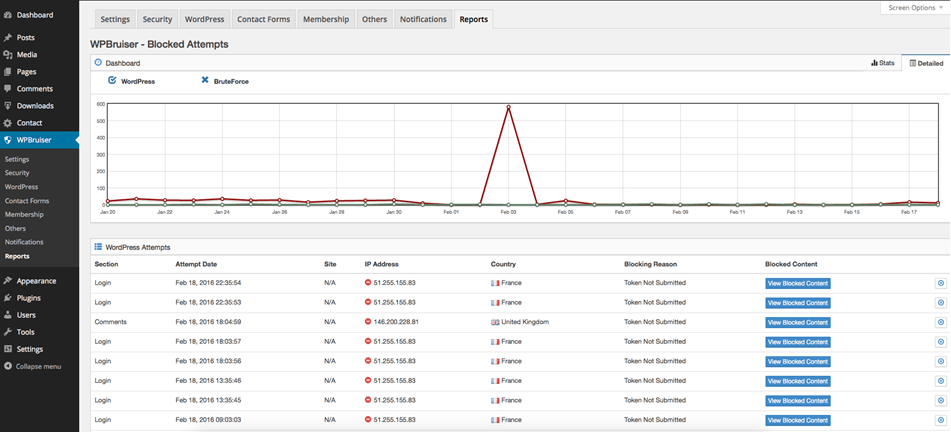 8. Honeypot Anti-Spam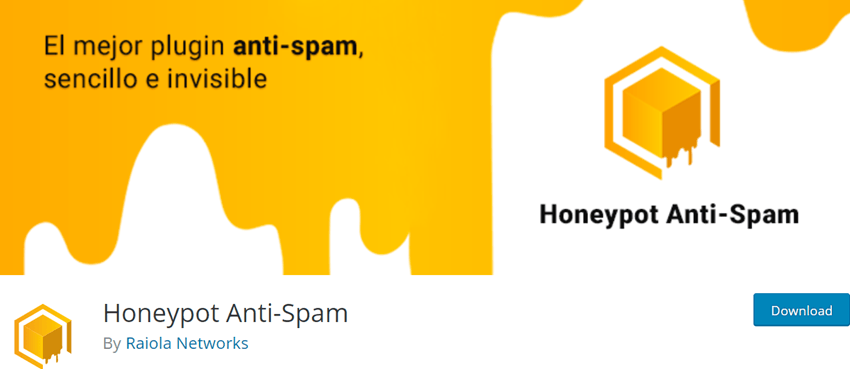 With this Plugin, there is no need to add any captcha in your WordPress because it provides complete protection to your comment forms. Also, an interesting fact, a honeypot is not visible to visitors, it is made to detect spam.
It has amazing features like :
it provides easy installation, you need to install and activate from the WordPress dashboard, and then you are good to go.

It creates a hidden field with the help of Javascript in forms.

There are spam bots that help you identify it and term it as 'spam' spontaneously.

Save blocked comments- It can store the blocked comments in the spam area by enabling/disabling them on the settings page. It helps debug and test.
GDPR Complaint- The Plugin does not store other users' data or share them.
Total Number of users –10,000+
9. WP Armour
WP Armour Anti-Spam is an extremely oriented WordPress plugin let your website automatically protect from spam. All you need to do is install this plugin and then it automatically adapts with other existing plugins. Provide a hassle-free user-experience to your customers by removing the additional verification field or Captcha access. A complete anti-spam protection extension comes up with a wide range of forms such as BBPress Forum, WP Comment, WP Registration, Formidable Forms and much more. This extension will filter out the spammers and bots from any forms and comment section.
WP Armour Anti-spam Plugin enable your website safe from irrelevant comments that will secure SEO reach on different search engines. With the assistance of JavaScript, you can add more fields to any forms available on your website. If you are getting this extension on your website it will be beneficial to your website as it increase engagement rate. Saves a lot of your time and easy to configure as it bundled with WP Form plugins.
Total Number of users –10,000+
Screenshot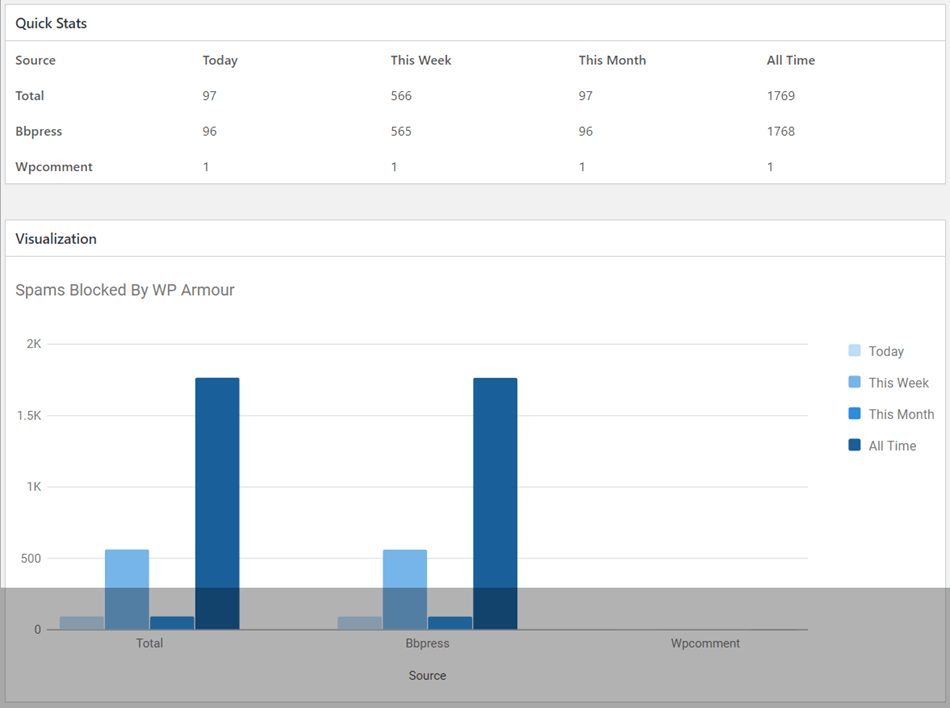 10. Titan Anti-spam & Security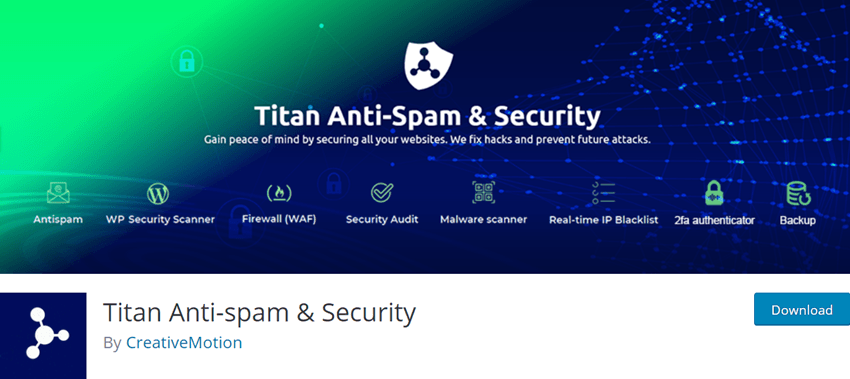 Titan Anti-Spam is an upgraded version of the Anti-Spam WordPress extension embedded with the advanced facility to secure your site more than ever before. Let access many brand-new features enable you to establish excellent security while investing little of your precious time. Highly responsive and works smoothly for the multiple websites that you own. The entire workforce depends on the specified algorithms which detect the spam bots and eliminate captcha accessibility.
Key Features of Titan Anti-Spam –
Analyze the spam pattern while it goes through the logs, which enable you to view the processing request and then mark such behaviours as spam.
Whenever anyone comments on your site anywhere, it will be analyzed thoroughly in the background. If something irrelevant or inappropriate is found, it hides such comments and is marked as spam.
Integrated with updated CMS to enhance the security functionality.
Secure the various forms present on the site, such as the comment and registration forms.
Total Number of users – 100,000+
Screenshot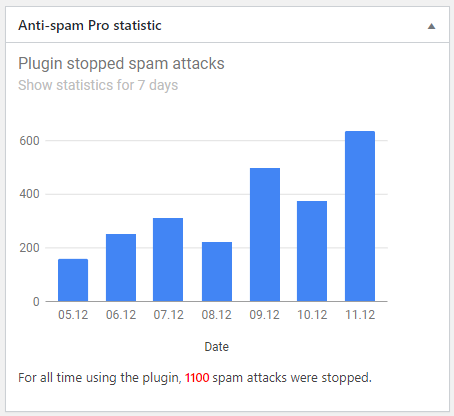 How to add antispam Plugin to reduce WordPress comment Spam
Akismet Anti-spam Plugin Settings 2018
To add an antispam plugin to reduce WordPress comments spam, you need to Install and activate Akismet. Because it is among the top contact form antispam plugins for WordPress, we first need to get the Akismet API key.
Once you activate the Plugin, you need to click on the setting. And once you are inside the setting, you need to get the Akismet API key. And here, you need to click on activate Akismet.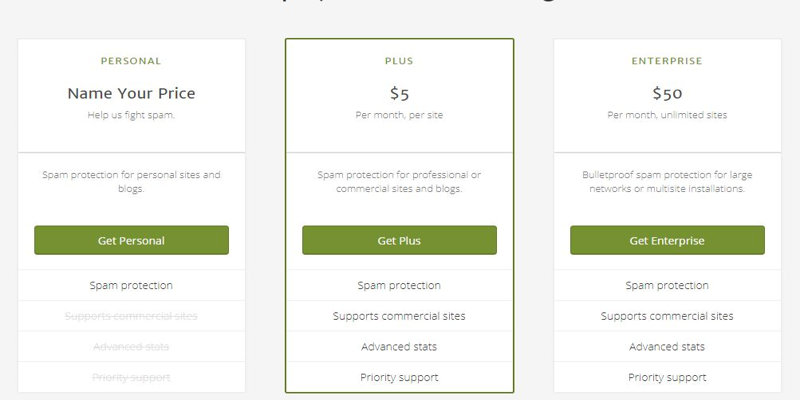 And now you select the plans. So we are selecting free plans. And click on get started. Now you need to move the pricing cursor to the left for free use.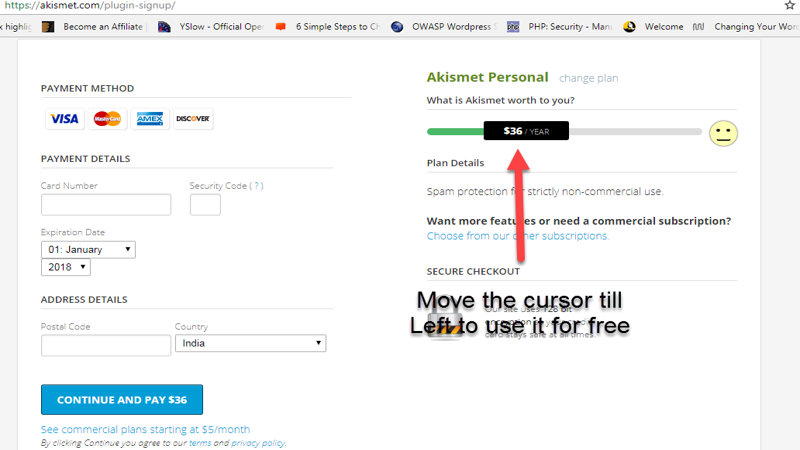 You need to fill in your details like website name, your name etc.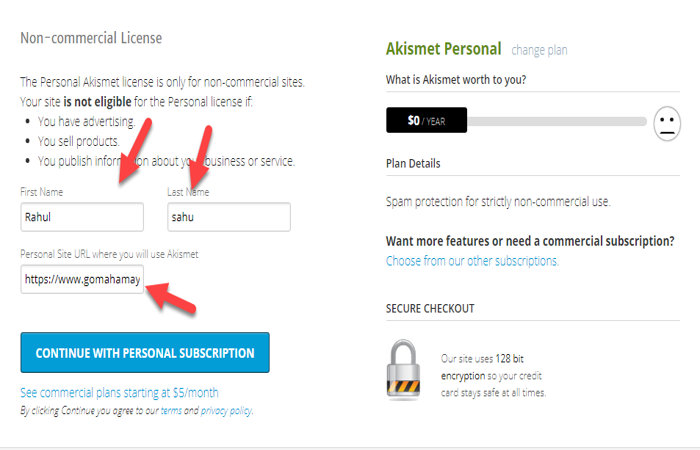 Now click on continue Your subscription. And you will be on the Akismet account page. Copy the Akismet API key and paste it inside your plugin API tab.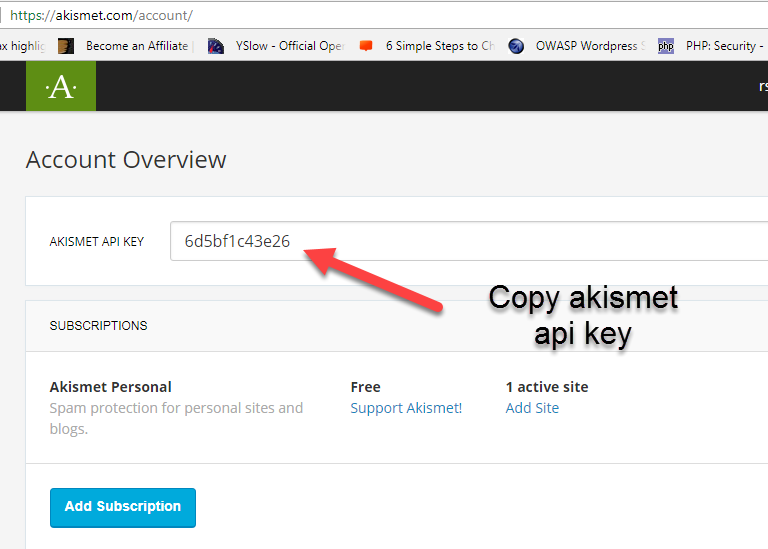 Now click, you need to update the API key inside the plugin setting tab.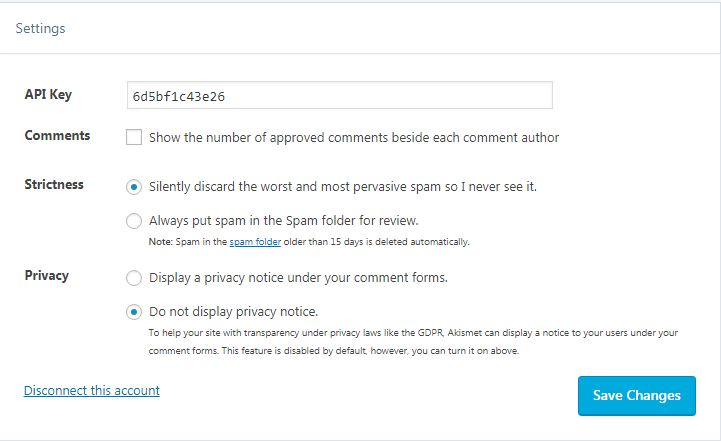 Here you can select the strictness as Silently discard the worst and most pervasive spam, so I never see it. Don't select

the Always put spam in the Spam folder for review.

And in the privacy setting, select

Do not display privacy notice.
And now your website completely spams free from Anonymous comments.
Conclusion – Still confused about which antispam Plugin you should choose? Trust me, my friend, don't break your head behind any plugin. Akismet and CleanTalk will be great for all kinds of websites, whether an eCommerce website or a blogging website. Still have questions feel free to contact us.