8 Best Captcha Plugins for WordPress 2023
Are You looking for Free Best Captcha Plugins for WordPress? Captcha Plugins are the essential part of any website required to keep bad bots or malicious requests away from entering into your website. Some time may want to integrate the captcha plugin for WordPress comments.

Every day we are getting 1000's spam comments on our website to decrease that, either you can install an anti-spam plugin to add Captcha to your comment form, email form, Registration form, login form. I remember getting lots of spam emails via the contact form on the website. Even with the captcha plugin's help, you protect your login form from hackers. Once you install this captcha plugin to the contact form, comments registration form, and login form, you can keep hackers and spammers away. So in this article, we will be learning which is free Best Captcha Plugins for WordPress. And Also, we will be learning about how to add Google reCAPTCHA to the contact form, comments registration form, and login form.
What is reCAPTCHA?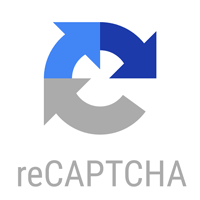 reCAPTCHA is started by Google to protect your website from abuse and spam. This technology test the difference between human and bots. If it's a bot, they will not be allowed to enter. If it's a human and passes the Google reCAPTCHA test, he will be allowed to enter.
Mostly there are Mostly three kinds of Google reCAPTCHA
reCAPTCHA v2
reCAPTCHA v3
Invisible reCAPTCHA
Table Of Content
1. reCaptcha by BestWebSoft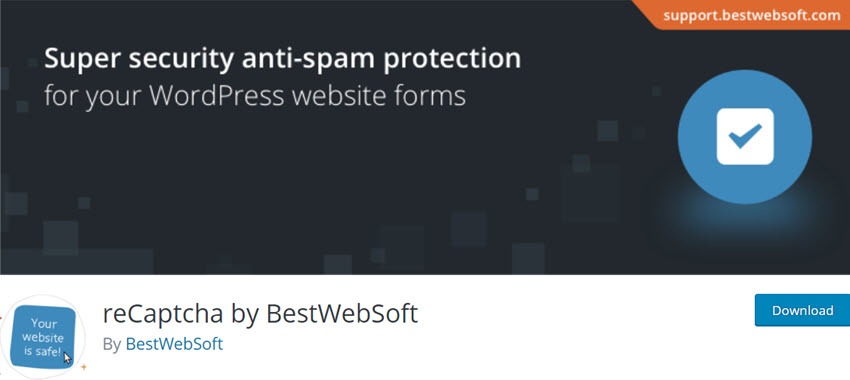 ReCaptcha is a seamlessly integrated WordPress plugin that provides extreme security to your website's database. An effective security solution, Google Captcha, helps real people to pass through easily while protecting the WordPress website entries from spam protection. Registration, password recovery, login, popular contact forms, comments, and many more fields where this Plugin can be used. Eliminate the risk of any robot interaction and let accessed by only human beings. No spam entries will be allowed. Any form got submitted after accessing the captcha test thereon. Restrict the number of attempts that could be made for clearing Captcha.
You get eye-capturing themes that customize entirely as you desire. You insert Captcha in every particular form, including password recovery, registration, login, contact form, recover password, etc. Enable or disable the reCaptcha extension on different IP addresses as per necessity. Let you disable submit button if any unusual things are analyzed. Google Captcha can be hidden from white-listed IP addresses and specific user roles. Custom code can be added via the settings page. It is multilingual and RTL-ready.
Total number of users – 200,000+
Price – Annual – $20.99/annually (1 Site),  Perpetual — $211/Lifetime (1 Site),  Membership – $250/annually (1 Site)
Stay Safe with reCaptcha by BestWebSoft Plugin
Screenshot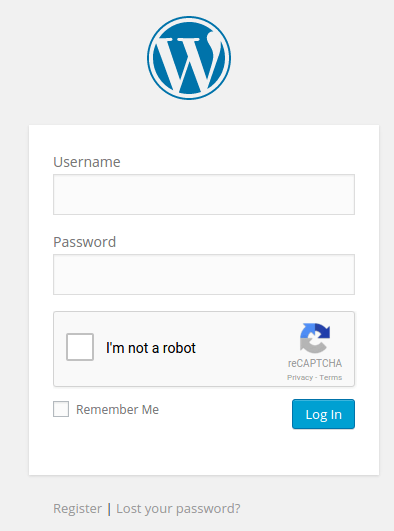 2. Advanced noCaptcha & invisible Captcha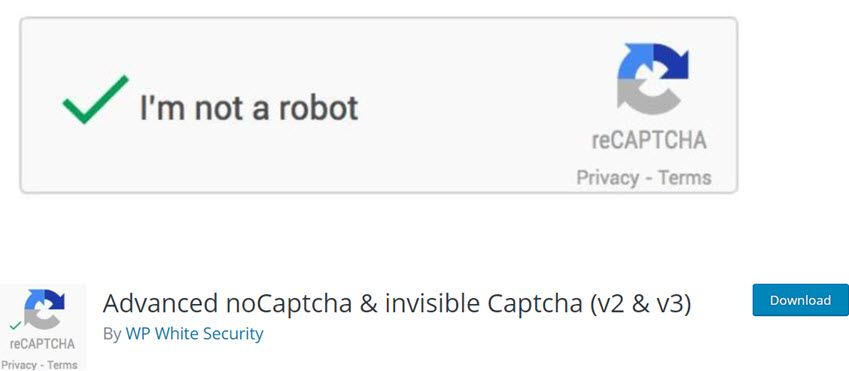 WP White Security provides an extensive and lightweight plugin for Captcha. You may assure your WordPress users to be there for submitting forms on their own. Install this simple captcha extension and see how it will provide safety towards bots registration. By spending time on configuration, get access to various types of Captcha on distinct forms available on the website. Reset password, log in, register, submit forms (contact forms, comment forms, etc.) while having captcha assistance everywhere.
Advanced noCaptcha and invisible Captcha plugin allow the users to add multiple captchas on the same page. They can be shown in bbPress, Contact Form 7, Comment Form, Login, Register, etc. After how many failed attempts the login Captcha will show, it can also be set as to after how many failed attempts. Language and theme can be changed using this Plugin, and badge location and error message can be changed. Captcha can be shown or hidden for logged-in users. Even if the JavaScript is disabled, Captcha can be demonstrated.
Total number of users – 200,000+
Screenshot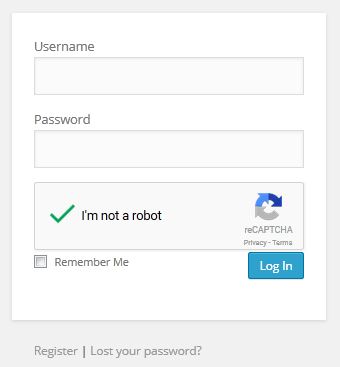 3. Really Simple CAPTCHA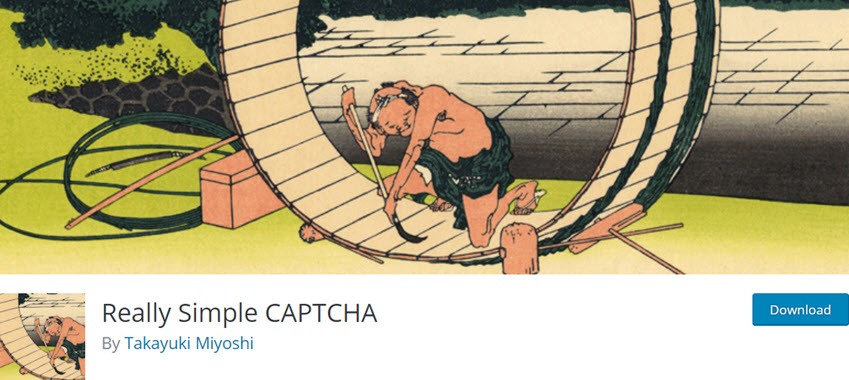 Really Simple CAPTCHA is an intuitive WordPress Extension that tackles the captcha access on your website. Although, this Plugin was explicitly developed for Contact Form 7, enabling it to utilize other plugins. Let you create Captcha in different formats that you directed at the time of configuration. However, completing a captcha for Contact Form 7 will ask you to configure two files for verification. The first one contains an image, and the other will be a text file. After verifying both captcha files, your users will submit their form and go ahead.
Really Simple Captcha, created for Contact Form7, which can work with the help of other plugins. It is not very secure hence if security is the top concern, this Plugin should not be chosen. This Plugin does not use PHP sessions to store dates and are stored as temporary files. Sot, it can be easily embedded in WordPress without any conflicts. Two files are created while creating a captcha- one for storing the image file and the other for storing the text, which is the solution of the image captcha.
Total number of users – 600,000+
Screenshot

4. Contact Form 7 Captcha

Contact Form 7 Captcha is an elegant and lightweight extension that tackles captcha functionality well. Insert a checkbox to verify human existence whenever submitting any form, register a profile, reset the password, etc. To eliminate the abusive and spamming activity on the website, install this extensive Plugin that has an easy-to-use interface. Moreover, the Contact Form protects various other forms and pages available on the website, such as registration form, sign up, reset the password, etc. Let you assign multiple captchas on the same page without any conflict. Customize and place intuitive checkbox for 'I am not a robot' however needs to display on the website.
It helps the users to add Google Captcha to Contact Form 7. This form can be protected from abuse and spam using this Plugin, and multiple forms can be protected on the same page. The Plugin has been tested with the 5.0.2 version of Contact Form 7 and 4.9.6 version of WordPress. This Plugin uses a particular encrypted function. The Plugin result is passed through a hidden field, and then the value entered by the visitor is compared with the encrypted result.
Total number of users – 100,000+
5. Login No Captcha reCAPTCHA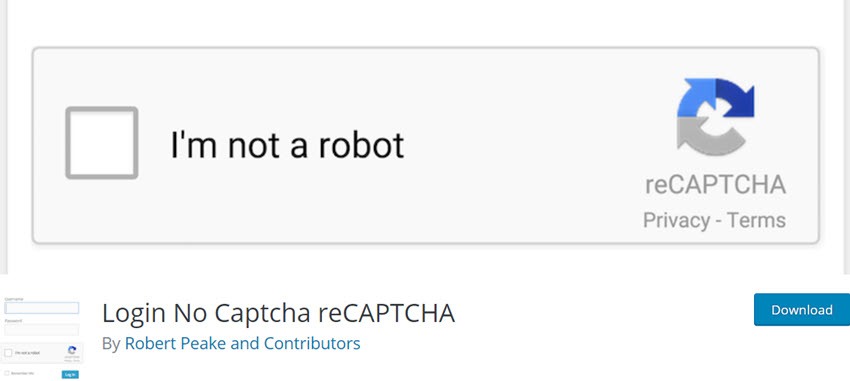 Login No Captcha reCaptcha is a nicely integrated plugin that establishes bot verification before submitting any confidential data. Protect your website from abusive comments by availing google captcha in a suitable format. Not only specific form, but you can also process such Captcha anywhere on your website to avoid irrelevant bots functionality. To login on WP or WC, reset the password, submit any forms, register a profile, access captcha for moving forward. A simple process that is easily accessed by any human being but mistaken by a bot. Utilize image captcha or simply a checkbox that contains 'I am not robot' text while verifying your data.
The Login No Captcha reCaptcha plugin helps users add a Google No Captcha reCaptcha checkbox to the WordPress login screen. Using this Plugin, the automated scripts are denied access. But humans can easily log in by just checking a box. So goes the famous Google saying, "Tough on bots, easy on humans." It auto-detects the user's language. This Plugin uses a particular encrypted function. The result of the Plugin is passed through a hidden field. Then the value entered by the visitor is compared with the encrypted result. There are many theme options for Captcha.
Total number of users – 90,000+
Screenshot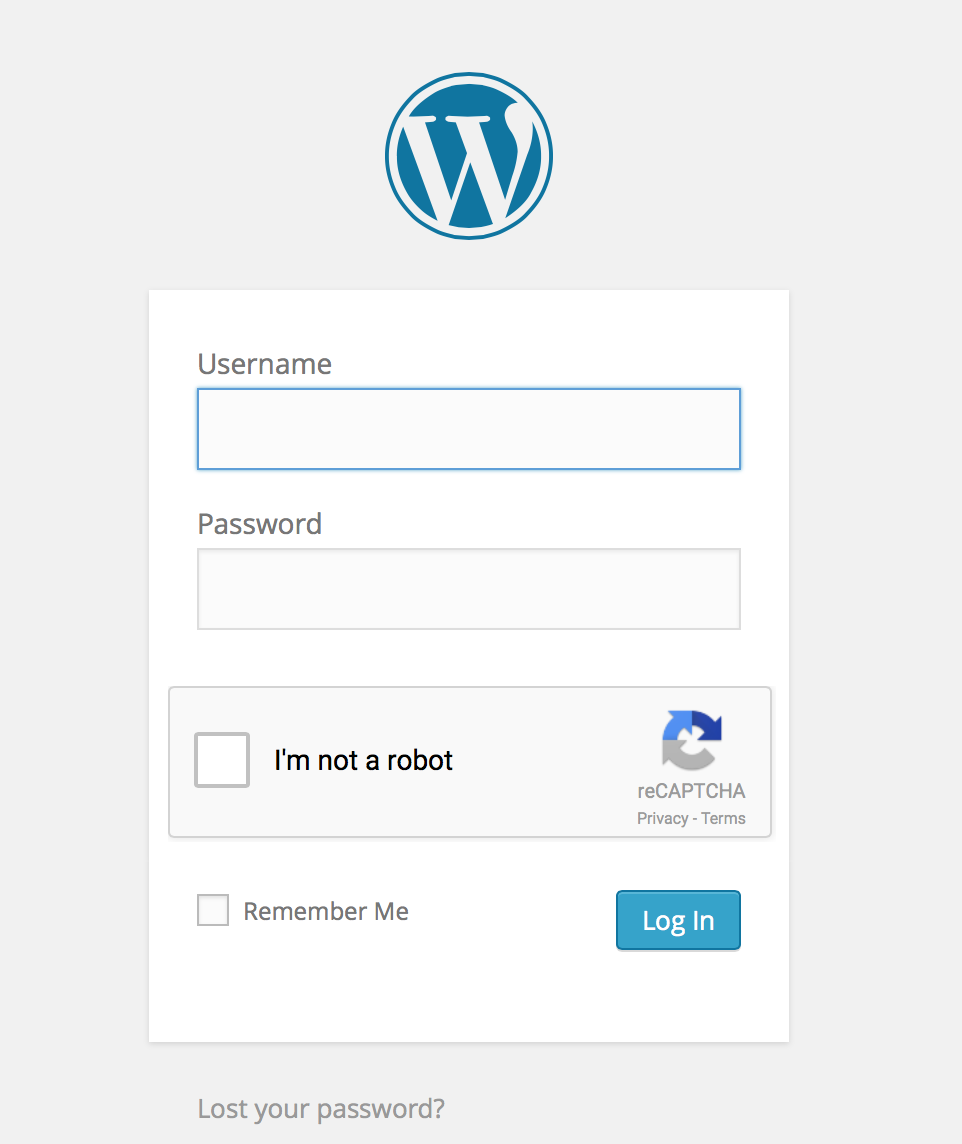 6. Captcha Bank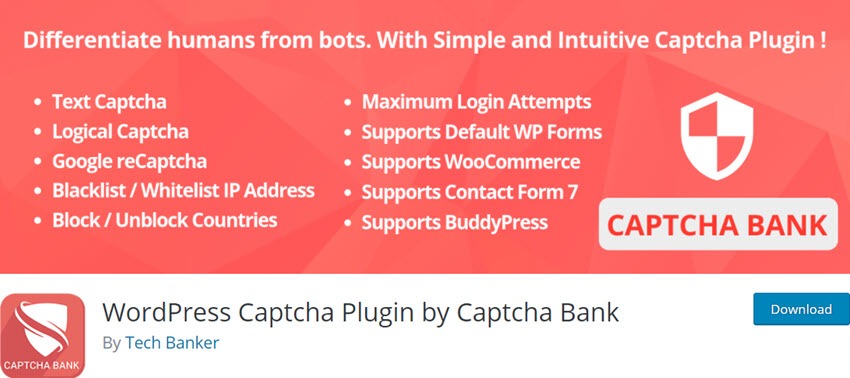 Captcha Bank plugin is available with two modes: basic and Akismet- enhanced. A captcha is served to all the commenters who aren't logged in in the primary mode, and neither has a previously approved comment.
In the Akismet- enhanced mode, a captcha is served only if a comment is identified as spam by the Akismet. Only after the comment is submitted that the Captcha appears. The comment is automatically discarded if the commenters fail. And if passed, it will be added to the spam queue.
Total number of users – 10,000+
Screenshot
7. Uber reCaptcha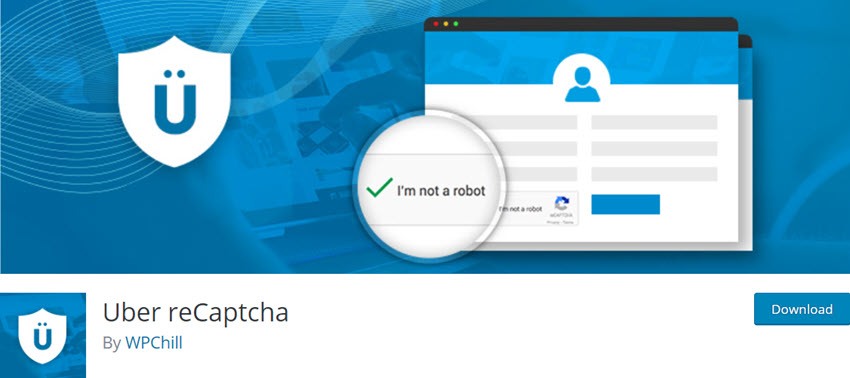 Uber reCaptcha is one of the Best Captcha Plugins for WordPress comments and registration forms which helps the users add reCaptcha security to the register form, WordPress login form, and comment form. Many spam comments can be prevented using this Plugin and brute force attacks.
Audio and image captcha types can be supported. The reCaptcha audio and image type can be generated in several predefined languages. Recaptcha can also be added to the WordPress recover password forms.
Total number of users – 4,000+
Screenshot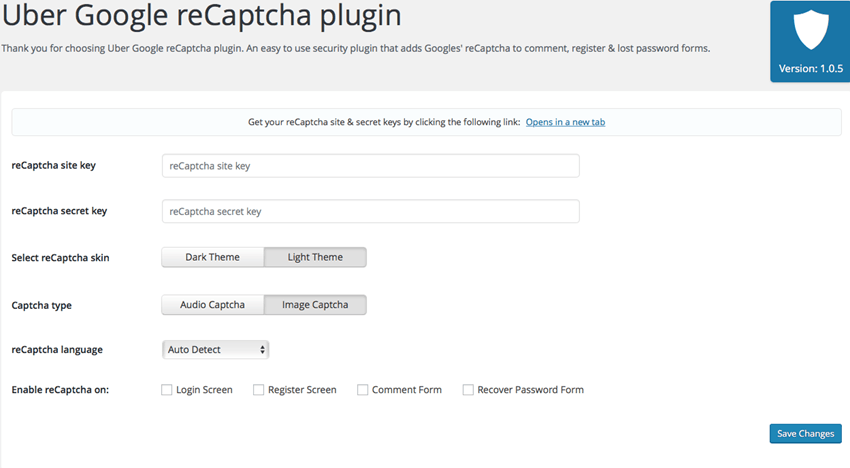 8. WC Captcha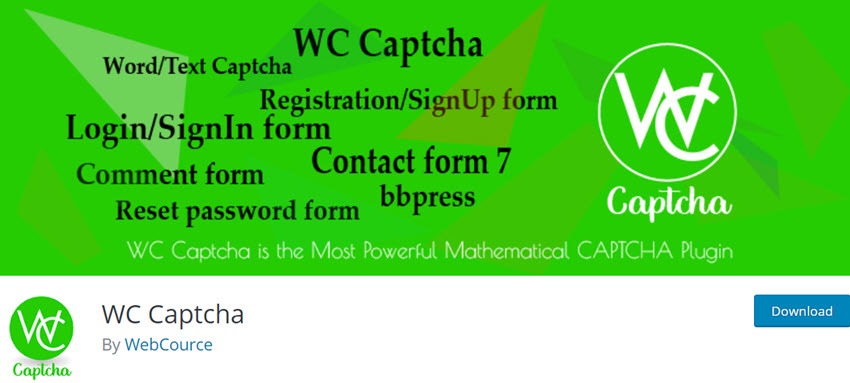 WC Captcha Integration plugin helps the user to integrate Captcha into the blog. No captcha and old-style reCaptcha is also supported by this Plugin. Login, comments, and signups are secured with a captcha. Box integration is provided for login, comment forms, Ninja forms, signup, etc.
This Plugin is compatible with bbPress, BuddyPress, WordPress Multisite, WooCommerce, etc. The Plugin can be activated network-wide or on a single site, on a WP Multisite.
Total number of users – 2,000+
Screenshot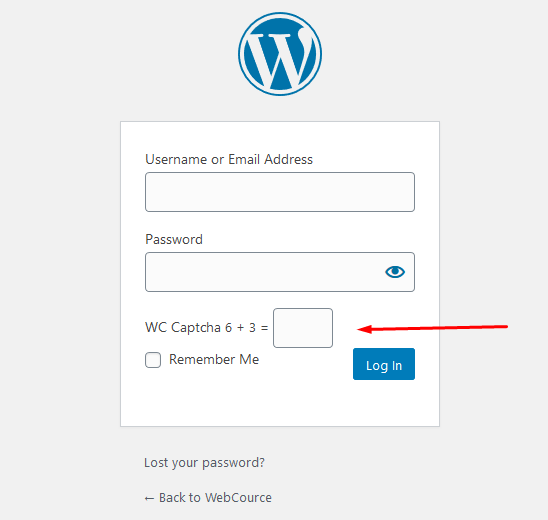 How To Add Google reCAPTCHA To Contact Form, Comments Registration Form And Login Form.
How To Add Google Recaptcha To WordPress Website
First, We will install and activate Uber reCAPTCHA Plugin. Once you activate the Plugin, you need to link to the setting, and finally, you will be on the setting page.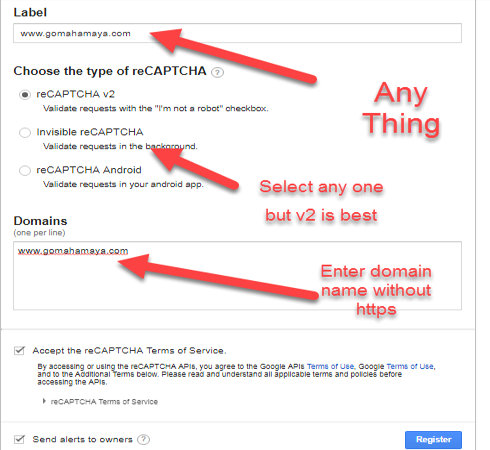 And there, you need to fill out the form to get the Google Recaptcha site key and secret key For WordPress and click on the register.
 Now copy and paste the Google Recaptcha site key and secret key inside the uber Recaptcha plugin. And click on the Save button.
Now bingo, you can finally configure Google Recaptcha inside your WordPress Website.
Conclusion – Finally, we learned so many things in this article. Like how to get Google ReCaptcha site key and secret key, add Captcha to WordPress website and finally, we knew which is the Best Captcha Plugins for WordPress. If you still have questions Feel free to contact us