9 Best Custom Login Page Plugins For WordPress 2022
Are You looking for premium or free Best Custom Login Page Plugins For WordPress? Custom Page Plugin is the best way to customize your wp-login.php page. You can change WordPress Logo from the wp-login page with your company logo. You can even change the background colour or add a beautiful screensaver to the background.

The WordPress login page is boring and straightforward with only the WordPress logo. But If you want to create a branding effect on visitors, you will love to change the default WordPress logo from the login page with your customized logo.
We have tried our best to create a list of Best Custom Login Page Plugins For WordPress so that your WP login page is beautiful.
Table Of Content
1. Nextend Social Login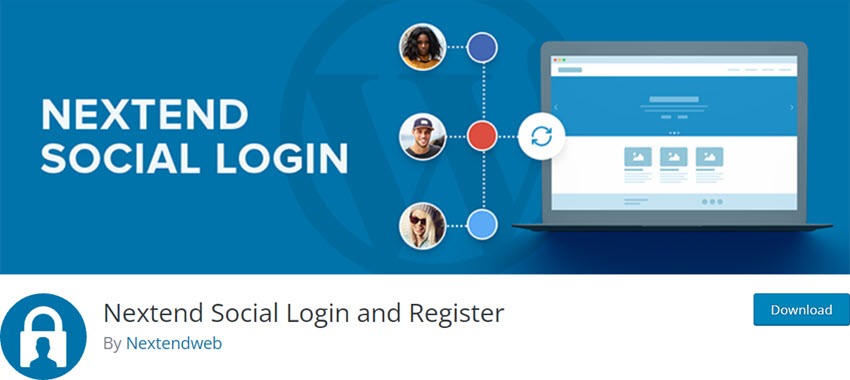 Nextend Social Login is a well-integrated WordPress extension that enables your users to log in to the website with their social media accounts. Nextend Social Login is the most complete and easy-to-use login plugin. The login form and logo can be customized to fit the website template. Multiple templates can be created and managed. It is packed with settings and features. You can easily create a community even without inviting anyone to come and join. Allow your visitors to one-click registration with Twitter, Google, LinkedIn, and Facebook. And later on, let them log in with their social network from which they registered earlier. Nextend Social Login is highly customizable, allowing you to configure the social accounts whichever you provide access for Login.
Core Features –  
Let you administrate their roles and accessibility with an extensive admin panel.
Customize the appearance and destination (where to place it) of social login buttons on the website.
Collect email addresses and usernames of your visitors upon registration process.
Availability of numerous social login providers that keep growing with time. It is integrated with popular providers such as Facebook, Twitter, Google, Microsoft, Amazon, etc.
Pro Login Feature addons – Linkedin login, amazon with WooCommerce supports
Preview- The settings can be previewed before saving.
Support- The plugin provides services to its users at their fingertips.
Total number of users – 300,000+
Price – 1 Site – $60/Lifetime,  3 Site – $122/Lifetime,  5 Site – $184/Lifetime,  10 Site – $309/Lifetime
Getting Started with Nextend Social Login for WordPress
Screenshot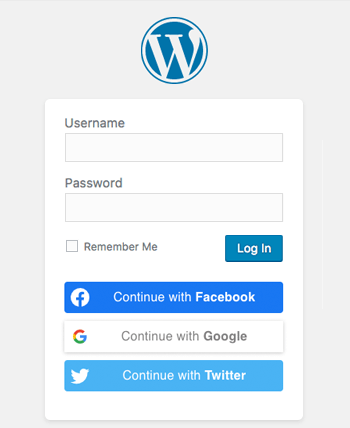 2. Custom Login Page Customizer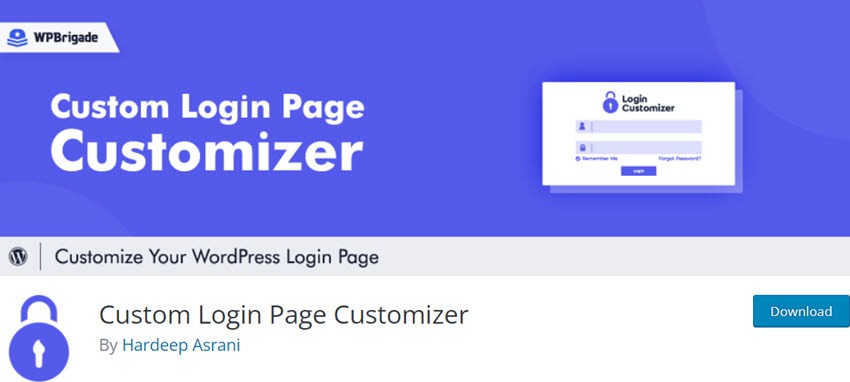 LoginPress is a highly extinguishing and simple UI extension for customizing a login page within a few minutes. Want to customize your login page easily directly from the WordPress Customizer? If yes, then Custom Login Page Customizer is the key. Let you modify the layout of the WordPress Login page even without any coding skills. This robust extension assists you well in enhancing the appearance of the entire existing element on the login page. Easily customize the registration error message, login error message, forgot password, etc. Provides robust security with the broad customizing option that lets you design a login page in your way. The custom login changes can be previewed before they are saved. The background of the login page and the logo can be easily customized using this plugin. Almost anything can be customized and be made to look as wanted.
Elementary Features –
Beautiful and responsive templates are available that enable you to design the layout of your login page.
Provides intuitive Google fonts, backgrounds, and overall styling tools to enhance the appearance.
Let you insert your brand's logo on the login page where the WordPress logo is visible.
Supports Custom CSS and JavaScript that enable the administration of the login forms while eliminating the unnecessary codes.
It is one of the Best Custom Login Page Plugins For WordPress, which helps to change the layout of the login page of WordPress has a lot of customization fields.
Total number of users – 80,000+
Price – Presonal – $39/annually (1 Site),  Startup – $75/annually (1 Site),  Agency – $199/annually (Unlimited Site),  Lifetime – $399/OneTime (Unlimited Site)
Custom Login Page Customizer
LoginPress - Customizing the WordPress Login Page
Screenshot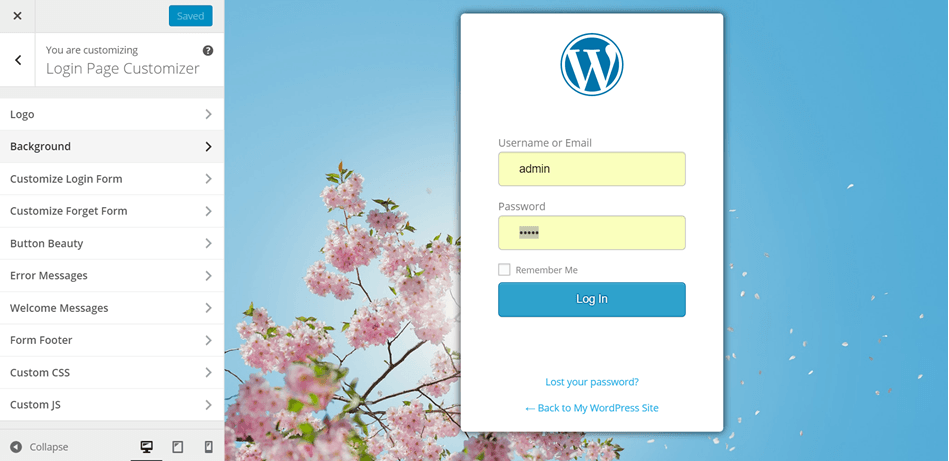 3. Tailored Login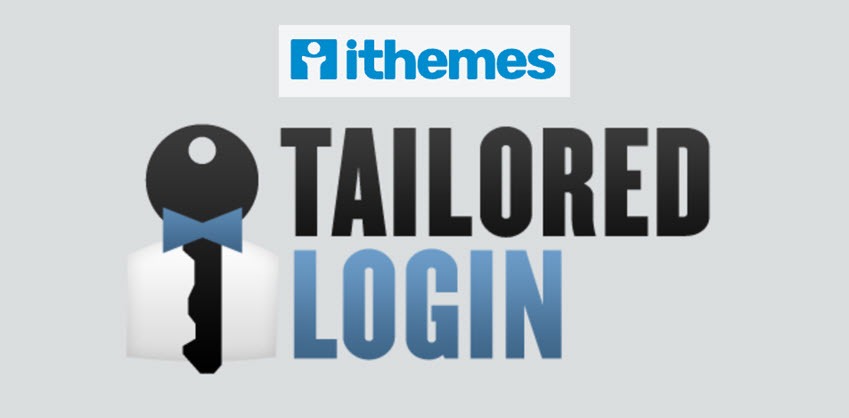 A Tailored Login Plugin can be used to create a customized WordPress login page. It has a built-in style manager to upload a background image and header graphic. The login form can be styled, and widgets can be added to the login page by dropping the available widgets into the Tailored Login Widget areas. It has many features to customize the login page, which are as follows:
Style Manager- The basic colour scheme, widget areas, and fonts of the login page can be customized.
Custom Background and Header Images- A custom background image and header image can be selected from the WordPress media library to the login page.
Optional Widget Areas- Up to two widget areas can be added to the login page.
Login Page Background- A custom image, repeat, attachment, assigned position, and background colour can be added.
Login form button- Font family, size, background colour, and text colour can be set.
Widgets- Widget bar background colour, width, and font can be added.
"Back to Site" and "Lost Password" links can be assigned to families, font colour, and size.
Login Form Header- Custom image, repeat, assign position, image background size, header URL, and background colour.
Price – Plugin Suite – $499/annually (Unlimited Sites)
4. Custom Login Page Customizer by Colorlib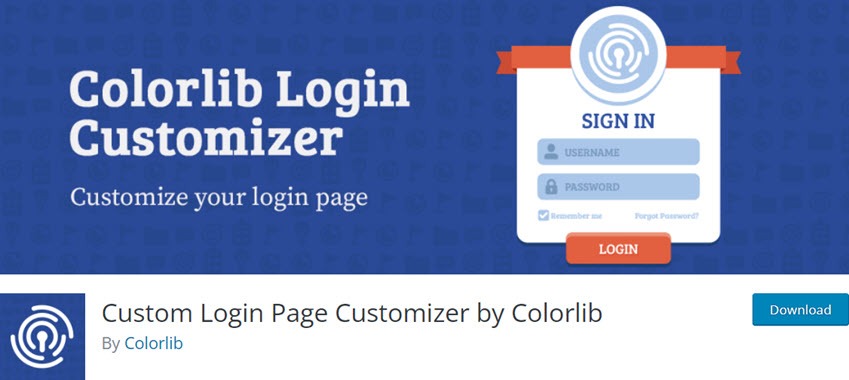 Custom Login Page Customizer is a highly integrated WordPress plugin that assists you to create a personalized login page. WordPress Custom Login Page Pro Made Easy plugin helps manage users' Login and access. It restricts front-end access and dashboard access. The signup email can be customized. An easy-to-use interface enables you to design your login page with pre-designed templates. Provides a live preview option to see the changes you made on your login page before applying it. Custom Login Page Customizer is designed so intuitively that it tackles easily by web developers and beginners. You can start from scratch and build a login page for your website in your style.
Elementary Features –
Custom templates, logo, background, and more elements are available to create a customized login page and login form.
Let you hide or show the logo on the login page.
Enable or disable the 'Remember me' option.
Design and place the login form button on the login page.
Let you add a customized username label, password label, links on the login form.
The default WP login page can be customized.
Register, Login, and Forgotten forms can be added to a page.
There are modal registers and login forms.
Total number of users – 60,000+
Screenshot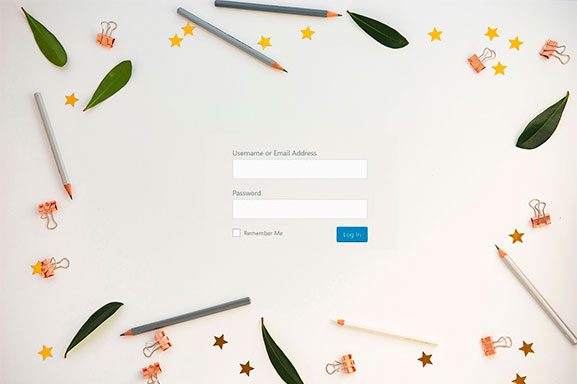 5. Admin Custom Login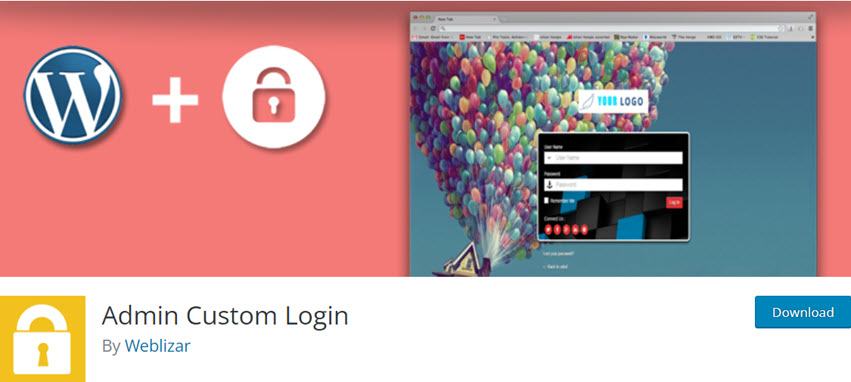 Admin Custom Login is an intuitive WordPress plugin for customizing the login page or creating a new one according to your brand. You can easily create a beautiful login page while modifying its background, font, layout, and look and feel. Let you style the login form to attract your visitors that they log in to your website instantly. Let you add essential widgets to provide smooth navigation to your users. Enhance the user experience as it is mobile responsive and fast accessing anywhere and anytime.
With the help of the Admin Custom Login plugin, the WordPress admin login page can be customized as per want. The background colour, background slideshow, background image, login form font size, login form colour, login form position, social media, etc., can be customized using this plugin.
Essential Features –
Let you insert background and header images to the login page from the WordPress Media Library.
Customize the style of your login page according to your website's appearance.
Let you add top and bottom widgets on the login page.
Design login form, login form button, and links (back to the site and Lost Password).
The users can be redirected to the custom URL after Login. Social media icons can be added to the login form for better connectivity.
The user can add his custom logo to the admin form.
Total number of users – 50,000+
Screenshot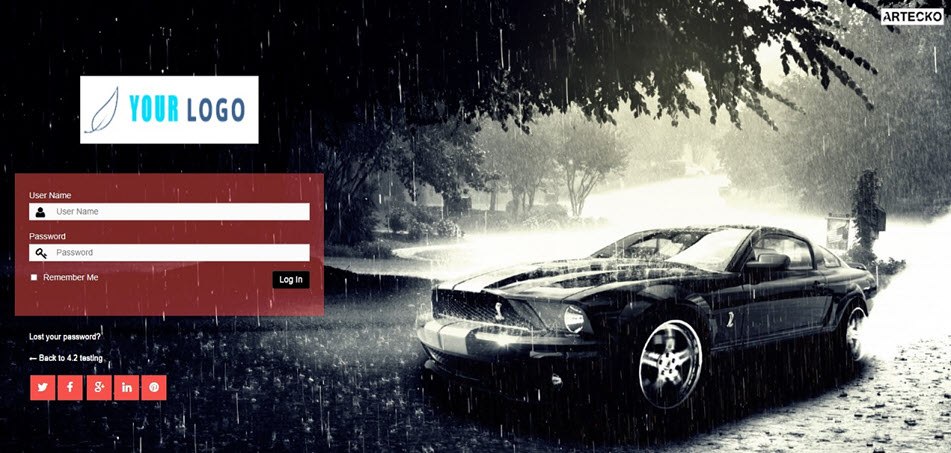 6. Custom Login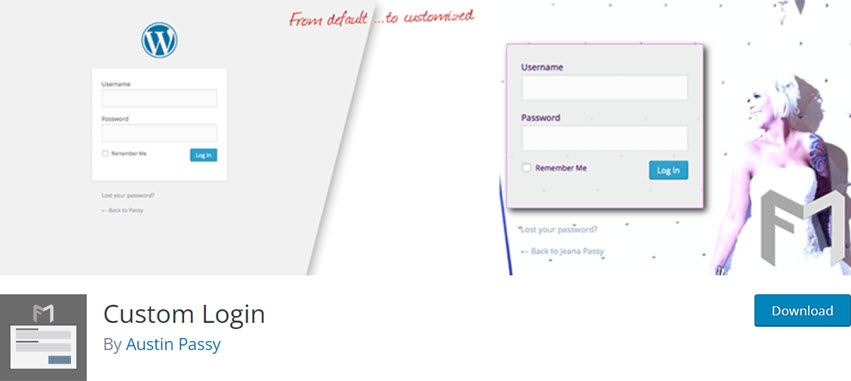 Custom Login is yet another login customer plugin for WordPress packed with many features. It uses a Stealth login, which obscures the login URL. The users are redirected according to their role after the Login. It helps to turn a WordPress template into a login form.
There is even the facility of logging in without a password. There are four custom login styles. They can be activated with only a button click. There is also an email login for usernames and two-step verification. The WP login page can be easily customized. The login forms can be secured, and contents can be restricted. Only restricted users can be made to see restricted content with only a few clicks. It has the following features:
Match Captcha can be set for Login, register, and forgotten forms.
Password- The users can be allowed to set their password while registering.
Redirect- The user can be redirected after Login and logout. They can also be restricted from WP Dashboard access.
Regular Product Updates- Access plugin and custom login are updated regularly up to the latest WordPress versions.
There are four types of animation effects in the background slide show. It is fully compatible with mobile.
Footer Links- It is a bold and italics option for footer links.
Background image URL can be set for the entire page.
Total number of users – 40,000+
Screenshot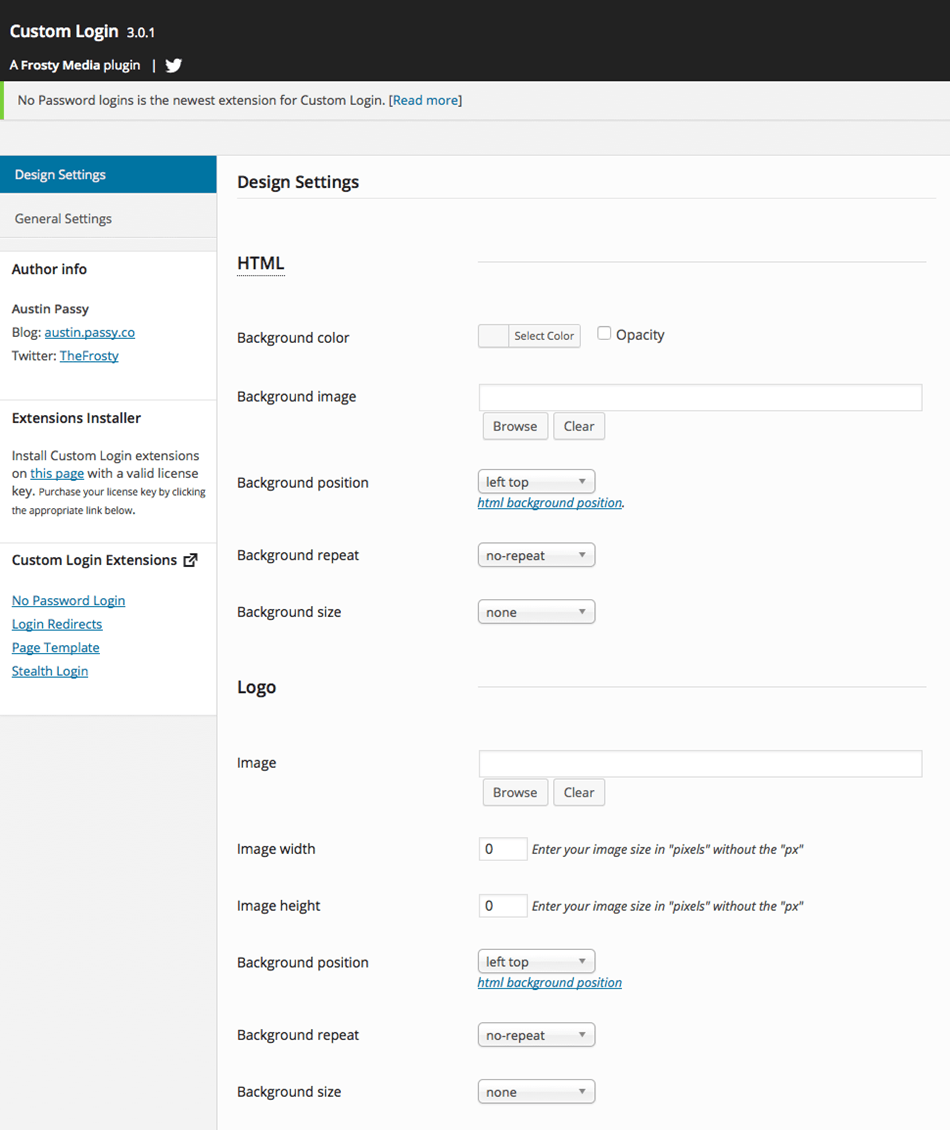 7. Erident Custom Login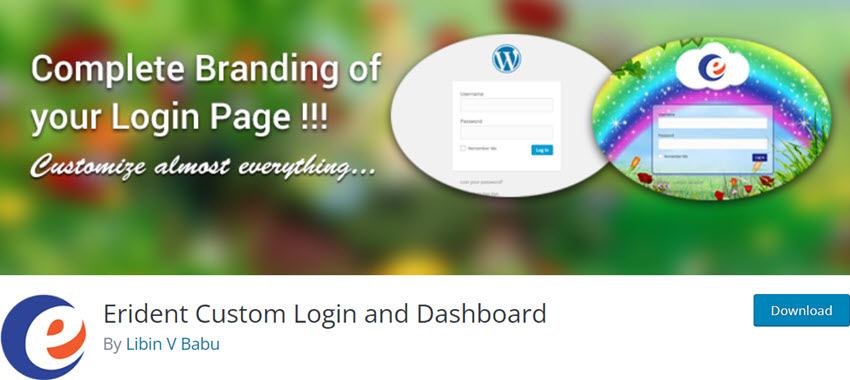 Erident Custom Login plugin, according to the needs, allows the customers to customize their login page easily. Compatible with all WordPress in-built functionalities, the plugin also allows the logout links to function naturally. Without any logo, the default WordPress logo is displayed. In the plugin settings, the login page can be live reviewed. It has a responsive device and a custom logo.
The border can be made square or rounded, whose radius can be adjusted. The background image can be made full screen, stretching to fit the page and resizing according to the screen size. Form label colour and background can be changed.
The login page and a login error message, registration error message, forgot password message, forgot password hint message, etc., can also be customized. The logo of the Login can be changed.
The input text field of the login form can be customized. The colour of the button can be set. There is a from footer after the login button, which can also be customized. Background images and colours can be chosen easily. Its position, size, and repeatable property can be set. The login page can be customized with unlimited features in LoginPress.
This plugin does not need CSS, PHP, HTML, or JS. It has a theme that can be downloaded for free. The content and text can be customized. There are icons for social media and contact.
Username and Password Field Table- The text colour of the username and password field table can be customized.
Total number of users – 40,000+
Customize your WordPress login page
Screenshot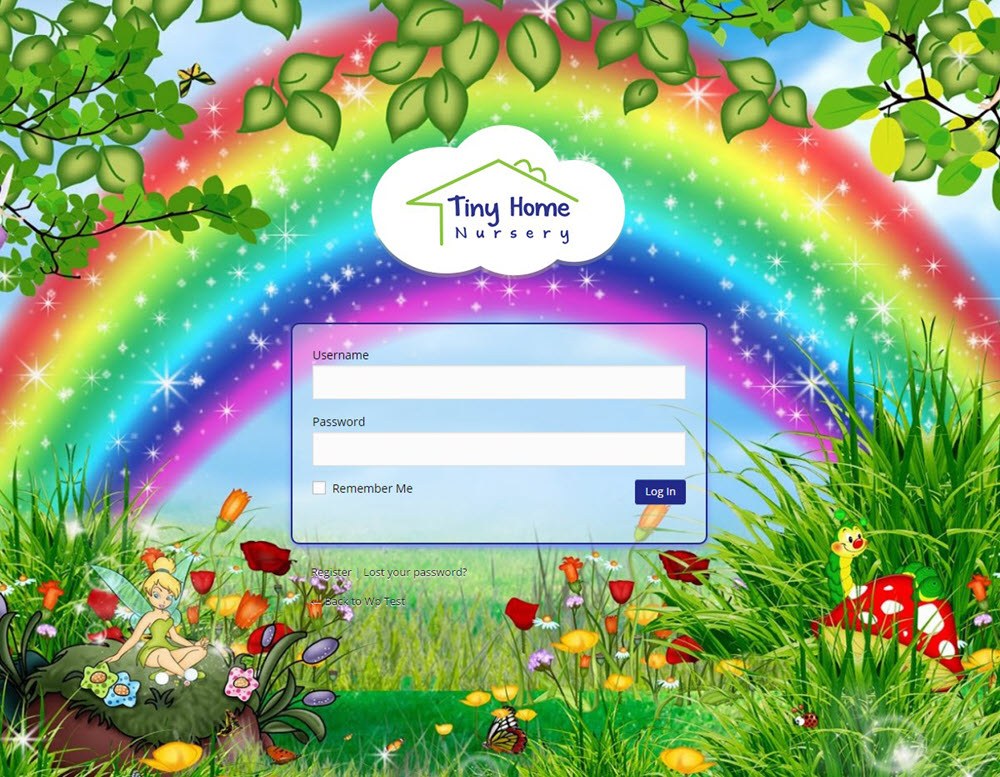 8. Custom Login By Ben Gillbanks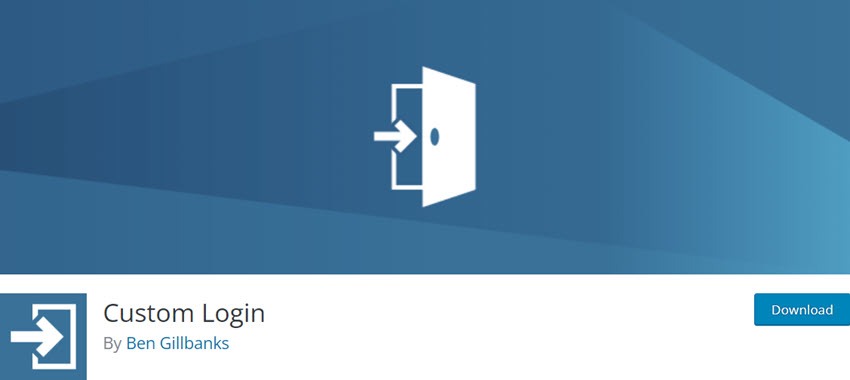 Login is considered the best login customer plugin for WordPress. Unlike many others, it offers an unrivalled live-editing experience. It has got zero refreshes. Options and plugin settings are contextually displayed. This way, less time is dedicated to navigating the Customizer sections and panel, and more time is spent fine-tuning the website's login page.
The event triggers and aware previews can be costumed. There are robust custom controls. The website is open source and is extensible and adaptable. Its Custom Login helps to change the default style of WordPress login. The login page can be customized beautifully and set according to the admin's style. Upon installation, the plugin only needs to be installed to use. Then a new page is added 'Appearance' 'Login Screen' section where the plugin can be configured, and the front end page can be customized. The user needs to set up a list of rules and regulations for this. This plugin offers a simple, flexible, and fully customizable authentication widget. It is a free and open-source plugin.
Total number of users – 20,000+
9. White Label Branding for WordPress

White Label Branding allows the website readers and customers to eliminate the need of filling out registration forms and remember usernames and passwords by allowing them to register using their existing social account IDs. The user contact list can also be imported from Facebook, Google Gmail, Linked In, and Windows Live. This plugin gives absolute control over access to the website.
White label branding helps you take complete control of your WordPress site by deciding who can access particular features on your WordPress site. This site comes with a login screen and various customization tools for you to assign different roles to people. Our role capability manager allows creating functions. A fake admin account can be made if you want to give selected access to admins without their knowledge.
You can easily change custom icons and menu labels using this plugin using the drag and drop menu. Navigation can be customized by just holding the menu items, emails can be changed from the name, and separate dashboards can be created for editors, visitors, subscribers, etc. By creating an individual dashboard, you can customize access to different people based on their roles.
Custom Login Page plugin. The white-label branding enables you to create an attractive dashboard with custom content. Enter your license key and update from the admin's site to use this plugin whenever a new version is released.
Price – Regular License – $25/Lifetime (1 Site)
Screenshot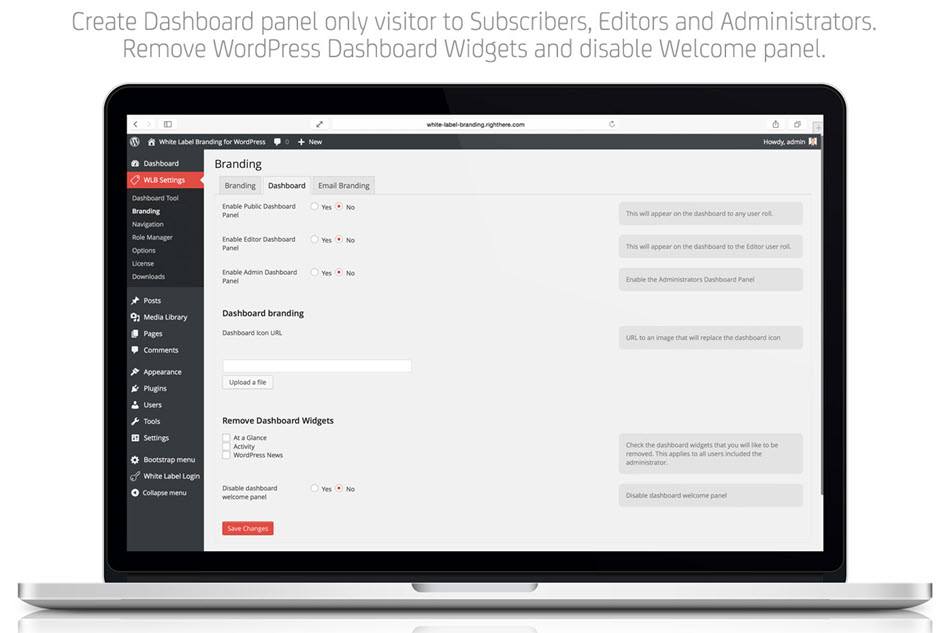 Conclusion – Still confused about which is the Best Custom Login Page Plugins For WordPress? Don't worry, I will help you choose the correct custom login page editor. If you are looking for a custom login page plugin, I recommend using Custom Login Page Customizer. If you want a Premium version, I will recommend loginpress Pro, which is Worth spending Money on because Pro has many features like Pre-Designed login templates, Google Fonts, Google Recaptcha, etc.