6 Best Poll Plugins For WordPress 2019 To Get Suggestions By Voting
Are you looking for Premium or free Best Poll Plugins for WordPress to collect your website visitor idea by voting ? Voting Plugins are the best way to engaged your customers and collect their valuable feedback .

Inside WordPress website you might end up with either polls or survey Option to get feedback . Mostly these plugins target all your website visitor ans ask a simple question from them . Mostly people use to create a kind of compression board between two products .  For example – Which you will more likely to use a survey plugin or poll plugin etc etc .
Lets take another example – Which is better lead generation plugin or viral give away plugin .
Based on your website niche you can easily choose your polling question
Tips to choose Best Poll Plugins for WordPress
Does it allow us to make change in color without any coding .
Does it allow you to collect email . And for email service provider we only recommend Aweber
Does it allow you to create poll using images ? How ever  Polls Graphs and chart are old option engagement will be less .
Mobile Responsive .
Does it provide deep analytics ?
You might be interest in reading which is best survey plugin for WordPress or which is best quiz plugin for WordPress
So without wasting more time lets have the list of Best Poll Plugins for WordPress to collect your website visitor idea by voting which is as follows:
1. Interact

Interact plugin allows the users to generate a shortcode to embed an InteractQuiz, Giveaway or Poll into the WordPress website. The quiz can be promoted within a popup or an announcement bar. For this plugin to work as intended, an Interact account is necessary. So an Interact account needs to be made before embedding this plugin on to the site. Otherwise, the user will have to experience a broken quiz experience on their website.
Total number of user  – 1,000+ 
Pricing  –  Free Plan – $0/mo, Lite Plan – $17/mo, Growth Plan – $53/mo, Pro Plan – $125/mo

Free
Premium 
 Interact Poll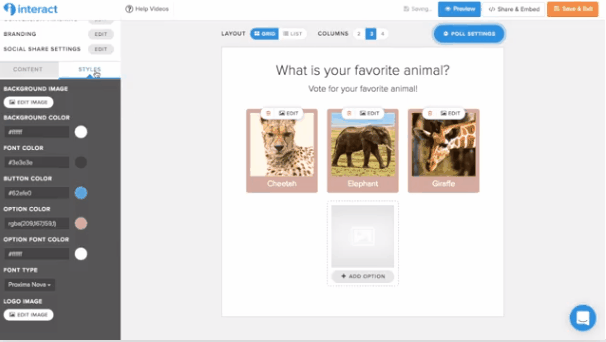 2. Opinion Stage
Opinion Stage is a contemporary and multi-purpose plugin that has a versatile applicability. It finds extensive use as a poll plugin as well. The plugin provides with 4 different graphic layouts namely standard, images, thumbnails and head-to-head layouts to create engaging polls. Besides, easy integration of videos and images both offline and online is aided by the plugin.
It can also be configured for both the ways – multiple voting options or block repeat voting in the poll. A highly configurable plugin that can display customized messages after the voting is complete, configure to close the poll at a specified time or how the results will be displayed to the voters
Total number of user  – 20,000+ 
Pricing  –  Basic Plan – $0/mo, Starter Plan – $19 /mo, Small Business – $65/mo, Performance Plan – $199/mo
Free
Premium
Screenshot

3. WP-Polls

An extremely customizable through templates and css styles, WP-Polls plugin provides tons of options to ensure that WP polls are running as desired by the user. Multiple selection of answers is also supported. Individual color can be added for each poll's bar. Many things can be displayed using this plugin such as total number of polls, total number of poll answers, total poll votes and total poll voters.
Total number of user  – 100,000+ 
Free
Screenshot

4. GD Topic Polls for bbPress

A plugin for WordPress and bbPress, GD Topic Polls plugin works with bbPress topics. Polls can be created by users for new topics. Polls can also b added for existing topics. While editing the topic, polls can also be edited. Polls can be disabled for selected forums. Two or more answers can be added to the poll.
A description field can be optionally provided in the poll. Only one answer for each poll can be set. The poll can also be set for unlimited answer for each voter or the number of answers can be limited. When the poll results have to be displayed can be set.
Total number of user  – 300+ 
Pricing  –  Single License – $39, Freelance License – $79 (for 3 sites), Studio License – $159 (for 25 websites), Agency License – $319 (for 75 sites)

Free
Premium
Screenshot

5. YOP Poll

To easily integrate a survey into the WordPress blog page/post, YOP Poll plugin is very good. This plugin helps to manage the polls from within the WordPress dashboard. The polls can be programmed to start and end on a specified date.
More than one poll can be added on a website by simply adding the corresponding poll ID. The polls can be sorted by question, the number of voters and votes and by date. Additional information can also be asked from the users by adding custom fields.
Total number of user  – 20,000+ 
Free
6. WP Poll

Wp poll WordPress plugin is completely free and created by PluginBazar . This plugin will help you you create polls by taking visitor opinion and will build a idea for you . You can easily create polls and manage it by in just few click without any problem .
This plugin comes with Browser Compatibility . the best part of this plugins is no repeated question to the same visitor . Once they submit they will not get the polling option .
Total number of user  – 1,000+ 
Free
Conclusion – Still confused which is Best Poll Plugins for WordPress ? Don't get confused my friend because you will not find anything better than Tryinteract .  Tryinteract that 2 option free polling as well as premium if you will choose free version then you will miss emails which is really important for any business . Even the opinionstage has great advanced option . You can choose anyone out of both .