10 Best Poll Plugins For WordPress 2023 To Get Suggestions By Voting
Are you looking for Premium or free Best Poll Plugins for WordPress to collect your website visitor idea by voting? Voting Plugins are the best way to engage your customers and collect their valuable feedback.

Inside the WordPress website, you might end up with either polls or survey Options to get feedback. Mainly these plugins target all your website visitors and ask a simple question from them. Mostly people use to create a kind of compression board between two products. For example, you will be more likely to use a survey or poll plugin, etc.
Let's take another example – Which is better, lead generation plugin or viral give away plugin.
Based on your website niche, you can easily choose your polling question.
Tips for choosing Best Poll Plugins for WordPress
Does it allow us to make changes in colour without any coding?
Does it allow you to collect email? And for email service providers, we only recommend Aweber.
Does it allow you to create a poll using images? However, Polls Graphs and chart are old option engagement will be less.
Mobile Responsive.
Does it provide deep analytics?
You might be interested in reading which is the best survey plugin for WordPress or which is the best quiz plugin for WordPress
So without wasting more time, let's have the list of Best Poll Plugins for WordPress to collect your website visitor idea by voting, which is as follows:
1. Quiz And Survey Master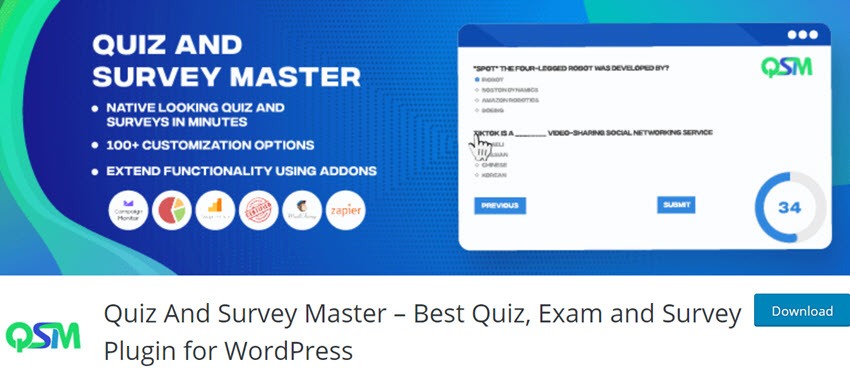 WordPress Quiz Plugin is a feature-packed extension that enables you to set the polling accessibility and conduct surveys from time to time. Such a lightweight and easy-to-use WordPress plugin let you create questions and surveys from numerous available templates in just a few minutes. Get connected to your customers by regularly posting questions with different patterns for Polling on the site and the other source of the website. Place engaging content in such surveys and Polling to increase reachability and web traffic. Engage more and more visitors on your site as the regular survey make them interested to know more about the service and product.
Core Features –
Let you create unlimited polls utilizing various available ready-to-use templates that can be customized accordingly.
Insert graphics, i.e. images and videos, into the polling section to attract the visitor while representing your content differently.
Accessibility to CSS that assists you to easy customization of the overall look of the website. Modify the font, colour, text, theme, and more to create a captivating view of the site and existing brands.
Just showcase the real-time results of ongoing polls and tracking tools to know your visitors' activity against such polls.
More than one Poll can be added to a website by simply adding the corresponding poll ID.
This plugin helps to manage the polls from within the WordPress dashboard. The polls can be programmed to start and end on a specified date.
Total number of users – 40,000+
Price – Basic – $99/annually (6 Addons),  Plus – $149/annually (17 Addons),  Pro – $179/annually (34 Addons)
WordPress Quiz Plugin - Quiz and Survey Master
Screenshot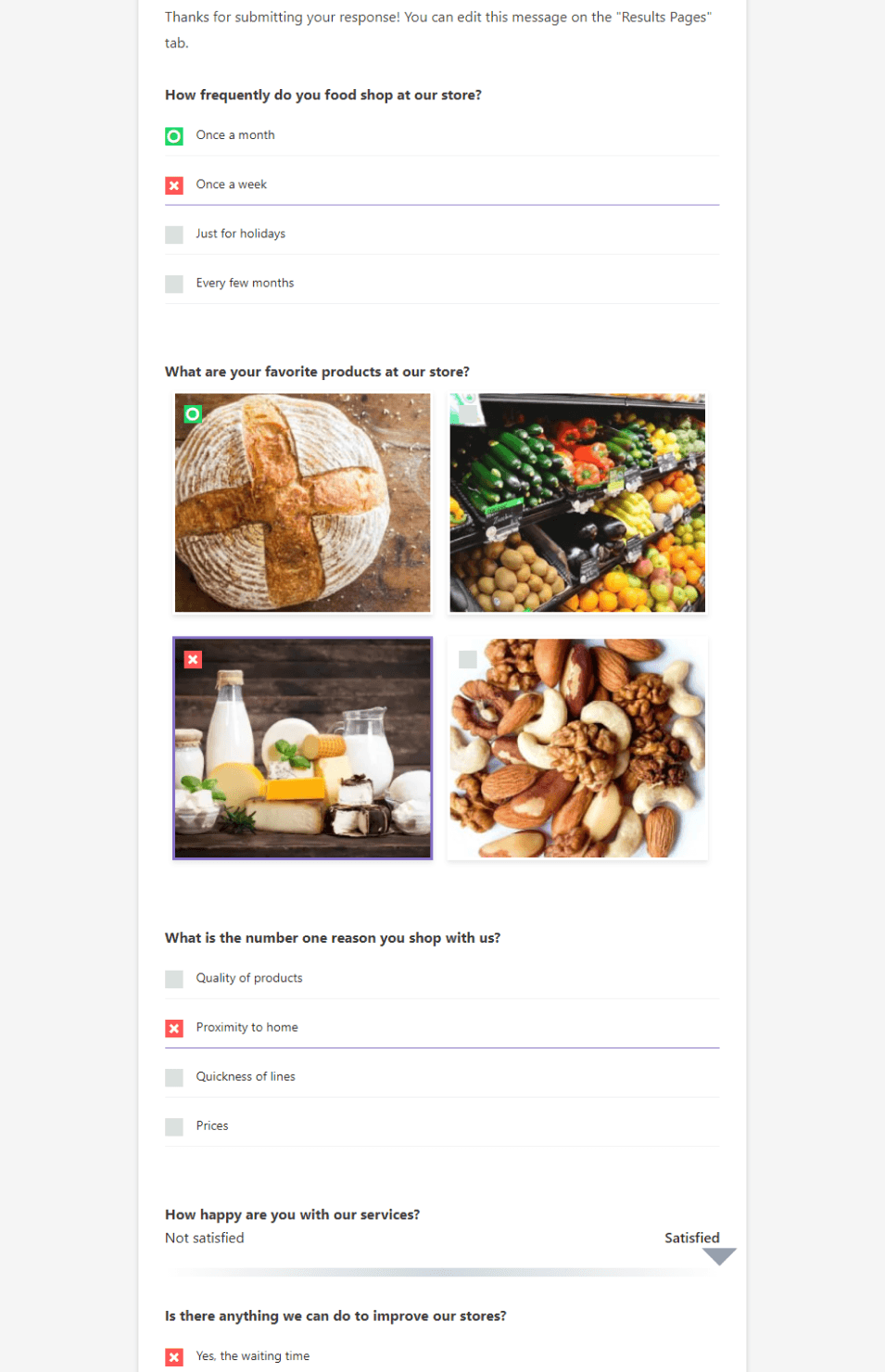 2. Gravity Forms Polls Add-On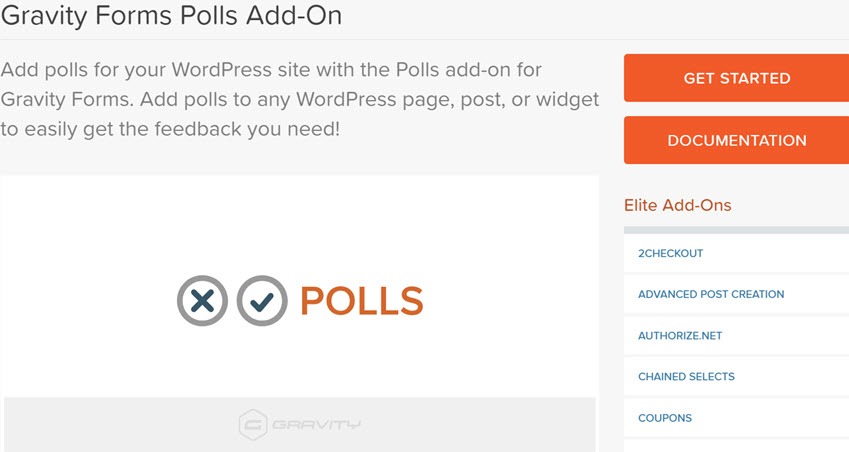 Gravity Forms Polls Addon is a seamless integration that allows the facility to easily arrange polls on the website. Let your visitors understand the pattern of polling surveys and answer such questions accordingly. Just continue the communication channel between you and your visitors while regularly posting surveys to know their preferences. Give priority to customers by asking for reviews and feedback about the website's service, which lets them know their value. Gravity Forms lets you put the Poll anywhere on the website, like pages, posts, and widgets, to collect quick feedback.
Elementary Features –
Elegant UI – Provide a better user experience as Gravity Forms layout the responsive templates easily accessible on different devices.
Unlimited Access – Create unlimited polls and post the same at once while using unique templates within a few clicks.
Results Privacy – Let you display the poll result and feedback to your audience or selected one while enabling privacy control. If keeping it private, display such results either on the website's front-end or just on the dashboard.
More Engagement – As you regularly conduct surveys on the site, the audience comes back to your site for knowing story and review, leading to more web traffic.
It finds extensive use as a poll plugin as well. Besides, easy integration of videos and images both offline and online.
A question can sort the polls, the number of voters and votes, and by date. Additional information can also be asked from the users by adding custom fields.
Price – Basic – $59/annually (1 Site),  Pro – $159/annually (3 Site),  Eliste – $259/annually (Unlimited Site)
Screenshot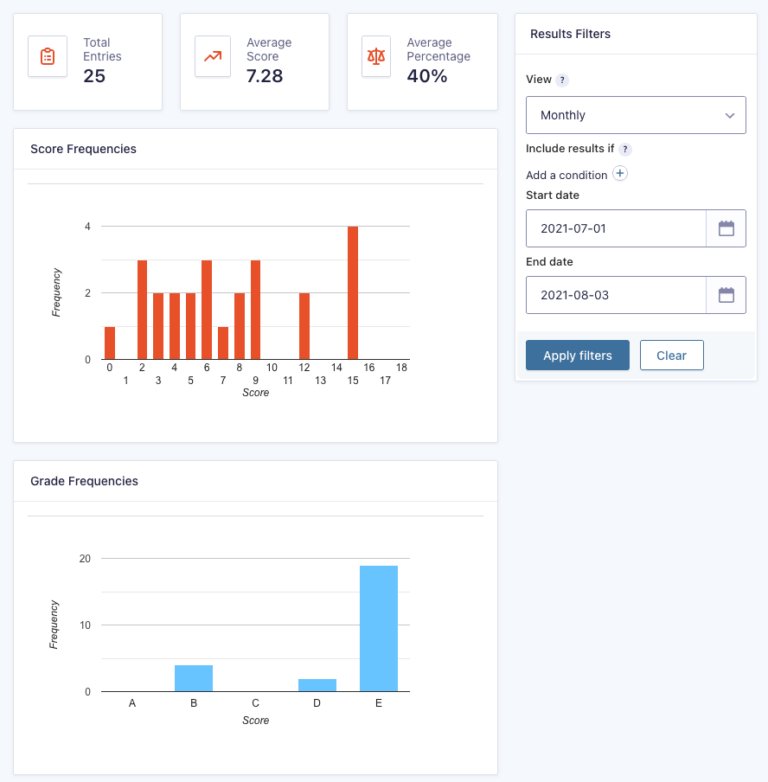 3. Popup plugin by Getsitecontrol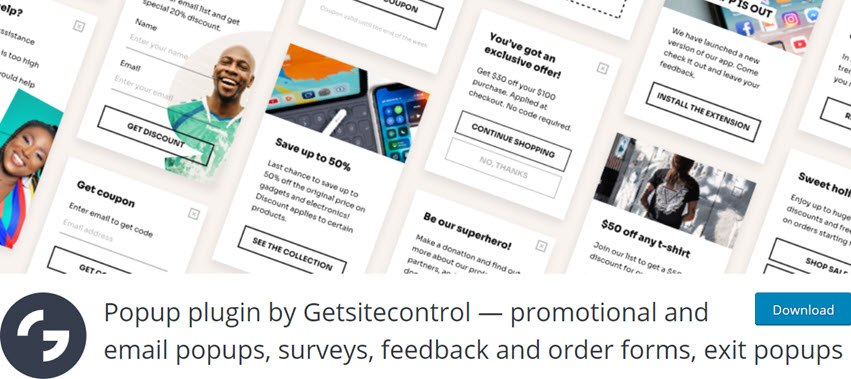 Getsitecontrol is an intuitive and well-organized WordPress plugin for creating polls and surveys in different patterns of quizzes. Whether introducing any new product or just sharing review points of existing products to engage your customers, this extension will assist you. Although, demand suggestions from your customers before launching any new brand that makes visitors so valuable by being on the website. Allow them to keep their point of view for anything missing or inconvenient to recover shortly such misleads. Value your customers by asking for feedback for render services and posting engaging content in the Poll for better lead conversion.
Essential Features –
Ease the poll creation with customizable templates for running surveys and get results shortly.
Analyze the reason behind abandoning pages on the website with practical and quick polls. Ask your audience what's missing on the site that stops them from proceeding as customers.
Just conduct multiple polls on different website pages and collect feedback separately.
Establish quick polls after any customer buys products from your website. Ask them about purchasing experience that marks their value on the site.
The plugin provides four graphic layouts to create engaging polls, namely standard, images, thumbnails, and head-to-head layouts.
Total number of users – 4,000+
Price – Small – $5/annually (20k View), Medium – $10.3/annually (100k View),  Large – $16/annually (500k View)
Screenshot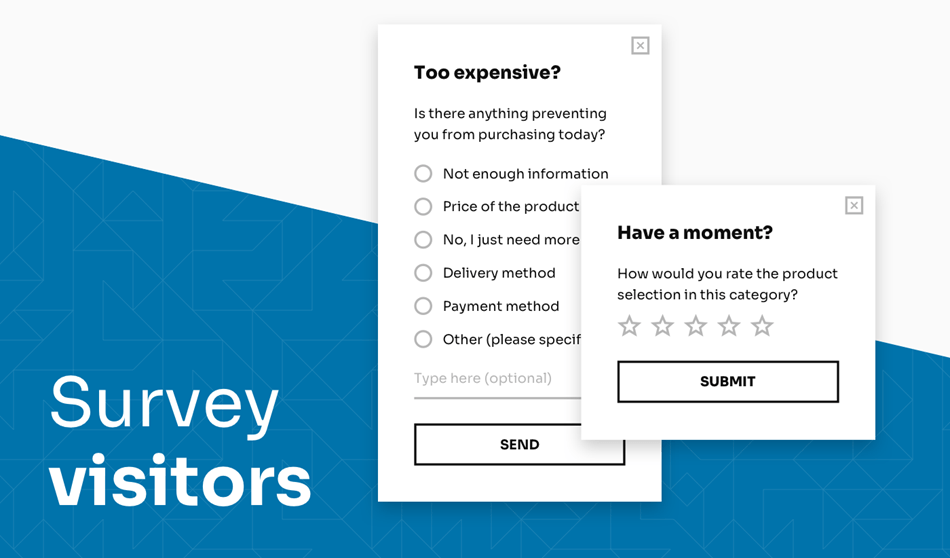 4. Opinion Stage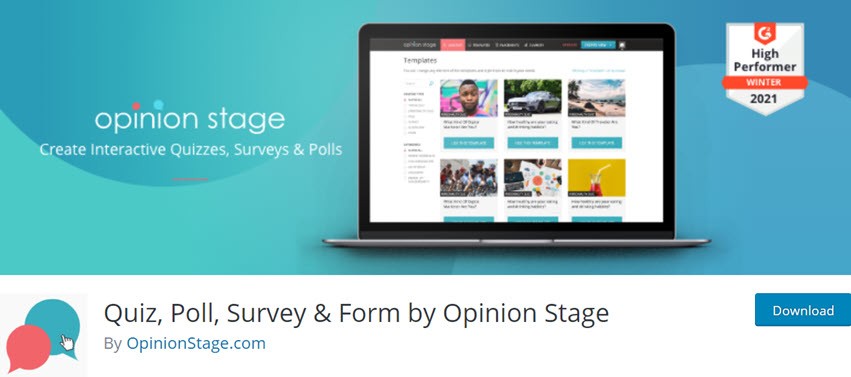 Opinion Stage is a well-integrated plugin that encourages your site by adding Polling or survey at regular time intervals. Suppose your business deals with numerous visitors retaining their site profile while abandoning for no reason. Then Opinion Stage enables you to know the exact reason while designing feedback analysis so well. Send email notifications to your visitors for attaining the survey and confess their relevant answers with an effective polling system. Add different polling access to different sections of the entire website. Moreover, create and share quick polls on various social networks that increase traffic reachability on the website.
How Opinion Stage Boost Engagement with effective Polling?
A poll creator accesses so fast to create meaning and an interesting quick survey.
Provides various customizing options to present such polls so exclusively on the different pages of the websites for collecting feedback.
Enables to distribute emails for Polling as any new poll paced for the website.
Ease the feedback system after purchasing any products or rendering service by just sending some set of questions along with answers in the option.
Analyze the real-time polling results right on the dashboard.
Either showcase your results or view them privately on the dashboard.
Total number of users – 10,000+
Price – Starter – $228/annually (10k View), Small Business – $780/annually (100k View), Performance – $2388/annually (1M View)
Screenshot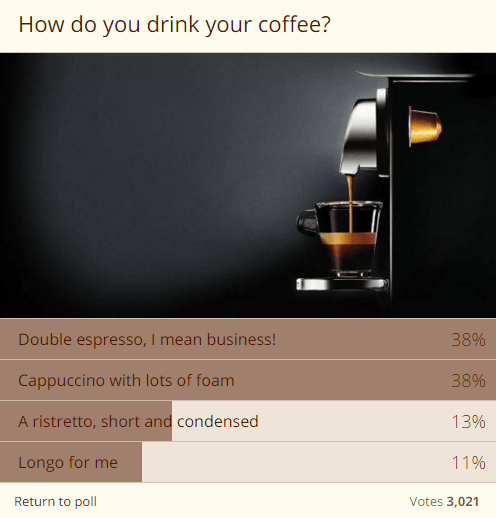 5. Wpforms Surveys And Polls Addon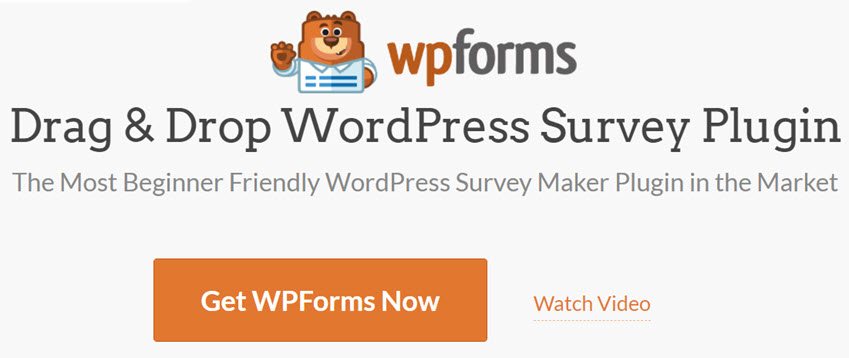 WP Forms is an extensive plugin that manages unlimited polls creation without spending time. Easily configure the complete functionality while going through a bit of configuration. Ease the survey regulation on the website to improve the user experience. Quick and real-time results will be displayed on the dashboard of the website. With the assistance of WPForms, it conducts meaningful polls on the website and other social media for collecting the feedback so well. Just get the view of your visitors and existing customers, which lets you know how well your website satisfies their cravings.
Why WP Forms Is The Best Poll Plugin? 
Easily create many polls for different concerns within just a minute with numerous templates available thereon.
Create polls with more engaging content that helps your website know what is missing for more sales.
Design the set of questions and answers to efficiently drive the information for what you seek and is also understandable by your customers.
Measure the insight of your survey on real that you also share with your audience by exporting it if you desire.
This plugin comes with Browser Compatibility. The best part of this plugin is no repeated question to the same visitor. Once they submit, they will not get the polling option.
You can easily create polls and manage them in just a few clicks without any problem.
This plugin will help you create polls by taking visitor opinions and will build an idea for you.
Price – Basic – $39.5/annually (1 Site), Plus – $99.5/annually (3 Site),  Pro – $199.5/annually (5 Site),  Elite – $299.5/annually (Unlimited Site)
Surveys and Polls Addon by WPForms
Screenshot
6. WP-Polls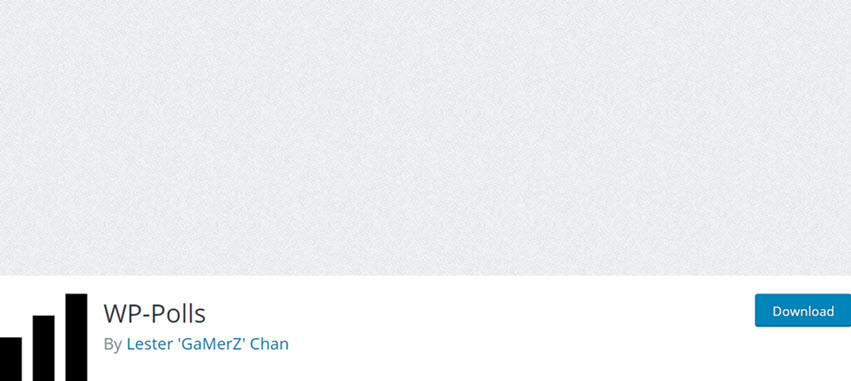 WP-Polls plugin works with Too Many Social And Business topics. That users can create for Any issues. Polls can also be added for existing topics. While editing the topic, polls can also be edited. Polls can be disabled for selected forums. Two or more answers can be added to the Poll. A description field can be optionally provided in the Poll. Only one answer for each Poll can be set. The Poll can also be set for unlimited answers for each voter, or the number of responses can be limited. When the poll results have to be displayed can be set. The WP-Polls plugin is suitable for easily integrating a survey into the WordPress blog page/post. WP-Polls is a contemporary and multi-purpose plugin that has versatile applicability.
It allows the users to generate a shortcode to embed an InteractQuiz, Giveaway, or Poll into the WordPress website. The quiz can be promoted within a popup or an announcement bar. For this plugin to work as intended, and Interact account is necessary. So an Interact account needs to be made before embedding this plugin onto the site. Otherwise, the user will have to experience a broken quiz experience on their website.
An extremely customizable through templates and CSS styles, the WP-Polls plugin provides tons of options to ensure that WP polls are running as desired by the user. Multiple selections of answers are also supported. Individual colours can be added for each Poll's bar. Many things can be displayed using this plugin, such as the total number of polls, the total number of Poll answers, total poll votes, and total poll voters. It can also be configured for multiple voting options or block repeat voting in the Poll. A highly configurable plugin that can display customized messages after the vote is complete, configured to close the Poll at a specified time, or how the results will be communicated to the voters.
Total number of users – 90,000+
Screenshot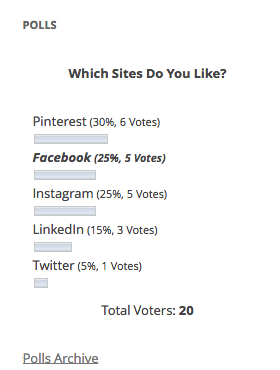 7. Modal Survey

Modal Survey is one of the WordPress Poll, Survey, and Quiz Plugins that allows you to create attractive polls and quizzes on your WordPress website to keep your visitors engaged. Using this plugin, you can create unlimited questions, answers, and surveys to collect information about your users. You can also display the info through Beautiful pie charts, progress bars, or text display formats.
Features
The plugin can visualize all the questions in graphical form to display the aggregated survey results.
It also supports Business Evaluation Tests or even Personality Tests which can be organized into categories, and the results can be displayed based on the category score.
You can create quizzes and share them across various social networking sites, including Facebook and Google Plus. You can also set timers for your quizzes.
The plugin is highly customizable, and you can easily create WordPress poll, survey, and quiz styles with many settings and options. You can also add a custom message at the end of your WordPress questionnaires.
It also enables you to display progress bars for all your quizzes and surveys. Moreover, you can also insert images to the questions and the answers, making it interesting for the users.
Price – Regular License – $44/OneTime (1 Site)
Screenshot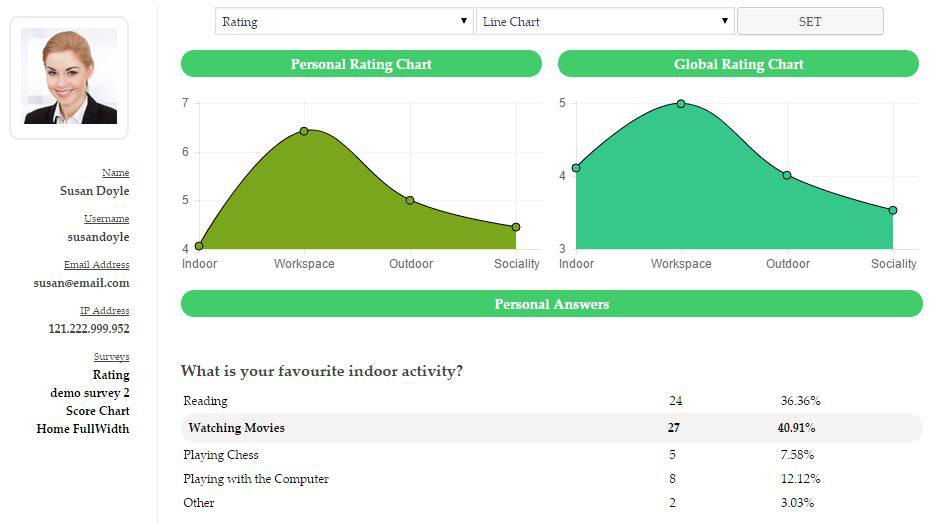 8. YOP Poll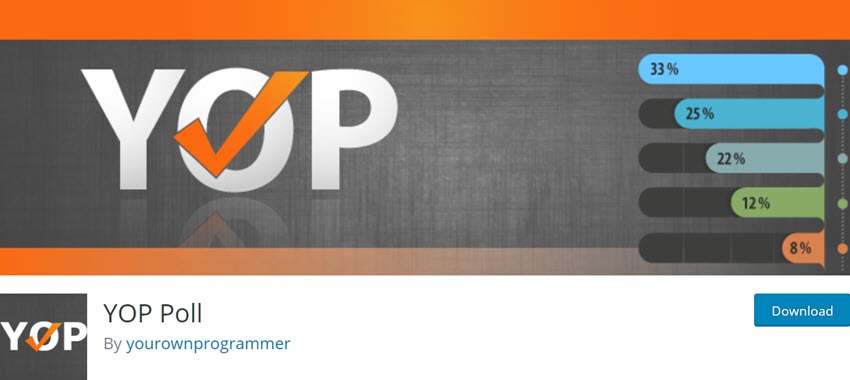 YOP Poll is one of the best poll plugins for WordPress that allows you to easily integrate and insert a poll or survey anywhere on your WordPress website, including your blog posts and pages. It also allows you to easily manage all your polls from inside your WordPress admin dashboard. The plugin comes with many outstanding features, and it also enables you to schedule your polls to start one after another. Using this plugin, you can also track all your polls. It comes with an easy-to-use interface and also allows shortcodes.
Features
The plugin allows the users to create, edit, delete and clone the polls whenever necessary.
It also enables you to display multiple polls simultaneously on your WordPress website. You can also decide on a random display of your active polls.
It allows you great flexibility in terms of displaying your poll results. You can choose to display them in percentage, votes, or both. You can also select a date to show your poll results: the polls' end date, a custom date, or before or after votes.
You can also add custom fields to your polls that help you to collect information about your visitors and save them for later use.
It also enables you to schedule your polls and surveys for a custom date or schedule your polls one after another.
Total number of users – 20,000+
Screenshot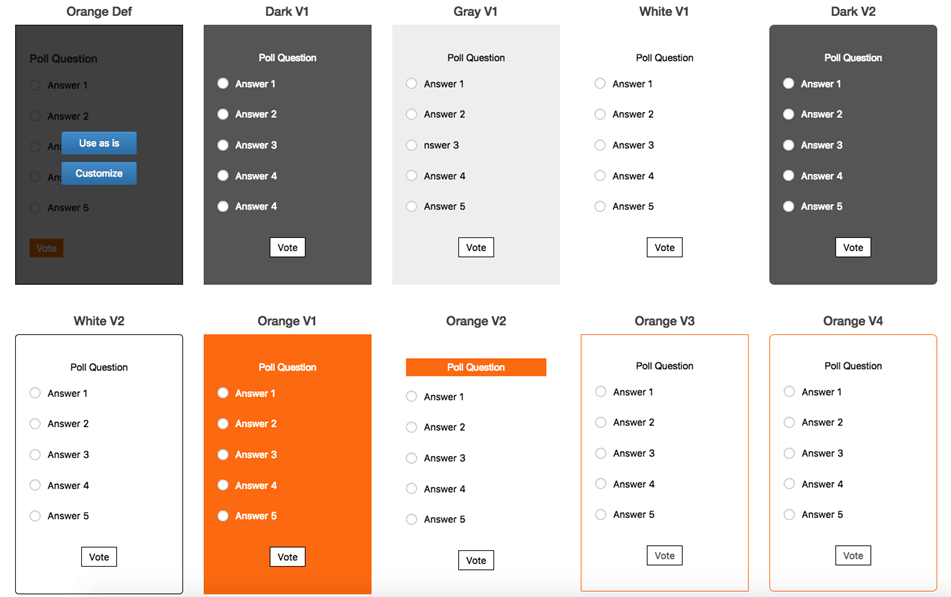 9. Responsive Poll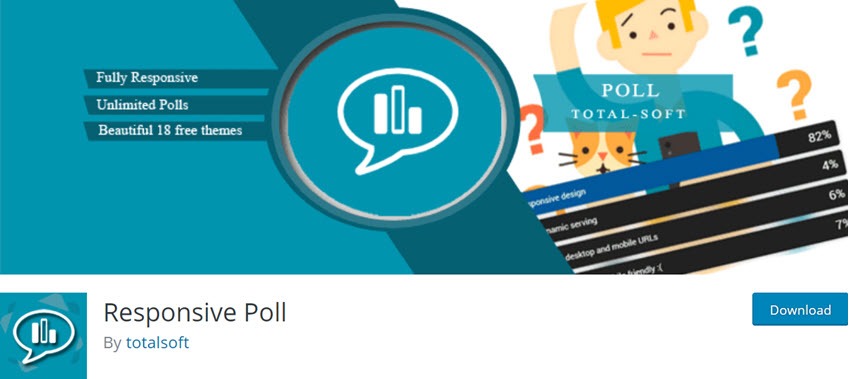 Responsive Poll is a simple and effective WordPress poll plugin that allows you to create and insert excellent polls on your WordPress website. The plugin comes with a simple user interface that enables anyone to create and manage polls efficiently and effectively. It comes with many customization options that let you edit polls and change the Poll's colour and background colour. It also allows you to insert several polls on one page, and you can also add images or videos to the options of your poll questions.
Features
The plugin is fully responsive and has a user-friendly interface that makes it easy for the users to set up and use it.
It allows the users to create an unlimited number of polls. Also, the users can add multiple polls on the same page.
You can also add an unlimited number of answers to each question. You can also upload images and videos as an option to the questions of your polls.
The plugin is highly customizable and comes with a drag and drop interface.
It enables you to create, edit, trash, and delete polls. Also, you can create your polls in any language.
Total number of users – 6,000+
Price – Regular License – $79/annually (1 Site)
Screenshot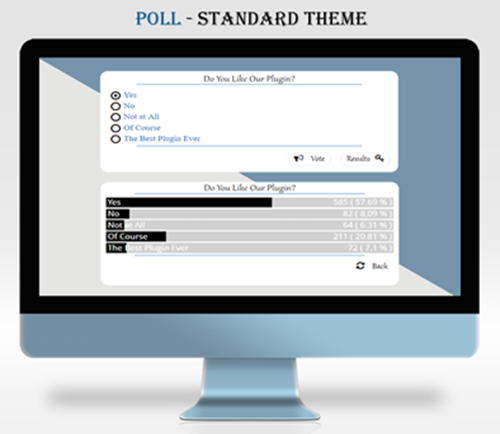 10. WP Poll Survey & Voting System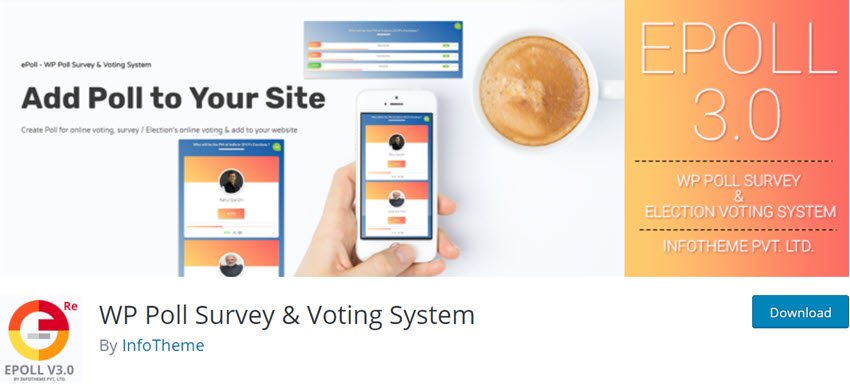 WP Poll Survey and Voting System Are one of the best WordPress poll plugins that enable the users to create and add polls, voting systems, or online contests on their blog posts or anywhere on their WordPress website easily in just a few clicks. Wp poll WordPress plugin is completely free and created by InfoTheme. You have to add a shortcode to insert polls on your website. The plugin comes with a user-friendly interface And works seamlessly across all devices, including mobile phones. It comes with an advanced admin panel that allows you to add images in the options. WP Poll Survey & Voting System comes in both list and grid style, and you can choose whichever suits the best to your requirements.
Features
Using this plugin, you can insert a poll or a voting system on your blog post, pages, or anywhere on your WordPress website.
It also comes with an advanced admin panel that allows you to add images in the options.
It comes in both list and grid style. You can easily switch between the two according to your requirements anytime.
The plugin also includes a result dashboard where you can check the results of each Poll.
You can easily change Poll's background UI gradient colour. Moreover, you can also add cover images in the options of the question.
Total number of users – 2,000+
Price – Standard License – €28/annually (1 Site), Extended License – €99/annually (5 Site)
Screenshot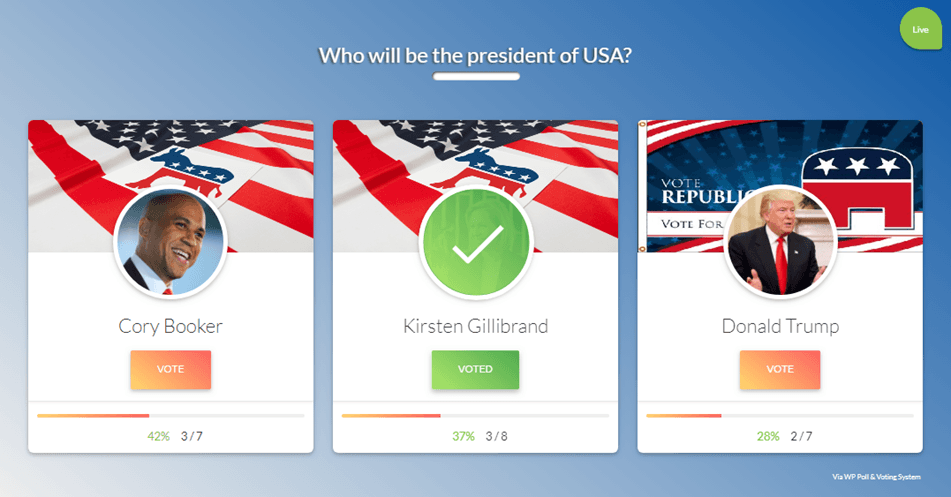 Conclusion – Still confused about which is the Best Poll Plugins for WordPress? Please don't get confused, my friend, because you will not find anything better than Tryinteract.  Tryinteract with that two options free Polling as well as premium if you will choose the free version, then you will miss emails that are important for any business. Even the opinion stage has great advanced options. You can choose anyone out of both.