10 Best WordPress Plugins To Create Viral Giveaways Contest and Sweepstakes 2023
Are you looking for Premium or Free Best WordPress Plugins To Create Viral Giveaways Contest and Sweepstakes? If you want to increase the email collection of your website. Then it would be best if you used to run a campaign related to giveaways contests or sweepstakes.

How Do these viral Giveaways content work?
When you create a campaign, it will reach your relevant visitor. When the visitor sees giveaways are going on your website, everyone wants to become a lucky winner. During this campaign, you can ask the user to give an email id, and then their customers will get generated, and they need to share that link. If the number of signups on their link is more, then those guys will be the winner. In this way, you can convert your website visitor into a lead.
Points to be kept in mind before you start any giveaways contest
Time needs to be limited.
You must give a prize to the winner and share it on your social media account.
The most important point is selecting Best WordPress Plugins To Create Viral Giveaways contests and Sweepstakes. Like viral giveaway plugin
Benefits of using giveaways contest
Huge Increase in leads
Website branding increases.
The traffic of your website also increases.
The bounce rate of your Website decreases.
We have compiled some of the Best WordPress Plugins To Create Viral Giveaways Contest and Sweepstakes:
1. RafflePress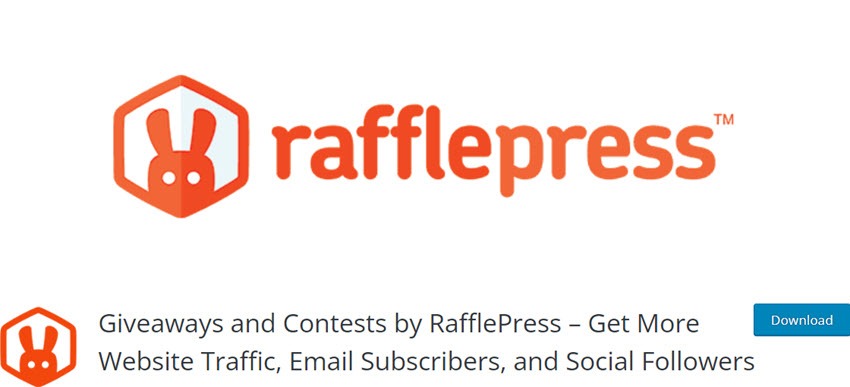 RafflePress is elegantly designed as an intuitive WordPress Extension for giveaways, contests, and sweepstakes. You can easily create exciting giveaways layouts that help you engage more visitors and customers. Just collect more and more email addresses as whoever enters the giveaway process will log in with their email. Let you expand the list of emails that enable you to reach irregular visitors and significantly turn them into reliable customers. Run the contest and giveaway in a so organized manner without any developer.
Core Features –
Drag-and-Drop Builder lets you conveniently create unlimited giveaways and contests by utilizing drag-and-drop attributes.
Organized Templates – Saves time while using top-class templates to create contests amazingly. Now, valuable giveaways are just a few clicks away when accessing RafflePress as a giveaway plugin.
Mobile-friendly Widget – Such a mobile-friendly extension that provides a widget for building giveaways and works efficiently on any gadgets with the same proficiency.
Landing page – Let you insert highly optimized giveaways for getting massive web traffic. Enables landing page so attractive for giveaways and also free from distraction.
Social Share – Let you share your giveaways and contests on social media for more engagement and reach.
Total number of users – 10,000+
Price – Plus – $39/annually (1 Site),  Pro – $79/annually (3 Site),  Growth – $159/annually (20 Site),  Ultimate – $359/OneTime (Unlimited Site)
Getting Started with RafflePress
Screenshot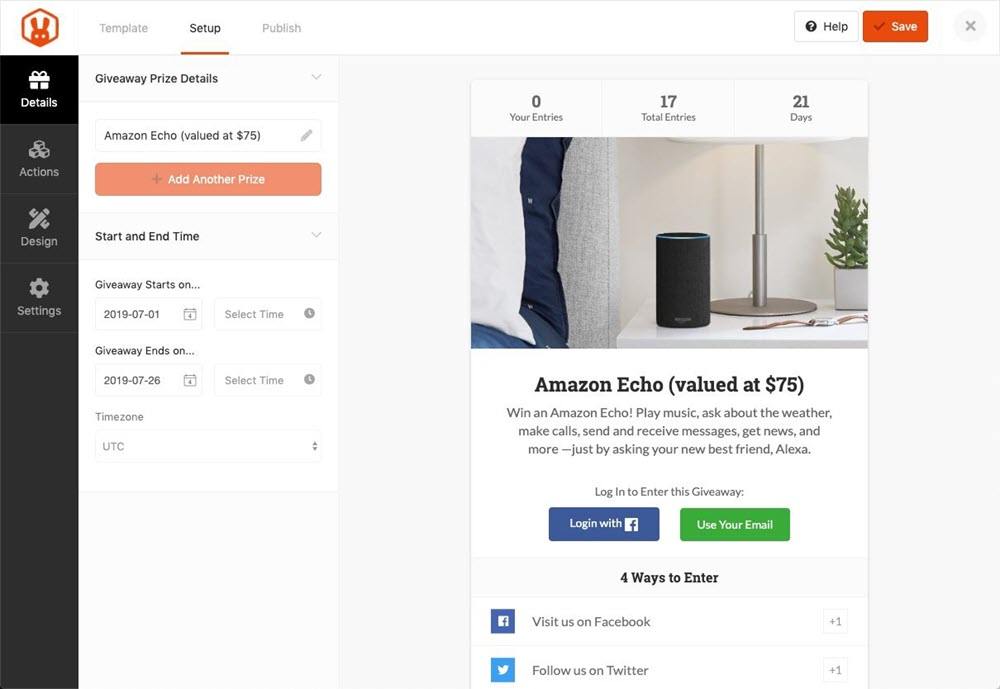 2. Woorise

WooRise is a well-integrated plugin that assists you to generate meaningful giveaways and contests that significantly raise your brand's identity. A robust integration that lets you create a fantastic giveaway in just a few minutes with the assistance of readymade templates. You don't have to waste your time hiring someone to tackle giveaways with coding. You can tackle the entire giveaway and contest by installing WooRise into your WordPress. An organized back-end and arranged front-end for the landing page of giveaways encourage visitors to connect. Collect your visitors' emails and grow your email subscribers for more engagement on the website.
Essential Features –
Let you create a more elegant landing page for contests and giveaways that encourage your audience to rely on your brands and products.
Provides mobile-responsive templates for easily designing beautiful giveaways, contests, and sweepstakes. Enables to add giveaways within a few moments, even without any coding.
Share your well-built giveaways widely on social networks for more engagement and customers.
Provide your users' bonus points or rewards on every referral and access social share such reference for more reachability of audience widely.
Integrate campaigns for giveaways and contests anywhere on the site, such as Facebook page, full screen, pop-up, chat window, email, or elsewhere with the assistance of widgets.
Price – Basic – $23/Mo (2k Entry),  Grow – $39/Mo (5k Entry),  Pro – $79/Mo (20k Entry)
Screenshot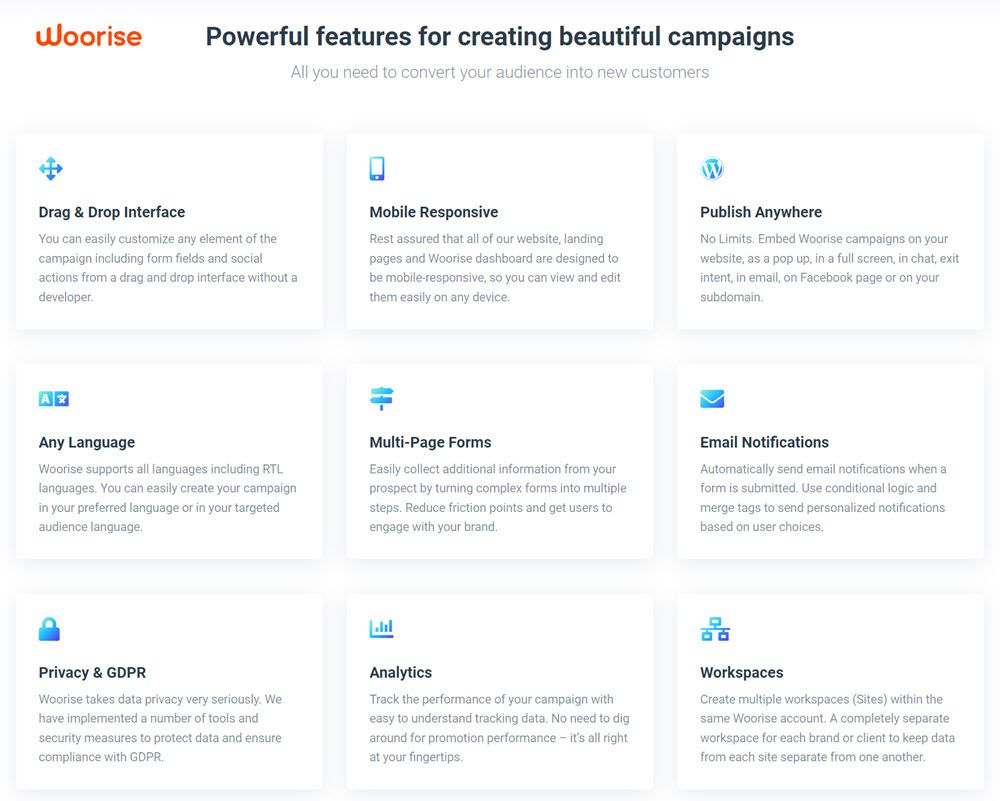 3. Easypromos Plugin

Easypromos is an elegantly designed extension for generating giveaways and contests on the website with its related business term. Just access more visitors while the availability of giveaways lets them share socially, encouraging more engagement on the website. Introduce amazing contests by asking questions and also give a chance to play and win to your audience. You don't have to spend a lot of time creating such contests as Easypromos contains a lot of templates. Select any one of the available templates and get ready to access content on your site with better giveaway opportunities.
Viral your contests while sharing them on social media widely, either with the help of your customers or your channels. Although, you also may be able to create contests and giveaways on social media channels like Instagram, Twitter, Facebook, and elsewhere. Let your users easily participate and get the reward as promised to assure future giveaways. Moreover, Easypromos enables you to offer games on social media for better engagement. Offers your visitors a variety of giveaways based on their own choice of participating.
Total number of users – 20+
Price – Basic – $290/annually (6 App),  Basic Pro – $490/annually (7 App),  Premium – $1999/annually (32 App)
Screenshot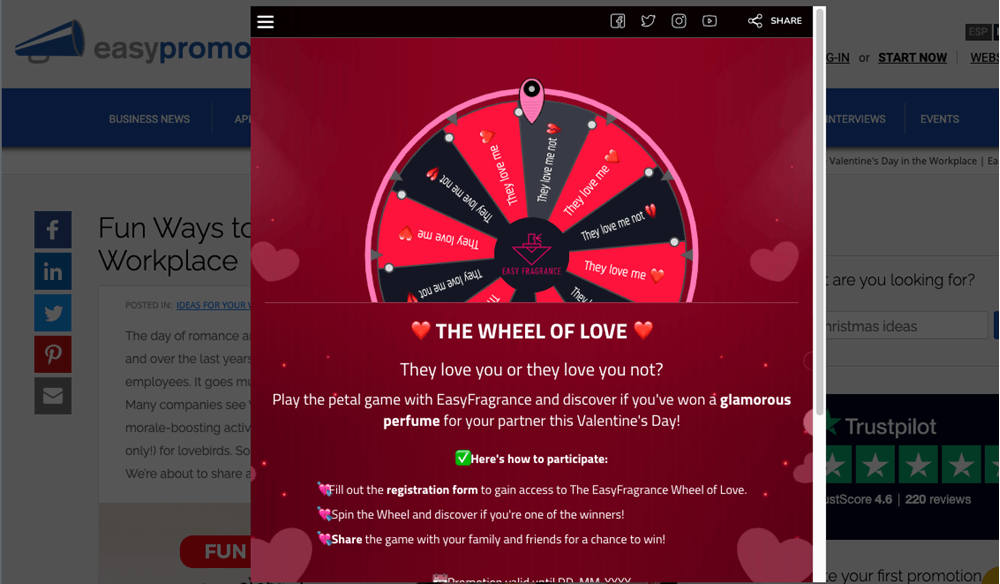 4. Beautiful Giveaways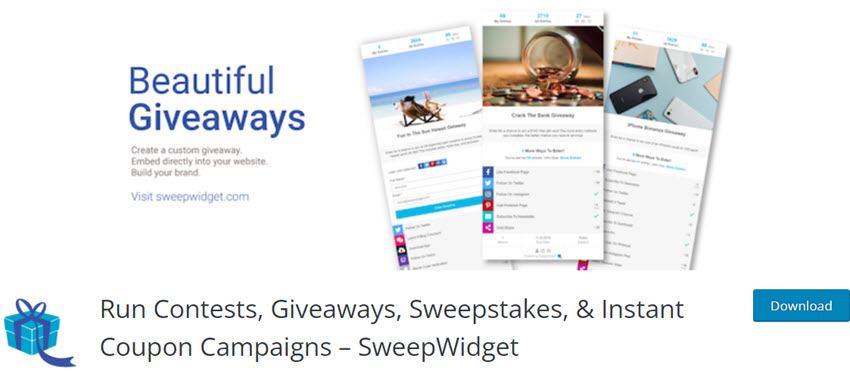 SweepWidget is an extensive WordPress plugin that is lightweight and intuitively designed for beginners who want to efficiently run contests, sweepstakes, and giveaways for their e-commerce website. You may quickly drive incredible contests on different social channels and make them viral among various audiences. Get more followers on social media as it becomes viral and significantly higher traffic on the site. Also, grow email lists that increase the chance of conversion of visitors into customers. Offer a variety of rewards, including instant coupons, multi-tier prizes, and more to your users on sharing with friends or referring to them.
Core Features –
Easy Embedding – Embed contests or giveaways into a blog or elsewhere with a shortcode of one line.
Admin Dashboard – Let you manage unlimited giveaways right on the admin panel of WordPress available thereby.
Social Media Integration – Enables drive exclusive giveaways or contests on social media, including YouTube, Facebook, Instagram, Twitter, Pinterest, etc.
Viral Contests – Create a contest that offers rewards on share. Set estimated points for winning rewards. As much as the share continues, collect points and get rewards accordingly.
Instant Rewards – Offer your users instant coupons and prizes for winning contests.
Leaderboard Competition – Establish a competition with a leaderboard that shows the estimation points to win the giveaway.
Total number of users – 100+
Price – Pro – $300/annually (Manage 1 Brand),  Business – $504/annually (Manage 2 Brand),  Premium – $1008/annually (Manage 3 Brand),  Enterprise – $2004/annually (Manage 5 Brand)
Screenshot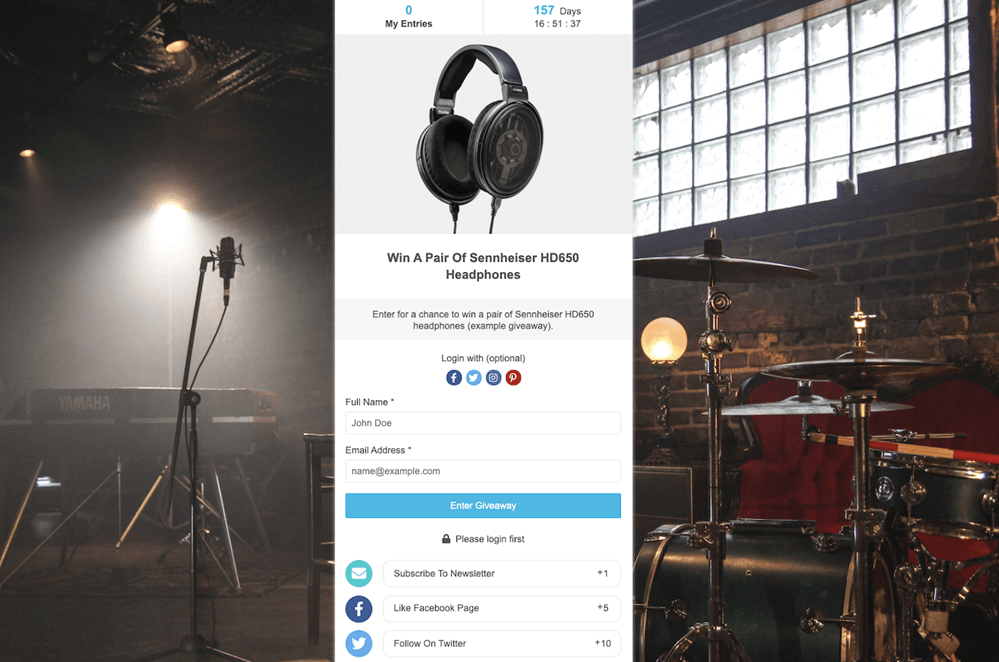 5. ShortStack

Shortstack is well-built with the essential features that assist the website owner in launching the giveaway, contests, and sweepstakes in minutes. You don't have to worry about low engagement on the website. Just initiate the giveaways and make your site viral on different social channels. Expand web traffic that significantly drives you more revenue thereby. As the Shortstack viral your e-commerce website with unique contests and giveaways, you got access to many emails and followers. Just run the effective giveaways and offers valid rewards to your users as promised on participating.
How Shortstack Assists Giveaways And Contests?
Create social media contests that only require hashtags and comment-to-enter accessibility for participating anyone.
Let you create hassle-free landing pages for more web traffic and promptly increase the chance of getting viral.
Offers coupon codes on registered emails of your customers and lets them participate in your contests to win such coupons.
Provide giveaways to your audience while playing games like knowledgeable quizzes, puzzles, or other contests.
Drive photo and video contests for the audience and let them prepare files for uploading accordingly to win the contest.
Price – Business – $948/annually (10K Entery),  Agency – $2388/annually (50K Entery),  Brand – $4788/annually (500K Entery)
Screenshot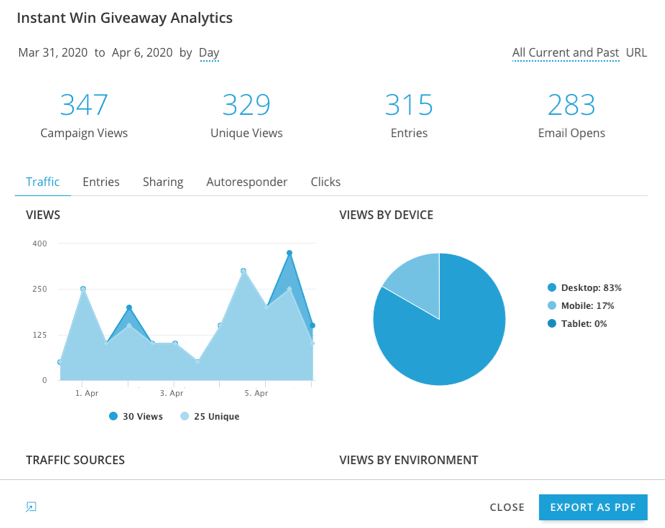 6. Simple Giveaways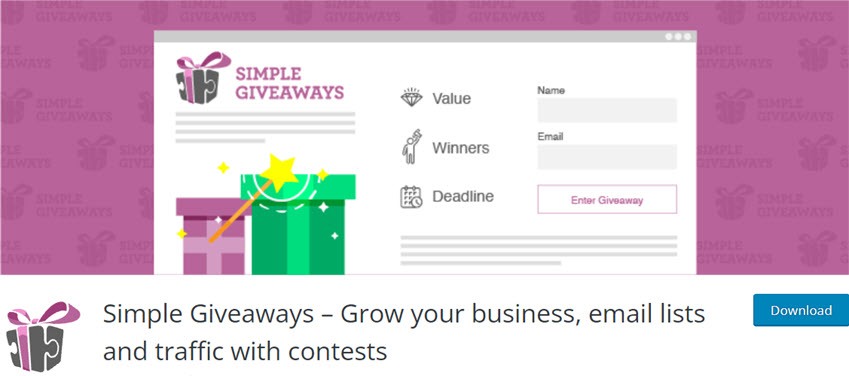 Simple Giveaways help to collect leads and create a buzz for the site. For creating such Giveaways, Viral Giveaway is one of the  Best WordPress Plugins To Create Viral Giveaways contests and Sweepstakes. The Real-Time Customizer that comes with this plugin helps customize the fonts, texts, images, highlights, colours, and much more. 3rd party mail integration such as Aweber, Active Campaign, Constant Contact, etc., helps collect leads and send them to email marketing providers. The time as to when the giveaway start and ends can also be easily scheduled.
It encourages visitors to share their giveaways and thus helps users' audiences. Also, this plugin is free as it doesn't charge any monthly or annual fees. To let the users know what they will win, a picture of the reward can be uploaded. For maximum virility, everything is A/B tested.
The start and end dates of the giveaways can be scheduled ahead of time. It is effortless to set up and use.
Total number of users – 1,000+
How to Create a Giveaway with Simple Giveaways, WordPress Plugin
Screenshot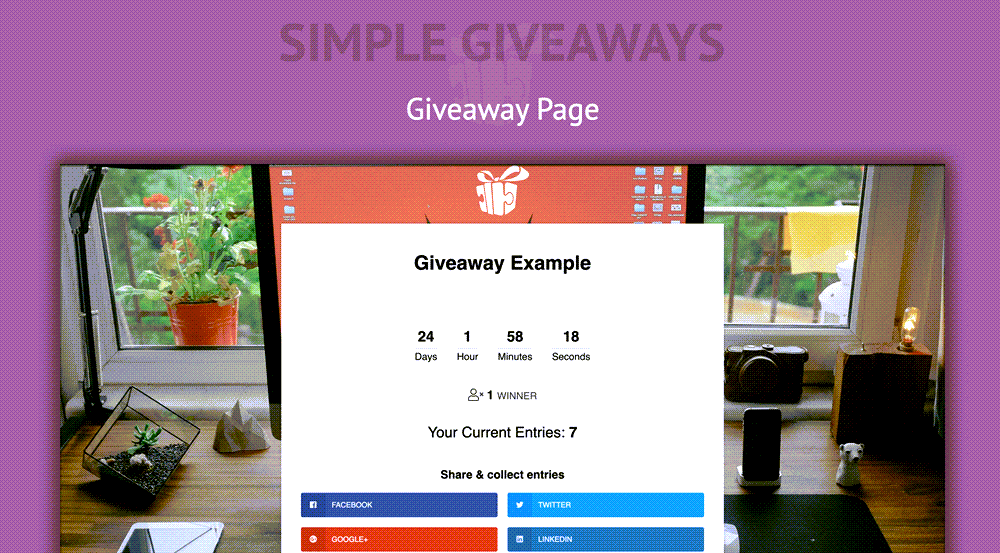 7. Contests by Rewards Fuel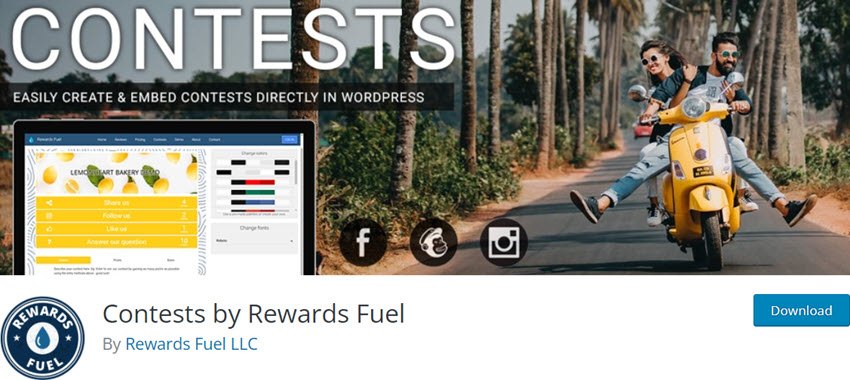 One of the ways to increase traffic on your website is by running contests. Your will company get better shares, comments and likes on social media sites like Instagram,  Twitter, Facebook, and YouTube. Getting more forms filled out will help grow your newsletter list and help gather statistics of your audience.
It's easier for you to display contest statistics, verify entries, pick your winners, automated notifications, and verify double entries with us. For participants to enter in the contest, there are several methods-
Make it mandatory for your followers to share the link of your website to enter in the giveaway. There's a custom tracking link it allows us to track contestants.
Build your subscribers by asking them to follow your Instagram and Facebook, retweet, and subscribe on YouTube to win.
Make a hashtag and ask people to follow that, giving you authenticity and fame.
Contest creation is made simple with us. Just answer a few questions which will help us to analyze your requirements. A code will be given after that to place anywhere on the post. There are many features such as location selection (helps to target audience). Insights are also available during the contest. A digital gifting option is also available with us, which will help you save costs and time.
Total number of users – 400+
Contest software by Rewards Fuel, engage your audience.
Screenshot
8. Lottery for WooCommerce

Online lotteries in your WooCommerce shop can be managed and created using lottery for WooCommerce using this plugin, both free and paid giveaways can run lotteries and contests. We also allow you to set up questions so that skill can make a criterion to judge. Tickets can be easily monitored after purchasing from the lottery dashboard. The easiest way to run contests, giveaways, and viral sweepstakes is Contest Friends for WordPress. It helps to grow the email and build a network. It is fully integrated with Google Fonts and Typekit API. It has a built-in URL shortening. The user can add his own rules and disclaimer.
Benefits –
customers will refer to new users if they have won the lottery in the past, which will increase your audience.
Your brand will get trusted among the audience, your future customers.
Lottery ticket sales will bring additional revenue to your shop.
The users can be rewarded for sharing with a weighted entry system. It has a responsive design.
Email lists can be sorted out, filtered, and exported to Excel. Unlimited contests and entries can be created using this plugin.
Price – 1 Site – $79/annually
Screenshot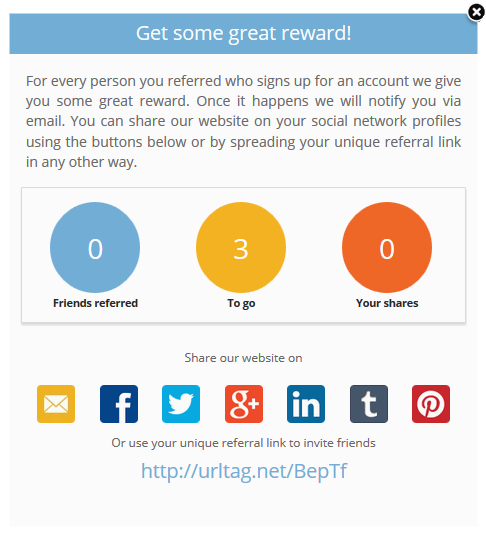 9. Gleam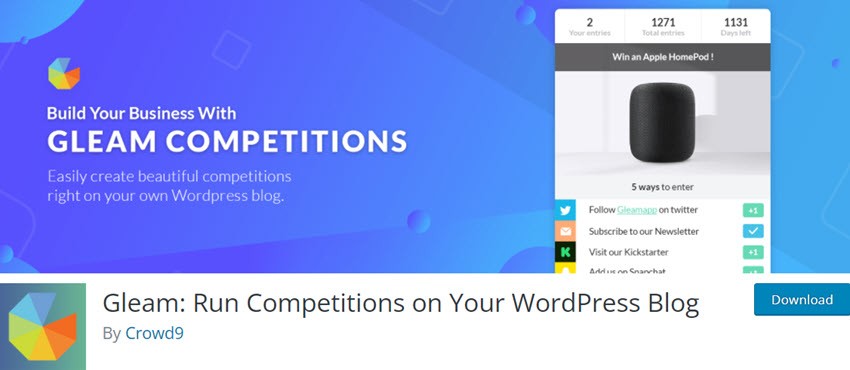 Gleam, a simple yet powerful plugin, allows users to use social actions for entries. Various networks are supported, such as Pinterest, Twitter, Instagram, Facebook, etc. The user can add prizes and set the actions. The visitors can also be asked to complete some predefined actions to get the instant award. This has proven to increase sales dramatically. Beautiful and responsive user-driven content and photo galleries can be created in minutes.
Next time while running a competition or giveaway, don't forget to add Gleam to your site. It supports many social media networks such as YouTube, Facebook, Twitter, Pinterest, Instagram, etc. It helps you monitor social actions for entries. It's a powerful solution and very easy to use. It would be best to create a competition first and later put it on your post to use Gleam.
Apart from running a giveaway, Gleam also
gives excellent web performance services that will help you make the web faster.
Promotion of web services and events is made more accessible with Gleam.
Gleams viral giveaway system has helped people grow their followers on social media and email subscribers.
It has helped people connect and engage with their site's community on a deeper level.
Gleam services are excellent, with a responsive team who understand their clients.
Total number of users – 500+
Price – Full Package – $97/Month
Screenshot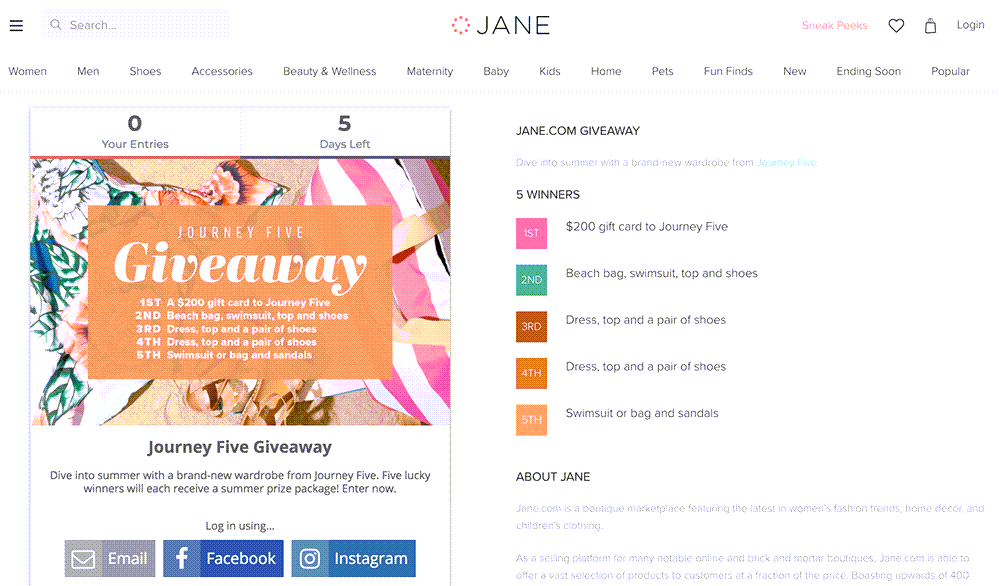 10. Photo Contest WordPress Plugin

Photo Contest WordPress plugin helps the users to create unlimited contests at the same time. This plugin can quickly assemble a Photography contest on the WordPress website. The user can fix the competition parameters as per want. It is multilingual and has eight layers of Vote protection. It has a powerful admin panel. Many browsers are fully compatible with this website. It is responsive and adapts well to all kinds of devices. It is user-friendly and gives lifetime free updates.
The contest by Photo Contest plugin is just the right choice to run contests from the WordPress website. This plugin helps increase the website's traffic, build a following on Facebook, Instagram, YOuTube, Twitter, etc., boost comments on posts, increase engagement and shares and much more. There are several entry methods to choose from. The followers can be asked to share a link to enter to promote the contest, and feedback can also be requested from the audience.
It helps users reach new customers every day with a social referral program. Using this plugin, a friend promotion can be designed and launched referred on the WordPress website and blog. There are many referral campaigns, such as Referral Contest campaigns, Instant Reward referral campaigns, Goal-Based and Sweepstakes Referral campaigns. The customers can also be rewarded for sharing the site with friends.
Price – Regular License – $39/Lifetime (1 Site)
Screenshot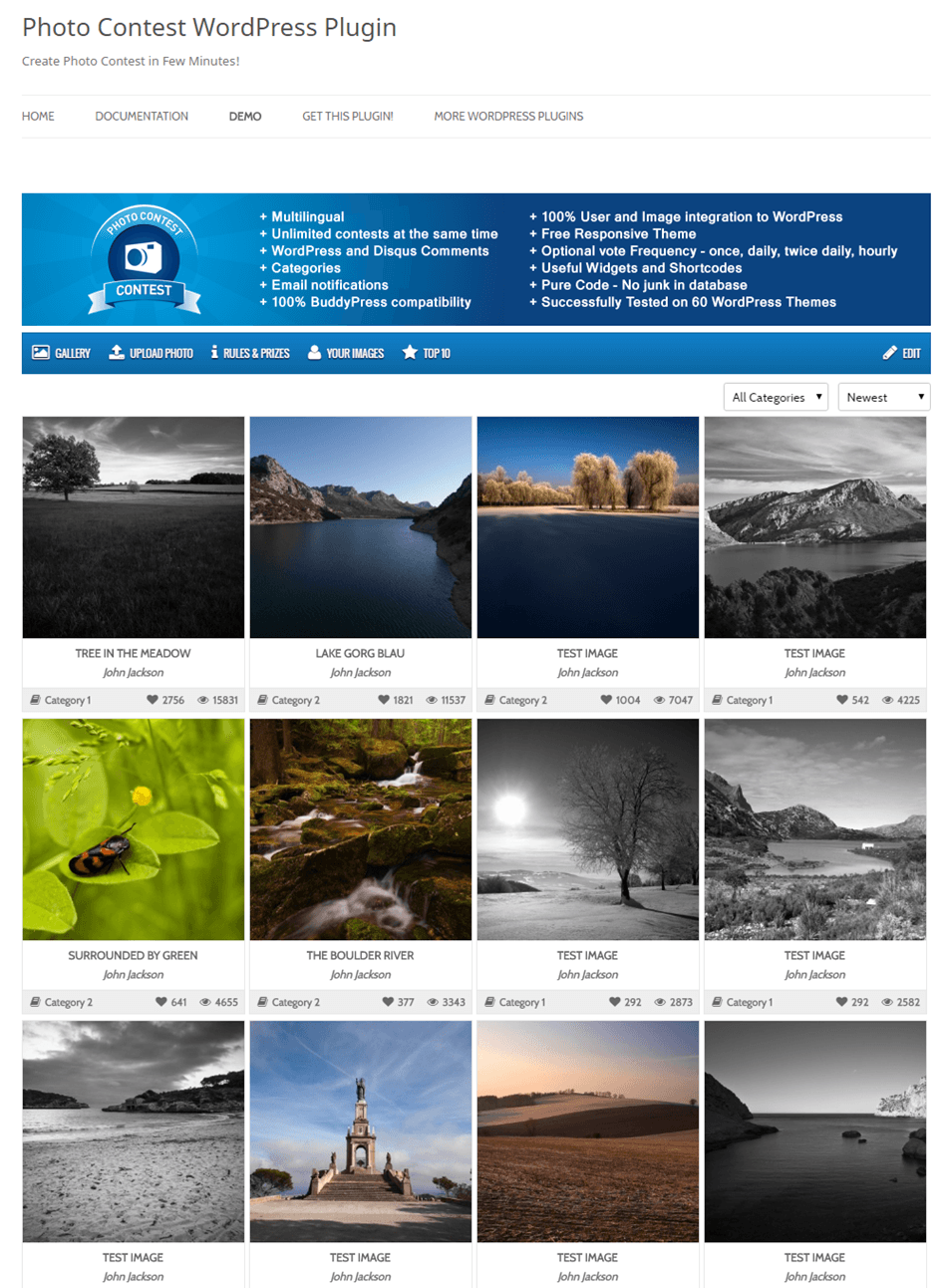 Conclusion –  Still confused about which is the Best WordPress Plugins To Create Viral Giveaways Contest and Sweepstakes? Trust me, my friend, none of the free versions of plugins is good for Collecting leads, expert viral Giveaways pro that is worth spending money on.