9 Best Chatbot Plugins For Website To Automate Your Live Chat 2021
Adding Chatbot Plugins to your website increase your conversions rate, Lead generation and decrease your costing for hiring real human chat employee. These platforms are so advanced that you can even create booking or appointments without the intervention of any real human. They can also answer any small preset question based on your experience.

You can customize your bot according to your need. Let say you are running a restaurant and want your bots to make your visitor booking then you design it in a way so that booking can be managed easily by using the calendar. Even they are much more helpful in case of cart abandonment.
When we talked about email collection trust none of the lead generation plugins is better in comparison to automated bots. Even for Selling some eBooks and any digital product selling option, they are most efficient. They are most efficient in increase the conversions rate.
You may also be interested in Landing Page plugins, Fomo Plugins Translation Plugins and  Live chat Plugins 
So let's have the list of top Chatbot Plugins for Your Website are as follows –
1. Tidio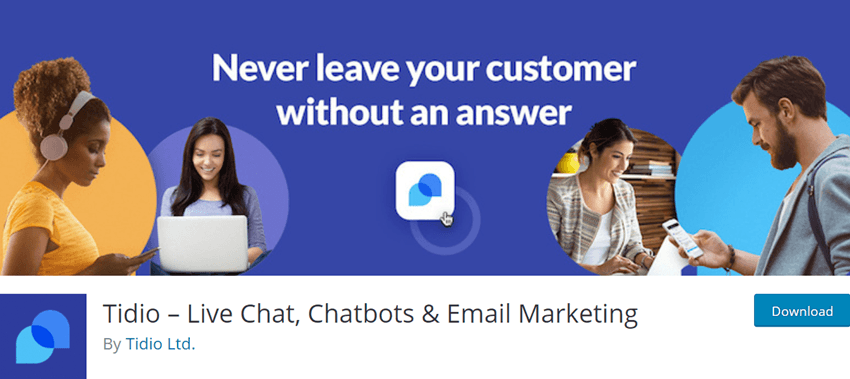 Tidio is an extensive chatbot plugin of WordPress that enables you to automate the communication directly to the visitors. A free WP extension lets you establish the medium of connectivity and collect essential data within few minutes. No matter what's the time going on, you can get access to your visitors and answers their queries promptly right there. Designated with an intuitive UI design that is easily installed anywhere. Anyone can easily access Tidio without holding a specific degree and create an effective influence for the website. As it communicates with visitors, there is a great chance of conversion rates. Allow some configuration that is relevant to your website and it all done to go ahead.
Key Features of Tidio –
Flexible Widgets – Control everything that you make visible to your customer and manage the replies easily with widgets.
Live Preview – Enable to oversee the real-time typing status of visitors and prepare you to reply fast with automated chatbots.
Compatibility – Allow smooth accessing on any device including Android and IOS smartphones.
Notify Immediately – As your visitors come along the website, they got a notification of a welcome message through a chatbot embedded on it.
Chatbot Templates – Just select the template that is available on Tidio and customize the same you want for your chatbot visibility.
Total number of users – 100,000+ 
Price – Mailing-$100/yearly,  Communicator-$180/yearly,  Chatbots-$180/yearly
Screenshot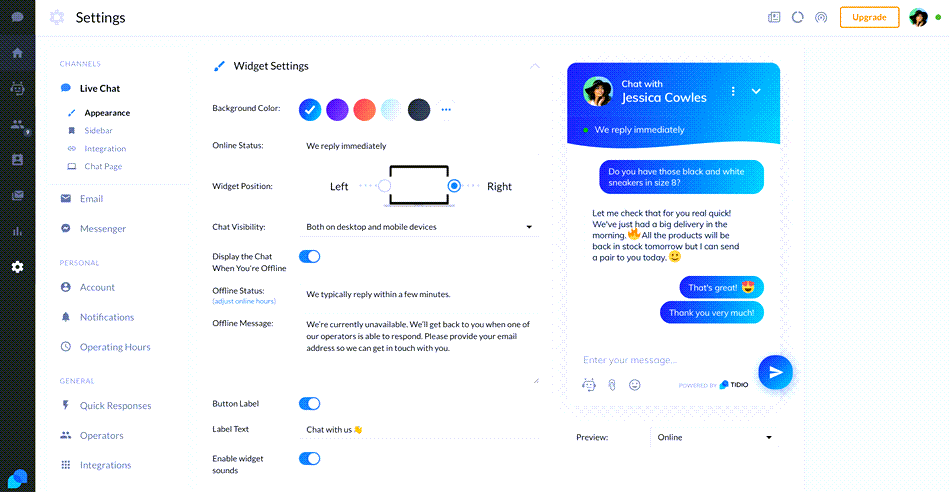 2. Collect. chat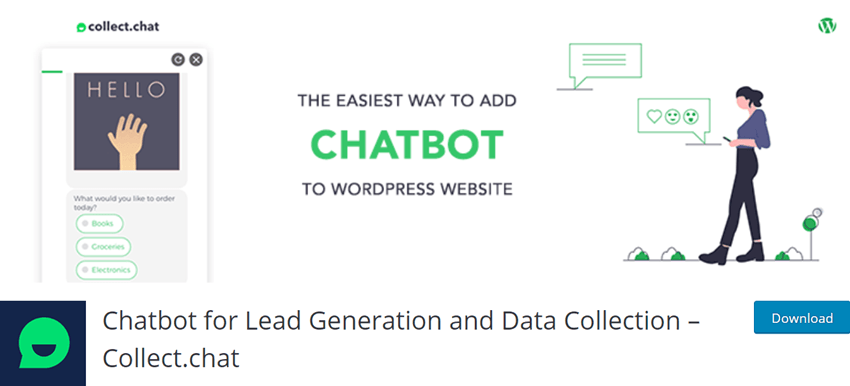 If you want to set up a site that is conversion-centric, then Collect. chat can be an ideal choice for you. Collect. chat is a simple yet powerful Chatbot Platform tool that facilitates guidance to the users and prompts them to give their feedback. Not only this, but you can also allow them to share their experience with other visitors – a great tool for healthy user engagement.
Collect. chat is fully automated and hence even when you are not monitoring the chatbot, it will collect leads for you. It hardly requires any human intervention.
With Collect. chat you can share the bot thru links, posts, HTML code and WP plugin. You can customize the bot thru drag and drop and add FAQs.
You can also create a chatbot in no time with the drag-and-drop functionality.
Both Free & premium versions are available.
you can automate the Q & A sequentially for better customer engagement.
It creates action-based sequences by tracking their action on the messenger such as the time they had spent on your website, the pages that have been viewed by them, their purchase and aspirations from your site, everything!
Integration Support – FB Messenger, Zapier, Integromat, LeadsBridge, Google Tag Manager, Freshdesk and much more
Total number of users – 7,000+
Price – Lite-$216/yearly,  Standard-$420/yearly, Plus-$828/yearly
Screenshot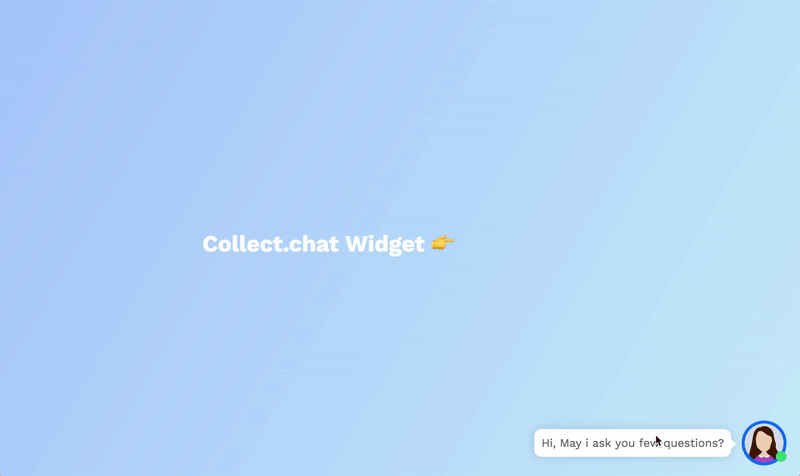 3. Landbot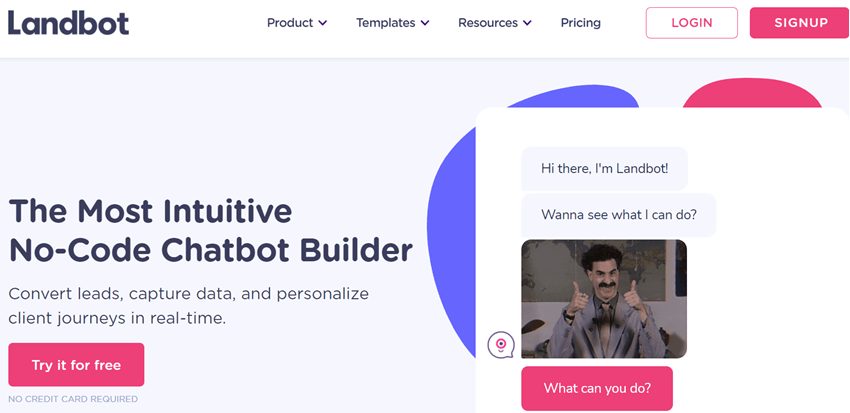 Landbot designated with the view to establishing the conversation system between owner and visitors. This WordPress Extension for chatbots assists people to solve their queries which are repeatedly asked by everyone. Herby, you can set the automatic chatting to people who are interested in your relevant product and service that available on your website. Increase organic traffic as well as conversion rates because conversation with the audience increases reliability. Anyone easily activates this chatbot plugin as it is simple to configure without any coding perspective. Be available anytime to your customers and solve their queries shortly with the assistance of an automated chatbot.
Features of Landbot Includes –
Design Yourself – With the availability of numerous templates you can design your chatbots in the way you desire easily.
Establish Anywhere – Enables you to embed such chatbots on your site anywhere that is required such as messaging, landing pages, widgets, or elsewhere within just a click.
Drag-and-Drop – Create amazing chatbots for your website easily as Landbot enables the drag & drop option.
WhatsApp Integration – Any visitors can come to your site anytime and to get instant communication with them you must avail themselves of the WhatsApp messaging whereby they get faster replies than ever.
Price – Starter-252Euro/yearly,  Professional-672Euro/yearly
4. LiveChat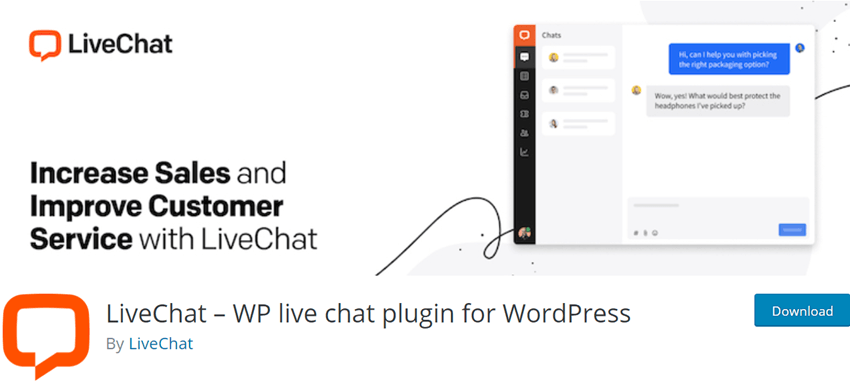 The chatbot is a customer-centric platform that creates a customer service chatbot in no time. Especially design for beginners and developers to build their customized design chatbot.
 With Chatbot, diverse chatbots can be created with the drag and drop elements. These chatbots are capable to answer customers' queries, automate activities and more.
With the drag and drop functionality, you can create an impressive chatbot.
There are many live chat features such as ticket generation, transcripts relay, transferring chats to agents, chat tagging and more with the exceptional tool ChatBot. You can also create a personal bot factory to keep the users engaged and answering FAQs while you concentrate on other tasks at hand.
A free 30 days trial in the Team plan with ChatBot is available.
Besides, it also sends Greeting messages to the logged in/out users.
You can also get notified while chatting with a potential lead on the other end. A chatbot is WooCommerce integrated.
Facebook Messenger Chat plugins have a premium version only.
Integration – Facebook Messenger,  Slack, LiveChat, Whatapp, slack
Total number of users – 30,000+
Price – Starter-$192/yearly,  Team-$396/yearly,  Business-$600/yearly
Screenshot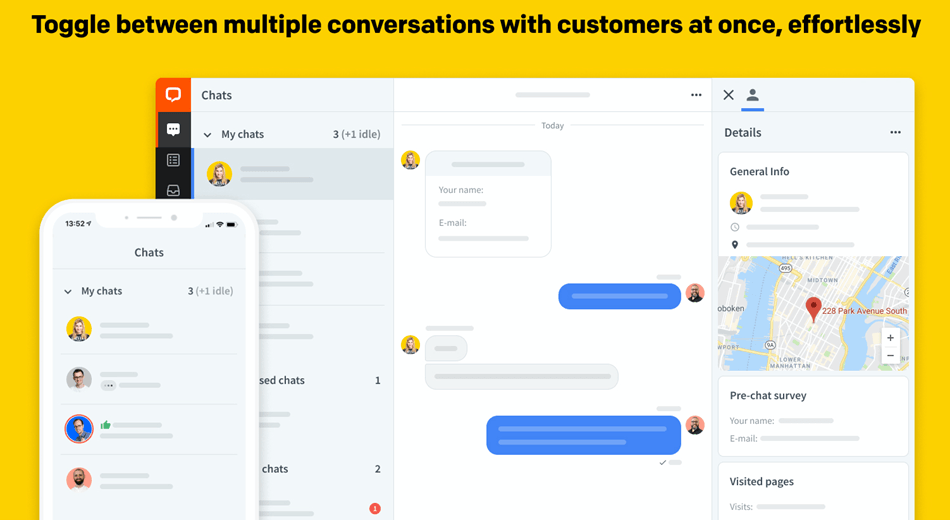 5. Freshchat

Freshchat is an amazing Chatbot Extension of WordPress that enables you to connect your audience anytime. Establish such an advanced communication setup and reach your audience to assists them with any kind of queries. Freshchat lets you increase engagement on your website while implementing an attractive chatbot. Any visitors who come to your website will be welcome with quick live chatting windows. Hereby, they may ask anything about the products and services and get a reply soon without any delay. With the establishment of the Freshchat chatbot extension, get access to automated chatting that provides necessary announcements, offers, and more to the visitors. As much as visitors get into your site it leads to high conversion rates of being customers.
Elementary Features –
Just configure the repetitive questions into the FAQ section and this extension extracts such details and make them available to the visitor.
Be with your customer 24/7 to assist them in any kind of problem on the site immediately.
Design the chatbot according to the requirement of the website with available template styles or customize the same.
Integrated to easily access multiple platforms including Facebook, E-mails, and Live Chat.
Apps supported smoothly on android and IOS devices.
Contains history of live chats for 30 days.
Total number of users – 70+
Price – Start-$400/yearly,  Grow-$1000/yearly,  Scale-$4000/yearly
Screenshot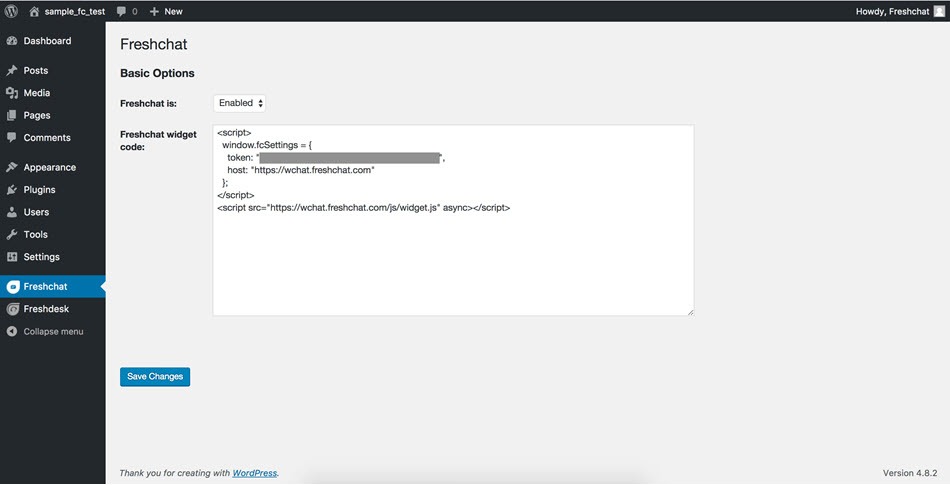 6. Crisp Live Chat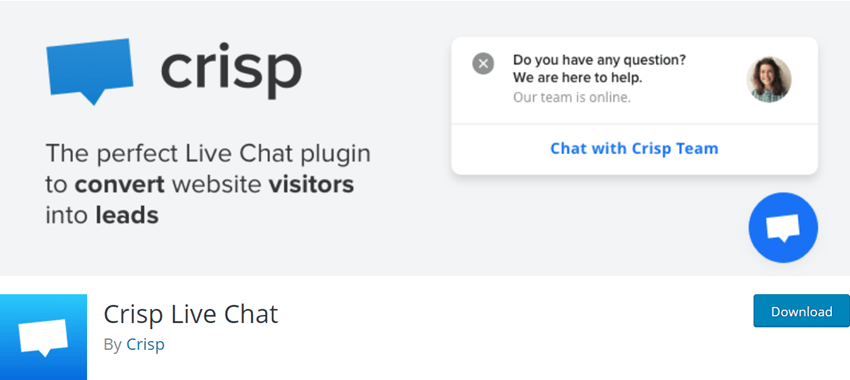 Crisp Live Chat is an essential WordPress extension that assists your visitors whenever they reach your website. While establishing this automated live chat alternative on your website, will ultimately create great engagement of the audience. As much as the audience gets access to your website the conversion rate of such audience into customers also raises. Grow your online pursuits thereby and let your revenue becomes higher with the assistance of enriched features of this chatbot plugin. Build your WordPress site and available it with a variety of options to communicate directly. Assure your visitors as well as customers to solve their queries promptly with a quick response.
Implemented Features –
Chat Instantly – Assists your visitors to get their answers to questions relevantly without any waiting for replies. Let them feel free to share details to get in touch with them constantly.
Enable Notifications – Create chat notifications directly to the visitors on offline mode. So they reach your website for more information while they are not there.
Compatibility – Enables to run chatbot efficiently on any device either smartphones (Android and IOS) or desktop with Windows and Mac OS.
Live Chatbot – Track your audience what they seeking while viewing their typing status and profile accordingly.
Total number of users – 30,000+
Price – Pro-$25/Monthly, Ultimate-$95/Monthly
Screenshot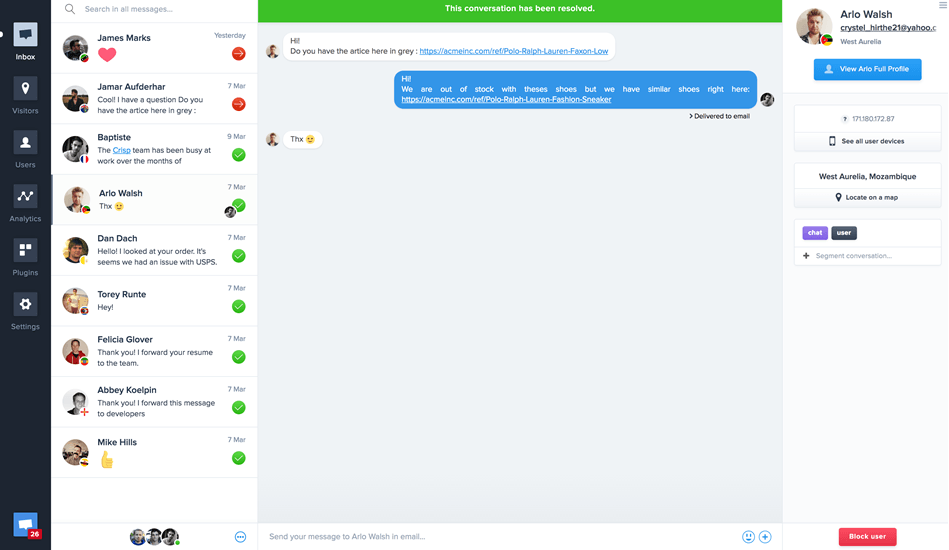 7. Smartsupp Live Chat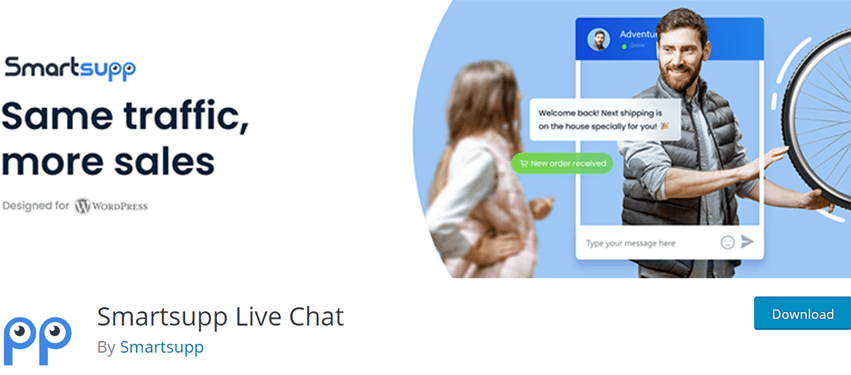 Smartsupp is a well-integrated WordPress chatbot extension that contaminates lots of features of communicating with your visitors. Just keep chatting with your visitors and provide them with every single detail that they want to know from your website. Establish a great medium of connectivity with your audience and grow your business while converting them into reliable customers. With the assistance of Smartsupp let your visitors get access with you directly. Ensure to answer the queries they asked immediately through this amazing chatbot extension. Design the chatbot of your website as per necessity either with a variety of templates available or just customizing the same to make it perfect.
Why Smartsupp Is The Best Choice?
Automated Chatbot – Reach your visitors as soon as they arrive at your site and give them quick automatic replies.
Multi-language Inability – Supports seven various languages for chatting with the audience.
Implement Shortcuts – Add a variety of shortcuts while utilizing the FAQ templates within few clicks.
Records Activity – Enable you to oversee the recurred activity of your visitors by recording which helps you to improve user experience accordingly.
Rate Experience – Let users rate the communication experience by emoji character or comment that they feel satisfied with your answer or not.
Total number of users – 30,000+
Price – Standard-$120/yearly, Pro-$228/yearly
Screenshot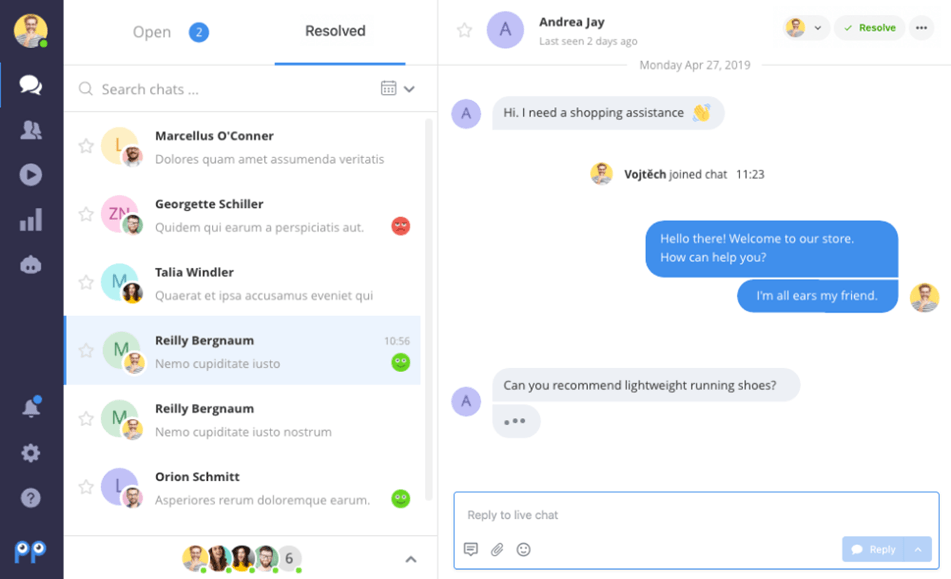 8. Chatra Live Chat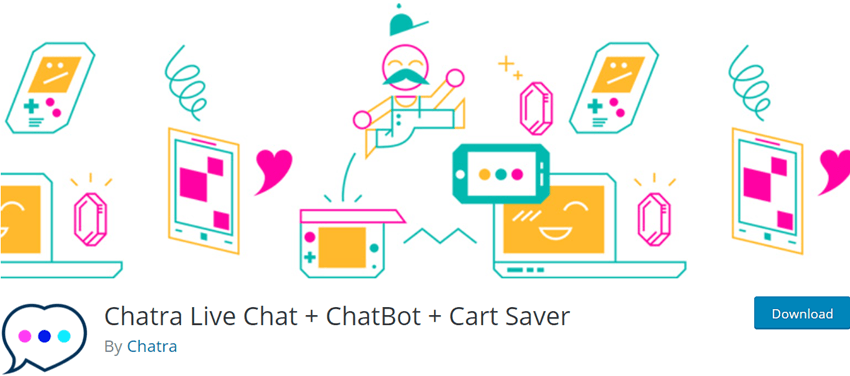 Chatra is another top chatbot Plugin for WordPress which provide a quick way to create a chatbot on your website, mobile device or email. The plugin can assist you to answer customers' queries and convert chats to sales.
Chatra is a great optimization tool because it lets you analyze customer behaviour by monitoring the users who responded and those who abandoned the bot due to other engagements.
With Chatra you can view rich bot analytics, live chat with visitors of your site, edit the bot and get ideas on optimization.
Chatra allows you to schedule meetings directly from your website and the sales team gets notified instantly.
Total number of users – 4,000+
Price – Essential-$180/yearly, Pro-$276/yearly
Screenshot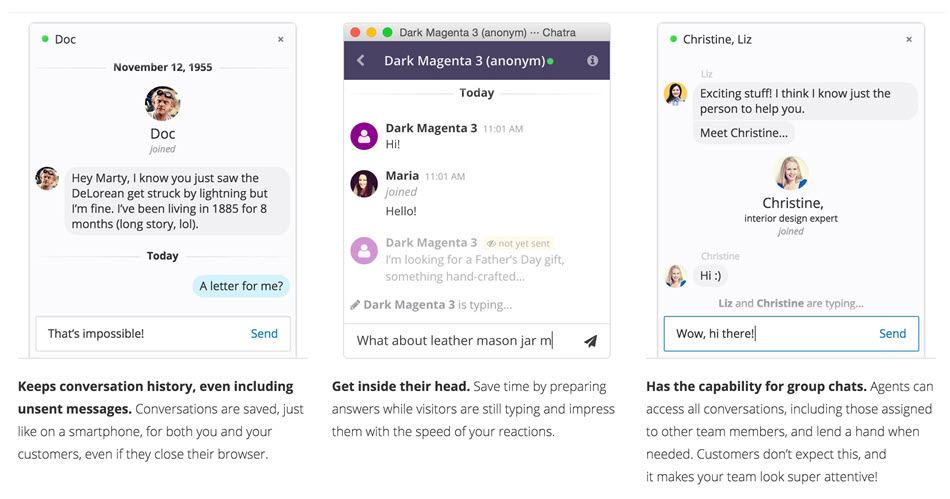 9. WP Live Chat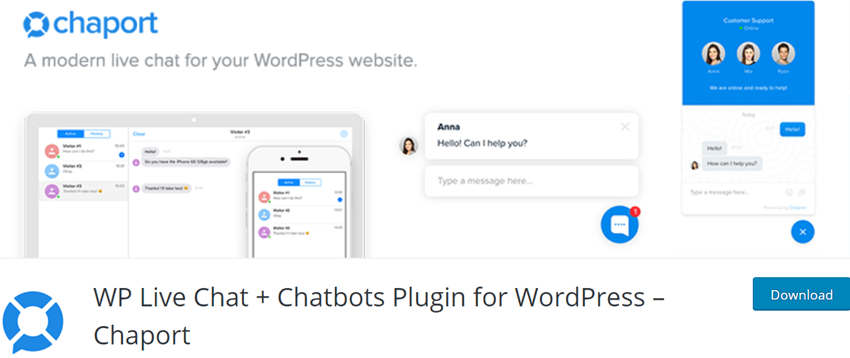 WP Live Chat is one the best free chatbot plugin for WordPress you get the power to impart an amazing user experience to your customers thru its capability to answer the FAQs and offering them all possible assistance while navigating the site.
Users get VOIP calling powered by Twilio to contact the sales team of the site. Besides, you can also make the chatbot viewable on the selected pages with your preferred design.
User Name can be included in the chatbot with WP Live Chat for a personalized experience.
You can select the pages on your site where you want the chatbot to show up.
A very simple plugin that requires minimal settings to get activated that also gives you the power to customize the chatbot as per your preference.
The plugin is a comprehensive platform that is not just a mere chat plugin. It offers you many lead magnets to amplify your contact list and facilitates customer engagement by integrating with the Facebook Ad Formats. Not only this, you can easily segment your audience list based on interest.
The chatbot builder is comprehensive and automated. It can answer FAQs, track sales and set appointments.
Total number of users – 2,000+
Price – Premium-$180/yearly, Business $276/yearly
Screenshot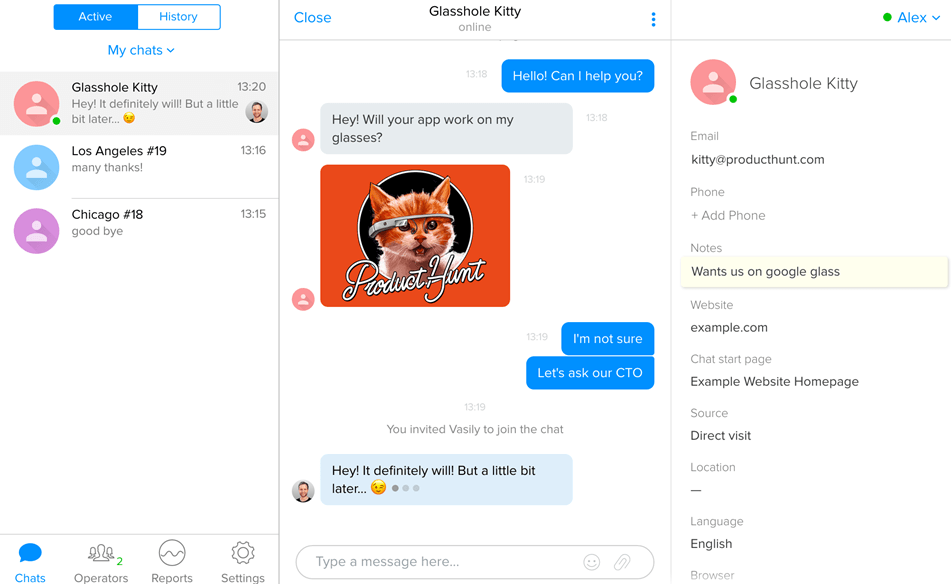 10. Acobot Lead Generation AI Chatbot (Chatbot + Voice Platform)

All you need is a site URL for the Acobot to work. It's an amazing automated tool to boost sales and conversions.
Acobot can help you in multiple ways by welcoming your site visitors with a greet chat, answer their queries, help them explore your site and learn about your product. A talking avatar powered by AI is highly appealing to web users.
It can also prompt the visitors to enter the sales funnel by asking them to sign up for free or take up their demo.
Acobot also removes the necessity of a search plugin by its search and navigation features which impart an amazing user experience while conversing.
Users get a VOIP calling facility too.
A 15-day free trial is available without any credit card.
Total no. of Users – 200+
Pricing – Acobot Small Plan – $29 /mo (Engaging 1,000 users/mo), Acobot Medium – $49 /mo (Engaging 3,000 users/mo), Acobot Large – $99 /mo (Engaging 10,000 users/mo).

Screenshot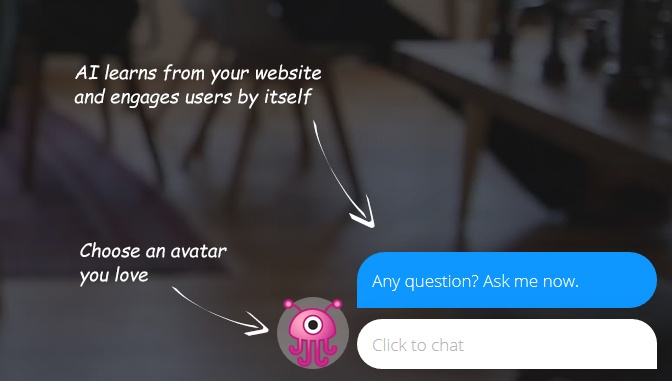 Why don't you read my email marketing comparative blog?