How To Track Email Opened, Click tracking And Resend In WordPress
Tracking your Email Opened and Click tracking is quite difficult without WPMailSmtp. Now you can easily find emails from your site is opened by customer or not. Does he click on that email, You can also add follow up by resending the email to him to add follow-up?

WPForms has announced the WP Mail SMTP that comes with loads of exciting features. The release helps the website owners can track emails sent from your WordPress site in an easy and hassle freeway.
In this blog, we will see how we can Track Email Opened, Click tracking in your woocommerce or WordPress Site
1. Tracking Email Open and Click Rate
Email tracking refers to the process of tracking email open rates, click-through rates, time, and locations. Email tracking thus notifies you every time an email has been opened or clicked. If you have the pro license of WP Mail SMTP, you can easily employ emails and email click tracking on your woocommerce store.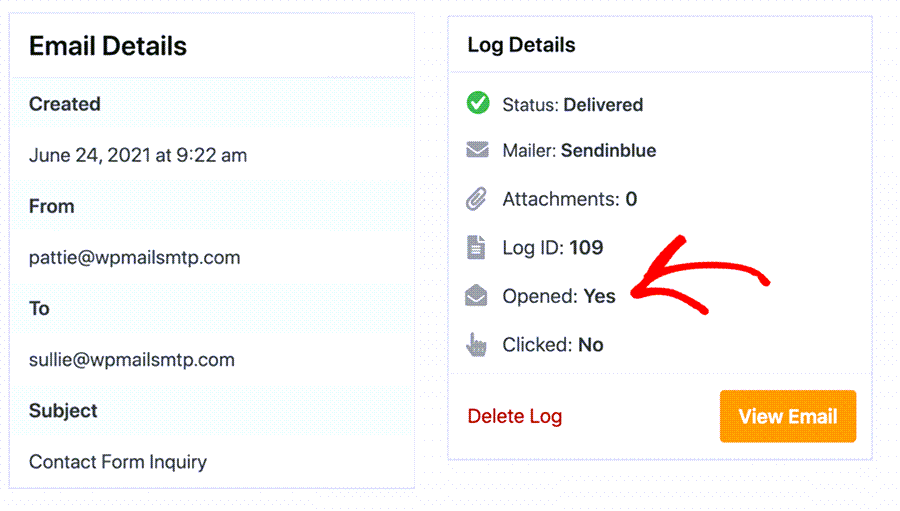 Email click tracking and email open tracking help you identify if your strategy is being appropriately valued and thus, helps you make informed decisions for your business.
Email click rate and open rate are important for you, especially if:
You own a WooCommerce store and you want to check if the customers receive and open your order emails.
You are sending sales emails or mailshots from your WordPress website.
If you are an educator and Sell online courses, you might want to check if your target audience checks and opens your vital course notification.
To enable click and open tracking on your emails, you simply have to go to plugin settings and turn on email logging. Now, you'll be able to see the subject of the email, to and from the address of the email, and the email open and click status.

This update by WP Mail SMTP will also help you see if the audience is engaging with your emails and that too without editing your email templates or the links.
2. Resend Emails In WordPress
Resending emails in WordPress has never been this easy. The recent update by WP Mail SMTP i.e., the WP Mail SMTP 2.9 has made it simpler to Resend Emails In WordPress in a matter of few clicks. Resend Emails is quite helpful when you are selling online courses or running an eCommerce store. Here, you must note that this feature is only applicable for the users with the Pro license of WP Mail SMTP. The Pro customers can easily resend these emails right from their WordPress email logs. Many times, you want to send an important email to your users and it fails due to some technical issues. In all these cases, you can easily click and resend it at that time only. If you want, you can send the email to the original recipient only. In other cases, you can easily change the recipient and forward the message to other users as well.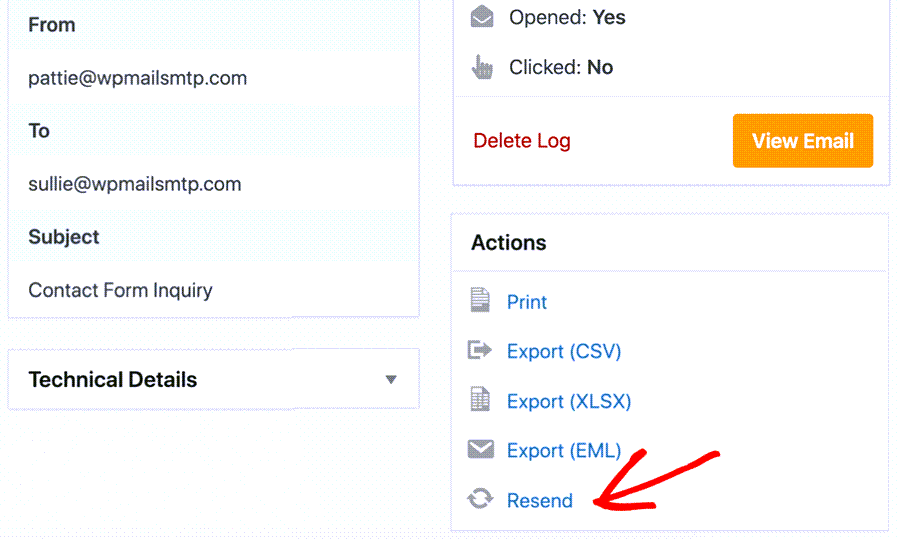 To resend the email, you just have to right-click on the subject of the email and select the resend option. Thereafter, you'll get a popup saying, "Are you sure you want to resend the email?" Click on yes and move ahead.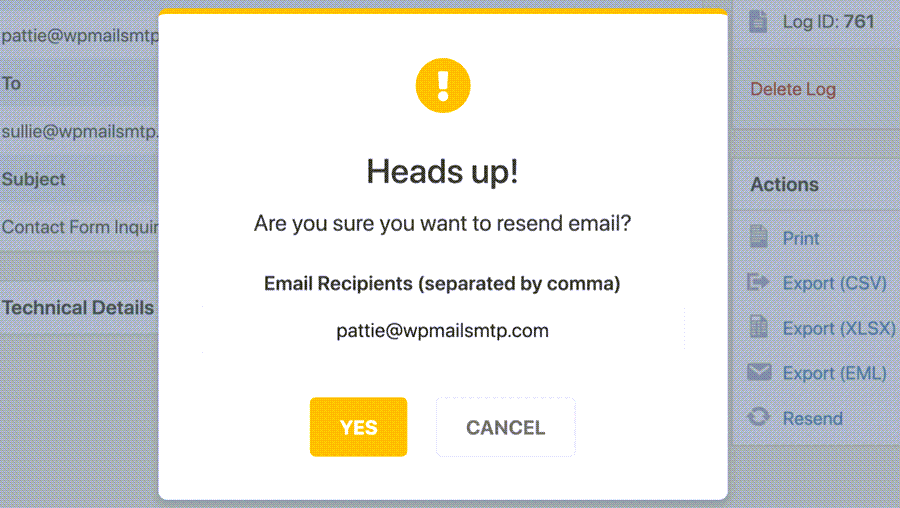 One of the most interesting features of this update is that, you can easily resend multiple emails at the same time, and that too in one click. Irrespective of how many emails you want to resend simultaneously, your site speed will never slow down.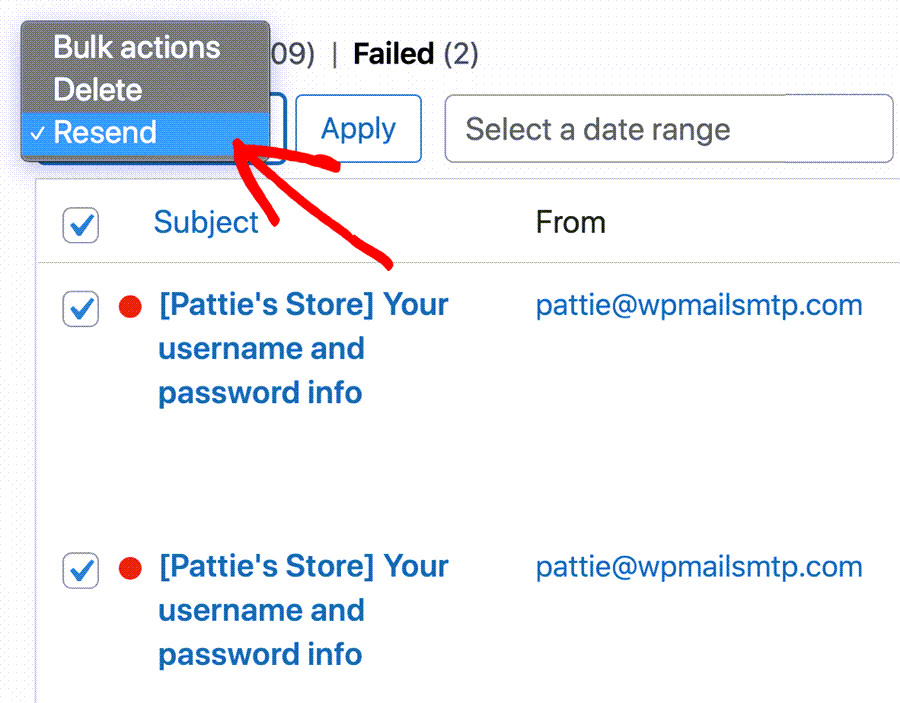 The smart queueing system by WP Mail SMTP automatically staggers email sending, and thus prevents your site from slowing down.
Saving email attachments was one of the demands of the users' of WP Mail SMTP. That's another feature of this update. Let's check it out.
3. Saving Email Attachments
Many of the users expressed their wish to save the email attachments along with the emails in WordPress. The feature now makes it easier for you to save the email attachments in your WordPress site only.
By enabling the feature, you can easily save all of your email attachments along with the original email in the attachments section.
There's another more interesting fact about this feature. The saved email attachments don't eat up your disk space i.e. when you delete an email log, the email attachments get deleted along with it. Thus, you always have full control of your email attachments.
You should also note that the saved attachments are also sent along with the original email, every time you resend an email.
4. Exporting EML
In the last update of WP Mail SMTP, they have announced the XLSX and CSV log export feature that has been highly praised by their users. In their recent update, they have announced the EML export feature for their pro users. This feature will allow the users to export individual emails as EML files. These files can be opened up in any email client. Also, this feature enables the users to bulk export multiple EML files in 1 ZIP. You can view the Export (EML) in the Actions section.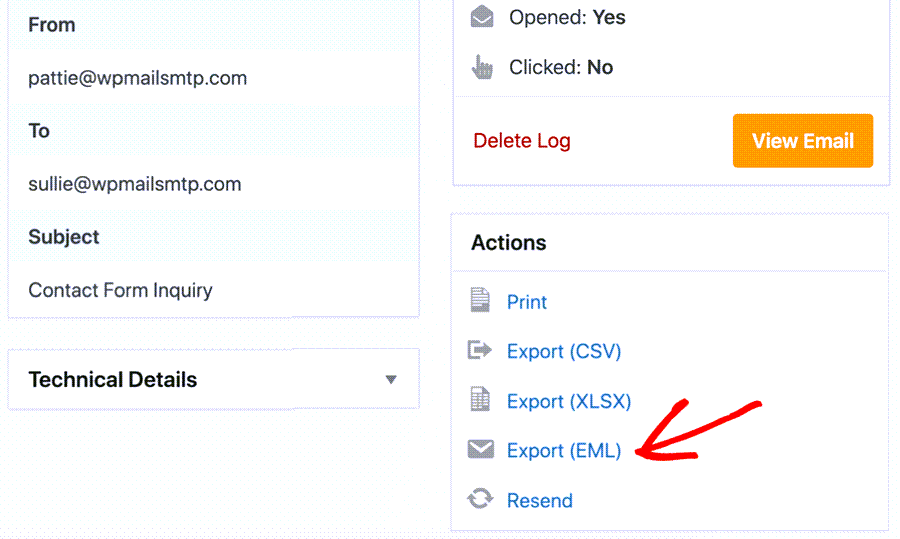 EML Format of an email helps you clearly understand how the email looks like to the recipient. Thus, it helps the sender to ensure that the emails look the way they want them to look. Also, it allows you to archive the sent mails in a visual format.
5. Network Aggregated Email Log
Network Aggregated Email Log is a feature for all the users with multisite. Earlier, the users with multisite had to log into each of their subsites to check their email log. This was indeed a cumbersome process. The team of WP Mail SMTP has worked on this issue and made the process smoother and faster. Now, the users can easily load any of their sub-sites' email logs, all under one roof.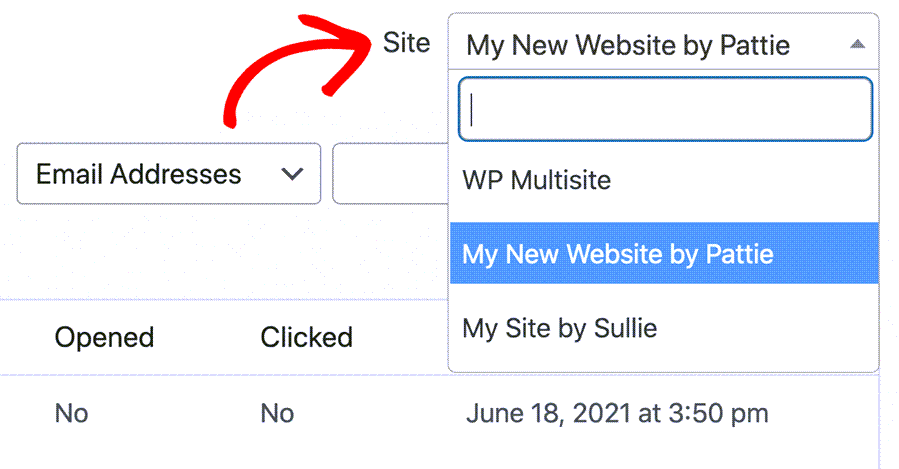 If you are the network admin on a multisite installation, the WP Mail SMTP 2.96 is ideal for you. It adds an aggregated email lo9g for all the subsites in one place. On the email log page, you will see the dropdown menu, where you can find your entire subsite. Choose the subsite for which you want to check the email log.
Thus, this update makes it easy for the network admin to access their email logs. They can find all the email logs from the main site's email log page.
6. Conclusion
The WP Mail SMTP is one the best SMTP plugin in the WordPress market which has amazing features like email opened tracking and clicks tracking, Resending follow-up emails, exporting EML, saving email attachments and network aggregated email logs for the network admin. This is not it. There are a lot of features to be added to the list in their upcoming updates. So what are you waiting for? Join WP Mail SMTP today.
You might also be interested in Email Marketing Services, Live chat Plugins, social proof plugins, and Page Builder Plugin
That's it for this blog. In case you have any queries or suggestions, feel free to leave them in the comments section below.