8 Best Plugins To Manage Multiple WordPress Sites From One Dashboard 2021
Are you Looking for Tools or Plugins to manage Multiple WordPress sites From one dashboard? WordPress Website Management will be really difficult when you have a large number of websites. It consumes a lot of Time, Money and Resources.

The main problem you face when you have a large number of websites are themes & Plugins Update, maintenance & security,  Analytics, User management, Comment moderation and backup or cloning. Mostly you will get fed up with the login and logout process of different websites. And your complete day will be wasted.
It will be much more helpful and easy when you want to edit posts, update posts from one central location of the multiple admin panels.
There are many Free tools in the WordPress respiratory which allow a single interface to Manage Unlimited WordPress sites.
You may also be interested in Membership Plugins, Multipurpose themes and Fomo Plugins
So let us have the list of Top Tools we can use help you to manage multiple WordPress sites are as follows
1. InfiniteWP Client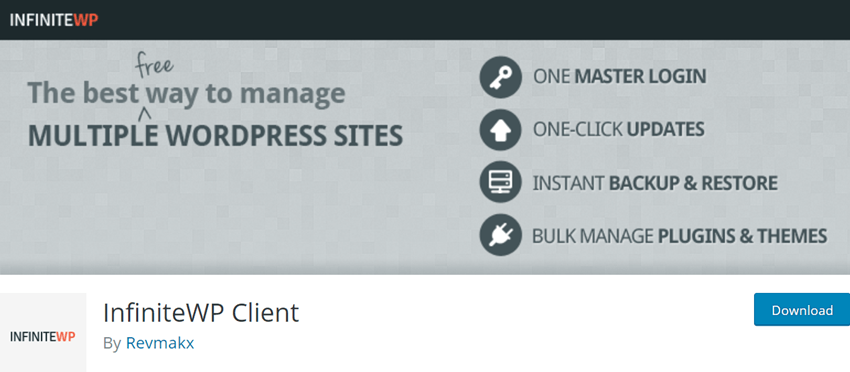 InfiniteWP Client enables you to control multiple sites from your server. The plugin is open-source software and has extensive documentation and easy installation features. The plugin helps in site and group management. you can monitor, control and customize multiple websites from a single and fully functional dashboard.
Prime Features
One master login and single-click updates
Bulk management of plugins and themes – Multiple plugins can be activated or deactivated on multiple websites concurrently
Backups and restoration features for the entire site and database
Self Hosted, hence all control in your hands through your server
Admin Panel access in a single click
Total number of users – 300,000+
Price – Starter-$147/annually (10 Site), Developer-$247/annually (20 Site), Freelancer-$347/annually (50 Site), Agency-$447/annually (Unlimited), Enterprise-$647/annually (Unlimited)
InfiniteWP - Multiple WordPress Management
Screenshot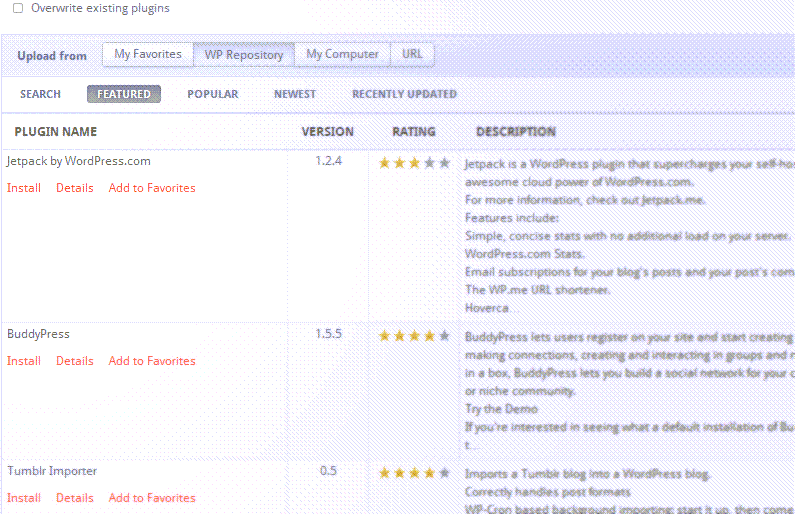 2. MainWP Dashboard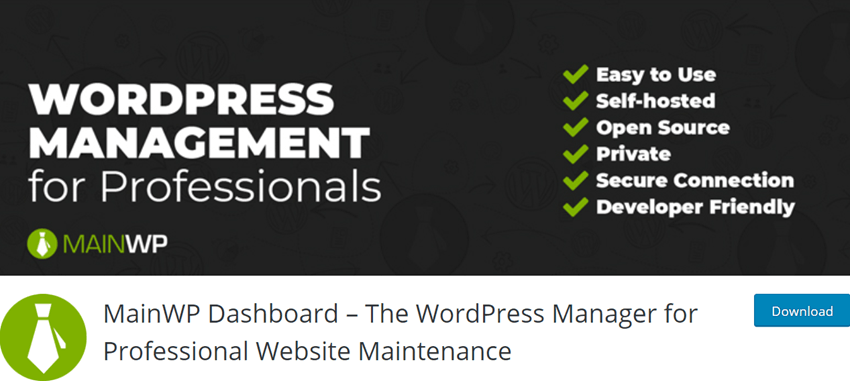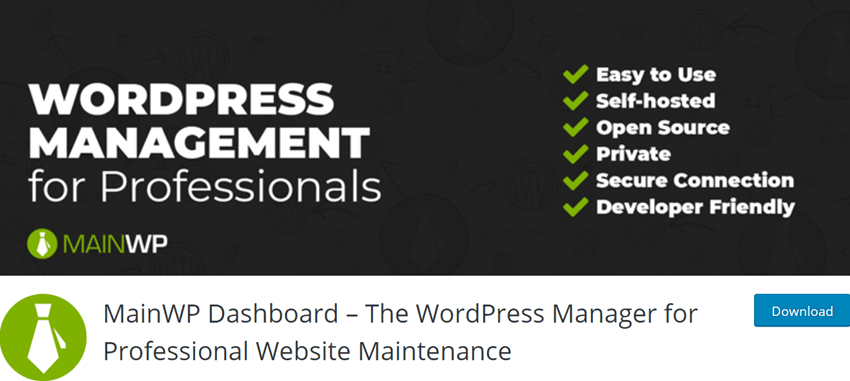 MainWP Dashboard is a comprehensive WordPress site manager plugin that is fully open-sourced and self-hosted. You get the best of features irrespective of it being free of cost. The plugin can take care of all the daily maintenance tasks hence saving a lot of your time that can be utilized for business growth and better conversions.
A complete solution for those having multiple sites, marketers, affiliates, developers and WP Shops.
Prime Features
Even if the WP site is on a different separate host or server, you can monitor and manage these individual sites.
 Extensions for MainWP Dashboard plugins are available to facilitate marketing, backups, SEO, maintenance and security.
MainWP Dashboard plugin (installed on the main site ) controls other sites where MainWP Child Plugin is installed.
Easy review of sites and plugins that needs updation across all sites
The latest versions of WP gets auto-updated with one click
All your sites can be accessed through one-click navigation
Total number of users – 10,000+
Price – Popular-$19.99/Monthly (Unlimited), Lifetime Package-$399/One Time (Lifetime)
Free WordPress Management Tools: Why MainWP is your best choice!
Screenshot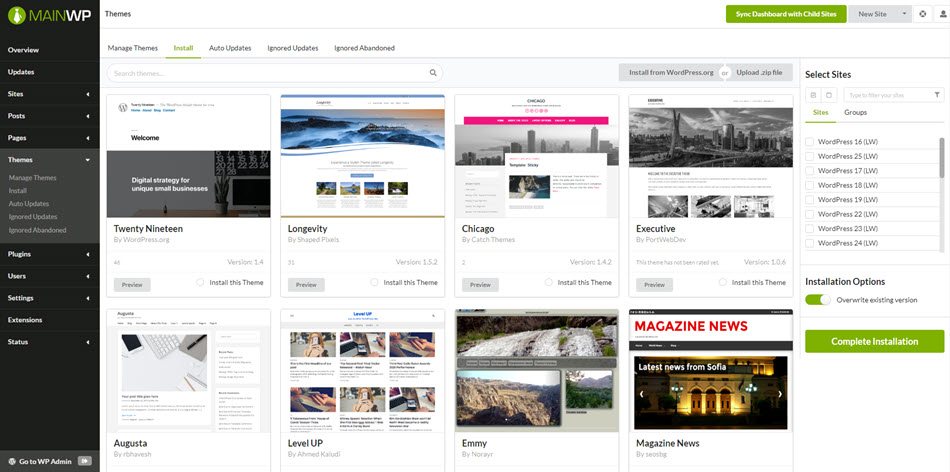 3. Blogvault WordPress management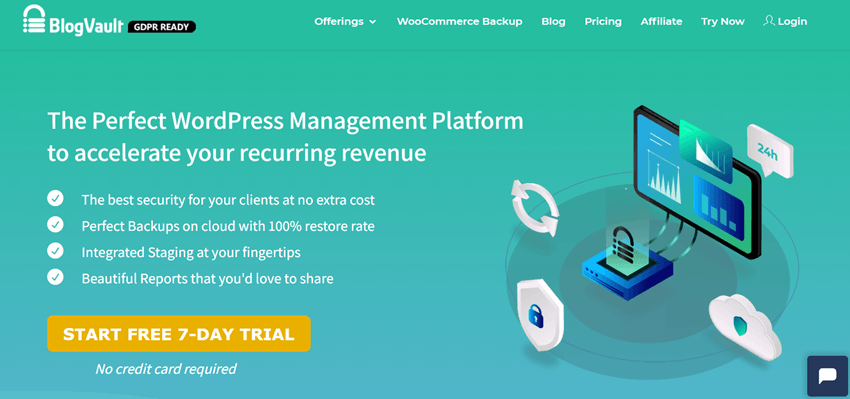 Blogvault is a user-friendly and free tool for the management of multiple websites through a single dashboard. You can add a single website when you sign up with the plugin. Subsequently, you can go on adding more and more sites for management.
Blogvault is apt for small business operations and even for personal blogs/blogs.
Prime Features
Free monitoring for multiple websites
Single click updation of core WP site, plugin and themes
Integration of Blogvault functionalities into current processes
Unlimited website addition for management and security purposes
Price -- Personal-$249/annually (1 Site), Small Business-$549/annually (5 Site), Developer-$1499/annually (20 Site), Agency-$2999/annually (50 Site)
Screenshot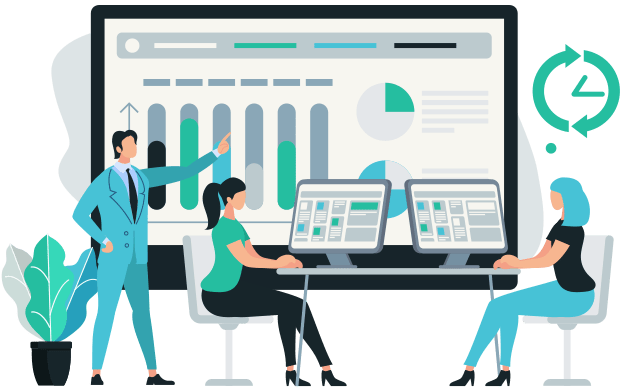 4. iThemes Sync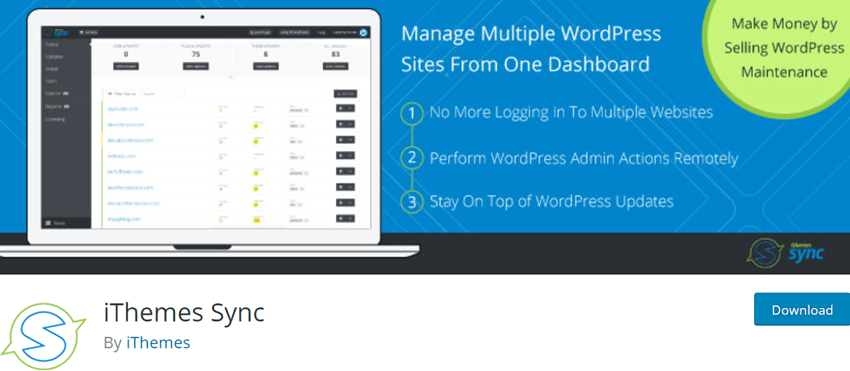 iThemes Sync is your reliable WordPress site manager assistant crafted with awesome features. The tool offers you a central controlling dashboard to manage, monitor and customize multiple websites from a single server. No need to log in to multiple websites. The plugin offers you more than 20 ways to save valuable time. iThemes Sync helps us to host multiple WordPress sites on one centralized dashboard which is created by ithemes only.
Prime Features
Integrates the WP tools such as iThemes Security and BackupBuddy for security and backup of the website database.
No need to waste time remembering multiple usernames and passwords for multiple sites. A single dashboard does it all.
Admin Tasks can be controlled remotely such as comments management, user registration, running updates, theme & plugin installation.
Bulk installation of themes and plugins
Switching between user accounts is also possible with iThemes Sync
Total number of users – 70,000+
Price – 5 Site-$69/annually, 10 Site-$99/annually, 25 Site-$199/annually
Screenshot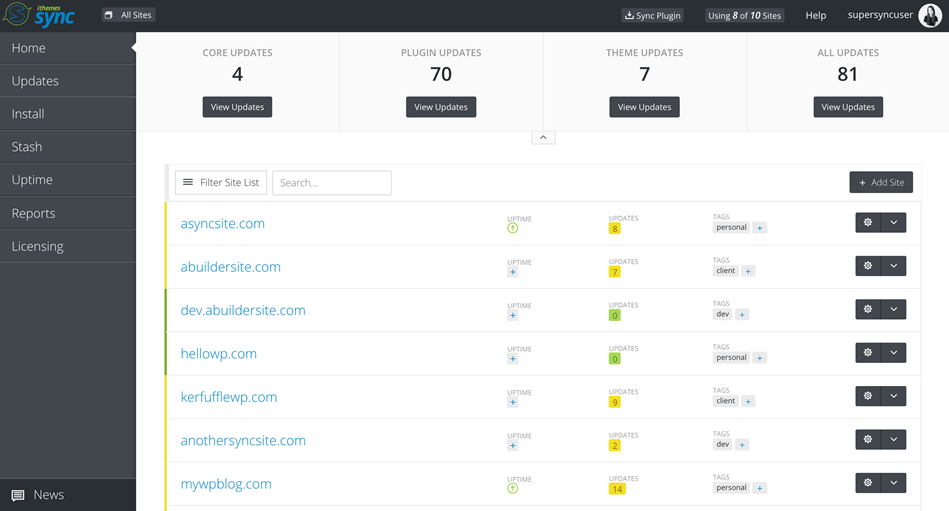 5. ManageWP Worker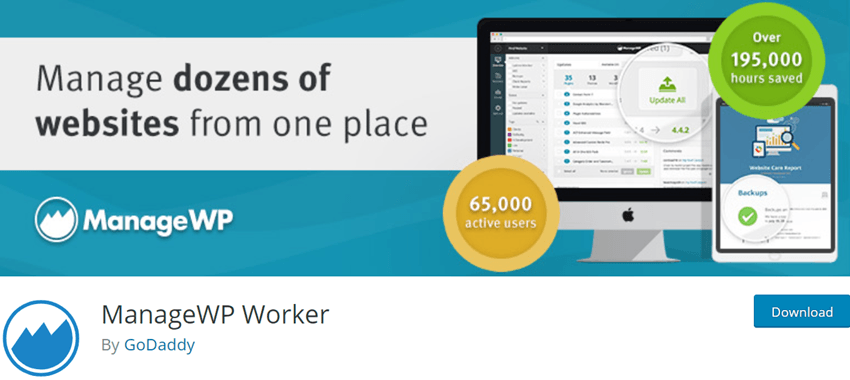 ManageWP Worker offers a smart way to manage your websites. You can automate your work, save your time and utilize that time to boost your business. ManageWP Worker provides you with a single dashboard that allows you to manage multiple websites simultaneously. The tool is fast, offers unparalleled security and comes at no cost for any number of websites.
Prime Features
Easy compilation of data from multiple websites at a single dashboard and hence no hassle of logging into each of the websites
Easy site management with content updation, clean spam, security check run, database overhead for all sites in a single click
A reliable Cloud backup that is scheduled on monthly basis with off-site storage, single-click restoration, management of files & folders etc.
Updation of theme and plugins that can be scheduled at light traffic timings.
Updation gets rolled back automatically if something is not right
Total number of users – 1,000,000+
Screenshot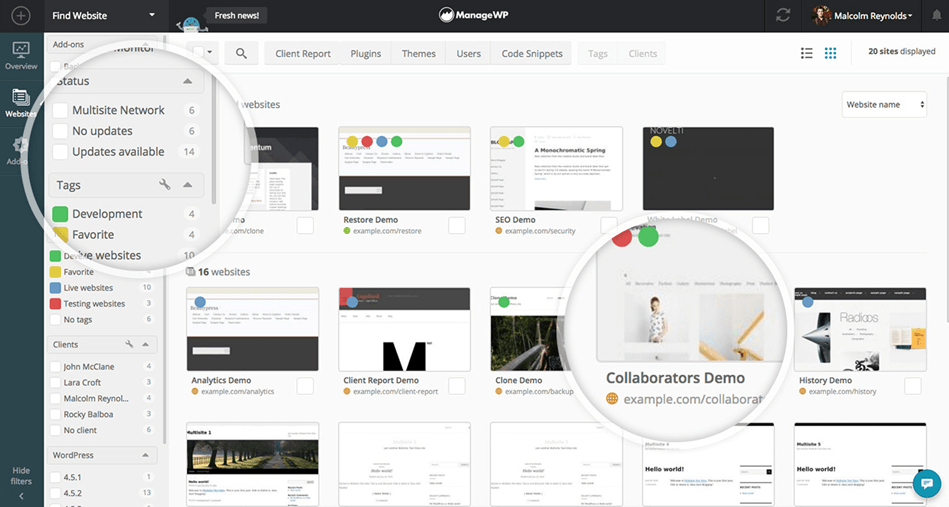 6. Jetpack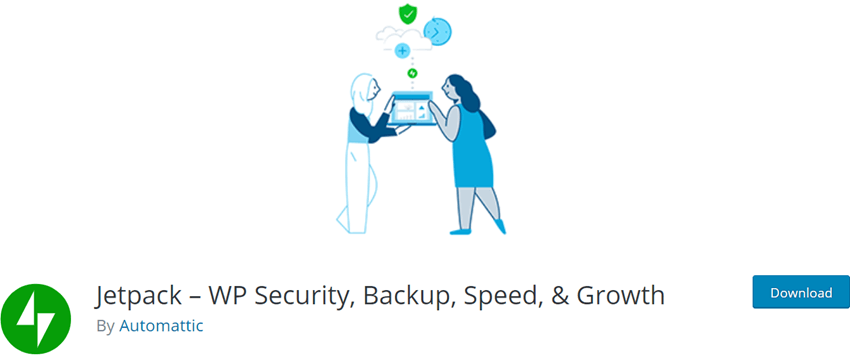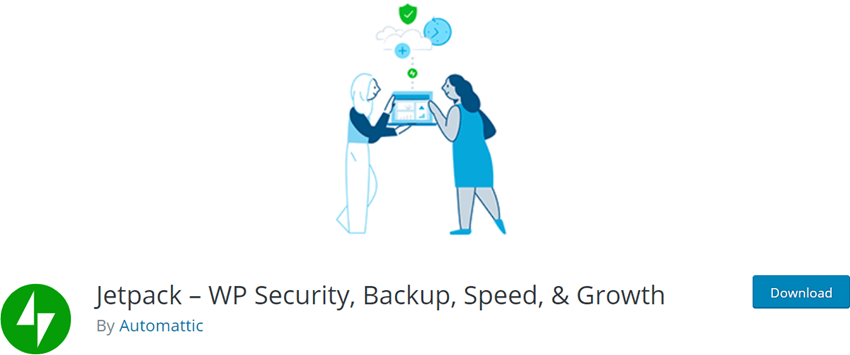 With more than 5 million users worldwide, Jetpack ranks amongst the best WordPress package. The robust module interface of the plugin helps you control, customize and manage single as well as multiple websites simultaneously. Jetpack Manage, the multiple site management tools deliver the power to handle the aspects of content, statistics and security of multiple sites at a single go.
A single dashboard helps you view and control the content, theme settings, data, and statistics on various websites. In short, you have all the elements in your hand that can help your website to establish and expand right from the design to marketing features and all this for free and with absolute security.
Prime Features
Management of content and posts of various sites through a single dashboard
Detailed analysis and monitoring of site statistics and website services
Free plugin with rich functionalities
Content Management and Security from a solo platform
Both Manual and Auto updation facility for websites and incorporated plugins.
Total number of users – 10,000+
Price – Backup Daily-$40/annually (500 Subscriber), Security Daily-$149/annually (Unlimited), Complete-$599/annually (Unlimited)
JetPack WordPress Plugin Setting Tutorial 2018
Screenshot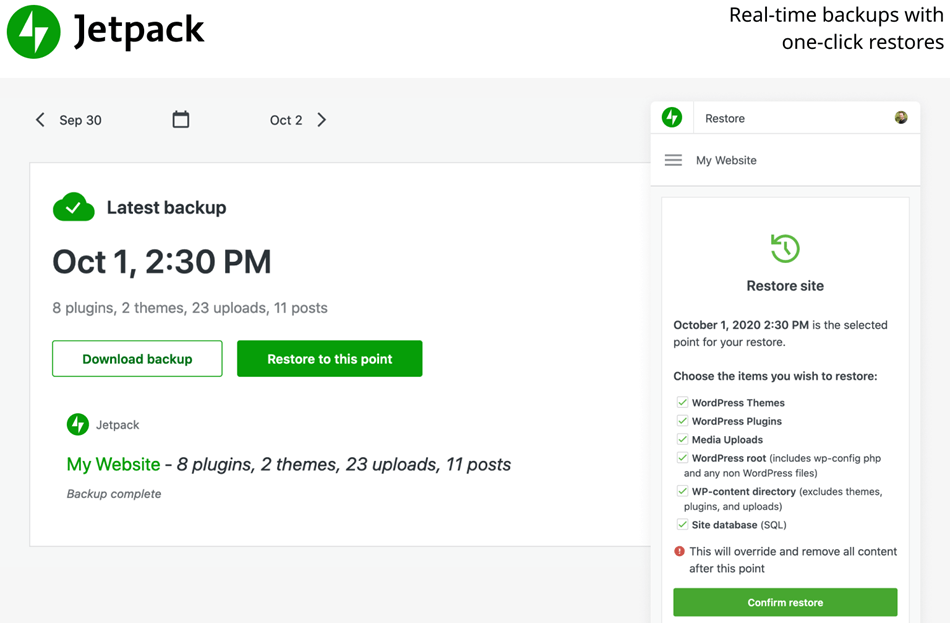 7. iControlWP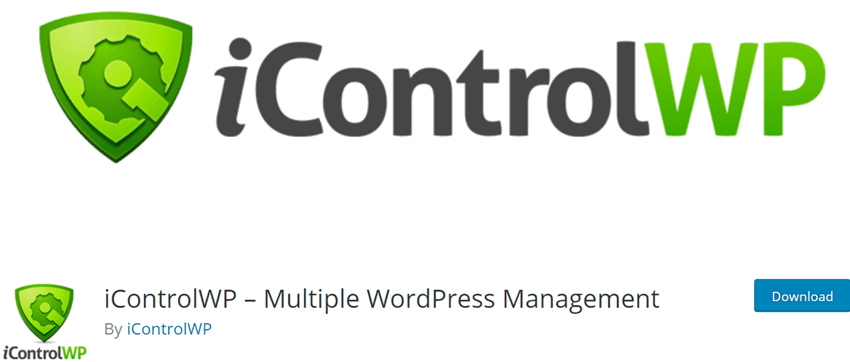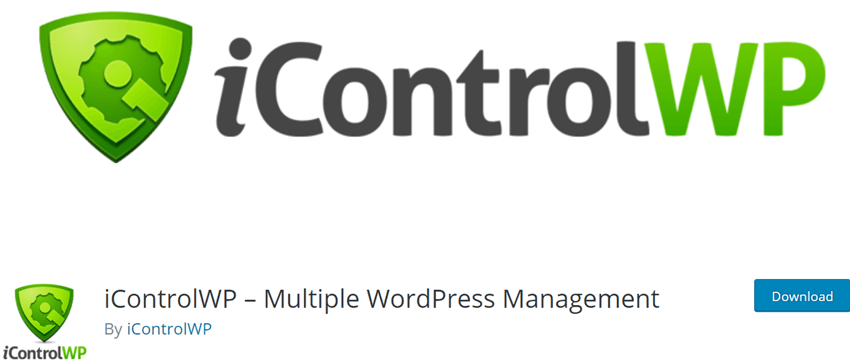 iControlWP is a one-stop solution for all your multi-site security and management related issues. A centralized panel empowers you to manage multiple sites simultaneously. Bulk Management and Security Settings can be done from a single dashboard. Website performance and content updation can be well managed through the integrated Cloudflare Protection and Google Analytics. These tools can further help to manage and clean the data on all the websites attached.
Prime Features 
Through a single dashboard, you can handle Bulk updation, management of settings, content development and automatic updates
Cloudflare and Google Analytics integration
A centralized dashboard to monitor security settings
Collection of data and visitor statistics from multiple websites
Inbuilt feature plugins to track website uptime and backups
Total number of users – 2,000+
Price – Control-$15/Monthly, Backup Protect-$29/Monthly, Agency Lite-$29/Monthly, Agency Pro-$39/Monthly
Screenshot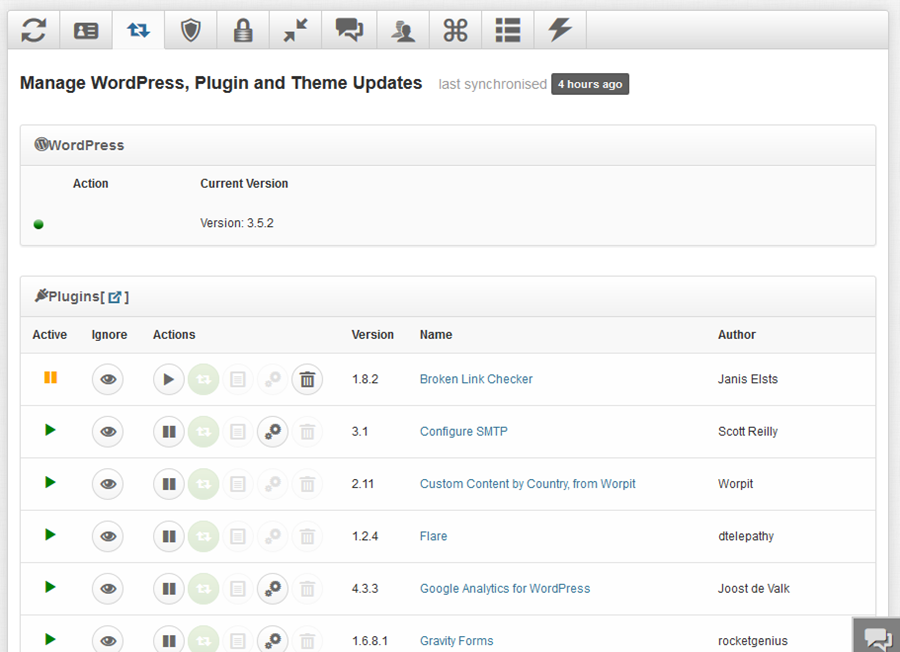 8. CMS Commander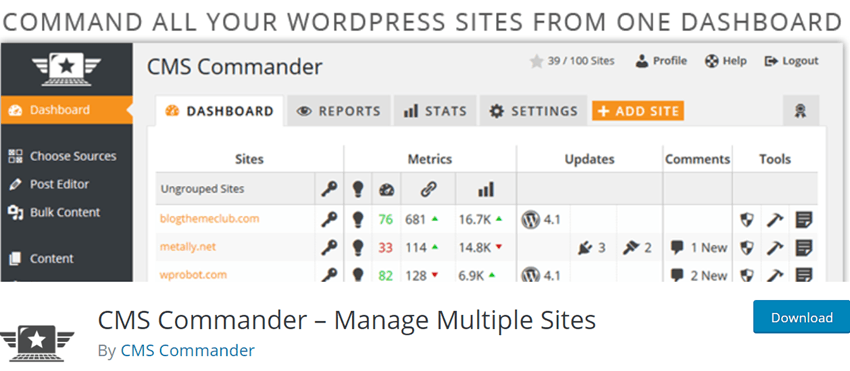 CMS Commander offers one of the best and powerful management services. The plugin is based on the fact that "Time is Money" and hence auto-completes the repetitive tasks and considerably shortening the entire process. You can completely focus on business expansion because the tool takes care of the management of single or multiple websites. Thus, a business-oriented plugin.
Prime Features
An in-built content editor enables bulk posting so that you can create posts and pages on many blogs at a time.
WP options from popular plugins can be copied to any of the sites with the Copy Blog Settings feature
Complete article management – scheduling the time and day they will be published and publishing different variations of articles on each of the sites with the Article Spinning Software.
One of the best options for those who publish various personal blogs on multiple sites.
Total number of users – 10,000+
Screenshot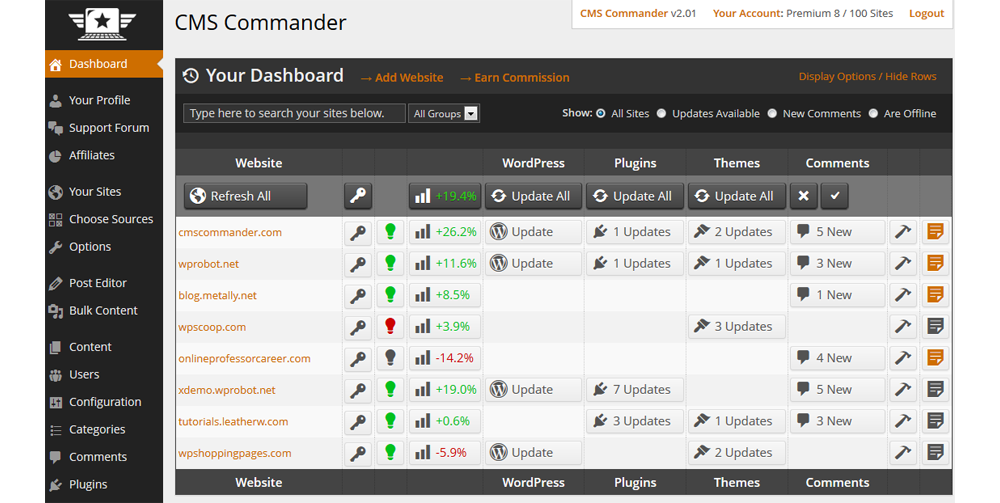 Comparison Between

 Mainwp VS InfiniteWP VS ManageWP VS iThemes Sync 

which will help you to Manage Multiple WordPress Sites from a single dashboard are as follow
| Plugin | Main WP | iThemes Sync | Manage WP | Infinite WP |
| --- | --- | --- | --- | --- |
| Free? |   |   |   |   |
| Self Hosted |   |   |   |   |
| 1 Click Update |   |   |   |   |
| Backup & Restore |   |   |  * |   |
| Bulk Posting |   |   |   |   |
| Content Management |   |   |   |   |
| Uptime Monitoring |   |  * |  * |  * |
| Abandoned Plugins & Themes Alert |   |   |   |  * |
| Publish posts, pages & links |   |   |   |  * |
| Manage Users |  * |   |  * |  * |
| Broken Link Checker |   |   |   |  * |
| Comment |  * |   |   |  * |
| Clone / Migrate |  * |   |  * |  * |
| Google Analytics |   |   |   |  * |
| Multisite Support | User Confirmation (Not yet Confirmed By Team) |   |  * |  * |
| Performance |  WP-Rocket* |   | Only Limited to checking (Free+Premium) |   |
| Security | (Sucuri +Vulnerability Checker) (WordFence +Ithemes)* |  * | Sucuri (Free+Premium) + 2FA | (WordFence+ Ithemes+ DuoSecurity)* |
| Developer Friendly |   |   |   |   |
| Open Source | Completely | Partially | Partially | Partially |
| White Label Branding |  * |  * | Yes*(1$/month per website) |  * |
| Code Snippets |  * |   |  * |  * |
| Money Back Guarantee | 30days – 100% Refund | 30days – 100% Refund | 30days – 100% Refund | 14days – 100% Refund |
|  Pricing | Free, Pay for certain extensions | 10 site – $84.50/Year 25 Site – $195/Year | Free , Pay For Addons | 10 sites – $147/yr, 20 sites – $ 247/yr, 50 sites – $ 347/yr |
| | Buy |  Buy |  Buy |  Buy |
Note – * Point to Premium Functionality
Conclusion – As per our Recommendation, iThemes Sync and Mainwp are worth Free  Multiple Site management tools. But when you are looking For a Premium tool Then Selection Becomes more difficult for me also. So for Buying Premium tool look at the pricing will be feasible for your pocket? As I know iThemes Sync will be cheaper than others with many facilities. Even For Premium, I think so Mainwp will also be worth it because you will pay only for Extra addons if you will use and it's 110% open source.
Do lets us know how You find our review and comparison version. And which one you are using for your website management.