9 Best Comment Plugins For WordPress 2022 To Engage Readers

Are you looking for Premium or Free Best Comment Plugins For WordPress To engage Readers? Comments are one of the most important parts of your business growth. You can create a community as well as it will keep your website visitor engaged.

By default, the WordPress community Provides us with default WordPress comment which is not so interactive. So using a more efficient and advanced way commenting system is necessary for our blog website to keep our visitors engaged by replacing the basic commenting system. To keep the visitor engaged you can add ratings to comment, badges or like or dislike options to the comment system. And the person who gives More contribution to your community you can give reward via sending and announcing them on your social media platform. And there is only one plugin which is Best Comment Plugins For WordPress is thrive comment plugin. They passed all our tests and become the #1 comment plugin.
So without wasting our time we will try to get you the list of Best Comment Plugins For WordPress which is as follows:
For Keeping visitors more engaged you to try adding these plugin-like question and answer plugin to your WordPress.
For keeping the spam comment's away you can try these plugins like the antispam plugin
You can even create a forum by using the forum plugin
1. Deeper Comments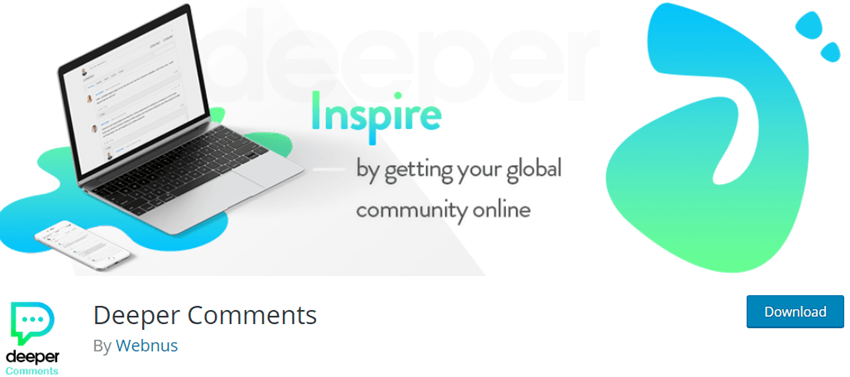 Deeper Comments is the topmost WordPress Extension created by the Webnus team. Recently in conversation with their editorial team member Nick Blaine, they said deeper comment doesn't slow down your website speed. It has a comment lazy load option for comments. that enables activation comment section all over the pages of the website. Arrange comments in the way that you wish and make them visible to the audience effortlessly. Elegantly designated with the latest features that provide a way to get through by anyone easily. Install this amazing plugin either manually or automatically within a few simple steps. Style your comments along with various customization alternatives and also allow you to connect to your social media accounts. Assists to keep the audience of the website there for a long duration with its engaging features of the comments.
Elementary features –
Enhance Engagement – Engage more audience by availing the voting of people for the posts. Also, enable the audience to like or dislike the existing comment as well.
Choose Avatars – This allows you to set the visibility of the authors who comment anywhere on the site or just hide it if you want.
Blacklisting Comments – Select the criteria of the comment that may not be appropriate for your relevant post anywhere. Deeper Comments will automatically remove such comments while blocking those users too.
Filters Accessibility – Just enable the filter option to display your comments based on new, old, or trending.
Total number of users – 1,000+
Screenshot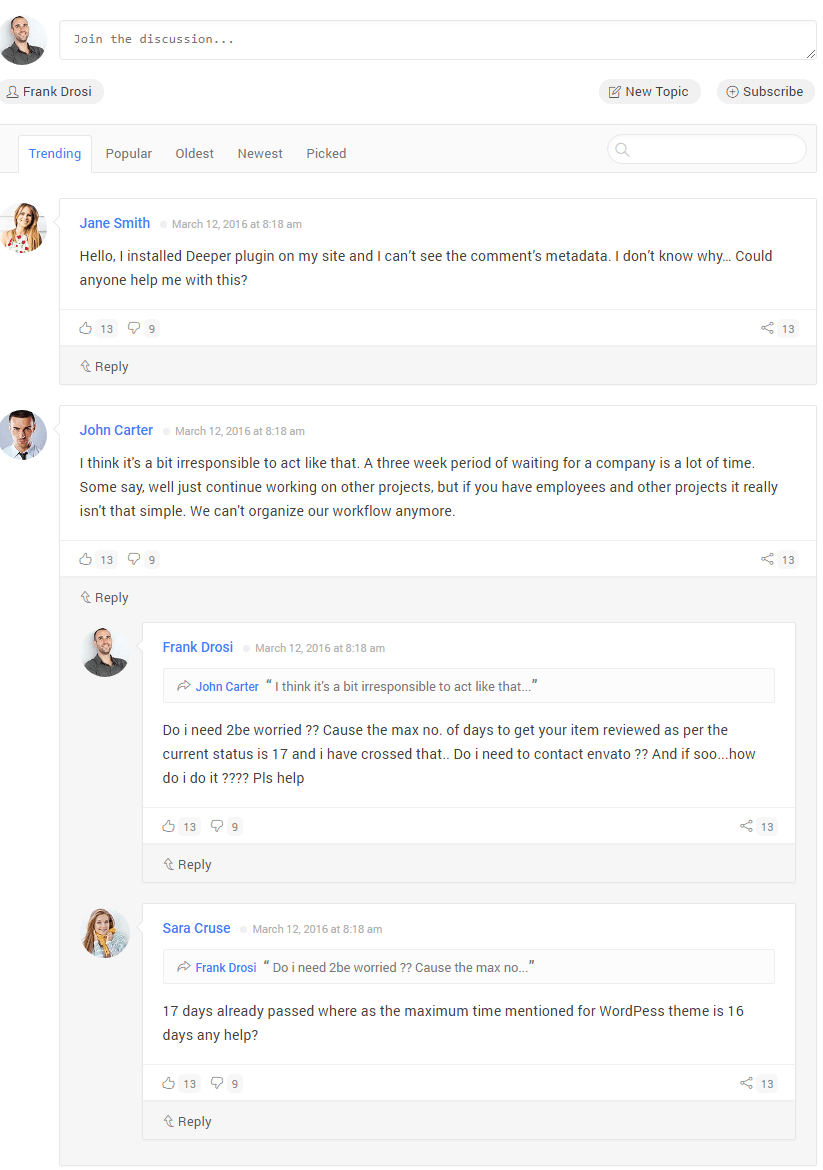 2. Thrive Suite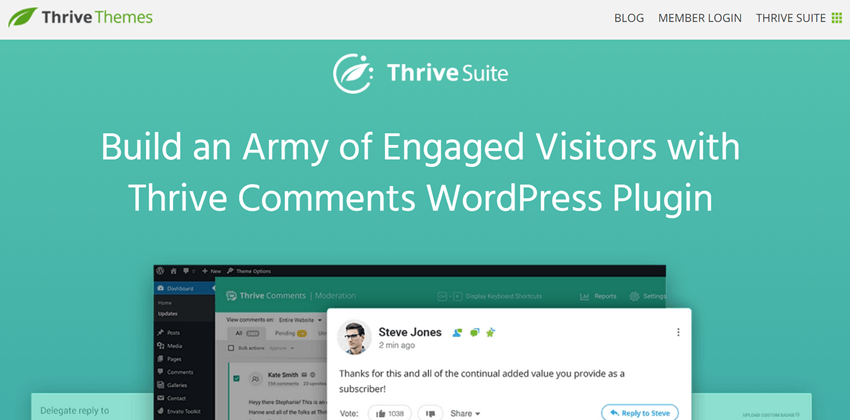 Thrive Comments is one of the Best Comment Plugins For WordPress, which helps users engage visitors to grow the website. This plugin helps to turn comments into conversions. The power of social media can also be brought to the WordPress comments This helps to reach and share for the site as well as unlock increased traffic. Comments can also be left straight from the social media account. Individual post comments can also be shared. The comments also help the website owners to collect and organize insights in a logical and actionable way. The features which make this plugin help the user to do all this are:
Conversion focused comments- You can offer some special gift to anyone who comments first time on your website
Access to unspoken opinions- An exceptional comment, sharing the comment on Facebook and an up-vote all this can be given with just a single click.
Assign User Badges- Badges can be added for commenting, achievements to gamify, and encourage site actions.
Comment Boosting Design- The visitor can easily leave a comment by just clicking on a button at the top and bottom of the long comments feed.
Subscribe to a post's comment- By subscribing to a posts' comment, a visitor can be informed about a new comment on a particular post.
Display Featured Comments- The best comment can be displayed at the top f the comment feed. The top comment can either be chosen by an up-vote or as per the user's wish.
Up-vote and Down-vote- The comments can be up-voted or down-voted or they can even be restricted for only logged-in users.
Auto Generate Visitor's Information- You can automatically export the commenter's email id directly to the optin form.
Price – Thrive Suite – $228/Annually
Screenshot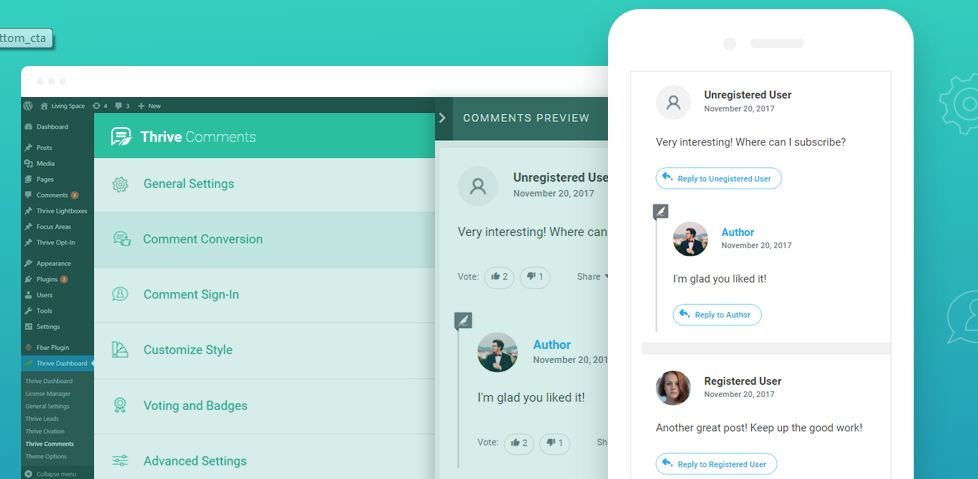 3. Comments – wpDiscuz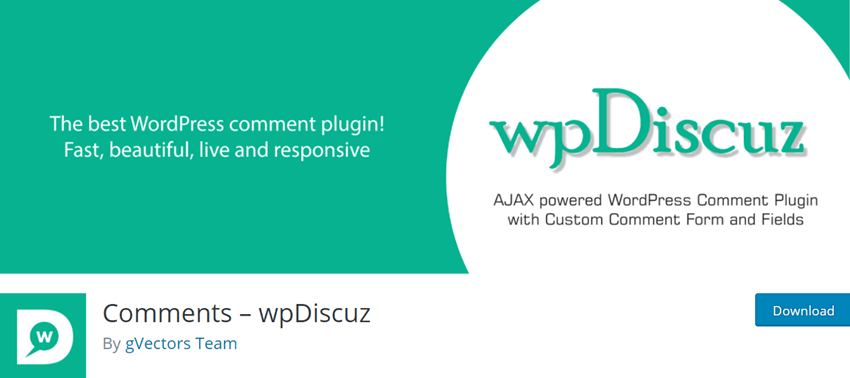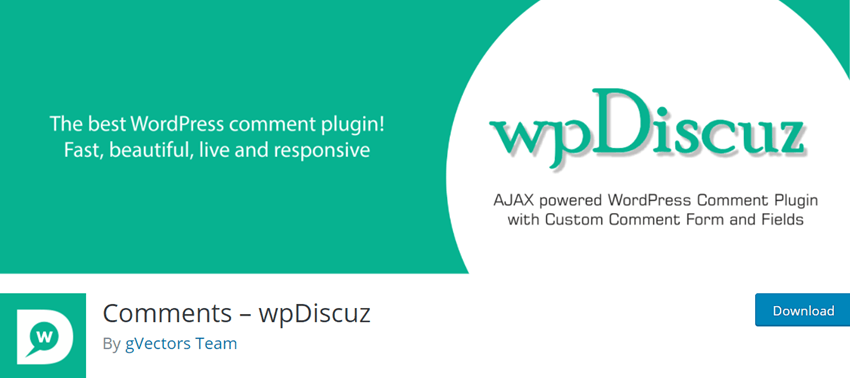 Comment- wpDiscuz is an AJAX real-time comment system. It has custom comments forms and fields. Responsive to many features, this plugin is super fast. The comments can also be easily kept in the database. It is Multisite and RTL ready. The features of this plugin that helps to supercharge the WordPress native comments are:
Comment Box- Comment boxes can be easily added to posts and other contents which are very interactive.
Social Network Login plugin- The plugin is fully integrated with Social Network login plugins.
A new discussion thread can be created and a reply can be given to an existing comment.
Lazy Load- The comments can be lazy-loaded on scrolling to save data and increase the speed of the website.
Editing- The comments can be edited by logged-in users and guests.
Automatic URLs- To link conversions on comment texts, there are automatic URLs.
Anonymous comments- Visitors can also leave a comment anonymously. For this name and email can be set as not required.
New comments can be updated live with notifier buttons.
Total number of users – 80,000+
Screenshot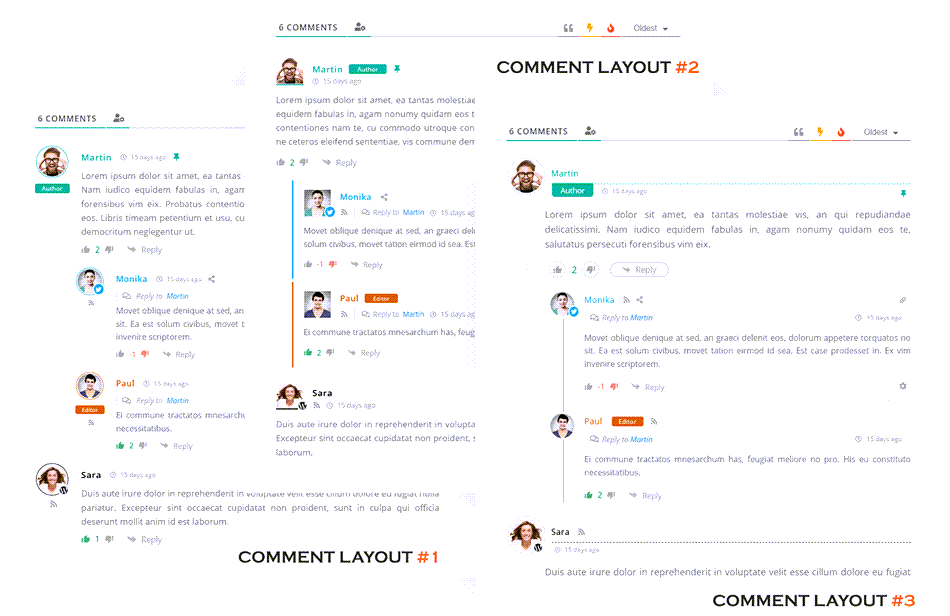 4. ReplyBox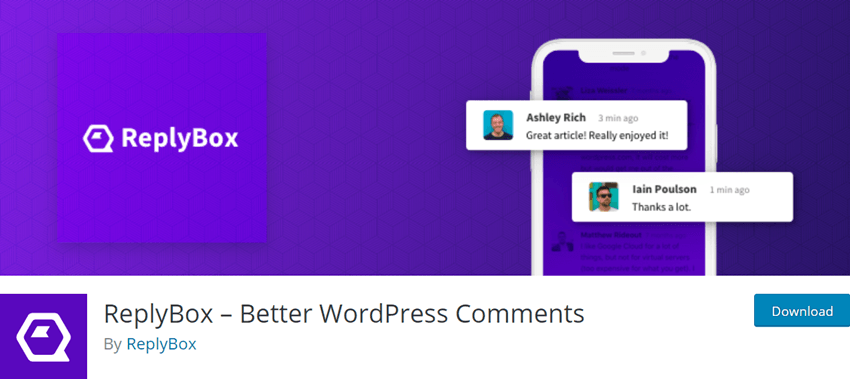 ReplyBox enables the comment administration just right on the website and makes a more engaging audience there. A WordPress Extension for comments maintains the privacy of the engaging traffic and ensures that no personal data could be accessed from anywhere. Get the amazing WP plugin and it will manage the rest of the procedure for comments. Enables to import the entire comments of WordPress and easily place it on ReplyBox. Although, hereby you also sync those comments to the WordPress whenever you uninstall this extension. Anyone can tackle the functionality of ReplyBox as it is very simple and also responsive on different devices.
Features of ReplyBox –
Integrated with highly secured techniques like Askimet which helps to get away the spammers and don't let them comment anywhere.
Approve your comments manually that eliminates the risk of happening anything worst.
Enable the authors to get updated with comments by selecting email notifications.
Let you log in to the different social networks in just a few clicks and get your comments arranged in the desired way.
Accept various media into your comment i.e. make sure your users may include lists, code blocks, links, emoji, and quotes as comments.
Total number of users – 400+
5. Social Comments By Wpdevart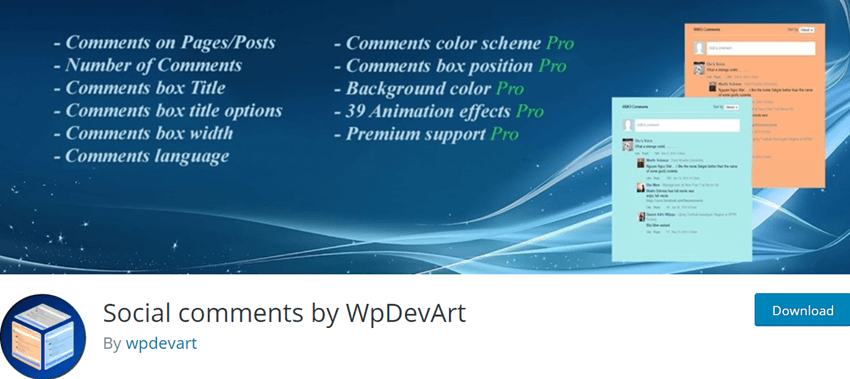 To show FB comments on the website, the Facebook Comments plugin is a great tool. This plugin helps to improve the website traffic from Facebook. Most websites use this plugin on them as it is an important part of social optimization. An easy to use plugin, users just need to create an FB app ID and use it on their website. This plugin can also be disabled on any page and post. There are many useful features of this plugin, some of which are:
This plugin has been tested with many other popular plugins.
The box Title can be set.
The comments can be selected as where to display them.
The width can be set along with language.
The ordering and the number to display can be set.
The color scheme, background color, and position can be set with the pro version.
There are many animation effects and premium support with the pro version.
It is easy to use and is user-friendly.
Total number of users – 20,000+
Screenshot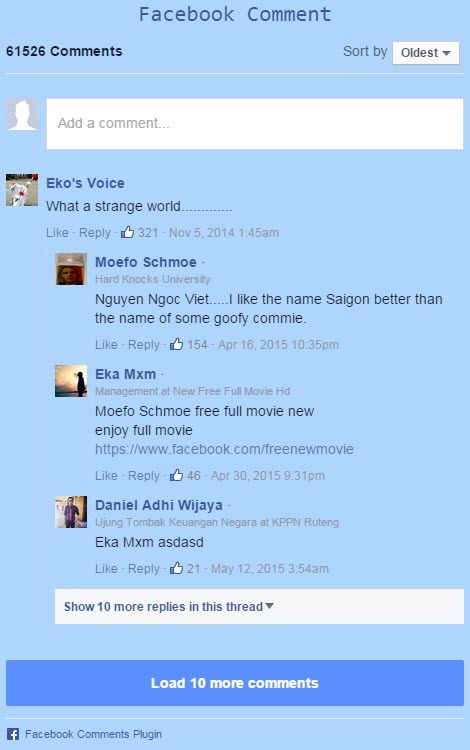 6. WooDiscuz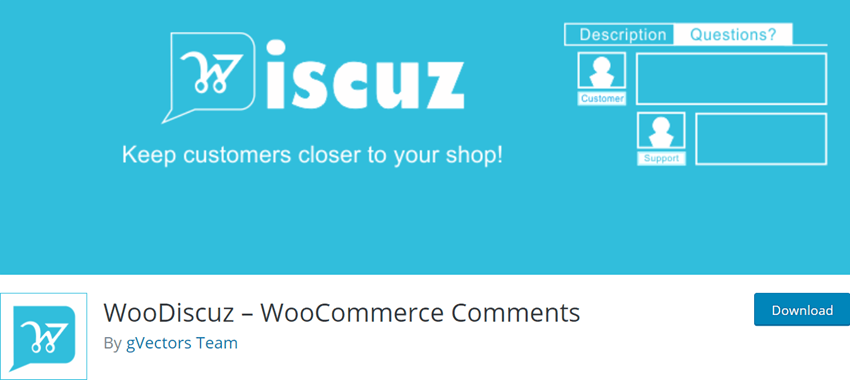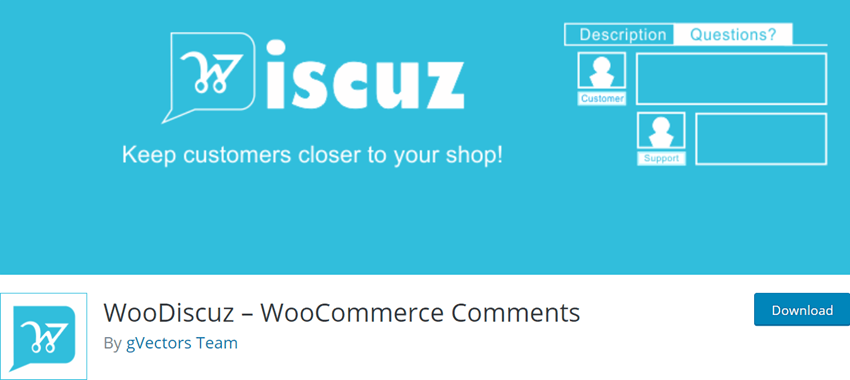 WooDiscuz is a prominent WordPress Extension that is widely used for managing to comment on the website. Hereby, you can set the authority on how to manage the comments that occur for various posts. From looks to functionality, manage every single activity of comments and publish it with your temperament. Establish a secure connection between users and owners with the assistance of WooDiscuz. Allow Front-end customization whereby you can enable your customers to edit their comments if necessary. Restrict the inappropriate kind of comments on the site and also block such persons automatically.
Why WooDiscuz is best?             
AJAX Encryption – Let your WordPress and WooCommerce users may create customize the form of commenting on the site easily and within fast accessibility.
Anti-Spam – Keep away the spammers from your site by analyzing such profiles promptly.
Voting Track – Make sure you engaged your audience on the post by providing them voting rights for relevant comments. Also, assure the chance to reply or react to such comments as well.
Mail Access – Enable your audience to subscribe to the email notification or any new comments on the recurred posts along with the option of unsubscribing it as well.
Total number of users – 2,000+
WooDiscuz - WooCommerce Comments Plugin
Screenshot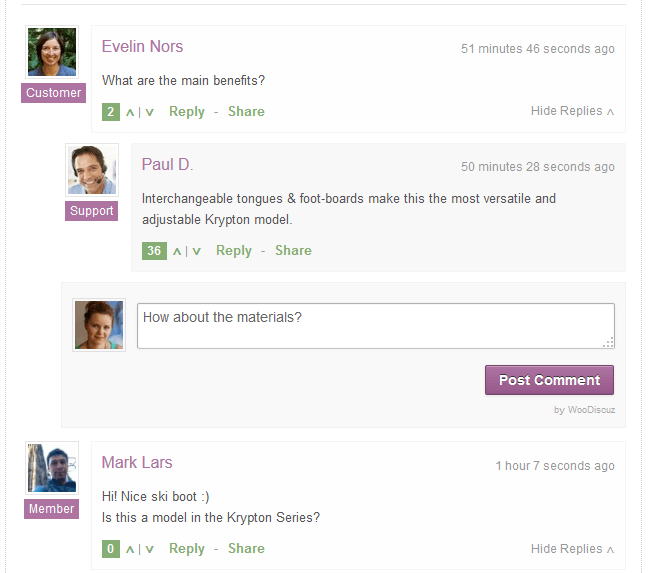 7. Fancy Comments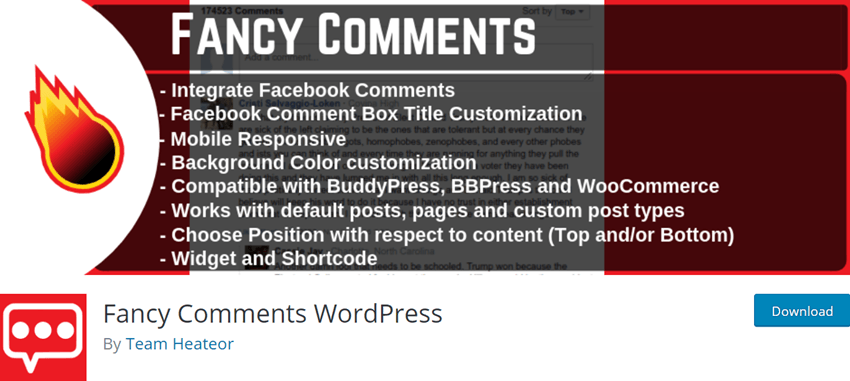 Fancy Comment is a commenting plugin for WordPress. Fancy Comments WordPress built by team Heateor is a smart plugin. No comments are created equal. Visitors can subscribe to comments without any fears as only the best comments are sent to the subscribers as machine learning rates comments. Visitors can also directly subscribe to their comments. Any email sent can be replied to from Fancy Comment so that response can be posted as a follow-up comment. Comments can also be moderated with simple email commands. The other features of this plugin are:
The comment templates are rich HTML-based which are quite responsive and look great anywhere.
All comments to a post can be subscribed to by the user or just direct replies to their comments.
Native commenting and user systems are used by this plugin.
On chatty posts, there is automatic pausing of subscription.
Comments can be replied to without leaving the inbox.
The authors and guest authors can be automatically subscribed to comments on their posts.
Comments can be moderated by authors with simple email commands.
The subscribe to comments has been modernized which complies with all international spam laws.
Total number of users – 7,000+
Screenshot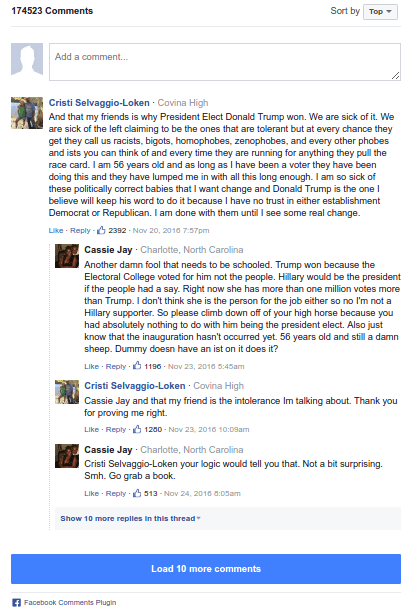 8. Disqus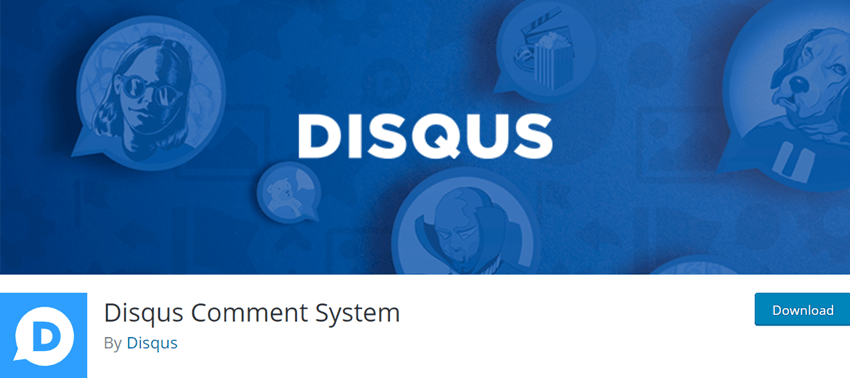 The most popular commenting system, Disqus Comment System is trusted by millions of publishers to grow audience and traffic, increase user engagement, and monetize comments. Engaging the users helps to build loyalty, foster thriving communities, and retain readers. The default WordPress comment system is replaced by Disqus to the website. After installing this plugin which takes just a few minutes, The existing comments are automatically uploaded. The features of this plugin are:
The comments are synced automatically synced to WordPress for backup and flexibility.
For measuring the overall performance on the website there is an analytic dashboard.
Revenue can be increased through monetization options.
 HTML tags and code syntax highlighting enable comment text formatting.
There are user profiles that display recent comment history and frequented communities.
Active discussions on the site can be seen through the Discovery widget.
User blocking, comment flagging, and other self-moderation tools are available.
The comment width is configurable.
The older comments can be retained and displayed.
All the comments can be chosen to be shown by default or they can be displayed with a "Show Comments" link.
The plugin has a dynamic width option.
It is responsive ready.
Total number of users – 100,000+
Screenshot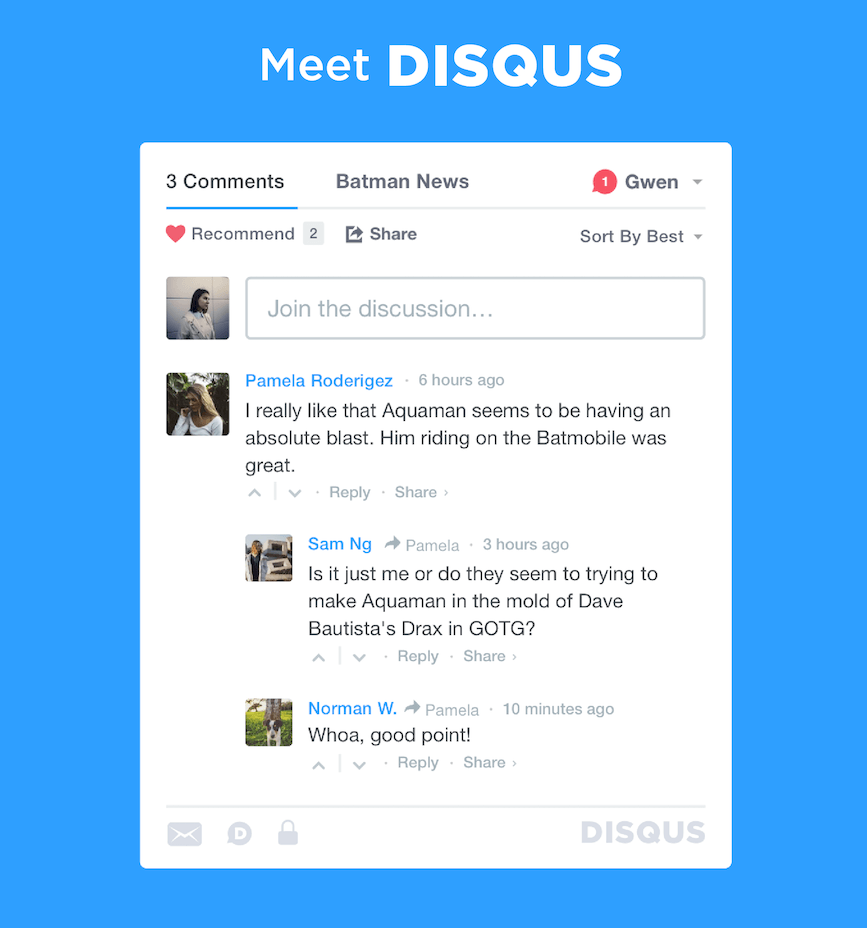 9. Jetpack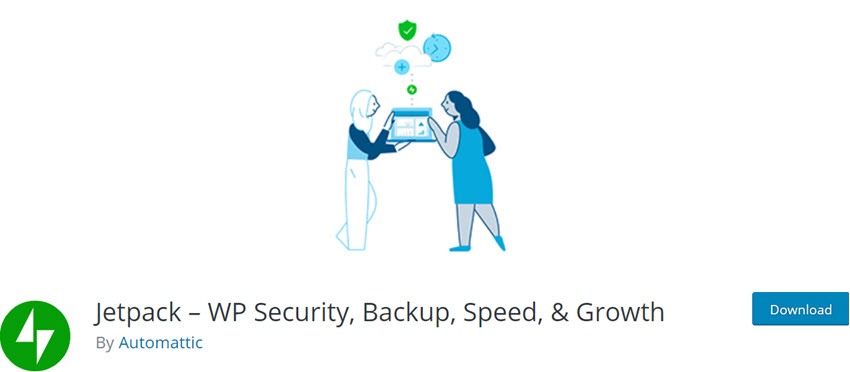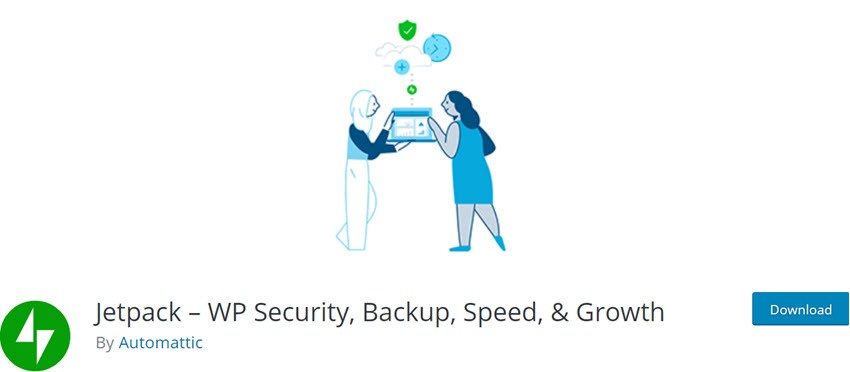 Jetpack is known as in one Plugin where they offer kind of support in one place. Jetpack is managed by WordPress. Jetpack offers marketing, comment, CDN, marketing service, and security. So this is the must-have must plugin. So let's have some of the features of the jetpack.
Comment management is awesome and simple in the case of the jetpack. Change of spam will reduce and an option of creating a community will get created. You can easily manage and check the site analytics on one dashboard. Jetpack comments have the option to reply using email
Your website visitor can follow the comments and discussion
Total number of users – 5 Million+ 
Pricing –   $39

Screenshot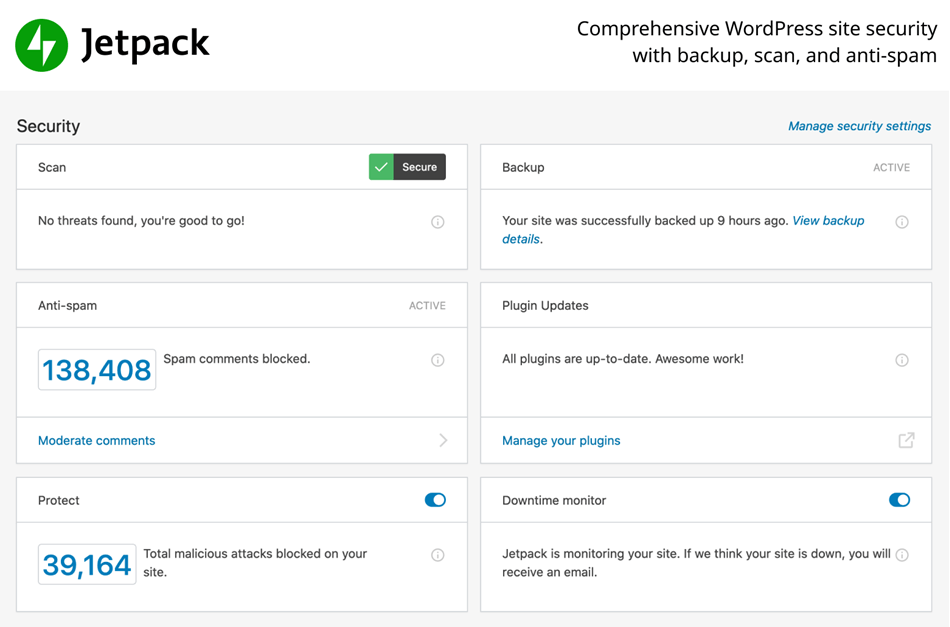 Conclusion – Are you still confused about which is the Best Comment Plugins For WordPress? Don't get confused, my friend. Thrive comment passed all tests and reached the number list of Best Comment Plugins For WordPress. By using thrive comment you can easily create an awesome community and keep your website visitor engaged.