16 Ways To Get More Comments On Blog Posts
Are you Fed-up with low comments rate on your Blog and thinking of how to get comments on your blog. Don't worry in this blog we will discuss the most effective ways to get comments on your blog. More comments mean you can engage the visitor and your work is worth which will act as a kind of Feedback.

The Magic of Comments
Comments are liked by every blogger. They are not only a source of inspiration for them, but valuable comments can generate leads and esteemed audiences. Most bloggers equate comments to currency.
Sometimes, we create a brilliant post, put in all our efforts to promote it, and then wait for the huge inflow of fans' comments. We wait and wait, but alas! except for a few comments we get nothing much. We feel frustrated and ponder, Was my content good enough? Was it noticed?
Trust me! you're not the only one to encounter this. Almost all the bloggers have been there once in a while.
So, stop and think over three questions, Am I doing something wrong? Am I missing out on something important ? and How can I get more comments on my post?
Is there any special way to get more comments?
Well, I believe that there are three major ways to make a perfect mix for driving a bunch of comments to your post. They are-
Traffic – There is a direct relation between the number of visitors and the number of comments.
Engagement – You will miss out on valuable comments if your posts are not engaging enough for the visitors to read and digest. So, convince the visitors for a thorough reading.
Emotion – It's not always about imparting knowledge and pointing the valuable content, but the audience must feel an emotional connection (something inspiring, ground truth, or a tearjerker sort).
Table Of Content
You may also be interested in comment Plugins, Fomo Plugins, and live chat Plugins
Let's talk about the Mind-Blowing Ways to Get More Comments on Blog Posts
Strategic Implementation of some effective ways will help you reap the best out of your blog posts. Try implementing all or some of the below mentioned tried and tested techniques to optimize the comment inflow to your blog.
1. Respond to All Comments
A superb technique to keep the audience engaged. You can get feedback from them and you also ask about their interests and what they would like to hear in your next blog. This will encourage more comments and build a strong subscription for upcoming blogs too.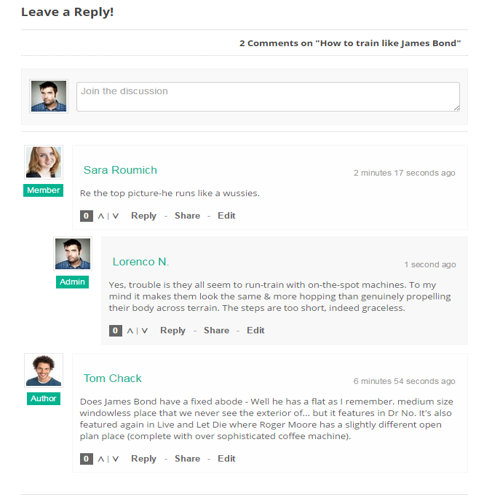 2. Easy access to the Comments Section
You should have the comment section right below where the blog ends, easy access. Sometimes the audience has to scroll through the entire page to reach the comment section and they prefer to leave the page rather than take all the pain to reach the bottom.
You can also link the comment form using anchor text at the blog post end and ask people to comment with one click scroll. So, make it a cakewalk for them and you will get assured results.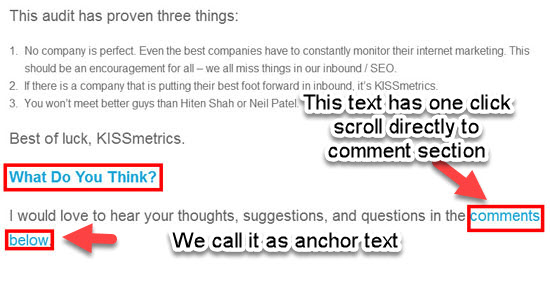 In our case, our comment Form anchor text will be https://www.gomahamaya.com/more-comments-blog-posts/#reply-title  Where #reply-title is the comment id where you want your customers to redirect them in one click. And the first part is the permalink of the post.

3. Avoid Registration
So many bloggers force people to make registration before they comment just to collect their email id and name. But Making registration on any website is frustrating whether it's a normal eCommerce website or a blog website.  So make those things optional.

4. Commenting Platform
Stop using any kind of commenting platform which allows you to manage the blog comment from another platform because that will always ask people to make registration. I know they might be very much efficient in destroying spam comments but you have to choose one. Although there are many plugins in the WordPress respiratory that protect your website from spam. The most famous kind of platform is Disqus. But Facebook comments feature is much easier than any other platform.
5. Ask Question
Always Leave a question for your website readers at the last of your blog. Like above-mentioned points were my research and would you like to suggest something or have any doubt please ask me to comment section. Give them a reason to comment
6. Fake Blog comments Or fake discussion (Unique and Important)
Always create some 4-5 fake profiles with some real image on your blog and make a fake blog comment with some discussion. Which motivates the people to make further comments and join that discussion.
7. Badges or Voting
You can create a kind of community on your website. By giving badges to commentor and allowing them to vote for the best comment.  Thumps up for good valuable comment and thumbs down for worst comment. For this work, you can use Thrive Comment Plugins

8. Fomo Plugins
So many people use FOMO Plugins for fake sales notifications on woocmmerce websites. But you can also use it on your blog website. Which will create a kind eagerness that someone from a particular country commented on this post or that blog.
9. Free giveaway Popup
Some many people make popups for asking for an email. But you can them to comment Popups when they try to leave your website by saying we are giving one gift for best commentator  By this method you can collect their email id as well one trust worth comment.
10. No manual Recaptcha
It's annoying for the visitors to fill any kind of ReCaptcha before commenting on your blog and they prefer to abandon the time-consuming method. Just make the process frictionless by removing them. The truth is that spammers can cross the captcha easily, so you can rely on other solutions to get past the captcha. So always use plugins that support invisible google captcha.

11. Auto sharing Old Post
Some great piece of your writing which was old hit or was missed by many can be represented with a slight tweak. You can link to one such post per day on your social site. Also, an auto-post sharing sequence can be aligned to send the old posts to the new audiences regularly. Thus, you can also save your time and energy in creating a new blog, and still get pouring comments.

12. Prompt visitors to subscribe
The first-time visitors might not comment the first time. However, you can convince them to subscribe to your blog by incentivizing them with free webinars or videos. Once they get to visit and revisit your blog page, you will get the triple advantage of getting more comments, traffic, and enormous revenue.
13. Intervals between Publishing
Refrain yourself from publishing too frequently because first of all, you are pushing the old posts out of the front page thus killing the comments they might have received. Secondly, the readers may get swamped by a lot of content crowding your web page. On the contrary, if you publish less frequently, you create a better engagement possibility with the readers, and also they eagerly wait for the next one to be published a win-win situation for you.
14. Appoint an Email Service Provider
There can be instances when you have emailed your post to the subscribers, but they do not read it. Do not jump to any conclusion here! It might be that the subscriber was running out of time or overlooked the email or the email did not reach the subscriber at all. If you use an email service provider, you will know who all have opened the email or who all have not received it. You can resend the emails, redirect the traffic and ultimately receive more comments.
15. Link as Resources
The likeliness to get more comments increases manifold when you incorporate authorized links in your blog. You can then simply publish the blogs with links to Facebook, Twitter, or other social sites and let your audience know that the blog is more knowledge-driven. However, refrain from being pushy.
16. Practice some Influence Marketing
This technique involves mentioning in your blog about good blogs of others or telling the audiences that why their blogs are worth reading. This methodology can give you three benefits- More shares, more traffic, and more comments.
Also, there are greater chances of attracting other bloggers to leave a comment on your blog. Or you add a popular post section in the website widget section or below the place where the blog ends.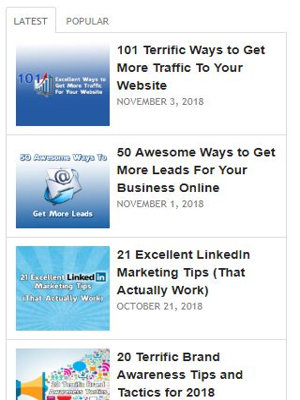 Concision
Using these techniques you can get as many comments as you want on your blog website. I hope you find Our Blogs post. Please leave some comments to show gratitude for our handwork. If you have any suggestions please let us know too. And we always recommend you to try to Thrive comment Plugins to engage your website visitors.