8 Best User Role Manager Plugins for WordPress 2023
Are you looking for Free Best User Role Manager Plugins for WordPress? User Role manager plugins are essential to any website security, and you can hide plugins settings from any particular Role.

There are many kinds of user roles in our WordPress dashboards like Administrator, Author, Editor, Subscriber And Contributor. If you want to increase or decrease the power of editing settings of these user role capabilities, you must use these Plugins. You can even Restrict WordPress user access in your WordPress dashboard and settings area.
So, let's have a List of our Free Best User Role Manager Plugins for WordPress to customize user management on the WordPress Website.
Table Of Content
1. User Role Editor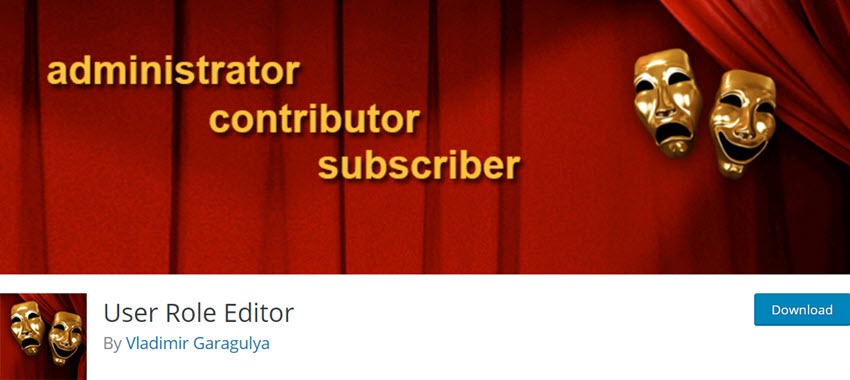 User Role Editor is the topmost WordPress Extension that manages the user role in different website locations. Let you quickly establish access while defining the capability of users thereon. Such an integrated plugin enables you to add and customize new roles as you need on your site. Effortlessly manage the workforce of the user role while deleting the unnecessary self-created roles.
User role capabilities except the administrator can be changed quickly with only a few clicks using the User Role Editor plugin. New roles can be added, and selected capabilities can be provided to the users using this plugin. This plugin has the full support of WordPress Multisite Networks. Specific tasks can be pinpointed to users, and front-end menu items can also be hidden from other users. Easy to configure user roles, you need to select checkboxes for adding capabilities to specific and then Click on Update. That's all, and your changes will be saved for later on.
Essential Features –
Let you block the admin menu, selected widgets, and meta boxes for accessing user roles.
Enables to show or hide selected widgets for front-end whenever necessary.
Allows taking action for user roles of multiple websites through a single WordPress Admin Panel.
Import or export user roles configuration in just one click synchronizing option.
Total number of users – 700,000+
Screenshot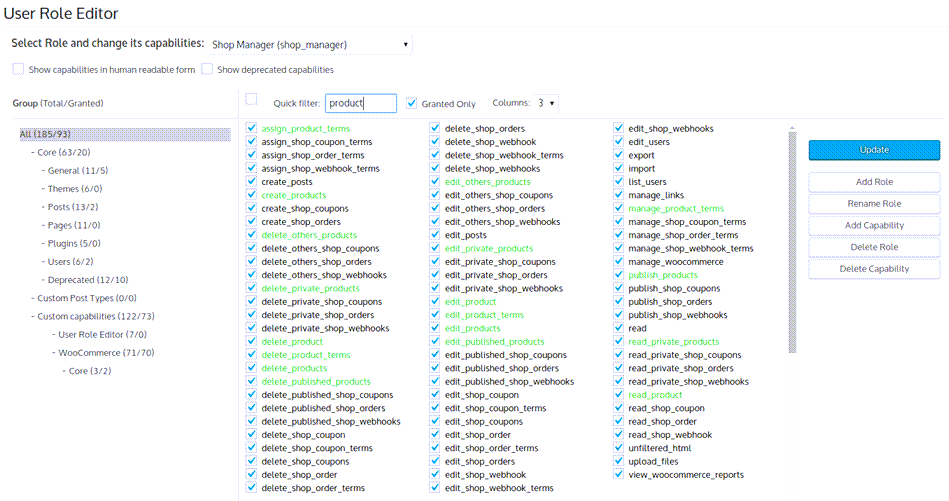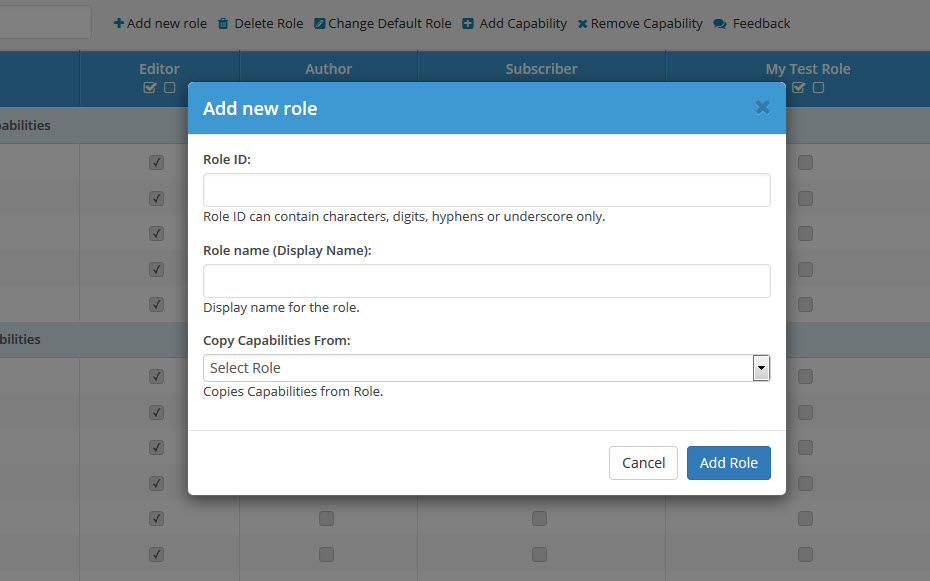 2. Members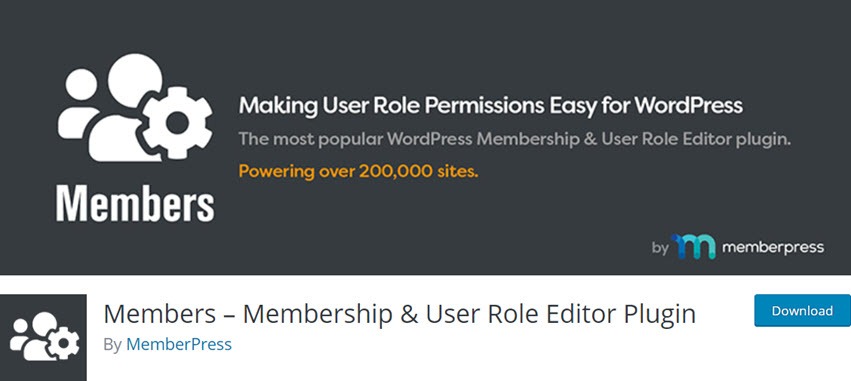 Members are an extensive WordPress Plugin for User roles designed intuitively for accessing its capabilities. However, a well-organized extension contains an easy-to-use interface for assigning user roles and adding the essential ones accordingly. You need to access which user role you need to put into your site and then customize its capabilities. Provides users with an extinguishing experience as you give them access to defined roles quickly. Availability of powerful tools that ease the configuration of user roles and assign capabilities to your users. Let you restrict the available content on the site and make it visible while getting required permission from admins.
 Integrated Features –
Accessibility – Allow your users to access multiple roles along with its capabilities.
Editor – Let you create, edit, and delete the roles anytime if it is not meant to be there on the website.
Deny Specifically – Enables you to deny the specific user role of certain capabilities.
Restrict Content – Restrict the website's content and make it private with the help of shortcodes.
The plugin allows them to create, edit and delete roles and capabilities. A user can be given multiple roles, and specific user roles can be denied specific caps.
A login form widget and user form widget is used to show the theme's sidebar. The site and its feed can also be made entirely private.
Total number of users – 200,000+
Screenshot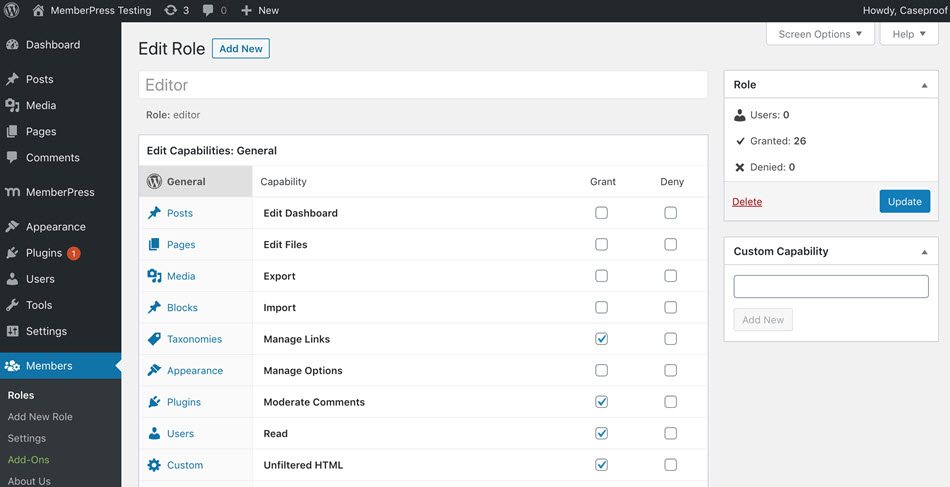 3. PublishPress Capabilities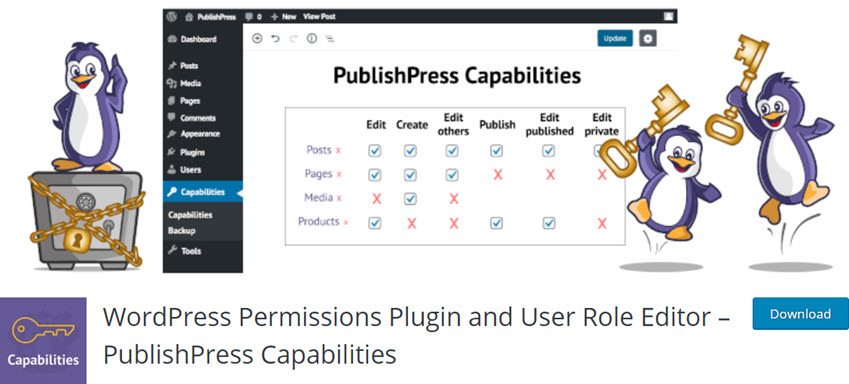 PublishPress – A seamlessly integrated WordPress Extension that makes you efficiently manage permissions throughout the entire website. Assign distinct roles and capabilities to users while just installing these all-in-one role manager plugins so well. Establish the permission to different website users, including editors, administrators, subscribers, Authors, and many others. By cloning an existing role, a new role can be built. It is also in control of who all users have to be given access to post content. Customize each user's role according to the necessity of your website and its protocol. Decide which features of Gutenberg you want to hide and are visible on your site. Show your authors whatever you want to display on the editing screen while writing posts.
Core Features –
Define different capabilities of the same user role for different users available on the website.
Permit to access content while whoever may publish, edit, delete, and read the available content on the site.
Just make modifications of user roles and related capabilities at once as it supports multisite accessibility. Once you make changes at one WordPress, it will follow the same on the entire integrated network thereon.
All the capabilities which the user wants to add can be checked and added to the selected role. Then update button can be hit to save those changes.
It provides a user interface that gives the user control over permissions on their site for WordPress's influential role and cap system.
Total number of users – 100,000+
Price – 1 Site – $69/annually,  5 Site – $129/annually,  Unlimited Site – $199/annually
Screenshot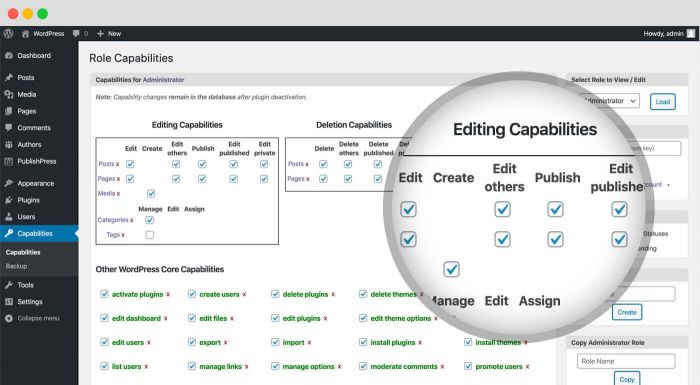 4. WPFront User Role Editor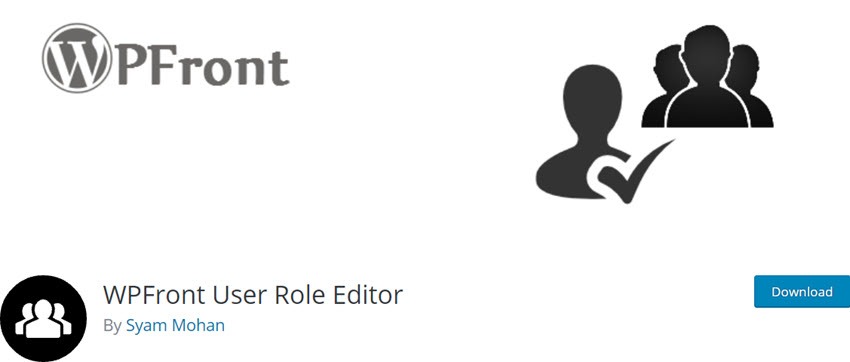 WPFront user Editor Roles can easily manage WordPress user roles within the site. Roles can be created, edited or deleted, and role capabilities can be managed. The existing roles can be renamed and even cloned. The default roles can be changed. Capabilities can be added or removed. Roles can be restored, and users can be assigned multiple roles. There are basic navigation menu permissions and widget permission. There is a basic login redirect as well. The plugin has Multisite support. There are shortcodes for content restrictions. There are permissions for custom post types.
The plugin also allows migrating users to other sites. Tons of features can be added through paid premium options, including admin menu editor, content restriction shortcodes, custom post type permissions, etc. To extend control over the blog, the Members plugin is used. This plugin was created to make WordPress a more powerful CMS, a user role and capability editor plugin. Self-made roles which are unnecessary can be deleted if they are not assigned to any users. Per-user basis capabilities can be assigned, and users can be simultaneously assigned multiple roles. Views can be restricted for posts and pages for selected roles.
Total number of users – 60,000+
Price – 1 Site – $29.99/annually,  5 Site – $64.99/annually,  Unlimited Site – $129.99/annually
Screenshot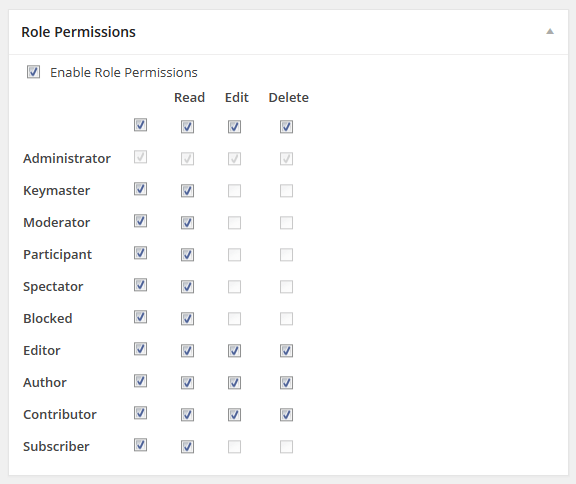 5. Advanced Access Manager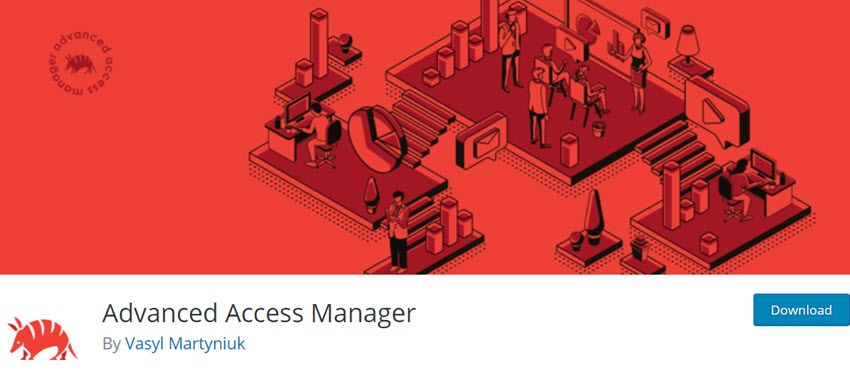 A simple and powerful plugin, the Advanced Access Manager plugin helps improve website security and manage access to menus, posts, pages, widgets, and the WordPress site dashboard. It provides the user ultimate control over the website, and it has the most flexible set of features. It gives the users the ability to manage access to website content for any role, visitor, or individual user. Default access can also be defined to all posts, pages, taxonomies, custom post types, and custom taxonomies.
There are unlimited hooks that are integrated with WordPress RESTful API. To simplify problematic access management, there are numerous abstract layers. There are no ads to bother, and the user interface allows the admin to focus only on what is essential. Users can be authenticated through WordPress API, and content parts can be filtered or replaced with shortcodes.
Total number of users – 100,000+
Advanced Access Manager Introduction
Screenshot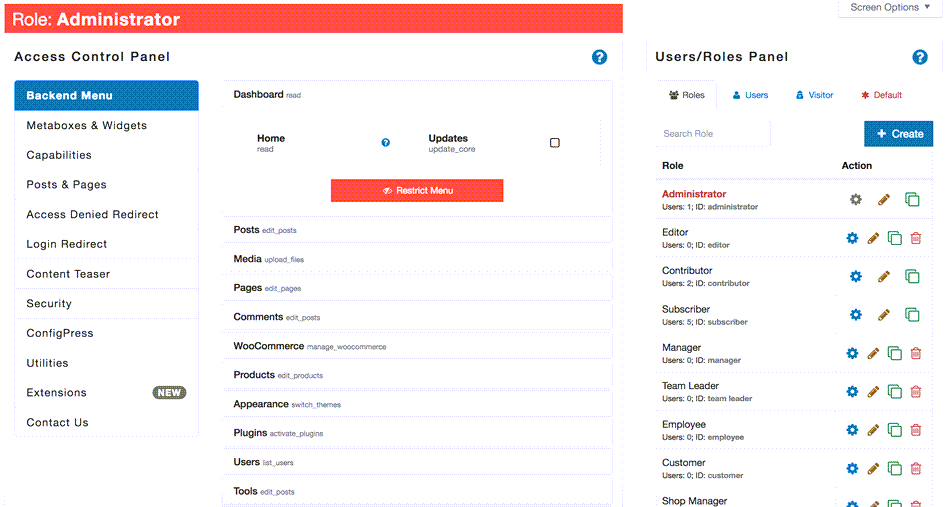 6. User Roles and Capabilities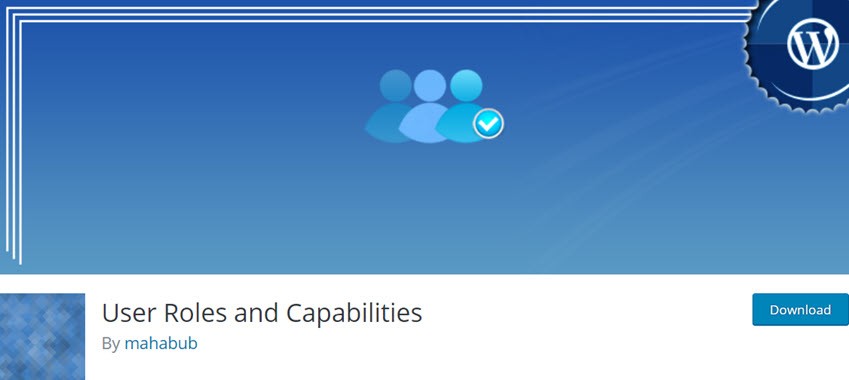 The QA team thoroughly tested the user Roles and Capabilities plugin helps create new roles and delete existing ones. The ones who use this plugin can't modify any capabilities for administrator user roles, and the built-in roles for WordPress can't be deleted. The existing roles can also be cloned, and the roles can be renamed, or they can be imported/exported. User capabilities can be managed, and permissions can be set.
Default user roles can be changed, and users can assign multiple roles. It is easy to use, and there is a single screen to manage capabilities for all roles. The users can be set capabilities.
Total number of users – 10,000+
Screenshot

7. Adminimize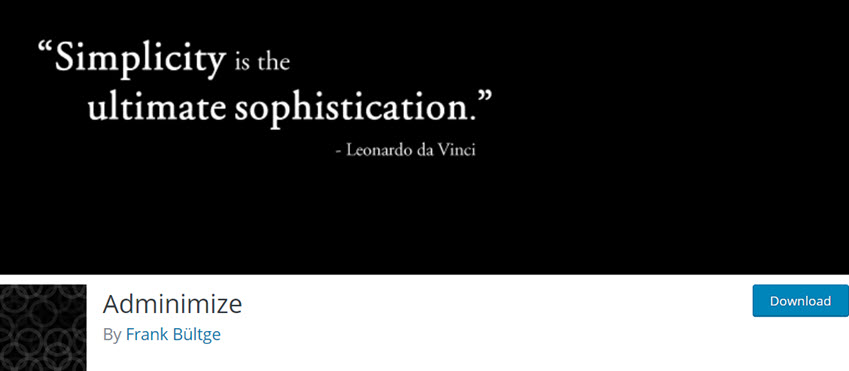 If a person uses a multi-author WordPress blog or site for clients, they need to clean up many things on the WordPress admin area for their users because they don't need to see all of those. Adminimize plugin helps remove items based on the user's role from view.
The plugin helps to assign rights to certain parts of the admin area. Every part of the menu or even parts of the sub-menu can be activated or deactivated by the admin. For posts and pages, meta fields can be administered separately. For admins or non-admins, certain parts of the write menu can be deactivated. To give more space, the backend of the header is optimized and minimized. This way, the menu structure is changed, making it more logical.
It automatically supports all functions for custom post types on the settings page. The user's options can also be added to hide areas in the WordPress backend, and their options can be added through a CSS selector.
Total number of users – 200,000+
8. BestWebSoft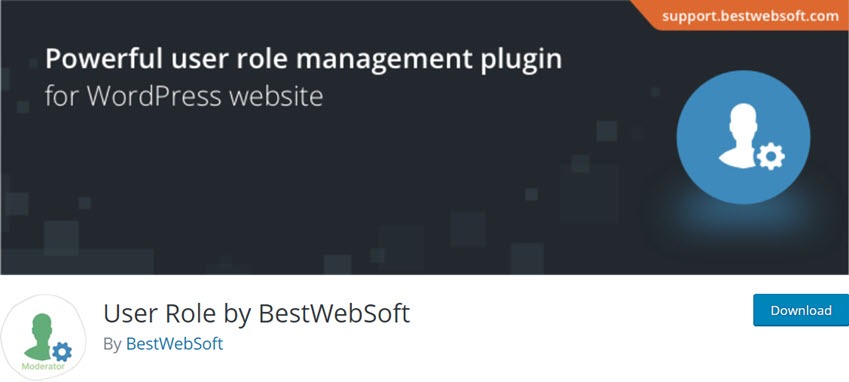 User Role By BestwebSoft Enhanced helps to manage WordPress role definitions. The capability of any role can be viewed or changed.
New roles can be added. Existing roles can be copied into new ones, and new capabilities can be copied into existing roles. Capability negation and role networking are also supported. Any capability can be set to as granted, not granted or blocked. Any role can be marked to auto-copy for future network sites. Roles and capabilities can be restored and backed up to revert to the last changes. It is not possible to delete administration roles. Users can only manage role management with 'manage_capabilities'. Those who are non-administrators can manage roles or users with the same or lower capabilities.
Total number of users – 4,000+
Price – Annual – $21.90/annually (1 Site), Perpetual – $219/Lifetime (1 Site),  Membership – $219/annually (1 Site)
User Role WordPress Plugin - Brief Overview
Screenshot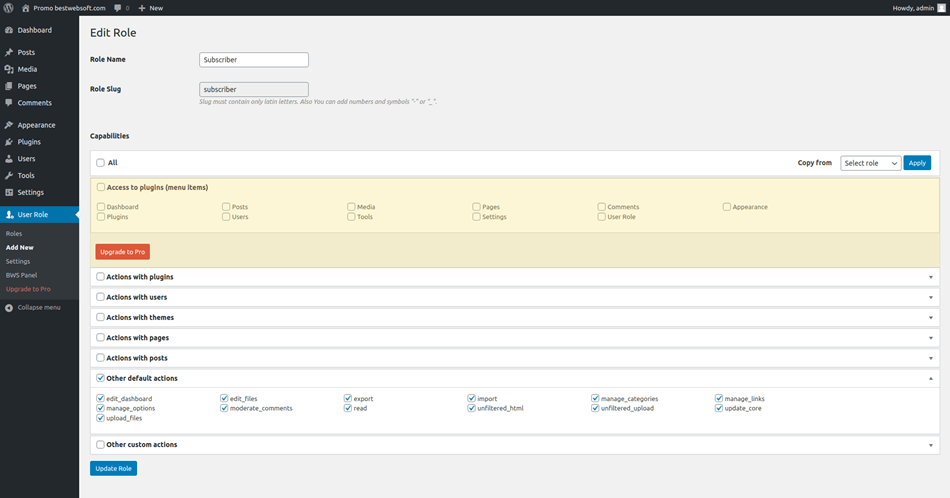 Conclusion – Still confused about which is the Best User Role Manager Plugins for WordPress. Please don't get confused. I will make your choice to use role capabilities so simple. I have used Adminimize on many of my projects worth five ratings and box Plugins. And the good news is they are giving the pro version itself for free.