How To Easily Share Google Analytics Reports With Others
Planning to share Google Analytics Reports with your client or your companies in order to improve your website performance. Analytics data becomes so crucial today because using this data you can best your competitors or increase your website conversion. Google analytics report provides you with a detailed view of the traffic that is coming on your website. Not just that, it also tells about a lot of things that are happening on your website.

As the name suggests, analytics means analysis, which provides you with a summary or analysis of whatever is happening on your website. There are several reasons why it is essential to share google analytics reports. some of them are as follows
Maintain your website performance-

Having a detailed report of your website's performance and working on it is way better than having no tracks about your website's traffic. Analytics report service by google helps you to get a report about everything that is happening on your website. So you can improve your service.
Motivate your colleagues –

If you're a part of a team, it's important to share and update your colleagues with the growth of your website without giving them any access so that they feel motivated and empowered and work hard to make your website more successful.
Win your client's trust –

By getting a detailed report about your website's performance and showing that to your clients will not only make you professional but also convince them and build some interest within your clients to work with you more.
Increase your connections –

If you want to build connections or partnerships, it's essential to show your tracks to your upcoming future partners, so that they can get a brief idea about your website's ranking or statistics.
Increase website conversions –

Your website can be a good eCommerce website if your visitors convert into buyers, which will indeed happen if they know about the details about which products are in the best selling list and which products have been searched a lot. Such types of more information are also achieved by a google analytics report.
You may also be interested in A/B Testing plugins, Email Marketing Services, and Lead Generation Plugins
Steps to Share Google Analytics Report
There are several ways to export google analytics report. You can share it on your email with pdf formatting or another file format.
1. You can get a weekly report with an email summary
Because of hectic days, sometimes it's difficult to check your google analytics report from time to time. So, now, you can get your report in your email box directly by using the MonsterInsights plugin. Also, you can send that report up to 5 email-ids simultaneously with adding your brand logo on the top of the report. Logo Branding on the report can make your client happy and build trust.
Note – Make sure you have installed and activated the MonsterInsights plugin for getting a weekly report. You can also get MonsterInsights Pro to license it's worth spending.
You need to follow these steps to get the report in your email box-
Go to your WordPress dashboard
Click on the MonsterInsights insights Tab then you need to click on setting. After that click on setting inside setting you to need to click on advanced then click on email summaries.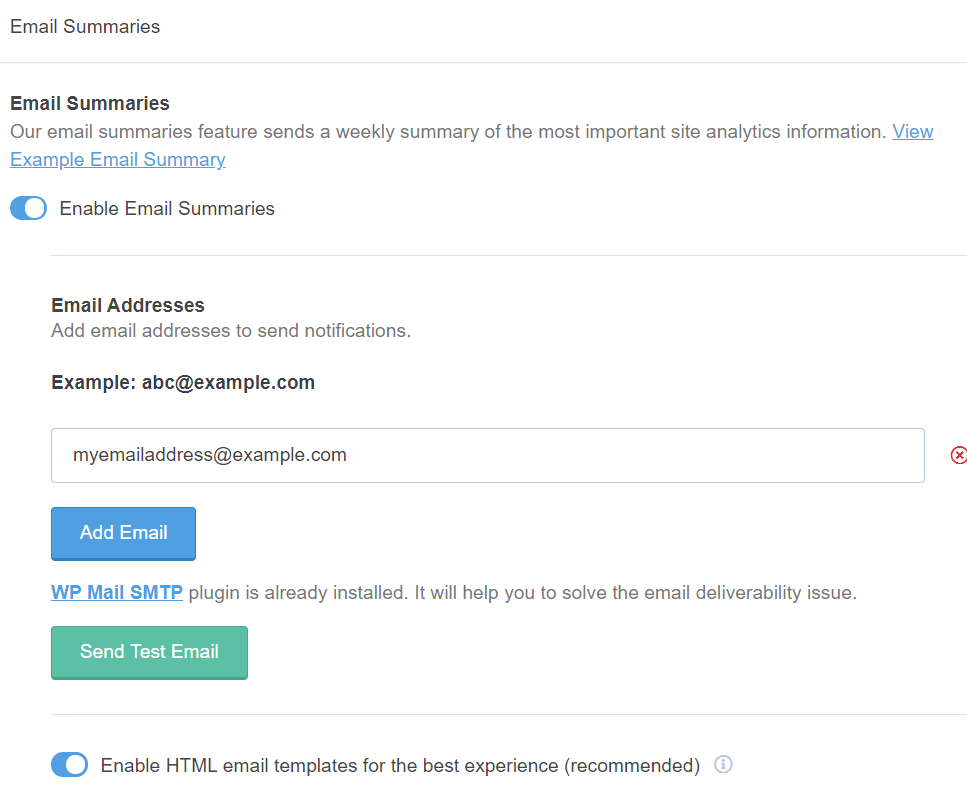 After clicking on email summaries, you've to enable email summaries and enter your email account. After adding your email ID, click on add email. This way, you can get your weekly statistics quickly.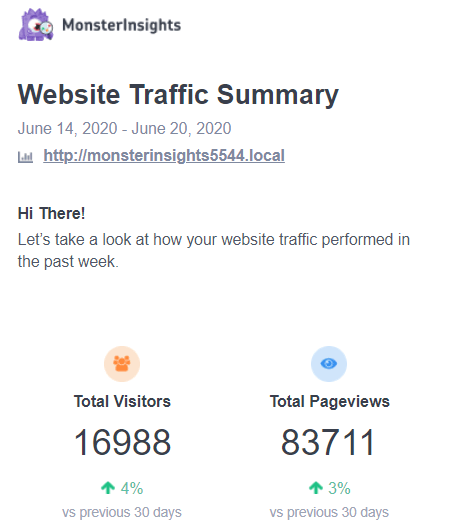 2. Get your analytics report in pdf
Sometimes, few file formats don't allow you to view your documents in the same way on every PC. But with pdf formatting, it gets easier to view your document without fixing it every time. Also, it doesn't matter if you add photos, graphs, tablets, etc., it'll not spoil the format of the document.
You need to follow these steps to export in pdf formatting-
Click on the overview option in the top bar.
Set the range for which you want to get a report.
Click on export google analytics pdf report.
You'll automatically get your report downloaded on your computer.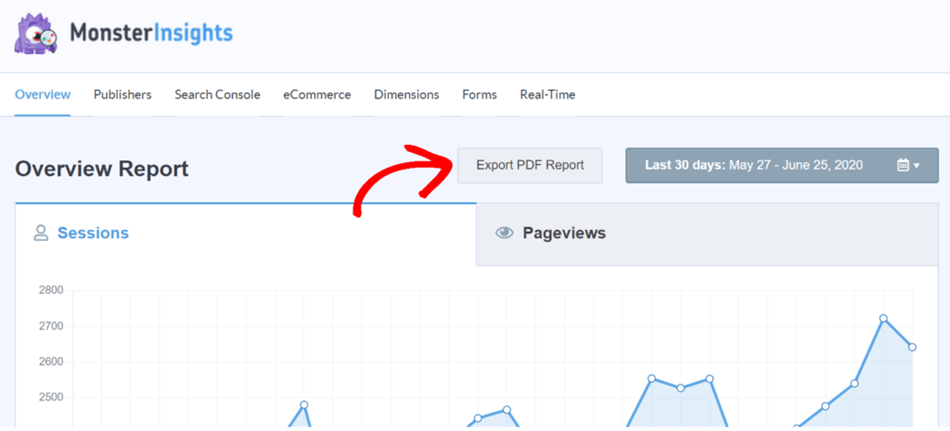 3. Share your report in formats Other Than Pdf
Google Analytics allows you to download your report in formats other than pdf such as excel(XLSX), CSV, and google sheets. Steps to export report in different formats are-
Firstly you need to inside analytics and make sure you have selected the correct domain from the All Website Data Tab in the top corner.

Click on the audience then overview which is there on the left-hand corner. Or anyone of the query from that report tab which reports you to want to see. You can also click on Behavior and then Overview to check the report on Behavior data.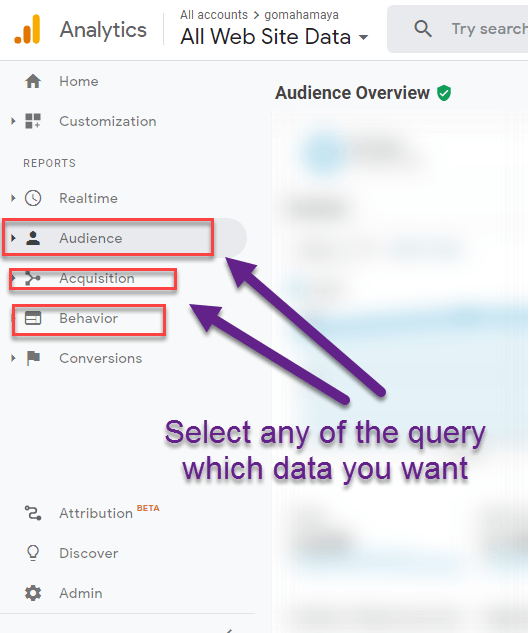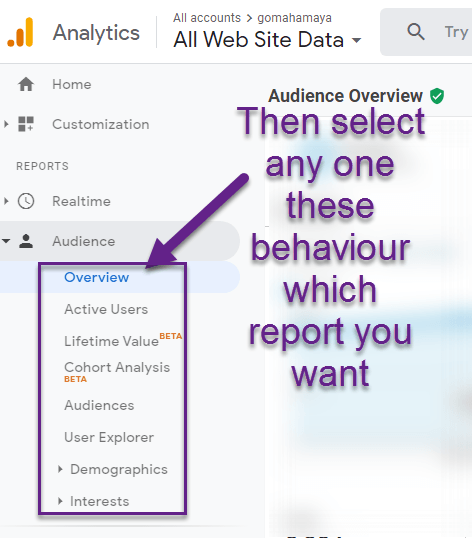 Now Set your range of date for which you need data by default it's set to 6days.

Click on export, and you'll get a tab of all the formats such as PDF, excel (XLSL), CSV, and Google sheets in which you can export your report.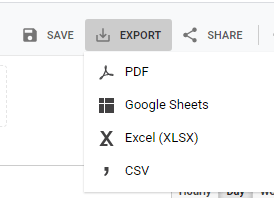 Click on the suitable format you want, and your report will get downloaded to your computer.
You can edit or format your report according to your requirement and forward it to others through email.
4. How to share custom google analytics reports
For building custom google analytics reports you need to click on the Customization tab under that select custom Reports.

Then give a name to Report Content
After that name Metric Groups and select important google analytics metric data that you need in your custom report.
Then select at least one Dimension Drilldowns. If you want you can add some filters based on which data you don't want.
Then click on save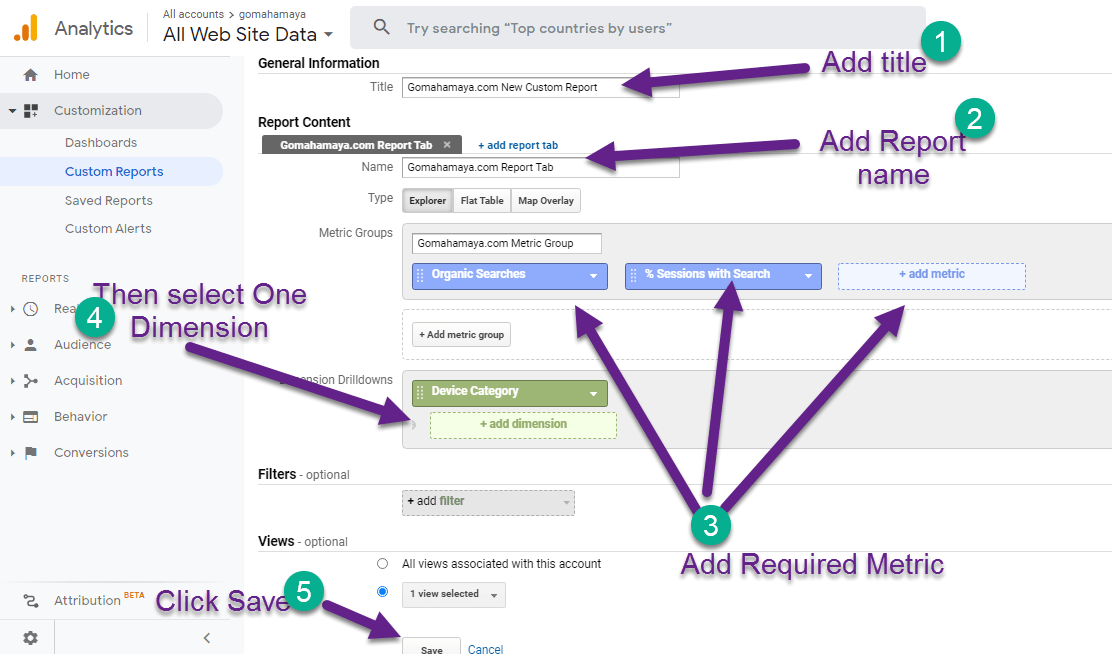 Now your custom report will get loaded you need to just export the data.
Conclusion
In a google analytics report, you can know about the behavior of your visitors like what they are liking or searching in large numbers, conversions, traffic on your website, your best customer's information, ranking percent of your website, last year's statistics comparison, etc. We always recommend people to use MonsterInsights to automate all your Process in analytics.