8 Best A/B testing Tools For Website 2022 (Compared)
Are you an entrepreneur or digital marketer who is facing a low conversion rate then you should try A/B testing Tools for your website? This software will Compare your page variation and tell your which design is most converting.

A/B Testing Tips Proven to Increase Advertising ROI
This test basically divides all the website visitors into two half. They show all the visitors two designs equally. And finally, they track all the behavior of your website visitors. Whatever the results come from the test will 110% improve your conversion rate.
Let's understand this ab testing with some example

Now in the above image, we have two kinds of Web Page with Some different designs variations. One has a high conversion rate but another one has a low conversion rate. The second image shows a high conversion rate just by changing one simple element on the website that is known as Split Testing.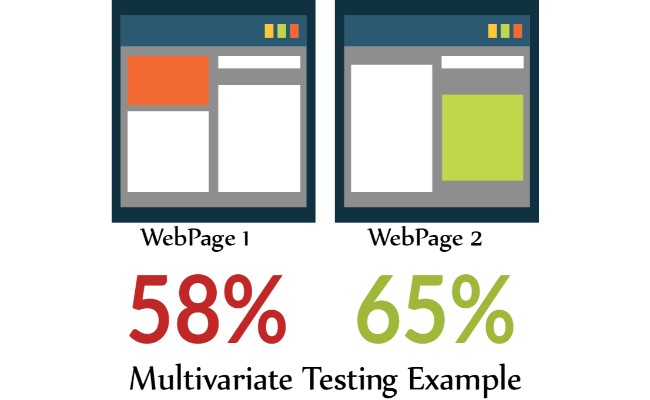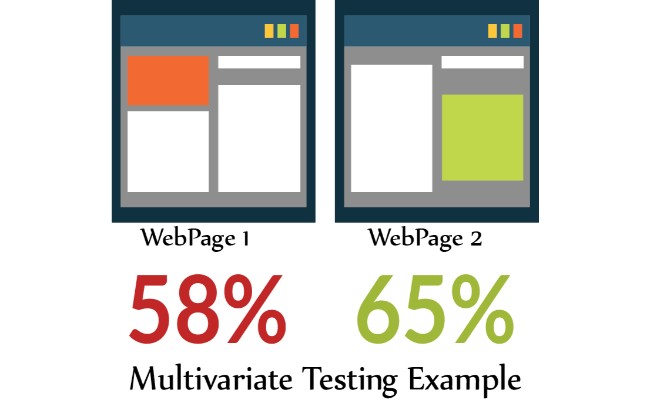 But when we will completely change the design instead of changing one element of the page is known as multivariate testing.
Using these tools you can test heading, button color designs text size, or another element that is responsible for creating a page.
You may also be interested in Landing Page Plugins, Fomo Plugins, and Email Marketing Services.
So let's have the list of top A/B testing Tools and multivariate tools are as follows
Comparison Between VWO Vs Google Optimize Vs Thrive Optimize Vs Nelio A/B Testing Vs Instapage
1. VWO (Visual Website Optimizer)

VWO is one of the most famous A/B testing software which is an experiment and research-driven standalone multivariate testing tool (MVT tool) that helps you effectively run visitor's centric research. It has been crafted as an exclusive  A/B testing solution based on SaaS. VWO is the topmost plugin that runs effective A/B testing on the website in just a few minutes. Test any element of the website before making any experiment thereon. Analyze the impact of such an experiment without taking any risk of the website crashing. Before establishing any new functionality you must have to go through A/B testing that provides better impact and growth of the business. Increase the web traffic effortlessly while having a VWO extension for A/B testing. Assist you to select either A will increase engagement or B with its reliable analyzing tool. Design multiple layouts of the same element such as buttons, color, text, and many more, then analyze click and conversion rate thereby. VWO lets you create such A/B Testing elements without any limitations.
Core Features –
Let you measure the exact impact of the experiment and show every single observation in real-time.
Whether you are concerned with technical or non-technical users, anyone promptly launches hassle-free experiments.
Just assign tasks and distribute the responsibility of every experiment that increases the velocity of testing done thereby.
Prepare an intuitive analysis of such testing on the site that lets you easily understand the impact and select the best alternative for your website.
Design the statistical result which exactly shows the genuine peek of particular testing along with time and date.
Thru VWO's WYSIWYG editor, you can easily create variations of the page you want to expose for testing.
A/B testing, Split URL testing which is also known as redirect tests, Multivariate testing – are the supported testing types.
You get a 30-day free trial that can support up to  1,000 visits to test the tool.
Platform supported –  All( Shopify, Magento, PrestaShop, OpenCart, WooCommerce, Drupal, osCommerce including all sales funnel)
Price – Starts from $49 (Contact the sales team for further pricing information)
How to create an A/B test using VWO
Screenshot
2. OMNICONVERT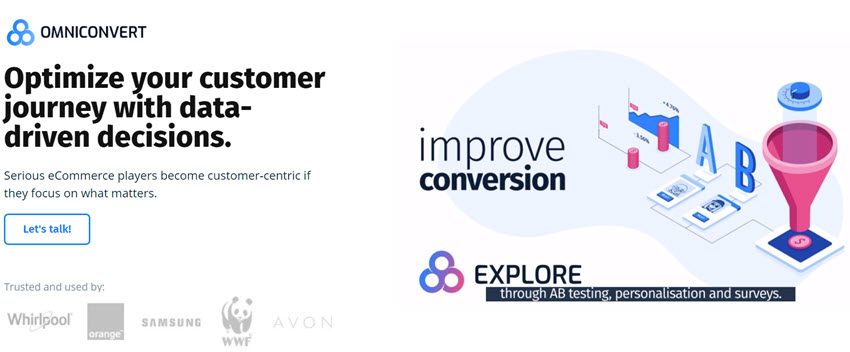 Omniconvert perceives a lot of benefits for an e-commerce website as it provides the best available A/B testing access. Hereby, you can easily get a chance to perform unlimited experiments on different pages of the website. Conduct A/B testing and analyze the result thereafter without missing any single detail of activities that occurred. Omniconvert provides every single tool that makes your site so effective than ever before. Either you want to change the color or renew the button that is pre-existing then you can simply rely on Omniconvert's A/B testing.
Why Do You Need Omniconvert?
Provides you with the best-automated testing elements which are easily customized according to the website.
Increase conversion rates as facilitating audience the better user experience.
A/B testing enables you to carry out multiple experiments in just a few minutes of configuration and place it right there on the website so elegantly.
Calculate the algorithm of getting better results on which experiment and in future final such experiment that bring more visitors thereby.
Run efficiently such testing while placing it on the landing page, product page, or anywhere on the entire site for better engagement results.
Designed intuitively that anyone can access it without performing complex coding functions.
It also has Heatmaps & Analytics tools
Price – Grow – $999/annually, Scale – $2,999/annually
Screenshot
3. ThriveSuite

Thrive Optimize A/B Testing Plugin for WordPress is an extremely user-friendly tool with a comprehensive interface. It offers a fast and simple testing experiment on your site. Thrive Optimize is an organized extension that presents you with the cheap and best solutions for access to A/B testing. Let you simply do unlimited experiments of testing on any website in just a few easy steps. Although the guide you very well to prepare such experiments with availing a lot of customizing templates. Improve conversion rates with appropriate A/B testing that assists you to determine which elements get the most like of your audience. Thrive Optimize is designed with simple UI that is easily accessed and configured by anyone shortly. Either a person with technical knowledge or without non-tech knowledge easily accessible every aspect of split testing.
Elementary Features –
A/B Experiment – Let design your site into two various layouts then analyze the engagement rate of each i.e. A or B with so improved analyzing tool of Thrive Optimization.
Fastest Testing – Conduct fast and secured split tests to test the landing page of the website just right on the website.
Unlimited Accessing – Let you run unlimited tests along with unlimited test variations on different locations of the website at once.
Analyze Performance – Enables setting the even traffic distribution ratio and then show the result of such testing in statistical view.
Visual Editor – Availability of editing visual front-end of any WordPress Website.
It offers easy integration with WP thru the WP plugin.
Both custom conversion code and page & link visit can be chosen for testing.
Price – instant access – $228/annually
Screenshot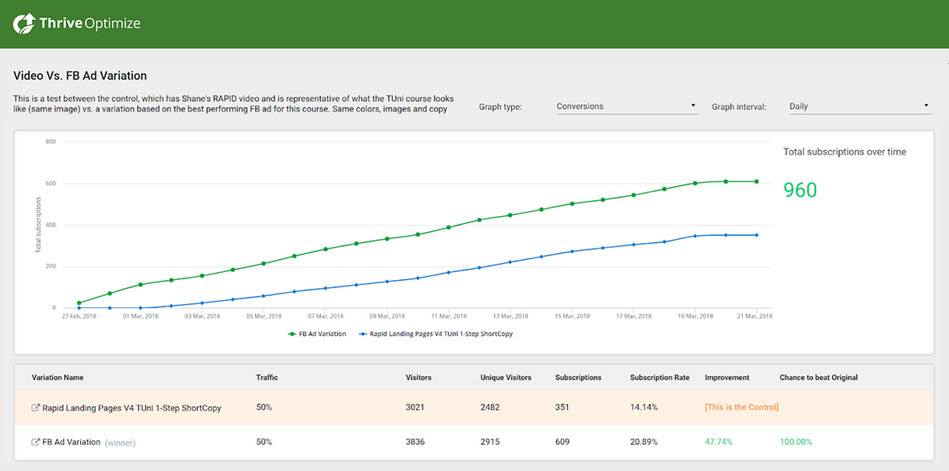 4. Instapage

Instapage significantly assists you to organize various split testing on your website with exact results in statistical reports. Distribute evenly your audience with the help of tools that manages display various split testing to the targeted audience. Increase the conversion rate that lets you gain more revenue throughout the website. Design various tempting experiments and make sure with an efficient algorithm that which one alternative is the best for the website. Intuitively designed with an easy-to-access interface that anyone can connect with without having technical knowledge.
A feature-packed integration for A/B testing just enables you to get better click-through revenue and greater conversion rates of visitors into customers. Display fast split testing to different audiences at a time and also measure the impacts through the statistical report that keeps a record of visitors thereby. Although Instapage enables you to unlimited variations of headlines, background color, text, fonts, etc. on different pages at the same time. Create a different call-to-action button and place them wisely to overview the better click-through access particularly with graphical representation. Freely design unlimited split testing to improve the reachability of your existing website with the efficient assistance of Instapage. Instapage is yet another standalone Split Testing tool that serves multiple purposes out of which A/B testing is also one.
Instapage is well suited for WP sites with its integration plugin.
Instapage allows you to create a landing page variation through cloning or creating a new page altogether.
It also has Heatmaps & Analytics tools
A Free Trial of 14 days with all features of the care plan is available.
A robust dashboard where all the test results can be viewed and traffic can be adjusted and divided.
Platform supported -- All ( Shopify, Magento, PrestaShop, OpenCart, WooCommerce, Drupal, OSCommerce including all sales funnel)
Price – Building – $299/Monthly (Unlimited)
Screenshot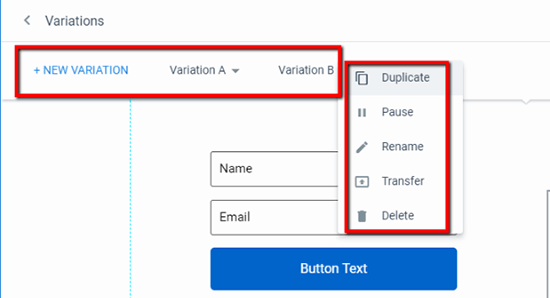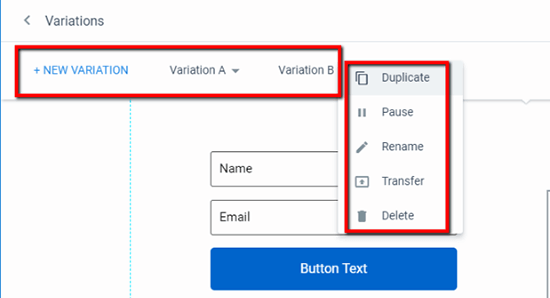 5. Leadpages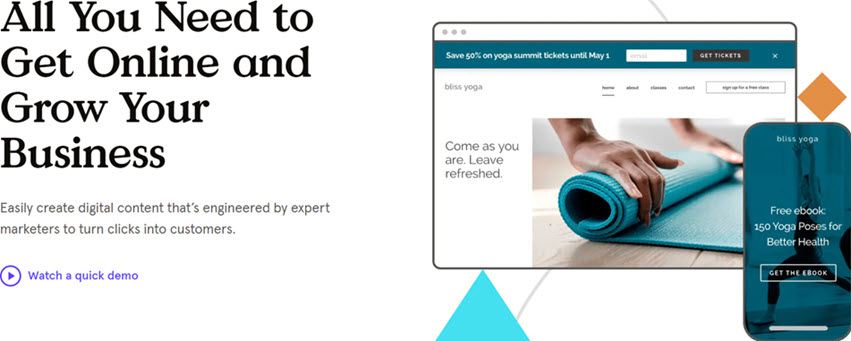 Leadpages ranks among the popular landing page builder with a user-friendly A/B testing tool that is Completely optimized for better conversion rate and SEO. We can call it extremely simple A/B testing software. This Split Testing Tools Add-On is crafted especially for Leadpages. It makes an ideal choice for non-techies who are in the data-centric field.
 Leadpages is an alternative to Thrive Optimize you can create page variants with the selected elements of the page by simply cloning the existing page or building a new page from scratch.

Type of testing – It offers A/B testing and multivariate testing.
It works exclusively on the landing pages created by the Leadpages page builder.
100% visual editing without any coding hassles to create a page variation for testing purposes.
Variations can be modified in a single click with One Click Cloning.
You have to pay only once for unlimited tests and unlimited test variations.
It works on your WP site and the entire tool management is done thru the WP dashboard.
Platform supported – All eCommerce Platform 
Price – Standard – $324/annually (1 Site),  Pro – $708/annually (3 Site),  Advanced – $2868/annually (50 Site)
Screenshot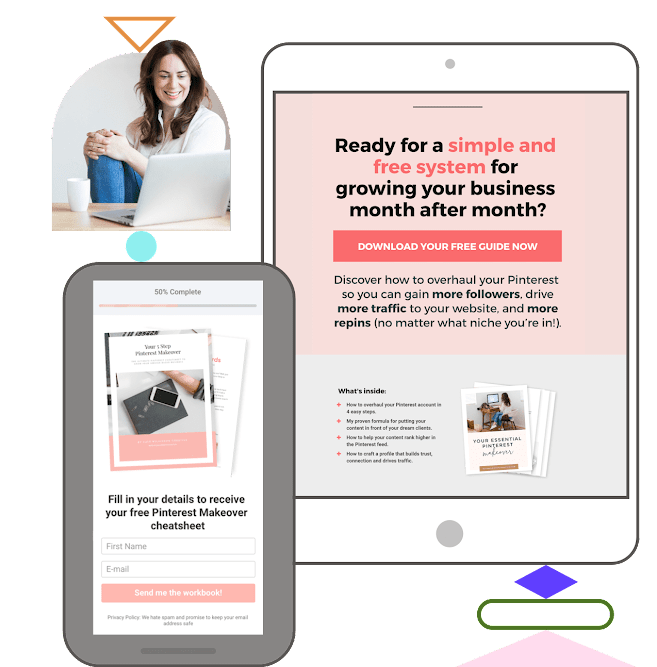 6. OptimizePress

OptimizePress is a well-integrated plugin that lets you perform unlimited split testing in the format of A/B testing to determine the best solution which increases the conversion rates. OptimizePress Experiments is comparatively a new introduction in the A/B testing tool and has lots of scope for development in the coming years. Prepare experiments that include landing page layout, headlines, call-to-action buttons, color, and much more. Also, let you add two different landing pages, for example, one with video orientation and the other with text specific. Hereby you will be able to optimize the existence of each one and overview the result in statistical presentation. Just easily install OptimizePress and perform the entire functionality without visiting elsewhere from your own WordPress Page. Increase your sales while getting more assured leads by performing split testing on different pages at the same time.
Integrated Features –
The easy-to-use interface streamlines the workflow even without writing any set of codes.
Enables to run unlimited A/B testing on various available components of the website at the same time.
Let you display the fastest split test ever to the different audience that comes to the site.
Measure and analyze testing results that which one performs the best in the same targeted time.
Coordinate with any themes previously active on the website. So, you don't have to worry about its compatibility issues.
Platform supported – All eCommerce Platform 
Price – Essential – $99/annually (1 Personal Site),  Suite – $199/annually (20 Personal Site),  Agency Standard – $399/annually (20 Client Site)
Screenshot
7. Google Marketing Platform

Optimize from Google is a free A/B testing tool that can offer you personalized experiences. It works in synchronization with Google Analytics.
Variations for page or app elements can be created with the code editor.
Target-based tests such as behavioral targeting, Geo-targeting, etc can be set up for the visitors on the created variations.
The types of testing it offers are – A/B, multivariate, and redirect tests.
Optimize Works Perfectly with Analytics data, Google Ads, Firebase app, and amp
Google Optimize interface – You can view all the test related statistics on the integrated Google Optimize interface or Google Analytics interface
A simple integrated dashboard helps you get all the statistics of the tests that you run.
You must opt for Publisher Package to use OptimizePress Experiments.
It also works perfectly with page builder plugins like Elementor, visual composer, or another other landing page builder
Price – Start For Free
Getting Started: Creating an Experience in Optimize
Screenshot
8. Nelio AB Testing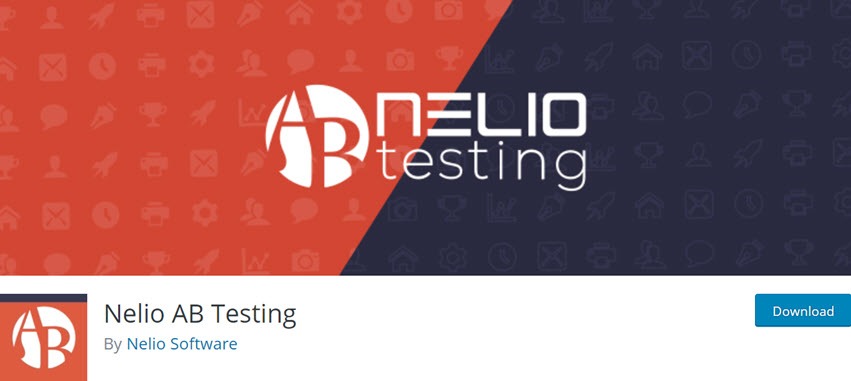 Nelio is the best A/B Testing plugin for WordPress which also supports multivariate testing that can boost up the conversion and optimize the content of your WP site.
Also, the software helps you test the headlines, widgets, menu layouts, text modifications, theme, excerpts, and images by creating their variants and helps you know which one works better with conversions thru the new A/B CSS test tool.
It also has the heat mapping tool that helps you know the exact point of click on the page by your visitors.
You can also run Split Test on your website easily.
Within the WP interface, you can analyze the test results with the help of built-in editors. No need to use external software.
Nelio A/B testing helps to test your content, post, page, and custom post types by creating multiple variations with them.
You can run tests on the variants of a single page (MVT) for greater optimization and conversion.
The plugin provides OptimizePress Live-Editor to test elements of your site.
Total number of users – 2,000+
Price – Basic – $316/annually (5k View),  Professional – $952/annually (35k Vied),  Enterprise – $3173/annually (200k View)
An Overview of Nelio A/B Testing
Screenshot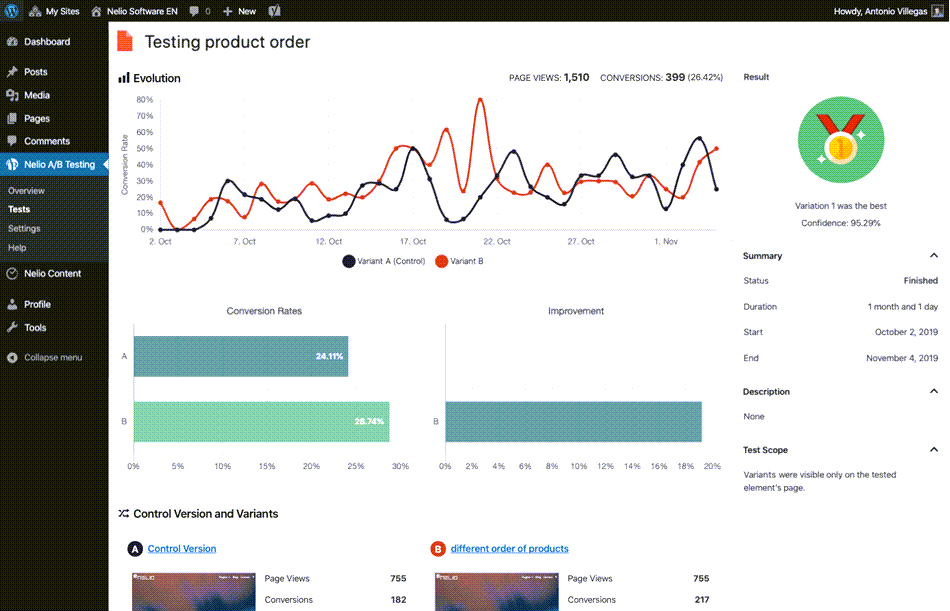 Lets Compare Conversion Optimization Tools VWO
Vs
Google Optimize
Vs
Thrive Optimize
Vs
Nelio A/B Testing
Vs
Instapage
| Plugin | VWO | Google Optimize | Thrive Optimize | Nelio A/B Testing | Instapage |
| --- | --- | --- | --- | --- | --- |
| Type of Plugin | Standalone | Works with Googe Analytics | Thrive Architect addon | Standalone | Standalone |
| Host Type | Self | Cloud | Self | Self | Cloud |
| Testing Types | A/B testing, Split URL testing, Multivariate testing | A/B testing, A/B/n testing, multivariate, Server-side experiments, Split URL testing and Redirect tests. | A/B testing only | A/B testing, Multivariate testing, Split testing | A/B testing, Multivariate testing |
| Quality Controls | Thru Cross-browser testing, Cross-device testing, Multi-page testing, reporting development errors, Campaign setup correction |   |   |   |   |
| Revenue and Sign Up tracking |   |   |   |   |   |
| Page Builder |   |   |   (Must buy Thrive Architect) |   |   |
| Campaign Builder | Visual campaign builder | | Thrive Ultimatum campaigns | WordPress built-in editor | Google Ads campaign |
| The editor used for creating variation | VWO's WYSIWYG editor | Visual website editor | Visual website editor | WordPress built-in editors | Instapage WYSIWYG editor |
| Detailed Reporting |   |   (Bayesian statistical methods) |   |   |   |
| Integrations and API | WordPress, Google Analytics, SiteCatalyst, Drupal, Joomla, Magento, BigCommerce, Shopify, etc. | Google Analytics, Google Ads, Firebase, Google BiQuery, AMP | Thrive, Architect, Thrive Leads, Thrive Cart, HubSpot, Sendinblue, GoToWebinar, etc. | OptimizePress, Quick Cache,JetPack etc. | Salesforce, Marketo, and HubSpot, etc. 40+ integrations |
| GDPR Compliance |   |   |   |   |   |
| Heatmaps and Click maps |   |   |   |   |   |
| Surveys |   |   |   |   |   |
| Responsive |   |   |   |   |   |
| Support |  Unlimited |  Unlimited |  Unlimited |  Unlimited |  Unlimited |
| AB test |  Unlimited |  Unlimited |  Unlimited |  Unlimited |  Unlimited |
| WooCommerce Support |   |   |   |   |   |
| CMS supported | All(Shopify, Magento, PrestaShop, OpenCart, WooCommerce, Drupal, osCommerce including all sales funnel) | All(Shopify, Magento, PrestaShop, OpenCart, WooCommerce, Drupal, osCommerce including all sales funnel) | WordPress | WordPress | All(Shopify, Magento, PrestaShop, OpenCart, WooCommerce, Drupal, osCommerce including all sales funnel) |
| Free Trial Available |   30-day(No Credit Card required) |   |   |   (Only Till Free version) |   14 days (No Credit Card required) |
| Customer Support | 24x7 Email and Phone Support | N/A | Contact Support, Email | Email, Documentation, Informative blogs, Support Forums. | Articles, FAQs, Video Tutorials, Ticket, Support Forums. |
| Money-Back Guarantee | No Refund | N/A | Within 30 days | Within 30 days | Within 24 hrs of purchase |
| Price | Starts from $49 (Contact the sales team for further pricing information) | Free | Thrive Membership – 1 License – $134 $127 (install on 1 website), 5 License Pack – $194 $177(install on 5 websites), $19/mo ( paid yearly, all plugin install on 25 websites). | Basic Plan – $29 /mo or 288 yearly ( 5,000 tested page views, 1 site), Professional Plan – $89 /mo or 888 yearly (35,000 tested page views, 5 sites), Enterprise Plan – $259 /mo or 2,568 yearly ( 200,000 tested page views, 10 sites). | Core Plan – $ 129/ mo or $ 99 yearly, Enterprise Plan – Custom |
| |  Buy |  Buy |  Buy |  Buy |  Buy |
Note – OptimizePress, Leadpages, and Instapage all have landing page builders, Lead generation, and sales funnel built-in. So don't compare their pricing with standalone Plugins