Note – If you are planning to host your video, then you should always try to use a good host like Kinsta
1. LearnDash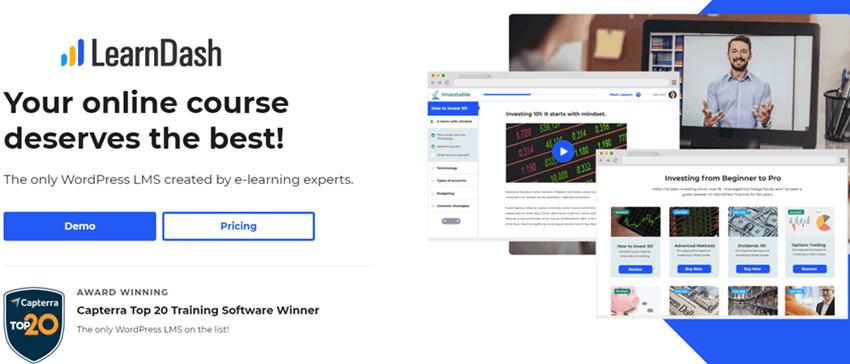 LearnDash is the most trusted WordPress course management system plugin. It is the first choice of many companies, training organizations, major universities, etc. It is the leading choice for online courses. Many significant universities use it for online coursework. It can handle everything from continuing education to selling inline courses. Access to this plugin gives access to the latest e-learning industries. This helps in delivering robust learning experiences. Learndash is the alternative for LifterLMS and talent LMS. Courses can be easily created and sold as well as awards certificates. Quizzes can be delivered, and this plugin can easily manage users. The features of this plugin are:
Drip- Feed Content- This plugin automatically delivers content according to a predefined schedule.
Create Users Group- The learners can be created, and a group leader can be chosen to manage their progress.
Reward Learners- Certificates, badges, and points can be given to the learners to encourage them.
Renewal Reminders- There is the provision of automatic renewal, or this option can also be deselected.
Control Enrollment- A course price can be set, and they can be made exclusive for members or free or private.
Engagement Triggers- Learners can be interacted with based on their actions in courses.
Refund Protection- Contents can be scheduled. This helps to lower the refund rates and increase revenue.
Manage Learner's Progress- To help the learners, reviews can be submitted, the learning paths can be set, and completed tasks can be managed.
Price – Basic – $199/annually (1 Site), Plus – $229/annually (10 Site), Pro – $369/annually (25 Site)
Screenshot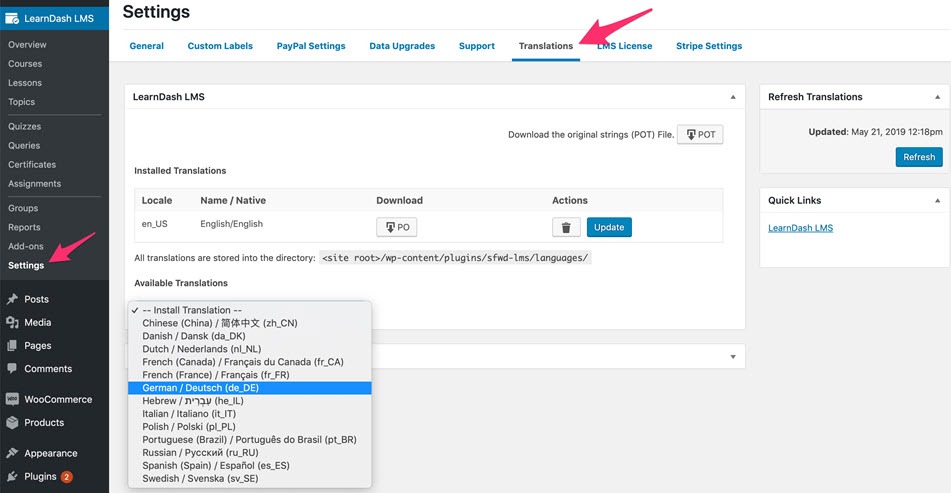 2. Talent LMS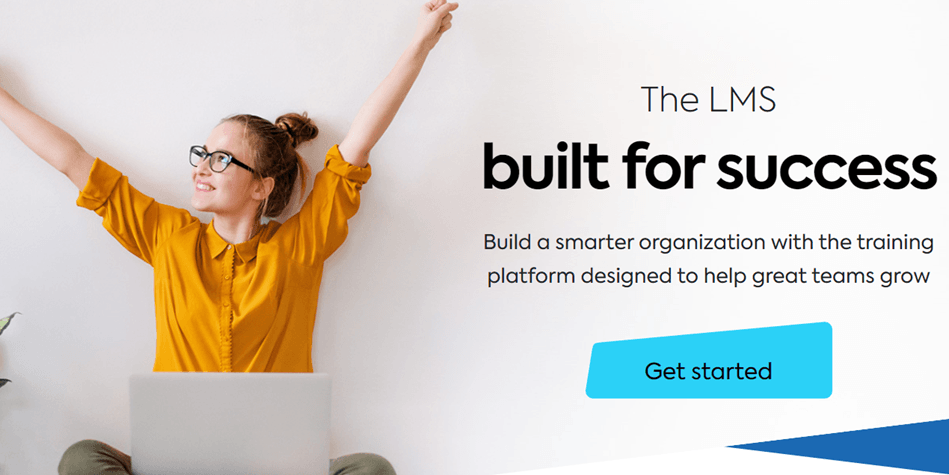 Talent LMS is a facile cloud LMS widely used to train your employees, partners, and clients. It can transform the online learning and training process into fun. There is no need to install or upgrade anything available on Cloud-powered LMS. You can customize your theme, domain, and logos. You can call talent LMS as the alternative for LearnDash. Its excellent social integration system allows you to build E-learning courses in no matter of time. Provides you with a detailed analysis of anything inclusive in the course content. Major features are:
Mobile-Friendly – The plugin can be downloaded on mobiles as its native mobile applications are available for iOS and Android.
Complete and sturdy – The plugin supports SCORM and Tin Can, videos and gamification, etc.
Easy maintenance – Requires little configuration and imparts better deliveries.
Membership Offers – Many versatile membership plans can be offered viz. Sitewide Membership, Membership for course bundles, Membership for auto-enrollment, bulk course enrollment membership, and Membership for group discussion forums.
Security -Your content can be fully protected against hacks as Lifter LMS protects the course content, generates user accounts, and provides access to the "members only" to view the contents. Restricted access can also be provided, redirecting the non-members to join the Membership and unlock specific content. The learners can also generate and reset passwords for their learning content.
Platform Management – Your online school can be controlled from a simple WordPress website by the plugin.
Business stability and continuous cash flow can be achieved by creating flexible recurrent payment options.
Subscriptions could be sold to your learning platform.
Price – Starter – 708/annually (40 User), Basic – $1548/annually (100 User), Plus – $2988/annually (500 User), Premium – $5148/annually (1000 User)
Screenshot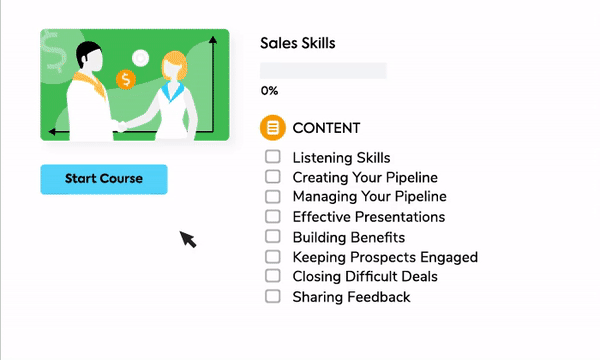 3. LMS by LifterLMS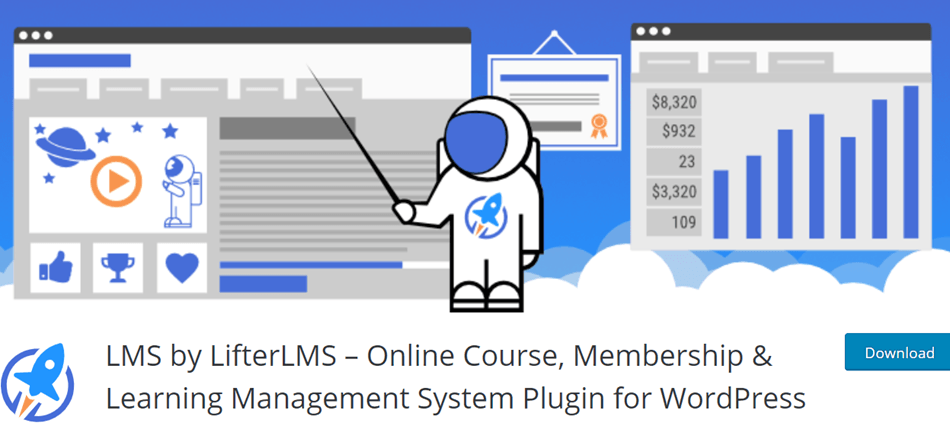 LifterLMS is a simple yet powerful online course software that can increase course engagement, sales, and learner results. It offers you everything you need to create, sell, and protect engaging online courses. LifterLMS is chosen by entrepreneurs, teachers, and niche experts. The plugin gives an intuitive and flexible learning experience. LifterLMS is constantly being upgraded and offers responsive support and accessibility by the team. A very focused approach towards small or solo businesses. The features of this plugin are:
Student Engagement – Courses can be created by this plugin which can engage students: they can enjoy and finish these courses with a focused approach.
 Achievement badges can be awarded for addicting learners with earned badges through badge gamification.
 Printable Certificates can be awarded for skill training and continuing education requirements.
 Customized emails can be delivered based on learner behaviour.
 Enhancement of social learning can be done by unlocking the power of social sites like Facebook etc.
 Private coaching can be offered on a one-on-one basis, and discussions can be conducted for maximum income generation and learner outcomes.
Personalized text messages can be sent to engage learners and prospects.
Money Maker – This plugin can develop a solid income-generating teaching business or membership site. The tools are
Credit card payments – Revenue can be generated with simple conversion-optimized credit card payments.
Simple one-time payments can be charged for your courses or memberships.
Total number of users – 10,000+
Price – Individual Add-Ons – $120/annually (1 Site), Universe Bundle – $360/annually (5 Site),  Infinity Bundle – $1200/annually (Unlimited Site)
Screenshot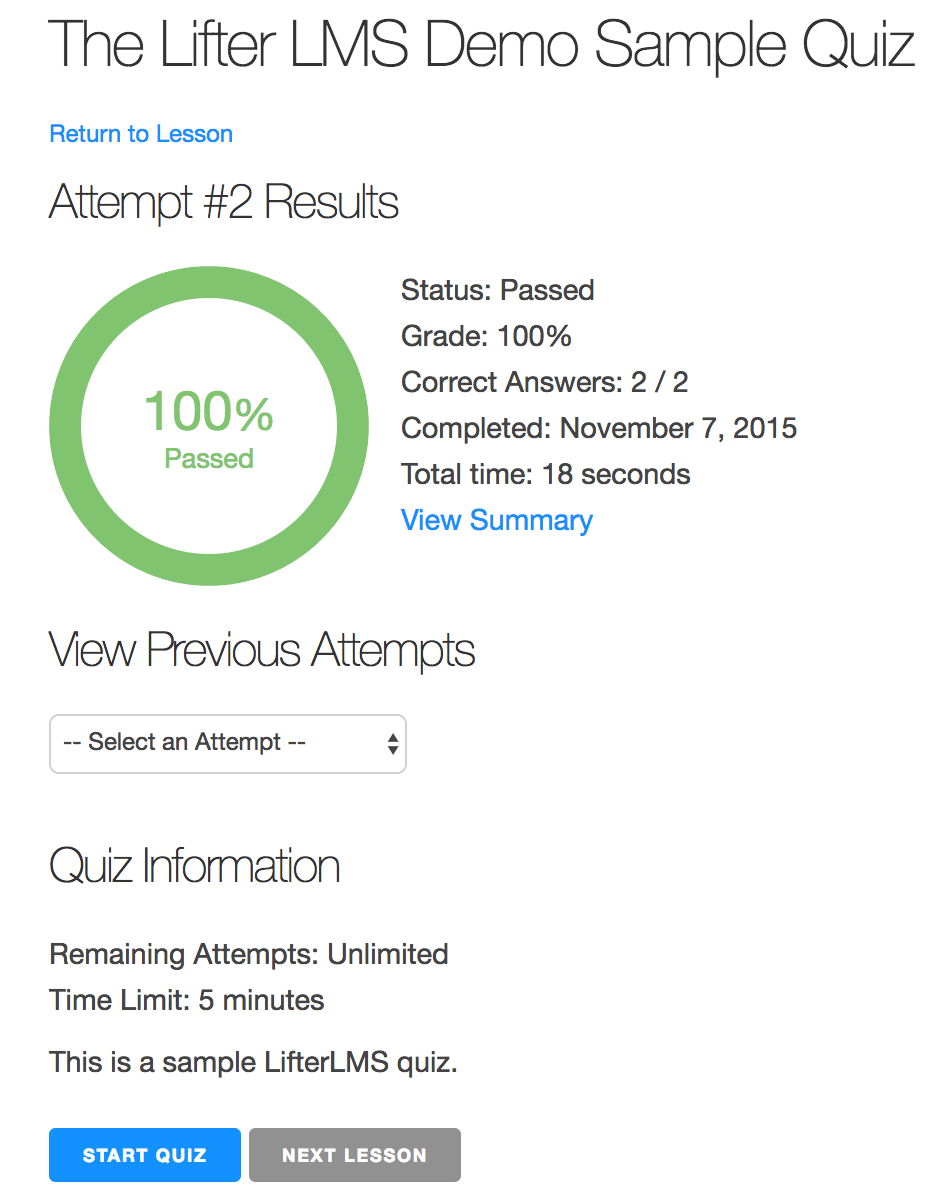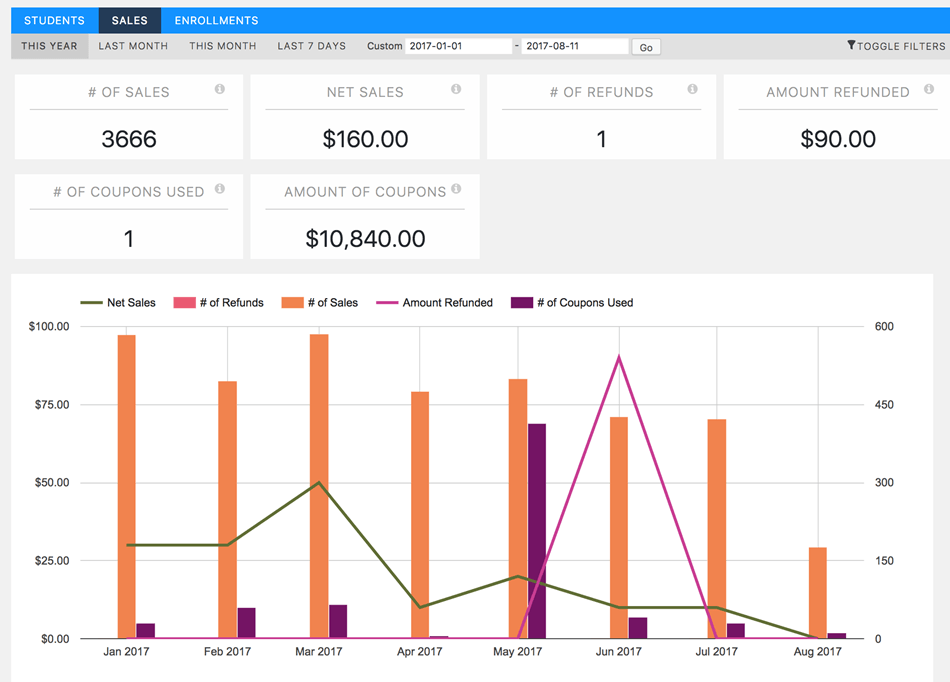 4. Tutor LMS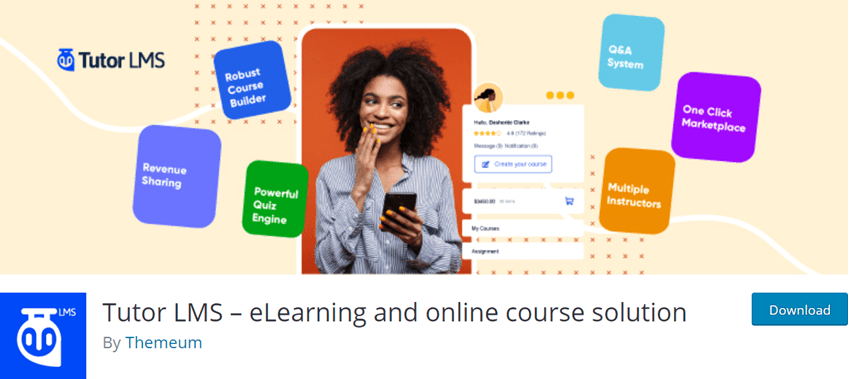 Tutor LMS is a free and robust WordPress plugin for integrating online education on one platform. Whether you want to create online courses and sell them digitally, you must have this WordPress LMS plugin. Such a lightweight and feature-enriched plugin let you wisely manage your digital education platform. Run efficiently online courses, online school, and other education even without coding. Tutor LMS provides every essential tool you require to monetize such an e-learning website. You can quickly generate shopping carts, email notifications, certificates, etc. Enable your customers to get courses and whatever they require while adding it to the shopping cart.
Core Features –
Course Builder – Enables to create unlimited lessons and courses with intuitive drag & drop builder.
Dashboard – The frontend dashboard is available for the students to manage the functionality so well.
Videos – Availability of every required lesson in videos integrated from different sources, including YouTube, Self-hosted, etc.
Intuitive Quizzes – Let you insert a variety of quizzes within just a few clicks. Such quizzes are arranged so well to compete in a limited timeline configured by admins.
Levels for Courses – Define the level of courses in a different category that any student will initiate just where they require.
Teacher Profile – Establish a comprehensive teacher profile and access panel to administrate their subjects.
Total number of users – 30,000+
Price – Individuals – $149/annually (1 Site), Freelancers – $199/annually (5 Site),  Agencies – $299/annually (Unlimited Site)
Screenshot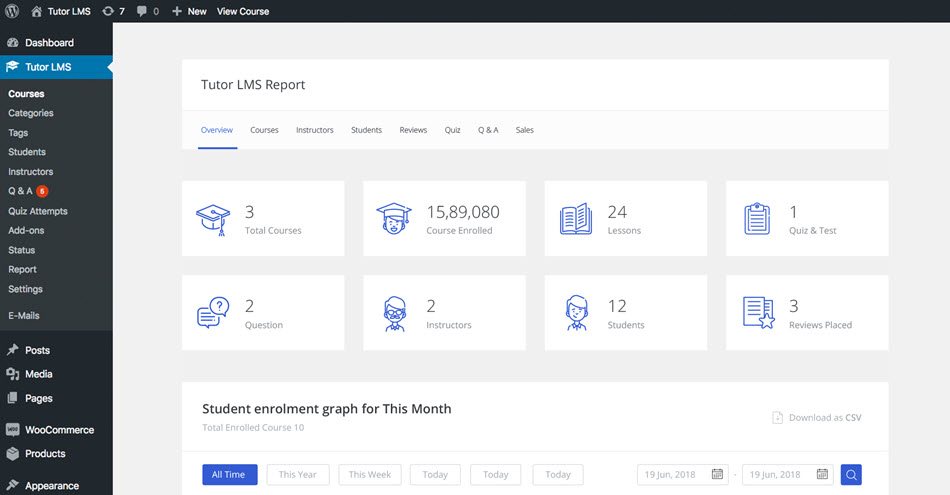 5. Wp Courseware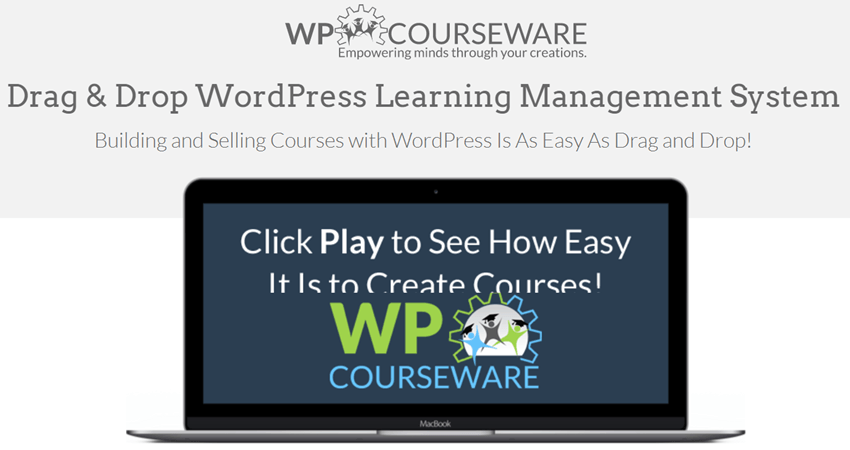 WP Courseware is the first and most extensively used WP learning management system plugin, which has eased up creating and selling online courses. It is incomparable with ease and speed with any WP learning management system. Due to its rich features and powerful learning management system, have become the first choice of many universities, entrepreneurs, and trusted companies. The features of this plugin are:
Drag and Drop – Online courses can be created easily with the intuitive drag and drop builder.
Drip Content – Contents can be auto-scheduled for release on specific dates and intervals from enrollment.
Grade Books – Quiz and progress reports can be viewed and exported for each student.
Course Certificates – Students can be rewarded with downloadable and customized completion certificates in PDF format.
Secured Courses – Courses can be password protected by the admin, and access can be given only to the registered and enrolled students.
Advanced Quizzes – Robust quiz contests can be conducted with advanced quiz question types, timers, retake limits, and surveys.
Student Management – Both automated and manual methods of student enrollment is possible as per the requirement.
Course Prerequisites – Students can be directed to complete one course before they move on to other courses.
Free Courses – A few courses can be offered free to trigger prospective enrollments and act as led magnets.
Price – Teacher – $129/annually (10 Site),  Professor – $149/annually (10 Site),  Guru – $199/annually (25 Site)
Screenshot

6. Sensei LMS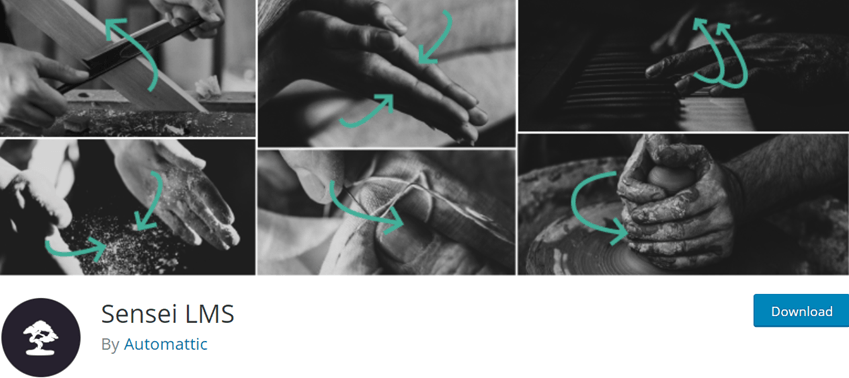 Sensei is the ultimate WP LMS, making the coursework easier and more accessible. A single interface where courses can be created, lessons can be designed, and quizzes can be prepared. A paramount LMS which allows you to set classes and other course prerequisites. Also, it helps in user registration and charge fee for the course offered. Features of the plugin are :
Seamless WP Integration – The plugin can be effortlessly used, and it is designed keeping in mind the intuitive WP user interface. Hence, considered the best for WP LMS.
Easy Content Creation – The plugin offers a great range of flexibility as it can be used to create courses and test the knowledge perception of the learners via quizzes.
Quick User registration – WP user registration enables users to register for online courses. After that, the dashboard can be accessed and tracked by the learners.
Charge for courses – Courses can be charged directly through this plugin because Sensei is integrated with WooCommerce. Products can be linked to the course instantly – an easy go!
Course Analytics – Data reports on students' performance, grades, details, and an overview of the content can be analyzed with the plugin, which gives you a bird's eye view.
Question Bank –  A random quiz can be set up for the learner's feedback. The questions are randomly picked up from the question bank created by the plugin.
Share your idea – Enables a platform where the learners can build and share their robust learning experiences.
Total number of users – 10,000+
Price – 1 Site – $129/annually
Screenshot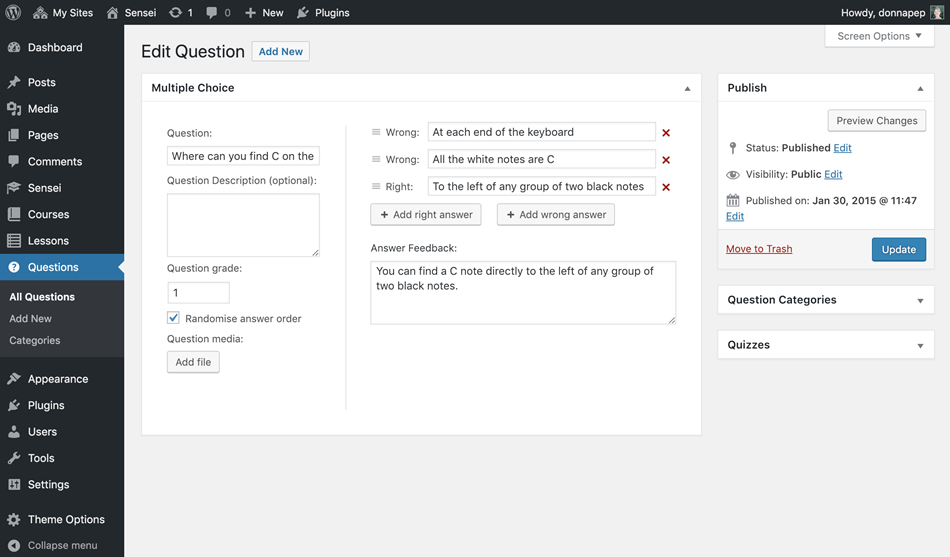 7. Good LMS

GoodLMS is a theme-based WordPress course management plugin. It can support multiple WP sites and offers immense options to create course content. The main features of the plugin are :
Course Management – The course content can be shared to analyze the statistics about its trend and the number of students enrolling for it.
Sale of Course – Content and courses can be sold online as this plugin incorporates PayPal, WooCommerce, Stripe, etc.
Add on Facilities – Customized add-ons can be written to enhance extra features for LearnPress.
Free and Developing – GoodLMS is a premium plugin to enhance its reach to more and more learners, but there is no compromise on its development.
Create Courses – The online course creators can create impactful Course material by converting their expertise into income.
Free courses can be offered for lead generation. There are other ways also, like pre-selling, reviewing the ECommerce dashboard, Credit card management, payment switching, etc., to achieve the objective of money-making.
Price – Regular License – $32/Lifetime
Screenshot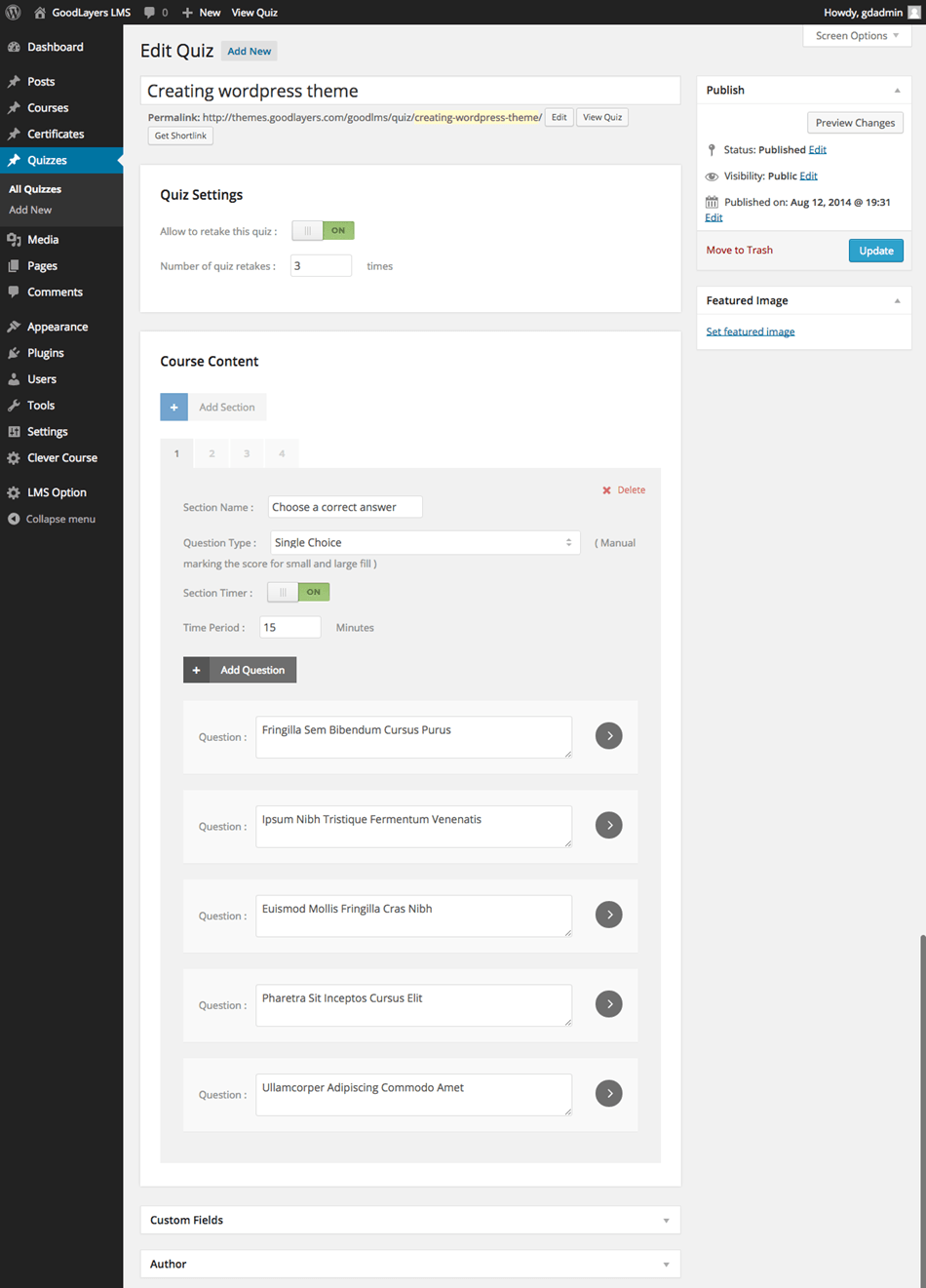 8. MasterStudy LMS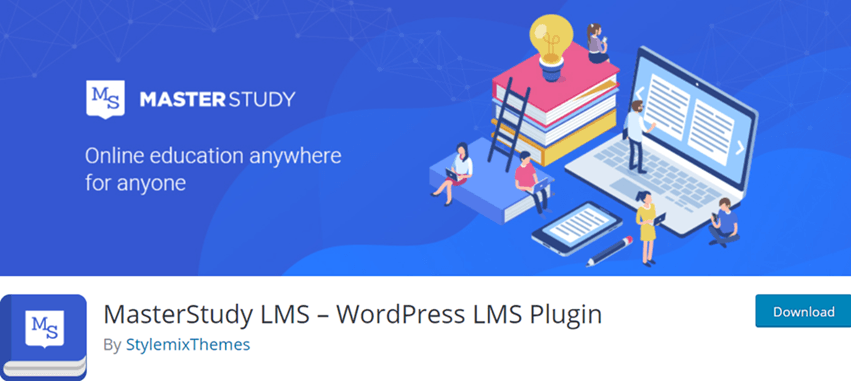 MasterStudy LMS is an elegant WordPress plugin for creating an intuitive e-learning website and managing the same. You can quickly turn your ordinary website into a professional e-learning website within a bit of configuration. Although, MasterStudy allows to create, manage, and sell online education to every required student with various learning attributes. Integrate such digital education with multiple accessories like quizzes, courses, and other educational content available on the site. Many handy features are available to customize the appearance of such education however you wish.
Why Do You Need MasterStudy LMS?
Distribute fast and secured online education among needy students in an effective manner.
Let your students access your courses with different packages of subscription that provide certificates, grading quizzes, lessons, and more.
It contains an intuitive course builder that lets you categorize the entire course into different levels owned by students according to their necessity.
Enables to insert graphs, images, videos, slides, and other accessories that present the lessons more interestingly.
A detailed description of every e-course on the website from where any student can Wishlist or add to cart such courses.
Total number of users – 10,000+
Price – 1 Site – $54.99/annually,  1 Site – $149/Lifetime
Screenshot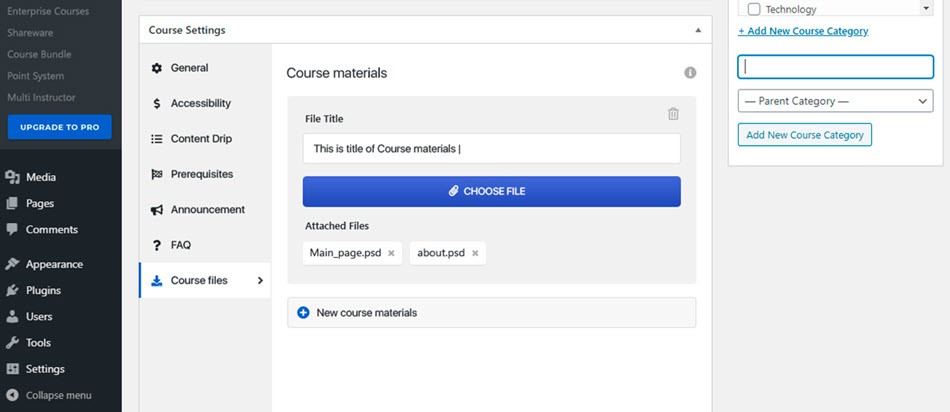 9. AutomatorWP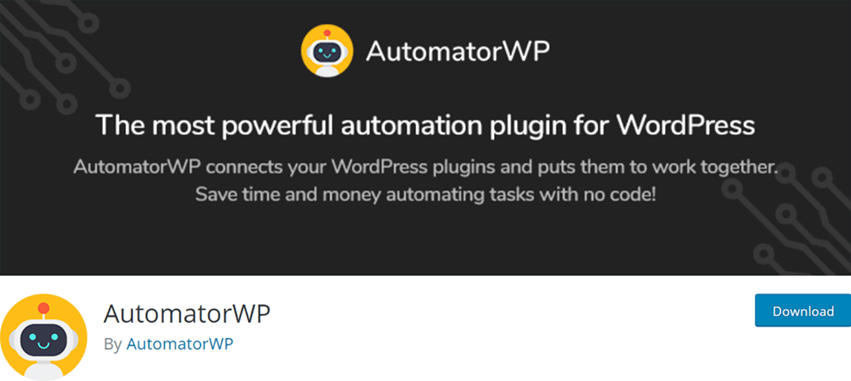 AutomatorWP is a nicely composed WordPress extension that easily accesses e-learning websites. Create and manage various online courses for schools and institutions with mobile responsive attributes. Let your student get the online educational contents they need with appropriate subscriptions. AutomatorWP assists you very well to integrate intuitive online courses on your e-learning website. Easy drag & drop feature is available to build lessons with categorized difficulty levels. Moreover, let you add videos from YouTube, Self-created, and others to make learning more interesting for students. Examine the learning capabilities of students while arranging meaningful quizzes that show results in grades.
Core Features –
Let you establish an efficient learning management system for organizing your e-learning platform so well.
Customize the website's look and present every element with a professional touch-up of finishing.
Easily automate the entire functionality of selling your e-learning content within a few configurations.
Let you add comprehensive courses with eligible subscription prices and a timeline.
Allow your customers to add to the cart such integrated courses on the site or Wishlist it for future purchase.
Encourage your customers to participate in quizzes for enhancing their intelligence by sending emails.
Total number of users – 3,000+
Price – Free
Screenshot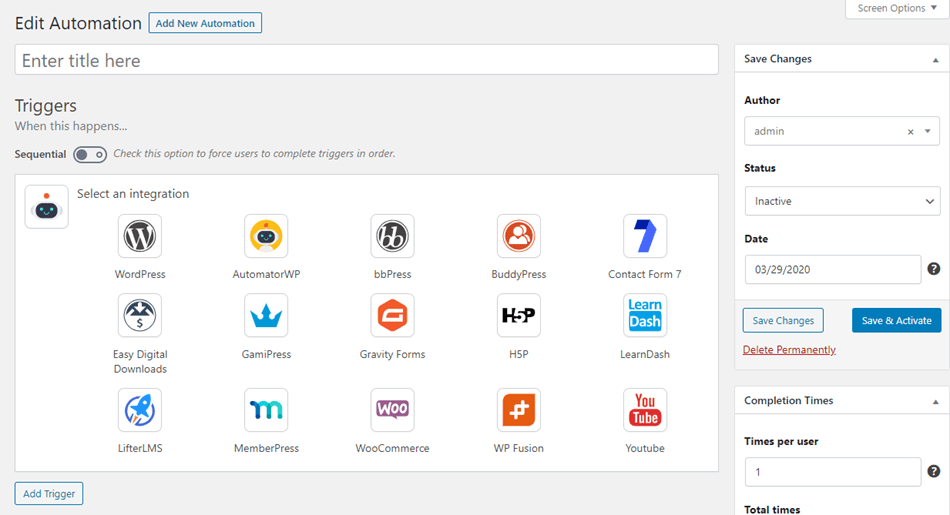 Conclusion – Are you still confused about which WordPress course management system plugin you should choose? If you are looking for free, then you should try Talent LMS. You can also select its premium version if you grow. But if you are looking for premium, then the most trusted online eLearning plugin is Learndash.