14 Best WordPress Learning Management System Themes 2020
Are you looking for Best WordPress Learning Management System Themes? LMS themes are the best way to sell courses online. There many online course WordPress themes but are they all worth? So many themes have only one design template or have some complex design. So we had collected the top LMS themes which have better user-defined option and flexibility.
You can use these themes for education purposes like Academy, Coaching centers, Educational Training Centres, Schools, Corporate training, MOOC platforms, colleges, and universities. Even if you can combine it with LMS plugins to increase their functionality more. These WordPress LMS themes are used by e teaching instructor or any educational institution. These WordPress Learning Management System Themes are so awesome designed will look like similar to Udemy, Coursera skillshare or masterclass
LMS websites are the best way for the people who want to start their own online learning courses website. Most of these Education WordPress Theme are premium and worth buying .  So many people try to find free learning management system
What are the features you should look before you buy your online course WordPress theme?
Regular Update
Easy integration.
SEO Friendly –
Must have beautifully designed to attract students.
Should have proper documentation.
They must provide proper support.
Faster loading – Can be managed by using proper hosting like Kinsta
Membership option to sell the course
Must be compatible with Learning Management System Plugins if required to increase feature.
Quiz and assignment option with certificate and badges option should be there.
Should have better recurring subscriptions or one-time payment option inbuilt.
So let's have the list of some of the top WordPress LMS themes are as follows.
1. LMS WordPress Theme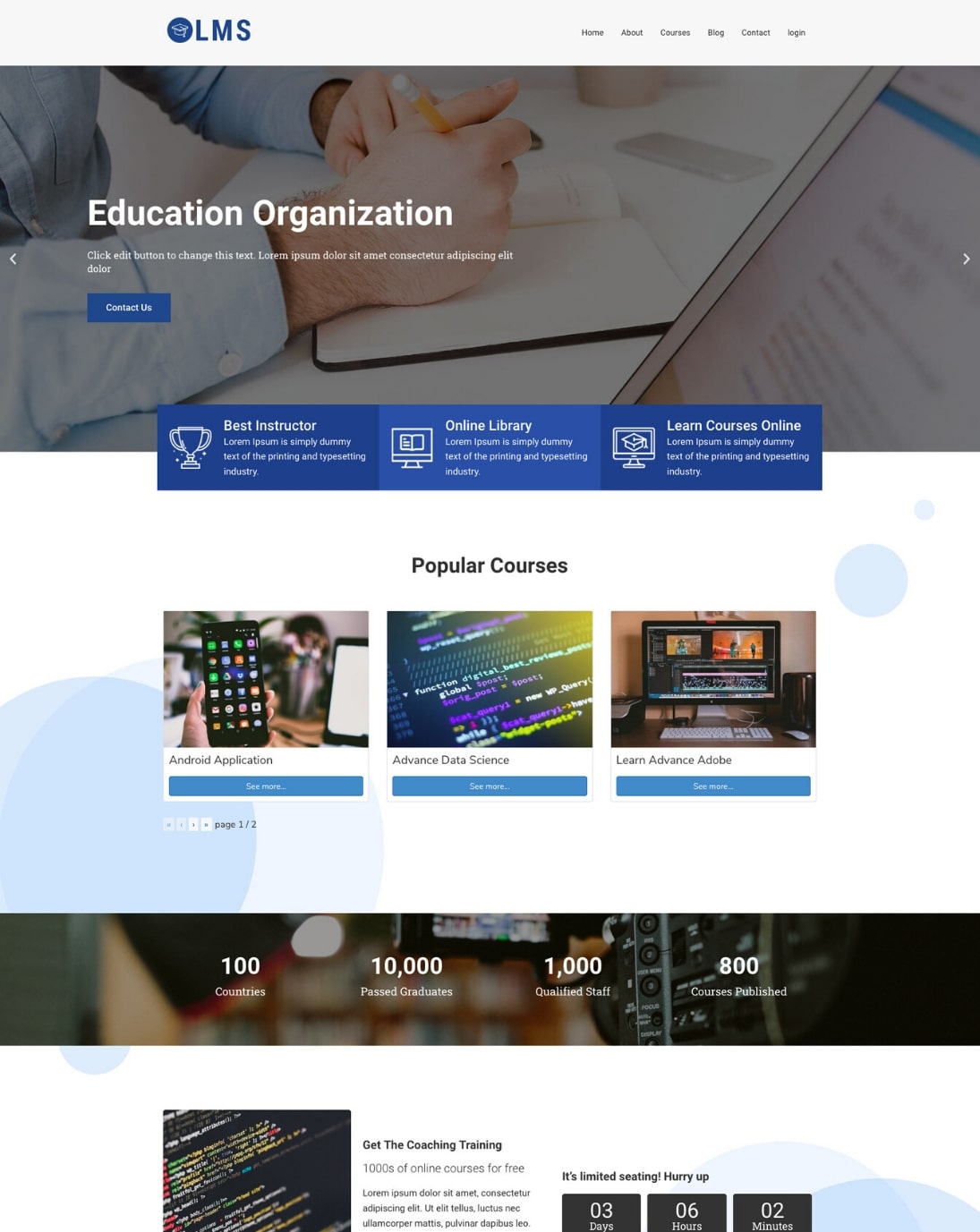 LMS theme comes with a feature where you can build membership and sell it through your online learning platforms. It comes with some great attractive designs to make it look interesting for your students. You can make changes with the look of your site as it had various theme skins and typography choices to offer you with. This LMS theme is built and designed by Cyberchimps
It has some of its highlights :
Using this theme you can easily create an online learning system and one of its main features is that it will create a smooth experience for your students as this theme does not allow any interruption to students while they go through the material.

it also displays information related to the course like content, features at one place so as to help your learners out.

this theme allows with an option of writing views where students can write their reviews, which will gain reliability to your course.

Moreover, it gives an idea of future courses to make students ready for the next course.
Pricing  – $47/Yearly
LMS
 Hosting 
2. Skillate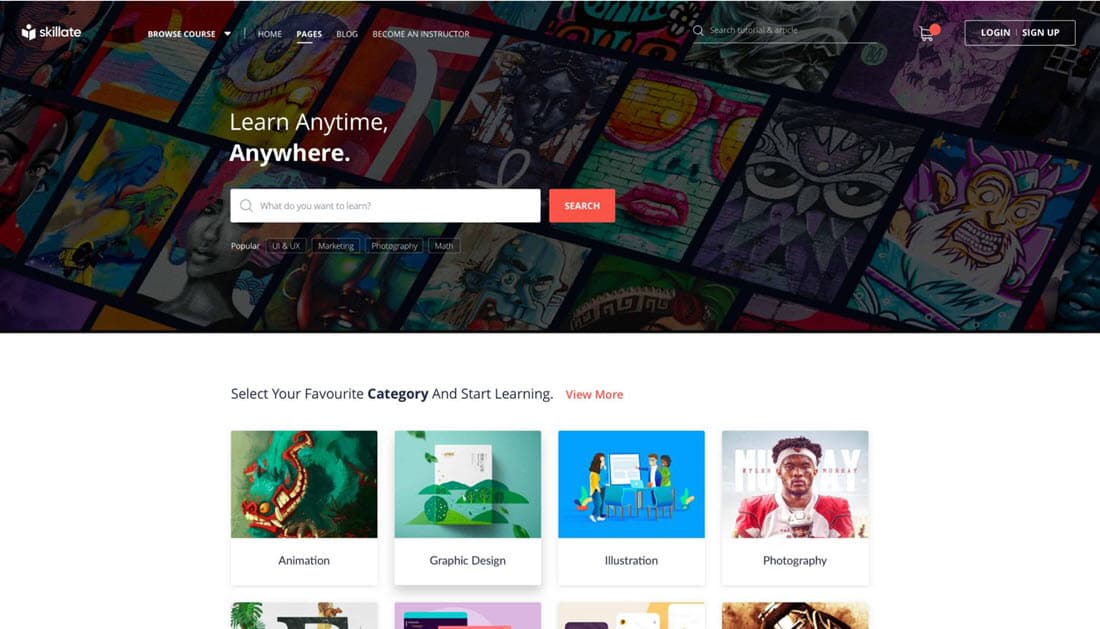 Skillate theme is one of the LMS WordPress themes which is convenient for all users, as it builds mobile-ready web pages which means students can learn courses conveniently through their mobiles. Also, it has a feature of navigation which helps students to find their desired course. Here are some of its highlights:
the best part is that it allows a smooth payment process.

It attracts instructors from different corners to keep up in course.

This theme provides you a helping hand in building a powerful profile of the instructor, which will help you gain more and more students.

It provides you with a feature of 'instructor badges' which reveals the high quality of the instructor and will help in earning the trust of your learners.
Pricing  – Single License $79
Skillate
 Hosting 
3. LearnMate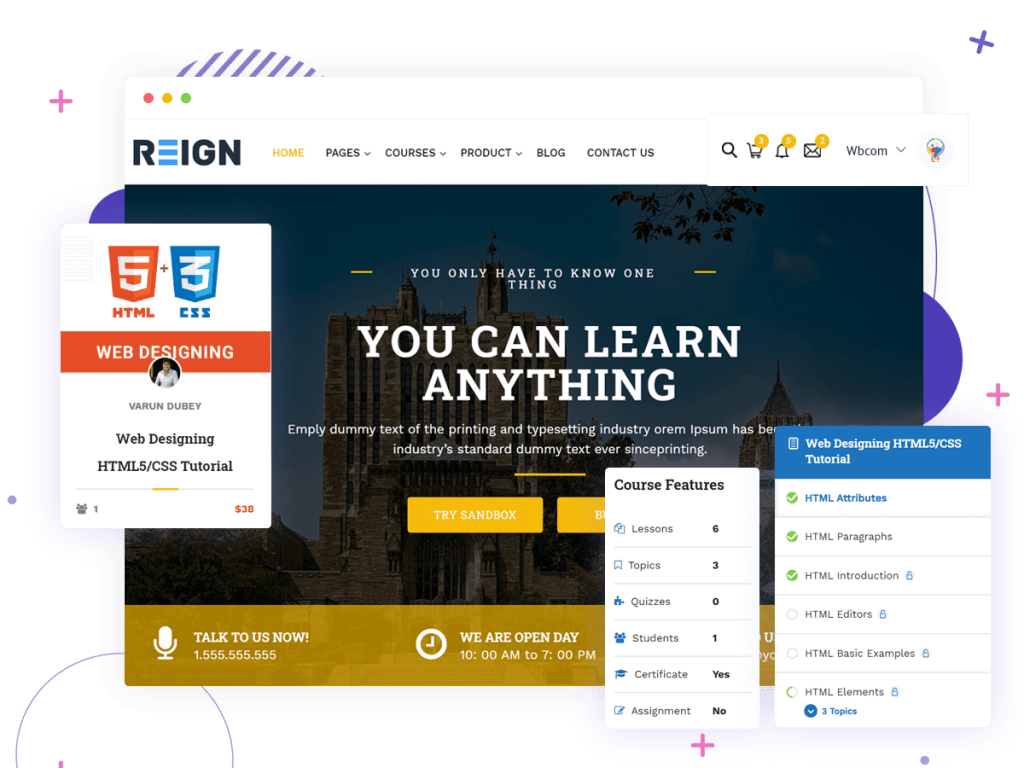 LearnMate theme helps you to control your website. It collaborates with Learndash, which helps you to build and sell courses, handle your users, and so on.
This theme is helpful in the process of communication by sending information through emails. They built-in system for sending email 

It makes the course learning process smooth by organizing groups of students when a leader is alloted to handle the group.

It provides you with the facility of introducing points, certificates which act as rewards, to uplift your students.

Moreover, it allows the process of interaction with your students.

With this theme, you can handle your paid and free courses smoothly.
Total number of user  – 18700+ 
Pricing  – 69$ 
LearnMate
Learndash add ons
4. LMS WordPress Theme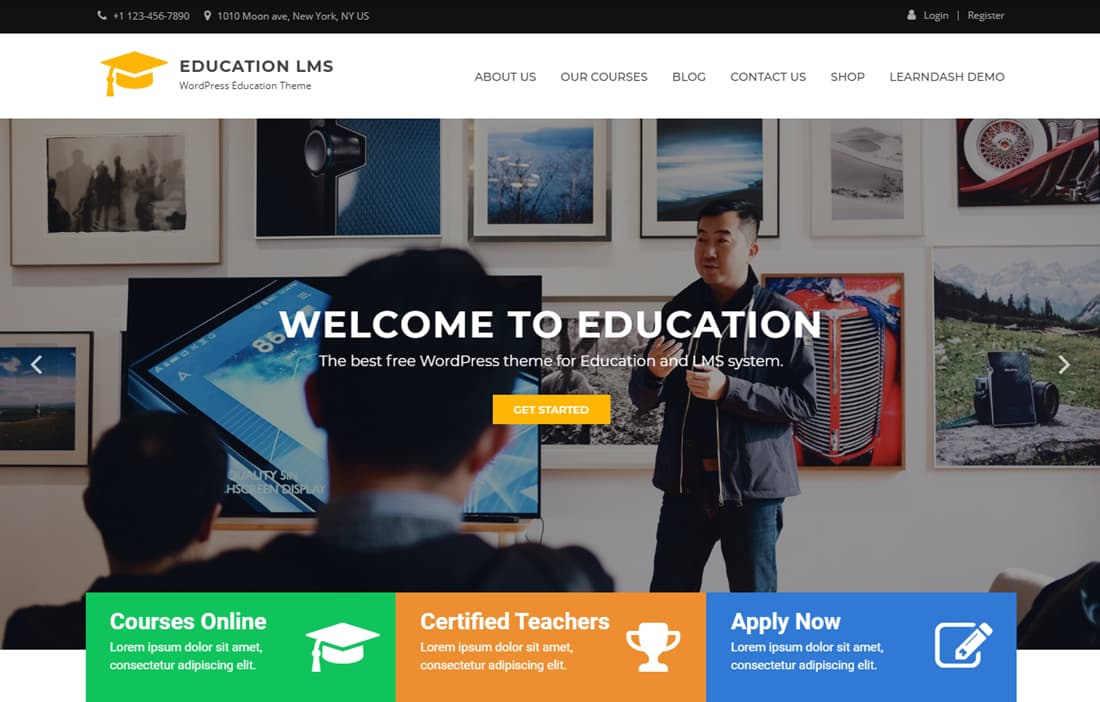 If you want free learning management system theme that is receptive, easy, and upstanding and could be easily accessed by every user then this is the right theme for you. When collaborated with Learnpress and Elementor plugins, it smoothens the process of selling courses online. Now, there are two versions of this theme: Free and pro.
Here are some highlights of the free version :
with the help of this, you can easily impart knowledge to your students, as it simultaneously works with the translation process, so that the students would not feel confused.

It provides you with endless slides.

They provide a feature of a demo of the content.
Now, there are some features of the premium version which you would not get if you avail the free version :
it provides you with the facility of a variety of colors to attract more and more students.

there is a support facility available, in case you need help regarding the use of the theme, which is otherwise not available in the free version.

It provides you with more than 500 fonts of Google, to make sure that students are attracted to your portal.
Total number of user  – 5000+ 
Pricing  – 69$ 
 WPLMS
 Hosting 
5. WPLMS
WPLMS is a WordPress learning management system that has been developed by VibeThemes, and the only WP LMS system with a mobile app. It comes with a phenomenal support system that is updated on a regular basis. This e-learning themes suite is suitable for Educational Training Centers, Coaching Centers, Course tutors, Colleges, Academies, and Universities. You can create and sell courses online, or even shape your own e-learning academy or online business using WPLMS.
WPLMS is a robust platform that is extensively used by both beginners and fortune 500 companies. The Educational theme is packed with features like – Front-end course creator, Front-end course management, user dashboards( to track the progress of students), etc. The theme offers a superb quiz platform, user-friendly interface, and reliable customer support to create your online courses.
Total number of user  – 18700+ 
Pricing  – 69$ 
 WPLMS
 Hosting 
6. Education WP
Education WP Theme is a very popular theme on ThemeForest that is exclusively designed for educational web, LMS, Training Center, Universities, Kindergarten, and other academies. It is based on the previous theme eLearning WP, hence has all the qualities of the previous theme but with a better UI/UX. 10+ pre-built demos, events booking and management, mega menu support and WooCommerce, BuddyPress, and bbPress support are some amazing features supported by the Education WP theme.
It is a fully responsive theme that supports two visual page builders viz. Visual Composer and SiteOrigin Page Builder. You will get all the premium add-ons along with the purchase of the theme.
Total number of user  – 15300+ 
Pricing  – 69$ 
 Education WP
 Hosting 
7. University – Education, Event and Course Theme
University is a conventional LMS WordPress theme on Themeforest and hence the first choice of most of the formal educational institutions. It offers a wide array of features like slider support, responsive design, Facebook and Discus comments integration, event management, course management, and many more.
University extends 7 homepage demos that can be integrated very easily to your e-Learning website. Themes can be customized and layouts can be created with its options panel and drag-and-drop page builder respectively. University is maintained by Cactus Themes and it is fully compatible with LearnDash.
Total number of user  – 900+ 
Pricing  – 49$ 
University 
 Hosting 
7.University of College Education
University WordPress theme (University of College Education) is a robust, significant, flexible, and contemporary WP educational and LMS website theme. It is a highly responsive theme that can be used to create Online Courses, Teams, Events, galleries, and many more for your institutes.
The theme is focused on creating a complete course management system that assists you in creating online courses such as Course Schedule, Pricing, Descriptions, and Courses Features. You can design your site using the power-pack of theme customization options of UOCE. The theme is full compatibility with SEO latest techniques and offers multilingual translation through the WPML plugin.
Total number of user  – 4500+ 
Pricing  – 59$ 
 University WordPress theme
 Hosting 
9. LMS
LMS is a versatile Learning Management Theme for WordPress. It offers some magnificent features like allowing you to create a teacher's profile based on quality, online courses, lesson management, video hosting, quizzes, and extended user profiles.  The progress of individual courses can also be tracked.
Its a concrete training website compatible with WordPress, BuddyPress, Sensei, WooCommerce, MailChimp, Event Calendar, and WPML. Besides, pages can be created for your site by the aid of Visual Page Builder. LMS allows modification of almost every setting. The drag-and-drop technology simplifies things further.
Total number of user  – 4300+ 
Pricing  – 59$ 
 lms
 Hosting 
10.Guru
Guru is a resourceful woocommerce theme designed to impart Learning Management Services. It is compatible with Sensei, WooCommerce, BuddyPress, WPML, Event Calendar, and MailChimp. Guru offers features like quiz systems, lesson management, video hosting, rating and ranking systems, and extended user profile. This theme is easiest for building LMS website.
Online stores can be created with the integration of WooCommerce. Guru is a reliable, engaging, and facilitating theme which is focused on the user's learning experience. The Visual page builder and drag-and-drop technique of Guru are the user-friendly customization tools. Besides, it is fully compatible with WPML. Its multilingual site engages an international audience.
Total number of user  – 1400+ 
Pricing  – 59$ 
 Guru learning management
 Hosting 
11. Clever Course
Clever Course is a trusted name when you want to create an LMS website. It finds extensive use in the pages of schools, colleges, universities, and other academic institutions. Clever Course can easily segment the online courses into distinct sections. Quiz sessions for students can also be arranged.
This theme is a learning adobe for both students and site users. Clever Course has PayPal, Stripe. PayPal and Authorize.net as the supported payment methods. Students can be officially certified on course completion and if the student fails, then you can decide on the number of reattempts that will be allowed. For the starters, its easy demo importer is a boon.
Total number of user  – 3800+ 
Pricing  – 63$ 
 clever course
 Hosting 
12. Academia
Academia is an Education Center WP theme that literally offers you to build any kind of website.  you can build it with its pre-built templates. This theme has many premade templates of high school WordPress theme and college theme. Academia is a fully responsive website that is built using the latest HTML5 and CSS3 web standards.
It features bundled plugins, visual composer page builder, and revolution slider. The theme accompanies 3 different headers, 3 footers, and 4 layout headers for mobile. The setting for each page or post can be managed using the power of Mega Header and Footer Styles. Any part of the website can be customized easily with its advanced theme options and website demos can be built without any coding requirement.
Total number of user  – 671+ 
Pricing  – 60$ 
 academia
 Hosting 
13. University
University Learning Management System is a simple yet trendy theme for WP websites. The fully customizable theme enables you to create a peerless personal website. Innumerable lessons, courses, and topics can be created by the site owners.
Examination platforms can be set where the students can take quizzes and upload their answers, and in turn, the site owners can select passing grades and upload lessons and tests. University incorporates the Revolution slider plugin that can showcase the project's highlights and create unmatched slides. University is SEO-synchronized, hence increasing the chances of being noticed.
Total number of user  – 5298+ 
Pricing  – 49$ 
University
 Hosting 
14. Course Builder
Course Builder is a WP LMS theme for teachers, education centers, instructors, schools, and universities. The multi-purpose theme can help to create and manage your online course website. You do not require any coding knowledge while creating the educational platform. The well documented and responsive theme helps to maximize conversion rates.
You can create online courses with videos or text lesson contents, quizzes, multiple question types, certificates, comment systems, email notifications, and many more, through the persuasive theme. Course Builder offers fast customer service.
Total number of user  – 3000+ 
Pricing  – 4.49$ 
 Course Builder
 Hosting 
Conclusion – Still confused about which Learning Management System WordPress theme you should buy. I recommend you LMS or Skillate. Because that has so many features like course management, easily built-in feature quiz and assignment, etc, etc. But you can rest among the rest options also because they alternative for it. And let me know which LMS theme you are going to buy.