10 Best WordPress Project Management Plugins 2022
Are you looking for the best WordPress project management plugins? These task management plugins will help you to do future planning by storing data in one place. You can easily manage, organize tasks or projects using this plugin.

So many times we have seen that when we get lots of jobs we forgot some of the works if it is not properly managed. And it will lead to a loss in the company. So proper planning and strategies help you to complete work within the deadline range and budget. When you are in big companies you need to work with a large group team and that needs proper collaboration to work and function properly. Even your work managers need to manage other works like team allotment, project allocations, collaboration standard meet, and quality checks these things can be done using one WordPress task management Plugin.
You might be interested in https://www.gomahamaya.com//wordpress-crm-plugins/ & https://gomahamaya.com/wordpress-human-resource-management-plugins/
So let's have the list of some of the top project management plugins which can help us to finish our task on time are as follows:
1. Monday.com

Monday.com is an essential tool that assists your website to arrange either specific or usual projects systematically. To run the website widely you need to manage the various projects along with your teammates. Hereby, you can get access to create an environment of coordination and works hassle-free to streamline the projects in the right way.  Although Monday.Com is a well-integrated extension and has an easy-to-use interface that anyone can configure shortly within just a few clicks. Provides an automated functionality for managing the task and assigning the same among your coordinators to complete the project efficiently and effectively. Prepares an outcome of the projects then follow the strategies to deal with them wisely. Such a time-saving tool for the owner of a multi-store who just easily tackle the complexities of various projects at one place management.
Essential Features-
Let you prepare the plan and follow up the same while just enabling this amazing extension shortly.
Avails lots of ready-made exciting 100+ templates and also lets you generate your own easily in a few minutes to manage the timeline and assign duties thereby.
Automate the task which you continuously work on and save your time as well as eliminate the error while performing the same next time.
Arrange the data of your projects in a specific map, timeline, calendar, and more.
Price – Basic – $96/annually,  Standard – $120/annually,  Pro – $192/annually
Screenshot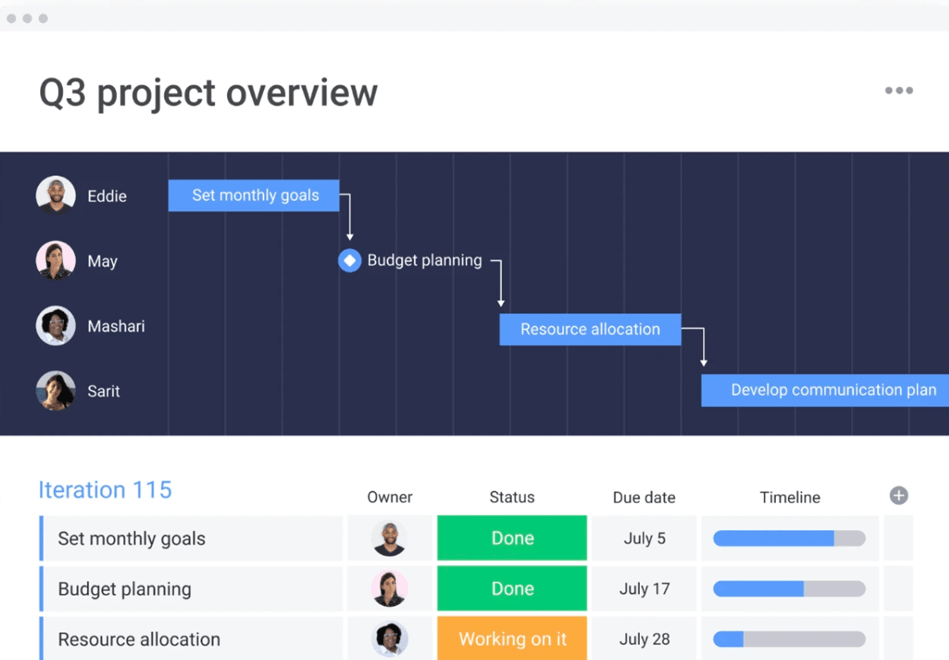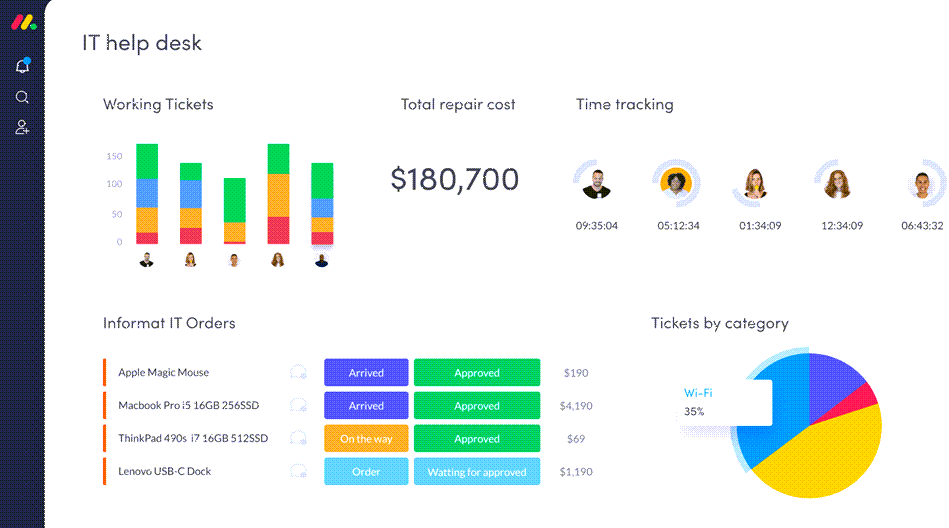 2. WP Project Manager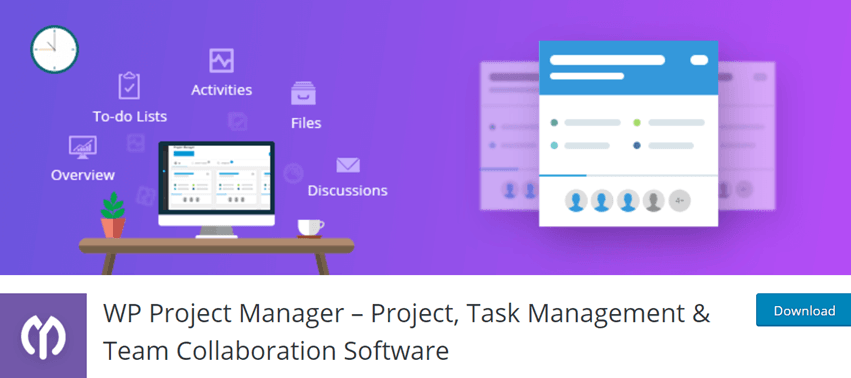 WP Project Manager – A Smart Project Management Tool that looks after every aspect of your relevant projects. Either schedule the project or collect reports from your teammates everything actively is diversified with the assistance of this extraordinary WordPress Plugin. Moreover, it is designed with an intuitive integration that easily is managed while you hold the responsibility of various projects at once. Let you distribute the workforce among your coordinators whoever is eligible to complete the task effectively. Contains an organized frontend functionality whereby your users oversee the detailed view of ongoing projects.  Such a lightweight and feature-enriched plugin to manage distinct projects and tasks without any complexities. Access the real-time notification while any update occurs into managing the project.
Core Features –
To-do Lists – Manage the multiple users working on the same projects while you may prepare unlimited to-do lists which let the assign duties, date for completion, collecting data, progress report, commenting accordingly and so more.
Sharing Documents – Allow your co-workers to share the file, messages, or any relevant document to complete the project wisely and so on time too. Eliminate the risk of missing communication which may hold your project's status pending.
Notification – Let your coordinators easily be notified through the text, and email whenever any new update occurs on existing projects and assign new projects as well.
Total number of users – 10,000+
Price – Presonal – $79/annually (1 Site),  Professional – $149/annually (5 Site),  Business –  $249/annually (10 Site)
WordPress Project Management: WP Project Manager Demo (Updated)
Screenshot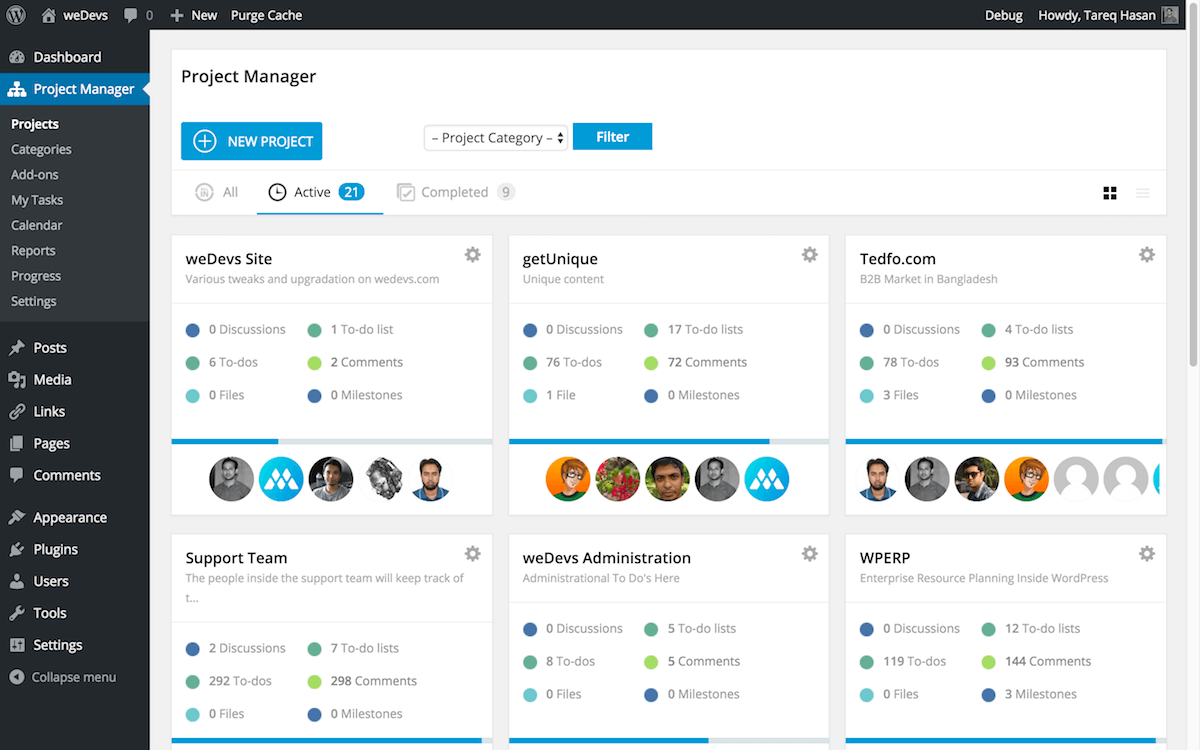 3. Panorama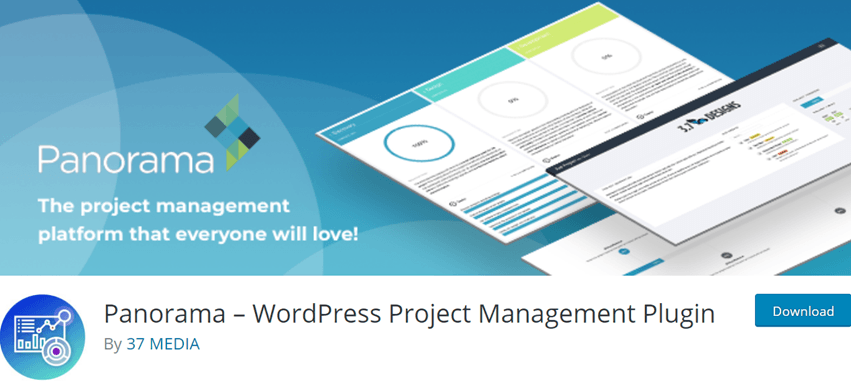 Panorama is an organized WordPress extension for managing projects with more convenience and advanced functionality. Arrangement of the task management and distributing the duties to the deserved teammates, all go on smoothly while you install Panorama. Moreover, hereby you may represent the clarity to showcase the projects so well in front of your client and the coordinators as well. While your clients view the project's clarity like when and what to do next they assure for the investment they want to make thereby. You will effortlessly manage the time limitation, documents, project status, milestone notifications, and a lot more which is necessary to follow up the project. Although, Panorama automatically arrange the timing to complete the project and assign the same to whoever takes that responsibility.
Integrated Features –
Update and impress your audience while introducing your project's portals on the website without doing a lot of effort.
Eliminate the stress of handling notification, call, meeting schedule, and more while replacing such functionality on-time update that means everyone already knows what's going on with efficient dashboard presentation.
Let you manage the unlimited projects and tackle the responsibility of unlimited users hassle-free thereby.
Total number of users – 1,000+
Price – Presonal – $69/annually (1 Site),  Agency – $99/annually (5 Site),  Enterprise –  $119/annually (Unlimited Site),  Lifetime –  $299/OneTime (Unlimited Site)
Screenshot

4. Projectopia

Projectopia is a simple and effective Project Management Plugin for WordPress that helps you manage your clients' projects and communicate with them and your team effectively. This plugin was formerly known as CQPIM. Projectopia, a utopia of project management for WP is a tool that helps to run your business with full efficacy. The plugin provides a complete solution to all the requirements to establish efficient communication between your clients and your team. It enables you to properly organize your project details and information in one place so that you can access it easily whenever you want.
Features
Form builder- the plugin comes with a powerful form builder that helps you create attractive quotes and lead forms for your WordPress site.
Online payment gateway- Projectopia supports multiple payment gateways such as Stripe, 2checkout, and PayPal. Thus, you can easily accept payments from your clients through a gateway of your choice.
Workflow control- You can check the project status, milestones, quote status, and invoice status, well organized with a workflow.
Client Dashboard- the plugin comes with a super clean and user-friendly client dashboard, where you can easily view your client's project, quotes, support tickets, and invoices, and manage the project progress. The clients can also allow access to their team members through additional logins.
Support tickets- using Projectopia, your clients can raise support tickets by easily integrating with your email service provider or by filling up the support form.
Price – Regular License – $39/annually (1 Site)
Screenshot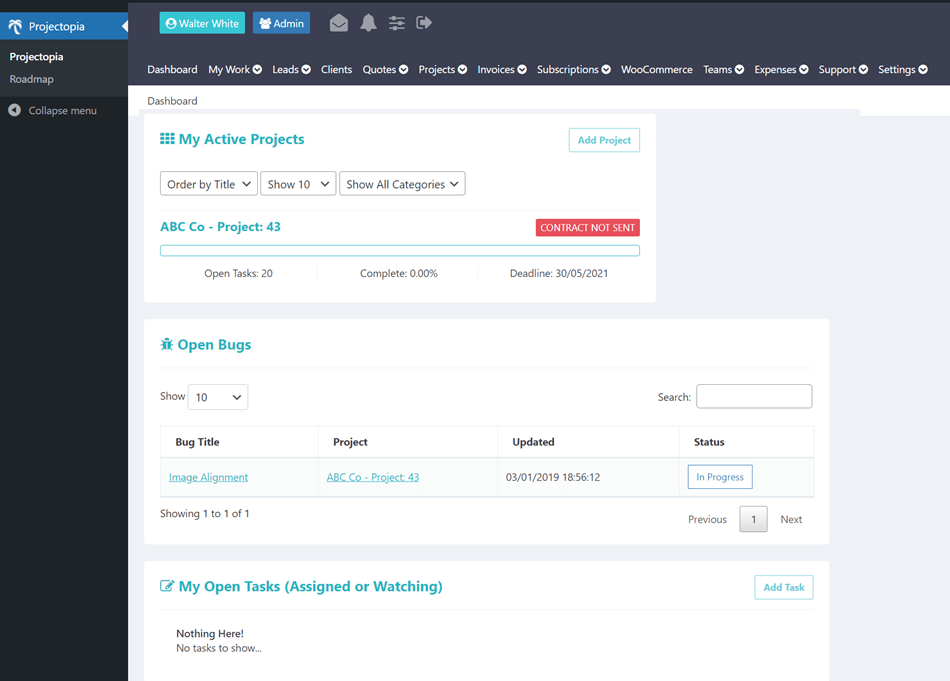 5. Business Manager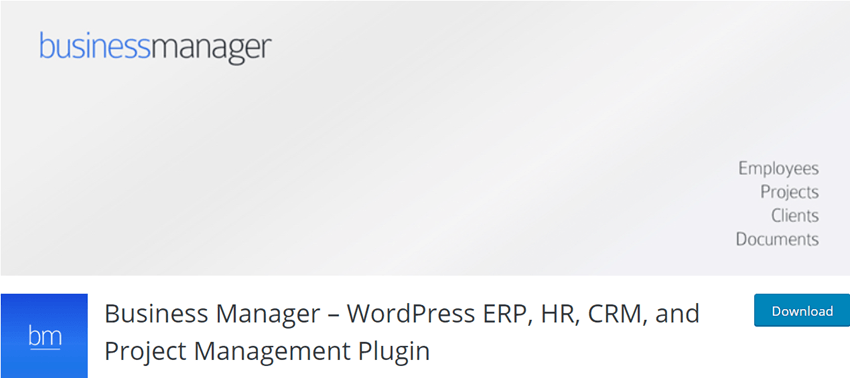 The business manager is a WordPress project, HR, ERP, and CRM management plugin that helps you manage your client's projects, leads, employees' details and also help you store your important files and documents, thus, help you effectively employ ERP and Business Management System on your WordPress site.
As a project management plugin, it enables you to assign the projects to your team members, track the project progress and keep detailed notes of your project. You can also manage the documents; assign documents to specific departments, and track changes, all using the Business Manager.  You can also store the details of the progress of your project as the project develops.
Features
You can easily organize your projects by categorizing them into special types and by status.
It comes with advanced drag and drop kanban boards that help you effectively manage individual projects.
The plugin also allows you to store all your project-related important documents and files.
Business Manager also enables you to assign projects to your employees and communicate with your clients in a better manner.
You can easily track your project details and progress. Thus, it enables you to share with your employees the progress of the project and the estimated due date.
Total number of users – 500+
Screenshot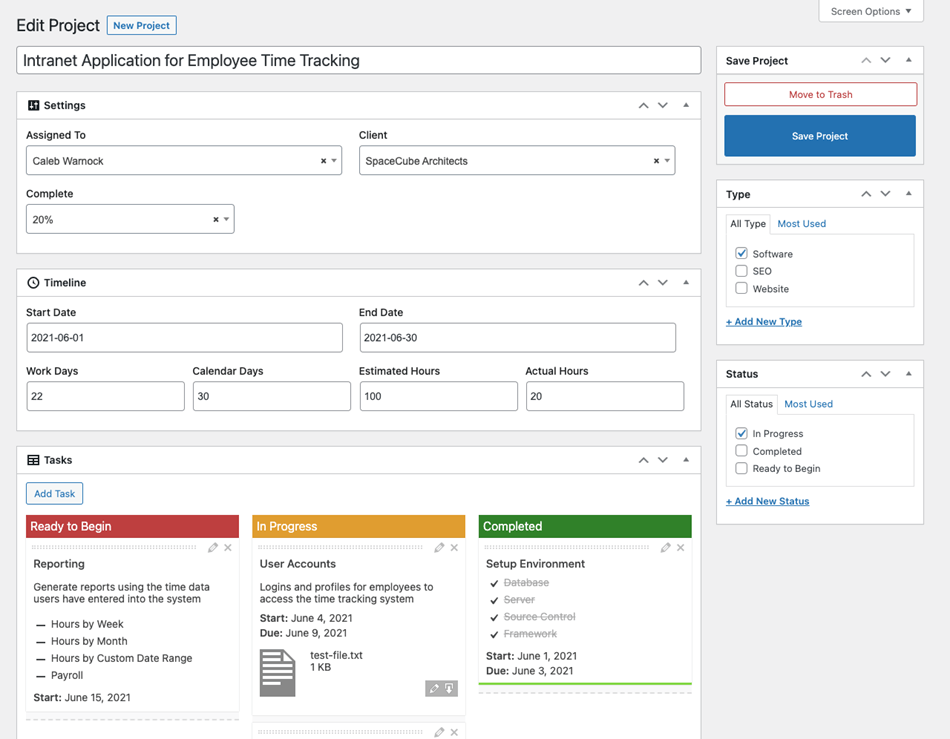 6. Zephyr Project Manager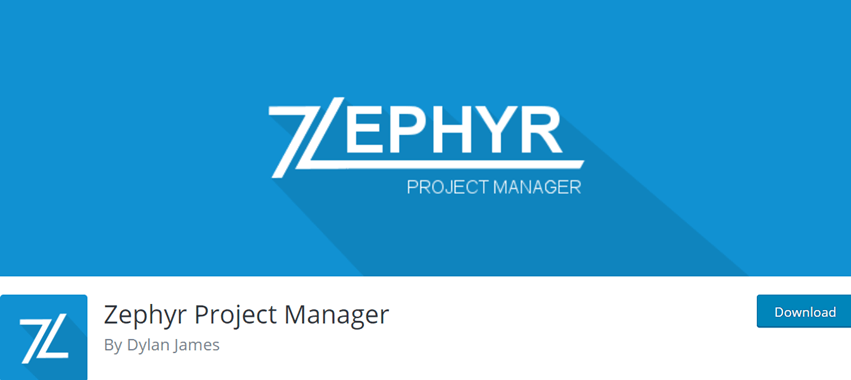 Zephyr Project Manager is a plugin explicitly designed for project management within WordPress. The plugin is developed by Dylan James and they have a large team to actively maintain the plugin. The outstanding feature of WP Project Manager is that you do not have to log in to any external site, rather, you can move your management functions in-house within your WP website.
The features of WP Project Manager help you effectively run a site, like projects can be easily added from inside WordPress, team members can be collaborated based on the user levels, the calendar function helps you overview your project list, role assignment to users can be done, you can track the current statuses and milestones and archive completed projects.
Additional features include the ability to send messages about projects with attachments and add comments to them. The premium version of the plugin is available for $79/year and provides features like front-end features, priority support, and unlimited users and projects.
Total number of users – 1,000+
Screenshot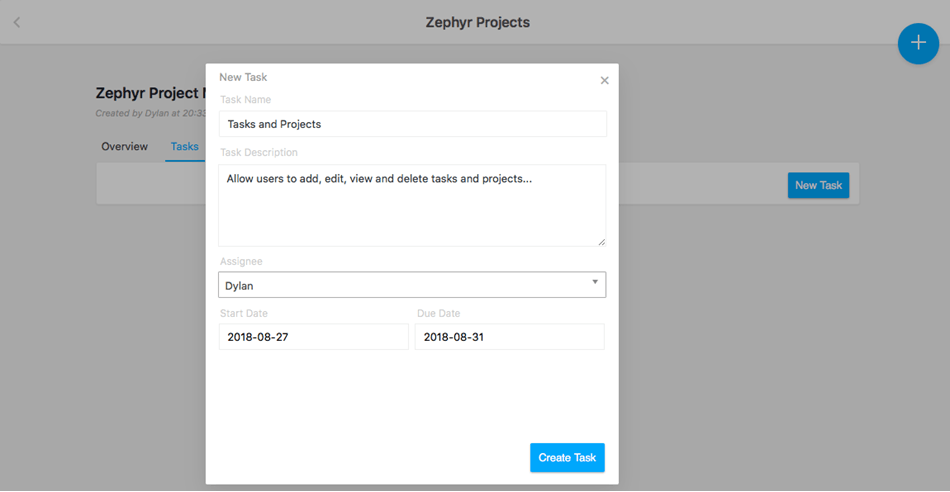 7. Kanban Boards for WordPress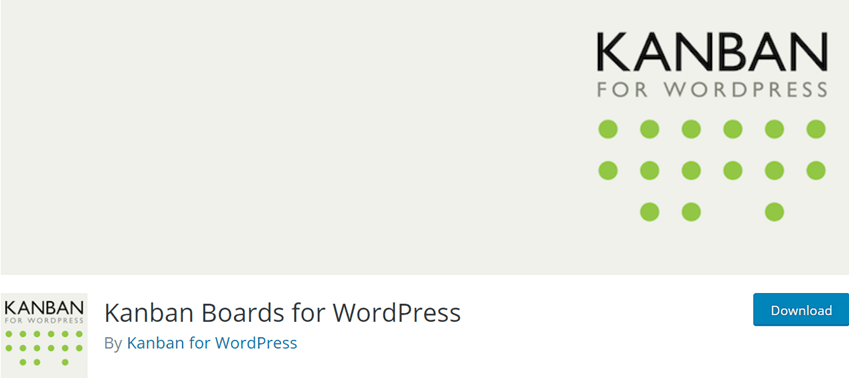 Kanban Boards is a vigorous project management tool. However, they also offer features related to CRM, sales tracking, publishing content, and hiring employees. It integrates well with popular WP plugins such as Gravity Forms and Ninja Forms.
The project management features of Kanban Boards are easy installation, multi-site support, assignment of tasks to team members, grouping the task by projects. The plugin is fully optimized for mobiles. Besides, it can manage user permission, offer multi-lingual support, and to the point editing facility. Kanban Boards also offer custom views for bookmarking. Multiple boards, advanced user management, task comments, task color, and task attachments are available as premium add-ons of the plugin.
All your business processes can be streamlined as Kanban Boards help you to amalgamate all the information at one place which can be accessed conveniently at your own WP website. The extensive features of the plugin include powerful settings and workflow control, separate client dashboards, dashboard alerts for quotes, invoices, tickets, etc., quotes and estimates section, project templates, timelines, and milestone tracking, and many more. The plugin also supports tickets.
Total number of users – 1,000+
Screenshot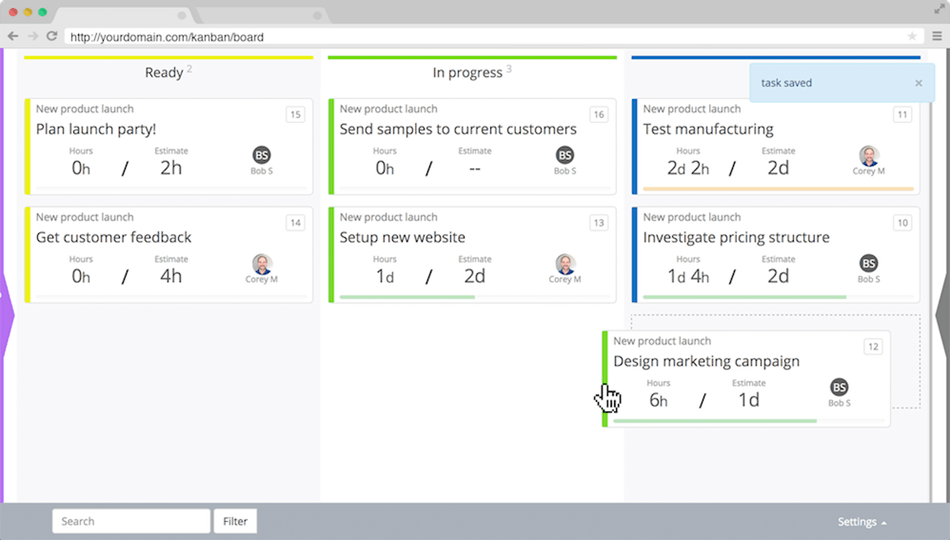 8. Software Issue Manager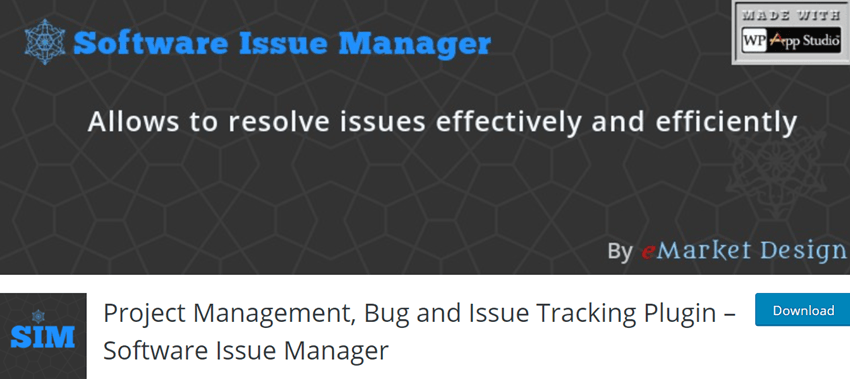 Software Issue Manager is an extensive plugin for managing various projects available on the website that leads to achievement. An intuitively designed extension that lets you promote the required share of the projects among the audience to get more web traffic thereon. Automate the workflow of the task for the specific project and schedule everything with the assistance of this plugin.
The concept of Software Issue Manager is a bit different from others for managing activities of projects. Hereby, the track record of projects is said to be issues that could be anything that falls under project management like feature requests, tasks, bugs, and more. Projects tackled by Software Issue Manager pose an identification name along followed by a version number. Moreover, the availability of registration forms right on the front end enables one to log in easily.
Integrated Features –
Easily access the data of your projects from any device and any time within a minute.
Customize the field and add as much as you require to mention the required data of the project very well.
Analyze and track the activity of projects particularly. Also, make an appropriate reporting of projects that contains detailed logs.
Restrict the access of projects that should be only available into the profile of registered admins.
Let you notify the member involved in the project managing process quickly via a strong communication channel available thereon.
Total number of users – 100+
Software Issue Manager Enterprise WordPress Plugin - Custom User Roles
Software Issue Manager Pro WordPress Plugin - Dashboards
Screenshot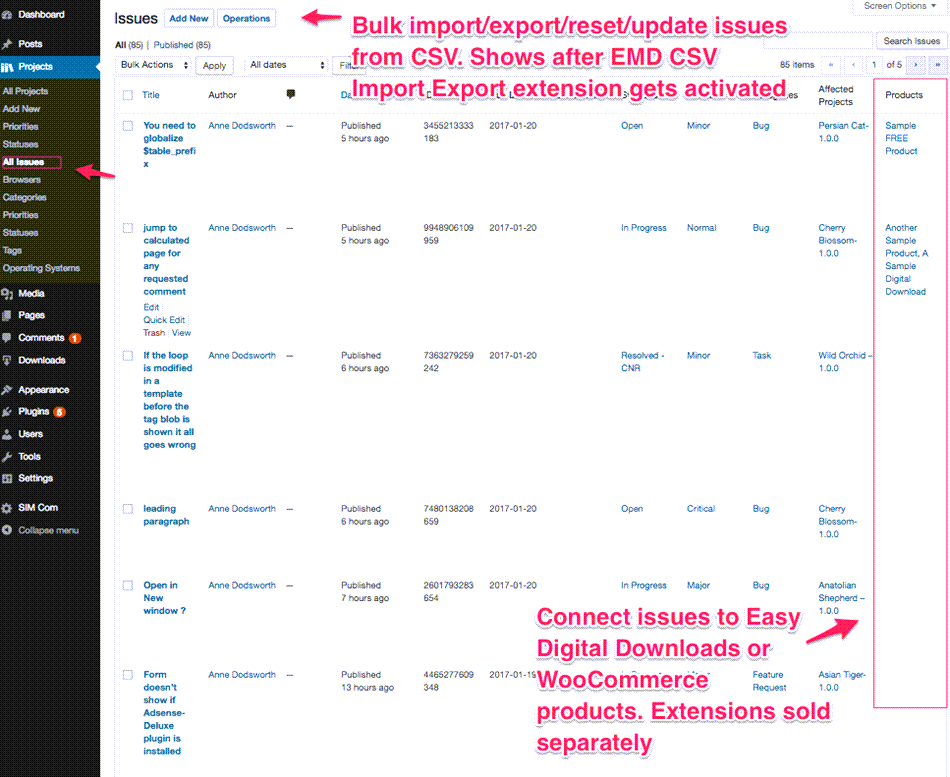 9. UpStream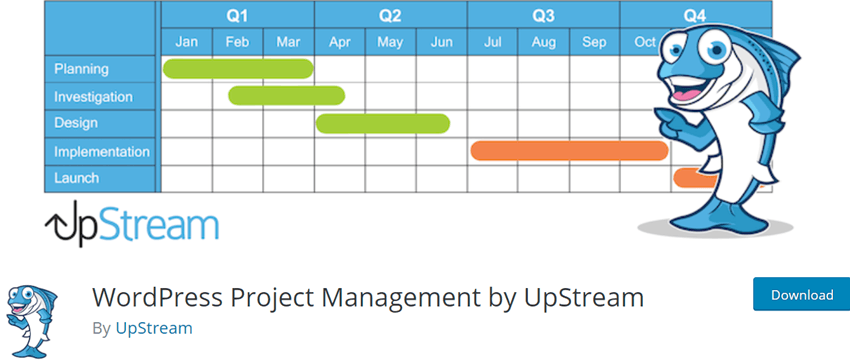 Upstream is a free project management plugin that enables you to manage any project with WP. It offers a common platform where the clients track the progress of the project via the front-end edit extension and on the other end, your team can see the tasks and bugs that are assigned to them. You can even extend the features available for your projects by the range of extensions it offers in its premium version.
Some of the features of Upstream are, assignment of tasks and milestones that can also be linked, tracking bugs and issues, uploading files and documents, auto-track progress, and customizing fields and statuses. Its transnational features allow you to manage projects in your native language.
With UpStream you can categorize your tasks, customize them and archive them on completion. Additionally, you can assign tasks to your team by email and ask them to populate the comment section with the date and time spent each day. Reports can be prepared using Task manager as you can download the task in text format and later can be integrated into reports. UpStream user shortcodes to display tasks anywhere on the page. it also allows users to give feedback, suggestions, or compliments Besides, its default comments feature allows you to discuss any aspect of the project.
Total number of users – 1,000+
Screenshot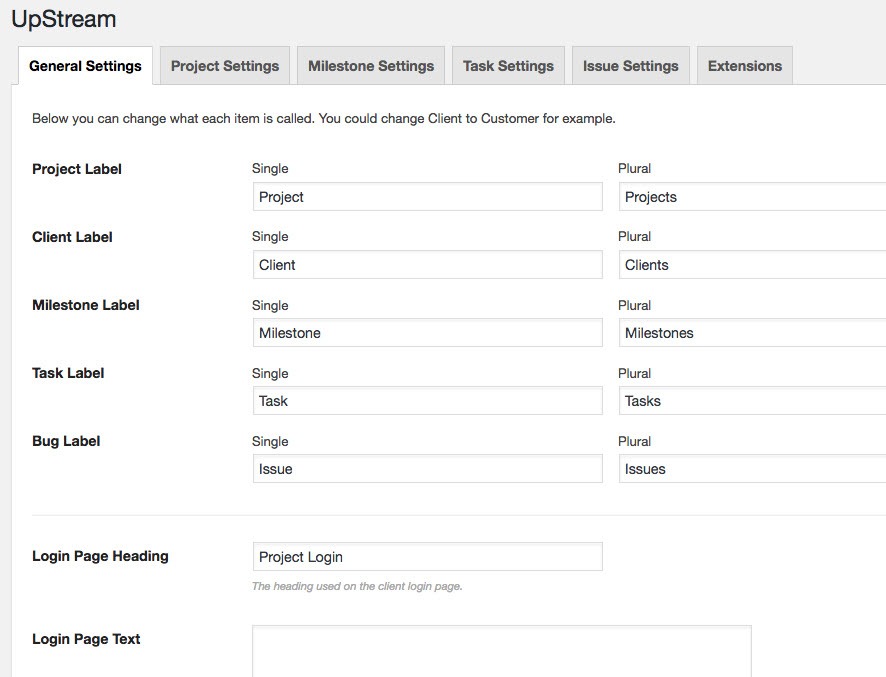 10. Task Manager Pro

Task Manager Pro – Task Management Plugin for WordPress is one of the best project and task management plugins for your WordPress site that helps you effectively manage and handle all your clients' projects. Task Manager by Eoxia is an intuitive project and task management plugin that enhances communication and team management capabilities. You can collaborate with your team to organize the tasks, assign users and manage their time. Using this plugin, you can easily update your users with the task and project progress and notifications. You can also add your project list or the project count on all your pages and posts in the form of shortcodes.
Features
The plugin enables you for easy creation of projects and tasks.
You can easily update the progress and status of your tasks and projects.
The plugin supports multiple languages.
It allows you to assign the projects and tasks to a specific user or a group of users.
You can manage tickets or add the tickets for specific users or contributors.
Using Task Manager Pro, you can display the total number of your projects and tasks and the list of your projects and tasks on the footer or sidebar.
Price – Regular License – $39/annually (1 Site)
Screenshot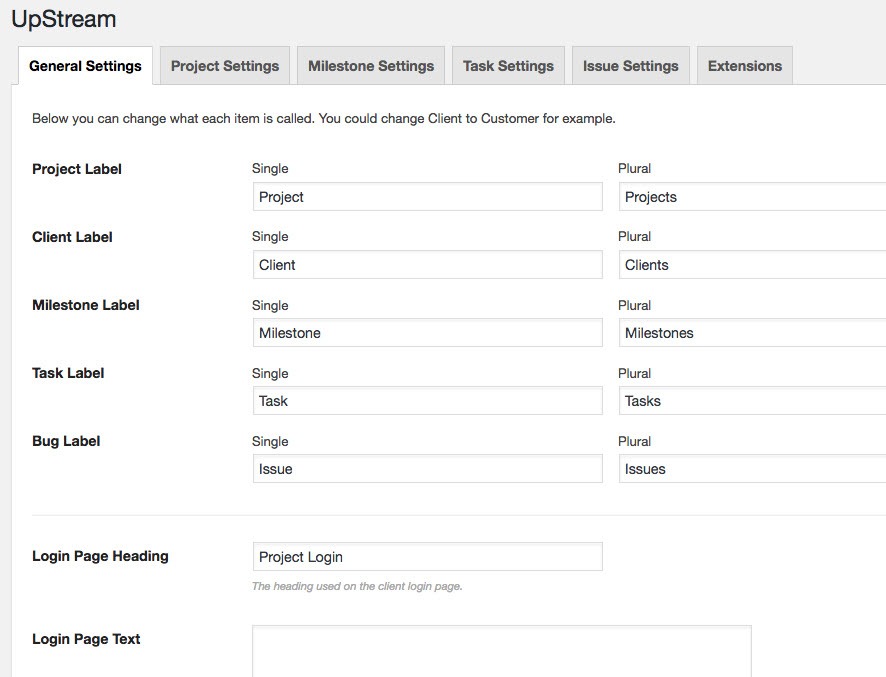 Conclusion – Still confused about which WordPress project management Plugin is good? If you are looking for free then you can try we devs project manager plugin but if you are looking for the premium we trust only project pro. That is worth each penny you spend.