9 Best WordPress Human resource Management Plugins 2023
Are you looking for Best WordPress Human resource Management Plugins? Managing Company information in one place was really too difficult for anyone. But by using the Hrm plugin you can easily manage your company data, locations and manage resources like employee payment, the number of employees, Designations, reports, announcements,  reporting attendance, and documentation.


Many tools in the market will help you to manage such work but keeping all the information on one page will help make your task easier and it requires fewer employees to manage. Even the integration will be quite easy. Some of the Plugins are so awesome like wperp hr that has deep analytics for your employee performance too.  You can even include project management options like task allocation and scheduling using project management plugins.
You may be interested in lead generation &  CRM Plugin
So let's have some of the top Human resource management plugins for WordPress are as follows:
1. WP ERP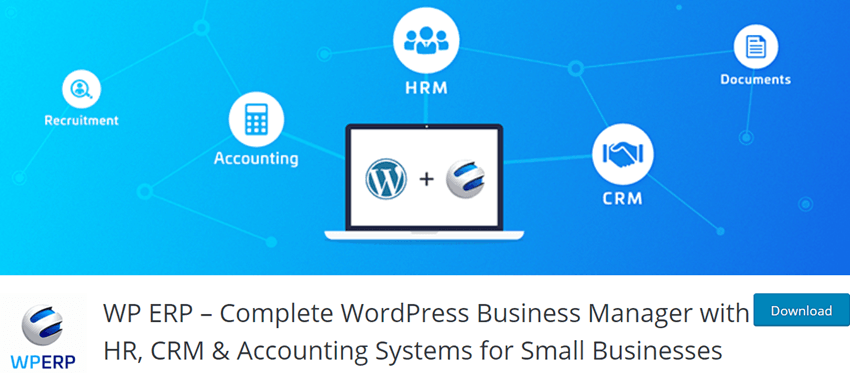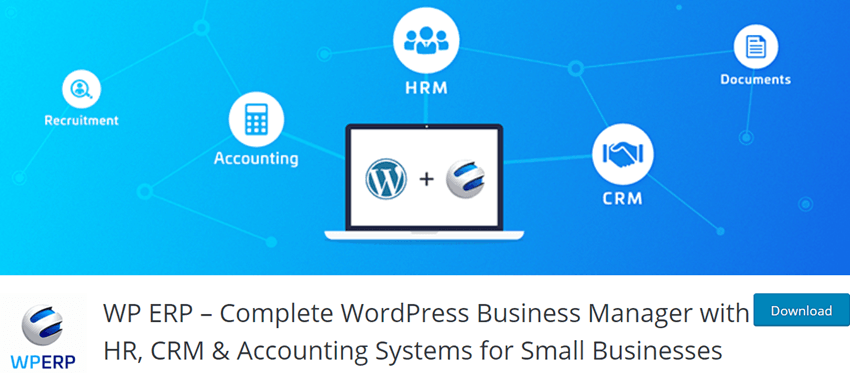 WP ERP is a well-integrated extension that provides complete business management from one place. Let you manage the different designations available in the prevailing business while recording every single detail on WordPress. Although, WP ERP lays out the effective fundamentals that manage the entire business activity as well as WordPress sites. Moreover, consisting of the elementary module that organizes the HRM and assists any kind of profession along with the WordPress integrity. Easily activates the extension within one click and contains a more intuitive interface that tackles the overall business attributes. Access your own company identity while creating a profile and arranging the data according to the necessity.
How WP ERP assists your HRM?
Confide the entire information of the company and assure more privacy.
Manage the Human Resource attributes including holidays, listing designations, leave approval, company policies, and so more.
Let you organize the employee's profile thereby along with an editorial alternative that updates from time to time.
Assists to create reporting and analytics of the available employee according to their relevant experience, age, salary, etc.
Provides you readymade templates to send email notifications to the employee with just one click right there.
Effortlessly create a well-oriented structure to manage the human resources of any business along with the WordPress accessibility.
Total number of users – 10,000+
Price – WP ERP Pro – $119/annually + $36/Per User
Screenshot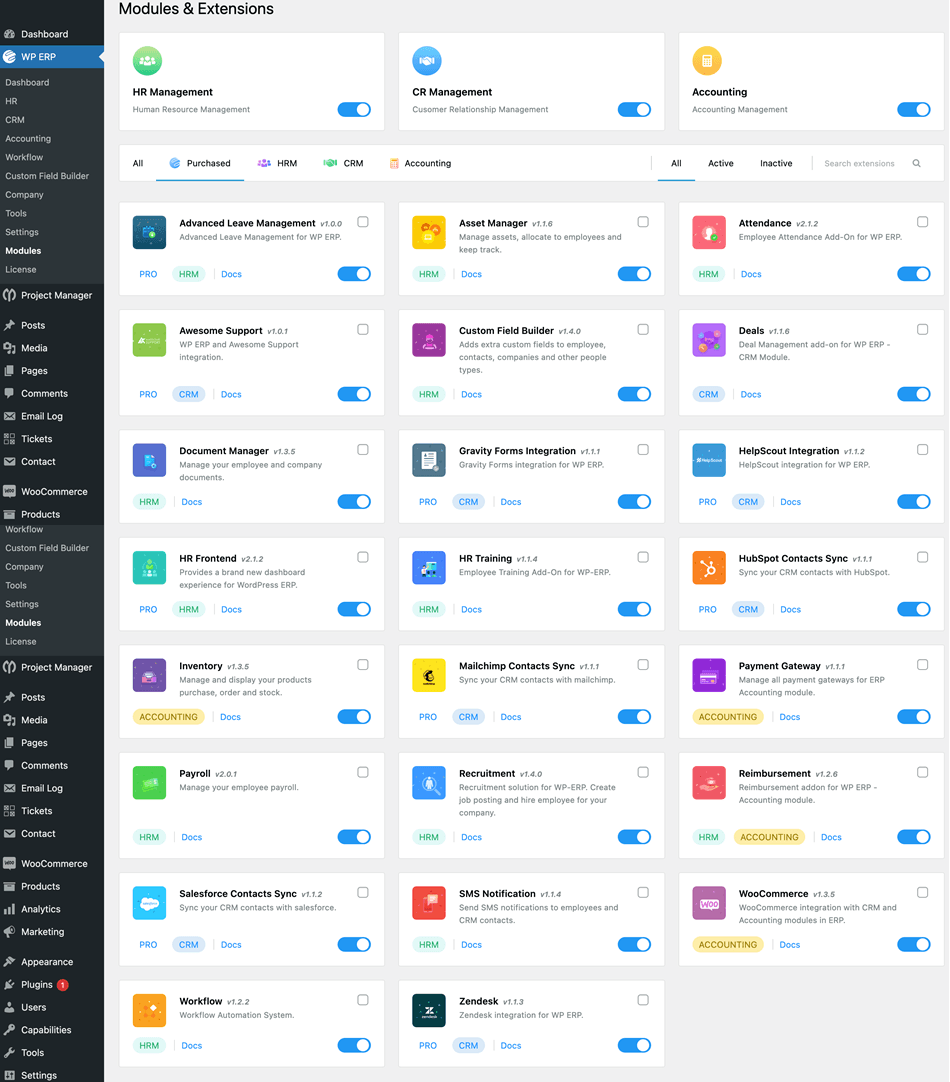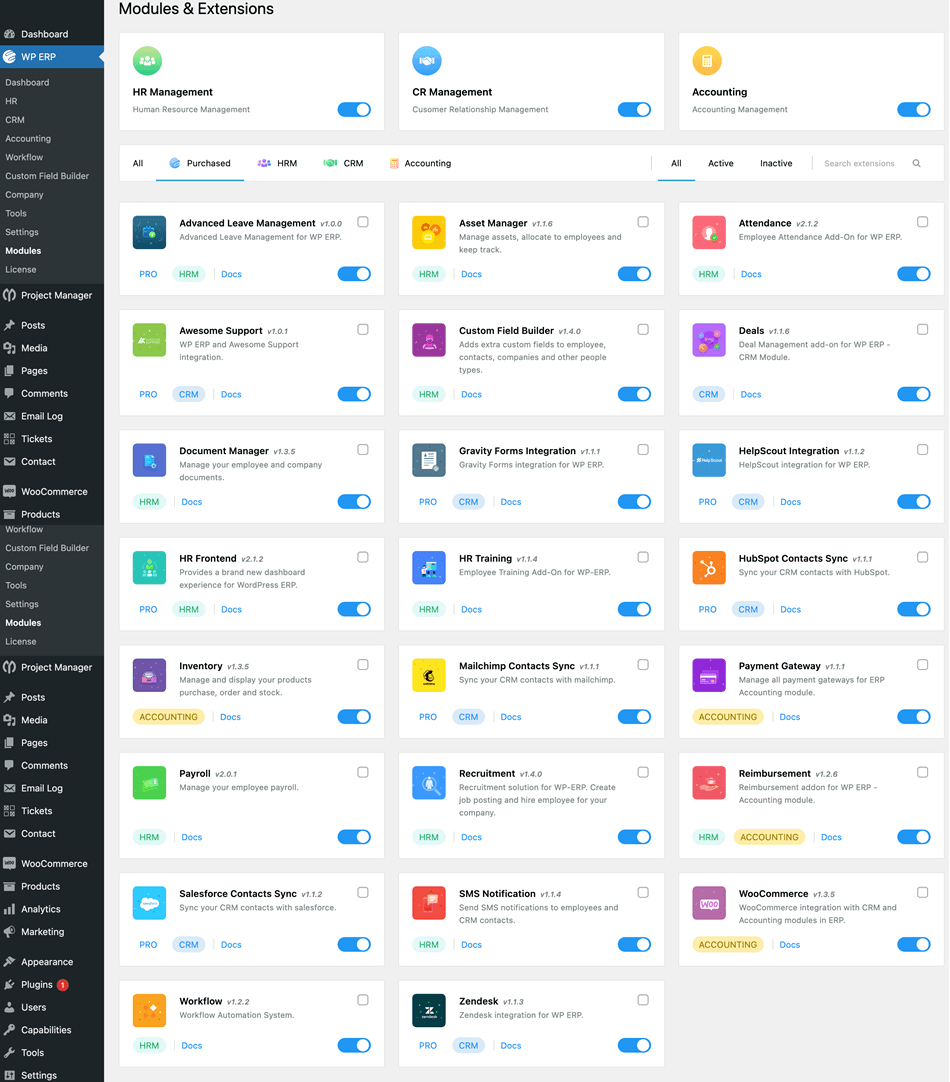 2. WP – HR Manager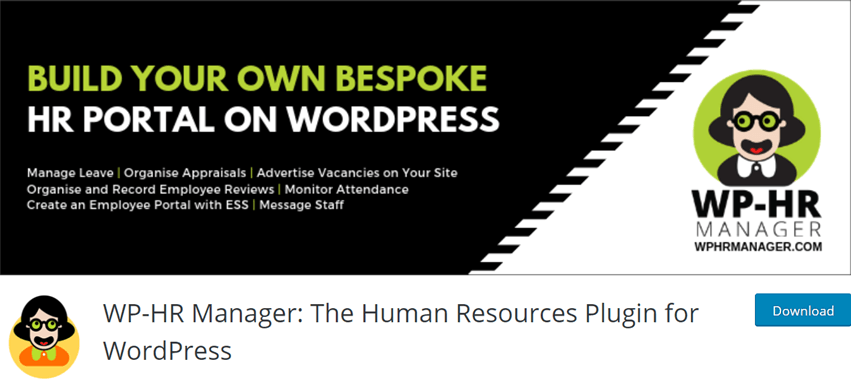 WPHRM -Human Resource and Finance Management WordPress Plugin is a robust WP plugin for human resource and finance management. Managing Human Resource records and operations from right within your website is no longer a distant dream with the WP-HR Manager. Your WP-HR Manager emancipates HR teams, Line managers, and employees. Within your WordPress website, you can record employee information, monitor tasks, track leaves, build employee self-service portals, add GDPR, attendance, and hiring records through this smart plugin.
Your WP-based website expands to a robust HR Management System. A wide range of employee information can be tracked and recorded viz, their personal details, assessments, qualifications, etc.
Besides, you can manage your HR processes like creating and recording appraisals, managing recruitment, and feedback, etc. Other features of the plugin are enabling employees for self-service, creating multiple locations for multi-site organizations, and many more. The plugin is web-based for easy access. It has a responsive support system.
Total number of users –  500+
Price – Pro – $95.88/annually,  Pro Lifetime – $289.99/Lifetime
WP-HR Manager - An Introduction
Screenshot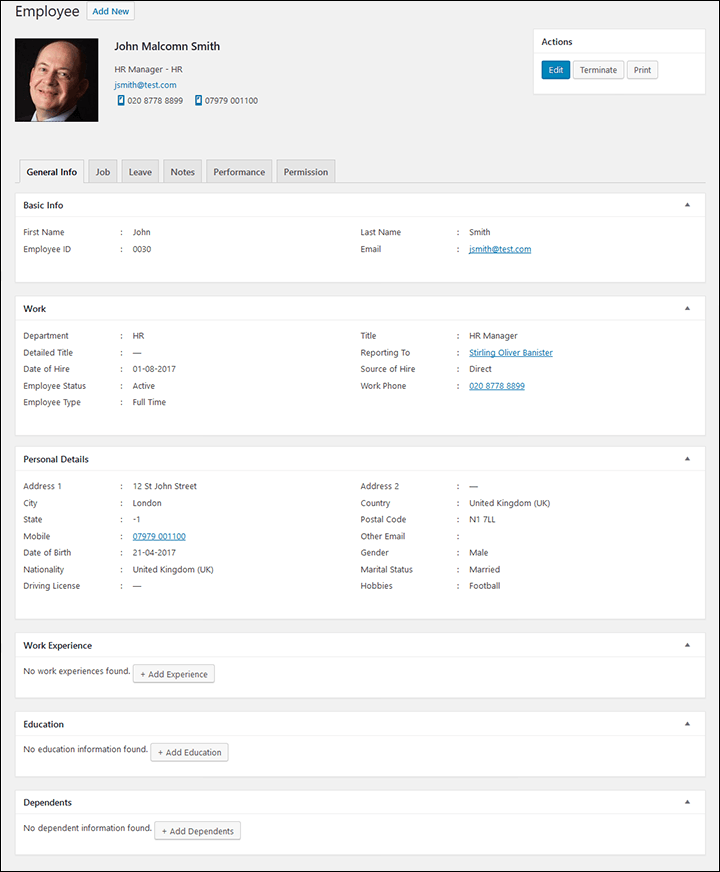 3. WPHRM

WPHRM – An intuitive extension of WordPress designated to assist the functionality of Human Resources that makes it easy to manage on the WordPress platform. Easily get access to WPHRM within just installing and a little configuration shortly. Let manage every basic and advanced management that tackles by HR of the company including salary, holidays, leaves. departments, notifications by text, and so more. Assures the security of the data recorded on the extension and makes your entire management online as well as automated. Eliminates the risk of misleading that can occur if the data is maintained on offline mode. Support multi-currency and multi-language that makes it a perfect extension for different countries widely.
Integrated Features of WPHRM are listed below –
Departments Accessibility – Let you maintain the activity of employees available in the different departments and designation the company from the single platform of WordPress.
Employee's Profile – Manage the separate profile of every employee wherever you can easily record the personal information that is relevantly required for a company.
Leave Allotment – Manage the leave of the employe whether to deny or approve while considering company policies once.
Notification – Send required notifications for any leave, holidays, meetings, salary, etc to your employees that generate communication channels thereby.
Create Salary Slip – Payout your employees and create PDF format slips along with customized fields which accessed so well in different countries.
Price – Regular License – $70/Lifetime (1 Site)
Screenshot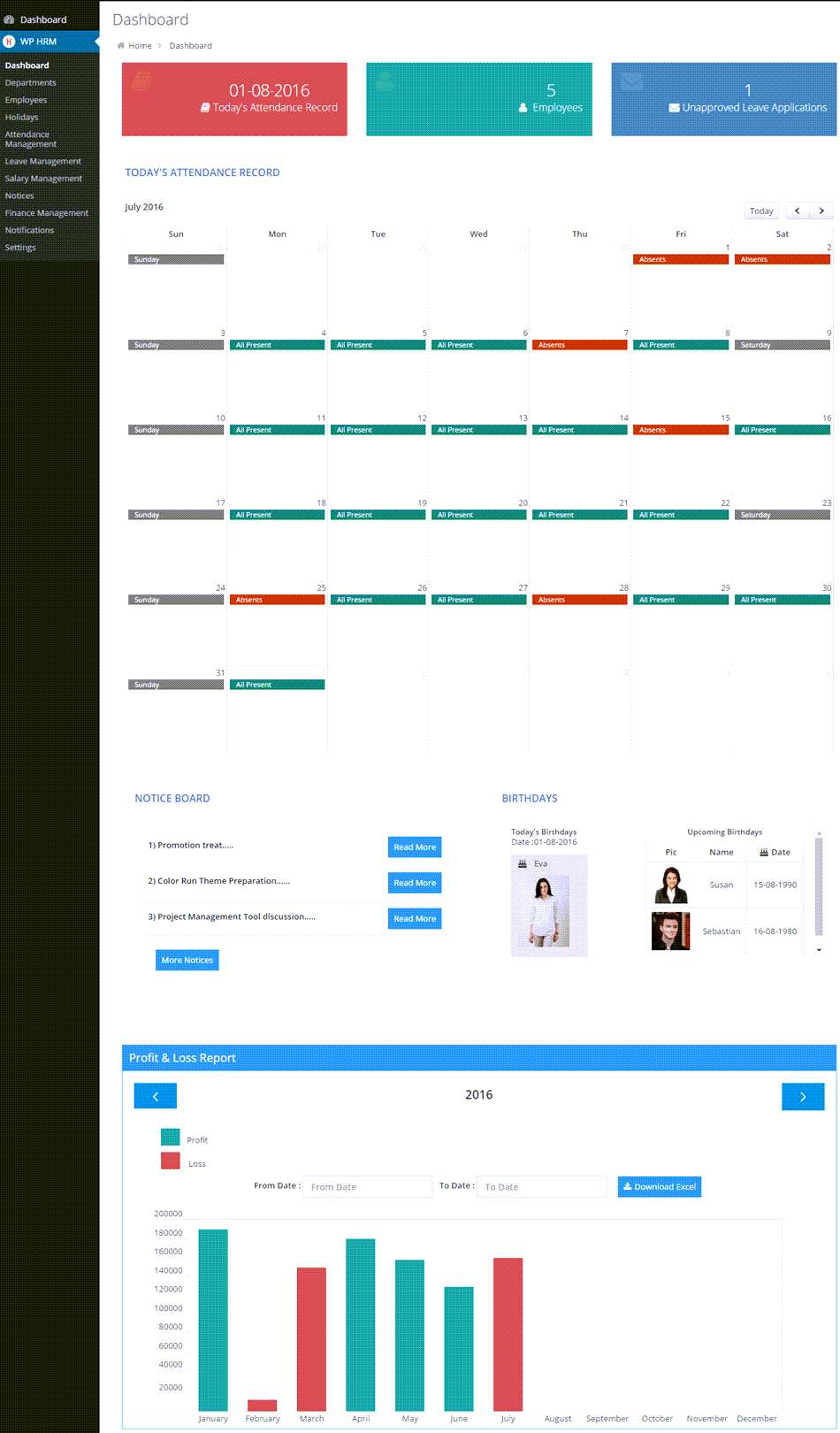 4. Employee And HR Manager Plugin

Employee and HR Manager Plugin will take your business strategies there, where you don't have to worry about the management of employees. Along With WordPress attributes, simply manage the different functions of human resources such as attendance, staffing, recruitments, salary, and a lot more. Let's automate the recording of data of numerous personnel while having specific editing and updating features. A simple and intuitive interface of this WP extension enables you to easily configure the entire functionality within a few clicks.
Elementary Features –
Multi-lingual – This allows you to configure the entire extension in any required language according to your prevailing location as it supports various languages widely.
Admin Dashboard – Keep a centralized panel whereby everything is easily accessible in one place and manage thereby.
Separate Profile – Enable the profile of every employee who works in the company wherever every necessary data is available including salary, banking details, and documents.
Login Access – Front-end login available to the employee that assures presence and attendance record.
Notifications – Notify every personnel of the company with email and text about any announcement, events, holidays, meetings, etc. within one click and available templates that can be customized so well.
Price – Regular License – $19/Lifetime (1 Site)
5. Innovs HR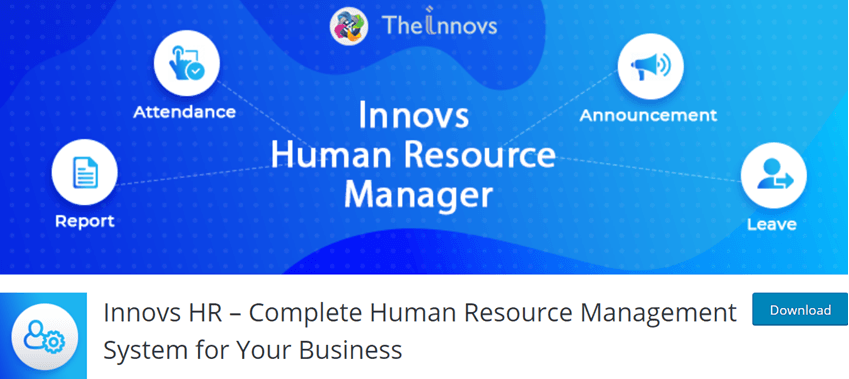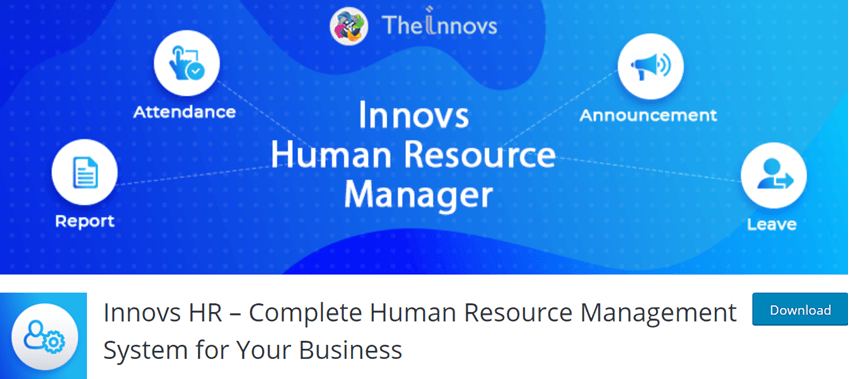 Innovs HR is a well-integrated WordPress Plugin that lets you manage the Human Resource so easily while providing online automation through WordPress. Let your users provide a better experience as it manages entire employees' records all through the dashboard available on WordPress. Just a user-friendly interface that tackles from small to huge operation of a company along with the secured privacy of essential data. You have to just enable the plugin and the management of data, holidays, employees, notification, etc. will automatically carry forward. One place integration to manage the entire employee and company workforce while making it less time-consuming.
How Innovates HR assists your HRM?
Simply manage the essential workforce of the company such as attendance, leave, holidays, salary, recruitment, and more from the specific dashboard of WordPress.
A well-coded extension provides better functionality to administrate the entire business activities easily.
Supports multiple languages that allow you to create your system according to the regional language.
Add unlimited employee profile and their details so arranged in different departments and designations.
Create required announcements, and policies with available custom templates then distribute among employees through notifications via email or text within a few seconds.
Saves a lot of time and remember to wish your dedicated employees on birthday which encourage them to work so hard for your company.
Total number of users –  60+
Screenshot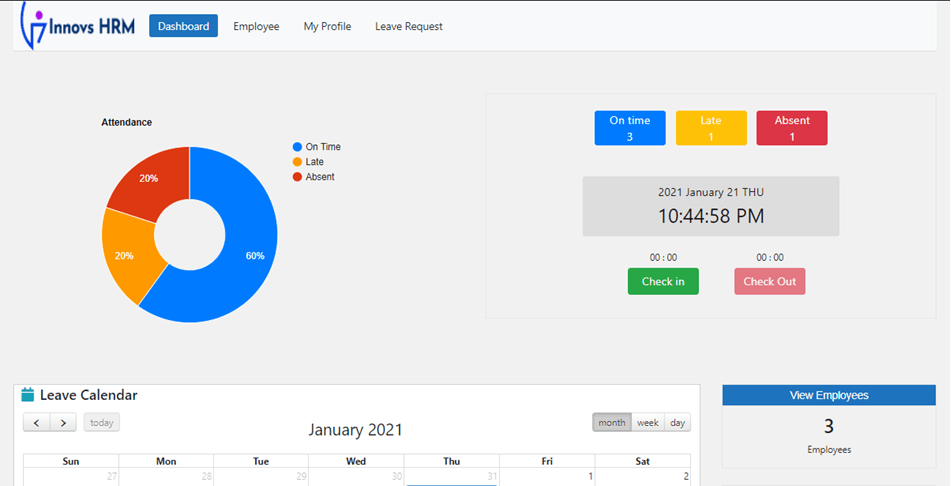 6. WordPress HR Management System plugin

WordPress HR Management System Plugin – a place whereby you easily manage your entire company residence and its workforce without being available all time. An extensive WordPress Plugin allows the management of the activity of Human Resources available in the company through automatic integration. As you install this feature-enriched plugin, you get access to manage multiple functionalities thereby such as holidays, leave, salary, payroll, and a lot more. A well-organized dashboard is available on the front-end that displays the employee report and their overall analytics at a glance. Available the separate profile of employees where everything is recorded so well in an end-to-end encrypted system.
HR Management System Plugin just enables you to work effectively from one place and manage everything by being an admin on the WordPress dashboard. Let you approve or deny the leave under the company policies. Manage addition of employees and designations as per the requirement of the company. Confront the company policies, terms & conditions, announcements, etc. with email notifications to each person of the company. Save a lot of time while making all such functions through the WordPress Panel which also assures more reliable communications and connections as well.
Price – Regular License – $49/Lifetime (1 Site)
Screenshot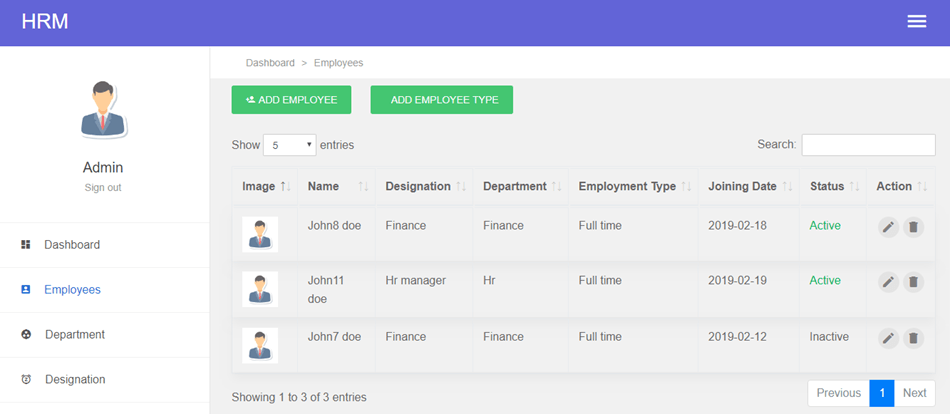 7. DyaPress ERP/CRM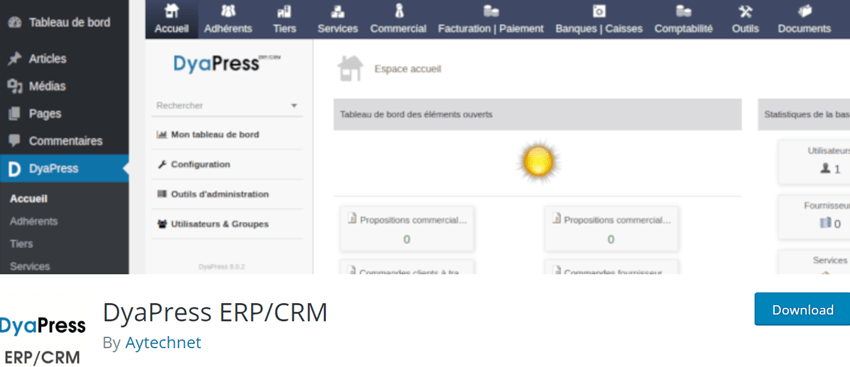 DyaPress ERP/CRM is an open-source port ERP and CRM plugin for WordPress of existing CRM or ERP software. It enables you to connect your WordPress website to a CRM or ERP software thus, allowing you to create an effective human resource and customer relationship management system on your site. Using this plugin, you can employ Human resource management, Vendor Relation Management, Customer relation management, Product management, financial modules management, and Project management on your WordPress website. The in-built interactive notes feature enables you to keep a track of the entire life-cycle of the employee and evaluate his/her performance.
This plugin gives you an insight into the detailed employee profile along with their leave request, promotion, salary increment, performance logs, etc. The dashboard gives an overview of the entire day workflow, announcements, upcoming birthdays, and attendance status all on one page. An absolute HR management platform WP ERP helps you manage employee's designation, role, department, etc.
Features
Using this plugin, you can add users in groups and you can also grant permission to each feature.
You can also employ management on foundation members using DyaPress ERP and CRM plugins.
It allows the users to report various expenses like refreshments, meals, transportation, and more through the management and claim expense reports thus, allowing the users to employ expense management on your website.
You can also use this plugin to employ human resource management, Vendor Relation Management, Customer relation management, Product management, financial modules management, and Project management on your WordPress website.
Total number of users – 100+
8. Business Manager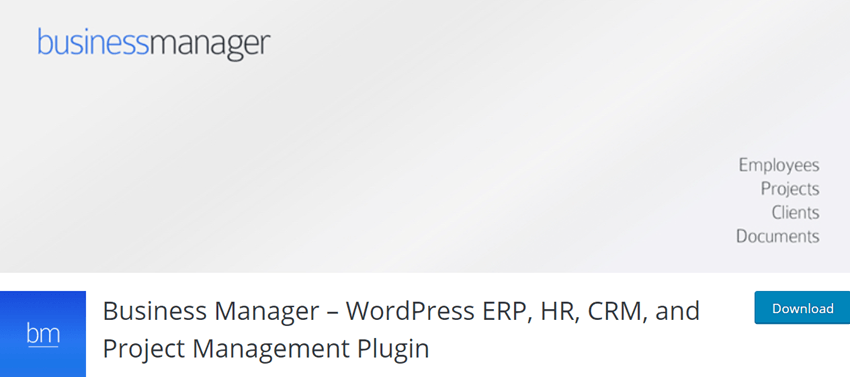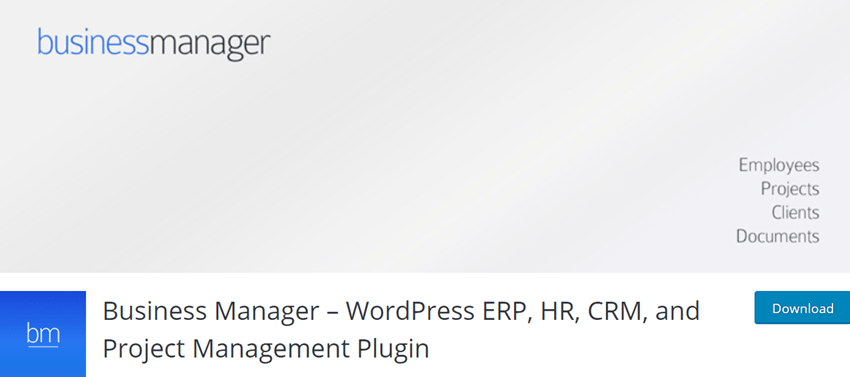 Business Manager is a free-of-cost HR, ERP, and Project management plugin that simplifies the management of your employees, projects, clients, and documents. In our blog, we will focus on its HR attributes only. Maintaining detailed personnel files, track leaves and performance reviews are among its core features. The HR Management system is a significant aspect of a Business Manager wherein a detailed list of employees and each employee's personal as well as professional details are maintained. Other features of the plugin are to keep ongoing notes of the employees and upload all documents of the employee like a resume, application, contracts, etc. There is also a provision to create your own custom fields.
Business Manager plugin for WordPress is a flawless employee management platform that can maintain employee attendance, track their leaves, holidays and generate salary slips at a single system. It is a comprehensive HR solution for experts. Its fully loaded HR plugin for WP helps to manage the employees without any effort. The plugin helps to define the roles of admin, HR manager, accountant, and employees. Holiday listing, leave management modules and real-time self-service to the employees are well incorporated in the tool.
Total number of users –  500+
Screenshot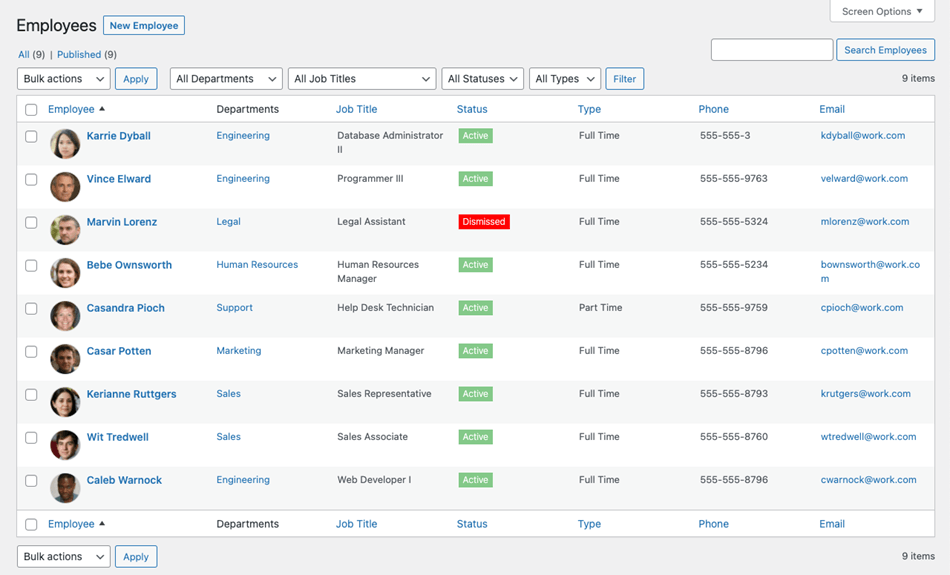 9. WP Human Resource Management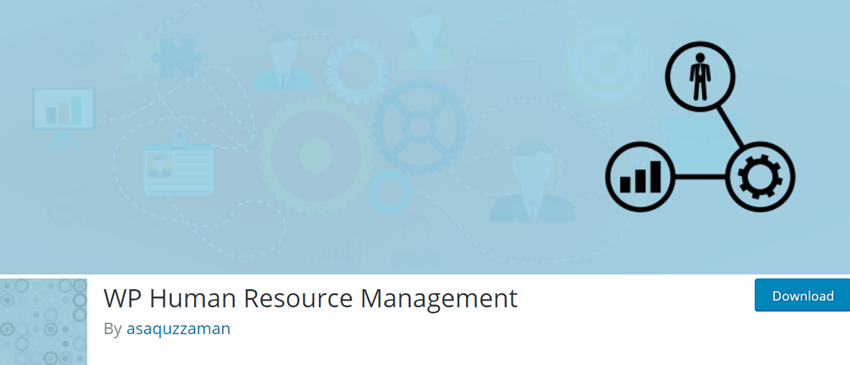 WP Human Resource Management plugin is one of the best human resource management plugins for WordPress that enables you to create an effective employee management system on your site. Using the WP Human Resource Management plugin, you can easily create an unlimited number of employees, grant access to them, add their roles and professional details. The plugin helps you reduce the hassle of paperwork and make the best of the latest technology.
The plugin also helps to add income and expenses to generate analytical reports of your business The plugin features some great attributes like the creation of sub-departments and hierarchical designations within a department, employee management and maintaining their personal details, bank records, etc, tracking their attendance and leaves, generating salary slips, performance appraisal, and one-click notifications to the admin and the employees.
Features
Powerful HR Admin Dashboard- the plugin comes with an effective and powerful admin dashboard that helps you manage your employee's qualifications, their job roles, and information and details about your organization.
Leave Management System- WP HRM also include a built-in leave management system that enables you to create a list of holidays, add leave types, specify workdays and manage your employees' leave easily.
Time management and attendance system- It helps you create an attendance and time management system on your WordPress site using which you can record the employees' check-in, check-out,  view their attendance records, and easily manage attendance and time accurately.
Personal Information Management system- WP HRM helps you create the personal information management system (PIM) for your employees on your WordPress website where you can create personal profiles for individual employees and record their personal information, job roles, work experience, languages known, education and skills and more.
Total number of users –  300+
Screenshot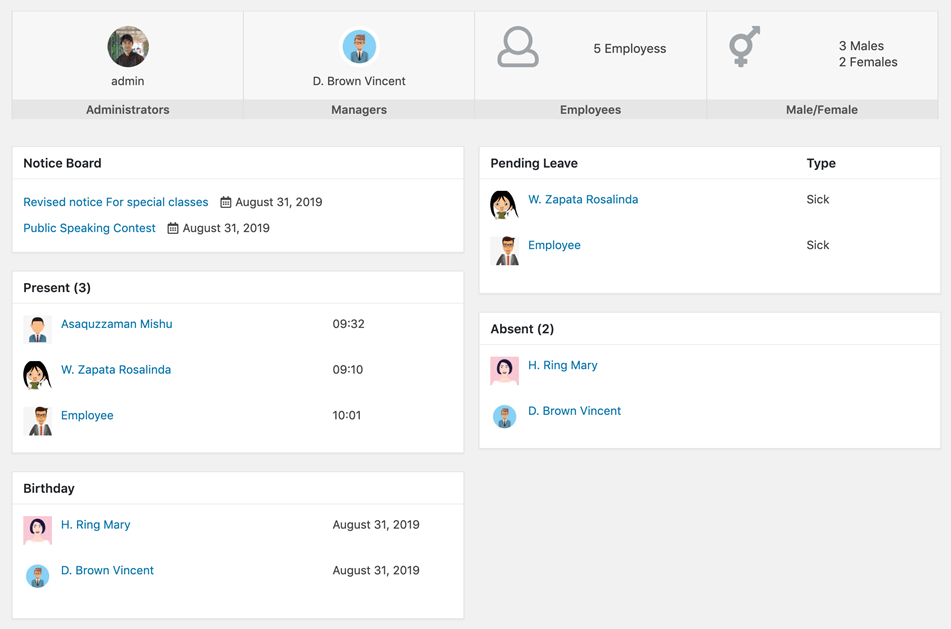 Conclusion – Still confused my friend which Human resource Management Plugins you should choose? You are looking for free then no doubt go ahead with ERP trusted by most of the enterprise. But if you are interested in premium then none of the options can replace wperp-hr. They are experts in their work.