12 Best WooCommerce Point Of Sale Plugins 2023
Are you planning to synchronize all your eCommerce website products, sell, and analytics with your point of sale system; then you need WooCommerce Point Of Sale Plugins. POS allows you to sell your products via your shop while maintaining inventory and analytics intuitively.

Using this POS system, you can easily make sales from your shop without disturbing your inventory and other websites' data or calculations. Collecting payments through POS gives you more freedom than any different payment mode, and you can collect the payment offline and online with just one click.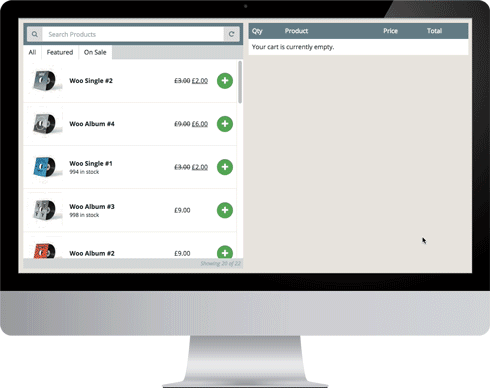 Let's have a list of the Best WooCommerce POS Plugins for WordPress :
1. Oliver POS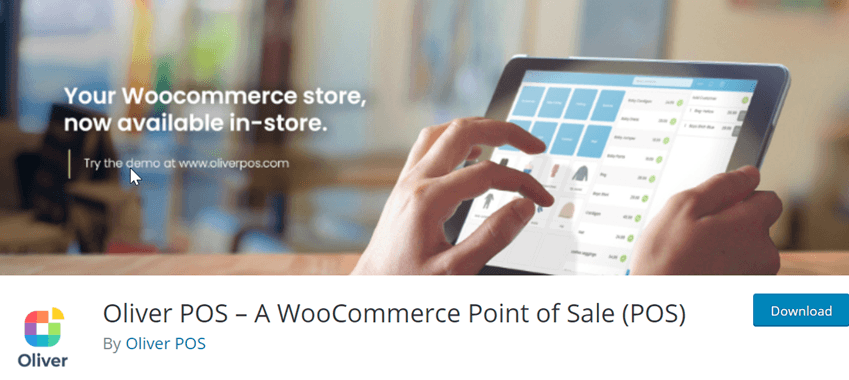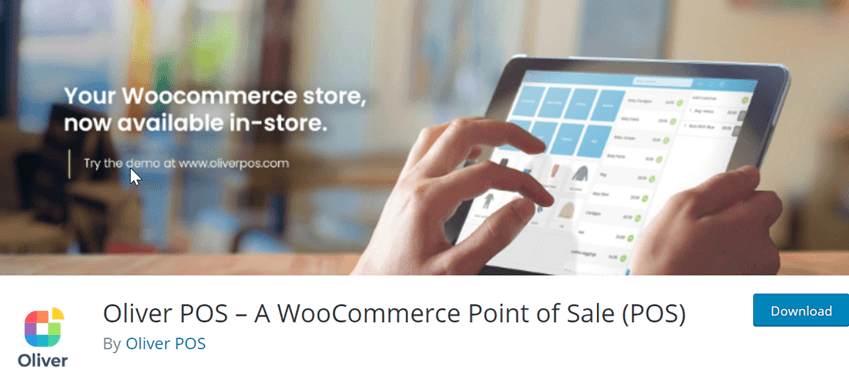 Oliver POS is an apt and complete solution for those who own a WooCommerce store and want to build a periphery of POS for the online products in their store. Oliver POS introduces the revolution in the world of retail selling that assists the shop owner of physical stores to sell their products as the e-commerce store. Some of the essential features of Oliver POS are mentioned below:-
Easy and Free – Let you activate the functionality of point sale with various attributes just by installing and creating your account. You get access to the free version, but if you want to enjoy advanced features, you should pay the asking amount.
Modify Checkout – Shape your physical store into an online store through an availing checkout process along with bar code scanning alternatives for specific products. You may be able to customize the entire checkout according to the necessity of your store.
One-Place Integration – Automate the sync of required WooCommerce POS, such as products, inventory, customers, orders, settings, and plugins.
Pay Seamlessly – Enable your customers to pay or get a refund instantly through any mode of payment while keeping a record of every transaction in WooCommerce.
Easy installation as the plugin is built into WooCommerce.
Oliver discards the need for any third-party application to create a POS because, with Oliver, you need a single database and a single platform. All customer data, orders, and inventory are compact within the WooCommerce interface.
The business-oriented plugin is ideal for retail stores, mobile shops, and pop-up shops.
Total number of users – 1000+ 
Price – Basic-$228/yearly, Professional-$468/yearly
Screenshot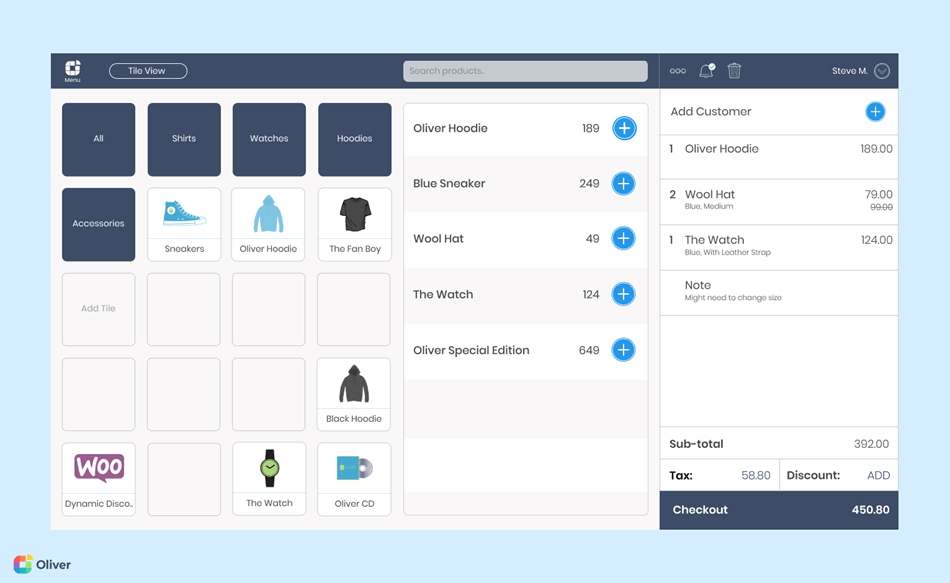 2. Hike

Hike Pos is a fully customized, all-in-one retail management software. It is a fast plugin that is device-friendly and works well on iPad, PC, and Mac. You can do business even when you are offline, once the internet is back, the transactions auto-sync back to Cloud. Product options, tax rules, receipt content, and layouts can be customized using Hike.
An intelligent plugin that can apply a discount to a bulk sale or a particular product and creates order notes to keep track of all items without fail. Besides, it fully integrates with in-store payment providers like PayPal Here, Tyro and iZettle. Deposits can also be accepted.
Hike integrated with WooComerce POS having the following enriched features –
Seamless Integration – Provide a perfect streamline to your store by installing the Hike for POS when it comes to retailing online and maintaining an appropriate record of customers, products, inventory, and more. Keeps a proper record on the WoooCommerce and Hike as well.
Initiate Easily – Connect your store with Hike and simply manage the entire configuration shortly to start the POS access on WooCommerce.
Profiles Accessibility – Enable your existing users to update their profiles and add new profiles by new ones. Let it sync from WooCommerce to Hike and from Hike to WooCommerce.
Analytical Attribute – Accumulate the data of online and in-store sales and report the same to enjoy revenue.
Manage Products – Add, remove or update the product anyway and see the live preview in WooCommerce online store.
Log Accessibility – Hike maintains a log for syncing the data, particularly if anything fails to sync. Then, as a result, you access the reason and fix it shortly.
Automatically update inventory when sales are made.
Better sales reporting analytics
Centralized Products management system
Barcode scanning
Price – Startup-$59/yearly (1 outlet),  One store – $79/yearly (1 outlet),  Multi store – $129/yearly (Unlimited outlet)
Screenshot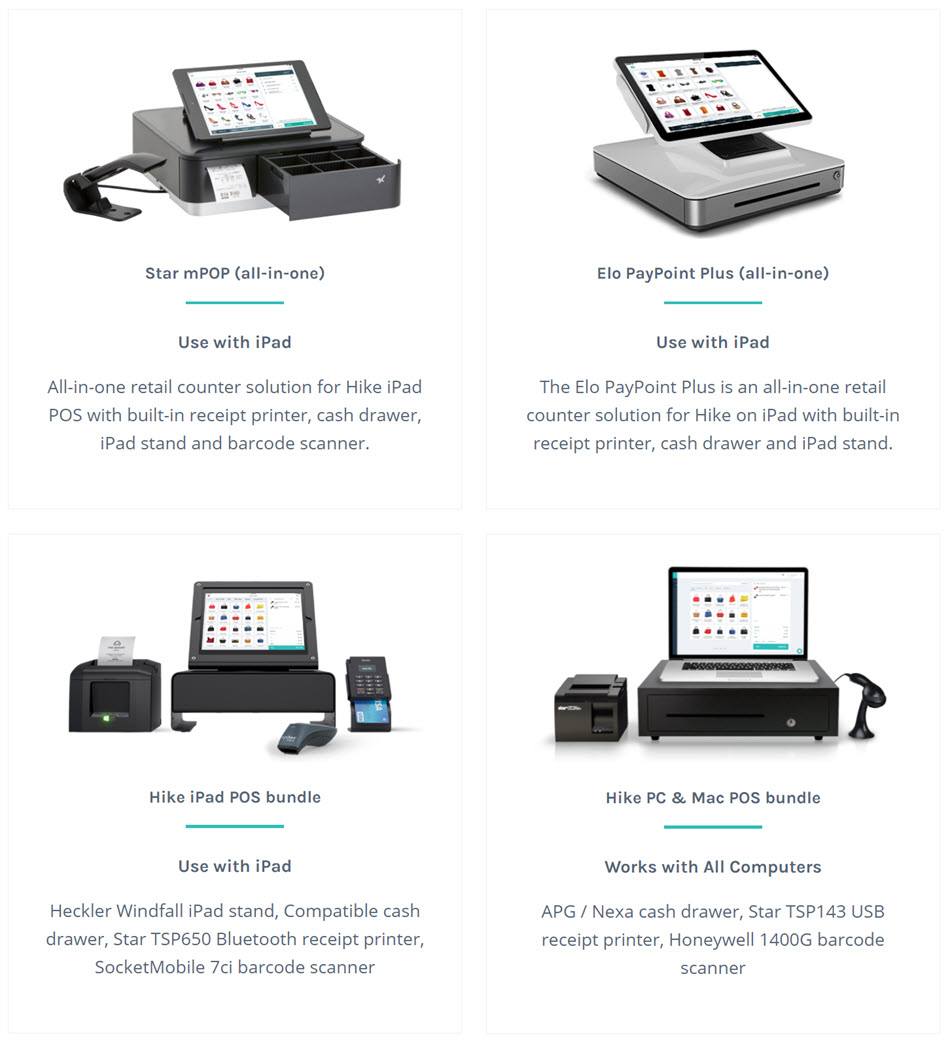 3. Square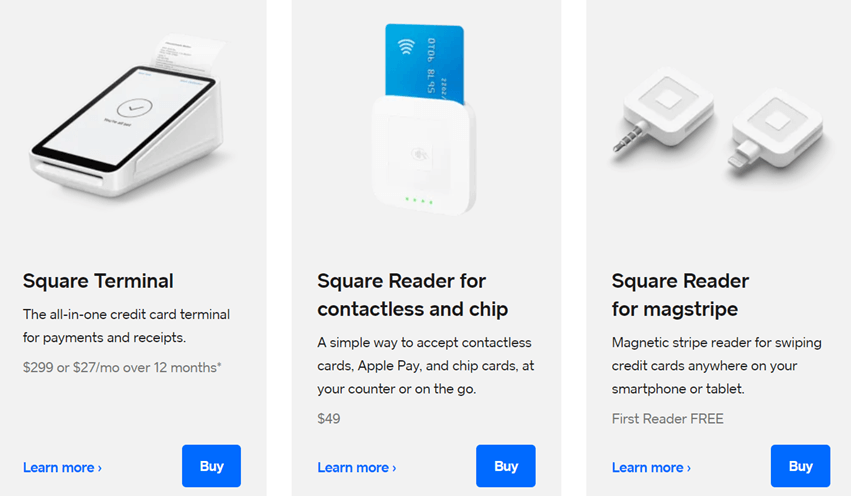 The Square extension for WooCommerce allows you to start accepting payments instantly, and it comes for no fee. It offers a common platform where you can track your sales and listings across all channels. A straightforward plugin because you have to pay only when you make a sale. It offers numerous benefits like accepting online payments worldwide through all major debit and credit cards, precise pricing formulae applications, fast fund deposits, etc.
Additionally, it is compliant with PCI -DSS standards with no additional fee and secured with Chargeback Protection against any kind of fraud. The plugin is self-hosted and does not attract monthly fees like WordPress and WooCommerce. Besides, it is Cloud-based, thus ensuring safe sales and register settings. If you want to brand your style, register, or get into any business venture of your choice, then WooCommerce Point of Sale can be the ideal choice. You can also control the status of your orders and load your incomplete orders directly into your register.
The plugin can be installed automatically in a few simple steps, or you can opt to install it manually as well. WooCommerce has been translated into four native languages to maximize its reach. The plugin gives excellent results of branding, flexibility, and versatility. The major feature of MWB is as follows.
Fast product search system
Barcode scanning
Easily manageable product inventory system
Price – Square Reader for magstripe-Free,  Square Reader for contactless and chip-$49, Business-$99/yearly, Square Terminal-$299/yearly
Screenshot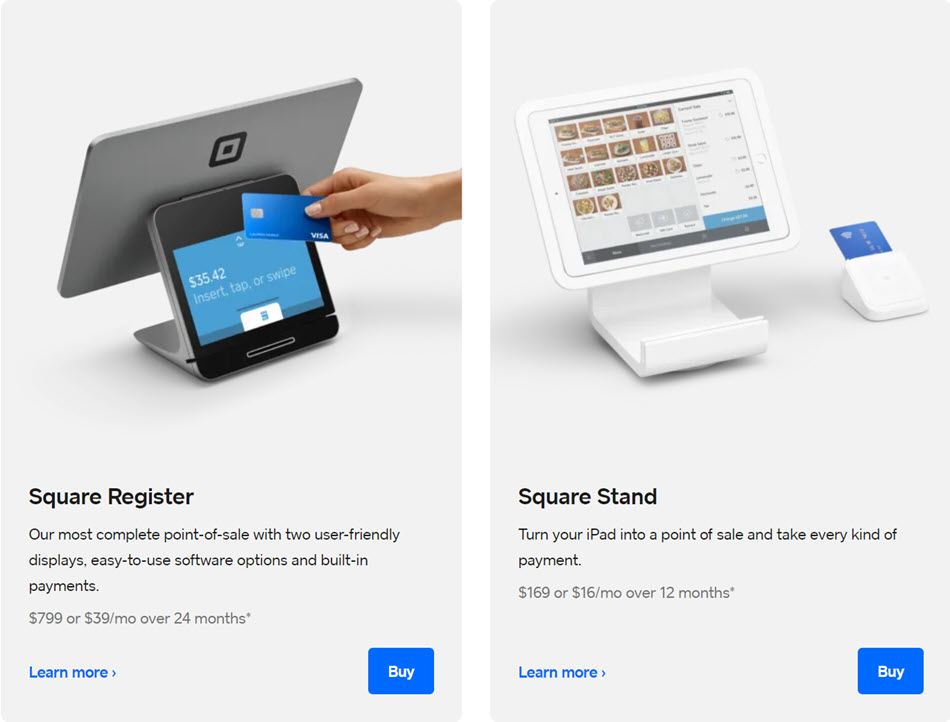 4. Lightspeed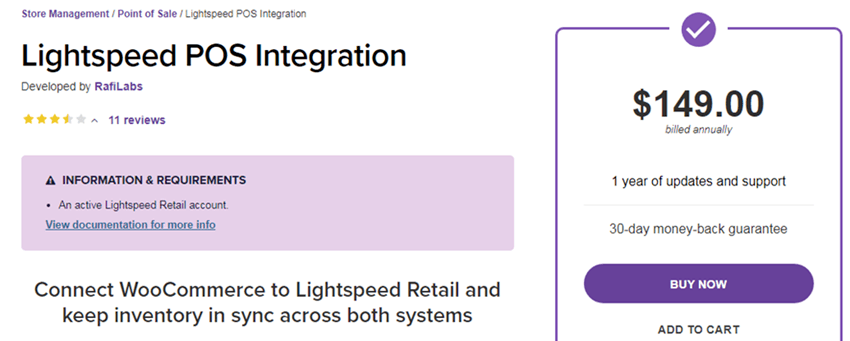 The Lightspeed POS Integration plugin is a point of coordination between your WooCommerce Store and Lightspeed POS account to keep inventory in sync. The plugin helps to update the stock qualities in the WooCommerce interface as and when new sales come in via your Point of Sale system. It's an overall package of sale and inventory management software across multiple channels, thus boosting your business outcomes. The installation of the plugin can be done by following a few simple steps.
It ensures a highly customizable ECommerce platform to build up your business. 30-day money-back guarantee, support teams worldwide, and secure payment options are some of its other attributes.
Lightspeed POS integration comes with extensive features to maintain the point of sale retail selling online. Some amazing features are listed below:-
Easy-to-use Interface – Get started easily and administrate the entire function as it contains intuitive attributes easily accessible by anyone and configured shortly.
Sync Inventory – Easily manage the inventory control while updating automatically with sync availability.
POS Account – While accessing Lightspeed, you have to create an account for the WooCommerce Store, keeping every necessary record automatically and eliminating the risk of conflict.
One-click Sync – Within just one click, sync the data, including customer, inventory, and product, that is safely encrypted and stored to manage the entire point of sale.
Revenue-rich – Enable your e-commerce site to retail selling online and maintain the physical store access with WooCommerce integrity, which ultimately assists your online store is getting more and more revenue.
Price – 1 Site $149/yearly
Screenshot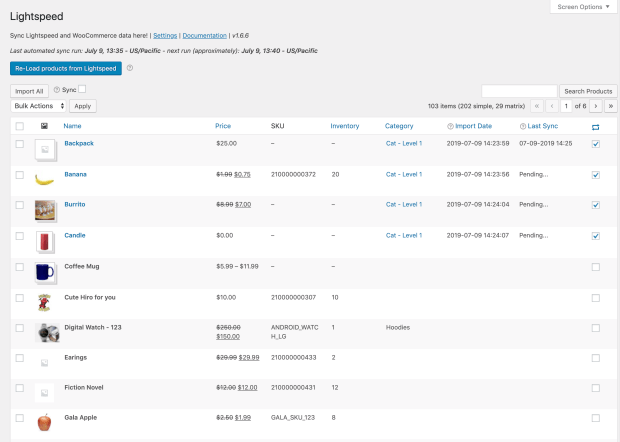 5. Webkul Point of Sale System

Point of Sale System for WooCommerce (POS Plugin) is an efficient extension that lets store owners manage online and physical stores. Here you will find everything that your physical store requires to manage the full functionality well. A nicely integrated POS front-end management system allows customer and sales management to assign a store agent. Moreover, the POS plugin will also provide an online store management system for managing daily sales and customers. POS plugins let you accept different payment methods like cash, card, or split process.
A full-fledged WooCommerce POS plugin featuring PWA (Progressive Web Desktop Application) is readily available for everyone. Support all operating systems, let you install and get into it with just the Google Chrome browser.
Core Features –
Admin Management– A complete POS outlets/stores back-end administration with various options. Managing POS orders and products, adding multiple stores, assigning agents, reviewing POS reports, and much more.
Product Management – Let admin manage products of different stores, determine product quantity, and generate and print product barcodes for each store.
POS Configuration – Let the admin configure the general and custom settings from the default settings. Assign master stock from the POS admin panel.
POS User Panel – Allow agents to manage assigned customers and sales with diverse POS systems. Let them add new customers, synchronize sales data and cart processing, and view sales and offline sales from the admin panel.
Offline Mode – user agents, can also perform sales activity offline, where they can place orders, hold sales, and view offline sales history.
Coupon – Agents can allow coupon applications and discounts on orders and carts either at a percentage or flat rate. However, the offline mode does not accept any coupon facility.
Multiple Currency Setting – Let your customers pay in their currency while configuring the currency settings.
Price – $99.00 one time with lifetime free update
Screenshot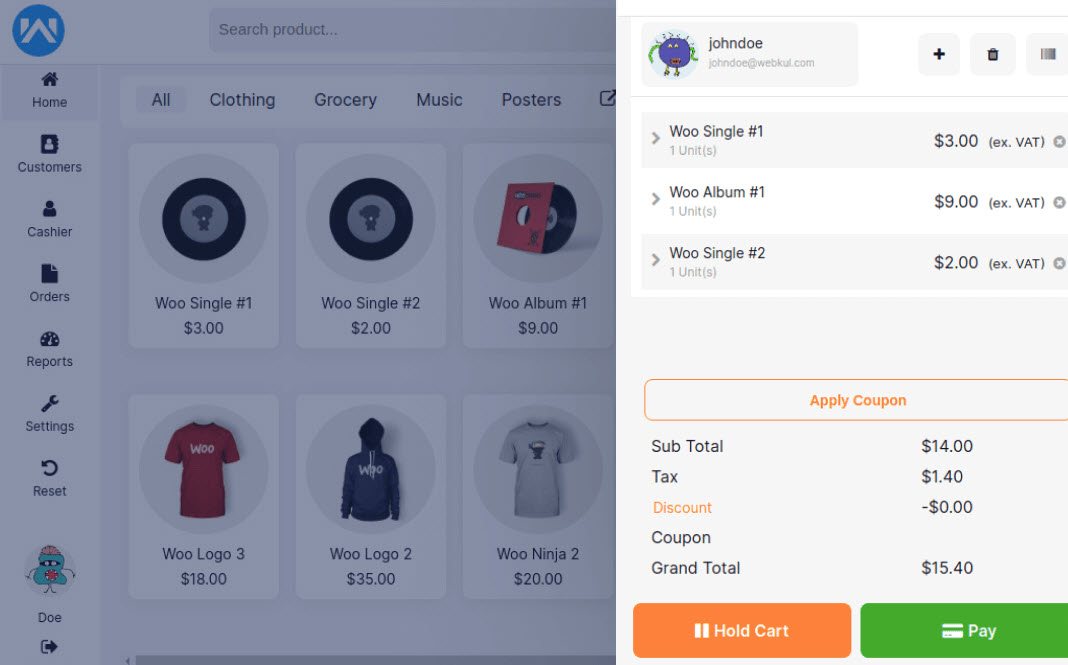 6. Point of Sale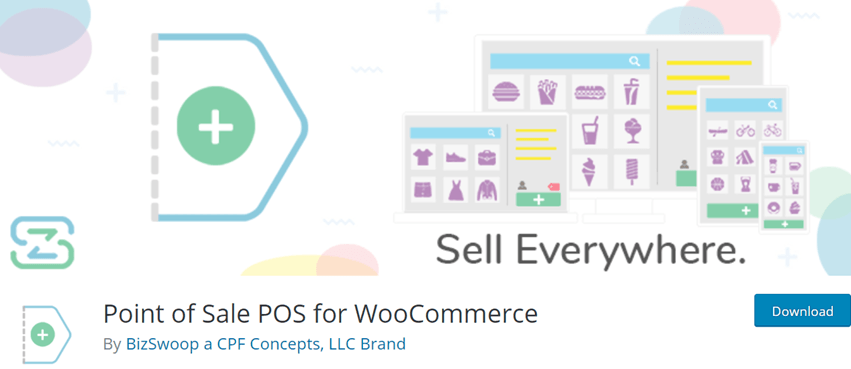 Wouldn't it be great if you had several outlets and all of them could be managed on a single page? Well, the Point of Sale Plugin by WordPress is just the magical solution for it. It is quite user-friendly and easily deployable. The versatile plugin offers multiple features which make it easy to maintain. It can be operated from a desktop, mobile, or tablet. The real-time inventory is beneficial for keeping the stock in sync.
Receipts can be generated immediately and printed using Google Cloud Print. This plugin provides POS Add-ons and Free Add-Ons, which have numerous features. Multiple agents and cashiers can access the plugin simultaneously, which helps to process orders faster. It supports over 100s payment methods, including cash and card payments. The filters can be used to search the products based on name, ID, or barcode.
The product range varies from simple to luxurious ones. Price management is easy, and discounts can be offered to the customers. There are provisions for featuring advanced coupons. The multiple feature plugin provides tips to customers during checkout. It supports essential tax management and white label in the receipts. The cashiers and agents can securely log in to the panel. The Android Application for the Plugin is made available to the users free of cost.
Total number of users – 1,000+
Price – Price
Screenshot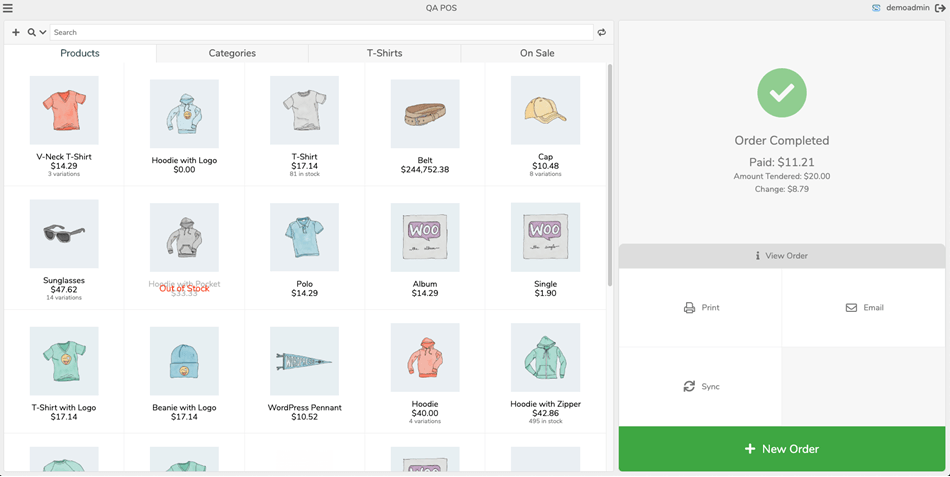 7. WooPos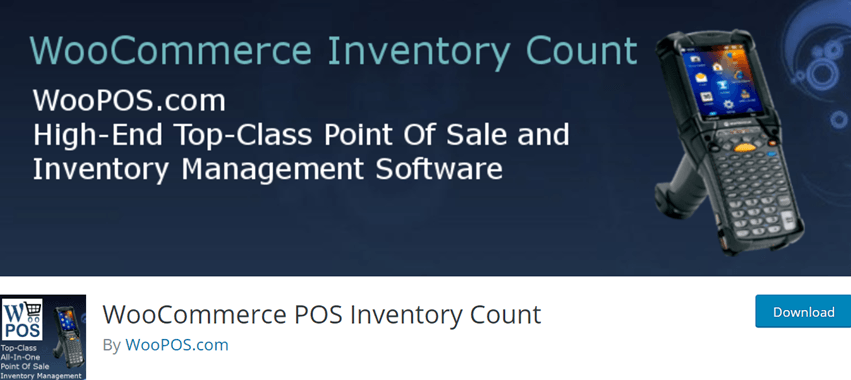 WooPos Point of Sale is a seamless plugin designed to allow owners to sell online products in physical stores. It provides customized features and helps place orders and track real-time stock. The customers are also well managed through it. The tool is best suited for vape stores, drink vendors, jewellers, and market stalls. This powerful tool is designed exclusively for WooCommerce with a total effort and development of 5 years. No third-party interfaces are involved in the plugin. It offers multiple configurations which provide enormous flexibility to the owners for growth and innovation.
There are provisions for managing multiple outlets to scale and grow the business online and offline. Different payment methods, like cash or card transactions, are allowed. The chip and pin system enables the cashiers to maintain a sales record. The owners have the flexibility to locate the orders to repeat them. The location of the order can also be used for resolving customer queries. The products can be showcased in detail using the built-in preview panel for products. This feature is exceptionally beneficial for owners who want to provide customers with an in-store digital experience. Preferred units for measurements can be defined as per the owner's desire. There's a feature to print the barcodes. Taxes can also be calculated through the plugin.
Total number of users – 200+
Price – Starter-$59/Monthly (1 User),  Growth-$179/Monthly (5 User),  Enterprise-$289/Monthly (10 User), Device Plan-$99/Monthly (Per Device)
Screenshot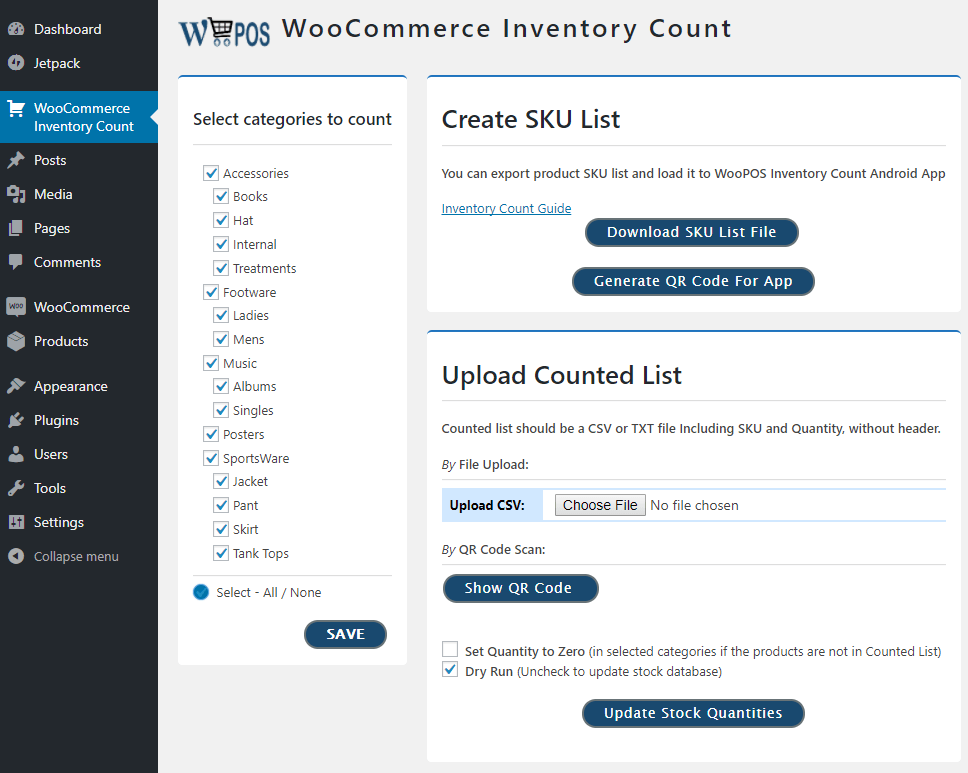 8. wePOS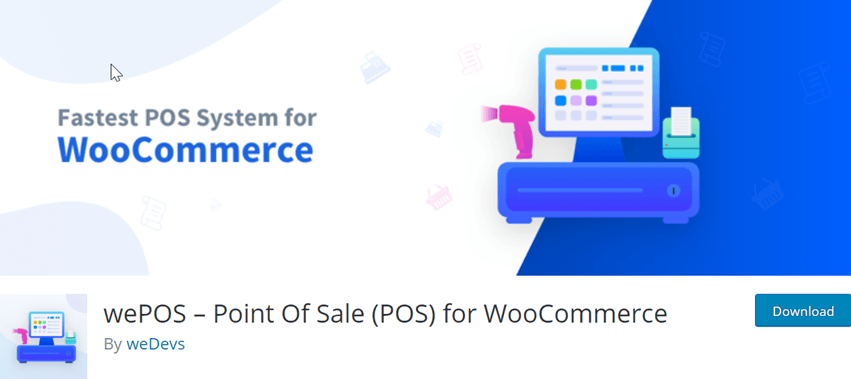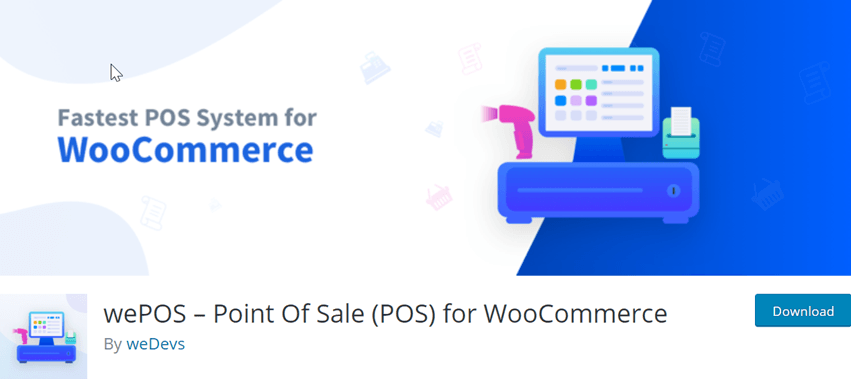 wePOS is a powerful, responsive, and advanced plugin that compliments the WooCommerce POS. The real-time inventory, orders, and stock can be easily maintained. It is a highly customizable tool. wePOS is extremely easy to use, safe and provides a significant hand in uplifting the business. Unlimited outlets can be managed through this digital register concurrently.
Each outlet can be managed separately with different executives assigned to them. The single-page plugin is relatively fast and provides the search result in the blink of an eye. The checkout for multiple customers can be initiated in one go. The tab-style cart management eases multiple live cart management without losing any data. The plugin provides a secure login for agents and cashiers. Customer data can be captured and managed efficiently through wePOS.
Taxes are calculated based on the store setting. The plugin works with multiple hardware and printers and has a feature to support the barcode. Products can be searched based on several filter criteria like barcode, name, ID, or SKU. The customers can be offered a discount on the Products. This plugin is efficient enough to enhance management and improve sales and reporting. The invoices can be customized and generated with a white label. It supports cash, card, and all the other popular payment methods.
Total number of users – 3,000+
Price – Starter-$199/yearly (1 Site),  Professional-$249/yearly (3 Site),  Business-$399/yearly (5 Site)
Screenshot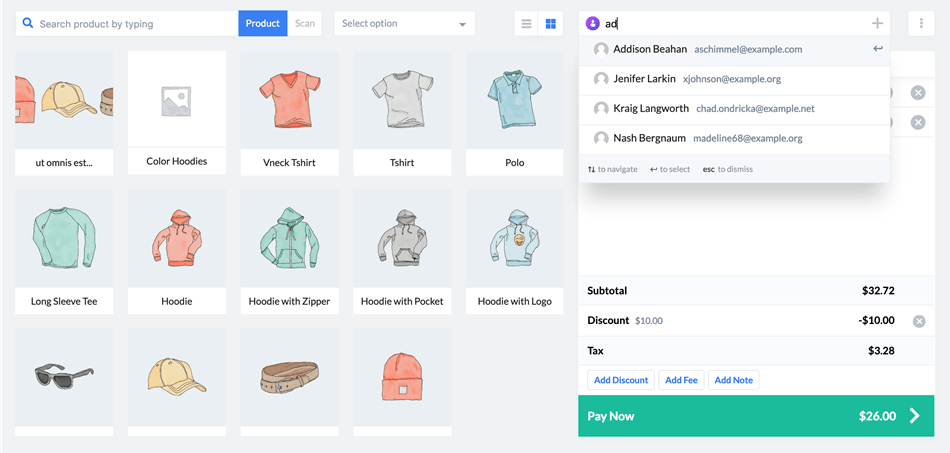 9. FooSales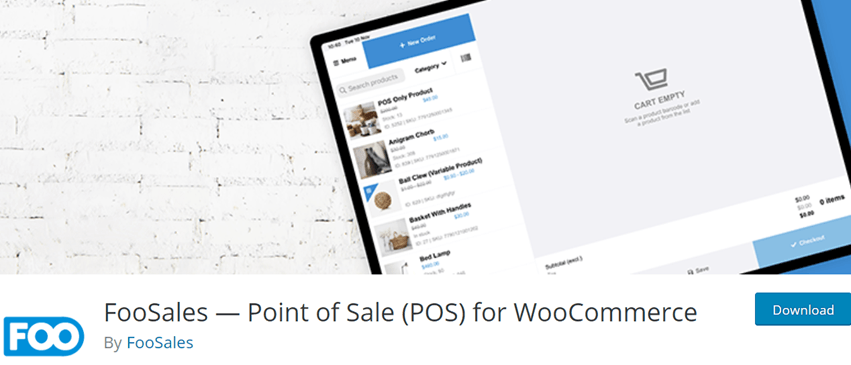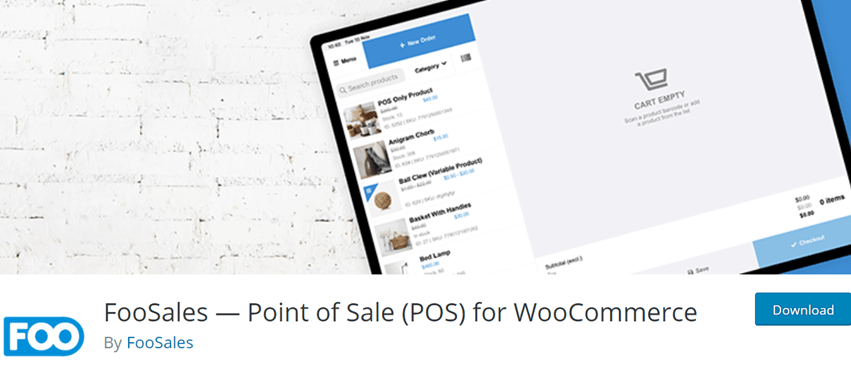 It is a multi-featured plugin that allows you to maintain a digital inventory for all sorts of businesses and stores. The plugin is supported on all types of computer screens, iPad, and mobile phones. This plugin uses the official API for WooCommerce and synchronizes directly to the database without needing a third-party plugin. It is not only affordable but also low on maintenance. All the data about the customers and Products are stored on your web server, which makes the plugin secure. Orders can be created, cancelled, or submitted from the inbuilt interface.
There are filters for segregating the orders based on the store, Product ID, SKU, category, or register. The tool provides a provision for customer profiles which helps analyze customer traits and shopping habits. The plugin supports all the popular payment methods. There's a provision to calculate taxes based on store settings. Discounts and coupon codes can be applied to individual products. Admins can keep track of the daily revenues generated and ongoing sales trends. It provides support for barcodes too. Customer data are captured and synced with the database automatically. After the orders are placed, receipts are printed, and invoices are generated automatically. Refunds are also granted on the fly. It is compatible with multiple hardware and printers.
Total number of users – 600+
Price – 1 Domain-$144/yearly,  5 Domain-$432/yearly
Screenshot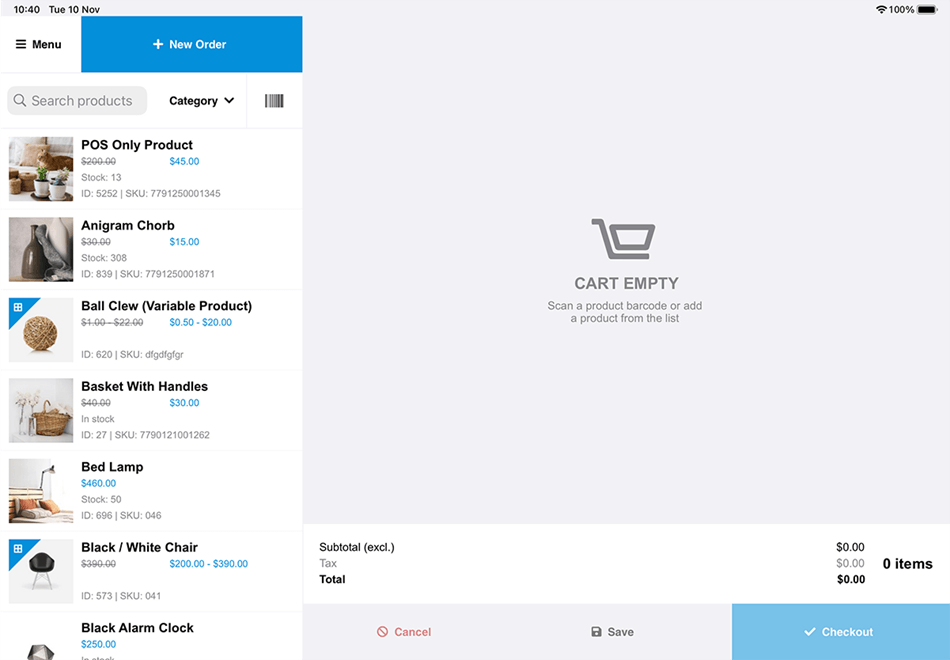 10. WooCommerce Point of Sale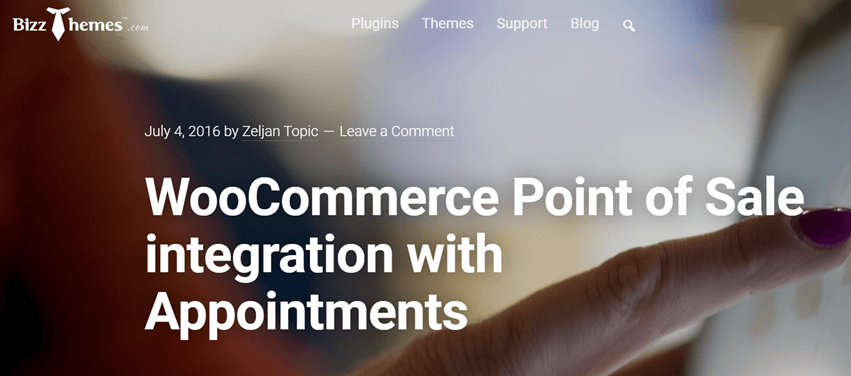 The new release of WooCommerce Appointments 1.9 is fully integrated with WooCommerce pos Plugins. Both the plugins work in excellent coordination to facilitate appointment-oriented and retail businesses equipped with cash registers and digital POS.
The latest version of WooCommerce helps to maintain a neat accounts page by shifting appointments under the new tabbed account page. The updated appointment edit screen is another jewel as it helps to make the appointment date/time more saturated, enhances better editing flow and updates start and end dates when both are common.
WooCommerce POS is a straightforward interface that offers an alternative to Vendor or Shopify POS by skipping the inventory sync and monthly subscription fees. The plugin allows you to accept orders at the Point of Sale using your WooCommerce store. The plugin also allows you to expand your online presence by integrating with WooCommerce product add-ons, WooCommerce reporting module, barcoding, and cash management tools.
Price – 1 Site-$89/yearly, 5 Site-$129/yearly, 25 Site-$299/yearly
Screenshot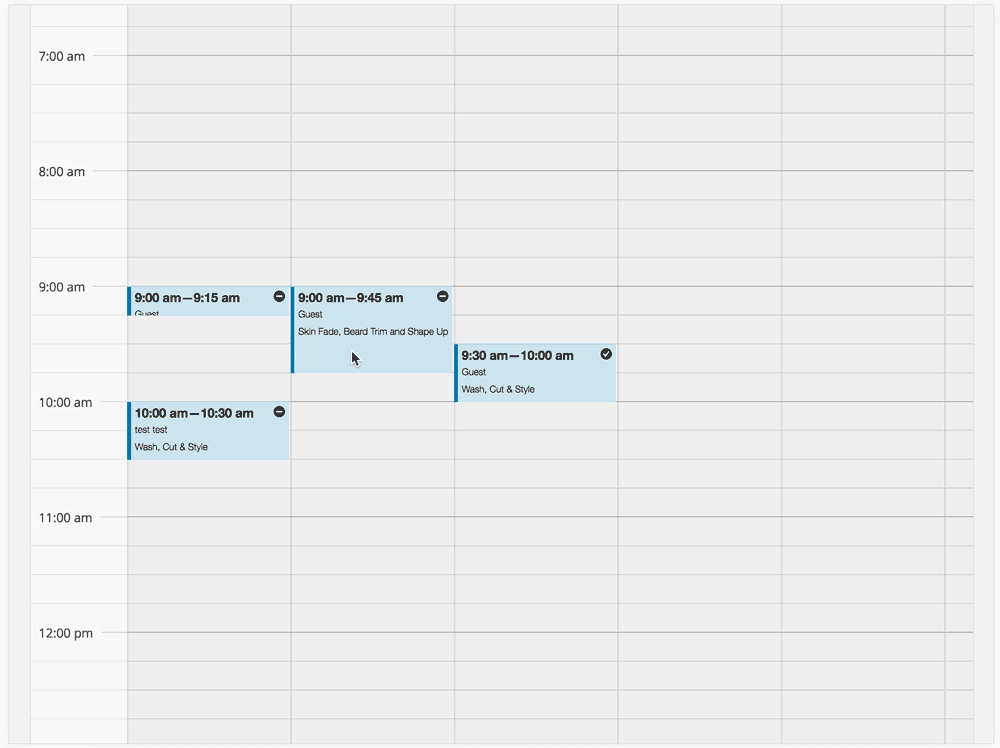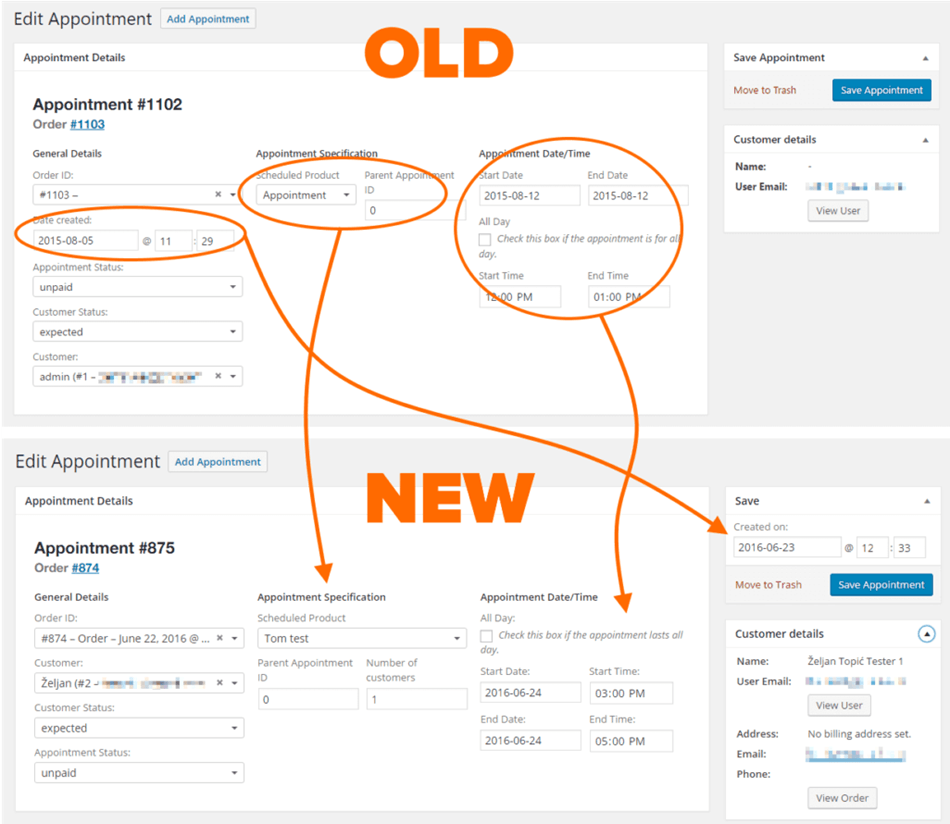 11. Point of Sale for WooCommerce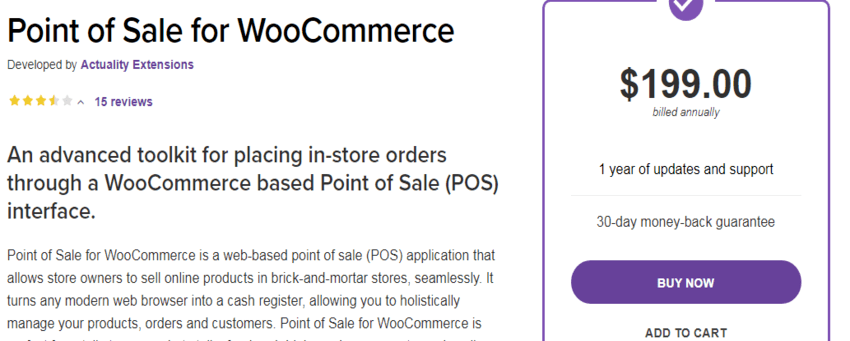 Price – 1 Domain-$199/yearly
Screenshot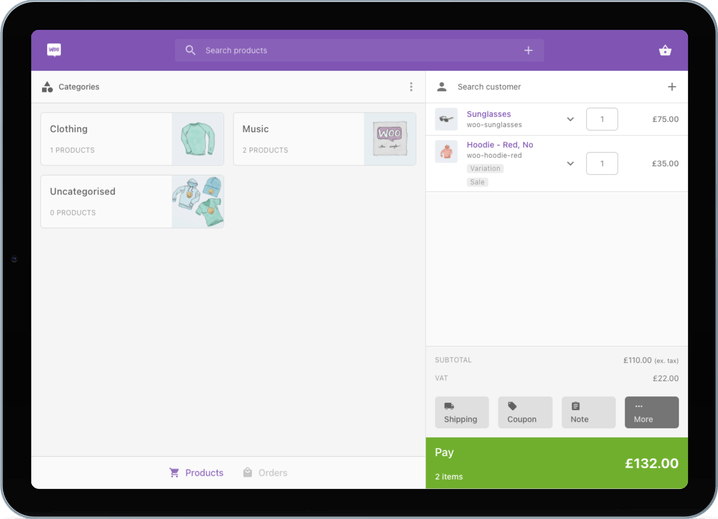 12. YITH POS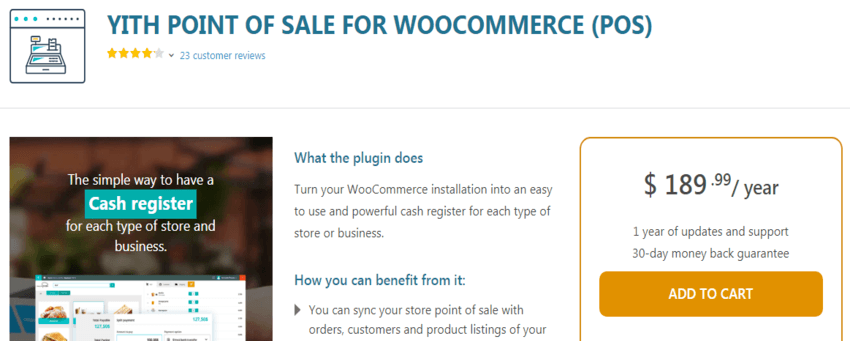 This plugin offers the simplest cash register for every kind of business and store. It is a powerful, user-friendly, and efficient Plugin that provides easy maintenance of the stocks, orders, and customers. The provision of creating a virtual register saves you from all kinds of unnecessary expenses and subscriptions. It can be used on almost any computer or touch screen, supporting all the web browser versions.
This affordable plugin is a perfect blend of the Point of Sale Register and WooCommerce store, where all the orders are automatically synced to the database. It supports infinite outlets and cash registers just at a single installation. Each register can have innumerable agents and cashiers as per the requirement. All the popular methods of payment are supported by the tool. The dashboard provides a complete analysis and comparison of each POS's revenues and sales trends.
Additionally, you can get a gist of the cashier with the highest sales and an overview of the most common payment methods. The dashboard has several filters which allow extracting the data based on date, cash register, and outlet. Cashiers can access the register directly by logging in through the page specially designed for them. The plugin is versatile and suitable for almost all kinds of businesses ranging from small to large scale. Discounts, notes, and coupon codes can be applied to the orders placed through the register.
Price – 1 Domain-$ 189.99/year
Screenshot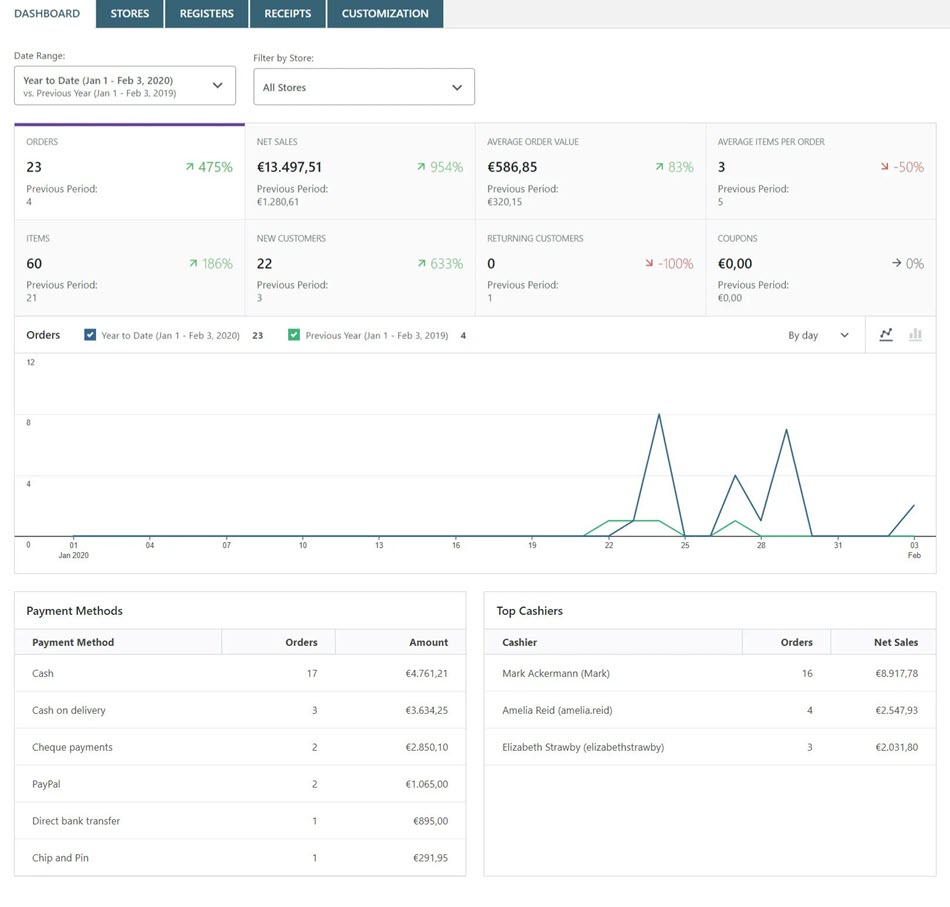 Conclusion – Still confused about which retail WooCommerce pos Plugin is good for you? The last time I worked on Hike Pos, Trusted not only me but even my client was also happy with the quality. They not only Provide plugins, but they also provide their pos retail hardware. Even though they support bigcommerce, Shopify is like other major eCommerce Platforms. For more help, please contact the live support team or call them on +61 3 9999 8235. They even offer a 14days free trial without any credit card.
You may also be interested in Landing Page Plugins, Chat Plugins, and Email marketing services.