FlyWheel Growth Suite Client Reports – Showcase Agency Branded Report
FlyWheel Growth Suite Client Reports can help you maintain open communication and foster your relationship with your clients. You can display your customer's report with a flywheel growth suit in the best white label client management hosting.
The automated agency-branded client reports help you maintain ongoing communication with your clients, increase your MRR and eventually foster your brand value. Simply, it enables you to convert your one-time clients into recurring clients.
Table of Content
Benefits of Growth Suite's automated Client Reports
With Growth Suite's automated Client Reports, you can regularly inform your clients about the progress of the ongoing work. Thus, it improves the transparency between you and your clients and helps you build trust, maintain constant communication, and foster your relationship with your clients. Moreover, you don't need to manually create and send the reports to your clients, thus saving a lot of your time and effort. The client reports help you increase your business's subscription price and make a predictable revenue stream. In a nutshell, it helps you level up your client management and improve your overall brand value.
Features
Growth Suite's client reports are fully automated, hence, you need to create the initial report, and Growth suite will take care of all the future reports in the future.
The Growth Suite's agency-branded client reports are fully customizable. You can also customize the reports according to your clients' needs. The reports can include just the high-level overview or detailed if the clients require it.
You can also include your brand logo and colour scheme in the client's report to make it match your brand.
It can include all the valuable data in the client's report to showcase your brand value.
The client report helps you look more professional and saves a big chunk of your time and efforts.
What all is included in the Growth Suite Clients' Report?
1. WordPress Updates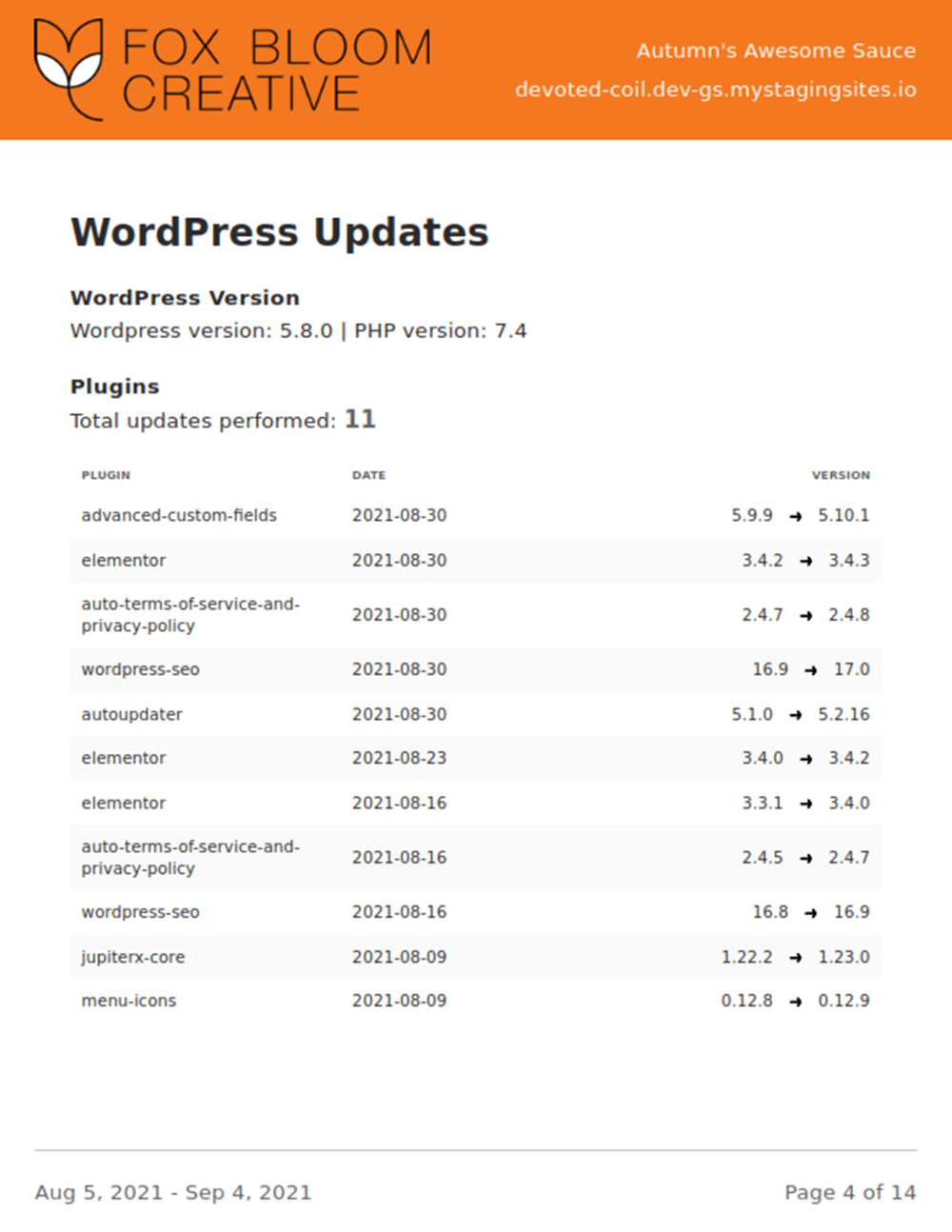 Growth Suite client report informs the clients about the regular update of their WordPress version (WP Code), themes, and plugins.
2. Backups
The growth suite ensures the safety of your files by backing up your files daily.
3. Security
They also install preventatives and continuously monitor your site to keep it safe and prevent it from any malicious act. It also ensures that an SSL certificate and Web Application Firewall (WAF) is enabled on your site. Eventually, it also helps you rank higher in the search engines.
4. Site Optimization
Growth Suite also ensures your site optimization by employing the latest technologies. Thus it makes your site speed optimized and performance-optimized.
5. Analytics
You can also check the detailed analytics to get insights about your site and better understand your site users via Google Analytics on the flywheel growth suite dashboard. The analytics include: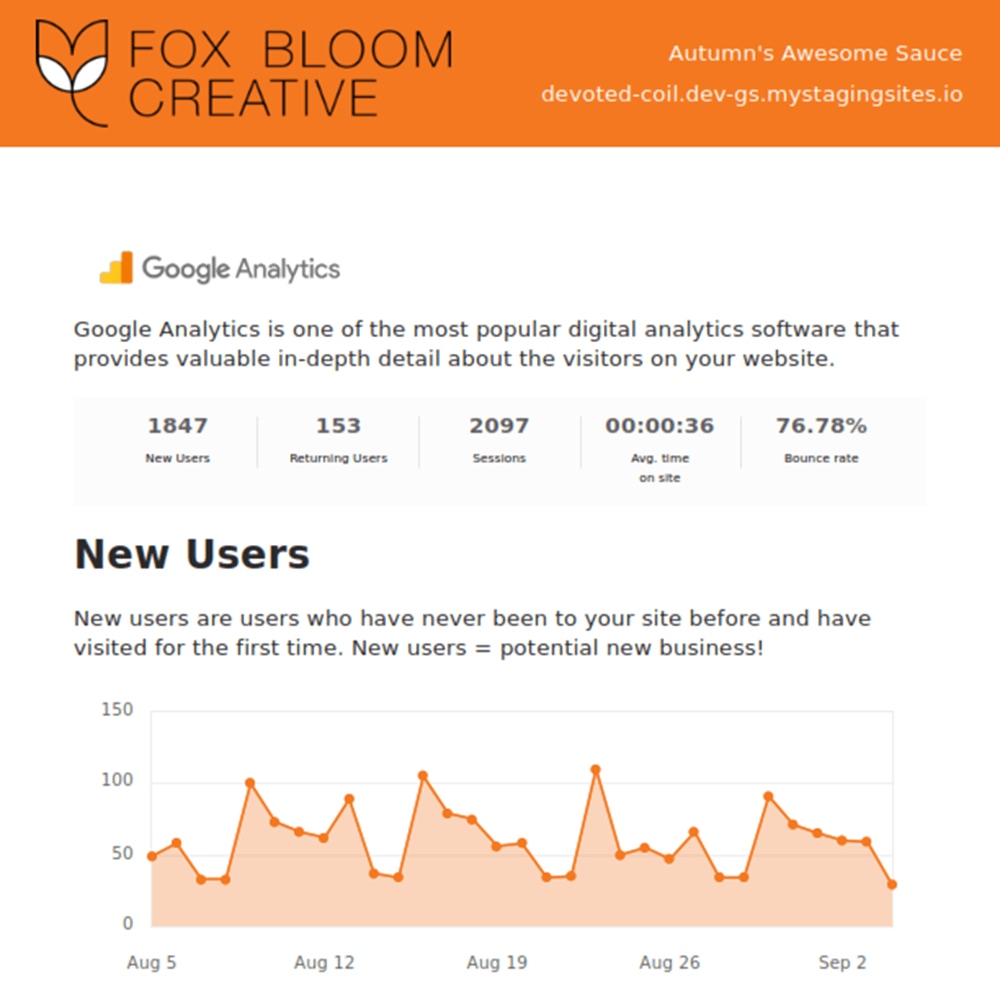 5.1 New Users

– You can check the number of new users on your site through Google analytics. New users are those users who have visited your site for the first time. Thus, new users can be deemed as potential new businesses.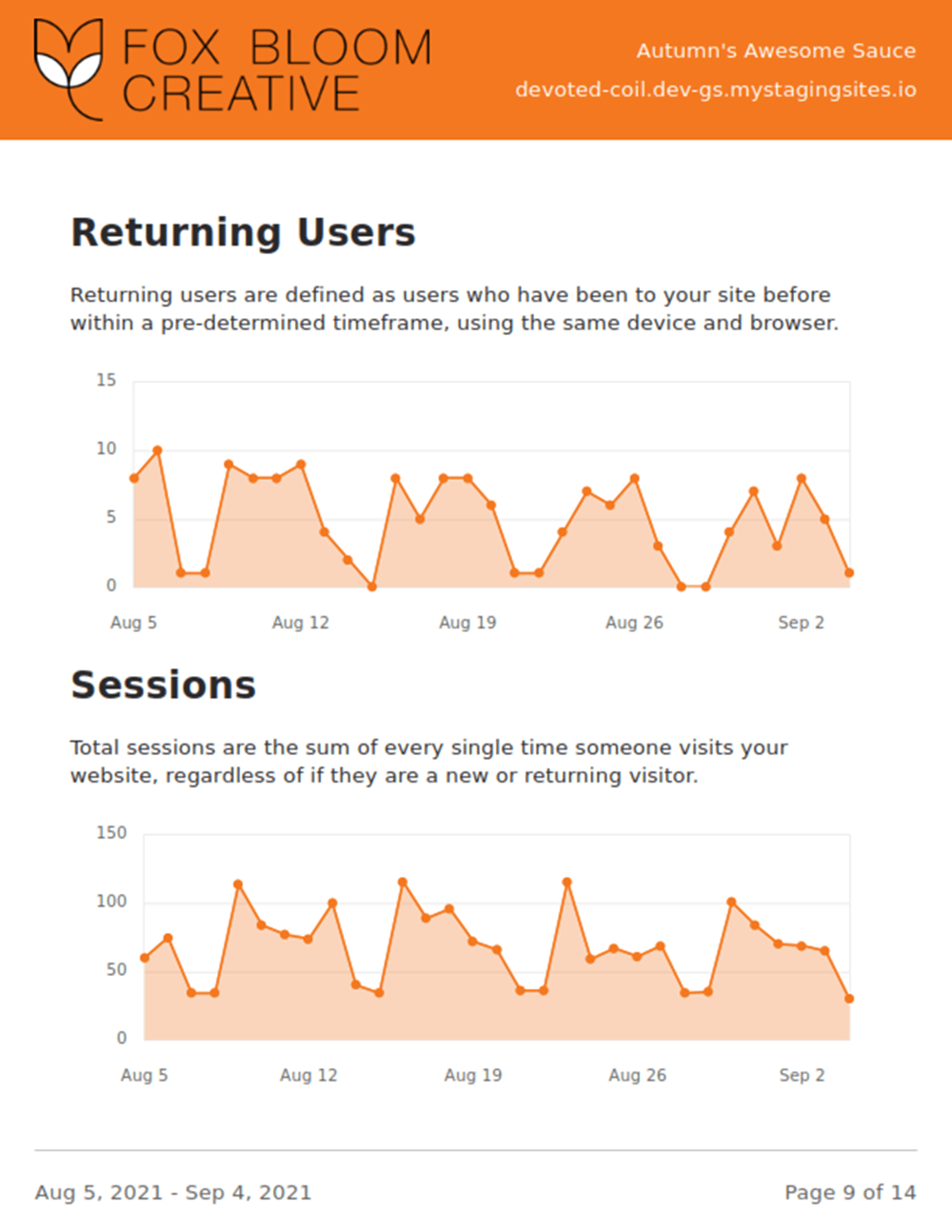 5.2 Returning Users – Returning users are crucial for site growth as they are already exposed to your business and are easy to convert. Also, returning visitors showcase the success of your marketing campaigns and tell who are your loyal customers. With the analytics, you can check the number of returning visitors on your site.
5.3 Sessions – Sessions imply the sum of the number of times the users visited your site (be it a new user or a returning user) in a given time frame.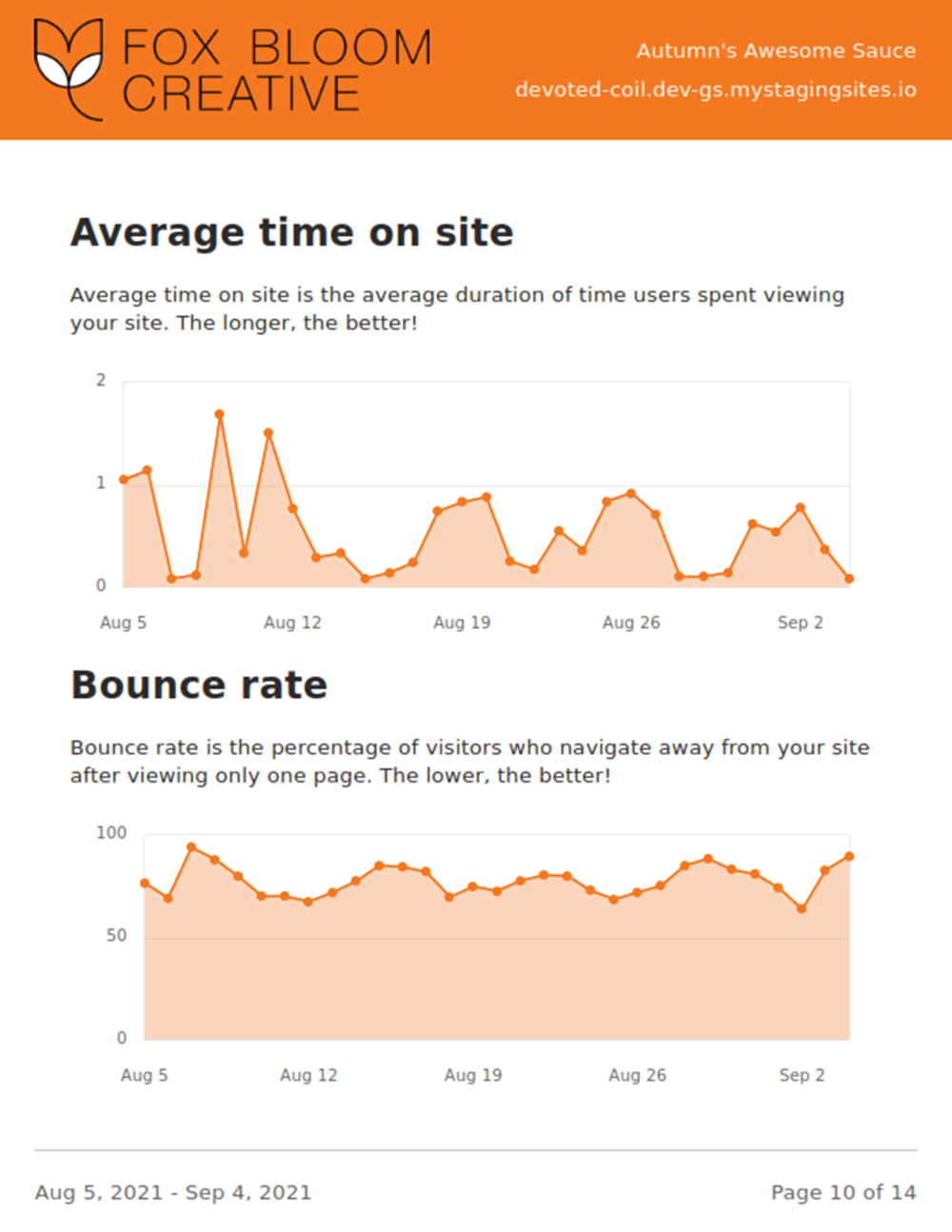 5.4 Bounce Rate – Bounce rate is the percentage of users who abandon your site after viewing the first page only (without visiting the second page) or taking any action like clicking on the link or making a purchase. The lower the bounce rate on your site, the better it would be for your website.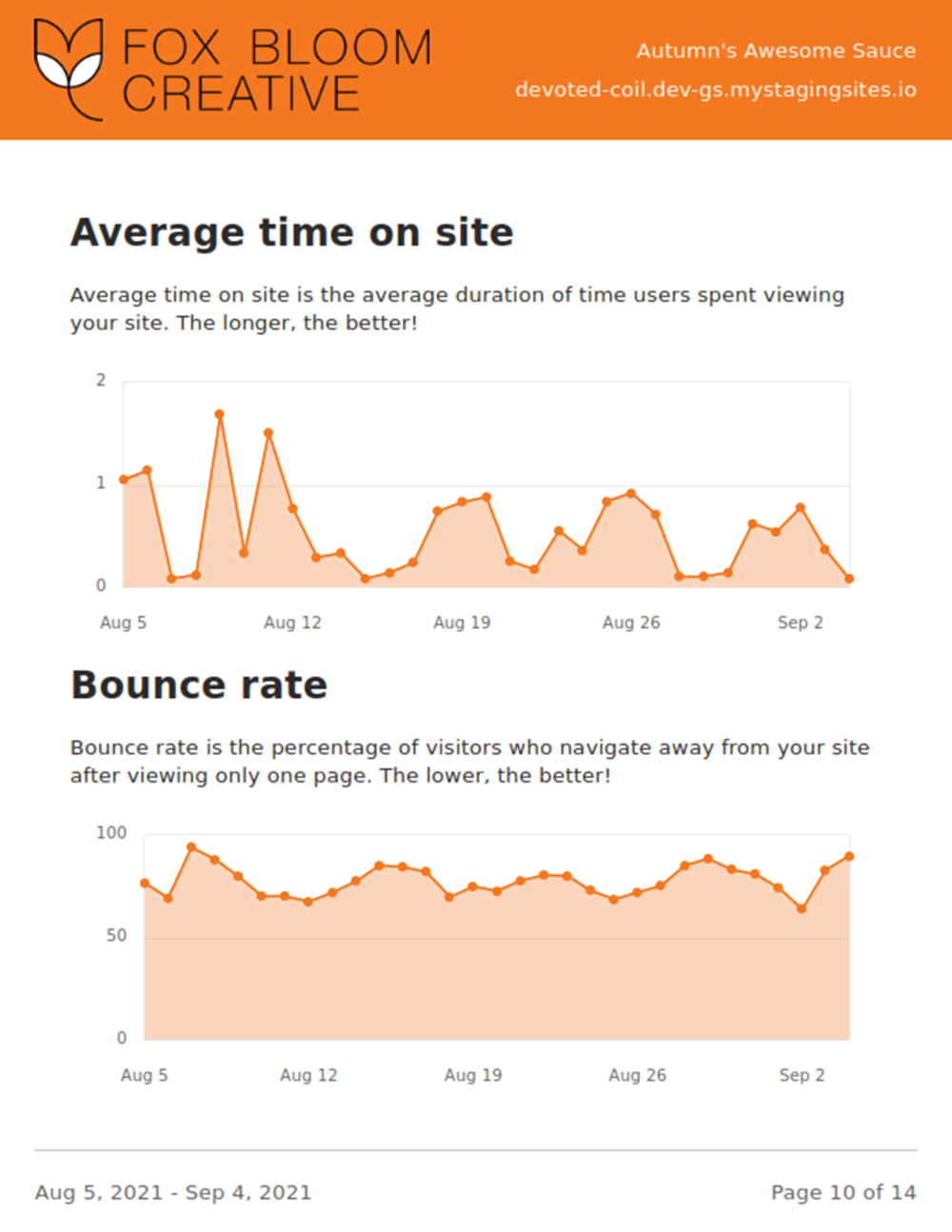 5.5 Average Time On Site – Average time on site is the duration of a user's time on your website. The higher the average time spent by the users on your website, the better it is for your site growth.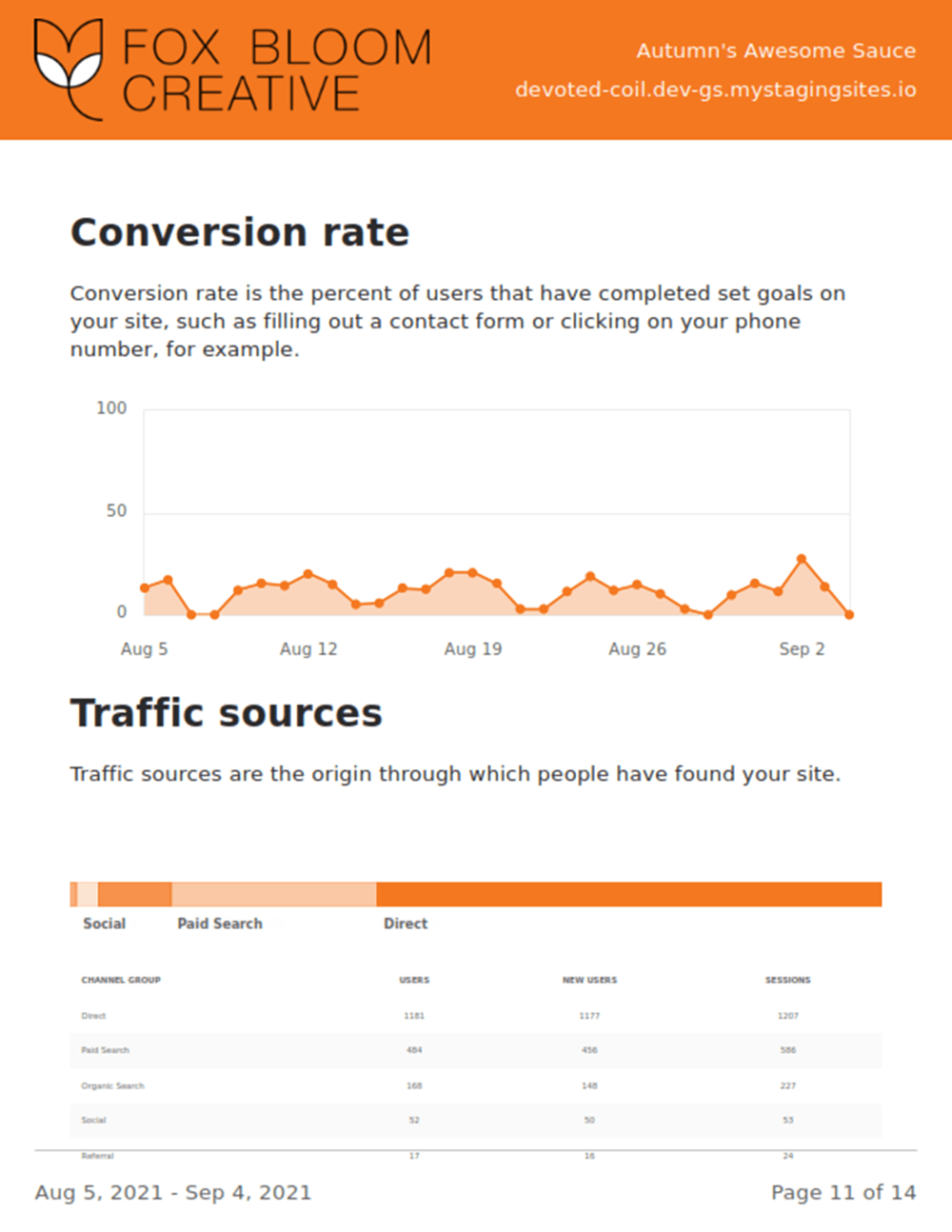 5.6 Traffic Sources – Website traffic source refers to the origin of where the users visit your website. By analyzing the traffic sources on your website, you can drag more traffic towards your website by concentrating on the best traffic sources.
5.7 Conversion Rate – Conversion rate refers to the percentage of the visitors who complete the desired goal on your website ( like making a purchase, filling out a form, clicking on the link, and more) out of the total number of visitors on your website. The higher the conversion, the better it is for your site. A high conversion rate implies a successful marketing campaign and a successful web design.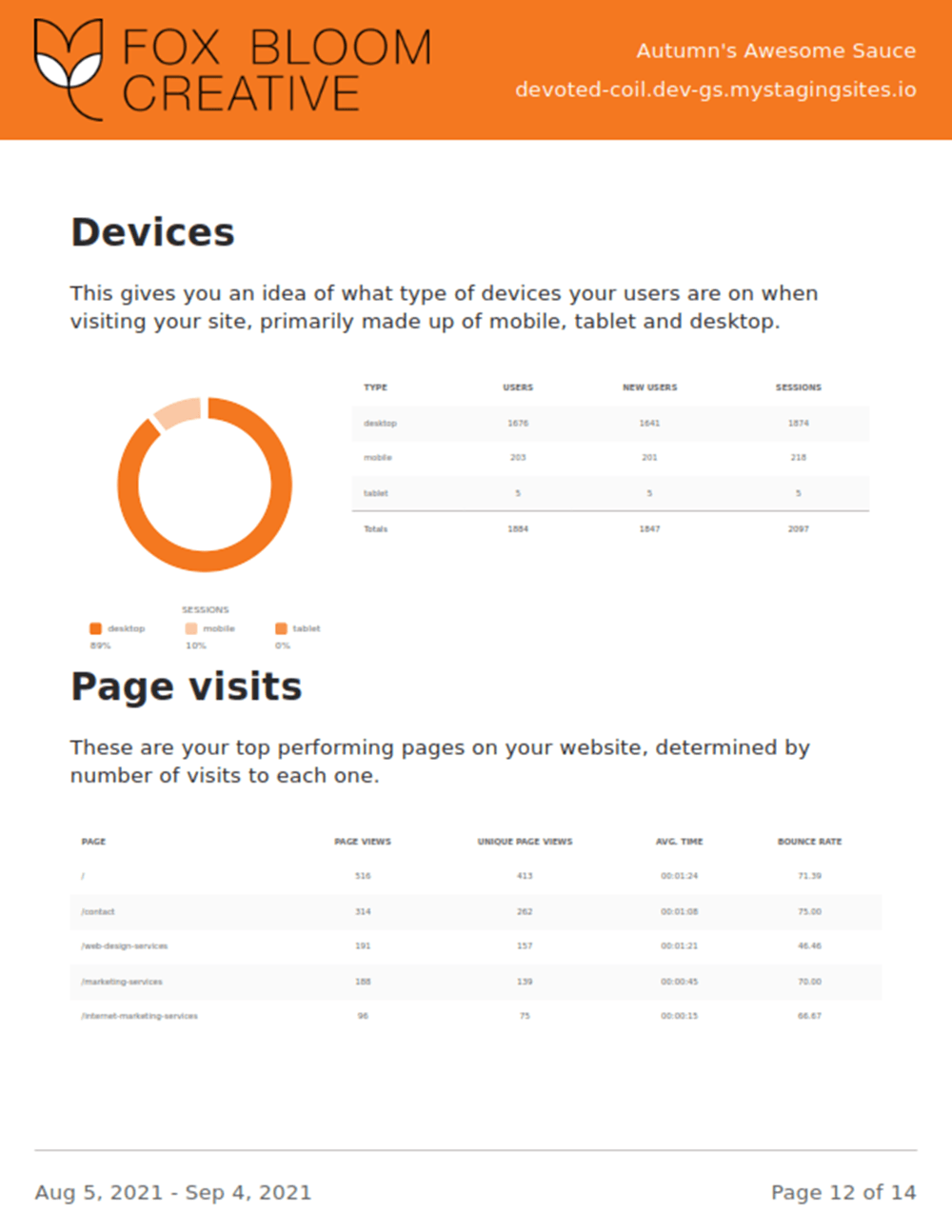 5.8 Page Visits – Page visits refer to the number of visits on each of the pages on your website. Thus, you can quickly identify the best-performing pages on your site by analyzing the Page visits.
5.9 Devices – you can check visitors' devices to visit your website. Devices primarily consist of cellular devices, desktops, and tablets.
5.10 Top Goals – you can also check the top goals set by the Growth suite on your website and the actions taken by the users on the goals.
It can also include custom notes regarding the new updates, such as added blog posts and more. Moreover, the client reports come inclusive in your growth suite pricing, thus making it even more interesting for the users.
Conclusion
FlyWheel Growth Suite's agency-branded client reports are fully packed with exclusive features and greatly help the website owners. It enables you to foster your relationship with your clients, improves communication, builds trust, and eventually creates your brand value in the marketplace. Moreover, it makes a predictable source of revenue for your business, increases your profit margins, and thus, results in the overall growth of your site.
You May also be interested in our chat Plugins, Fomo Plugins, and email marketing service.
So what are you waiting for? Get your flywheel growth suite and prove your value to your clients.
AFFILIATES DISCLAIMER
Our Site Gomahamaya.com may contain links to affiliate websites. We may receive an affiliate commission for any purchases made by you on the affiliate website using our affiliate links.