FlexClip Review Best Free Online Video Maker
Here is our FlexClip review.  If you are looking for free online Videomaker software then Your search ends here because we Review Flexclip for our visitors. Getting an easy and free video editing tool is quite difficult but They have added all the video features to their software like  Animation of text, collection of Royalty Free Media Resources, trimming video music, and faster export.

FlexClip can be used for educational, professional, and personal use. It simplifies our work effort and increases the efficiency of video production. Using this Video Maker software you can create videos related to social media promotions, Educational and slide shows with images. You can also edit YouTube, Facebook, and TikTok videos easily. Adding animated text effect on video or images make it goes viral because of presentation style.
You may also be interested in Fomo marketing, Email services, and Landing Page Plugins
Why FlexClip is better than other tools?
FlexClip Is online video editing and video maker software Where anyone makes create a video because it doesn't need any experience. This means a beginner or an intermediate-level guy can also edit video with guidance. Even its better than Movavi Video Suite, PowerPoint, and Camtasia because flex clip doesn't need hectic installation and it doesn't require any high graphics computer to produce high-quality videos. Even pricing is cheaper than those other video editing software.
Create Impactful Videos, More Fun, Efficient and Creative with FlexClip 2.7
They are loved because they because of 3 in one software feature.
Slideshow Maker

– Use images as slides with music to make it a more beautiful presentation

Movie Maker

–  Create a movie by uploading your own media file or you can also add a stock royal free video.

Video Editor

– Edit your Premade online with a simple drag and drop tool.
Pricing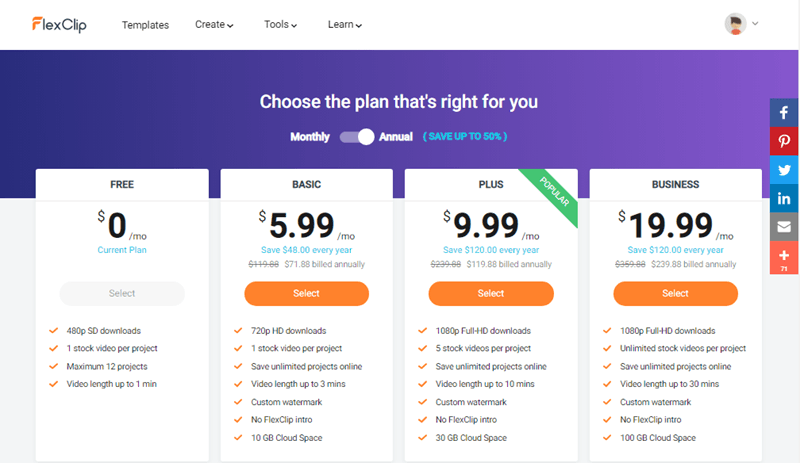 Flexclip comes with two types of billing options either you can choose monthly billing or you can choose annually billing. For yearly billing, you will get an extra discount. Currently, they are running 50% off on annually billing.
When we talk about plans we have total 3 types of plans those plans are as follows –
FREE Plan – $ 0/mo Current Plan – Free plan is limited to download only 480p videos, with 1 premium quality video per project and a save unlimited projects per month. The maximum length of the video will be 1 minute
BASIC Plan – $ 5.99 /mo Save $48.00/year. BASIC Plan is limited to downloading only 720p videos, with 1 premium quality video per project and a save unlimited projects per month. The maximum length of the video will be 3 minutes. You will get Cloud Space of 10Gb
PLUS Plan – $ 9.99 /mo Save $120.00/year. Using PLUS Plan you can create 1080p videos, with 5 premium quality videos per project and save unlimited projects per month. The maximum length of the video will be 10 minutes. You will get Cloud Space of 30Gb
BUSINESS Plan– $19.99/mo. Save $120.00/year. Using BUSINESS Plan, you can create 1080P full HD videos with unlimited premium quality stock video. The maximum length of the video will be 30 minutes is allowed. You will get Cloud Space of 100Gb
Video Categories Template availability – They support a variety of Rich video templates which can easily be edited. You can add Dynamic text animations over the video too. Some of the major supported categories are as follows: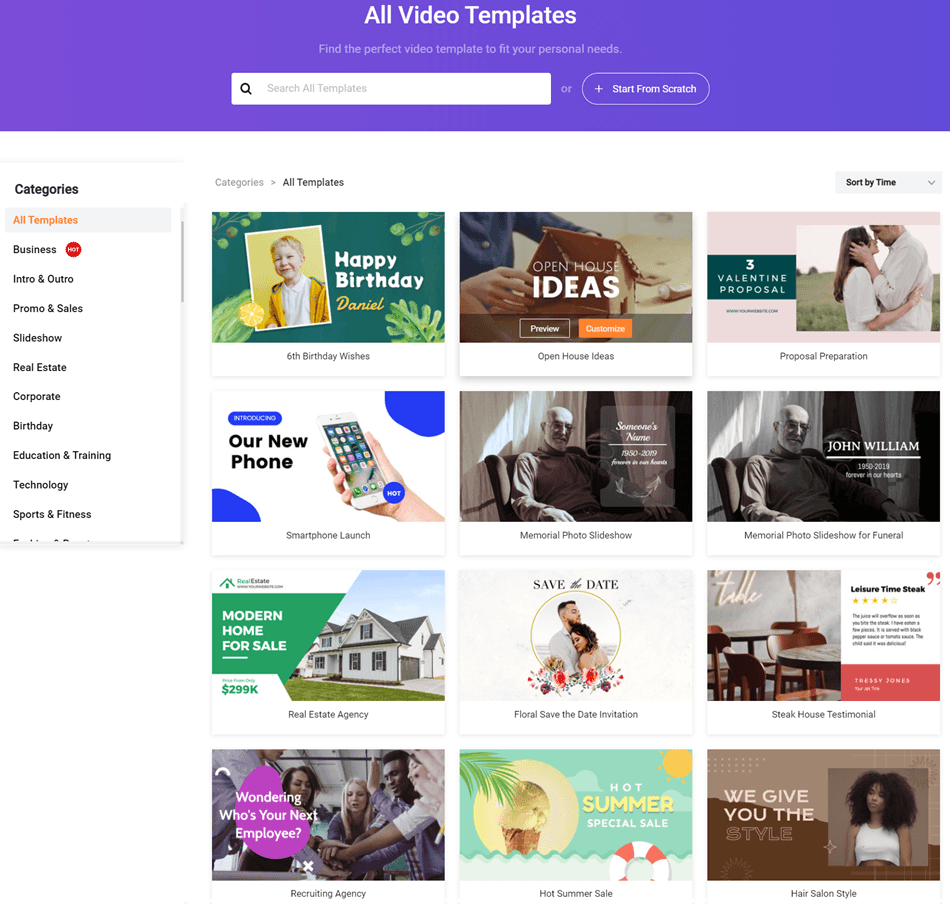 Slideshow
Technology
Lifestyle
Travel
Entertainment
Education
Business
Fashion
Food 
Nature
Photography
Review
Social Media
Real Estate
Presentation
This means they have covered almost all important sections.
Supports –
They have tons of tutorials and tips. Also, they have a Frequently ask section to avoid waiting for a repeat of questions.  You can also get support over email and or creating support tickets or via chat

FlexClip Compatibility 
You are free from the headache of installing software Because it supports only browser versions. Directly go to chrome browser make login to flex clip and you are ready to go. As per my knowledge, google chrome is the most secure option to use on your computer.
Features
In the Flexclip review, the most important part is their feature. Are they really the best online video editor? So let dig and find out more some of the important feature is as follows: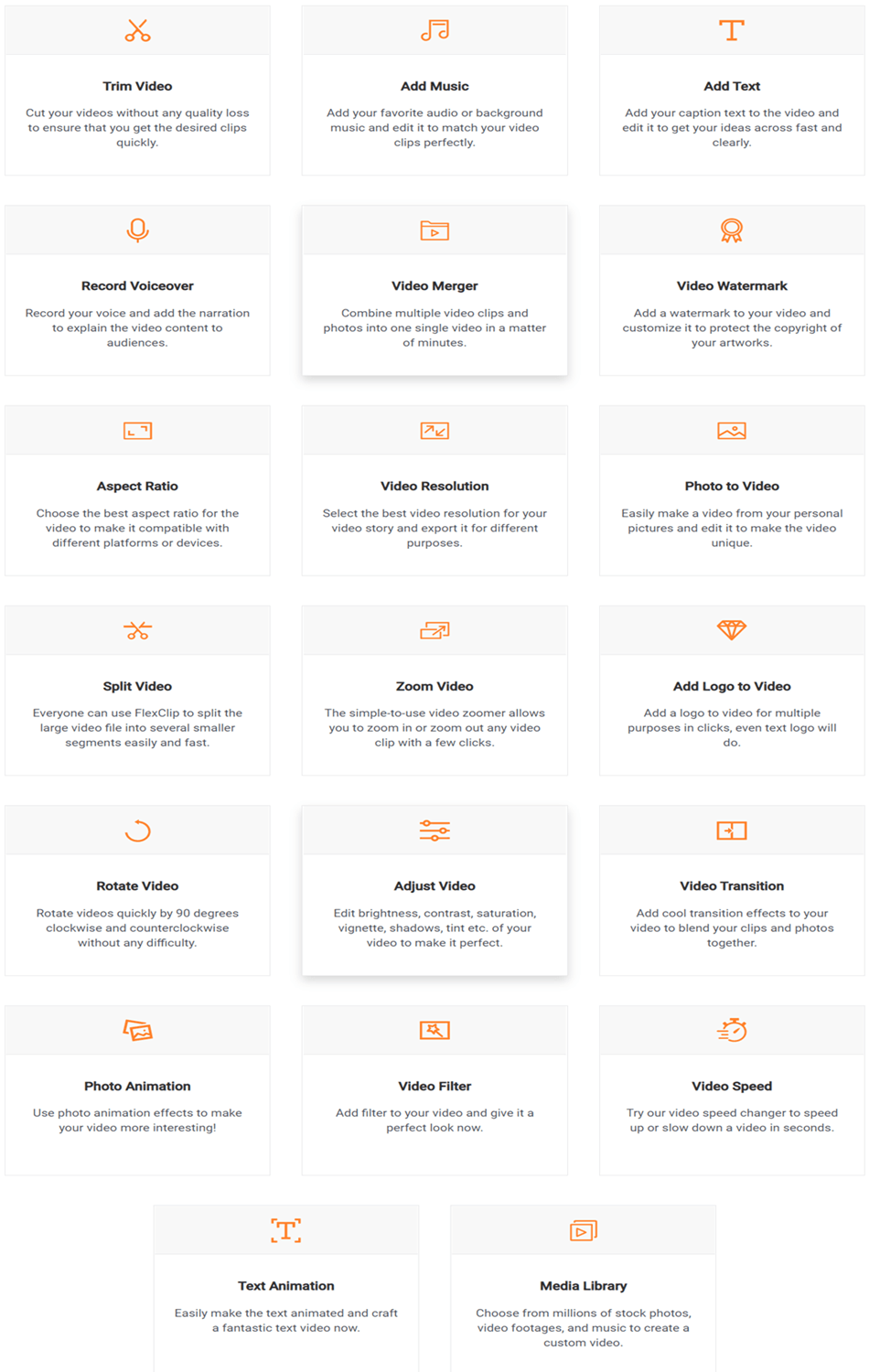 Trim Videos – This feature allows you to trim the video clip. You need to select the length of the video and mark the timing then you can easily shorten the length of the video.
Add music – You can easily add music to your video. There is 1000's of stock music available you choose one of them or you can upload your own music whether it may be a song or a Pre-recorded voice.
Add Text – You can easily add animated text effects to the video. So that you video viewer can under more about the video clip. They have added premade color text layout which will increase the beauty of the video.
Video watermark – You can add your brand logo to your video. Specialty those who are YouTubers for them custom branding watermark is most important.  This feature is not available for the free version of the flex clip.
Video merger – Merging different clips videos could be difficult. But you can add as many videos as you want together. Without leaving that page.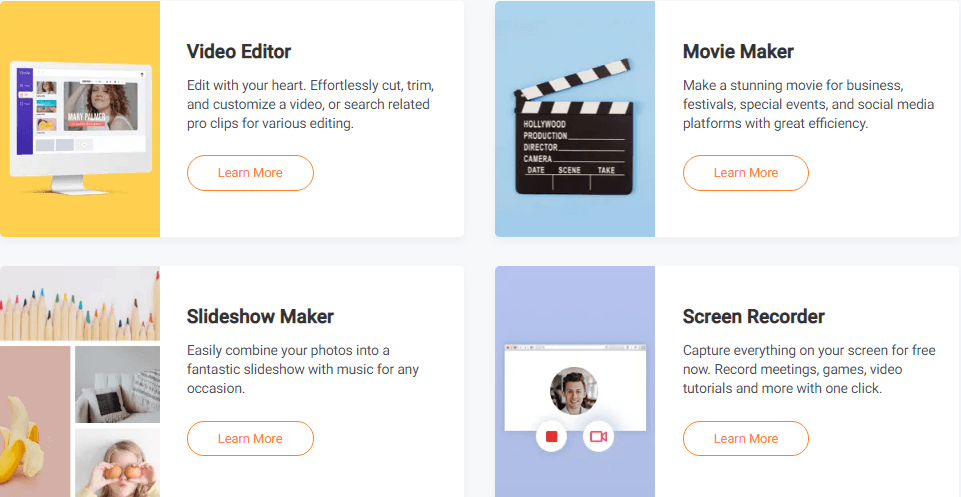 Aspect ration and video resolution – You can get all sort of aspect ration to meet different platform need. If you are looking for a mobile version video then also you can get the proper aspect ratio. Video resolution can also be maintained using flex clips because so many people want 1080p videos, some want 720p and some want 420p.
Zoom Video – Adding Zoom in and Zoom out animation in video need high graphics software even pricing will be much higher but using Flexclip you can add zoom in and zoom out effect easily.
Rotate Video – Video rotation can be done easily. You can rotate any video clockwise or anti-clockwise by a phase change of 90 degrees.
How to Make a Professional Video in Simple Steps

Step 1: Selection Of Template
Once you are logged in You need to select the category of the template needed. Let's say you need birthday templates then select that category or type your related keyword. Then you will find all the templates related to birthdays. You can have a preview of the template by hovering over the template.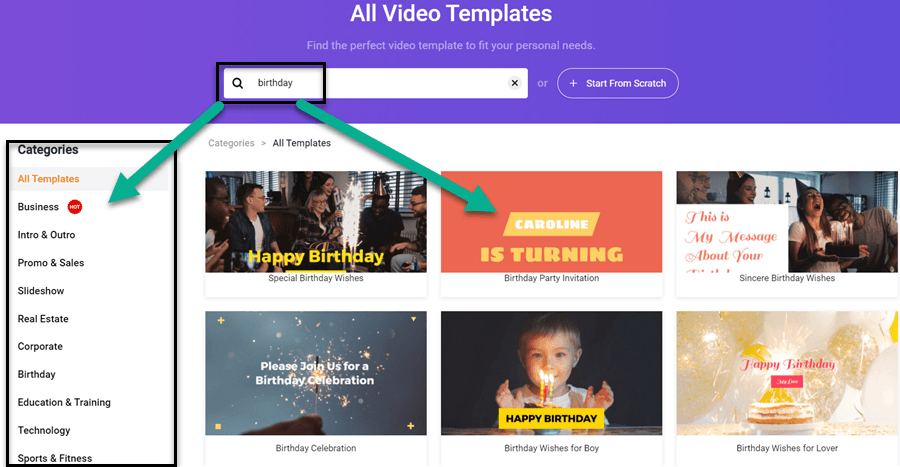 Step 2

– Select the template

Select the template and click on customize. After that, you will get redirected to the editing dashboard.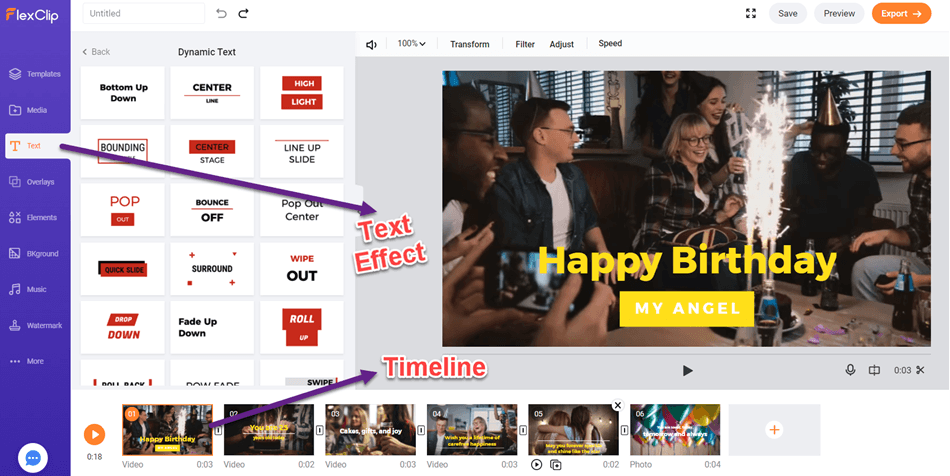 On the timeline, you will find slides Select any particular slides to edit it. From there you can manage voice, text, and background video.
Step – 3: Add Video Stock Video or images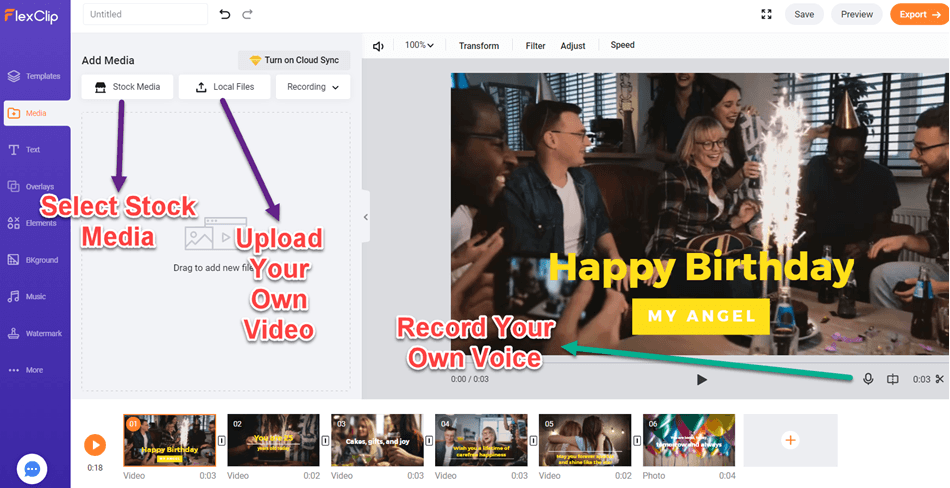 Now, Select the globe-like structure if you want to add stock image or stock video. If you are planning to upload your own video then click the button just beside the upload option.
Step 4 – Add Music 
Now it is time to record your own voice or select stock music from the music library.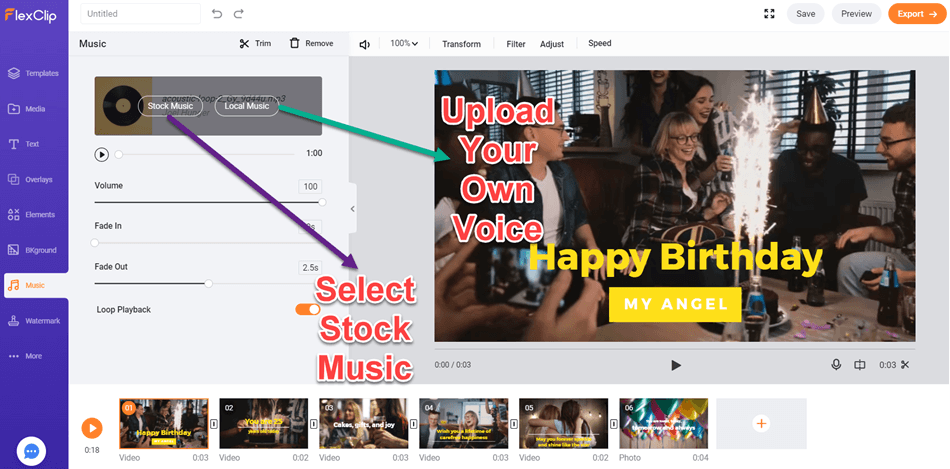 There you can maintain volume or crop the music with cropping tools. and continue this with the next slides.
Step 5 – OverLays
You have Hundreds of Premade Overlays designed available to you. You can click to preview overlays and easily drag and drop your timeline for more effects in your videos. Some of the overlays are a business, Corporates, Design & shapes, Decorative, and Logo Overlays.

Step 6 – Elements
In Flexclip you will get 1000's of premade royal free elements which you can include in your video project and are more enjoyable and attractive. My favorite is the like button and subscribes button for youtube. Although They have Other designs too like social which include Facebook, Twitter, and other social media logos. They have shapes arrows, Birthdays, Promo, Business, emoji, and text bubble-related elements.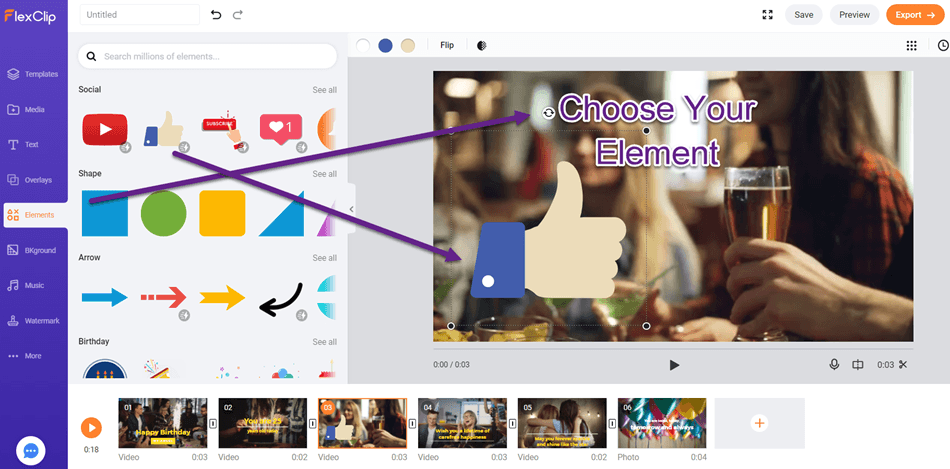 Step 7 – Watermark And Export setting
You can easily add a logo to your video and maintain the location of the logo. There you can also edit many more customs export settings like front, Size, opacity, and aspect ratio.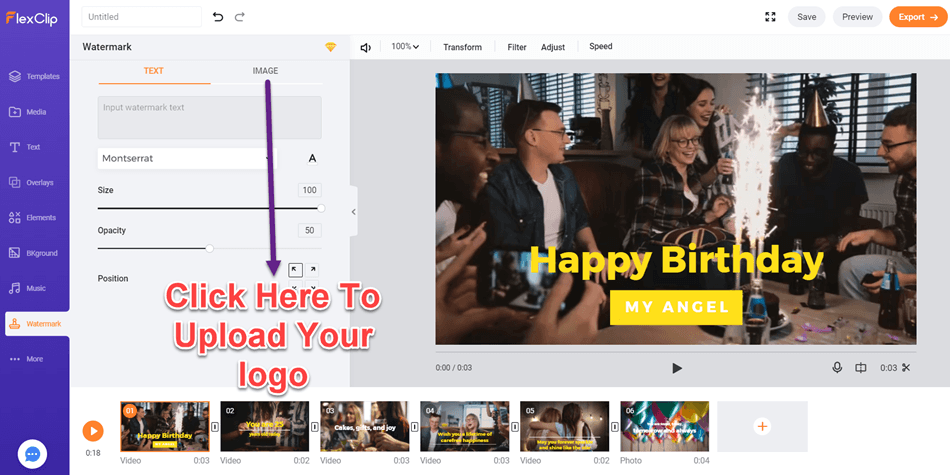 Step 8 – Preview and Export 
It's time to preview your Video if it suits your brand style then export it.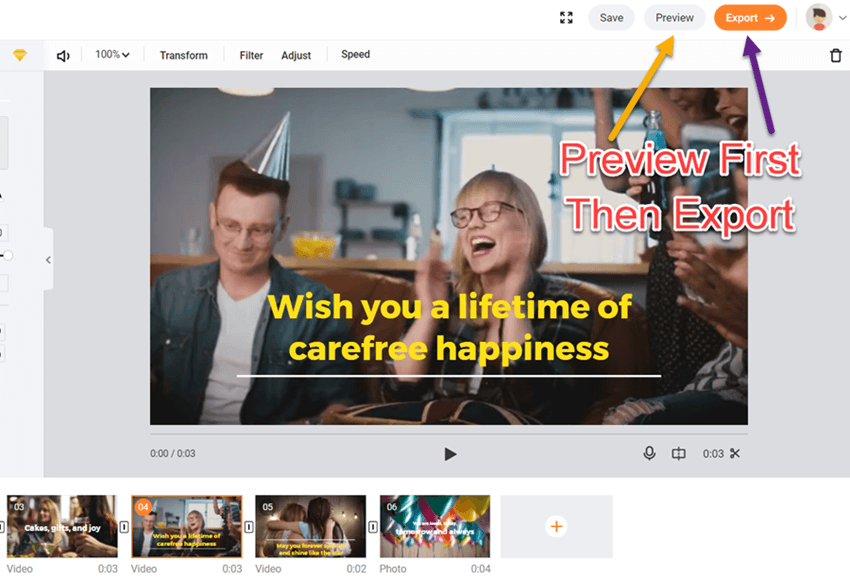 After clicking on export you need to select Video resolution 420p is free but 720p and 1080P is paid.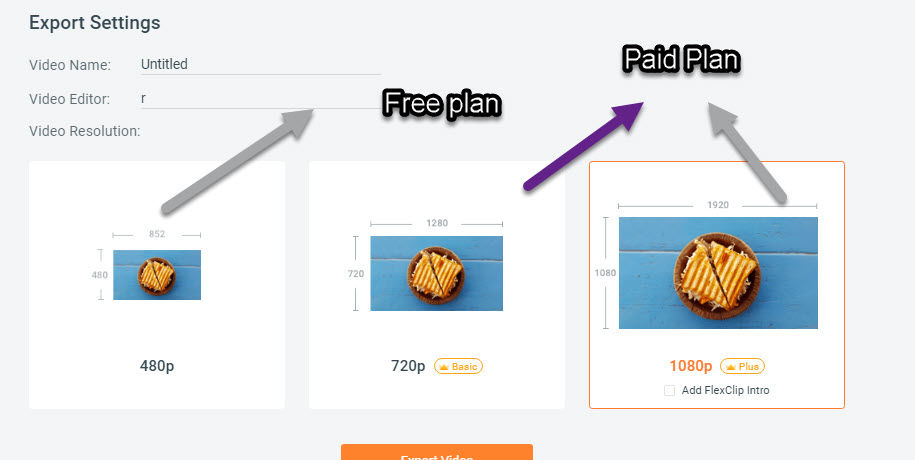 Conclusion
My Flexclip Review I found that this will be much helpful for those who are trying to create professional videos from images slides. And for the people who are continuously buying stock videos and using different software for editing them. For these Flexclip software will be a boom. Because the pricing of the software is quite low as compared to what they are providing.
You might be interested in reading about the Animated Infographics Liquid website Hosting Review and Designcap Review