DesignCap Review Free Online Graphic Design Software
Designcap is an easy graphics designing software that will allow you to create beautiful posters, thumbnails infographics in minutes. So let's have DesignCap Review and we will learn why you should use it.

These days, our lives depend a lot upon online software available which makes our daily work easy and we get better results using them. In this article, I am going to talk about software that has made the life of a graphic designer very easy.
DesignCap is graphic design software that enables you to make Photos, Flyers, Invitations, Instagram posts, YouTube art, and more with amazing graphics. It is easy to use, you can make smart designs in minutes and the best part is, it is absolutely free!
You may also be interested in the video editing tool, Free Stock Photos, Sell photos online
It helps you make and save your designs on desktop, drive, and even share them on social media platforms very quickly and easily.

Let's take an overview features of DesignCap
In our Designcap review, we will discuss some of the important key features of our best online graphics designing tool.
Designcap review You can make smart, professional-looking, and attractive Posters, Photos, Art, Invitations, and Presentations in a very short period of time.
The website offers thousands of smart and trendy templates to choose from.
It has millions of art resources to choose from, which come in very handy while designing.
The software offers elegant visual charts which come in handy when you need to make quick presentations
There are thousands of exclusive and well-grouped modules that make your design making the experience seem like a cakewalk.
This software helps in making even the most complicated designs very easily and quickly.
Customization can be done to your design, i.e you can add your own art and photographs in JPG or PNG format.
It provides you with cloud storage in which you can save your work for future references and uses.
You might be wondering what is so great about this software which distinguishes it from the others available in the market?
There is so much graphic design software available in the market, which is good in their strata, moreover, DesignCap gained its popularity because it can be loaded with almost all the features any other software has to offer, that too for free.
Benefits of Using DesignCap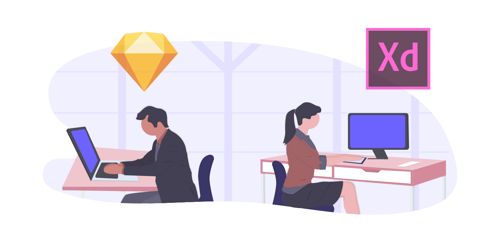 It's online

– It helps you make and save your work online which makes the software come in handy in the time of need.
Easy to use

– Unlike other graphic designing software, you don't require extreme courses and put in a lot of effort to learn the software. DesignCap is very user-friendly and you require absolutely No skill to start working on it.
Powerful Tools  DesignCap comes in loaded with all the features and tools one might require to make beautiful and professional graphic designs.
Savings

  –  It saves you a lot of time and money because it is free and you can get your desired graphic designs in just a few clicks.
By now I am very sure you must be impressed with the software and its features and now you'll be eager to start working upon it.
Here I'll provide step by step guide on how to use this software.
Step 1–  Visit the homepage of DesignCap and signup for free by logging in from your email or Google or Facebook.

Step 2 – After you have successfully logged in, you can start making your design. You can choose from a wide variety of graphics designcap templates, Charts, Modules, Backgrounds, etc. Available or you can put up your photographs in JPG and make it your background. On the working tab available on the left side of the screen you can see all the features available to be put in the Design.
Starting from the top you will see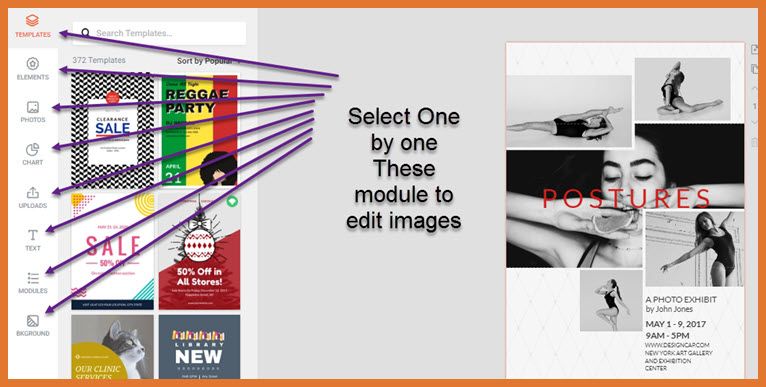 Templates

: From this, you can choose the template which suits your design from the huge variety available.

Photos

: you can add photos from the huge variety available on the software using this option.

Chart:

 if you need to add charts to your presentations, you can do so from this option.
Uploads: Next in the tab, you will find uploads, here you can upload photos from your device for your design. In the free plan, you can upload only 5 photos to the design.

Text

: you can add and format text on your design using this option.

Modules

: below the text, you will find modules, you can select to add modules to your presentations.

Background

: Last on the tab background is present which can be chosen to add different backgrounds to the design.
You can choose all the options on the tab to make the best designs as per your choice.
Step 3 – Once you have your desired background, you can customize the photographs which best explain your motto, you can surf through thousands of artwork and photographs available and choose what suits you best. There is also an option to put in your photographs and you can upload 5 photographs in a single design. Crop, zoom, filter, and customize the template as per your need.
Step 4 – Finish off your design by adding in the text. You can add Heading, Sub-Headings, and paragraphs. You can format the text, change its font, size, color, etc. as you desire, feel free to size and re-size as per your needs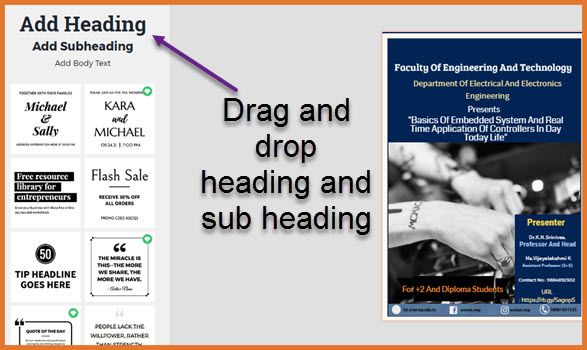 Step 5 – Upon completion of your design, you can download your design by clicking on the save button available in the top right corner of your screen. Then it will ask you whether you want to save your design in JPG or PNG form, choose the desired.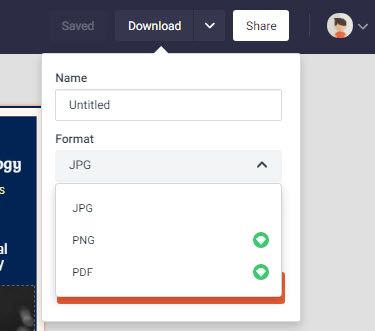 Also, you get to choose to directly export the design on your social media platforms. After the selection click on the share button and your design will be downloaded or uploaded in image form on your device or your social respectively as per your selection. You can save 5 designs on the software.
Designcap Pricing 
Although, DesignCap is a free graphic design software, if you need to work professionally in the software, then you can buy one of the prepaid plans available which will give you access to more professional tools.

1. Free Plan
One can start working on the software, free of cost using their free plan.
Perks of Free Plan
You get access to a huge variety of Templates and stock media.
 It allows you to upload 5 images in a design.
The software drive will hold 5 design images
The designs are exported in medium resolution.
2. Basic Plan
One can choose from a basic plan by billing it monthly and paying $8.99 USD per month. You can also bill it annually and pay $4.99 USD per month which will save you 50% of the initial cost.
Perks of the basic plan
You get access to unlimited templates, stock icons, stock photos, and modules.
It allows you to upload 100 images in a design.
The software will save your 100 design images
The designs are exported in high resolution.
3. Plus Plan
One can opt for a plus plan by billing it monthly and paying $12.99 USD per month. You can also bill it annually and pay $5.99 USD per month which will save you 50% of the cost.
Perks of Plus Plan
You get access to unlimited templates, stock icons, stock photos, and modules.
It allows you to upload 1000 images in a design.
The software saves your 1000 designs as images.
The designs can easily be exported in HD resolution.
Conclusion
I found that DesignCap Review will be much helpful for those who are trying to create professional posters, flyers, etc. These people face great difficulties in continuously buying stock images and using different software to edit them. This DesignCap is really helpful, here you can get it all done at one place that too for free. Additional to the free plan if you require professional features you can purchase a prepaid plan at a minimal cost.