8 Best WordPress Timeline Plugins 2023
Are You looking for the best Free WordPress Timeline Plugins? Using Timeline Plugin, you can quickly tell History stories on your websites like Horizontal and vertical timelines with dates and Some content.

These Plugins are beneficial for marriage-related websites to show their marriage time. Even you can use it on the Company website to show your company generation timeline journey that you started your website on some date then you something like that. These data you can offer in either horizontal format or vertical format. Using These history Showing plugins, you can easily add videos, Some text, and Images. You can easily display text with dates or images with dates on the Timeline.
Even some of the Plugins are shown in advance. You can display your Facebook feed in timeline style and Your website post in a timeline style. Make your website looks more beautiful.
You may also be interested in FOMO Plugin,  landing Page Plugins, and caching Plugins.
So let's have the list of best Timeline Plugins for WordPress are as follows :
1. Ultimate Addon For Elementor

Elementor Timeline Widgets is a paid Elementor timeline widget addon that lets you effortlessly access the trending Timeline on the website within a few minutes of configuration. A complete alternative to enhance the site's look with the support of this Ultimate Elementor Addons. Now, you get the appropriate flexibility to customize such widgets for timeline presentation according to the sit's need. Enable ease in accessibility to create Content Timeline as well as Posts Timeline. At the same time, Elementor Timeline avails you of many alternatives throughout the journey of embedding a timeline. This easy-to-use Elementor timeline plugin supports both horizontal and vertical roadmaps or charts.
Content Timeline
Create an innovative content timeline accordingly and let it describe with images and text.
Alignment options are available to align such contents that may be visible better on different devices.
Contribute links anywhere among the content or entire block.
Posts Timeline
Enables the site's design while adding different posts by category along with essential filters.
Allows a variety of social sharing widgets that ultimately increase engagement on the site.
If you have to carry more than one site, you may quickly transfer the entire content to different websites.
It is integrated with schema markup, which saves time while preparing the customized widget for FAQs Section and pre-written procedures.
Price – Ultimate Addon-$55/yearly,  Essential Addon-$169/yearly,  Growth Bundle-$249/yearly
Elementor Widgets - Timeline Widget for Elementor
Screenshot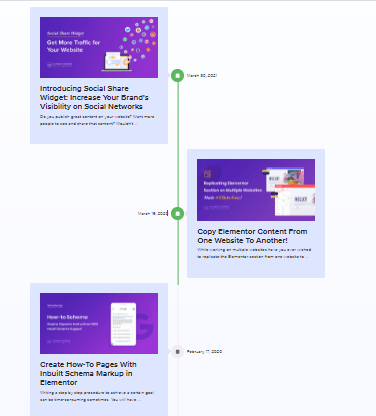 2. Timeline Module for Beaver Builder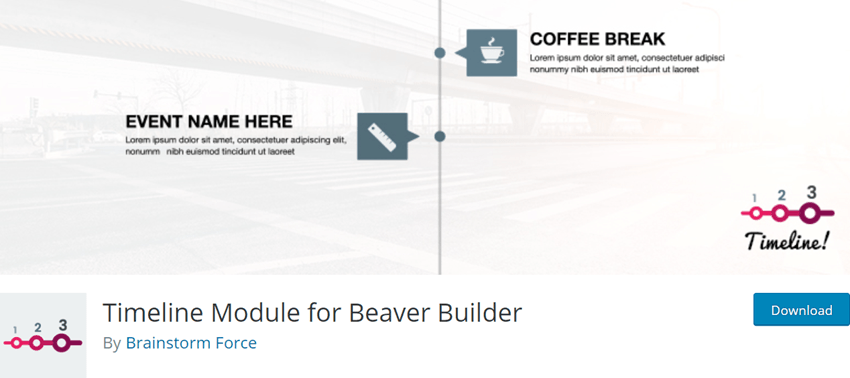 The timeline Module for Beaver Builder is designed intuitively and is a lightweight popular beaver builder timeline plugin to create a fantastic chart or roadmaps timeline on your WordPress website. Present the content of your website so elegantly with this easy-to-use Beaver Builder plugin. The Timeline of any website describes the summary and history of its performance that attract an audience to be your reliable customer. Connect different apps of your website to display its content on the Timeline.
Core Features –
Design beautiful timelines for any website, i.e., fully responsive on any device.
Let you customize dates, connectors, and selectors.
Customize easily with a drag and drop interface.
Hide or show the date on the posts whenever required.
Modify the style and appearance of the Timeline by editing the title, description, data, and more.
Add animation effects to the Timeline that makes it more attractive.
Apply infinite loads on Timeline scrolling that enhance the user experience to the visitor and customer.
Total number of users – 3,000+
3. Post Timeline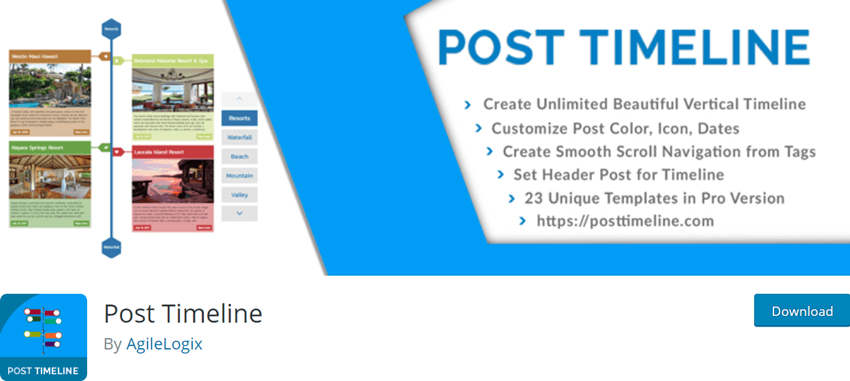 Post Timeline is a well-integrated freemium timeline plugin for WordPress that allows you to create a vertical and horizontal history timeline page on your website. Here you can showcase the available posts, events, and appointments attractive. Create a complete timeline and an animated scrolling experience to enhance user engagement for a long duration. Post Timeline lets you customize the Timeline of your website. However, you are required to display your audience.
Elementary Features –
Create multiple timelines associated with shortcodes.
Utilize shortcodes to create categories and assign posts to such categories for displaying on the Timeline.
Create navigations automatically based on tags.
Provides various templates for the Timeline and customize as you desire to display.
Apply available intuitive navigation styles with animation effects that let your users navigate freely throughout the website.
Add timelines either in vertical or horizontal format.
 Assign icons, dates, colors, tags, and categories for each post on the Timeline.
The highly responsive interface provides a smooth experience on every device.
Total number of users – 900+
Price – Regular License-$24/Lifetime
Screenshot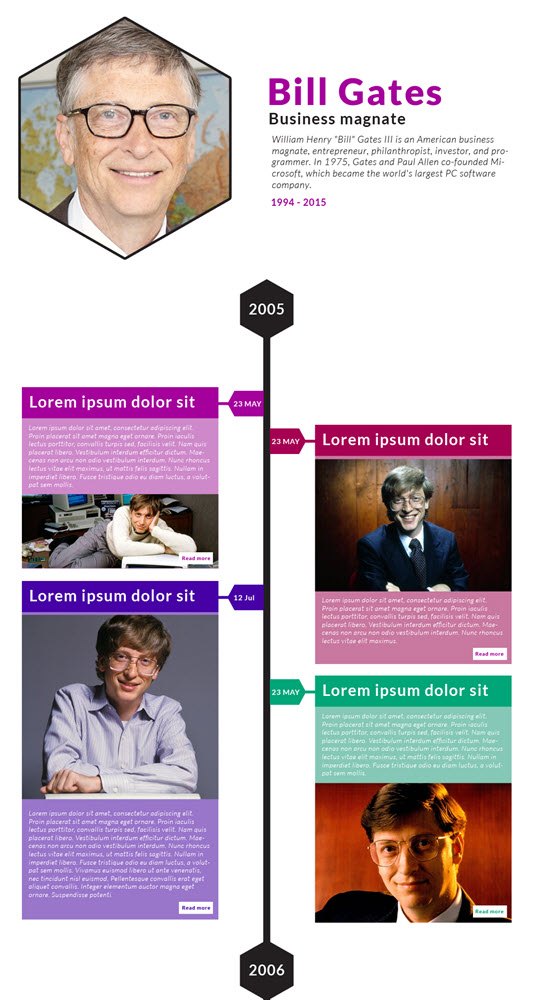 4. Event Timeline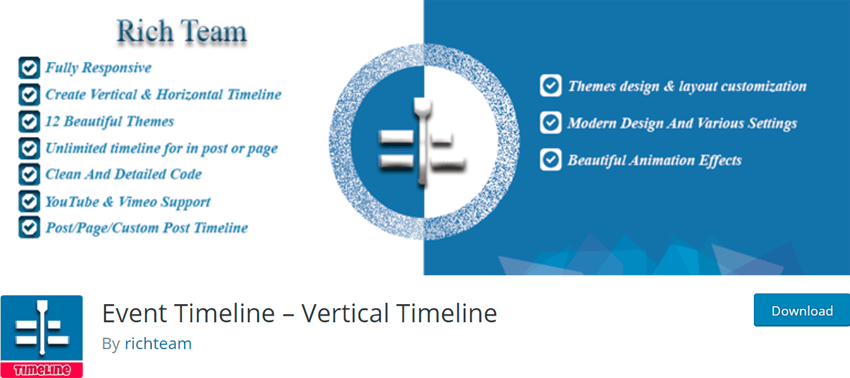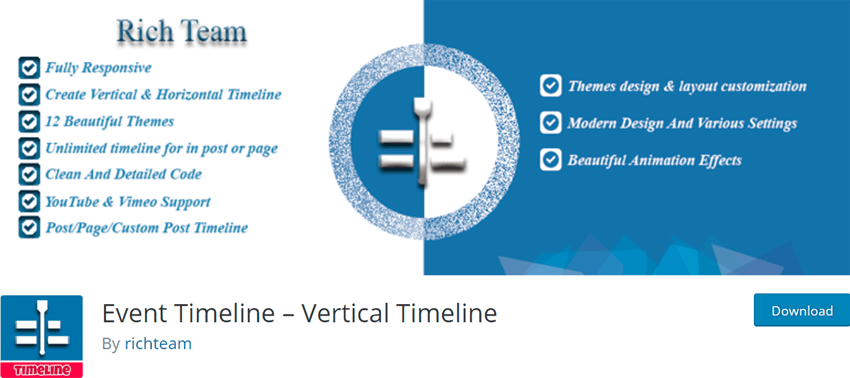 Event Timeline is a leading free WordPress Timeline plugin that can display your company's story timeline in chronological order as per the date and year of your posts. It supports the vertical style of the timeline display. This Plugin features the intuitive Timeline Template Maker Plugin that can beautifully transform your blog post into a blog timeline in no time. It provides you with an endless number of color options. You can even have different and various timeline stories. Moreover, it functions well in any WordPress theme.
Event Timeline Plugin for WordPress has six different plugins bundled within the pack. It is easy to set up with a plethora of features available. You can change layouts, colors, icons, content, and images with just a few clicks. It is receptive and allows you to have an excellent and breakthrough timeline with the help of the composer layout. It also provides you with Vertical as well as horizontal layouts. The plugin has a unique style and helps create a beautiful timeline with an intriguing visual design that brings your page to a different level. Visual Line is a visual composer addon, so it is required to have a pre-installed Visual composer plugin for the addon to work. You can easily showcase the history of your company in a horizontal and vertical timeline style.
Total number of users – 1,000+
Screenshot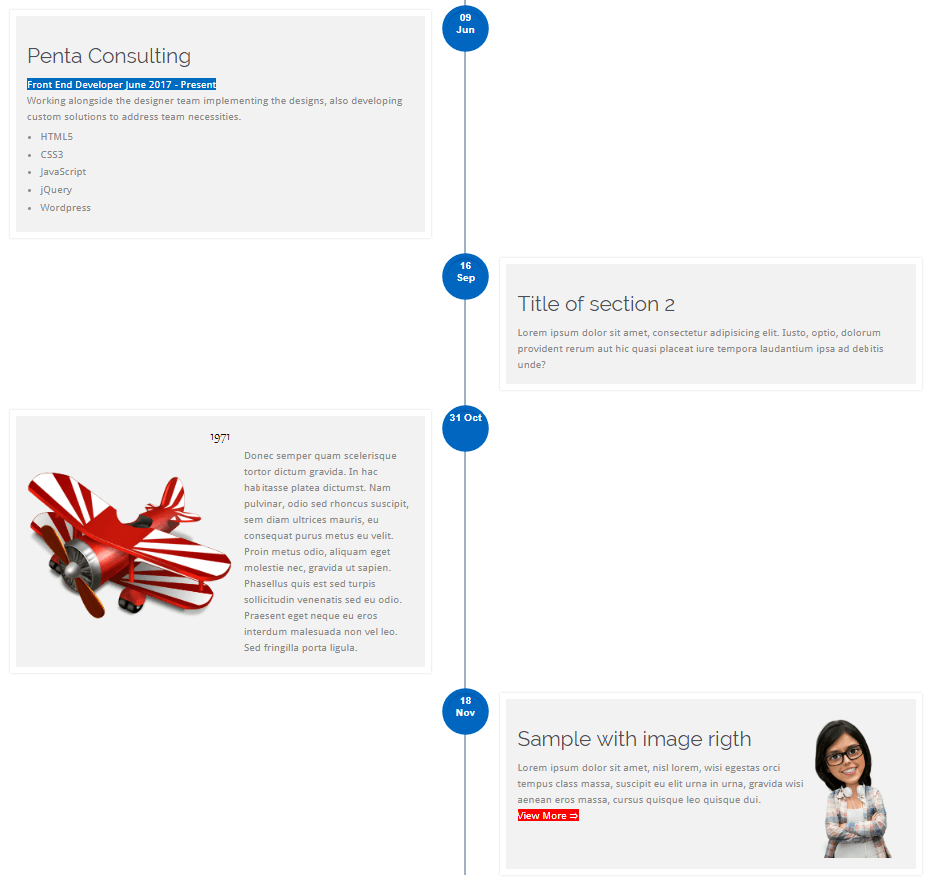 5. Cool Timeline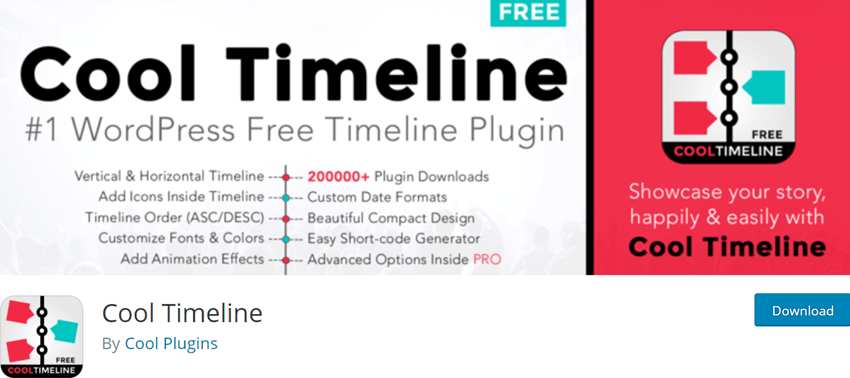 Cool Timeline is an intelligent HTML & CSS supported vertical Timeline Plugin for WordPress to create a fantastic vertical company history timeline. The premium functionality of the plugin is that it auto-populates the posts in chronological order as per date and year. You have to create the posts, input images, and date. With the use of shortcodes, you can showcase your events, appointments, concerts, stories, etc. As the name suggests, with the help of Cool Timeline, you can display happenings, your events, anecdotes, concerts, and so on.
The minimal plugin is applicable anywhere with the help of shortcodes and has a robust admin panel integrated with the control-timeline multiple posts type. The plugin facilitates excellent social reach via the social share icon and supports more timeline posts and comments by Ajax support. This Timeline allows you to design timelines you wish to conveniently, be it single-sided Timelines or double-sided ones. Moreover, it facilitates the addition of the date of your story, and also you can change the text if you wish to.
It allows you with approachable timelines, and this module can be easily accessed even through mobiles. You can alter the effects of animation as well. Moreover, there is an On or Off button option for connectors. And for the user's convenience, the drag and drop option is also available.
Total number of users – 20,000+
Price – Regular License-$25/Lifetime
Screenshot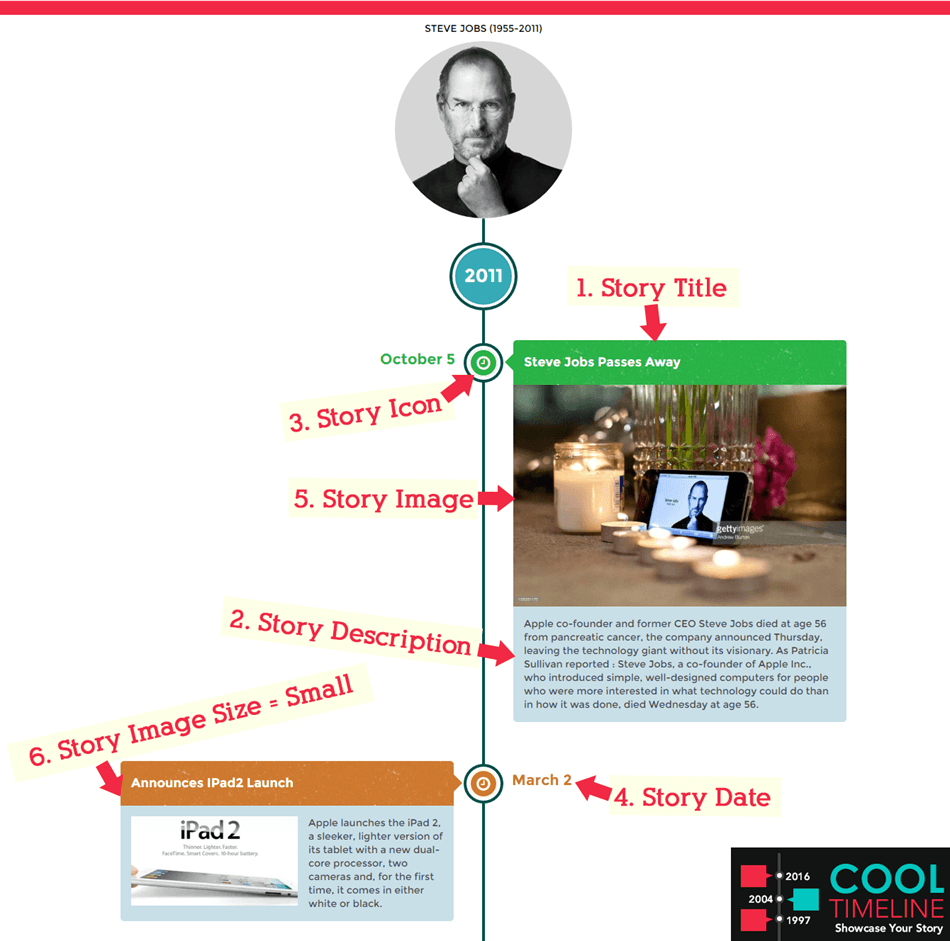 6. Timeline Express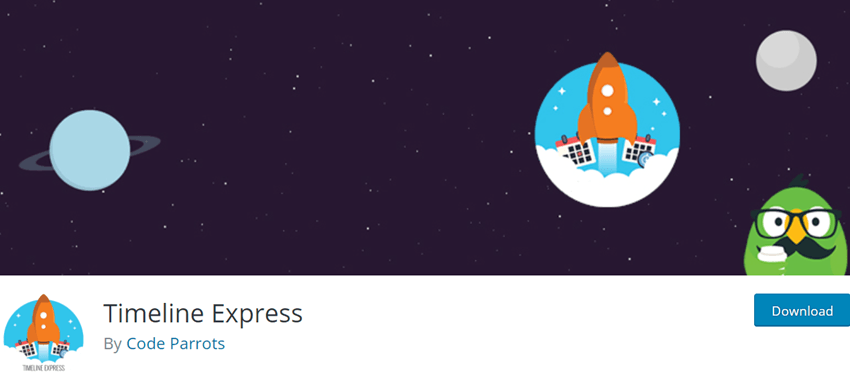 Timeline Express is a popular post timeline plugin for WordPress that helps you style your page with a winsome and CSS-supported animated vertical timeline. It is one of the very well-known WordPress Timeline as it enables you to create an incredible animated vertical timeline. It provides you with attractive CSS3 animations. You can also avail of addons.
The single site license price of $39 is comparatively higher. However, the world-class functionalities and one full year of priority support make it a worthy choice. Every part of the Timeline can be customized and highlighted with a thumbnail. This Timeline allows you to have many advantages. It provides its users with authentic documentation to enable them to access a variety of colors and icons. It has a multilingual support system. Also, it has attractive side navigation.
It provides three timeline layouts: horizontal, vertical, and one-sided Timeline. It makes alteration simple, whether the color, image, content, or icon. You can even play with the theme of description, story title, and so on. It helps with the inclusion of pictures inside your timeline story. In this, you have the facility to alter the show's options or hide for a date. Also, you can work on the selector, date, and connector by modifying them. With all these features, you can design attractive timelines on your site.
Total number of users – 20,000+
Screenshot

7. Timeline Block For Gutenberg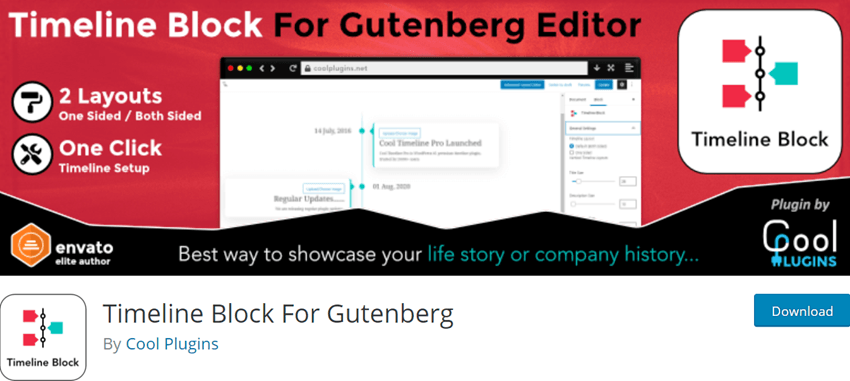 Timeline Block is an extreme featuring Gutenberg timeline block plugin that lets you designate the website's Timeline with the assistance of a variety of ready-made templates using Gutenberg blocks. Click the button, and you can access the company's entire history vertically. Although, with this, you also build the trending timeline story while just searching the Timeline Block option available in the Add Block section. A complete responsive plugin for Gutenberg or Block editor that contains an easy-to-use interface. Anyone can efficiently administrate the extension to control the interaction effortlessly through the widgets and other handy features.
Why You Require WordPress Timeline Block?
Easily display the creative procedure steps and any tutorial while utilizing the intuitive format for the Timeline.
Create and publish your company's story without spending too much time editing. Just take the beautifully designed templates and create them in a few clicks.
Enables to create different variety of timeline essentials, including program, events, appointments, achievements, or job stories.
If you want to share the history of your company, then Timeline Blocks assists you all through this way.
It also enables you to share your personal experience on the Timeline directly visible to your website's audience.
Total number of users – 1,000+
Screenshot
8. WP Timeline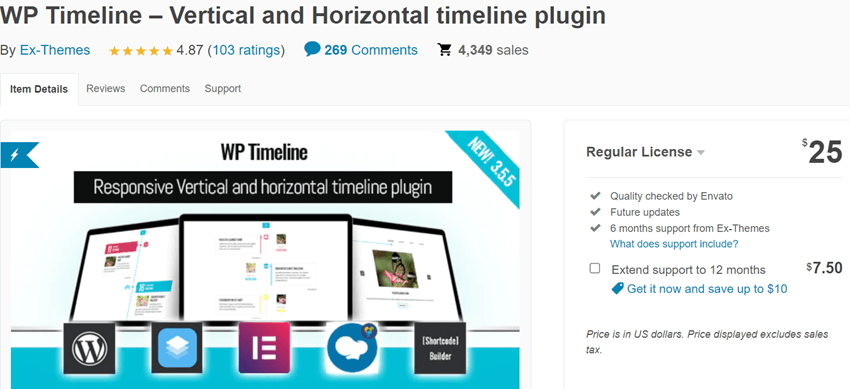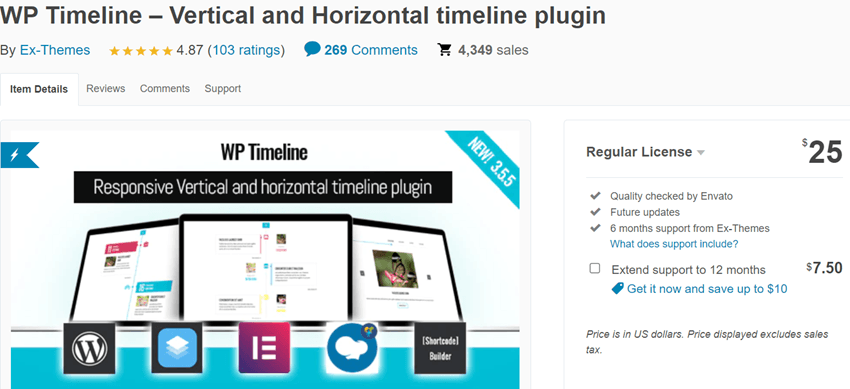 Everest Timeline is a most advanced Horizontal timeline and vertical timeline plugin for WordPress, which is an excellent choice of users and flaunts its 5-star rating. The plugin gives an enormous range of templates and the option to set your Timeline in both horizontal and vertical styles. It can support different types of media. And it can present your Timeline differently and elegantly. Also, it provides you with attractive image templates. Some templates match the Facebook and Twitter-like style timeline options. You also get a variety of media formats to integrate images, videos, and custom HTML content into your Timeline.
This plugin works in unison with the WPBakery page builder and quickly sets the Roadmap and Timelines to your website. The 100% responsive plugin offers cross-browser compatibility and a rich color pallet for timeline events. This Timeline requires no coding, and it enhances your work or performance. Moreover, it can be easily accessible through mobiles. Ultimate Roadmap Timeline can beautifully display the historical happenings, special events, ceremonies, stories, and concerts related to your project. The boxed style of presenting Timeline offers further styling of your page where it can be bifurcated with images at the top, a draggable slider in the middle, and the milestones at the bottom. This plugin has 23 beautifully designed timeline templates.
Price – Regular License-$25/Lifetime
Screenshot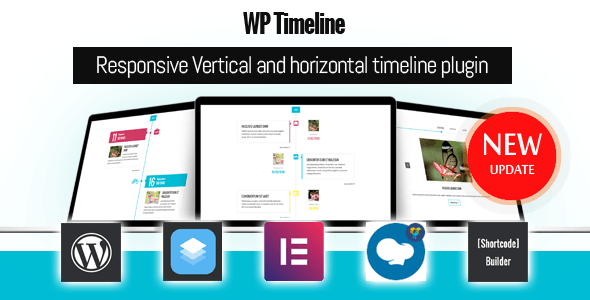 You may also want to try our Testimonials Plugins list.