6 Best WooCommerce Role-Based Pricing Plugins 2023
Role-Based Pricing Plugin is an excellent way to create different product pricing and shipping charges for other users based on their roles. These plugins let you manage product pricing based on user roles instead of creating new user roles. You can easily control your product pricing and hide add to cart button from specific user roles.

For example- Membership customers will get different pricing, logged in customers will get other or not (non-registered users) customers will get different pricing. You can also do many things like disable the cart, hide add to cart button, hide the price, shipping etc., with these role-based price controlling plugins.
Let's have the list of top WooCommerce Role-Based Pricing Plugins as follows.
1. Role Based Pricing for WooCommerce

Role Based Pricing for WooCommerce is a decisive WooCommerce Role Based Pricing Plugin that lets you establish different pricing rules for other customers. You can create a variety of pricing, such as markup, fixed price, and prices with percentage or fixed discounts. Configure the user role and specific customers, whoever you want to display the product price accordingly. Manage and edit product prices for individual or bulk products in just one click.
Core Features –
Modify prices available on the product label either increase or create a discount thereon (percentage or fixed amount).
Add unlimited price rules for WooCommerce products and configure their appearance according to customers and defined user roles.
Configure the order quantity for each product. Restrict your customer from ordering products with maximum and minimum quantities.
Strikethrough or replace original prices with custom text.
Introduce price rules with start and end dates.
Custom add to cart to button and link while replacing the original.
Price – 1 Site – $79/annually
Screenshot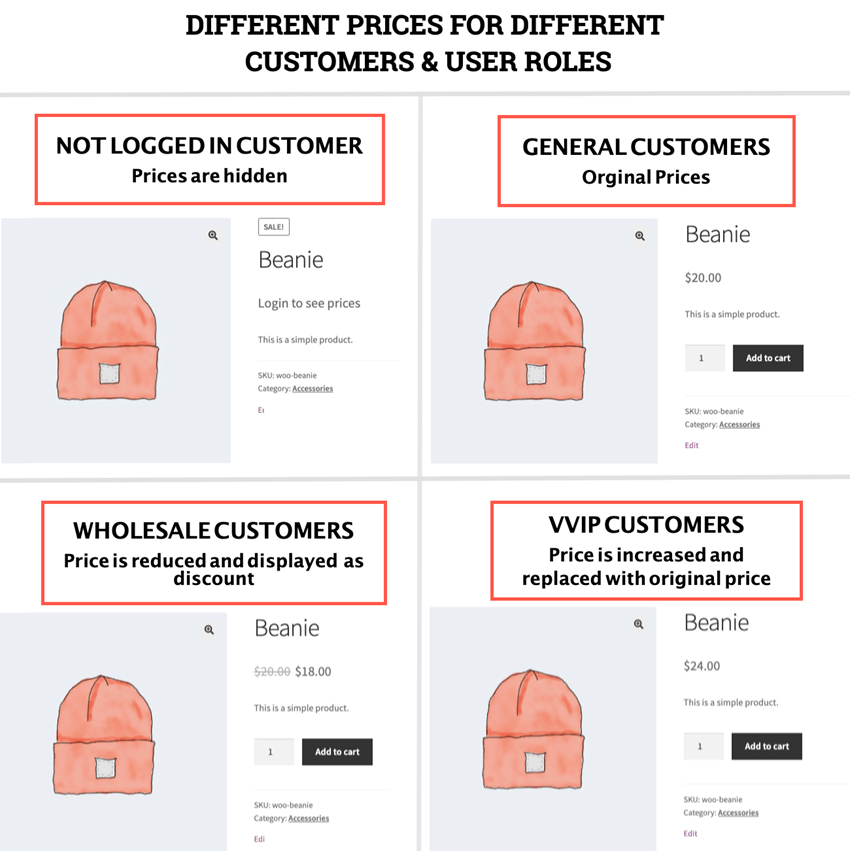 2. YITH WooCommerce Role Based Prices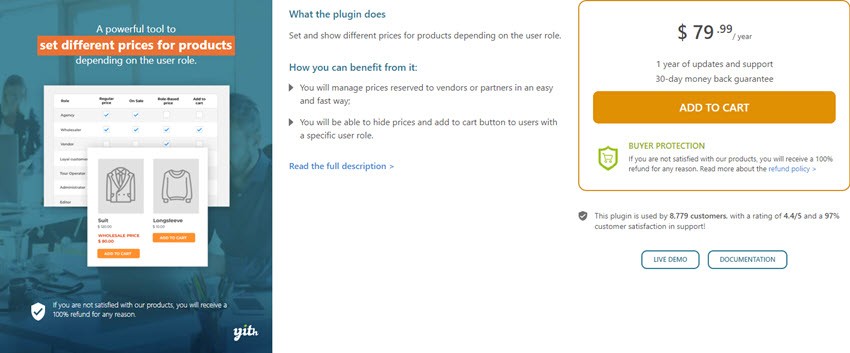 YITH WooCommerce Role Based Prices is a robust Role Based Prices plugin for WooCommerce that lets you configure a range of prices for various products. Display different product prices to other customers according to user roles. Manage prices for vendors easily and hide prices from specific user role customers. Many customers visit and purchase products in different quantities on any online store according to their necessity. This user role discount plugin for WooCommerce assists your website well in displaying fair prices based on user roles, whether they are customers, partners, or shop managers.
Elementary Features –
Let your users purchase products with conditions by availing yourself of role-based rules on your store.
Display more than one price to each user role or combined price rule to specific users.
Increase or decrease product pricing according to assigned user roles.
Display product prices with tax included in them to define user roles.
Modify prices while assigning customised price labels.
Price – 1 Site – $79.99/annually
Screenshot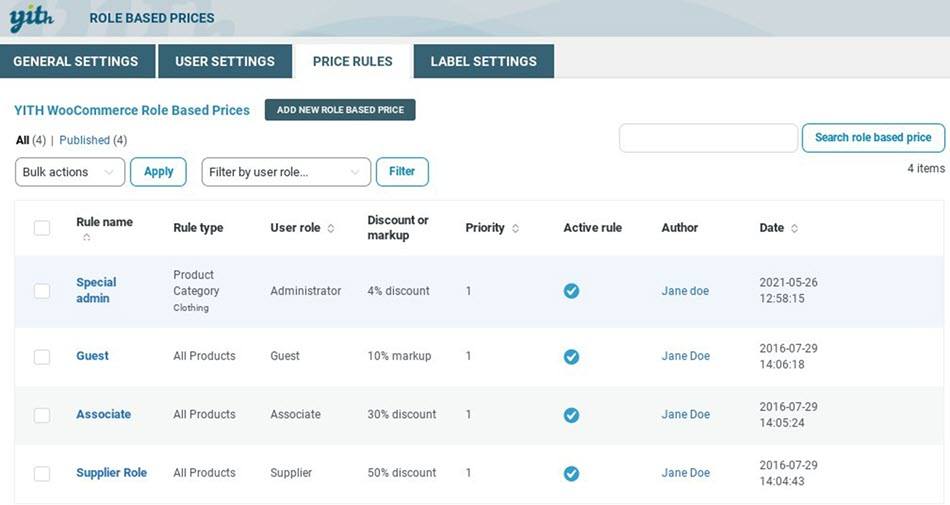 3. ELEX WooCommerce Role Based Pricing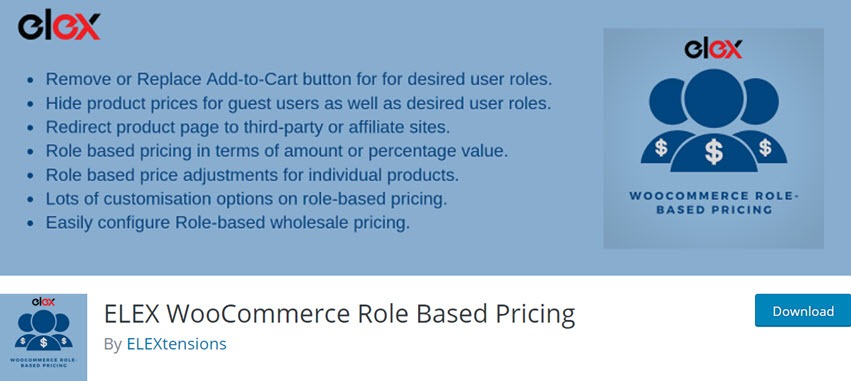 Elex is an integrated solution for a user role, Wholesale based, category and Wholesale based pricing plugin for WooCommerce where you easily create different product prices for other customers. Such an interactive WordPress plugin let you adjust product prices for availing it to individual customer or user role customers accordingly. Configure a range of discounts and markup prices for any particular product or category. Insert a customised button for add-to-cart on the product page and elsewhere from where your customer place an order. Enhance your user experience while displaying appropriate pricing to customers accordingly.
Core Features –
Remove or replace add to cart button for different user roles.
Adjust and create pricing for individual products and variable products.
Configure markup and discounts for different user roles in percentage or fixed amounts.
Let you hide product prices, add-to-cart buttons, and checkout pages from desired user roles.
Restrict the quantity of purchasing products according to specific user roles.
Total number of users – 2,000+
Price – 1 Site – $79/annually,  5 Site – $109/annually,  25 Site – $199/annually
How to set up Catalog mode and Role-based Pricing in your WooCommerce Store?
Screenshot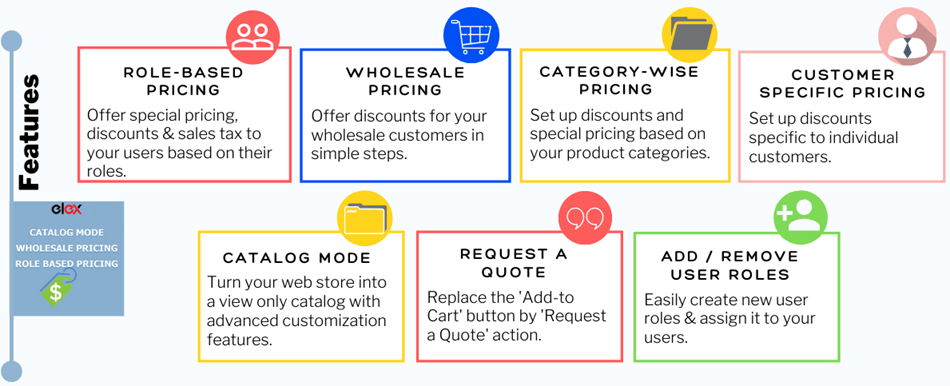 4. Prices By User Role for WooCommerce

Prices by User Role is a comprehensive dynamic user role-based pricing plugin for WooCommerce, where you have been able to display customised prices to different customers. Such an easy-to-configure interface lets you create product prices and display them according to the user's role. Replace any product label and add-to-cart button with customising one, respectively. If your website deals with different customers, like retailers and wholesalers, you require this unique user role pricing plugin. Add specific product prices and discounts for other user role customers.
Essential Features –
Disable add to cart button and WooCommerce prices for guest users or specific user roles.
Display text to such non-registered users and specific role users to assure them they need to sign up before accessing the product price.
Configure discounts and markup for each user role.
Highlight the saving amount either in percentage or a fixed amount.
Display product pricing that has been configured for different user roles accordingly.
Compatible on multiple devices and supports existing themes on the website.
Price – Regular License – $45/annually (1 Site)
Screenshot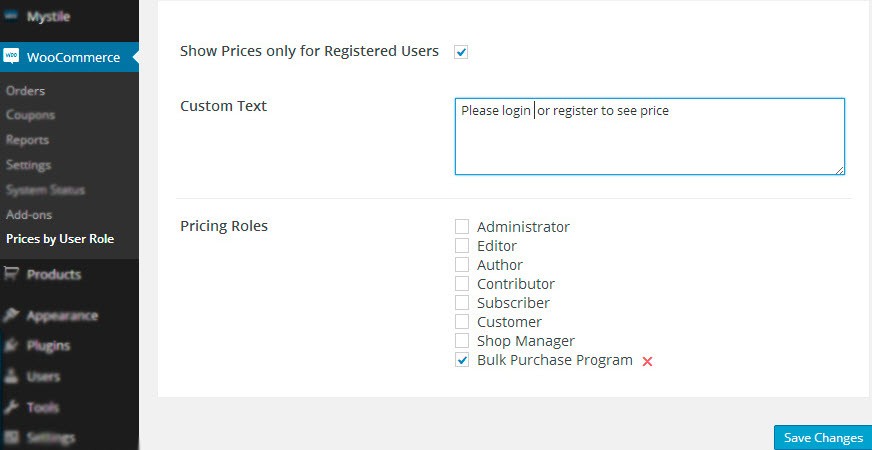 5. WooCommerce Fees and Discounts

To apply a bulk discount on your WooCommerce, use plugin republic. It is a powerful plugin used for WooCommerce, and it helps do bulk work and role-based adjustments.
This is a role-based pricing plugin for woocommerce that will enable you to apply either percentage or fixed discount fees in bulk, create discounts based on cart value, apply coupons and discount fees on the payment gateway, or create buy one get one pricing rules.
You can create multiple tiers on price, display prices on an easy label for your customers, and offer discounts by category, on the whole cart, or the product.
Different users have different roles, and you have an option to set prices or discounts according to other users. Pricing can be changed globally based on the category of product. You can exclude tax from users and give bulk discounts to your priority customers. These dynamic pricing rules let you create dynamic pricing based on category, role, discounts by product and whole cart.
This is a helpful plugin with excellent technical support. The support team helps you with fast, decisive problems and allows you to work quickly. You can set dynamic shipping charges based on the user's role.
Price – Basic – $59/annually (1 Site), Pro – $99/annually (Unlimited)
Screenshot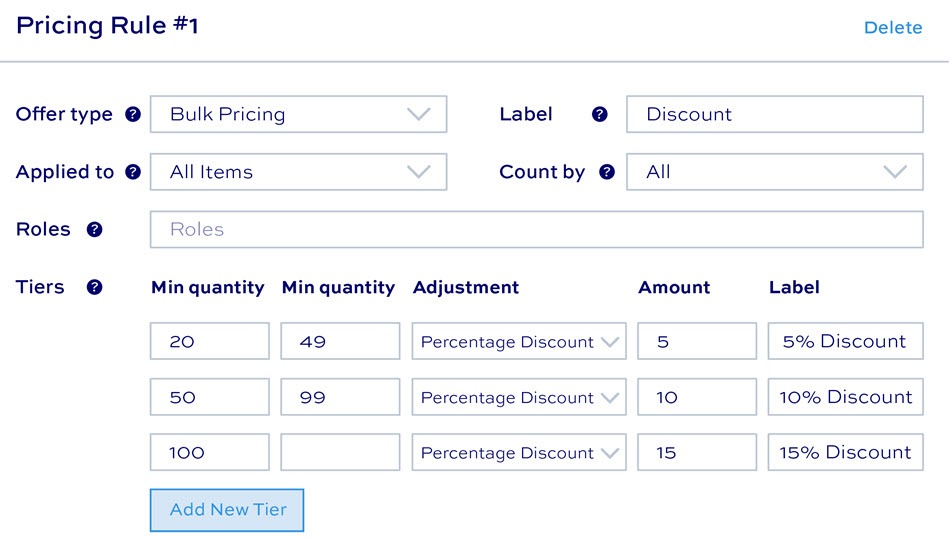 6. Product Prices by User Roles for WooCommerce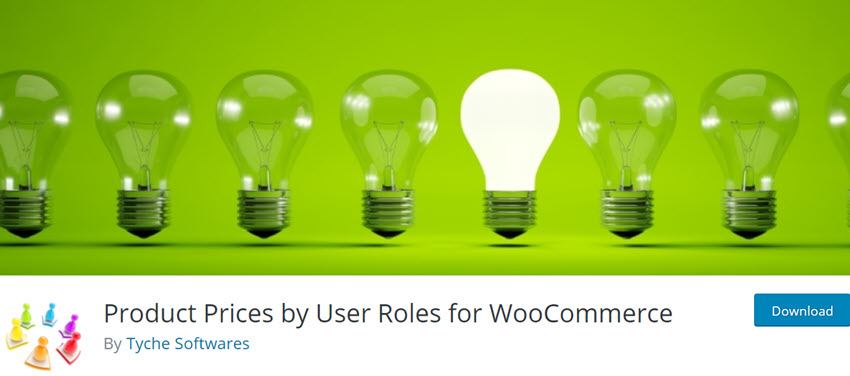 Product prices by user role for WooCommerce is a free Role Based Pricing plugin for WooCommerce for you if you want to show products based on the roles of different users. It is an easily accessible plugin with outstanding performance and is easy to use.
It enables you to set the prices of products globally based on per product, and products can be multiplied using a set price multiplier. Using this plugin, you can specify exact prices for each variable product or hide prices for selected users. The option to disable prices for bots is also available.
Setting user roles will make your website more flexible, and guests and admins will have different prices. Lower prices will enable new customers to create new purchases. Also, you can reduce shipping charges and rates for wholesalers with features available with this plugin.
Total number of users – 2,000+
Price – 1 Site – $79/annually
You might be interested in Coupons, Discount Plugins, Wholesale Plugins, Request A Quote Plugins and Referral Plugins.